3 Automation Aspects Of Real Estate Developer CRM That You Need To Consider
Feb 21, 2022
Automation features are by far the most effective tools that technology has given us. We are realizing it's worth every passing day, especially after Covid-19. The real estate world has witnessed major setbacks during the pandemic. But thanks to the fluidity and adaptability of this industry which have contributed to its evolution. As the market starts gearing up, modern developers are looking for the best automation aspects that quality CRM software can efficiently cover. Real Estate Developer CRM is the all-in-one software tool that is the best fit for your purpose.
According to Frevvo automation statistics, more than 75% of companies use CRM automation features for their business growth. The major benefits of using automation features are–
Boosting overall productivity
Enhanced customer satisfaction and built loyalty
Optimized sales process
Better customer engagement and retention rates
In this article, we have dissected the three major automation aspects that our Real Estate Developer CRM effectively assures to help you expand your business.
A. Sales Automation
In simple words, sales automation is a process that helps you eliminate your repetitive tasks, invest your time into winning more opportunities, and scale your business. Real Estate Developer CRM can dramatically improve your sales-win rates. Here are the four major steps of sales automation that it efficiently covers.
Step 1: Capturing Leads Effortlessly
If you don't have leads, you have no business. So even before you enter into the sales pipeline, you need cash crops by your side. Being a real estate developer, you must have several modes for lead generation. Like websites, social media platforms, inbound calls, newspapers, referrals, and the list goes on. You can use these mediums for generation, ascertain the primary source for maximum leads with our CRM reports. However, capturing uncountable leads simultaneously is different. This is where you need Real Estate Developer CRM.
Let's say you have an individual who has inquired about your properties. If you embed a 'contact details' form on your website, your potential leads can submit their information. Once they do so, Real Estate Developer CRM readily captures all the acquired knowledge and places them under respective fields after creating a new lead record. Each record is segmented into business card details, the detailed information section, and related lists. Such an organized automated single view profile helps you evaluate each of your leads' merits for further conversion.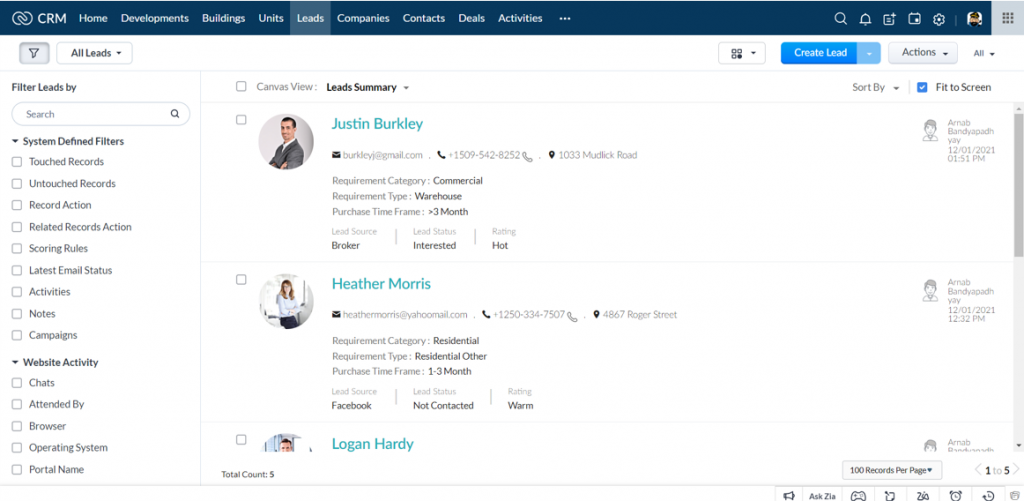 Step 2: Nurturing Your Leads
You see, buying a property is more like a lifetime asset for common people. Therefore, they need your sales reps to assist them while purchasing. To ensure customer satisfaction and build their trust, you need to lay the groundwork from the very first stage. StartUp Bonsai says, "leads are 9x more likely to convert when businesses follow-up within 5 minutes". The moment a lead enters into your system, Real Estate Developer CRM immediately notifies the entire team so that one of them can take it forward. As a leader, we know that you already have an immense workload. For delegating your work pressure, you can easily create different follow-up activities, schedule meetings or calls, and distribute them amongst your teammates. You can also sync your calendar with your follow-up activities or set reminders/ pop-up notifications to maintain consistent proficiency.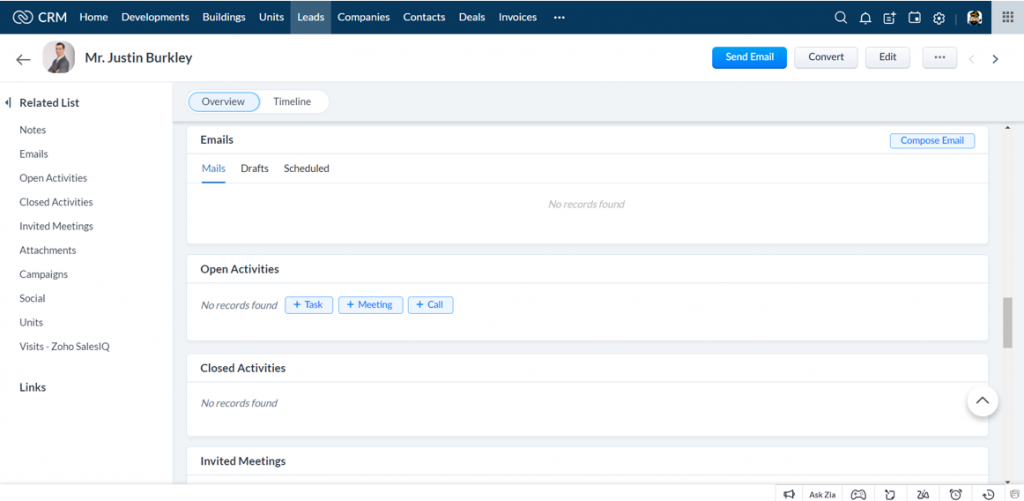 Step 3: Automated Customer Profiling
After nurturing your prospects with timely follow-ups, when you successfully convert the leads, Real Estate Developer CRM automatically profiles them as 'contact', 'company', and creates and associates a 'deal'. It creates new entries under each module and houses specific details. For instance, if you get inside a contact record, you can see a 360-degree vision of your clients. It holds their business card details, detailed information section, the related company (applicable for B2B opportunities), and the deal. Not only this, our CRM, based on the results of manual intervention (follow-up tasks), detects the convenient time for communication. Again, if you check the related deal record, you'll see a ready-made sales pipeline and other deal-oriented details. Even on the timeline page, you can have the recorded stage history laid out for you so that you can resume the process without repeating any task.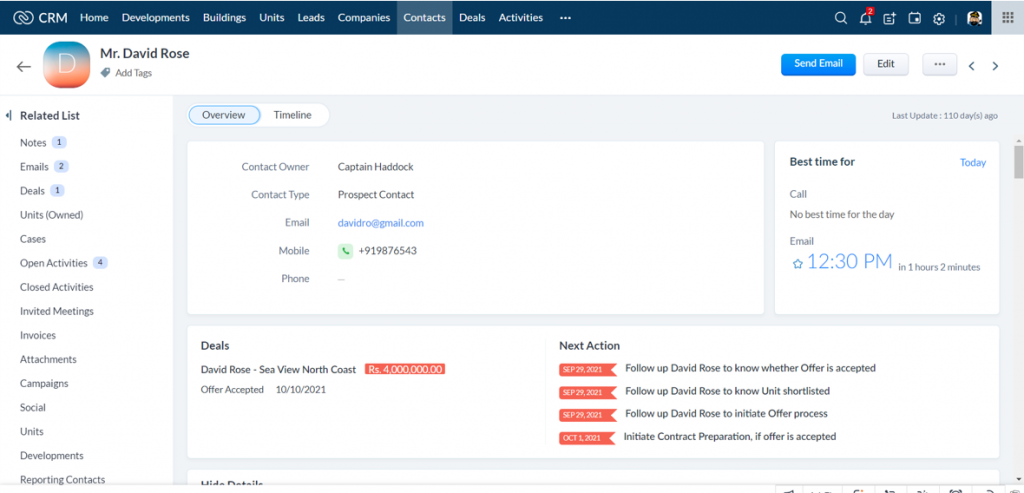 Step 4: Sales Pipeline Management With Automated Checklists
Since a real estate opportunity has a relatively longer sales process, Real Estate Developer CRM efficiently flags timely checklists. These ensure that all your bases are covered. Being a developer, you already know that there are multiple smaller steps to cross before you switch to the next pipeline stage. For example, you might have site visit meetings, update the property feedback, and so on. Handling innumerable customers for uncountable buildings and units seems exhausting. And monitoring them all, single-handedly without automation might leave room for risks. This is where these checklists become extremely beneficial for you.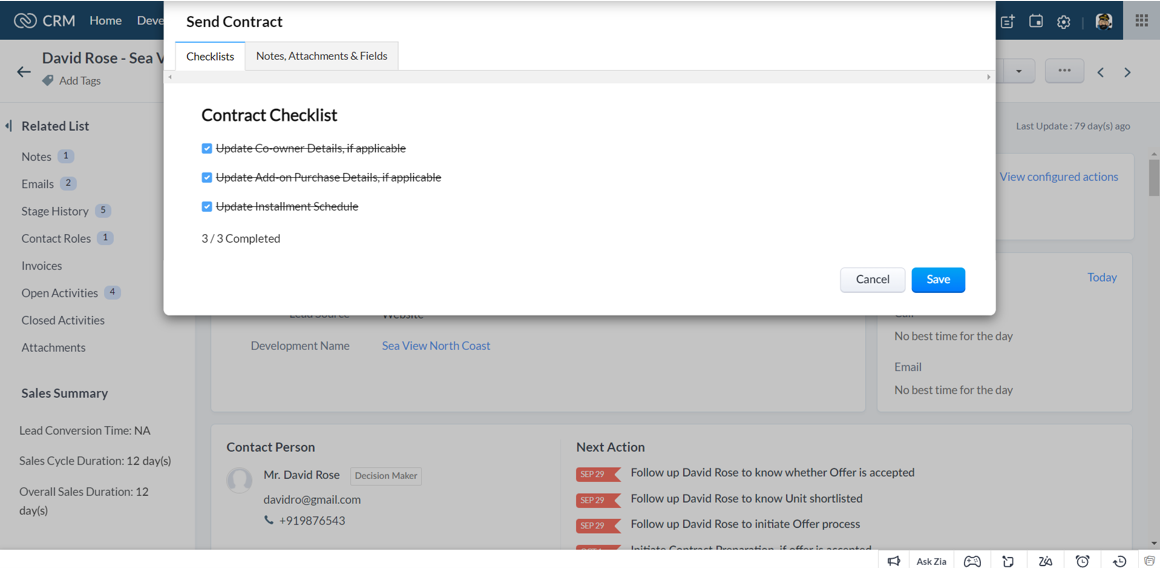 B. Automations In Deal Management
Deal management is all about tracking the sales pipeline for each of your clients. And Real Estate Developer CRM alleviates your workload with its automation powers. Here's a list of steps, where our solution becomes real effective for deal management.
Step 1: Generate Offer Forms
As a real estate professional, you already know that in most cases, when you table an offer for a property, your client will give you a counter-proposal. Now imagine, you have multiple opportunities with the same scenario. Therefore, it becomes utterly impossible to keep a track of your payments. So once this negotiation–affirmation process is over, and you finalize the price, Real Estate Developer CRM readily populates the overview section and auto-updates its availability status. Added to this, you can generate an offer sheet in less than a minute. Yes, our solution comes with a pre-defined offer template in which the necessary details are instantly flown. All you need to do is click on the 'Generate Offer Form', export it in a PDF format and send it out to your clients right from the system. Yes, it is that simple!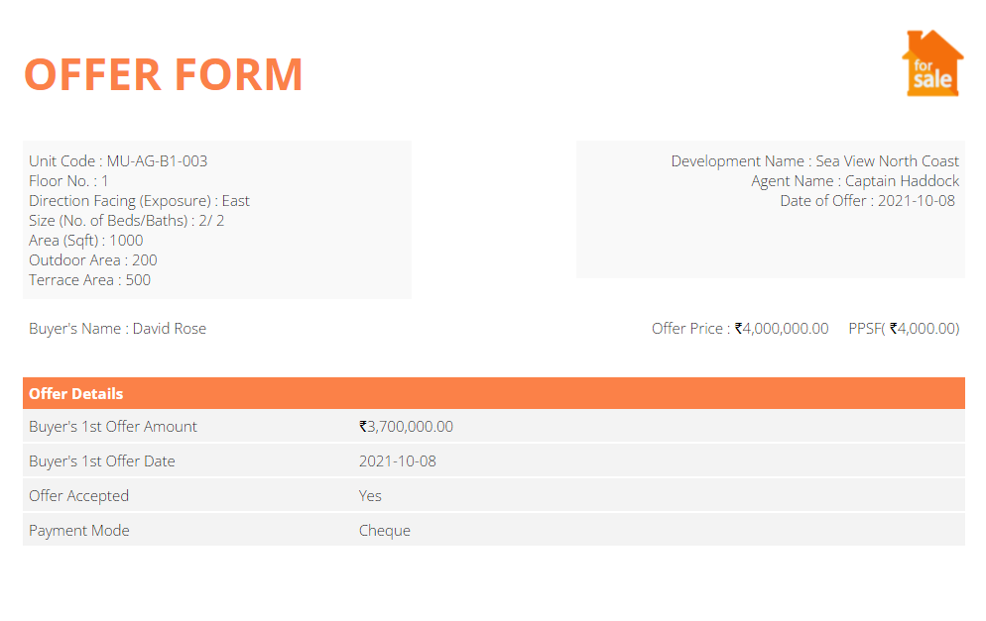 Step 2: Calculate Your Profit
Needless to say, you want your clients to be satisfied with every property you deliver and your services. But at the end of the day, it all comes down to numbers– the money that you make. Being a development project holder, you need to monitor your profits for each unit or building you sell. Say, for example, you invested a certain amount for developing a building, that gain comprises multiple units as well. As you go on selling each of your units and enter the amount in your system, Real Estate Developer CRM records your generated revenue. It efficiently auto-calculates the number of units that are left to be sold and the balance amount as per your capital investment. Once your building is sold, you can see the total revenue that is generated and calculate your profits by subtracting the total cost from the revenue.
It is often seen that real estate developers hire third-party brokerage agencies and distribute their properties amongst them. Our Real Estate Developer CRM becomes extremely beneficial here. As you can insert the commission percentage that must be paid to your brokers, our CRM instantly calculates their dues once you win a deal.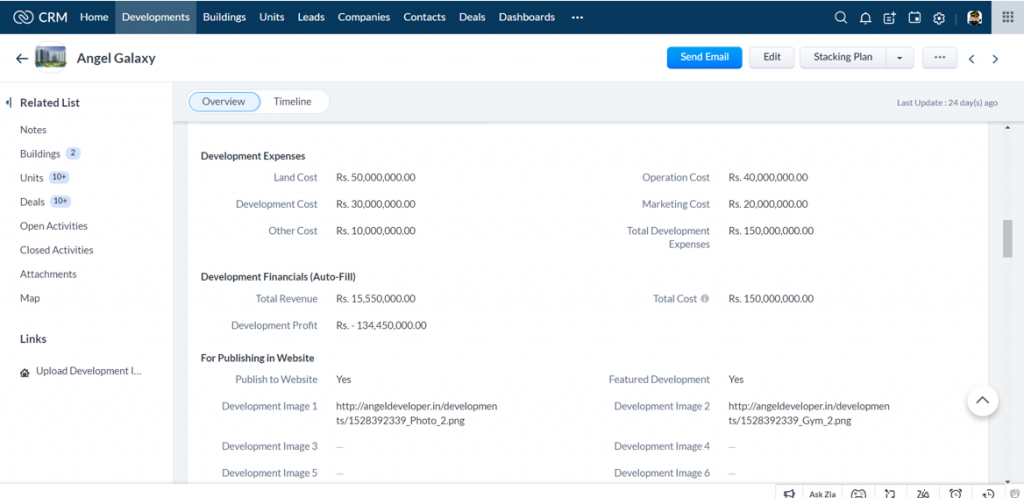 Step 3: Payment Milestones
We all are aware that construction processes take a lot of time. As a developer, you cannot always expect your clients to deposit the full amount for a property that is yet to be handed over. So you need to meet them halfway through the line and the only convenient way to do that is by chalking out payment milestones. With our Real Estate Developer CRM solution, you can break the total price for your property down into multiple payment percentages. So that when you achieve a defined stage of progress or milestone, you can send reminder emails to your clients for their due payments.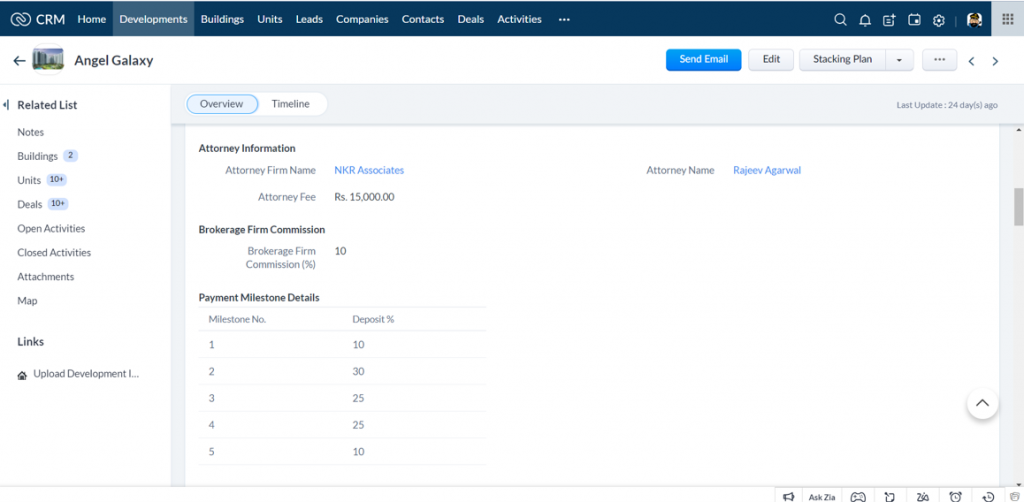 C. Reporting Automation
One of the best-automated functionalities of Real Estate Developer CRM is the stacking plan report. It is a visual representation of your buildings. Let's say you have a project that has five buildings and each building has multiple units. Here stacking plan report displays different aspects of the units like its availability status, the number of bedrooms/ bathrooms, the area, and the price, as per the buildings. Our system is extremely intuitive in nature so it auto-updates the current availability status. This way you can easily take a glimpse of the structure of your projects and avoid misleading information while pitching your clients.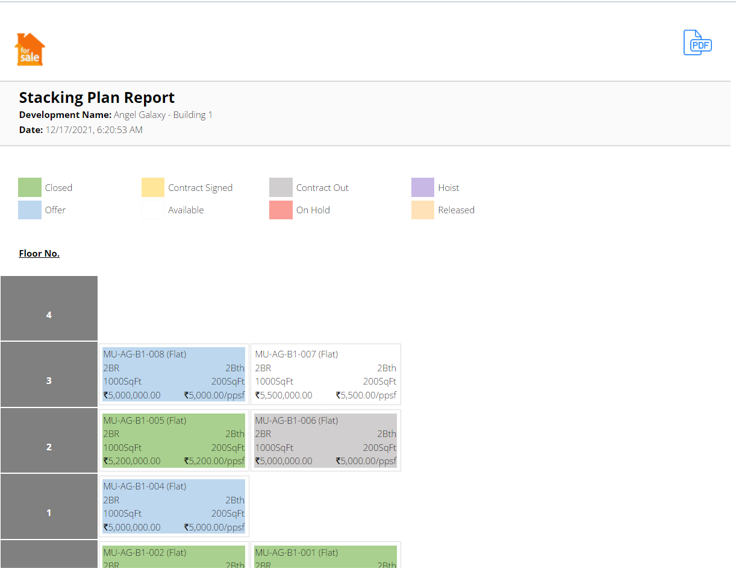 Other than this, our solution comes complimentary with a series of reports and dashboards where you always get real-time insights. These dynamic modules help you easily comprehend the recent updates in your business, improvise your strategies and maintain adept proficiency.
This is what a typical report looks like-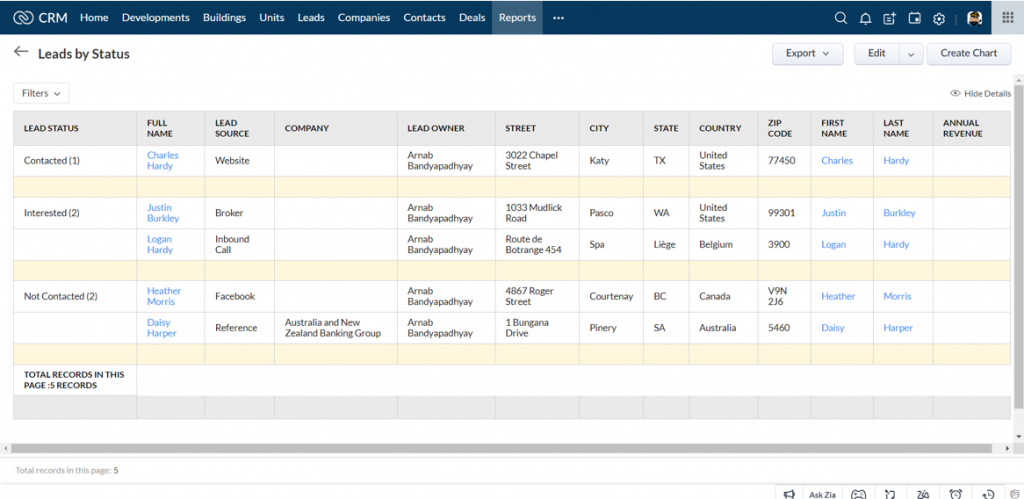 And here is a dashboard-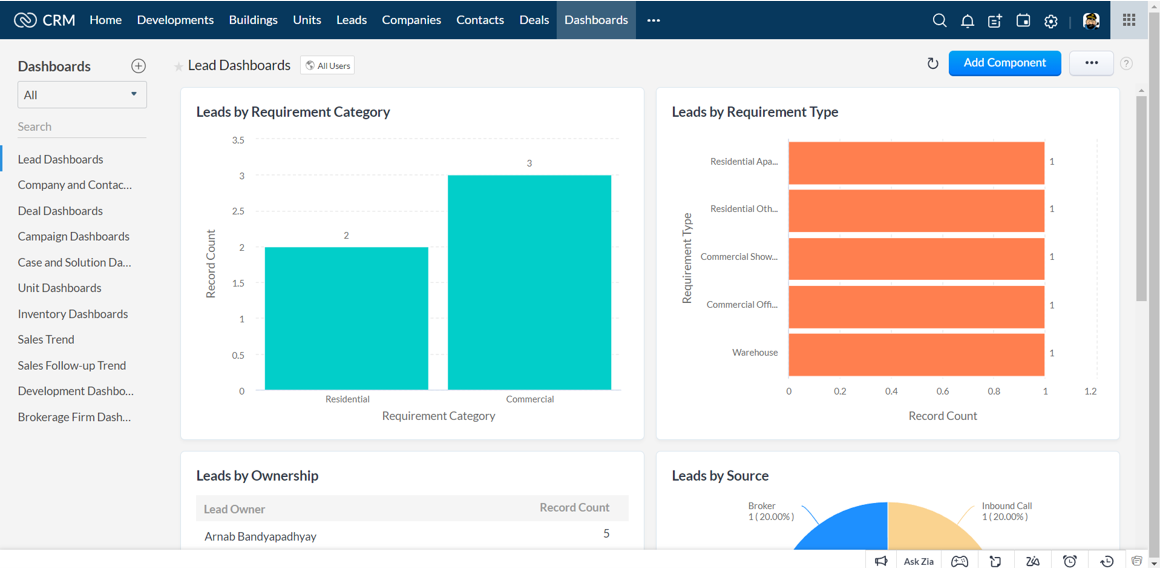 Rounding things off,
Most of the businesses fail to succeed owing to the lack of a solid business plan and established efficient workflow process. While the former reason wholly depends on your approach as a project developer, Real Estate Developer CRM assists with you the latter one. And for building a successful business, you must consider the above-mentioned aspects. This is where our solution with its plentiful automation features can massively help you with.
So what are you waiting for? Click on this link for more information and seal your deals!