6 Ways To Improve Customer Experience With Law Firm CRM
Mar 30, 2022
First impressions work like magic, don't you think? For every industry, customers are of pivotal concern. Our clients become initially aware of how our business firms work from the very first point of communication. And this acts as a major yardstick in forming their final purchase decisions. Coming to the legal world, we understand that attorneys have stupendous work pressure for practicing law and winning matters for their clients. But once you're backed with our efficient Law Firm CRM, providing an exceptional experience to your customers almost becomes like a cake-walk situation. 
Why do lawyers need Law Firm CRM to deliver the best customer experience? 
Of course, for lawyers, focusing on legal matters and winning them become the top priorities– after all, that's how they develop a credible position for their firm. But when the business starts scaling, it becomes extremely difficult for them to manage and monitor their administrative tasks. This includes building and maintaining long-lasting relationships with their customers. The thing is, your potential customers have a lot of options to choose from, so you need to go the extra mile to provide them with a personalized unique experience for repeat business. Built on the award-winning Zoho platform Law Firm CRM is craftily designed with the sole purpose of helping you acquire new customers and strengthen your relationships with them.
In this article, we will discuss how effectively you can execute the flexible yet familiar features of Law Firm CRM to improve customer experience and satisfaction. 
Greet Your Leads With Automated Emails 
Leads are the potential cash crops for any business. Without them, your business has no future. Whether you work solo or under a legal firm, it is not always possible for you to communicate with your potential clients just when you receive an inquiry. However, since your leads have urgent matters in hand, you need to reassure them by acknowledging their patience. As readily as our Law Firm CRM captures a lead, it efficiently sends out an automated email with the inquirer's name. This simple yet effective trick, a part of our workflow automation essentially builds your potential customer's trust.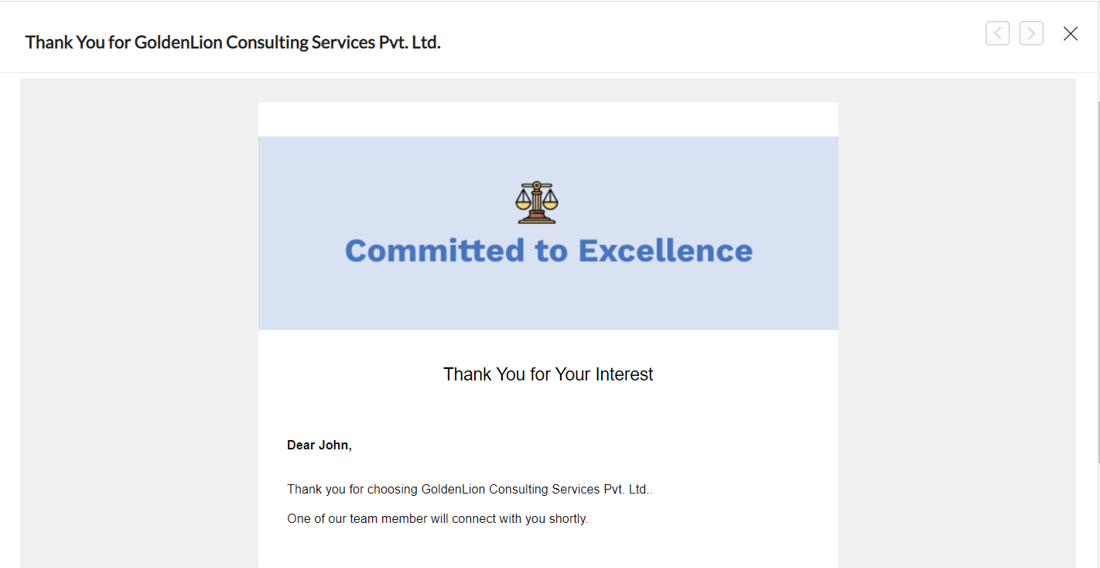 Communicate With Your Prospects 
Legal matters often involve complex circumstances, for which your potential clients require your expertise. Our Law Firm CRM is extremely intuitive in nature. It instantly notifies your respective teammates the moment you receive a lead inquiry so that one of them can make a bridge for further communication. Even for maintaining consistency, you can strategize a communication flow for each of your leads. You can create various follow-up activities, schedule timely meetings or calls and synchronize your calendar for marking deadlines. But we understand, being a legal practitioner, you might be too tied up with your hectic schedule. So instead, you can delegate your workload amongst your teammates. Now once you determine the activity, you can just mention any particular team member with a single click, and they instantly get notified about their upcoming task. Hence, missing out on an opportunity? Never again!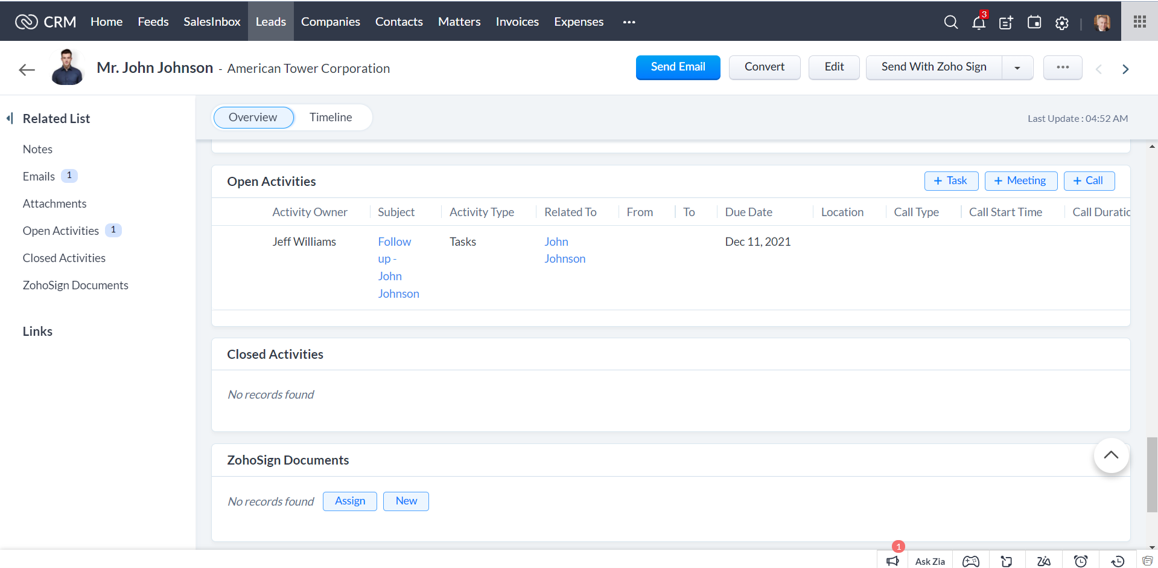 Keep A Holistic View For Future Reference 
To ensure solid loyalty and trust from your customers, you need to make sure that all your bases are covered so that you can provide an excellent service. Law Firm CRM becomes immensely beneficial in this regard. As soon as you convert a lead into a contact, company (for B2B opportunities) and a matter our CRM automatically creates individual records under the aforementioned perspective modules. Now, when you get inside the contact record for a specific client, you can see all the previously acquired information are automatically pre-flown. Our CRM creates a holistic 360-degree vision of your clients along with their business card, address information, the tagged company (if applicable), and matter. Based on your manual intervention (previous follow-up tasks), it even detects the best convenient time for communication. How cool is that?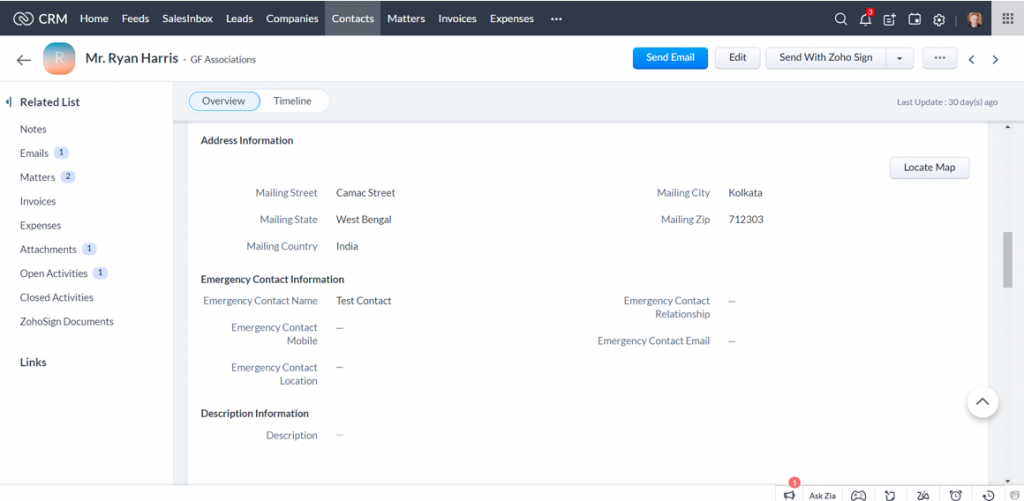 Avoid Risks With 'Matter Details' Form 
Needless to say, when you acquire a new customer, you would want to retain that individual for doing further business. So you need to try avoiding risks. To help you with that, Law Firm CRM comes with a pre-built 'matter-details' form, which holds almost all the essential information fields that you can possibly require. You can instantly send out this form to your customers via email and when they do submit their details, CRM automatically captures the same and places them respectively. If you think about it practically, this benefits both you and your client's end. Therefore, your customers can insert their details and additional information in their own words at their convenience. And even you can avoid maximum errors, optimize your sales cycle persistently and deliver the best experience possible.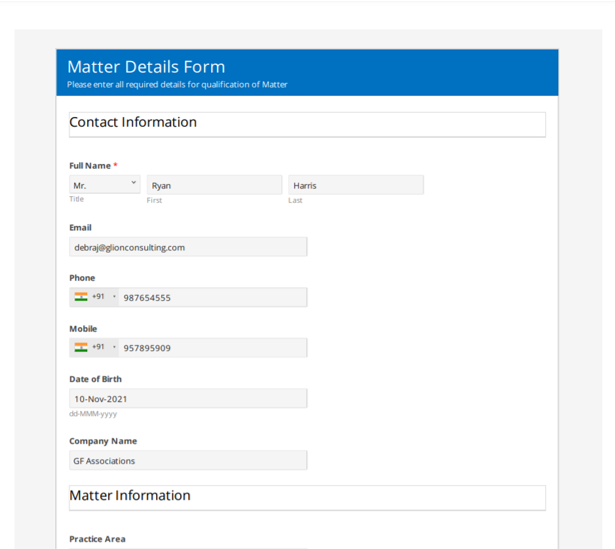 Deliver A Personalized Experience 
A tailored CRM solution like our Law Firm CRM becomes immensely beneficial when it comes to delivering personalized experiences to your clients. As our software holds every minute detail about every client in organized streamlined profiles, you already have an upper hand. You can use your customer data to market your services and make further communication. Based on your client's preferences you can narrow down a target audience list to trigger email or social media campaigns. Remember, CRM also documents the social media links of your customers so that you can easily network with them. Not only this, it keeps a tab on the number of likes and shares your posts received, the click and open rates, the number of times your emails have been opened, etc– customer engagement as a whole. Depending on this, you can always adjust the frequency of your campaigns and maintain a string of communication. 
Wondering how to create your campaign posts subtly enchanting to arrest your target audience's attention? Use DocHipo. It comes along with a humungous range of customizable templates. Here's an infographic example- 

Summing up, 
If you are looking for maximum flexibility in a cost-effective solution for your business expansion, then Law Firm CRM is the one. It comes along with plentiful features which help you easily scale your business by delivering an exceptional customer experience. Read more about them! 
We have helped 700+ businesses to grow so far, we believe, now it's your turn.
Watch this amazingly factual video to visualize the entire process even better.
So what are you waiting for? Click on this link and grab this chance before it's too late.