Best Benefits Of Using Law Firm CRM To Skyrocket Your Success
Dec 22, 2021
Law is what maintains the equilibrium in this world. This industry has always been competitive. No matter if you're an independent attorney or you work under a legal firm, you almost have to race against time for there is too much workload. People are always in need of legal assistance and certainly, they cannot wait for long to get their matters resolved. That is why to suffice themselves comfortably in this digital decade, legal firms are implementing Law Firm CRM as a strategy for business flourishment.
So without any further delay, let us dive real deep into the major benefits of using a Law Firm CRM.
Client Relationship Management
Regardless of what your business is, clients are always the pivotal base. Building solid foundations with your clients and managing them all is a significant task. But there is already so much pressure in the legal industry. Wouldn't you like to focus on practicing law instead of maintaining backend proficiency? The answer is quite obvious. That is why Law Firm CRM comes with features that can prove effective for engineering client retention and ultimately your business stability.
You see, it's quite natural that your clients would not wait long enough for you to respond to their inquiries. This happens especially when legal matters are involved. So this CRM for Law Firm helps you sync your work schedule with different tasks. For instance, you can book a date on your calendar for scheduling a meeting, a task, or even a call for a client.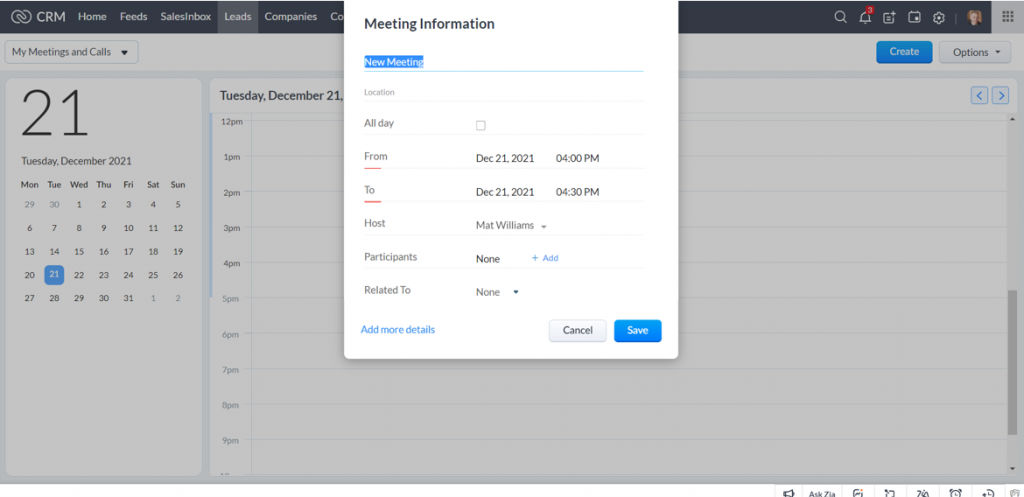 You can also set reminders or pop-ups for a task. This CRM solution instantly notifies or reminds you of your tasks for the day whenever you start your day. Falling through the crack? Never again!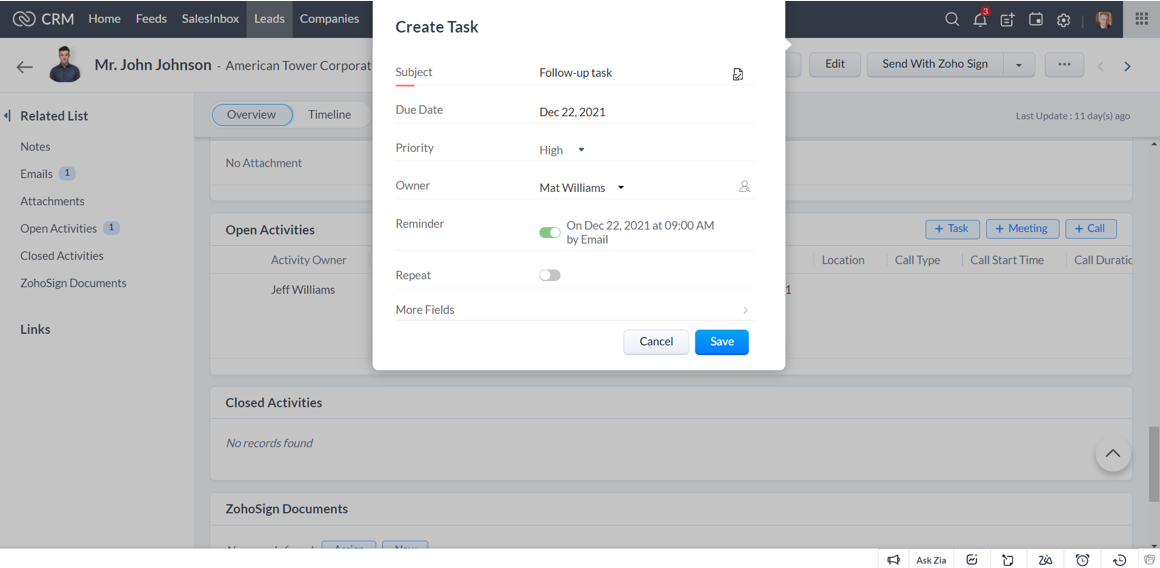 Maintain Proficiency With Automation
The 2021 world demands us to be digital and leverage its full potential for our business. And with technology comes automation. It offers you a systematic approach to maintaining proficiency throughout the sales process. In the following, we have discussed the major automation features that you can effectuate with Law Firm CRM.
Client Intake
The automation powers of your CRM even help in your client intake operation. After all, business leads are your cash crops. So let's say a prospective client has inquired about a particular area of legal assistance on your website. The moment the individual submits his/her inquiry and contact details, Law Firm CRM instantly creates a new entry holding a single view of that individual's profile. It also places all the acquired information rightly in the respective fields so that you never get confused.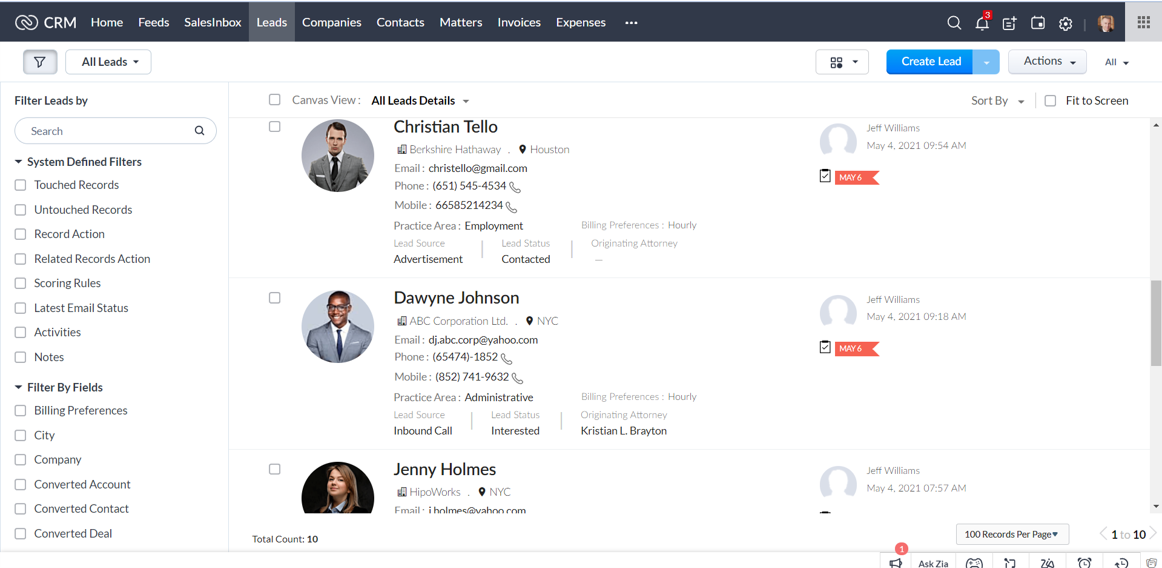 Automated Acknowledgement Email
To acknowledge your potential client's inquiry, Law Firm CRM automatically sends a 'thank-you' email, once a lead is created. Its often noticed that business companies forget to acknowledge their prospect's interests. An immediate response from your end can make a difference in building solid relationships.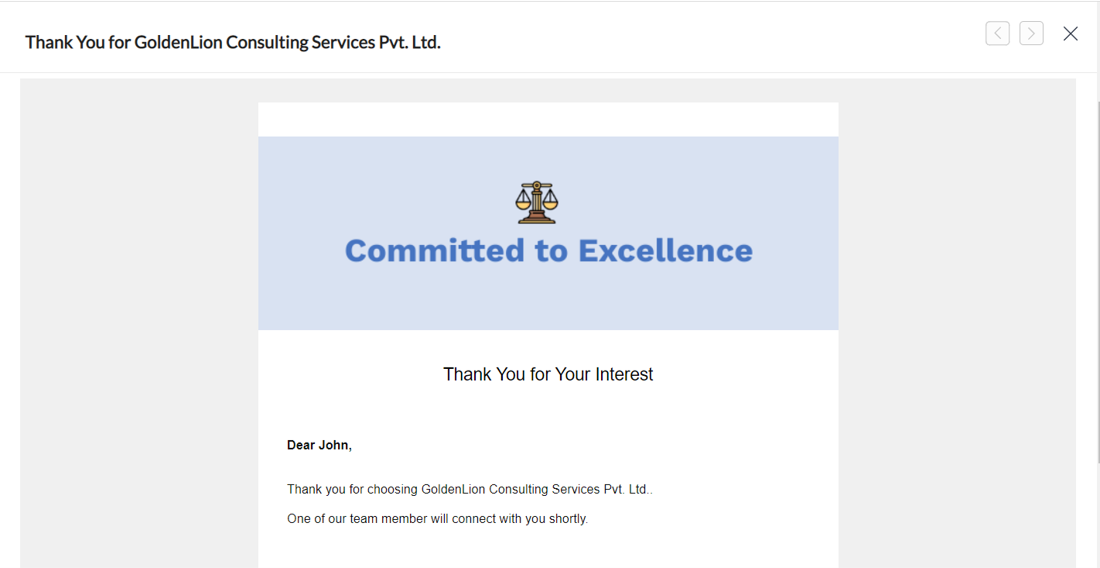 Send Pre-Defined 'Matter Details' Form
After you evaluate a lead and consider all its merits following the BANT parameters, you might want to gain more knowledge about the matter to investigate better. Law Firm CRM helps you to delegate your work pressure here as well. It comes with a pre-designed matter details form which consists of every possible information field. Instead of you spending hours manually filling out the forms, let your customers type it out. And once they submit their forms, a matter gets automatically raised housing all the details inserted by your client. As simple as it sounds!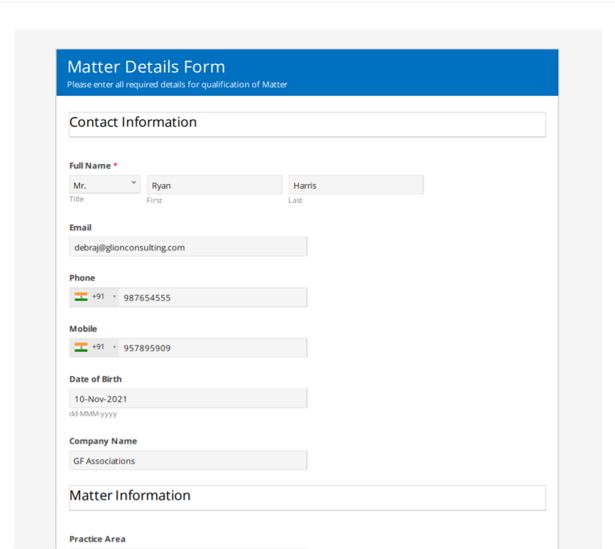 Ready-Made Pipeline
Law Firm CRM truly offers you a next-level advancement. When your lead is finally converted into contact, a company (only if it's a B2B opportunity), and a matter, this CRM creates a holistic view under each module. And mind you, these are all interconnected with each other. So if you go inside a contact record, you can view the matter or company information and vice versa.
Again when you get inside a matter record, you can view the sales pipeline ready for you. The CRM will take you to the next stage of the sales journey automatically when the previous stage is completed. You can manually update the current status as well and proceed to the next step without delay.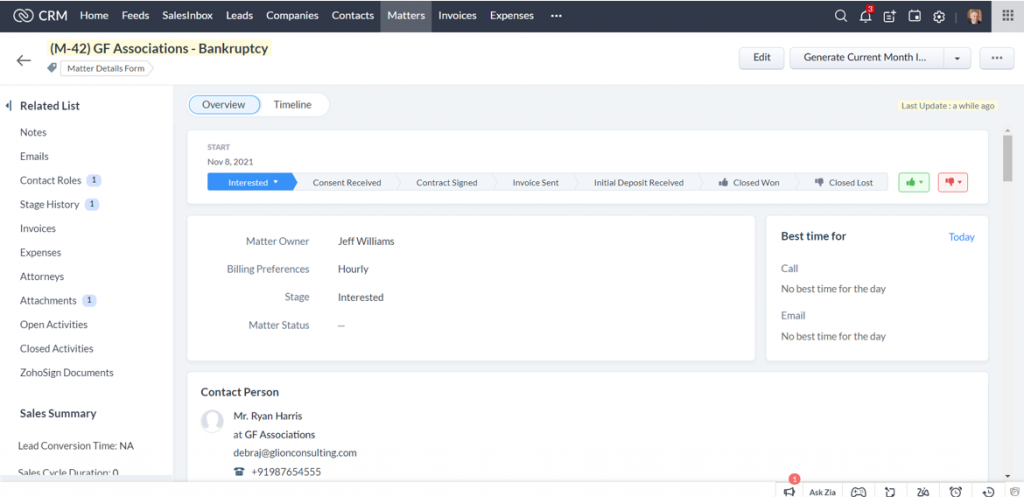 Automated Contract Generation
Next up is the automatic contract generation. You can instantly raise a contract against a matter when you receive consent from your client. All you need to do is click on the 'Mail Merge' button from the ellipses (shortcut) menu and choose the type of contract you want to generate. It instantly merges with Zoho Writer and triggers a contract with different content depending on the type of contract. The content and structure of the three kinds of billing preferences that Law Firm CRM can handle (namely hourly billing, contingency fees, and flat-rate bills) are entirely different. So you never have to start from scratch while making contracts for your multiple clients, ever again! Since it is almost a paperless world, why not go automatic while signing too? With Zoho Sign, you can easily put your e-signature on the contract and finish it all at once.
Let us show you how a Contingency contract looks like-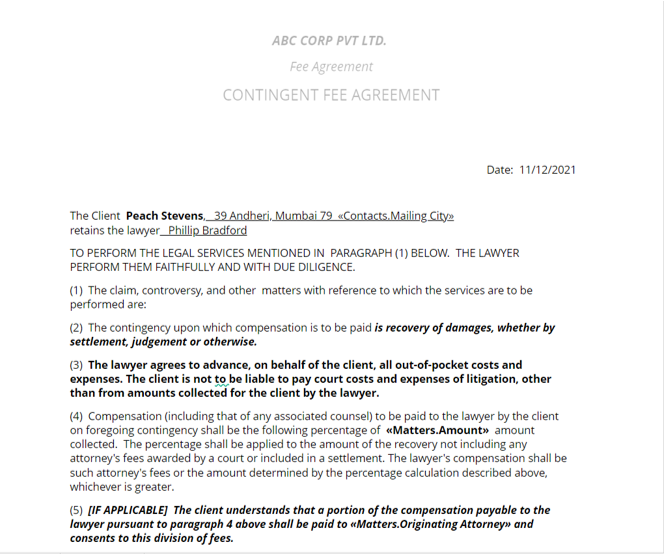 Now, this is how an Hourly Billing contract looks like–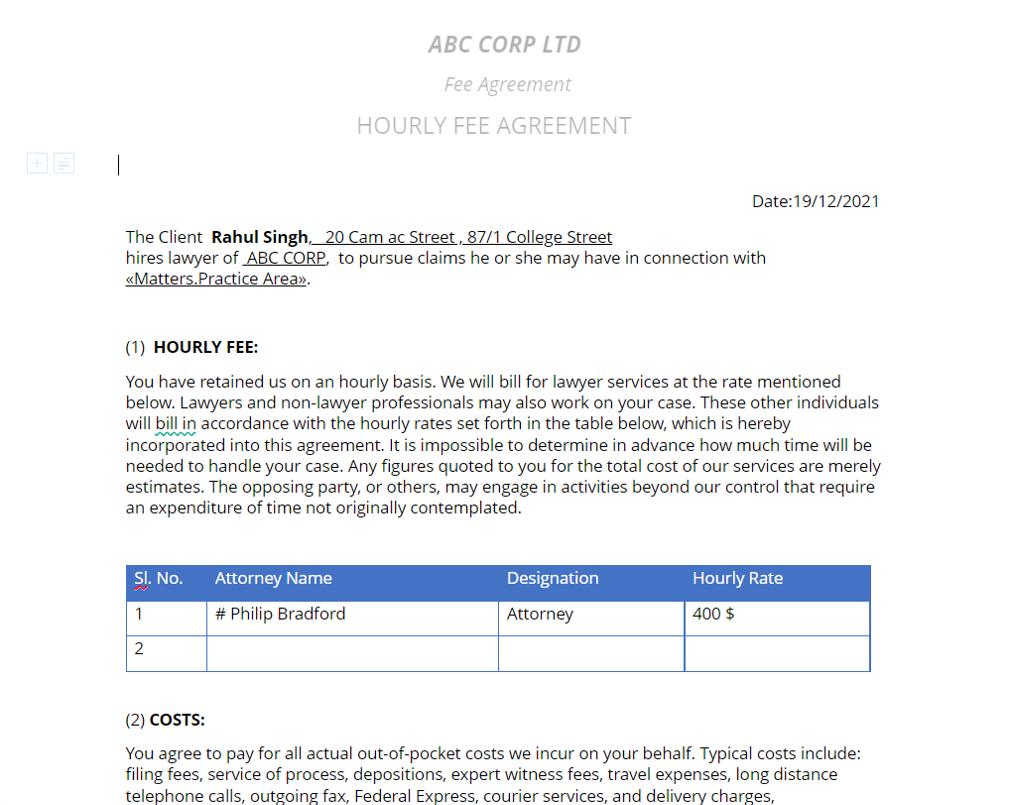 And now time for a Flat Rate contract–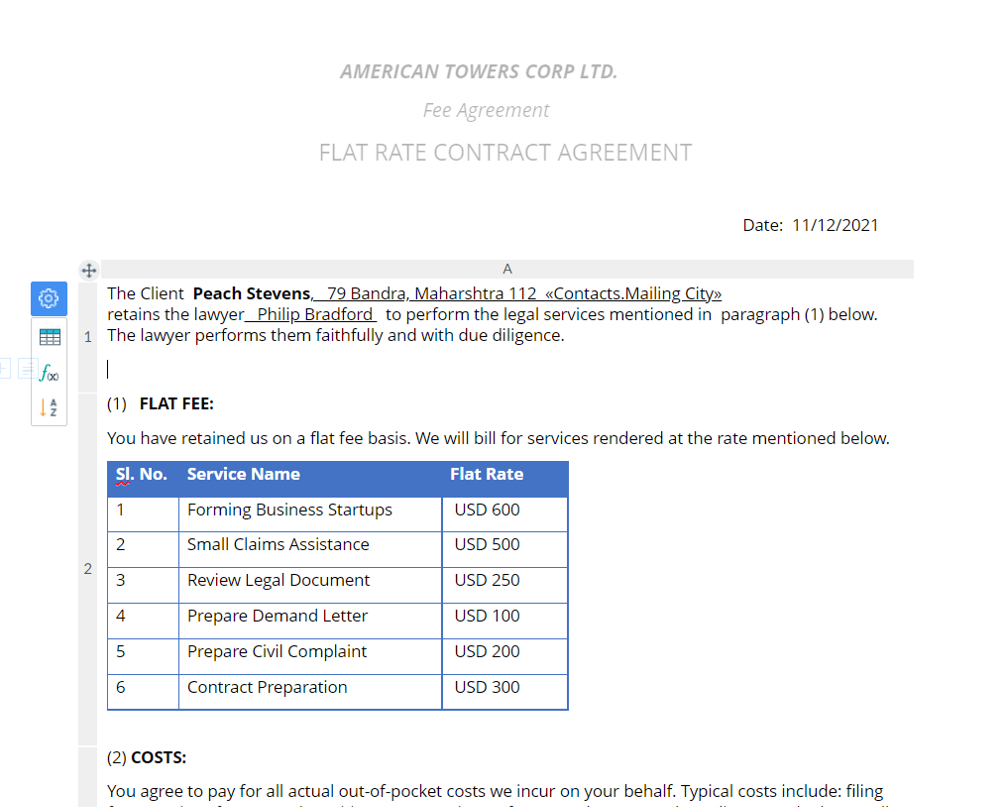 Prompt An Invoice Template Instantly
A quality CRM software like Law Firm CRM helps you manage your timesheet almost effortlessly. It's the trickiest task and it is always taken care of by the CRM. After logging your time slots invested on a particular matter, you can generate an invoice in quick seconds. Law Firm CRM comes complimentary with a pre-designed invoice template. You can create an invoice for the current month, add other expenses if need be, and all the details will be automatically flown into the invoice template. Let us show you an example.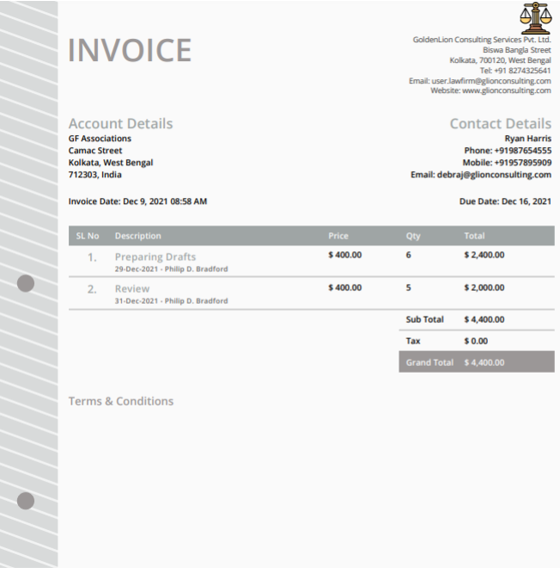 Maintain Records
The legal world always involves stacks of documents and paperwork. As an attorney, one has to keep all his/ her documents handy. You may be required to produce them before the court or investigate a particular matter. So it has to be really quick and hassle-free. Law Firm CRM organizes your documents and helps you store, manage and share them whenever required. When you get inside a particular matter record, you can instantly go to the related lists and view the attachments. You can always attach multiple documents related to a case and keep a seamless record in the attachment section, just like this–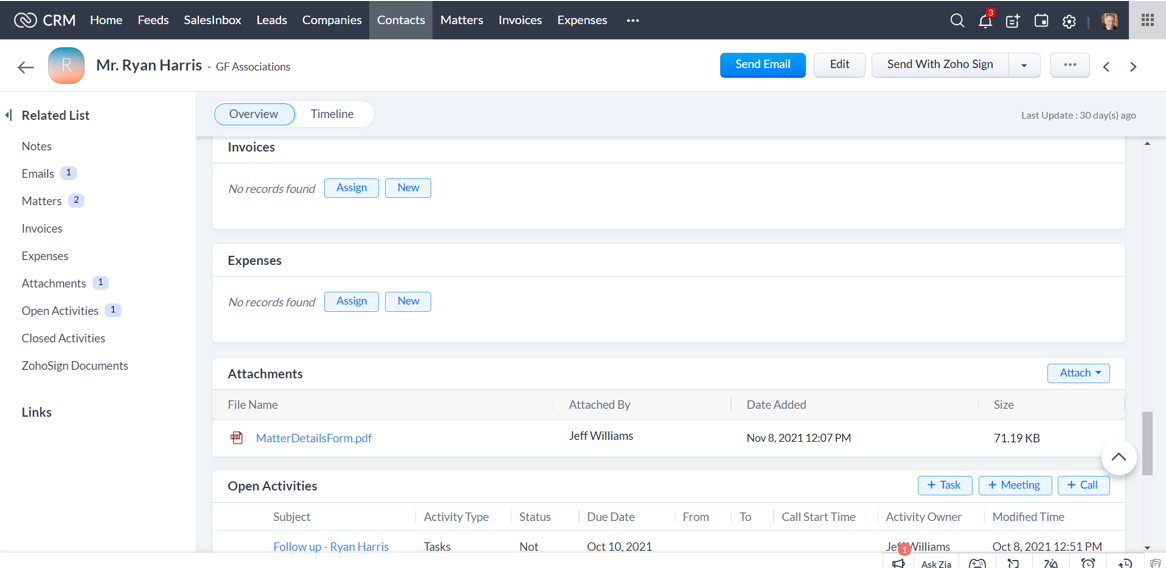 Interdependent Collaboration
For making a business successful, a one-man army approach is not always pertinent. You need your teammates to help you achieve milestones and ultimately reach your goal. Law Firm CRM helps you keep a diligent eye on each member of your organization. You get easy access to their performance activity and also identify their weakness so that you can guide them through it. You can always allot tasks to your fellow members just by mentioning them. And bingo, they get instant notifications about their upcoming tasks. Such an interdependent collaboration can make a huge difference in your business growth.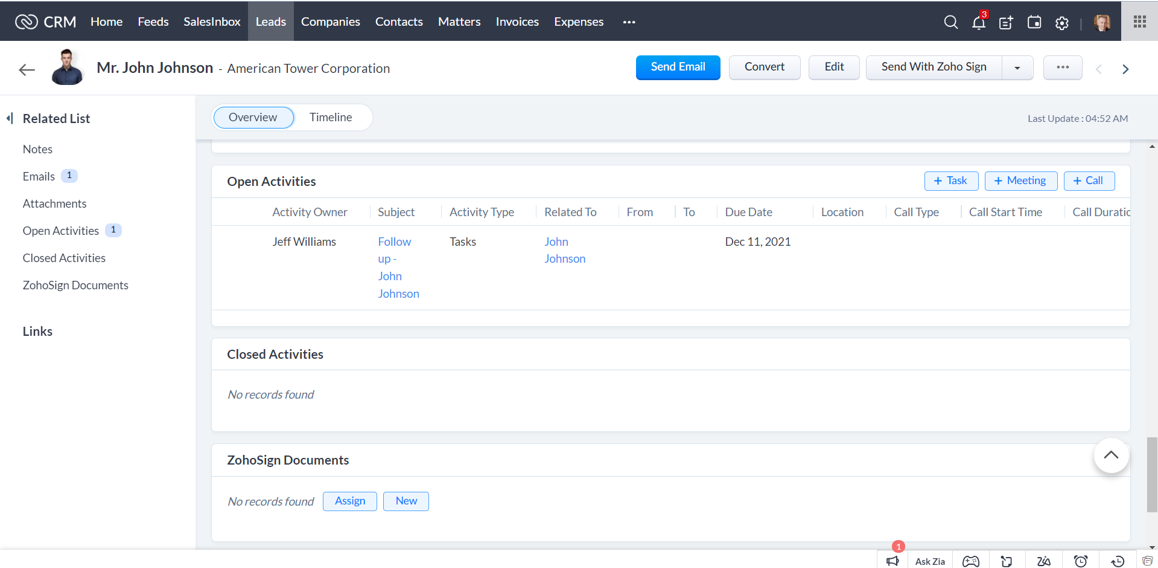 Gain Powerful Insights
Law Firm CRM comes with several comprehensive reports and dynamic dashboards. These generously offer you powerful insights related to your business. This CRM is all computerized, so you can get instant real-time updates of your business, and also, there can almost be no room for misleading information. Therefore, by banking on these insights, you can implement innovative strategies to grow your business even bigger.
Let's see how a report looks like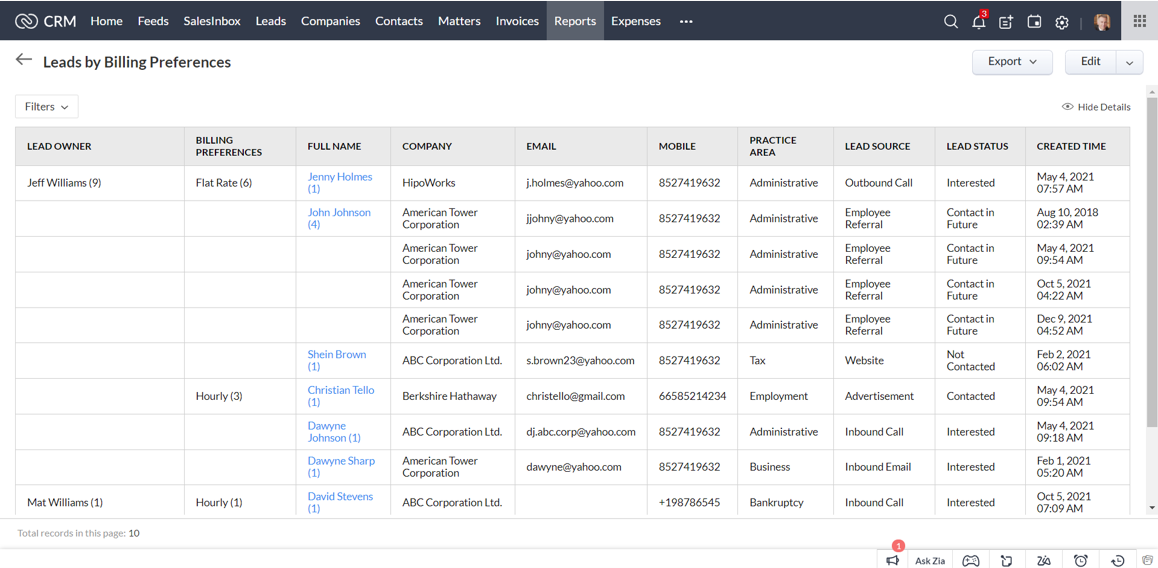 And now it's time for a dashboard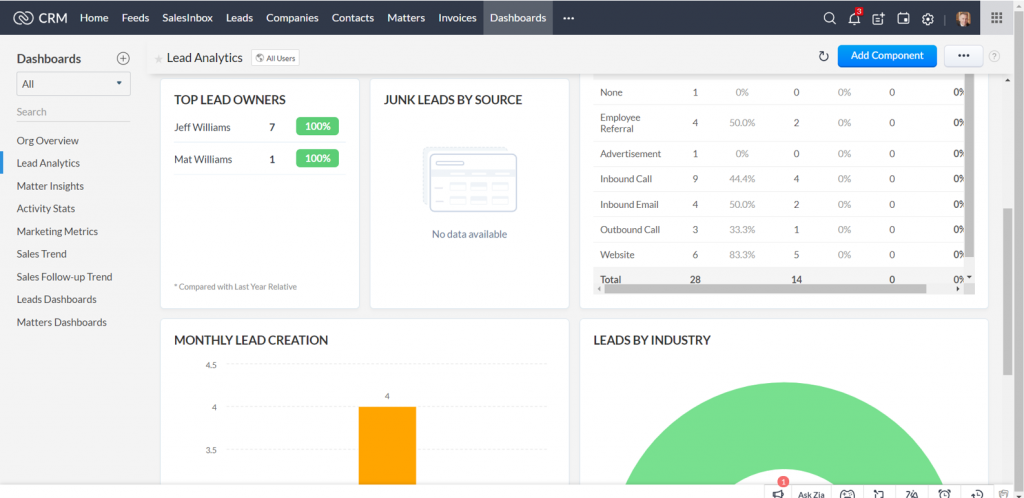 Last words,
In earlier times, lawyers used to maintain a simple spreadsheet to maintain stability in their legal business. But time has evolved, and undoubtedly, so have you. To survive in today's economy and give tough competition to others, you must conduct a unified space for information and client retention to direct your business towards maximum success. And that is how Law Firm CRM becomes beneficial.
It has time and again proved itself to be the best. Don't believe us still? Watch this super cool video to visualize the entire sales process even better.
Want to read more about the reasons why you should choose Law Firm CRM? Read here.
So if you're opting for a CRM, why not choose the best in the market? Click on this link to learn more!