Achieve Customer Expectations And Build Their Confidence With Travel Agency CRM
Nov 12, 2021
People often mention a quote–"When one door closes, another one opens." 2021 has been undoubtedly marked as a significant year for travel industries all around the world. Certainly, travel agencies have experienced a major downfall in the wake of the global pandemic. But on the brighter side, they have walked a great length to make a place in the digital world and embrace digitization fully. Travelers too have embraced this digital vogue and have become increasingly aware of their options. You cannot just feed them with a typical one-size-fits-for-all kind of trip. They're looking for enhanced personalized experiences while deciding on a travel agency. However, the sky is looking clearer as travel companies are better equipped with Travel Agency CRM to mitigate past losses and meet present challenges.
Travel Agency CRM is a software application that is solely designed to help travel companies foster strong relationships with their customers and improve revenue retention so that they never run out of business.
Communicate More To Gain Customer Insight
Communication with your customers is the magical key to success for any business. Your customer base is your primary concern. So, for building solid alliances with them and gaining real-time insights, you need to be interactive.
Design A Useful Website
Since your website is accessible to everyone across the world, you need to craft it in a way that your audience can quickly decipher it. An aesthetically pleasing website can tremendously attract traffic. You can showcase pictures and videos of your previous successful trips, the tour package listings, the price lists, contact information, and so on. You can plan your website with crisp, interactive content including a brief about your travel business, the cultures you believe in, and your goals. Keep it professional with a tinge of personal touch.
Store Live-Chat Transcripts With Travel Agency CRM  
A major USP factor of Travel Agency CRM is Zoho SalesIQ. You can easily engage with a prospective lead by initiating conversations using a live chat-bot (or 'Can I Help You' box). This feature can trigger canned responses to greet your potential customers, respond to their inquiries, and ask for further information. Your CRM tool stores all these chat transcripts for you to evaluate and identify your prospective customers. Depending on these, you can create a single view of your customers, predict their preferences and enhance your future interactions.
On the plus side, you get to see all the real-time visitors of your website, the number of pages they have already browsed through, and also, you can track the time they are investing in your website.
Go Global With Social Media With Travel Agency CRM
Social media houses all your potential customers. That is where you should be present too. You can always leverage your social networks for content disruption. This era demands innovation and creativity. Use these platforms to showcase your company's potential by sharing beautiful pictures and videos of the most popular destinations and lesser-known locations simultaneously. You can encourage your customers to share their experiences on their profiles in exchange for cool perks and discounts. When you think about it practically, this can be thoroughly helpful for expanding your reach across the globe.
Manage Your Tasks Like A Pro
You can trust your CRM software when it comes to managing your tasks. Creating tasks is an important avenue to nurture your leads. The study says that customers find it a lot easier when they have been walked through by a salesperson while making a purchase. They like to be informed about all the nitty-gritty and have a personalized experience. For that, you can create and assign tasks to your teammates to follow up with your clients by scheduling meetings or calls. Forrester states nearly 50% of teams have improved their productivity using CRM software.
Personalization and Customization With Travel Agency CRM
Building a solid customer base is tougher than it seems to be. It requires diligent analysis of your client's preferences and tastes for they demand a customized and personalized experience. Travel Agency CRM is essentially built for managing customer relationships on your behalf. It never lets you fall through the crack.
Promote Your Brand Via Emails
Travel Agency CRM being a cutting-edge application helps you to stay one step ahead of your competitors. How? As it already documents and segments all of your client's databases, you can easily evaluate their preferences with a holistic view, and create tailored emails for an enhanced customer experience. To give it a more personalized touch, you can market your trips with seasonal offers or occasional discounts on birthdays or anniversaries. Moreover, you can trigger auto-responder emails whenever a customer inquires about a certain trip or for newsletter sign-ups, and maintain the frequency of your emails. Also, you get pre-designed email templates for sending out dynamic email campaigns to share value offers or incentivize customers with visually appealing custom-branded emails.
Make Use Of Pre-Designed Templates
You can generate attractive quotes, invoices, vendor reservations, and vouchers using pre-designed templates that pre-populate specified information in a streamlined format. These can be used consistently so that you don't need to start from scratch. These, of course, can be custom-branded for you to send out to your customers and vendors. Templates usually add a little extra value to your efforts. You can use them to catch your customers' attention. Let us show you an exemplary template.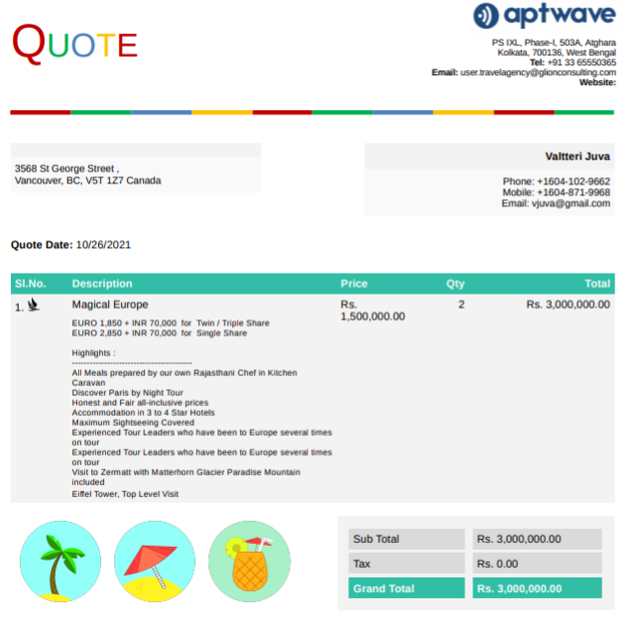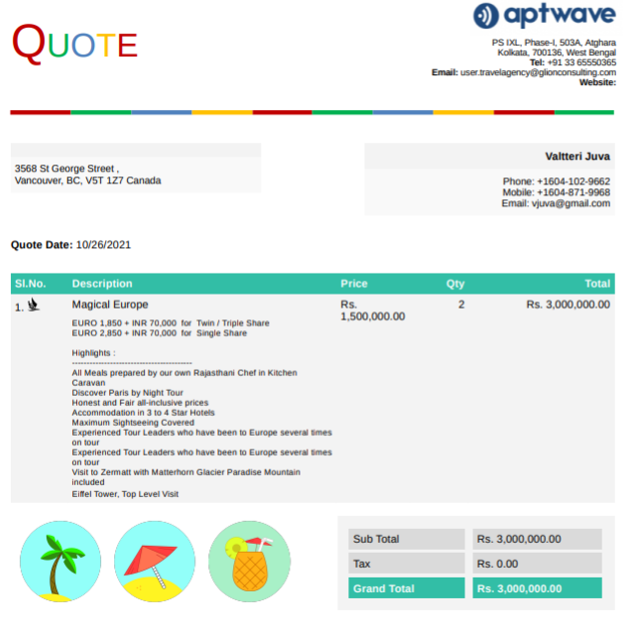 Be A Tour-Director
For running your travel business smoothly, first, you need to cover your bases. You need in-depth research about all the trips that you're offering. But who wants such hard work to go in vain? We say that you make use of it with Travel Agency CRM. You can format a fully personalized day-to-day itinerary for your customers, set up pre-defined travel packages to suit your client's needs, and direct their trips. You can also add services from your inventory such as flight tickets or cab rentals as per your customer's requests. Take charge of being a tour facilitator for your customers and amaze them with your extraordinary services.
No-sweat Contact Management
We are sure that you have countless contacts. Managing them with a simple spreadsheet that holds all their entries is just not enough for a fast-expanding company like yours. This advanced CRM application lets you store and document every touchpoint communication with your buyers and you can also record all your passengers by pulling out information from your contacts module.
An add-on trick here is that you can also tag a particular contact for any other trip passenger. Meaning, that you don't even need to create a separate contract for an existing customer who's opting for a new trip. Break no sweat and save tons of time!
Rate Your Leads With BANT
In the business world, not all people who show interest in your services can be booked as your customers. Therefore, lead-rating following the BANT parameters (acronym for Budget, Authority, Need, and Timeline) is an essential trick for your running your lead management process smoothly. You can identify your immediate potential customers by rating them as 'hot', 'warm', and 'cold' leads, and prioritize accordingly.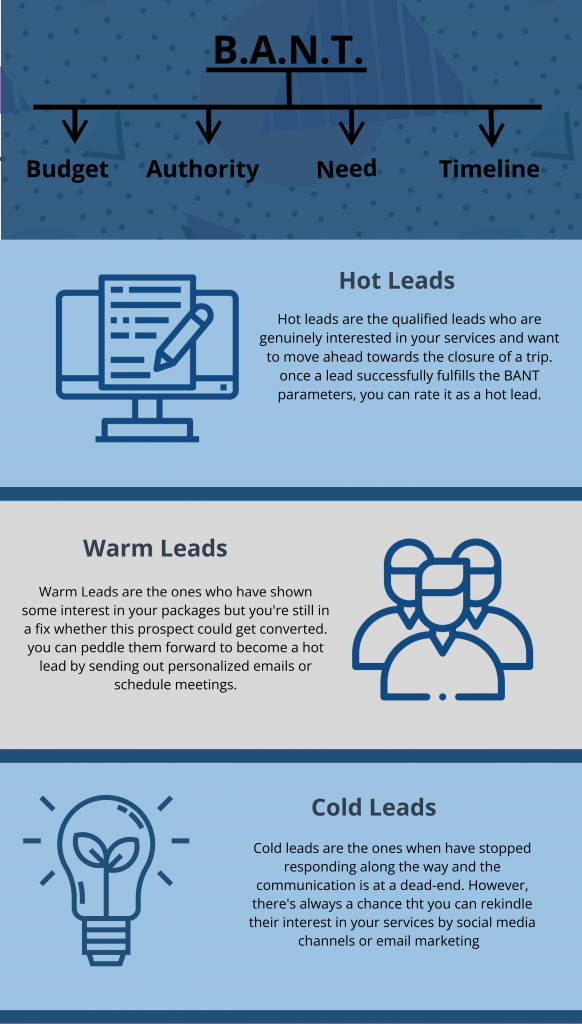 Build Sustainable Relationships With Your Clients
Your CRM already holds every touchpoint communication for each of your customers. You can click on any lead, or, contact, or trip and all the business information appear on the screen. Banking on this intel, you can market further your popular or off-beat destinations by suggestion selling. Triggering email or social media campaigns with the stunning DocHipo templates does the trick for you!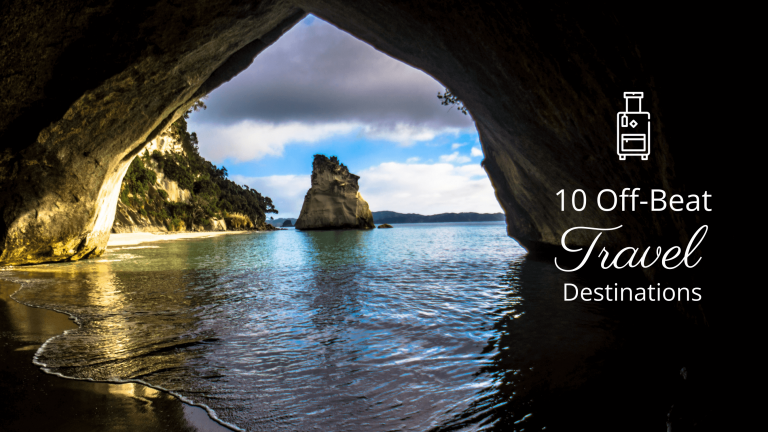 Promote Your Brand With Awesome Campaigns
With Travel Agency CRM, you can promote your travel brand via email and social media campaigns and drive your sales northwards. Epsilon says that 80% of customers are likely to purchase from brands that provide personalized experiences. That is why you also get pre-designed campaigns that you can customize with your content. Besides this, you get real-time insights, analyze customer engagement, check the number of shares you got, view their click and open rates, and also, the geographical locations of where these campaigns have been opened.
Earn Winsome Testimonials
We are sure that you work hard for making a memorable trip for your customers. After all, appeasing them and strengthening your customer base is your ultimate goal. And there is no harm in seeking out rewarding testimonials from your clients. Travel Agency CRM lets you send out testimonial requests and the moment your clients submit their response, it gets instantly collected in your system. You can use DocHipo templates to feature your clients' endorsements on your website or social profiles to invite and inspire your audience. It's too good to miss. So, pat yourself on the back because you've earned it!
USP of Travel Agency CRM
You see, Travel Agency CRM does it all on your behalf. It documents and manages all your necessary databases in a streamlined fashion. It also has an automated sales pipeline system ready so that you don't need to think about your next step.
But why does this CRM software stand apart from the market?
Travel Agency CRM comes along with 25+ standard workflows specially crafted for travel agencies and tour operators. However, you can also create and customize these workflows and work them your way. When you select the 'Workflow Automation' option under 'SetUp', you can see all expected workflow rules pre-populated for you. Automation is hands down a gift for a mighty business like yours!
Bottom line,
There's absolutely no room for doubt when you integrate your business with Travel Agency CRM. Along with the abundant features, it will help you optimize persistently to build life-long alliances with your customers. So, hold your calm, click on this link for more information, and watch your travel business taking off to soaring heights!