Analyze Your Business With Data Insights Of Real Estate Developer CRM
Mar 28, 2022
Playing in the business field or not, everybody knows that there are certain basic patterns that every industry follows to survive in the global marketplace. But to make a credible brand name, we need to carve out an epic niche– an individual strength that makes us stand apart. We all know fluidity is the best advantage of the real estate industry. So adapting strategies according to real-time data insights becomes extremely effective for business growth. And the best solution for this purpose is unquestionably our Real Estate Developer CRM.
Why do real estate developers need data insights to implement business strategies?
The only raw material that you can find and rely on in this 21st century tech-driven world is data. It implies modern currency. Businesses are transitioning from traditional strategies to modern ones for their expansion. Here are some of the major reasons why–
Predicting emerging trends in the market.
Comprehending customer engagement and behavioral patterns
Optimizing sales strategies
However, it is fairly difficult to gauge the whole idea of data analytics at one stroke. That is why we have designed our CRM solution for real estate developers with the most familiar yet flexible features. Our software helps you analyze your business with auto-updated real-time information at every stage of your sales cycle.
This article is wholly about how to collect data insights and execute business strategies for enhanced growth. So let's cut to the chase!
Define Your Data Hub
While there are numerous aspects of a business to look out for, there are some of the selective ones which require our immediate attention. The home page is a centralized-unified space that comprises the most crucial metrics of your business. Be it the number of leads that got generated, the current number of deals in hand, the performance of your teammates– you can access every detail from this page. But what really makes our Real Estate Developer CRM stand apart is the real-time data analytics. So when you start your day, you're straight up landed on the homepage which the CRM automatically updates. You can also note the set of unfinished tasks, related deals, the task-owner, and current status. Added to this, our CRM helps you easily customize the dashboard entries of this page according to your needs and truly define your data hub.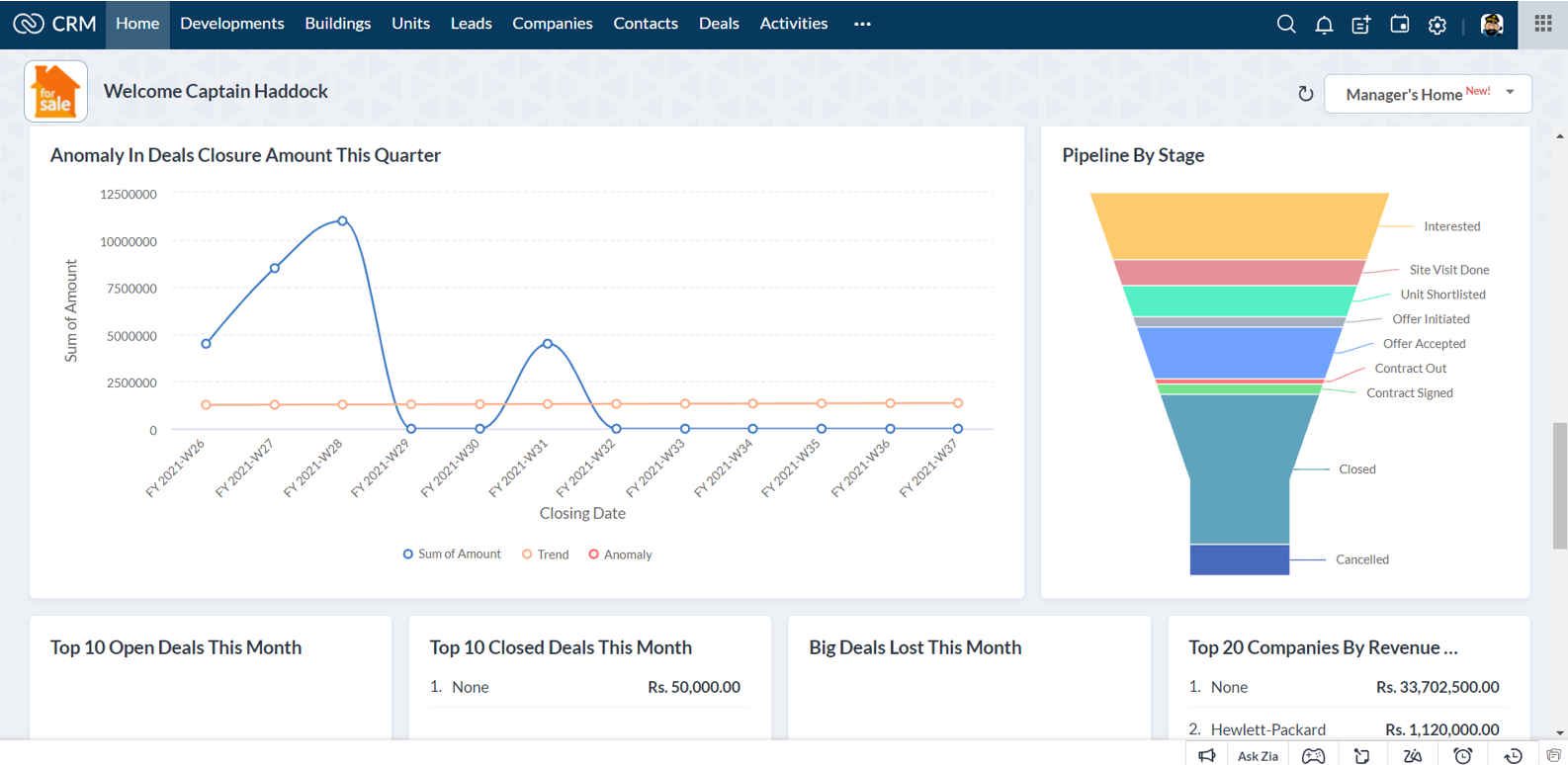 Keep Tabs On Your Leads
If you're new in the real estate ground, you might choose several channels to market your properties and generate maximum leads. These include website landing pages, social media platforms, referrals, newspaper advertisements, inbound calls, and the list goes on. However, with your gradual experience and our CRM analytics, you can efficiently figure out the ones which work the best for you.
Real Estate Developer CRM shows adept effectiveness in capturing leads. Let's say a potential customer browses through your properties via the website. So they can show their interest by inserting their details on the embedded contact form. Once they submit the same, our CRM instantly captures the source of the lead, the acquired information, and houses them all in a separate lead record. In the case of referrals or inbound calls, you can always fill the field manually. Maintaining a trajectory of your leads helps you understand the marketing trends and your overall performance. After all, you are investing hundreds of dollars in this business!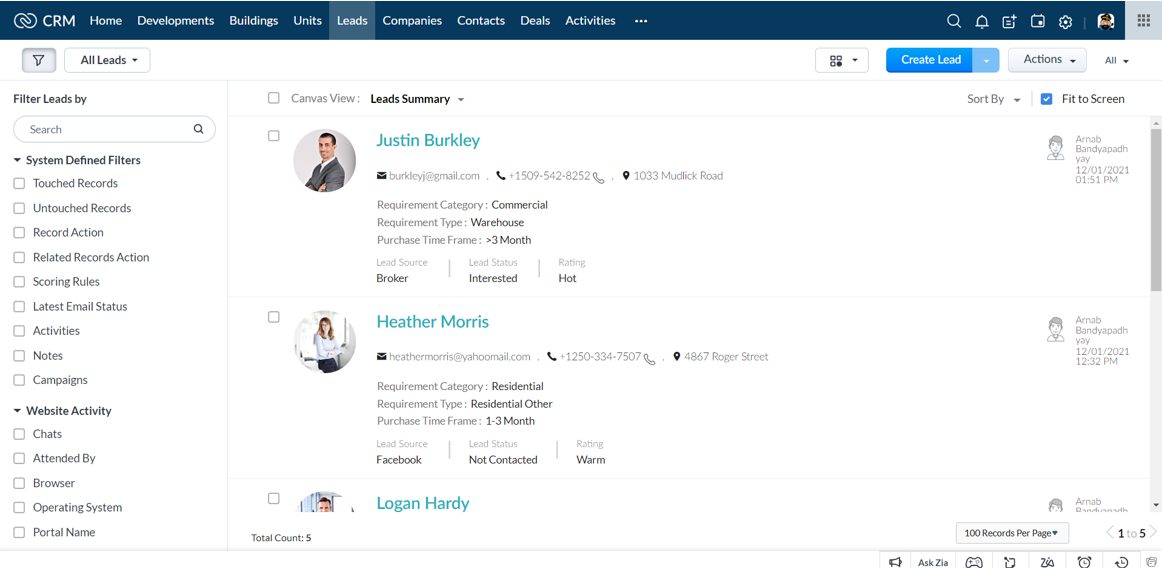 Prioritize Your Leads
It is almost a given that not all inquirers of your properties will eventually turn into your customers. But as a mighty developer, of course, you might have numerous things to work out at a time. What your leads need are prioritization and categorization. Following the BANT (Budget, Authority, Need, and Timeline) parameters, you can screen which ones have greater potential. Based on their information, you can rate your leads so that your sales reps can get a clear drift of whom to assist immediately.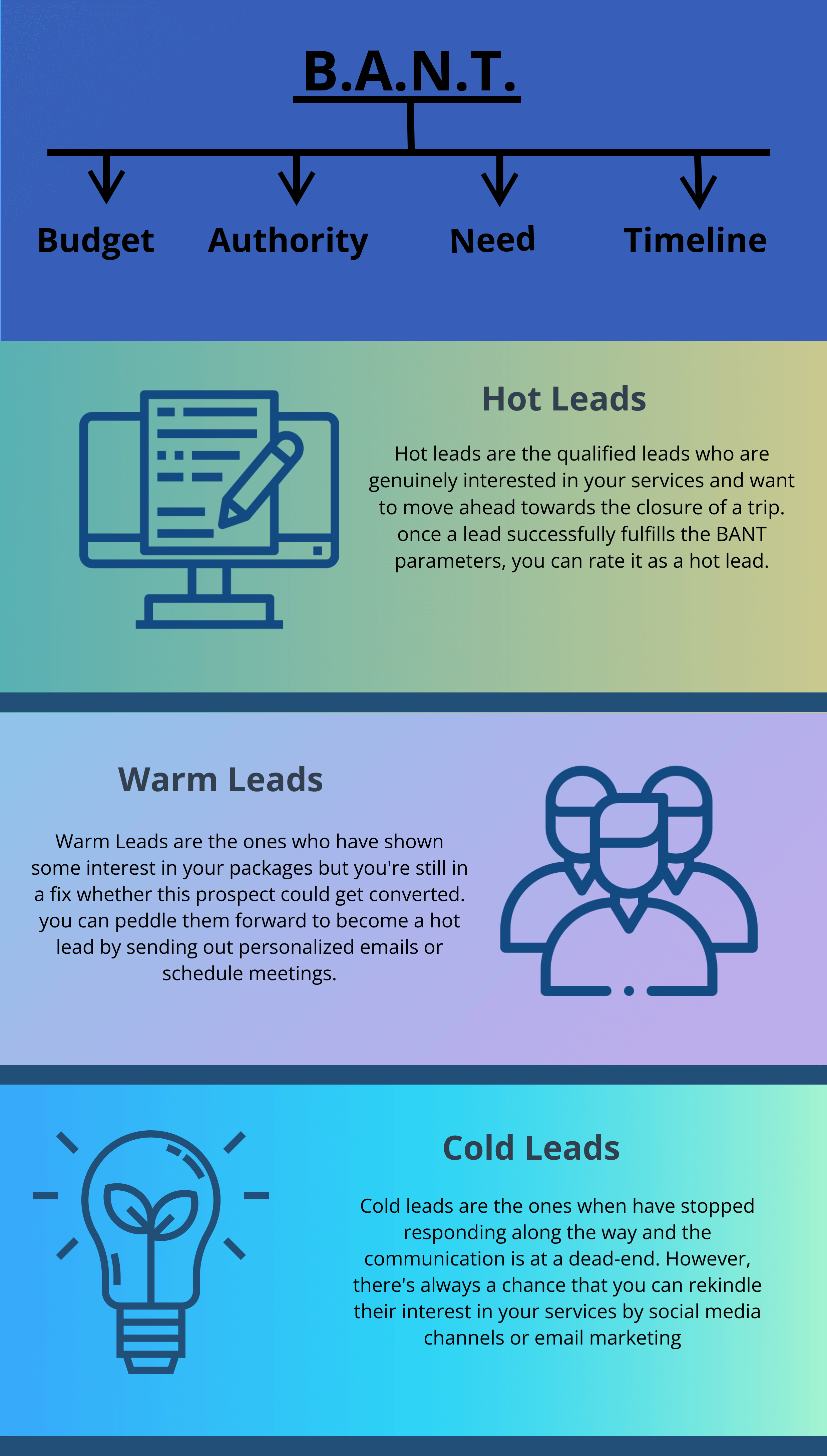 Nurture Your Prospects
Needless to say, your potential customers need your assistance before they make a purchase as for most of them, buying a property is like a lifetime investment. This adds up to your workload, we understand. Now the moment, you receive a lead, our Real Estate Developer CRM automatically notifies the respective team members so that one of them can take it forward. Even if you notice a halt in the process with collected data, you can easily create multiple follow-up activities or schedule calls or meetings and distribute them amongst your teammates. Just a one-click mention and they get instant notifications. You can even strategize the communication flow by marking dates on the calendar or setting reminders.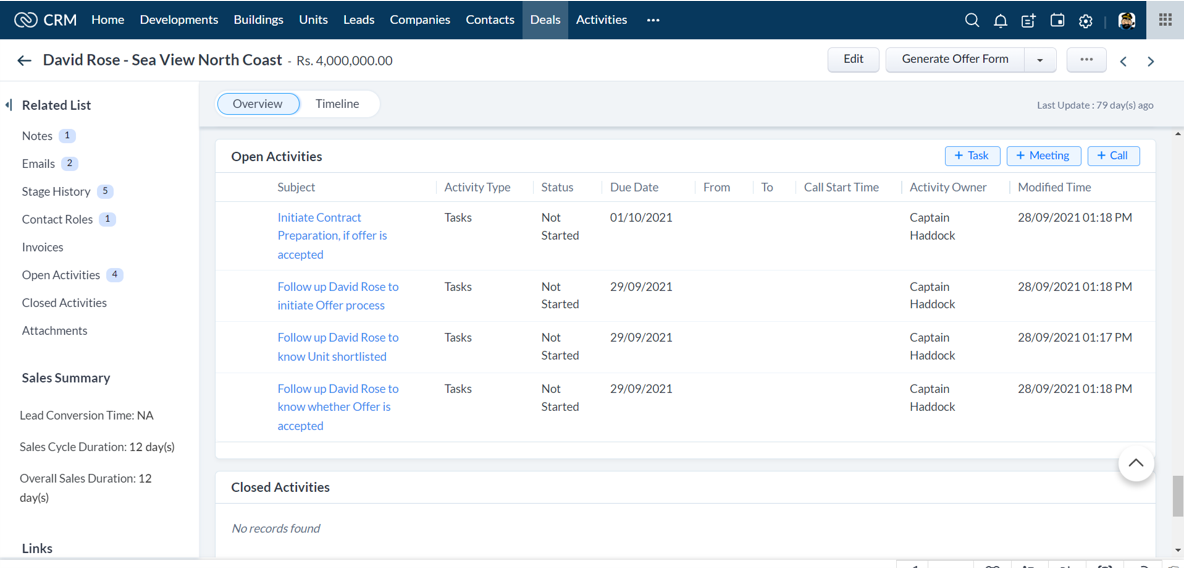 Communicate With Your Clients Using Data Insights
When you successfully convert a lead into a 'contact', 'company' (for B2B opportunities) and a 'deal', our CRM instantly creates individual records for a particular client. The contact record holds only the contact-specific information. Here you can also check the most convenient time for communicating with your client. One of the best parts of using Real Estate Developer CRM is it automatically figures out a particular time, based on your previous follow-up tasks.
Other than this, if you open the timeline page, you can see all the previous touchpoint communication with your clients has been stored in a streamline. This helps you map out your customer's journey, and efficiently pick up right from where you left off.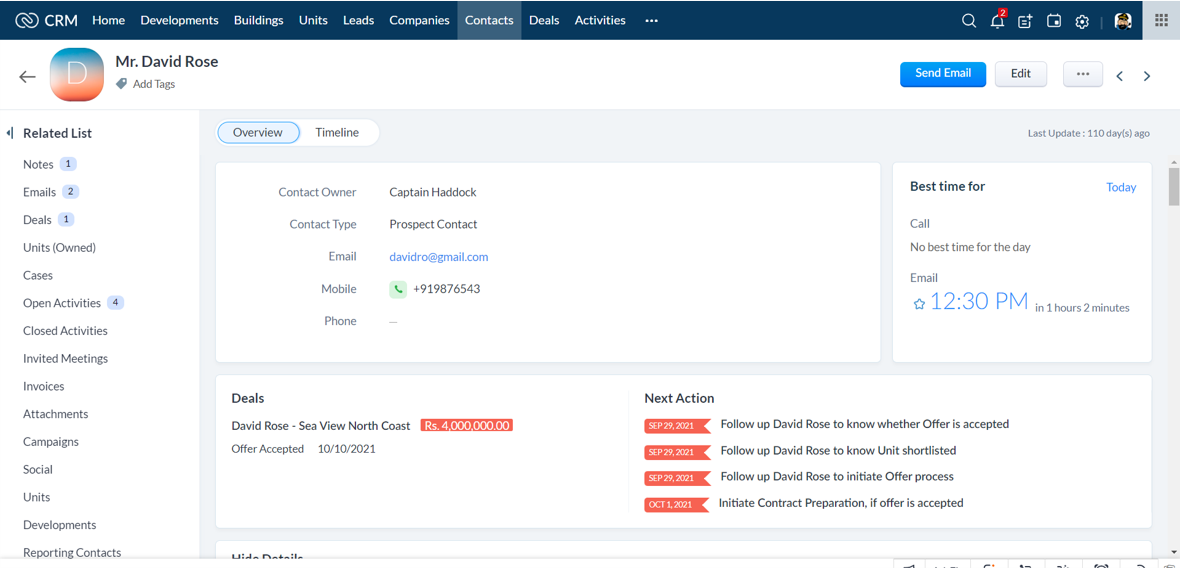 Pipeline Management
The more you grow your business, the more deals you have to tackle. And we are hoping you'll only thrive northwards. So once you're backed with our Real Estate Developer CRM and the collected data insights, you can manage multiple deals simultaneously. If you get inside a deal record for a particular customer, the first thing that you can see is a ready-made pipeline. Our intuitive CRM solution rightly detects the current pipeline stage of your customer and auto-updates itself after the previous stage is completed. The best takeaway here is that you don't even have to wonder what your next step will be as your CRM takes you to the next level. As the sales cycle is relatively lengthier, our solution even flags timely checklists so that you never falter.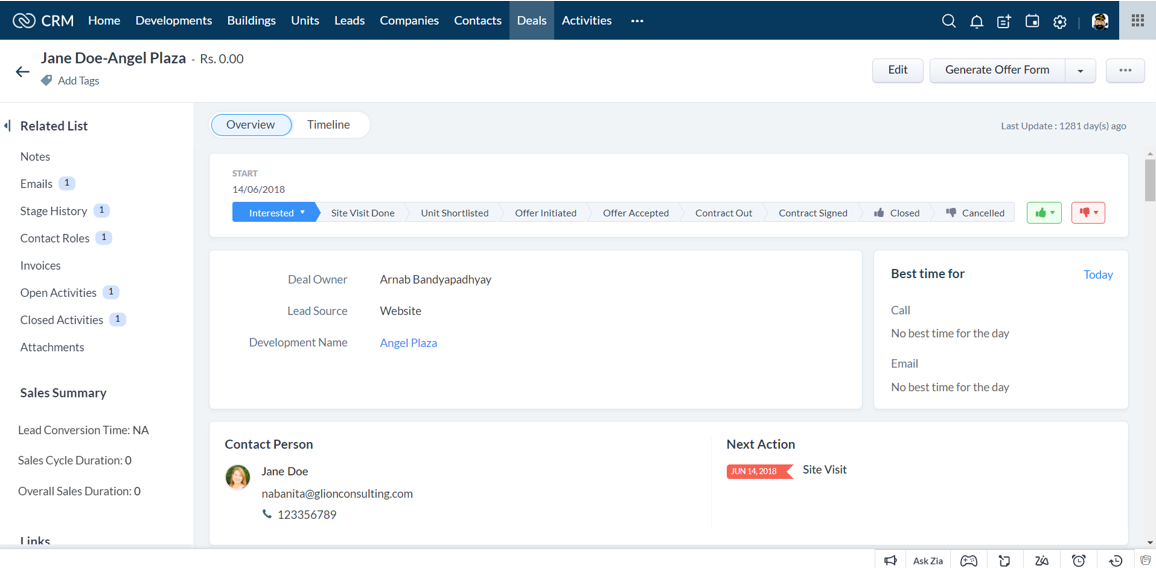 Reports and Dashboards
We have saved the best for the last– the stacking plan report. The key functionality that our Real Estate Developer CRM holds is a visual representation of the buildings and units under a particular project. This data report displays the various aspects of your spaces– like its availability status, the total area per square foot, approximate price, number of bedrooms/ bathrooms, etc. Moreover, the data insight here updates itself automatically so that you never have misleading information while pitching your clients.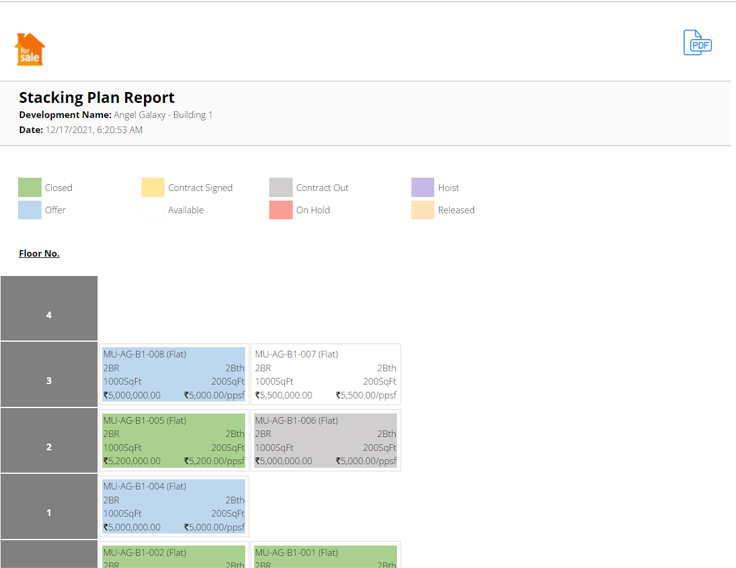 Even the reports and dashboards are two dynamic modules that help you comprehend the different aspects of your business with minute scrutinization. You can make a world's difference by implementing innovative tactics with real-time data analytics and insights to improve overall business health.
Here's an example of a report–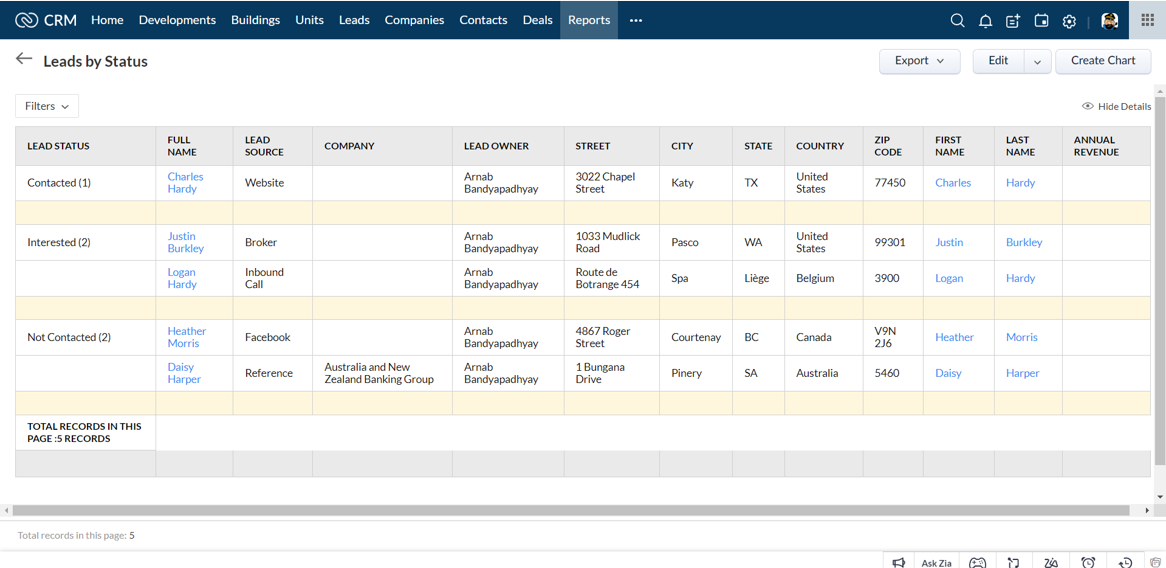 And a dashboard–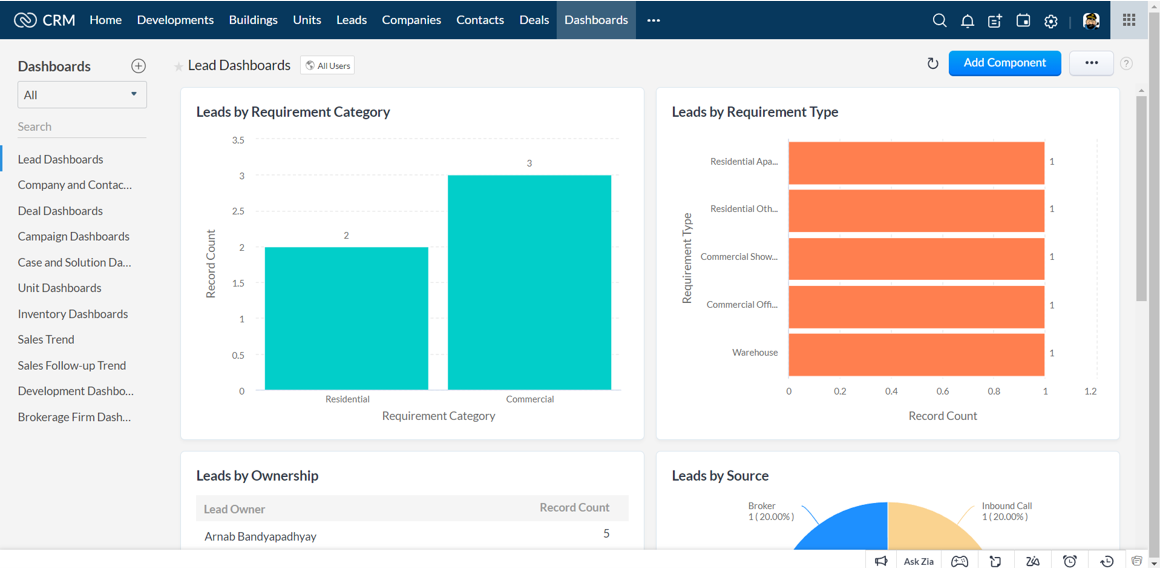 Wrapping up,
Being a business person, you've probably outdone your performance than yesterday and you're probably bracing yourself for the next day. So why not use the data analytics and insights of the best CRM solution to take your business to the next level?
For further information, click on this link. It's your chance, make it count!