Top 5 Benefits Of Using An Integrated CRM
Sep 28, 2023
If you're running your organization on Silos, chances are your business has not reached its best potential. Even if you're happy with the present momentum, know you can do much better. How? Presenting to you: the benefits of using an Integrated CRM solution.
Silos is bad for business. Nobody wants isolated information that is stockpiled for different entities existing in an organization. Your business needs collaboration for success. But silos do the opposite. They are incompatible with the current competitive business scenario.
A report by Planeview says that the average team uses 6 approaches to support project collaboration and at least 4 different communication tools. 48% of organizations say their top collaboration hurdle is ineffective communication between team members. While 87% of employees think leaders should reconsider the way they think about technology in the workplace, 84% say businesses are missing opportunities by not moving to more modern solutions.
Imagine, you are going through sales leads or existing clients to up-sell tour packages. So you make a sales call and get to know that another sales rep contacted them offering the same trip. Or suppose, you had to pursue a lead for an opportunity but a colleague has not manually shared updates on it, so you have to repeat the same task. Your sales pitch becomes weak and inefficient which eventually creates a negative impression on your potential clients.
Would you like it if a salesperson from a different company did the same when you inquired about a particular service? No. Your customers don't either. This undermines your brand reputation. You don't want that. That's why you need to stack different apps and systems in a central unified space. Here comes an Integrated CRM solution – the best for business.
What is an Integrated CRM?
An integrated CRM is a customer relationship management software that is easy to connect with different apps or systems dedicated to different operational departments. Integrating and centralizing all your business apps into one particular space makes up for an efficient power-packed solution tailored to your unique enterprise.
Take Zoho CRM for example. It appropriately lets you stack different apps to ensure that data is unified across every operational area and makes a complete whole. Though there are several built-in features, this sales CRM offers excellent integration support to upgrade as a unique business solution.
Why is it important that your CRM supports integration?
Customer data is arguably the most valuable aspect that leads to a successful business. And that needs to be shared across different operational areas.
A report from Productiv's study says that large organizations use a range of 40 to 60 different applications. You can imagine the amount of time you could lose if you had to constantly switch between apps and calculate updates. You need to be consistent with your applications and balance out your resource consumption. Without integrations, it is impossible.
When you have siloed customer information across different apps, you might face several challenges. For example, you might have incorrect information. Or better yet, your salespeople are busy making the same sale to the same customer multiple times.
With the right CRM in place, you can organize and streamline customer data in a central place so that whenever it gets connected to different assets in your organization's tech stack, customer data comes from one central source that is updated in real-time.
Let's understand the benefits of using an integrated CRM in more detail.
#1. Increase Productivity With Team Collaboration 
Time is money, and thus, it should be used wisely. It might often happen that your team is swamped with redundant tasks such as updating lead information or streamlining communication touchpoints. They might be commuting in between different applications for updated customer data. These tasks bring no real value to your invested time. So even if your team works hard, there's no way they are going to catch a break from this. Their job is to achieve their sales targets and close-win opportunities.
You're simply giving away opportunities to your competitors.
What you need is an integrated CRM in place – one that is as good as Zoho. It helps you leverage your resources extensively – manpower, time, money – from every tangent. Zoho CRM ensures a seamless automated data flow across applications and systems. You can easily eliminate manual tasks and increase productivity with team collaboration, driving your team together towards one shared goal.
#2. Manage Communications With An Omnichannel Approach 
Technology has progressively made our lives easier in every walk of life, significantly in business. Your potential customers have become tech-savvy as well. They value their experience just as much as the product/ service you offer. They want omnichannel communication across several platforms and your agents cannot magically attend them whenever they need.
You must important applications such as Zoho SalesIQ, Twilio, or RingCentral to manage customer communication with omnichannel support. For example, when you integrate with Zoho SalesIQ, you can build a live chatbot with pre-determined questions and answer choices so that your prospects' inquiries get streamlined in the CRM. Choose a CRM that readily alerts your sales team about the new lead so that one of them can browse through the captured chat transcripts and take over in one-to-one conversation.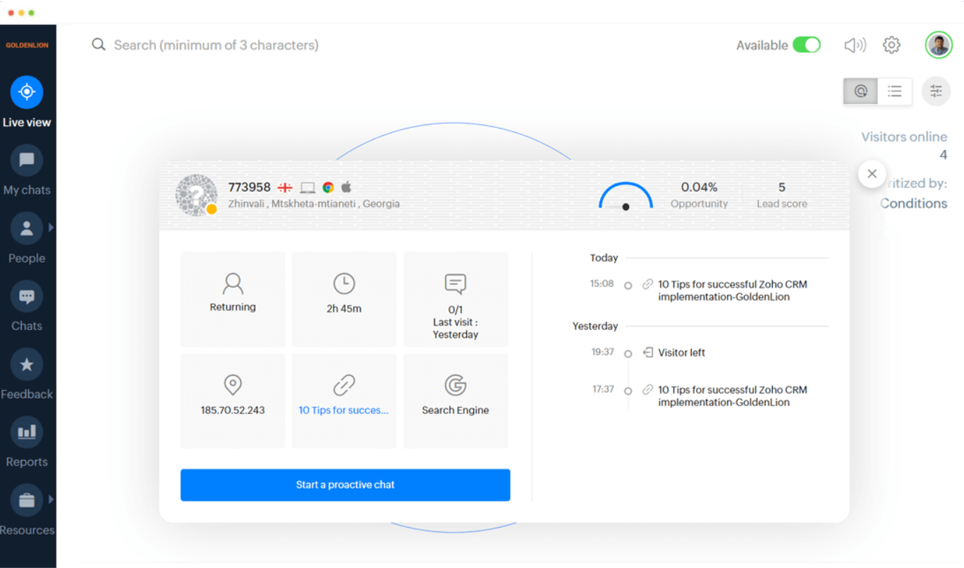 #3. Upsell and Cross-Sell More Opportunities 
Retaining customers is important. Your business partially stands on your client base. But that does not mean you would stop acquiring customers. You have to grow your client base. Therefore, dealing with both inbound and outbound opportunities is crucial for you.
When you have an integrated CRM, you can analyze your data with a single view. It gives you an accurate drift of the latent demand, market trends, future requirements, and chalk down upselling and cross-selling deals. You can use this information to your advantage when you pitch your customers with personalization which builds their trust and loyalty.
#4. Deploy First-Call Resolution
Your customer is currently facing challenges with a particular product or service. They call you and wait for the resolution. But you're busy togging in between different apps to look for the roadblock. That is utterly inefficient.
An integrated CRM makes it way easier for you. It is adept at documenting customer data in various interlinked records, so you can quickly gather information about the customer, their product, and purchase history, You can easily address the bottleneck they are facing, track the resolution status, and move on to the next one once the task is complete. You can add apps like Google, Microsoft, or Zoho Survey, Desk, Social, etc. to your CRM to make it a fully customized parent console and power-packed solution for your business. Read more first-call resolution rate here.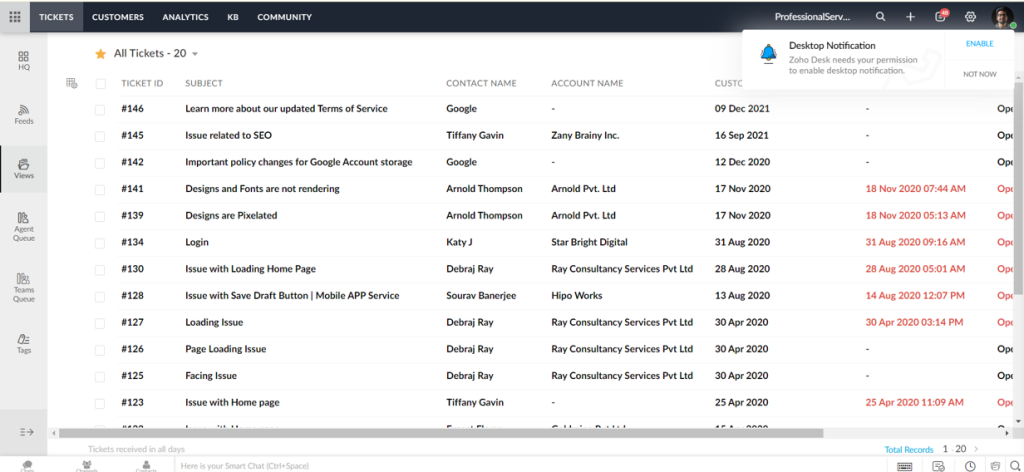 #5. Improve Customer Experience 
There will always be extra brownie points when you interact with your customers on a personalized level. Your customers are tech-savvy and independent people. They can suffice with self-service portals or chatbots to resolve challenges independently. But they would still expect you to be present and serve them whenever they require.
Your integrated CRM presents you with centralized data to help you capture valuable insights about each customer, their purchase history, interaction touchpoints, requirements, and preferences. All these data points are recorded and can be accessed from a unified screen. You can leverage all these data points to tailor your actions and boost conversion rates.
How to integrate Zoho CRM with other applications?
Integrating your CRM with third-party applications is not as perplexing as you think. First, you need the right CRM software to get started. Rest will follow suit.
Zoho CRM comes pre-coded to work with different applications that your potential customers regularly engage in. You get hold of a bunch of Zoho applications or third-party integration platforms like Google, and Microsoft. You can customize the whole CRM as per your unique business requirements. It lets you extend its capabilities with APIs (Application Programming Interfaces) to connect with any third-party applications.
The Set Up section in the CRM application is dedicated to extensions and APIs from where you can look up other Zoho apps. The system seamlessly integrates with Google apps, Microsoft Office Outlook, social media channels, and PBS systems. You can also download this application as a mobile app for your iOS or Android.
Closing Thoughts,
Want to start with an integrated CRM? Set your baseline straight. Find relevant answers to questions like:
What are your current business operational methods?
How do you handle sales opportunities?
What are the best marketing platforms that work for your business?
How do you manage customer communications and resolve their challenges?
Are the existing reporting systems accurate enough to help you make better-informed decisions?
There, I have outlined a set of questions that are crucial to determining what kind of applications you must integrate for your organization.
Now it's your turn to choose a CRM that is flexible enough to adapt and evolve with integrations to advance your business momentum. Zoho CRM efficiently stacks all the applications in an easy-to-use interface so that your team can increase productivity, achieve daily sales targets, and collaborate for one shared goal.
Reach us out for more information!