Boost Your Learner Engagement With Zoho CRM For Training Providers
Dec 16, 2021
Regardless of what industry you're involved in, we are certain that the competitive landscape looks tougher than ever. Everyone tries their best to outrun their competitors to stay at the top in the market. So if you're running a training provider business, you need to articulate that one 'X-factor' that makes your business stand out. It does not matter whether you work on Corporate or individual training, but engagements are the roots of your business. Zoho CRM for Training Provider helps you manage strong relationships with your engagements so that you can have loyal proponents and repeat business.
In this article, let us walk you through how you can boost learner engagement using this CRM software for your training company.
Nurture Your Prospects
For a training provider company, potential learners are the basis of your business. Nurturing them is one of the crucial steps to improve your sales funnel. But if you think practically, you can enormously leverage the full potential of Training Provider CRM for boosting learner engagement. After all, the ultimate goal is to extend your business and expand the learning curve. A win-win for you and your learners.
This is how your CRM captures information regarding numerous leads in a kempt manner. You can see a summary for now, but when you select a particular lead to pursue, you can see their business card details, detailed information, and related lists– all in a streamlined form.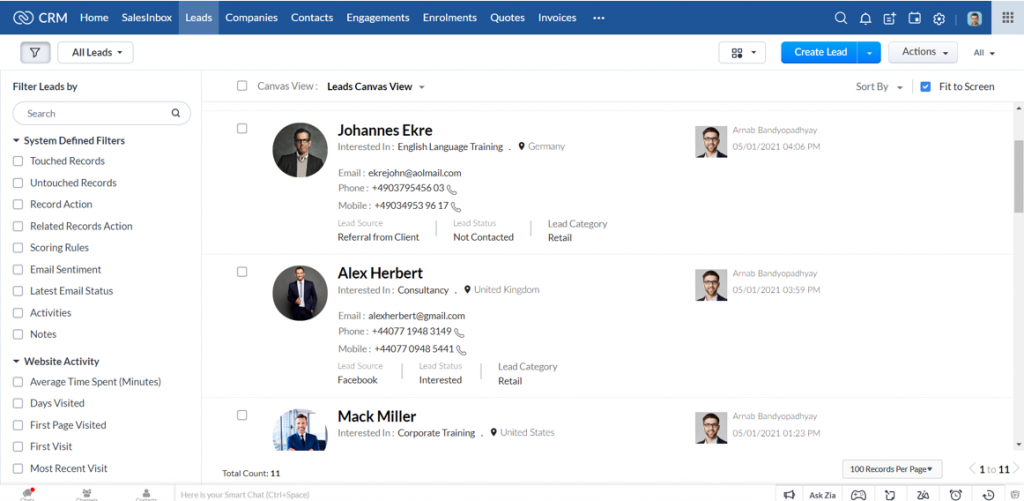 Promote Your Courses
For generating maximum business leads, you must promote your courses vis different channels. We are standing in the digital era today. It is high time for us to embrace digitization, innovate new ideas, give a voice to our thoughts and promote our brand. Be it Google advertisements, website, social media networks, emails- you can have access across the globe in a few quick seconds. You can promote your brand across social media by hosting various webinars to fuel your potential learners' engagement. Stressed about what to post for your internet community? Start using stunning templates from DocHipo today!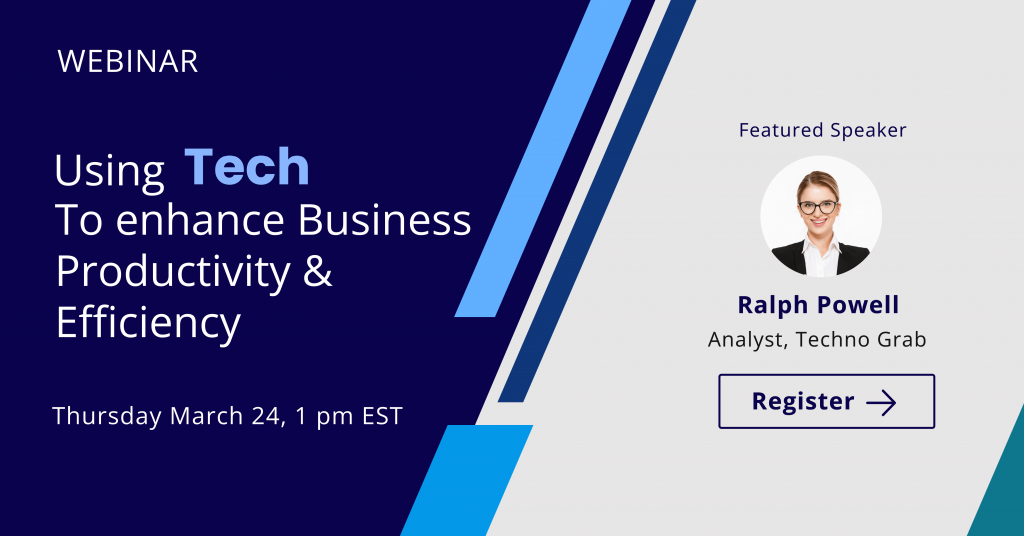 Capture Leads And Follow Them Up
Once you are successful in generating multiple leads, Zoho CRM for Training Provider captures their inquiry and instantly creates a single view of your leads. Evaluating the merits of each lead based on the BANT parameters, you can nurture them accordingly. Findstack says that 79% of buyers find it crucial to interact with a salesperson while making a purchase. So for instance, when a prospective learner inquires about a course, your CRM stores his/her information so that you can follow them up with emails or calls.
Even if your leads convert into engagements, you can use emails to communicate important information regarding venues, dates, or log-in details. You can also send out an overall general idea of what a particular course is about or what will be taught for the day.
In this picture shown below, you can see the related list section from where you can compose informative emails, schedule calls, or simply mention a teammate for a follow-up task. As simple as it sounds!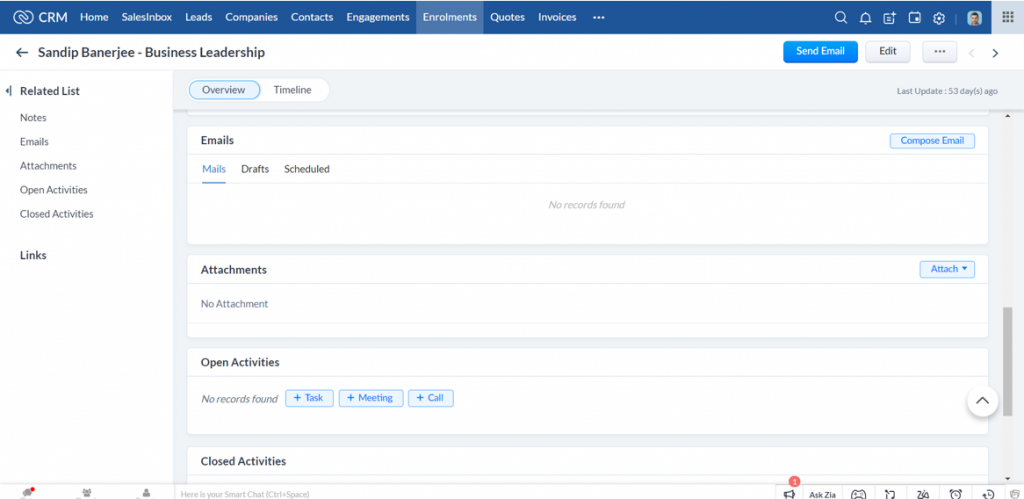 Automated Email Campaigns
Training Provider CRM helps you trigger automated email campaigns. Emails are a great tool to market your courses further. For example, in the post-course phase, when a learner receives a certificate after course completion, you can send out email campaigns about another set of courses based on their previous acquisition.
Since it's an email about learning, it doesn't require to be necessarily tedious right? You can make it more fun and enchanting to look at by adding an extra spark. With DocHipo you can create stunning email campaigns to engage your learners and add valuable information at the same time. You don't need to start from scratch, you can simply create and customize to suit your needs. Seems so cool, you should try it out.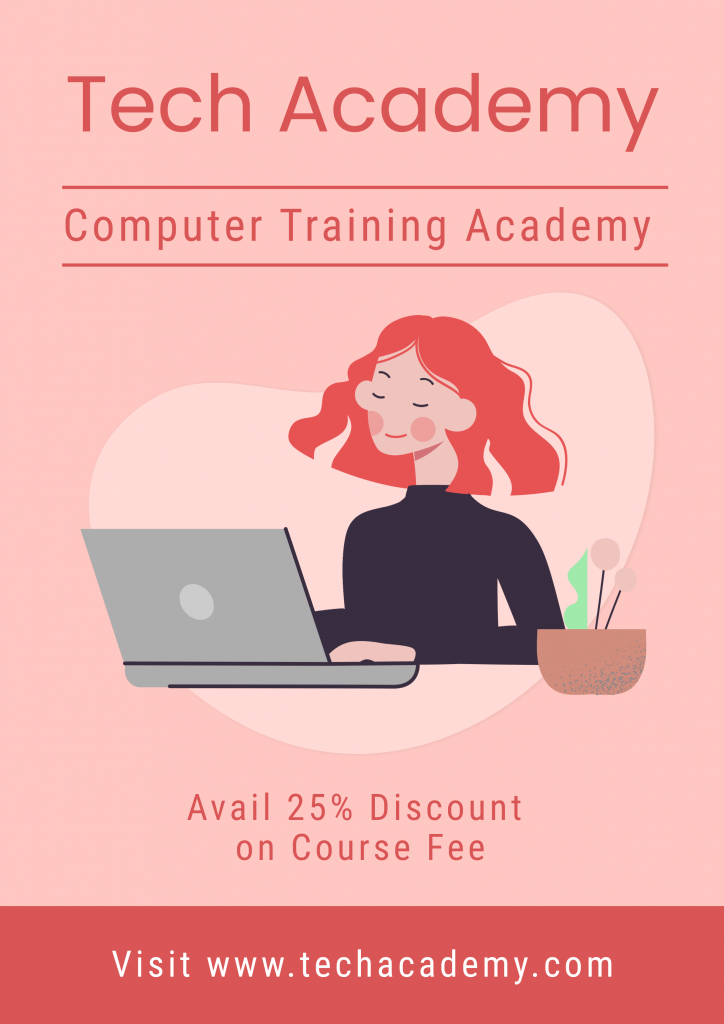 Auto-responders For Newsletters
You can always opt for prompting auto-responders for signing up for your newsletters. Training Provider CRM helps you sync auto-responders with your schedule. You can always set weekly or monthly newsletters for your subscribers. These help you inform them about your upcoming courses or seasonal discounts so that ultimately you can repeat your business.
Conglomerate Your Courses
Learning itself has a vast spectrum. As a training provider company, you should always look out for your learners and attempt to expand their learning curves. You can offer an avid range of courses to choose from. You can also provide them with different modes of learning such as online or offline training, e-notes (reading materials) which can benefit them in the future. Two years before, online training was almost like a myth. But today, it is the reality that could only be possible with digitization. There is extensive scope for engaging your learners with your service and benefiting them genuinely.
Training Provider CRM helps you strengthen your relationships with clients, sell your services and deliver the best user experience. It helps you manage numerous products (courses) that you provide to your students. Whether, it is an engagement, enrolment, or a batch, you can access every piece of information from one unified space. So once you select any particular product, you can view all other information from the related lists. Interlinked yet in the simplest possible way!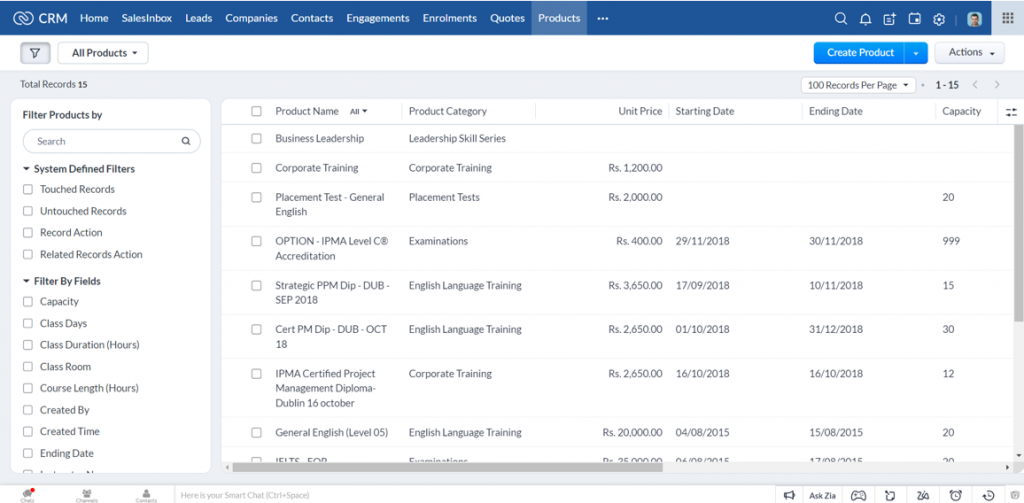 Deliver Tailored Experience
A quality CRM solution like Training Provider CRM has every crucial data centralized. It can dramatically improve your customer service when implemented rightly. You can always be the 'Number 1' training company when you deliver a tailored experience to all your clients.
It is not very likely that a prospective Corporate customer or individual learner will go on changing their training companies. So by using this CRM solution you can strengthen your customer base by matching their preferences. For instance, if an enrollment opts for two different courses which run at the same time, you can always create a new batch. You can determine the class timings, venue, and course and assign your enrolments so that their training remains uninterrupted.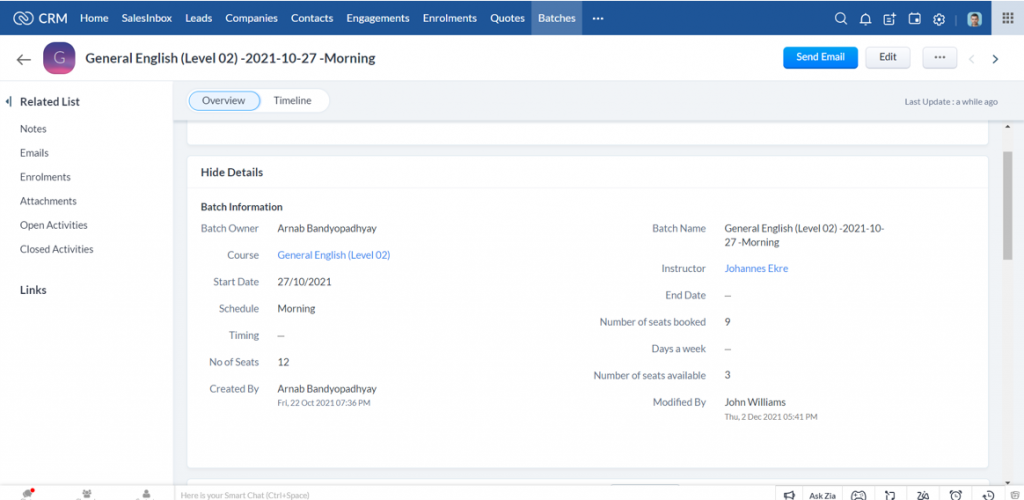 Gain Valuable Insights
The coolest hacks of using the Training Provider CRM solution are the reports and dashboards that come complimentary along with it. These supercharged reports and dashboards give you real-time updates about your business. You can always segregate them with different filters so that you can identify their category and work accordingly. Also, you get to easily comprehend your business dynamics from these modules and implement strategies to thrive up and above.
Let see how a report looks like–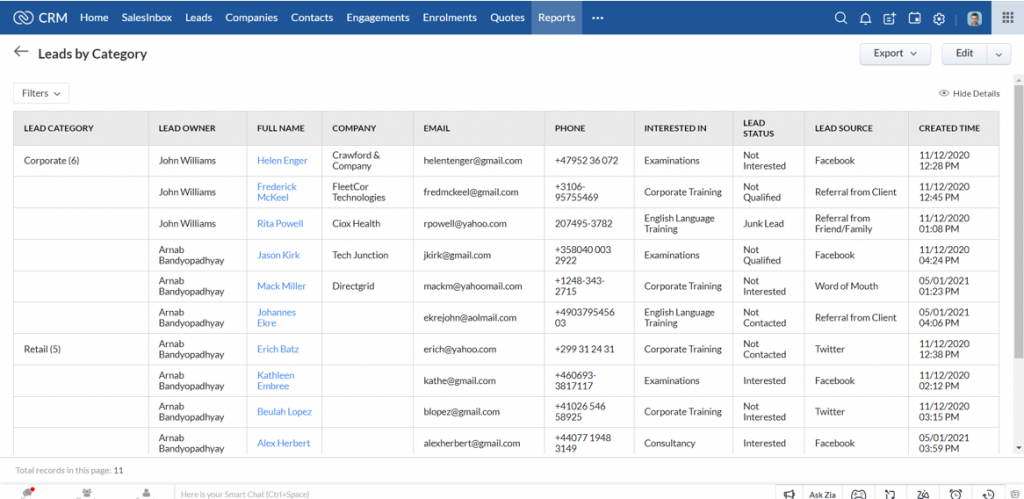 Time for a dashboard–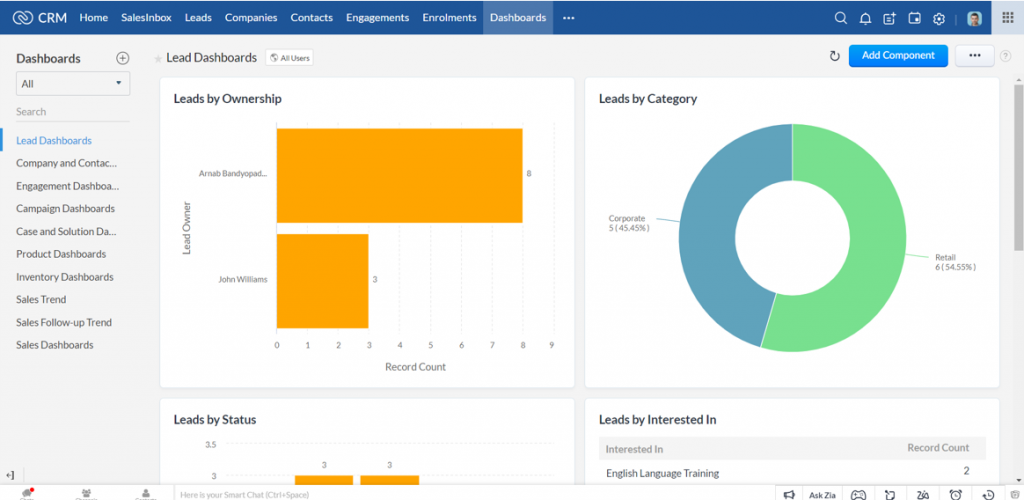 In a nutshell,
Zoho CRM for Training Provider is hands-down the best in the market. Be sure that your future will seem brighter when you implement all the abundant benefits and leverage the full potential of this CRM solution. Don't believe us still? Watch this amazing video to visualize the entire process better.
We have helped 700+ businesses to flourish to date, and we believe yours could be the next one. Click on this link for more information, we know you have no time to lose!