Business Networking In A B2B Landscape With Zoho CRM
Jul 5, 2023
You are doing everything in your power to grow your business. You often end up meeting new customers and delivering unparalleled service to your customers. Your revenue charts need to show the expected results. But they aren't. Then what are you lacking? Answer: Business Networking.
Yes, that's crucial for a business to grow and prosper exponentially. Businesses as clients don't take their deals to other enterprises when they come across one that caters to all their requirements with effective communication. Only because it is more convenient and hassle-free for them.
But you might have hundreds of customers to deal with. Let's hope your client base grows bigger. So is it possible to manage relationships with each of them by understanding their unique requirements by heart? Humanly no. Technologically, a big yes. With Zoho CRM.
CRM or Customer Relationship Management is an umbrella term with effective automation features clubbed together to ace your business networking game.
As business professionals, you do not want to work haphazardly. You want your work to be solid and neat. Zoho CRM extensively offers customer-centric strategies to meet your B2B clients' expectations throughout the entire sales cycle.
Zoho CRM offers seamless support to your sales and marketing teams with an end-to-end view of a customer's journey. This includes contact management, marketing automation, and lead scoring. It keeps track of customer conversations, streamlines workflows, and offers access to customer data across functions to effortlessly manage customer relationships.
Attracting And Retaining Customers
All your business strategies start and end with customers and building relationships with them. Since you are offering service to other businesses, you must dive deep into their exact needs. It needs time, guidance, and insights to deliver an unmatched experience. So that once you acquire them, you make sure that they will repeat business. With Zoho CRM in place, you can keep an eye on your customer's journey, analyze recent trends that they might require and you can provide and have a strong business network with them to communicate the same. You should always look for ways to improve your services and support to benefit them the most so that they can bring value to your enterprise.
Segment Your Customers
Zoho CRM is not just meant for capturing and streamlining information. It also simplifies your business process by segmenting customers.
A B2B relationship must be borne out of level-to-level communication. Let's suppose, you run a professional consultancy business and you deal with businesses of different experts. Now, I'm sure you won't pitch your service to a Travel Agency business as you do for a Real Estate business. The approach will be different, depending on your client's industry. So you need to connect with them meticulously to establish front-line foundations. This is where customer segmentation is ideal.
Zoho CRM captures and streamlines real-time data in its centralized interface. It automatically creates holistic customer profiles where you can retrieve interaction and analyze the data across several channels like email, phone calls, social media, or offline communication. Based on their industries or requirements you can segregate them into various categories.
Customer segmentation helps you focus on particular groups of B2B clients and offer hyper-personalized services.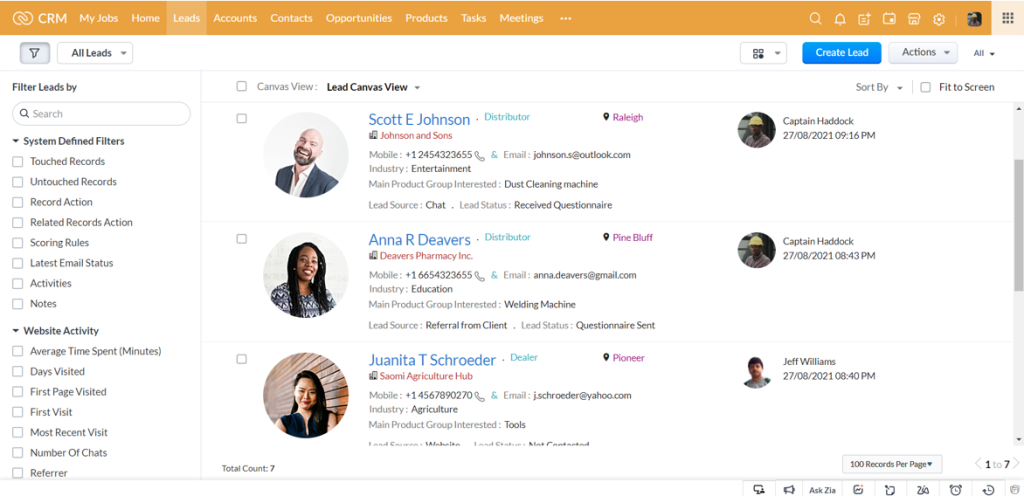 Monitor Customer Communications
Granted that acquiring customers is expensive but it's a fast process. But retaining customers is inexpensive but it's slow. It requires you to monitor customer communications across multiple channels to ensure value to your clients from your product/ services. Enhancing engagement with them through your brand makes a deep connection and works towards a shared goal.
For example, if you run a service-based company, your clients might expect weekly or monthly updates and reports. On the other hand, if you have a software-based company, your clients are likely to use your product on an everyday basis. Based on the industry, you must engage with your customers and regulate the dedicated metric. When you implement Zoho CRM and connect with your customers across multiple channels, the software captures and streamlines all the interactions in the respective records. Depending on the customer engagement pattern, it even recommends a suitable time period for further interaction. You can easily retrieve every piece of information whenever you need it. This feature helps you offer a huge scope for personalization.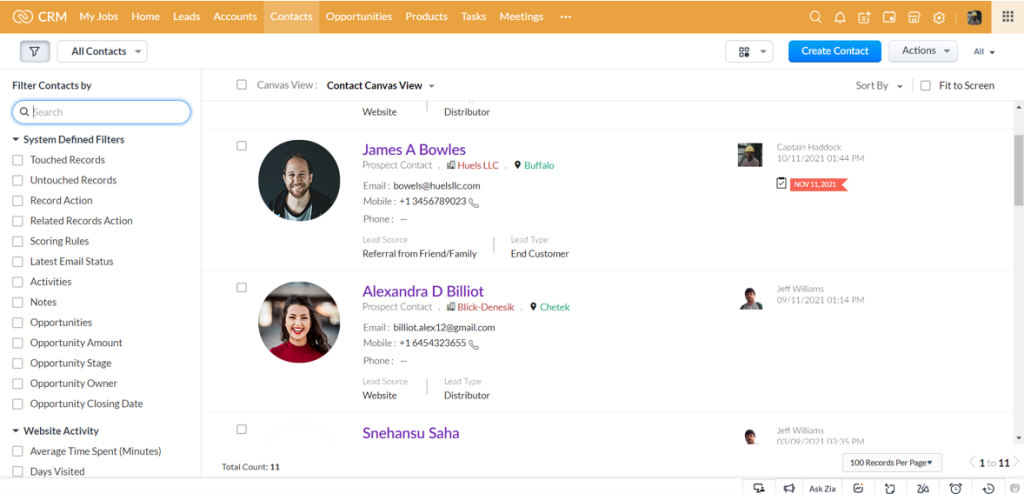 Add Customer Value In A B2B Landscape
In a B2B landscape, your clients represent individual companies. Business networking with individual contacts is crucial but you must treat them as companies they work for. Now, an organization might have several stakeholders in play and they might have opinions about your services – whether you are benefiting them for business. So you must interact with as many people in the company, as possible.
Now how can that foundation turn into a solid one? By adding value. You must, at all times, prioritize customer value by focusing on your client's expectations and the outcome when they use your product or service. The price point of your product or service comes second on the list. You should illustrate and leverage the value you provide them to hold the relationship strong.
With Zoho CRM in place, you can keep track of every customer you interact with in the contact's record. Here you can add rows and position the individuals as per their roles in the company. You can group users/ contacts under the same organization to streamline all the correspondence in one centralized record.
Collect Feedback
In the business world, you cannot finish your job of just providing your service. Your service becomes feasible to customers only when they get maximum value out of it. The best way to find out whether your clients are getting what they want and how to maximize the same is by surveying. You can create several questionnaires with Zoho Survey, which comes with 25+ templates with skip logic and piping. You can easily collaborate with your team to prepare your surveys with a few open-ended questions about their experience with your brand and send them directly from the CRM.
Ask them questions about the impact of your existing services, what your existing services are lacking, or which additional services can benefit them even more. When you do get their responses, you can look for recurring concerns or common responses. This will ensure a positive impact on your customers.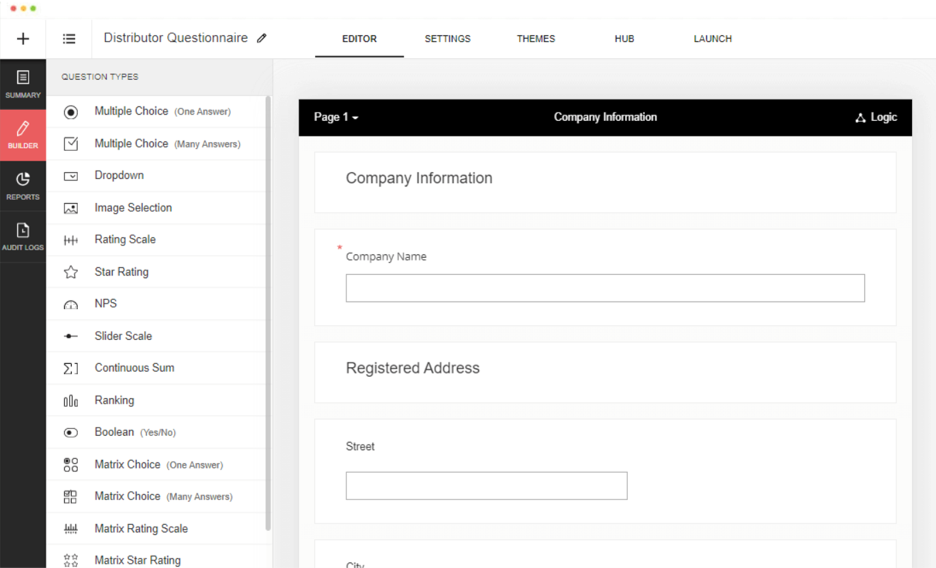 Measure And Analyze Your CRM Strategy
Treat Zoho CRM as the repository of your business data. As the software streamlines and maintains a centralized interface to store your data, it makes it easy to share customer information across the sales team. The CRM stores the information in granular reports and dynamic dashboards. For example, if you check a dashboard for a specific business area, you can click on it so that you can check the related report which offers a much more detailed structure.
When you have full access to customer data, it becomes super-easy for you to map them out into email or social marketing campaigns, performance by teammates, lead capturability, and so on. You can measure different stats and trends to analyze customer relationships. You can integrate third-party applications so that the CRM centralizes all the collected information in one place and fetch you deeper insights for making better decisions.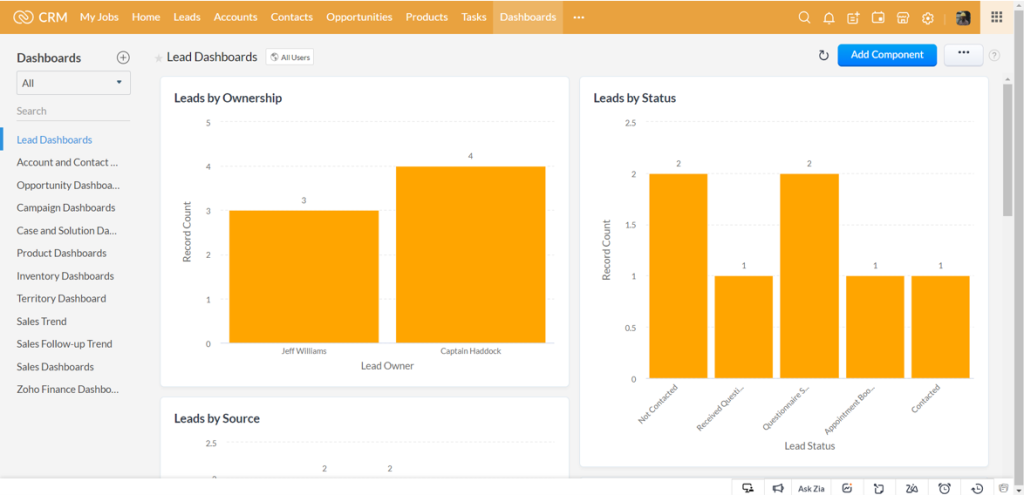 Bottomline,
For businesses, it is imperative to revolve around clients. So you must strategize to achieve a stable source of revenue through business networking. You can use Zoho CRM to track customer journeys and learn about their needs, preferences, and expectations. In a B2B scenario, you should remember that your customers are companies and not individual people. Aim to create relationships with more than one point of contact at each company you work with, and establish your brand as an integral part of their success.
Need more information about this awesome software? Reach out to our expert team!