Challenges A Real Estate Developer Face and How to Manage them with Zoho CRM
Jan 27, 2021
Are you a real estate developer, holding a pile of shoulder-wrecking responsibilities? Do you want to know the best way to manage these responsibilities efficiently?
Well, then hurry and make yourself a nice warm cup of coffee…
Because I will unravel the best solution through which you can be flawless at your work.
To begin with, the main mantra here is: Work Smart! (not hard!)…
Managing all the real estate work can be daunting when executed manually. I can totally imagine the catastrophic sight of towered-up files and meticulously typed spreadsheets. Worst still is the fact that you have to patiently scout through all the information within the spreadsheets and the folders when a piece of information is requested by the customer.
Especially with the growing number of customers, which is essential for your business's growth, these archaic ways can become really problematic.
So the best solution here is using a CRM customized for a real estate developer.
In other words, you need a Real Estate Developer CRM, to boost your overall work process. After all, statistics have highlighted that adoption of a CRM has improved sales by 29%.
And why not! Especially when you have a simple way to store and find all the important data of your business.
So, in this article today, we will discuss the major challenges that a real estate developer faces in their day-to-day work. We will also elaborate on how you can solve them by using a tailored CRM called the Real Estate Developer CRM.
4 Challenges of the Real Estate Developer
Challenges are fun when it lets you break your comfort zone and allows you to grow and fly higher. But when it starts to disrupt your work, then you have to look for a way out.
For a real estate developer, your work has a lot of components. It requires multi-tasking skills, honed up with an ability to systematically manage data. Also, a keen eye for observing crucial details.
So, when you have a lot of potential leads flowing into your records, it is humanly not possible to maintain the speedy flow of work. Moreover, there is always a chance to make grave mistakes, sabotaging the company's reputation.
Let's quickly have a look at some possible challenges faced by the real estate developer.
1. Property Management
The most crucial job as a real estate developer is to manage the properties.
Unlike a real estate agent, where the entire process is straightforward, a real estate developer has to maintain minute details of the property that they are developing.
Not just that!
A real estate developer also has to track the type of development, the number of buildings under that development, and the units within it. It is a complicated process that needs proper documentation.
Whether residential or commercial property, you have to store all the nitty-gritty details of these developments.
So, you have to be perfect when typing in the information in your spreadsheet. Otherwise, one misinformation noted in that sheet can ruin the entire process. Also, you might give out wrong information to your clients, which will bring its own negative consequences.
This arduous process of storing information can be very tiresome. Because with time when you will have many more properties under your control, spreadsheets will become a nightmare. Hence you need a system with automated components that will ease your efforts in managing the properties.
2. Availability of Properties
Let's imagine a scenario that I am sure you are familiar with…
You receive a call from a prospect who wants to inquire about a specific property and its availability.
Knowing the fact that to give this information you have to look through several folders and sheets, which will take some time, you ask for the prospect's email id.
By that time, when you are frantically glancing through the bombarded lists of information, your prospect has already contacted another real estate developer, who gave him/her the inquired information with an attractive offer.
Now, the prospect is no longer interested. Hence you do not get any reply to your email that you have compiled after several hours of painstaking search.
You lost that opportunity and the time…
Now, when you try to be fast with the entire process, there are chances that your eyes will misread some information, giving out a wrong response. Like, overbooking a property or overlooking an unbooked property. In either way, that will prove fatal for your business.
This becomes even more fatal when a brokerage firm requests information, and you give them the wrong one.
To mitigate this problem, it is of utmost necessity to implement an efficient system. This will allow you to track and monitor the property availability status easily.
3. Sales Pipeline management
The sales pipeline in a real estate business is comparatively a long one.
It begins with an inquiry, followed by multiple visits and discussions. The customer might look through other properties and compare them with yours to come to a proper conclusion. Then, after all the due diligence, he/she will finally make a concrete decision.
This lengthy exchange of communication makes the sales cycle a slow multi-stepped process, which needs to be tracked properly.
Now, you can imagine how difficult it becomes when you monitor the sales cycle of many customers simultaneously, placed in different stages within the cycle.
This makes the sales cycle for the real estate developer challenging to track.
Furthermore, if you skip one stage from the cycle, like missing out on a meeting, this will be considered unprofessional, making you appear unreliable. After all, buying property is a big financial decision, which makes every customer extra careful about it.
So, you must adopt a system that will prompt you about the stages in the sales cycle for each customer.
4. Payment tracking
As mentioned earlier in the article, buying a property is a big financial decision. Hence it is a common norm to receive payments in installments.
Hence, tracking payments for each customer can become really challenging.
More so because you have to keep a proper check on several monetary components such as the payment dates of the installments; tracking the status of the payment milestones, etc
You will also have to constantly update the payment status whenever a change takes place. And keep on calculating the overall amount, updating the present balance.
Any discrepancy will mess up the overall revenue, resulting in an inconsistent financial report.
So, it is of utmost importance that you track the payments carefully. The best way to do this is to implement a system that will track and do all the calculations for you, enhancing accuracy.
Solution with Real Estate Developer CRM
To overcome these challenges, you need a system that can help you manage the property and its availability, the sales pipeline, and track the installments.
The best system that can prove efficacious and make you work like a pro is a CRM specially tailored to deal with real estate developer's work.
CRMs are the best implementations that any business is adopting so that it can compete with the growing market and reach an optimum standard. Studies revealed that a CRM can help the company retain customers and increase its satisfaction rate by 47%. Not just that, you also have a probability to raise your conversion rate to 300% by using a CRM.
With a Real Estate Developer CRM, which is built on the award-winning Zoho CRM, you can centralize communication and manage all the work processes involved in the business. It keeps all the inquiries in one place, streamlines your pipeline, and generates comprehensive reports.
Being an industry-specific CRM, it offers relevant nomenclatures and an interface that will make it easy for you and your executives to operate effectively. It lets you manage your properties by development, buildings, and units.
So, with little ado, let's quickly hop into how a Real Estate Developer CRM will seem like a blessing.
1. Helps You to Manage the Property Better
With a Real Estate Developer CRM, you can manage the properties like a pro.
To manage your property via this system, you can simply navigate to the "Developments" section on the top panel and have a clear view of the list of properties that are under your control: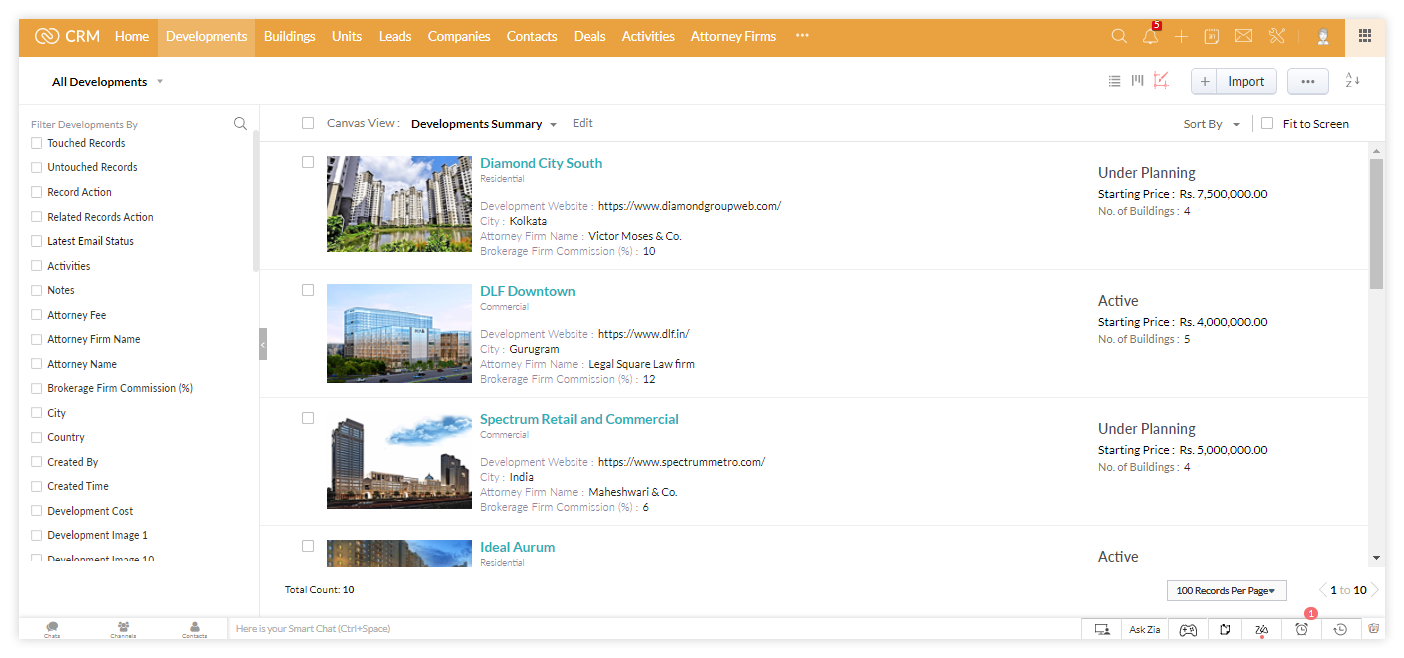 To gain information about each property, you can click on that particular development and go through more details, which is systematically centralized and laid-out within the system.
Along with the basic information, you can also see the buildings and the units of that development as well: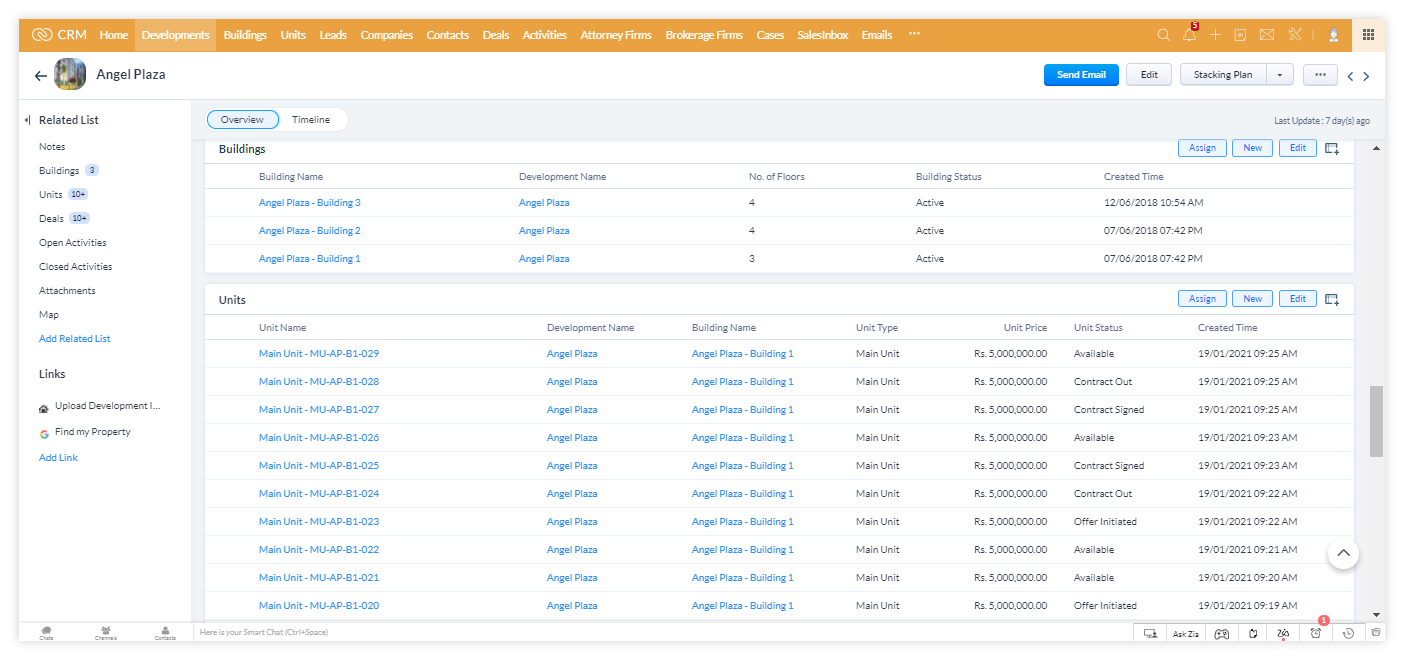 When you click on one of the buildings, you will get more information about the units within that building: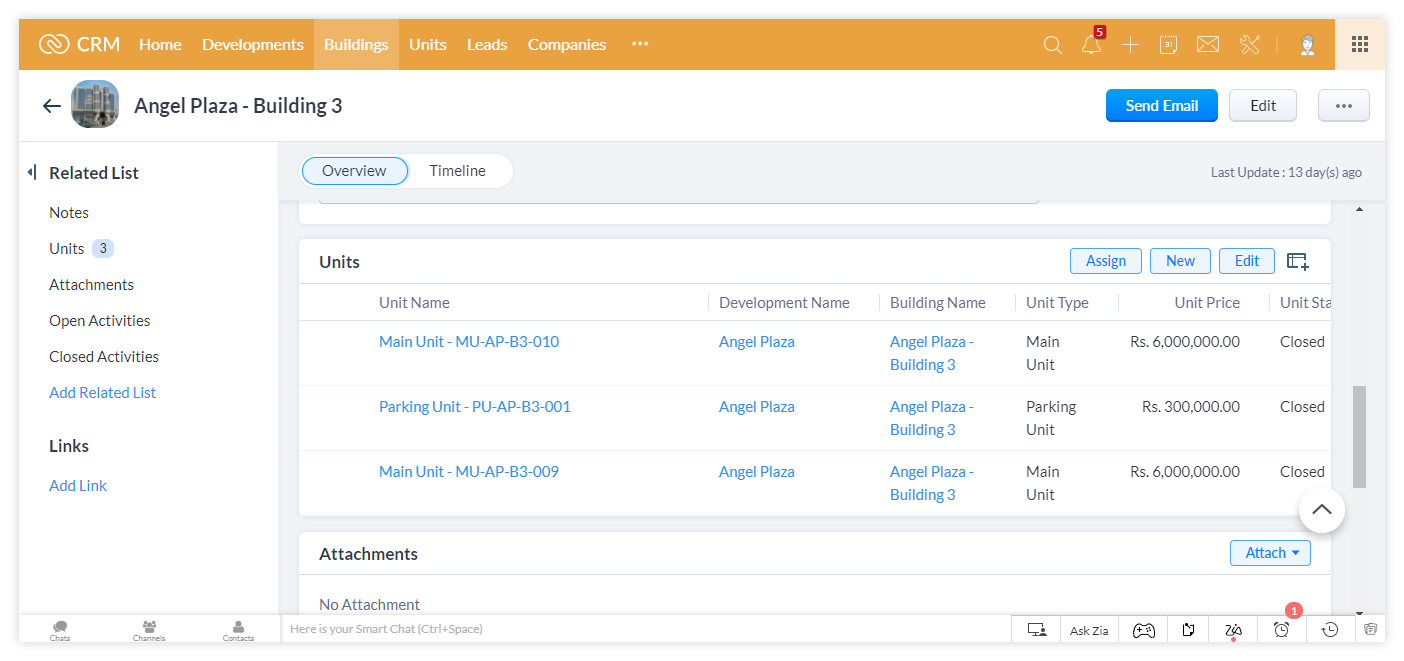 This will further allow you to gain information about each unit, which is categorized as a parking unit, main unit, cabana unit, and storage unit. You also have the option to add more unit categorizations.
The data within a data system will make it really easy for you to quickly possess all the necessary information, making property management easy.
You no longer have to rely on your mind and the spreadsheets, as you will manage the property by developments, buildings, and units in the system.
2. Stacking Plan
To avoid overbooking a property or losing out a business because of misinformation, the Real Estate Developer CRM has a feature called the Stacking Plan.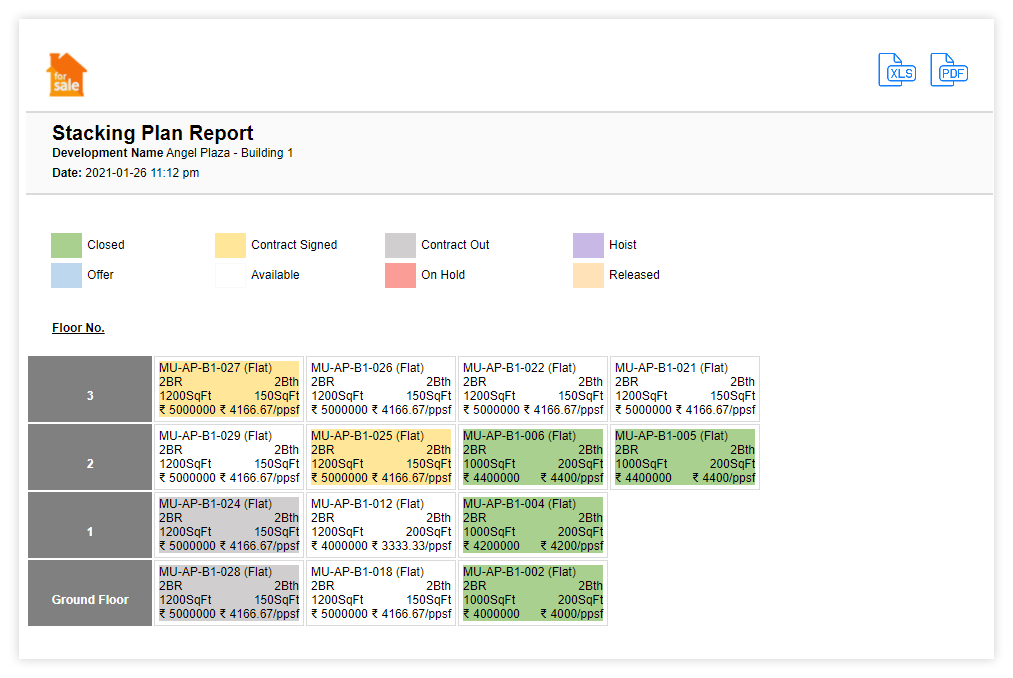 With the stacking plan, you will be more aware of the status of each unit within the building of the development.
As you can see, different colors have been assigned to signify the stages. The colors give you a quick idea of the status whenever you receive an impromptu call from an inquirer. This saves your time and energy.
Moreover, your customer does not have to wait for the information, which also adds to your brownie points, opening a positive door for further negotiations.
3. Sales Pipeline Management
Managing your sales pipeline in the Real Estate Developer CRM is easy.
This system automates a step-by-step process that you have to follow, which makes sure that you do not miss out on any crucial stage. Plus, the sale stages in the system will guide you and assure you that you're sailing in the right direction.
Let me show you how…
Capturing Lead:
As a new lead enters the system through one of the marketing channels, their data gets stored under the lead section in the CRM: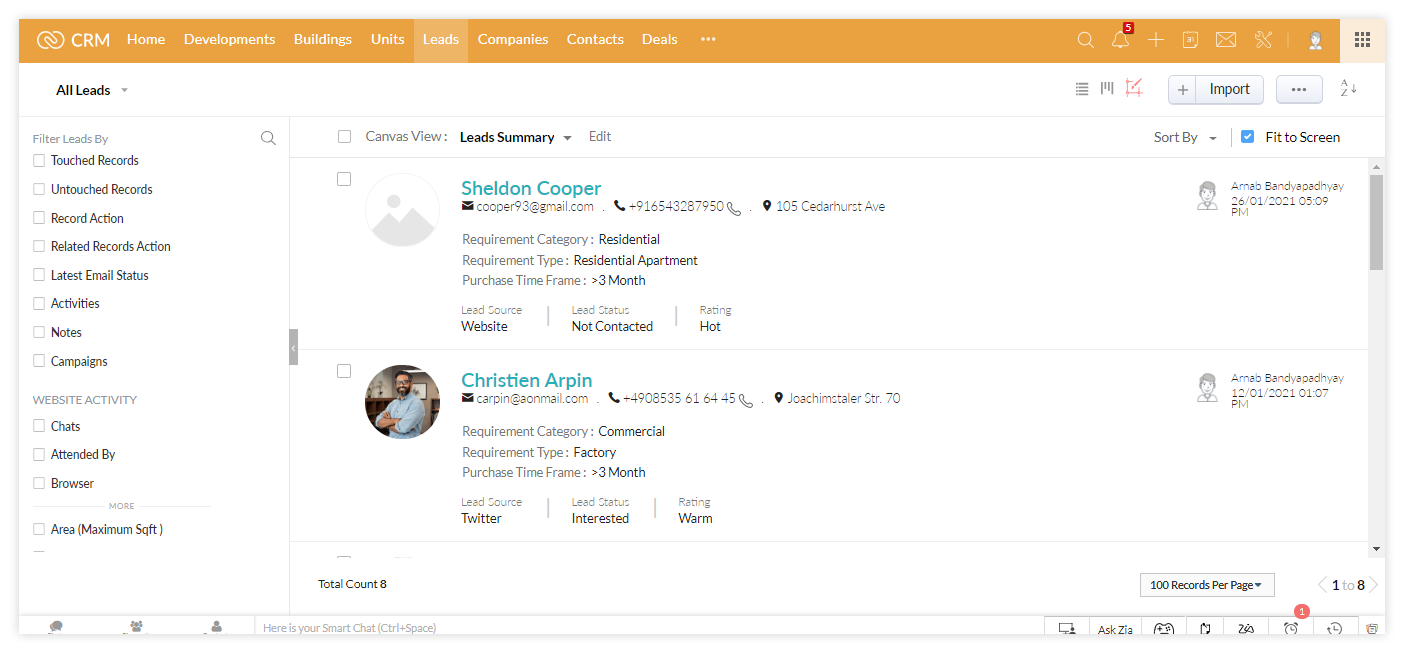 Once you click on the new lead, you can get access to all of their information, like their contact details, status, requirement, etc, giving you a better understanding of how to plan your sales to close it successfully: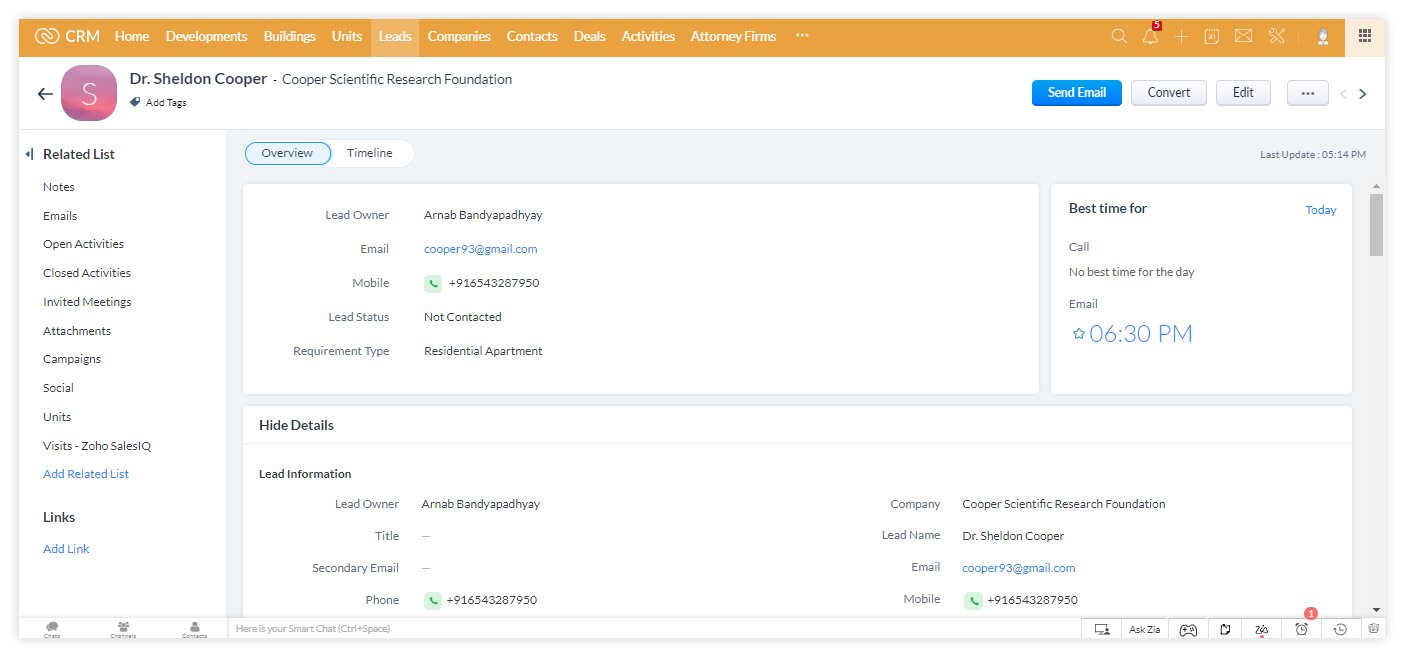 After you have contacted the lead, you can fine-tune the information further and start preparing your grounds for more sales work.
Hence you have to look through crucial details, like time-frame, budget, and reasons for purchase to qualify the leads.
Converting Lead:
The next step of the sales process is to nurture leads. For that, start interacting with them either through calls, emails, or meetings. You can scroll down to the "Open Activities" section and start the communication process: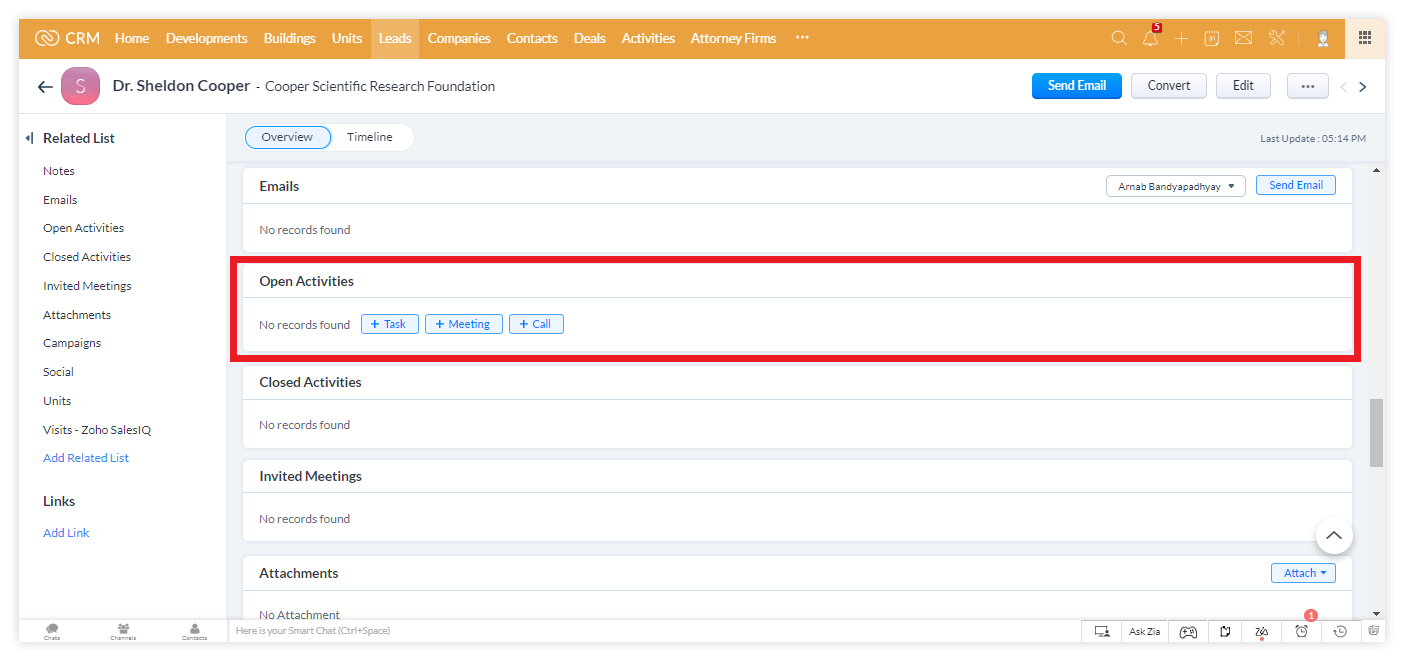 After going through the meetings and weighing their requirements, when everything seems positive, it is time to convert them.
For that you can click the "convert" option on the top-right corner of the page: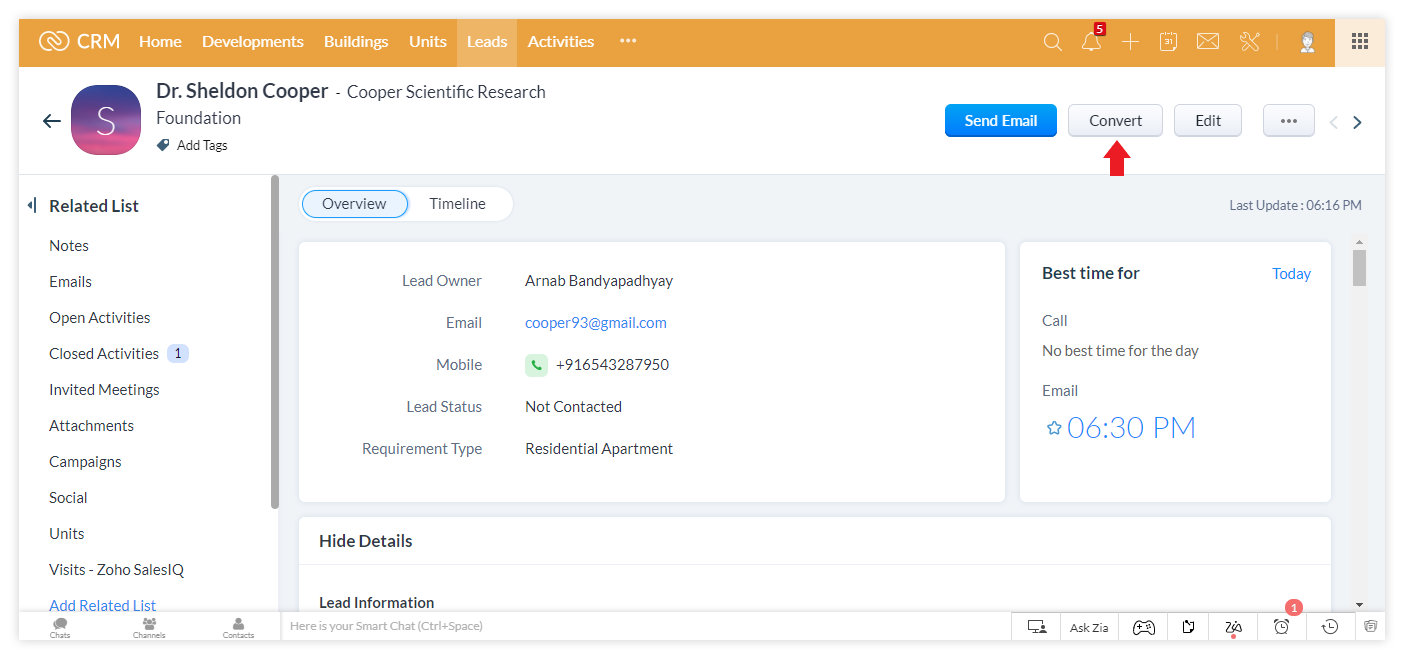 You'll see the lead immediately qualify and get placed under the Contact section in the CRM. When a retail lead gets qualified, it will just create a contact, because you will deal with one decision-maker.
But for a commercial lead, the system will create a Contact and a Company, so that it can cater to the hierarchical structure of the company, comprising multiple decision-makers.
While converting the lead, you can add more details of the new deal that you are about to venture into: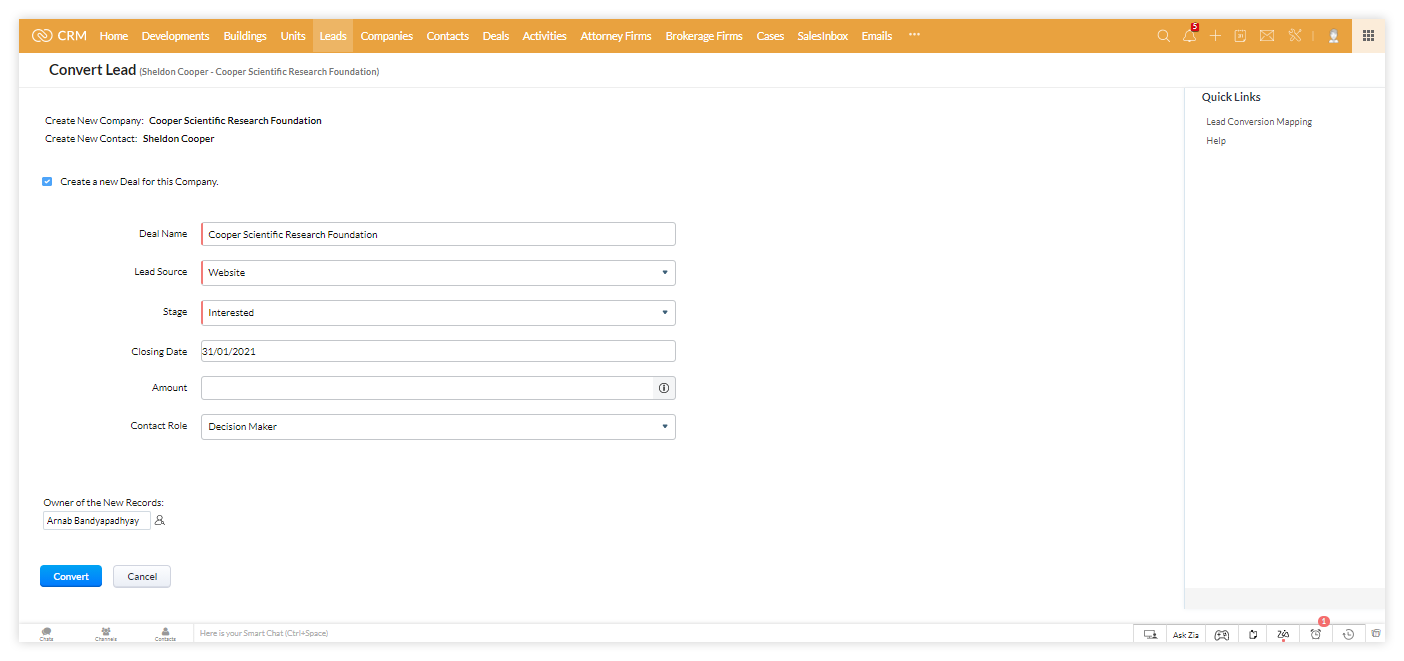 Deal Stages:
Now, as you enter that deal, you can view and change the status when an action is executed.
It starts with the site visit details: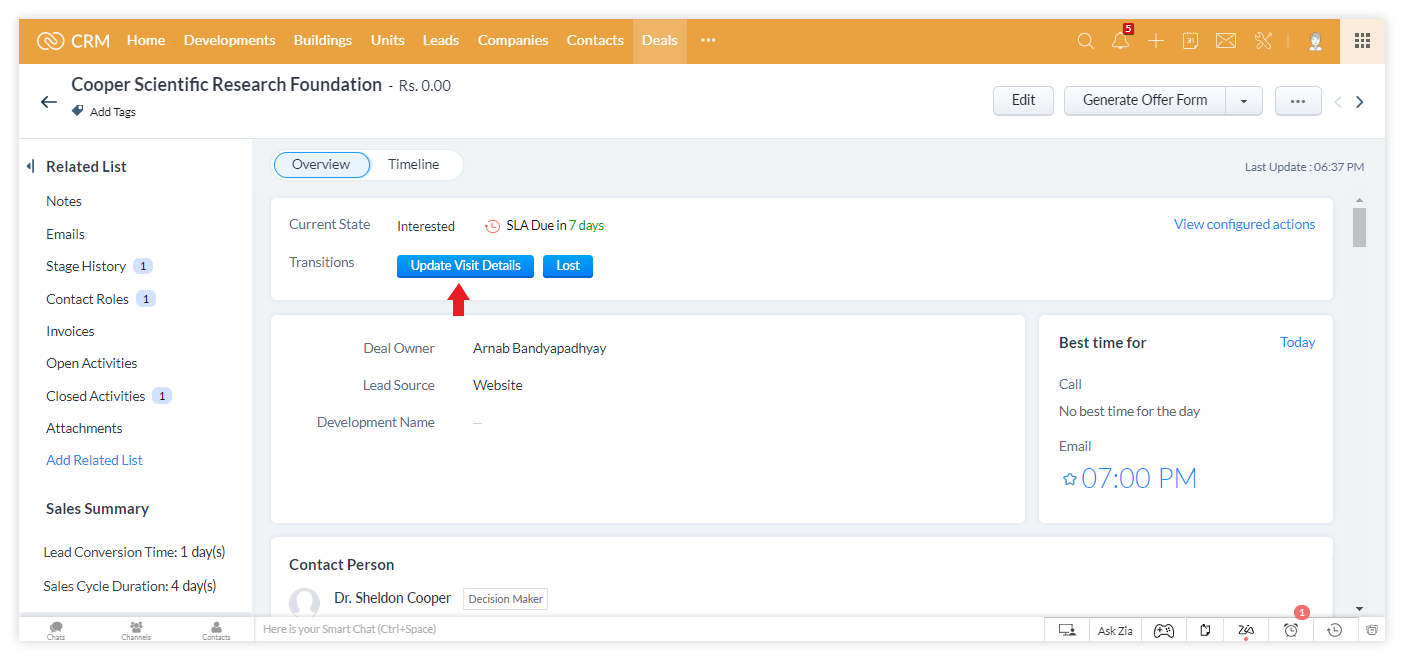 Also, you can add feedback after every action, which makes it easy for you to track the deal in the sales cycle: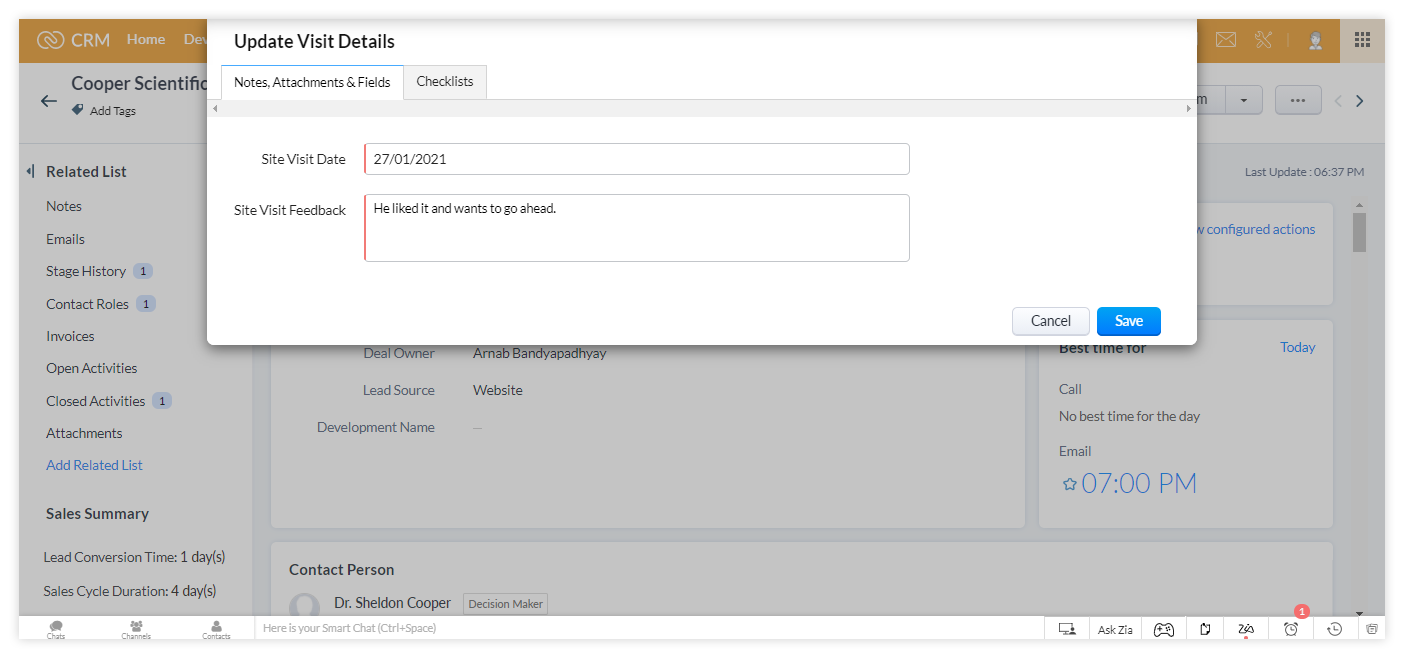 The system will continuously prompt you with checklists so that you do not miss out on any crucial action.
Then it continues to prompt you through the sales, by displaying the listed units and their status, from where you can choose the appropriate one: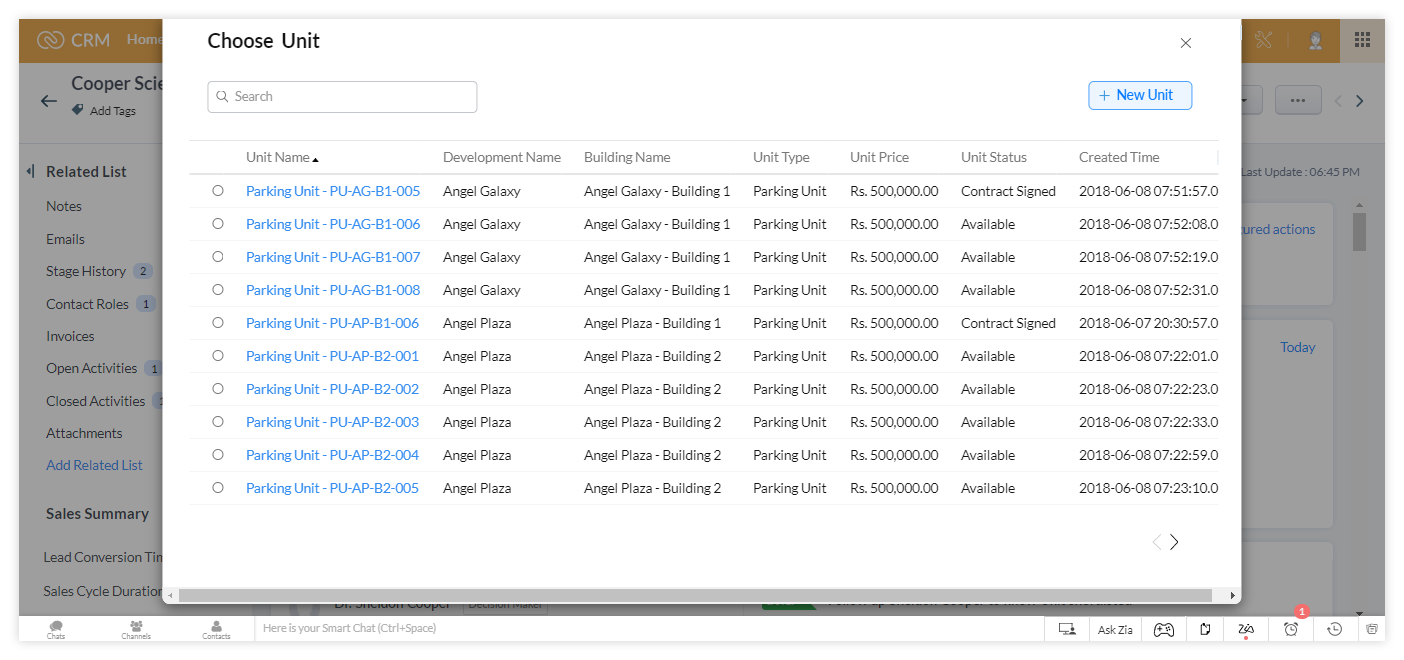 Once you select the unit, you can now update the buyer's first payment offer: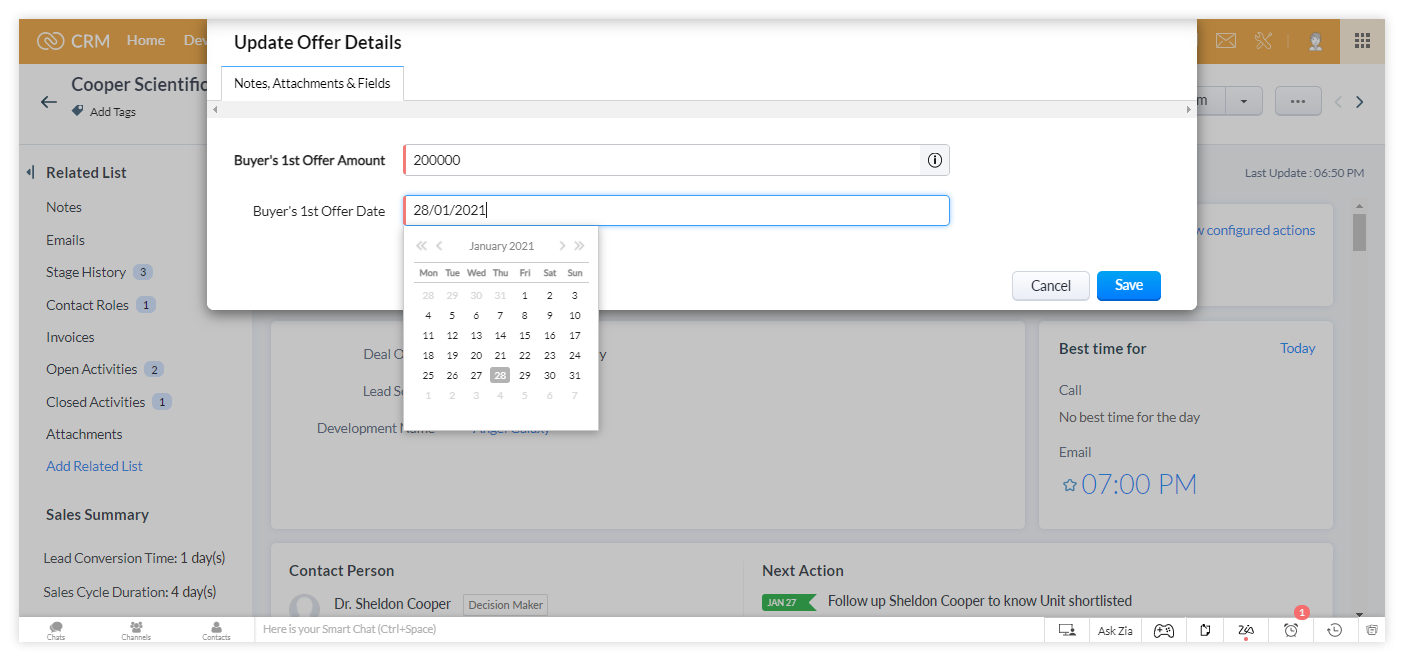 Then the process smoothly progresses, with the system guiding you step-by-step through the finale of the sales cycle.
Once you reach a mutual agreement, you can generate the contract form and send it to the client: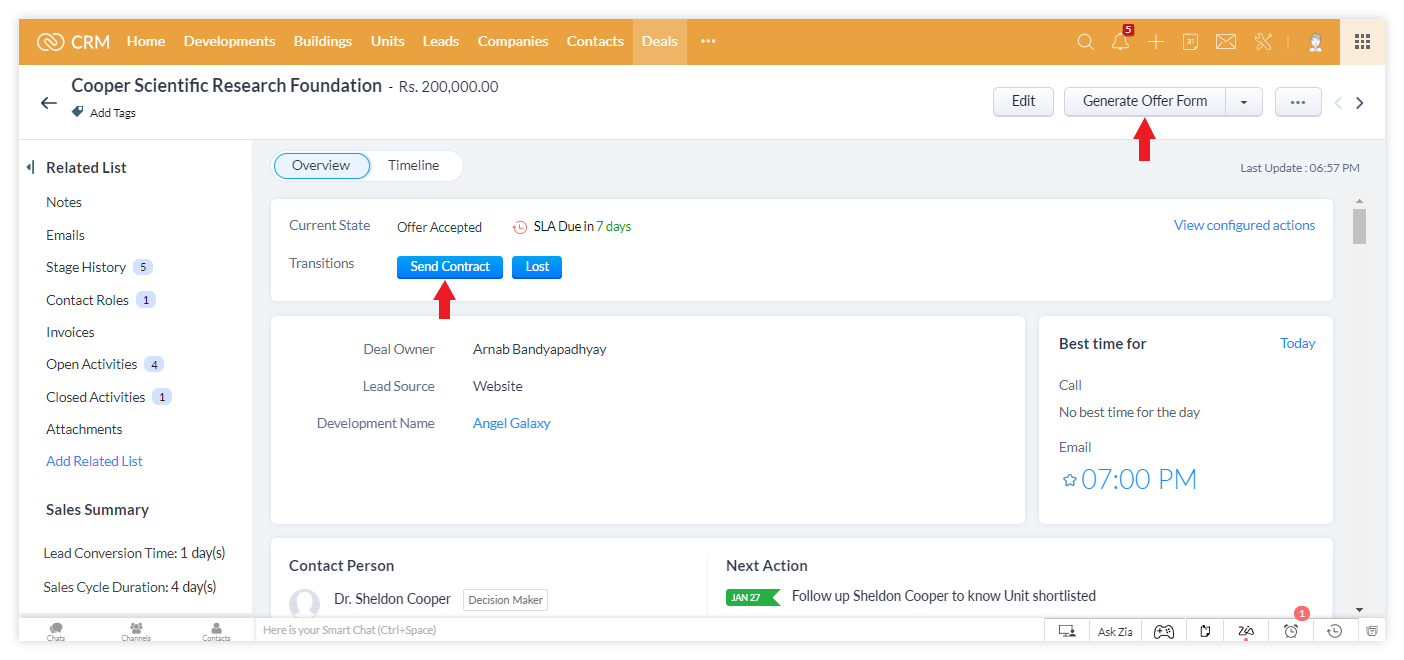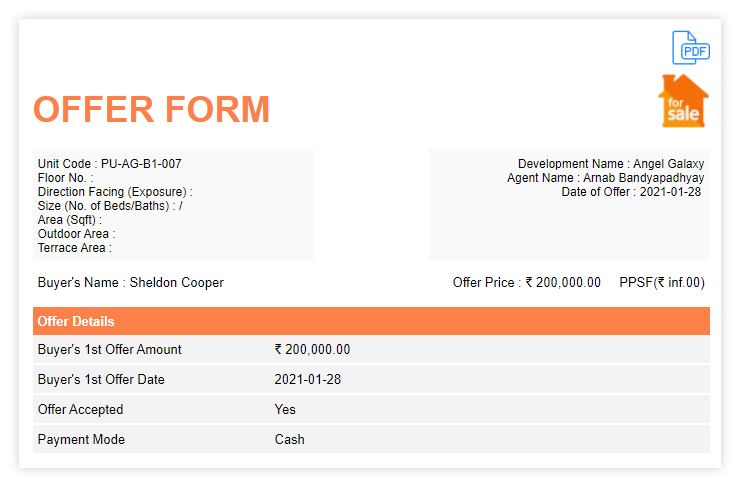 You can also download a PDF version of the contract, which makes it printable.
When the contract is signed and the status is updated to the CRM system, you close the deal and the monetary transaction begins.
The system shows you a progress bar. This informs you of the stages that you have crossed to close the deal successfully: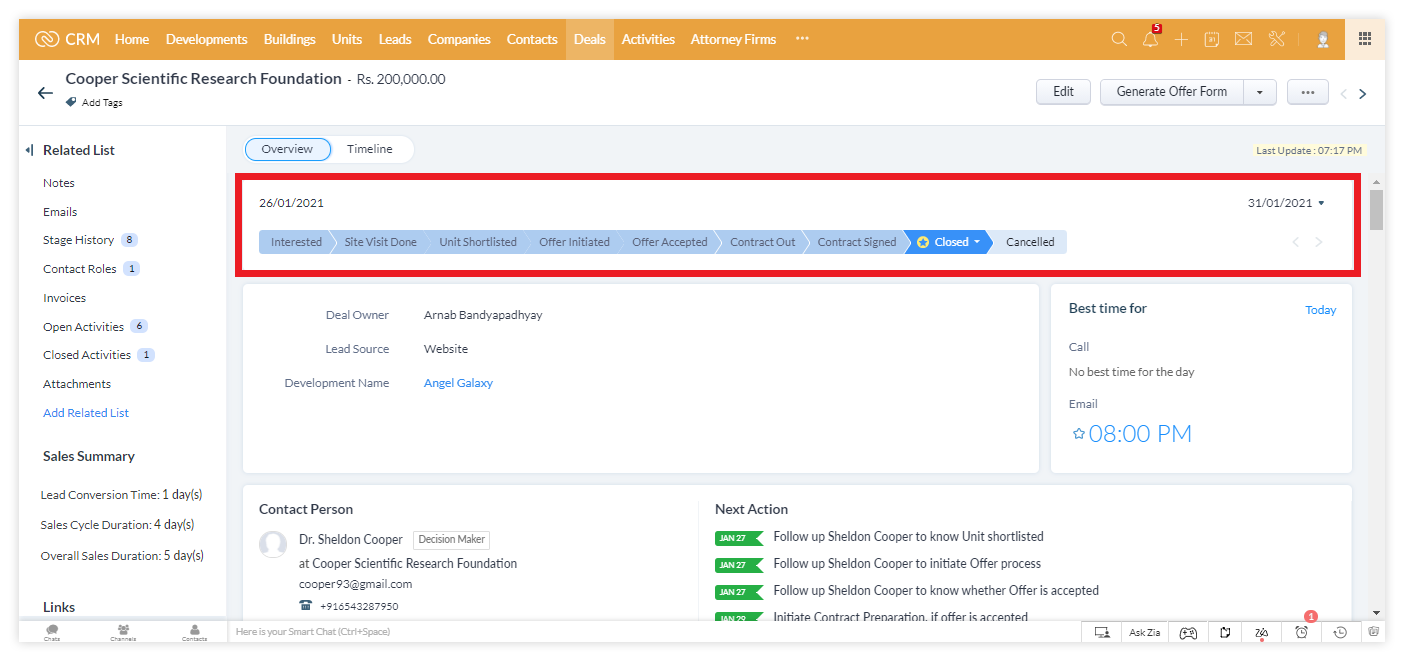 4. Payment Milestone
Tracking the payments of the clients become a piece of cake if you use the Real Estate CRM.
After you have provided all the details, the system automatically calculates the payment milestones based on the client's pre-defined criteria of the development: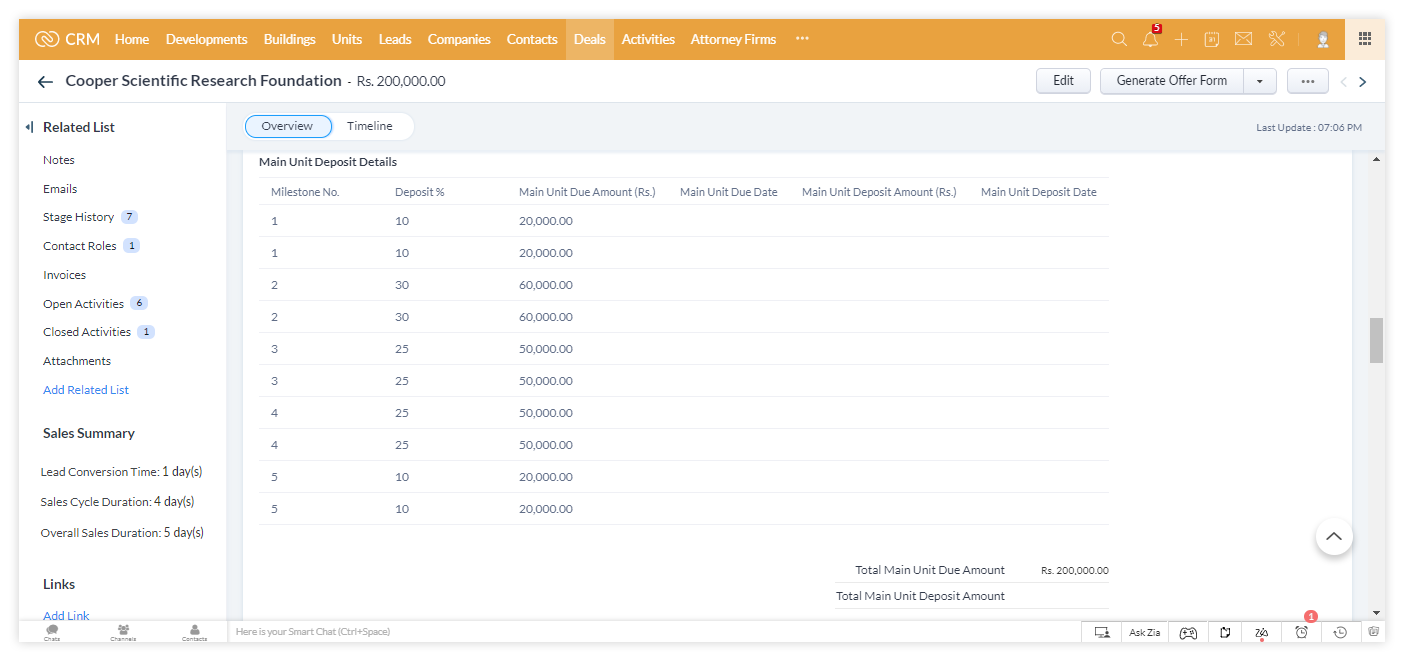 As the system prompts you to collect the following deposit amount from the client. You can update the amount and the date.
The system will make all your calculations and keep on reflecting the present status: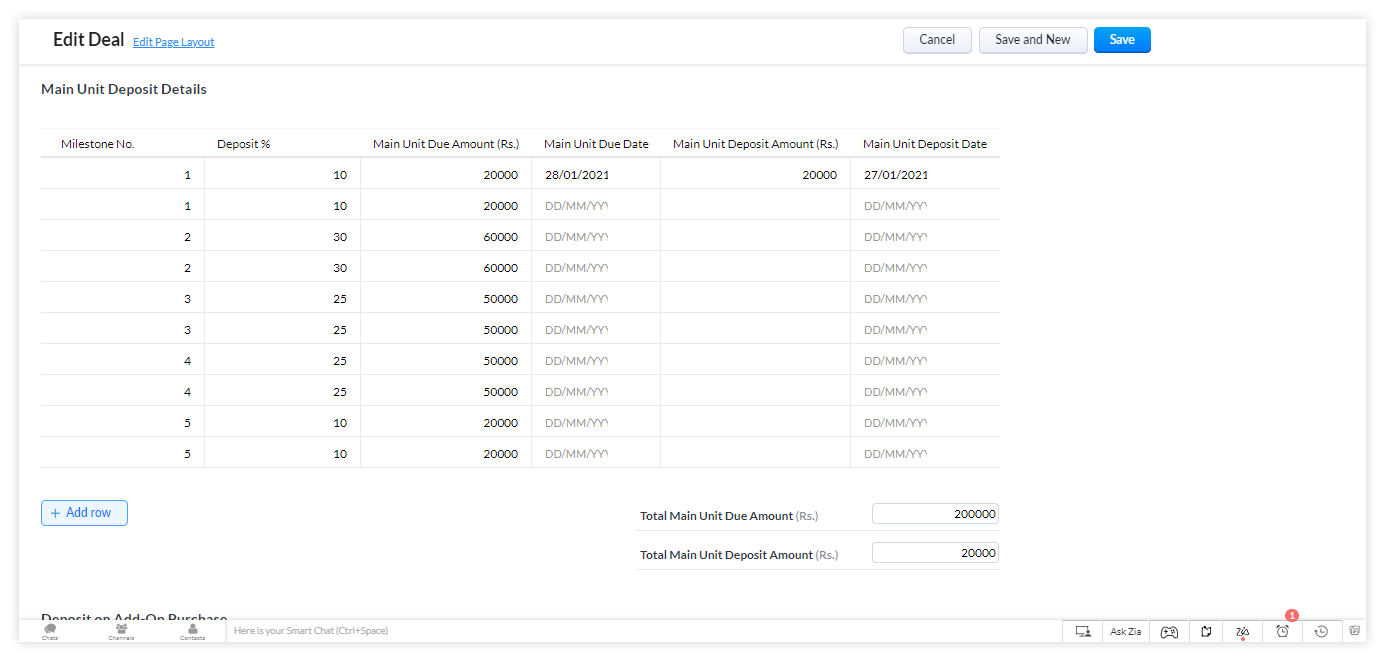 You can also track the overall revenue accumulated from selling the properties in the system. For that you have to enter the property details under "Developments" and check the total revenue collected: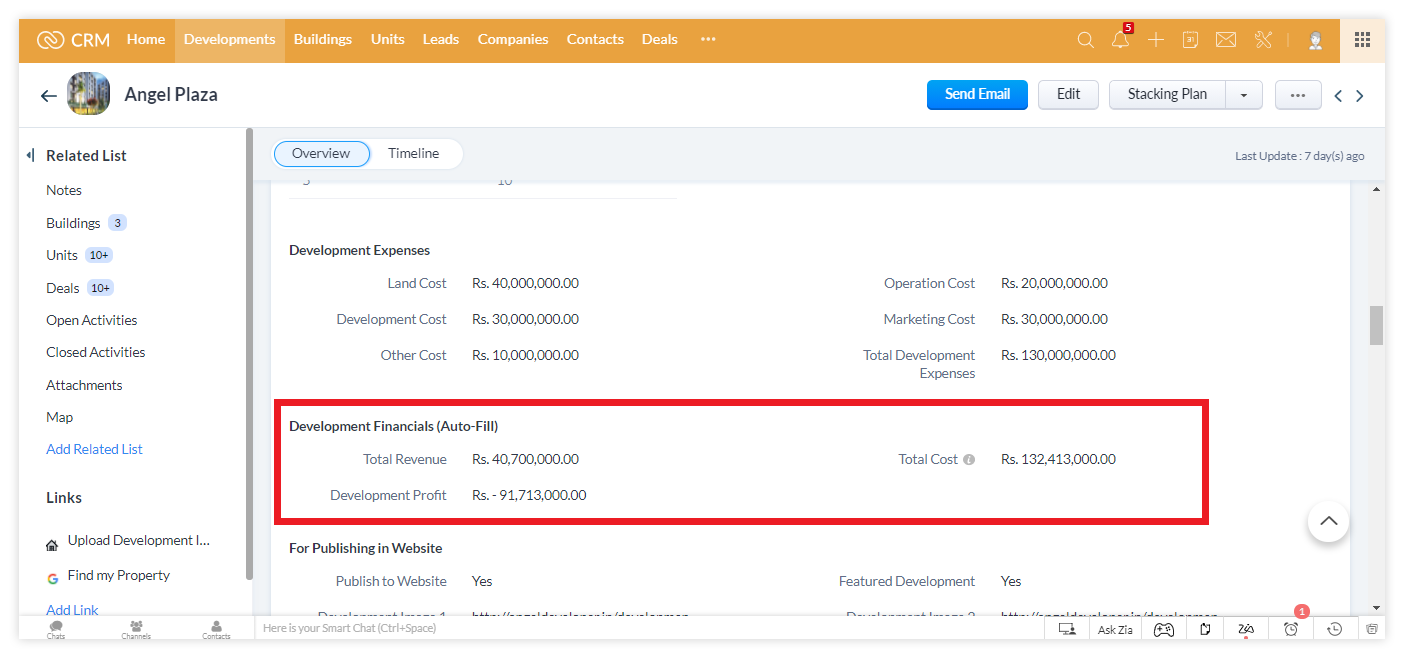 The automated feature of the CRM makes payment and revenue tracking easy-peasy.
To know more about the Real Estate Developer CRM, check this video out:
Conclusion
A real estate developer's job is really exciting.
To think of it, your work is always about laying the first concrete foundation for people to actualize their aspirations and dreams.
Being the second-largest workforce employer, the real estate industry is a really profitable business. So, proper execution of the business processes can bring excellent results.
For that, implement Real Estate Developer CRM, which will resolve the crucial challenges of managing the property and its availability, sales pipeline, and payment milestones.
Moreover, this CRM comes at an affordable price and can be used in any electronic device.
If you want to know more about the Real Estate Developer CRM, then it is time for an expert consultation!