Elevate Your Sales-Win Rates With Training Provider CRM
Apr 28, 2022
You know that your brainchild is flourishing when your sales-win rates increase gradually and extensively. People look forward to your training and the wide range of services that you offer, that is true. But from the business perspective, you need to look after your sales pipeline for steady growth. Most modern brands lose clients and their business goes southwards due to the lack of an established sales process. At the end of the day, your target is a smooth cash flow, right? And Zoho CRM for Trainers is the perfect solution for this purpose. 
But before we start, let's learn a bit about sales cycle optimization 
Sales cycle optimization is the typical process of acting on the individual strategies that are working for your business (the KPIs) to reduce churn rates and increase your sales win rates. An effective sales process requires the collective effort of your sales, marketing, and customer service teams to guide a potential customer with balanced interaction and communication at different stages.
Our Training Provider CRM system comes with a ready-made sales pipeline that covers all the action points that you can possibly require. It helps your team follow a consistent workflow pattern that is tailored for your industry vertical. Here is a precise list of the main advantages of using our CRM software. 
Appropriate revenue forecast 
Reduces customer acquisition costs with decreased churn rates
Improves retention rates 
In this article, we will dig deep into the different stages of the optimized sales cycle of our Training Provider CRM. 
Generate And Capture Numerous Leads 
A successful business partly stands on an ample number of quality leads. Training companies are not an exception. As a trainer, you must have several mediums for generating innumerable leads. Say, for example, websites, social media platforms, referrals, inbound calls, newspaper advertisements, and so on. Considering the immense strength of social media today, it wouldn't be wrong to assume that most of your target audience (millennials and Gen Z) are housed there. So you can post all you want to but you must embed your website link on your social networks. So that your audience can easily browse through the varied number of courses that you offer. Consequently, when they visit your website, they can their interest by inserting their details on the pre-embedded contact form. And when they do submit, our Training Provider CRM automatically captures it under a separate new lead record. 
In case you have leads coming in via referrals or inbound calls, you can manually record their details by adding another lead entry. Our solution collects every piece of information in an organized manner so that you can retrieve them easily whenever needed.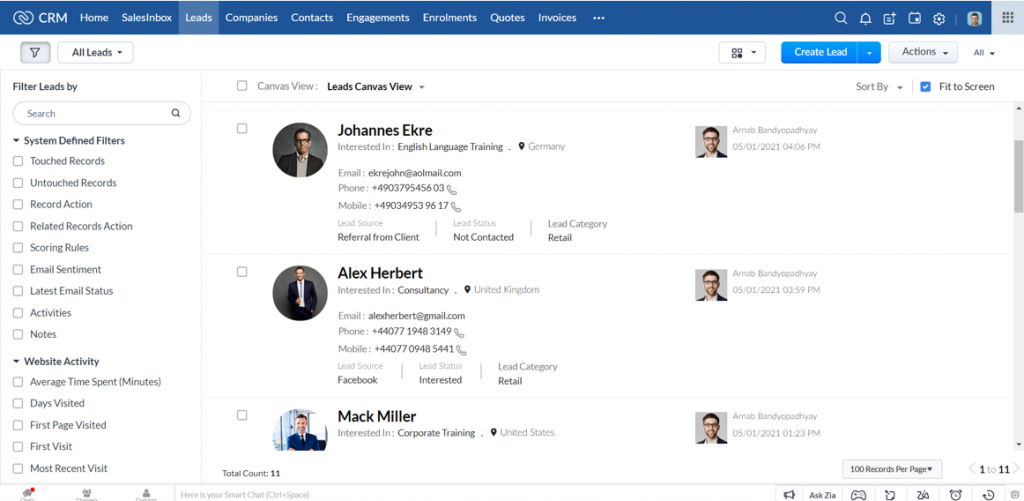 Screen Your Leads With Greater Potential 
As your business starts growing and prospering, it is natural that you'll have innumerable leads pouring into your system. However, you need to work smart and multi-task to run every aspect of your business. You cannot afford to focus on leads that seem less promising at the moment. So you need to screen them following the BANT (Budget, Authority, Need, and Timeline) parameters. Such a framework helps you evaluate your leads' merits so that you can invest your resources for expected fruition.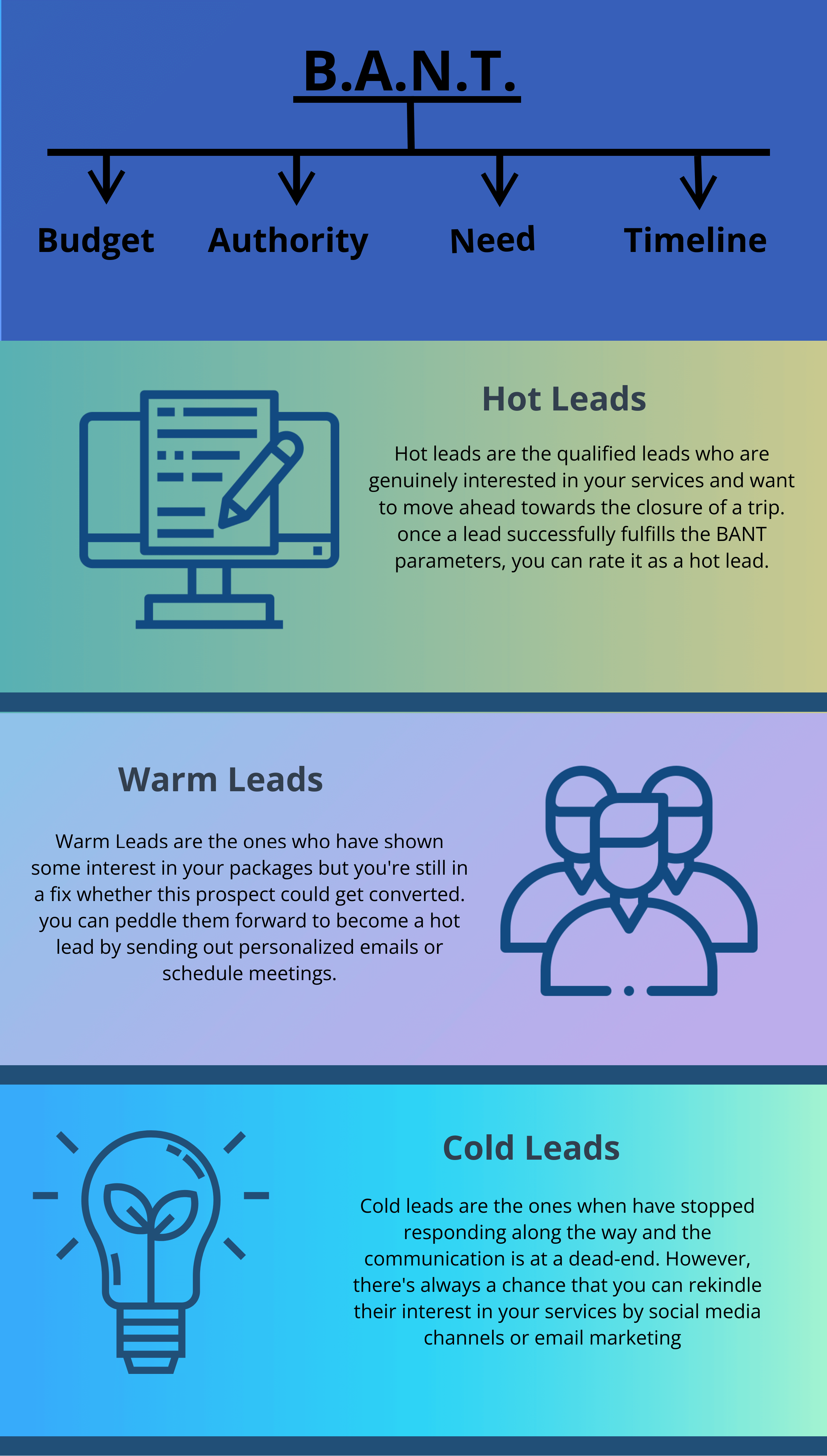 Introduce The Game Scope
We know that you have the best teammates on your bus. But to take their potential a notch higher, you can introduce a gamification scope. It helps you conduct a healthy competitive environment and encourages your team to improve daily. This way you can easily increase your team productivity and detect their overall performance and growth while keeping your workspace fun and captivating. 
Profile Your Prospects 
One of the major automation perks of using our Zoho CRM for trainers is automated customer profiling. When you successfully convert a lead into a contact, company (applicable for B2B opportunities), and engagement (opportunity), our CRM auto-creates three different modules under the aforementioned perspectives. So if you get inside an engagement record, you will be able to view all the engagement-specific details. And if scroll down a bit, you can see the contact and company in the related list. Again, when you click on the contact/ company, you can see all the module-specific information. According to the results of your previous follow-up tasks for each client, our CRM even detects the best time for communication.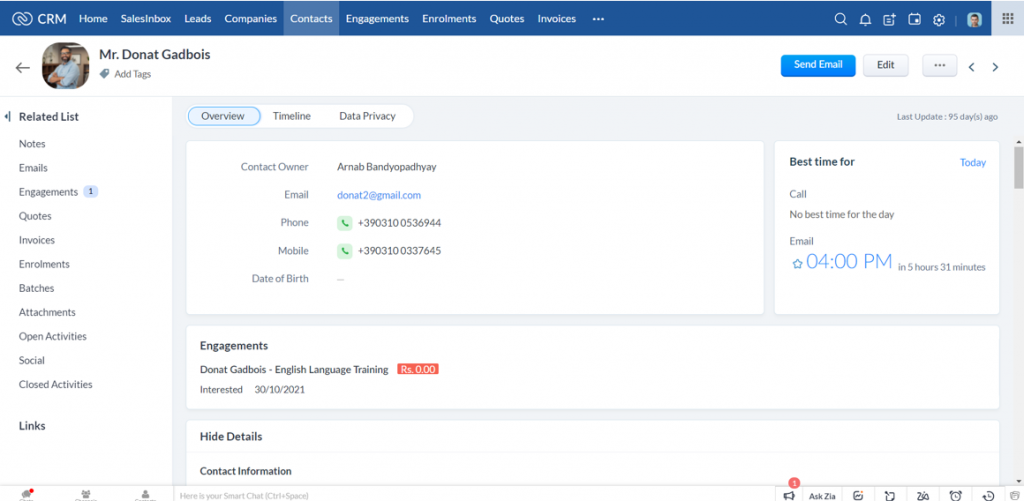 Automated Quote And Invoice Generation 
In this digital era, everyone lives a fast-paced life. To cater to your target audience, a simple run-on-the-mill kind of approach is not an option. So when your customers request a quote for your courses, you can instantly create one with a pre-defined custom-branded template. You can add multiple rows in your quote in case your client opts for two or more courses. Remember, whatever courses you select, the price of each of them is auto-populated by our efficient CRM solution.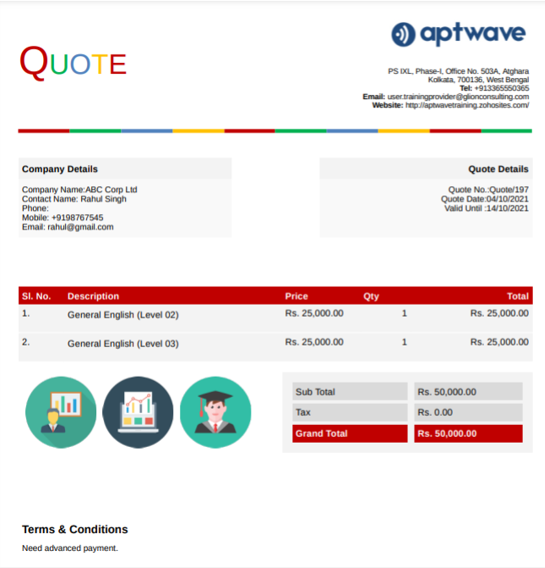 Again, once you receive their consent for the quote, you can move ahead and issue an invoice for them. Here, for the invoice, our Training Provider CRM automatically inserts the prior filled-out quote details merging with a pre-designed template.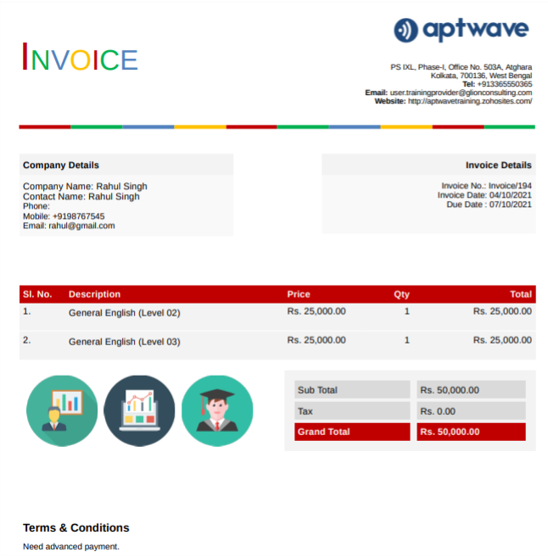 Record Your Payments 
Of course, you have numerous engagements to deal with. And you cannot overlook one for another. However, it all comes down to the numbers at the end day. With Zoho CRM for trainers, you can keep a diligent track of your engagements including their payments. When you do start receiving deposits from your clients' end, you can quickly get inside their engagement records and update their payment status. Our solution auto-calculates the due balanced amount if there are any. Super cool, is it not?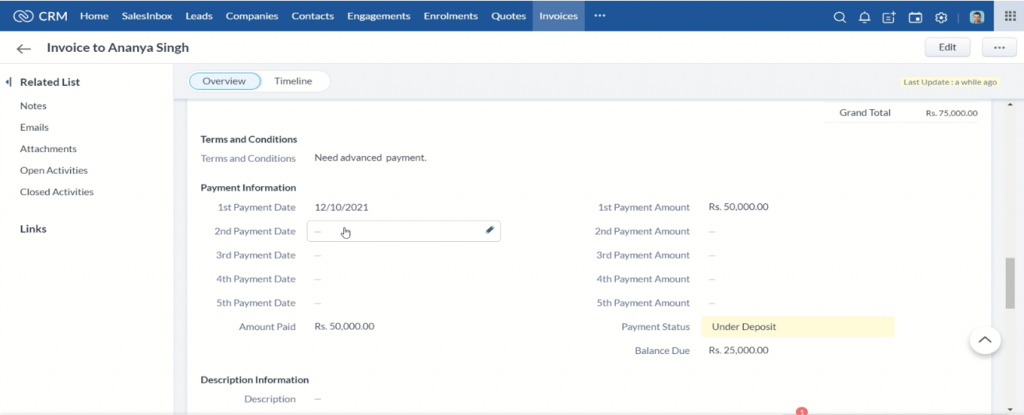 Personalize As Much As You Can 
Your customers repeat business with you based on the quality of service you provide. As they become increasingly tech-savvy, you need to figure out strategies to deliver the best-personalized service they can find. Training Provider CRM makes it a workable situation for you. How? When you win an engagement, you can instantly start creating enrolments for your clients. Enrolments are essentially the learners who register themselves for a particular course. But managing your engagements and enrolments is one thing. 
You can further personalize your service by creating multiple batches to suit your clients' needs. For instance, if you have a learner who has enrolled himself/ herself for three courses, two of them co-incidentally run simultaneously. So you can instantly create a batch in less than a minute. You can determine the class timings, course subject, class strength, etc. As your enrolments start getting in a particular batch, our CRM automatically calculates and updates the balanced number of seats as well.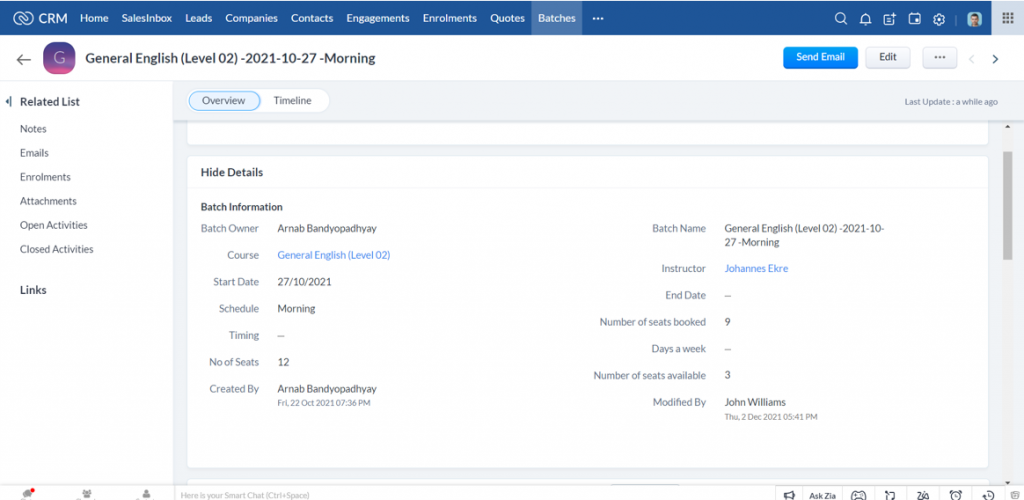 Reports And Dashboards
Imagine monitoring all your business aspects in an aerial view. A quality CRM software will offer you that, agreed. You can comprehend your business with the help of reports and dashboards. But our solution stands apart from the crowd. Zoho CRM for trainers comes along with dynamic reports and dashboards that always update you with real-time data analytics and insights. You can strategize your next moves, predict the emerging trends appropriately and execute your latest tactics and understand whether they're working by implementing the gathered data. 
This is what a report looks like–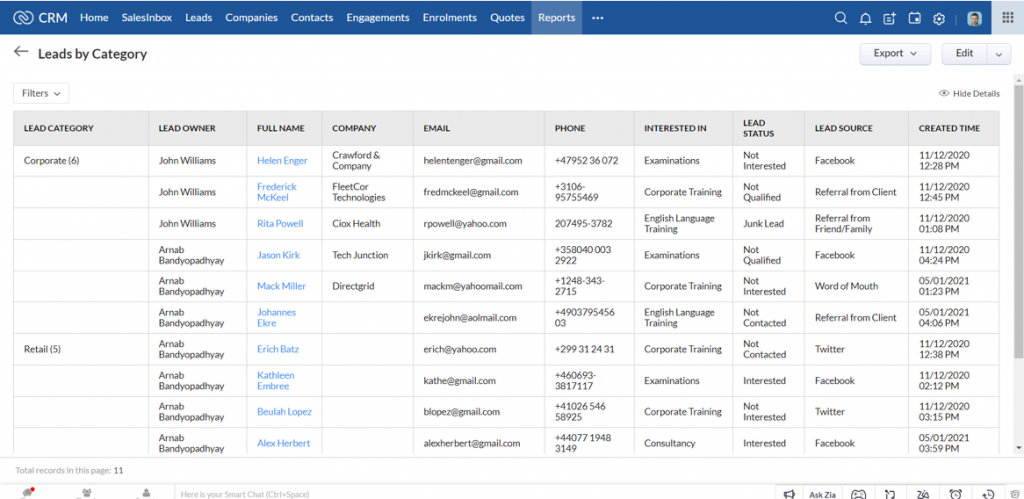 And this is an exemplary dashboard–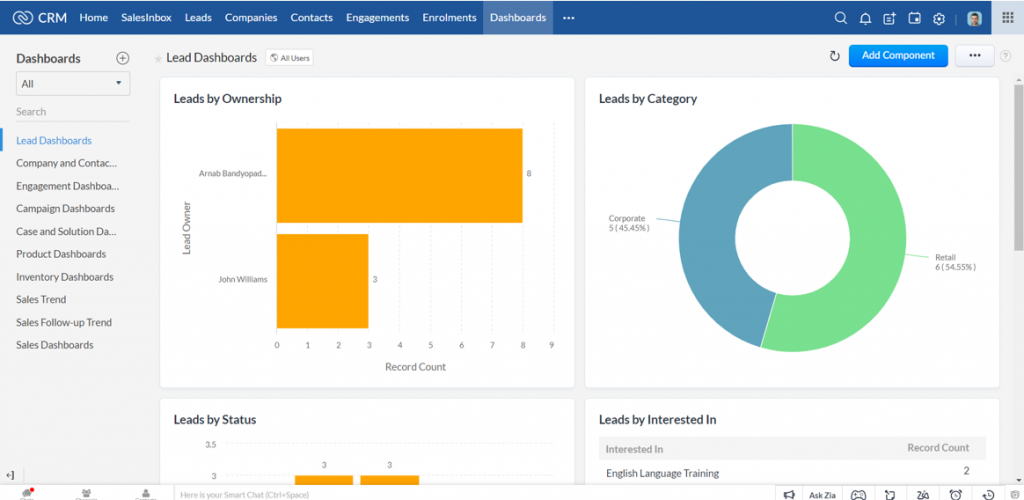 Bottomline,
An optimized sales process is the most 'in-thing' today. In fact, it becomes really beneficial when you start growing your business even further. Needless to say, an established workflow pattern gives you stability. Our Training Provider CRM is uniquely tailored to meet your ends extensively. The plentiful features and ready-made sales pipeline that it comes with will help you boost your sales game on a large scale.
Watch this factual video down below to understand the process even better. 
Now it's your turn. Click on this link to gather more information. Let's get going!