5 Factors That Trainers Must Consider Before Gearing Up For 2023
Nov 16, 2022
Trainers, do you have your business processes in place or are you the ones akin to darting out there in the dark? Look around, time has been pacing fast, and with time, so have your challenges. Who else knows this better, if not you?
For instance, in the pre-pandemic era, online/ e-learning was a myth. Today, this myth has been turned into reality. During the pandemic, people had no option other than being entirely dependent on online training and education. But now, we are standing somewhere in the middle. In fact, students are increasingly tilting towards hybrid (online-offline) learning. So you see, the trends are always fluctuating and the challenges keep sprouting.
It's time to adapt to the new factors before you hit the 2023 market.
This article is all about the 5 key factors that trainers must consider to gear up for the 2023 market. And how Training Provider CRM helps you through it! 
#1. Overcome Increased Competition With Training Provider CRM
When you start with your business, you need to have a slice of your industry and understand which factor differentiates you from your competitors. No matter what your USP feature might be, you must constantly strive to look for ways to improve them to sustain your competitive advantage. You know you can brainstorm a plethora of ideas. However, one factor that you can always rely on is customer satisfaction. And when it comes to customer satisfaction, you can blindly trust Training Provider CRM. Let me circle out the steps briefly for you.
Let's say, you have a website visitor who shares his/ her details via a pre-embedded web form. Now, when you are advanced with a quality CRM software, the latter instantly captures your lead and triggers an automated email for acknowledging their patience. According to Startup Bonsai, leads are likely to transition into contacts and opportunities 3x more, when there is a quick follow-up. It's obvious that your prospects won't wait for your revert forever, especially when they are aware of their options. So the CRM automatically notifies your sales team about the lead so that one of them can pursue the prospect for further conversion.
In fact, Training Provider CRM holds all the customer interaction touchpoints in a neat streamline. Whether, it is a lead, a contact, or an engagement (opportunity), your customer databases remain organized so that you can easily retrieve information whenever you need it.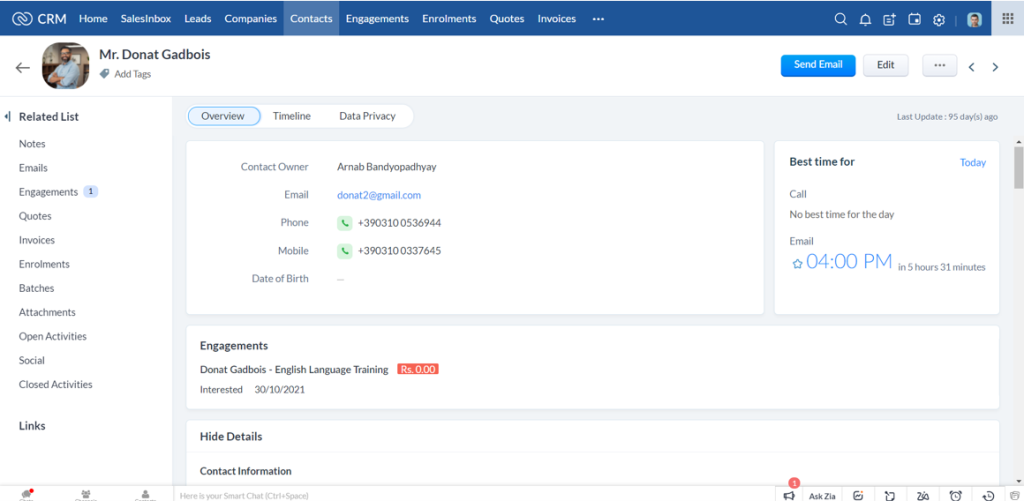 #2. Cut Down Growing Costs With CRM Automation
One of the biggest concerns of our times is inflation. Certainly, businesses of all sorts and sizes are looking for methods for reducing their costs. You want to reduce your resource investment like manpower, time, energy, and money. Automation is the only answer for all of this.
Now, we know that most businesses fail to succeed according to their potential because of the lack of an established workflow process. However, when you implement Training Provider CRM, you'll see a drastic improvement in terms of scaling your business at a relatively faster pace. It comes with abundant automation features that are solely designed to eliminate manual or repetitive tasks for better accuracy and proficiency.
Let's take the sales pipeline as an example. This CRM software comes along with a ready-made sales pipeline that is designed according to your industry nomenclature. Meaning, it holds all the possible intermediary sales stages that are crucial to map out your customer's journey. Moreover, it automatically updates itself with real-time information, whenever a particular customer completes the previous sales stage and moves on to the next. Therefore, you don't even have to wonder what your next step will be. In addition to this, you can evidently understand your customer's current stage in the pipeline, instead of browsing through information.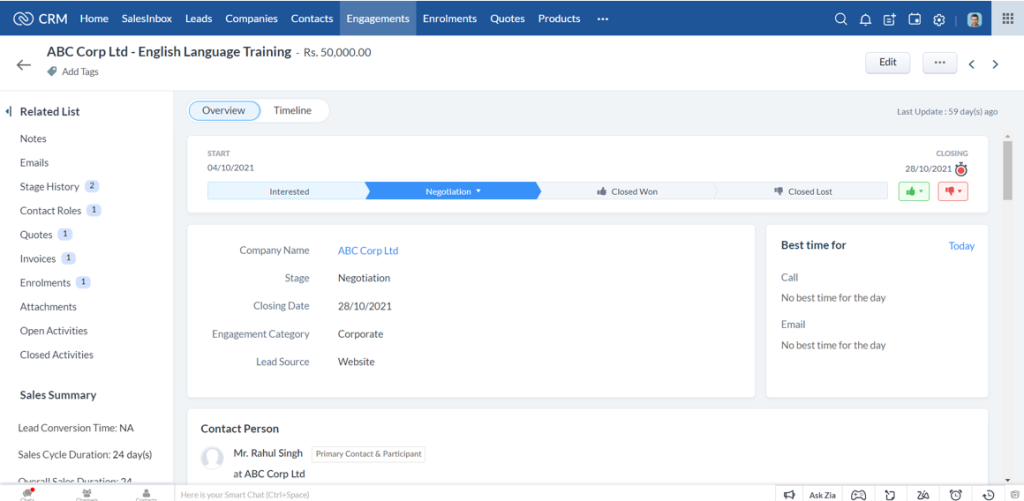 Another major aspect where this CRM solution suffices adequately is certificate generation. It comes bundled with Zoho Writer and Zoho Sign. Whenever a learner completes a particular course, you can easily insert his/her score in the engagement record and reward a certificate. You can merge your information with a pre-defined customizable template with Zoho Writer so that it instantly generates a certificate that you can share directly via email. Hence, you see, you don't even need to design your certificates from scratch.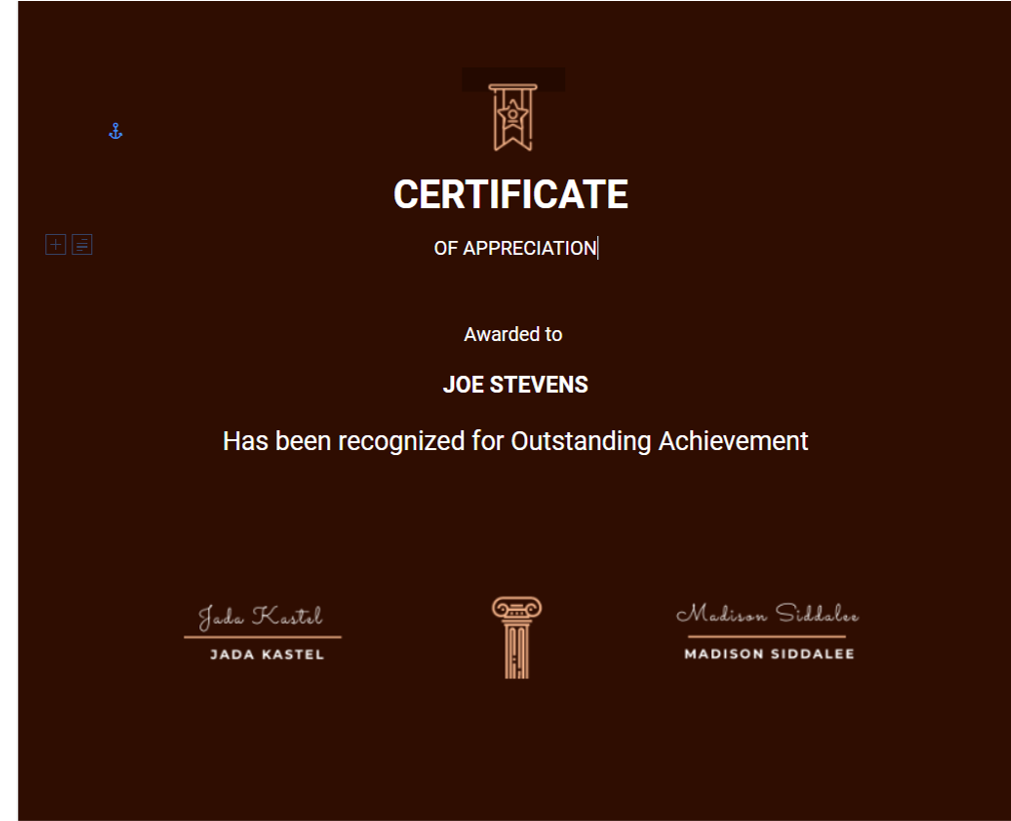 Other than this, you can also generate hundreds of quotations and invoices. To begin with, you must enlist a wide range of courses with determined fees. So that whenever you select a course while raising a quote, CRM automatically populates the amount. Once you save the required information, you can easily merge it with a pre-defined template, export it in a PDF format and send it out to your clients. Next, when you convert your quotation into an invoice, all the prior-filled information gets automatically pre-flown and you can generate a stunning invoice document.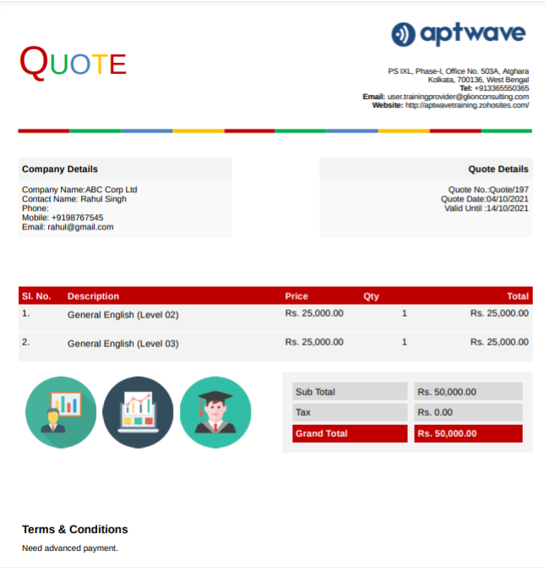 #3. Market Your Courses
When you have all your customer information streamlined in your CRM system, you already have an upper hand. For example, let's say you have an engagement where the learner has opted for two of your courses. You can create separate enrolments for the two different course registrations. So once he/she completes the courses, based on the preferred subjects, you can market the related advanced course that they can be interested in.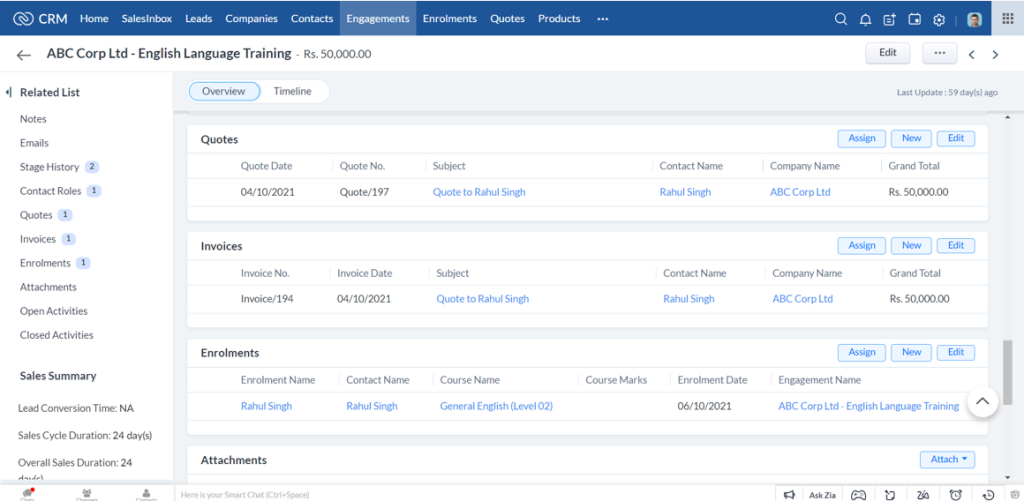 Now you can promote your courses to your enrolments, directly via email marketing, of course. But marketing to a limited audience, wouldn't it help you reach your company to its potential, correct? You need to expand.
For advertising to a larger spectrum of audiences, you can use Zoho Social. You can share important updates in your course range, highlight the benefits and encourage prospective learners. But you need to remember, that posting your insights or pieces of content haphazardly wouldn't bring you the best results. Posting and updating your audience consistently will do the trick. You can use Zoho Social to maintain adept consistency. You can easily create a content queue with an intuitive calendar so that the application readily posts your content pieces as per schedule.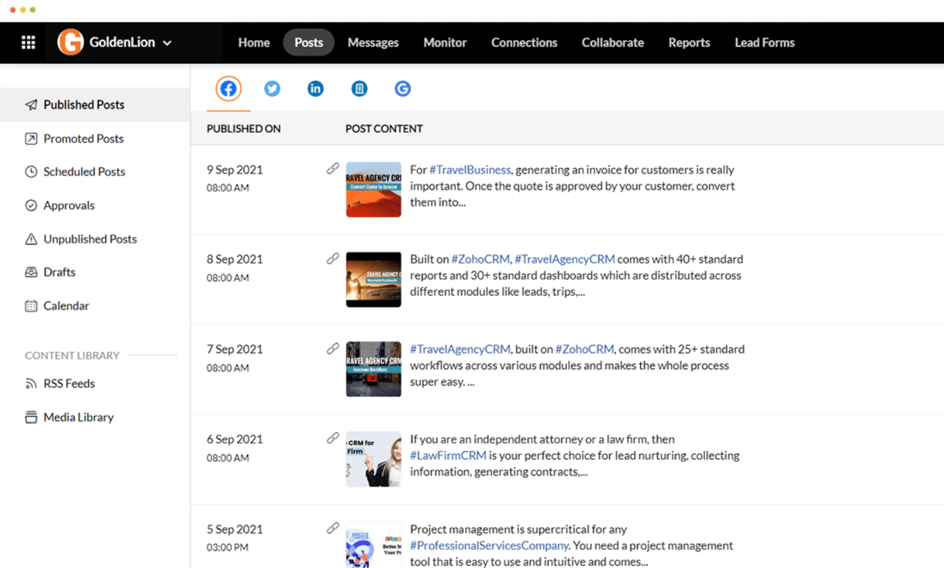 #4. Increase Content-Rich Resources
As a trainer, I understand that you need to brainstorm a lot of innovative ideas for educating your learners. You must refresh your resource feed to help them the maximum. Online training tutorials make things more interesting for them as they are immersive in nature, breaking the monotony of books. Videos are visual guides to help your learners observe and retain knowledge. Wirewax statistics claim that interactive video experiences reduce user drop-off when compared to regular "flat" video. Learning with a story-driven approach encourages exploration, branching "layers" in the content, and collecting knowledge items that are dispersed throughout the journey. If done properly and effectively, you can achieve high-touch experiential learning.
Looking for enhancing elements that make your videos more delightful to watch? Use DocHipo. It is a free graphic-designer software tool that has a versatile range of pre-defined customizable templates that are subtle enough to captivate your learners' attention.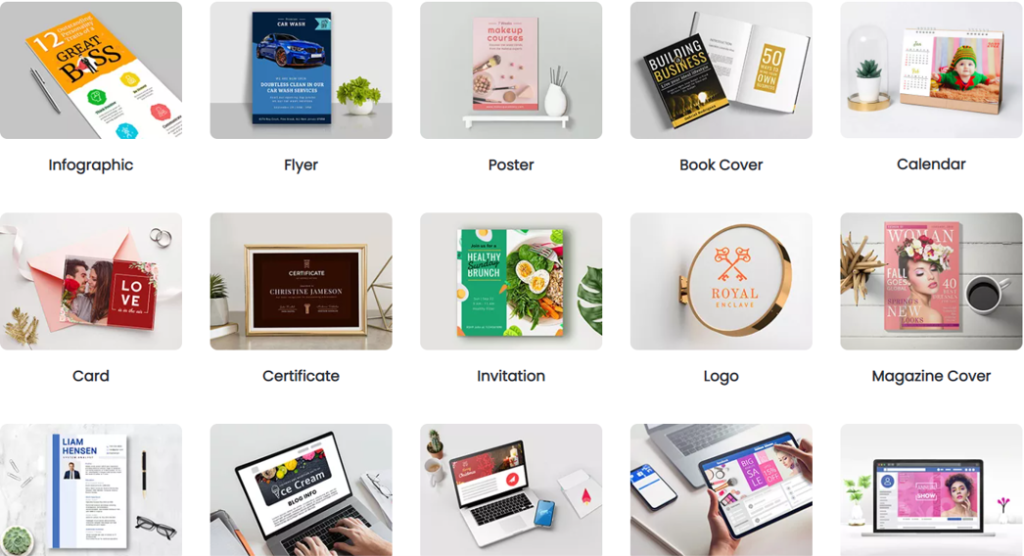 Another good news for you! If you want to include colorful illustrations to take your story-telling a notch higher you can use DrawHipo. You can beautiful premium lottie stickers, animations, vectors and other design-assets to make your videos a delightful experience for your learners.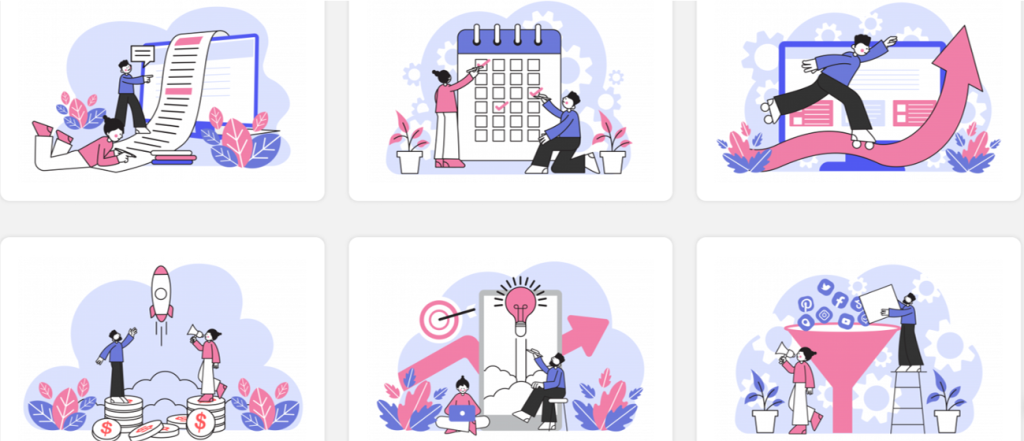 #5. Implement Blended Learning Method
The digitized era has opened literal doors for development of every sort, especially for education and training. Blended learning is the new trend that is globally depended upon. It combines online/ e-learning synchronized with on-site learning. It's a great method for better student engagement and encourages self-paced learning while granting them enough flexibility.
In the training industry, we often notice that people who are already engaged with their corporate jobs, find it fairly difficult to cope when they attempt to expand their skill set with professional guidance. However, hybrid learning makes their situation a lot more workable.
Now the question is, how does Training Provider CRM help you with all of this? Simple. Easy management of multiple batches. You can seamlessly create several batches for your Live training courses with pre-determined start-end dates, class timings, and class capacity for each batch. This effective software solution even updates you about the available number of seats present in the class to help you avoid overbooking your classroom training.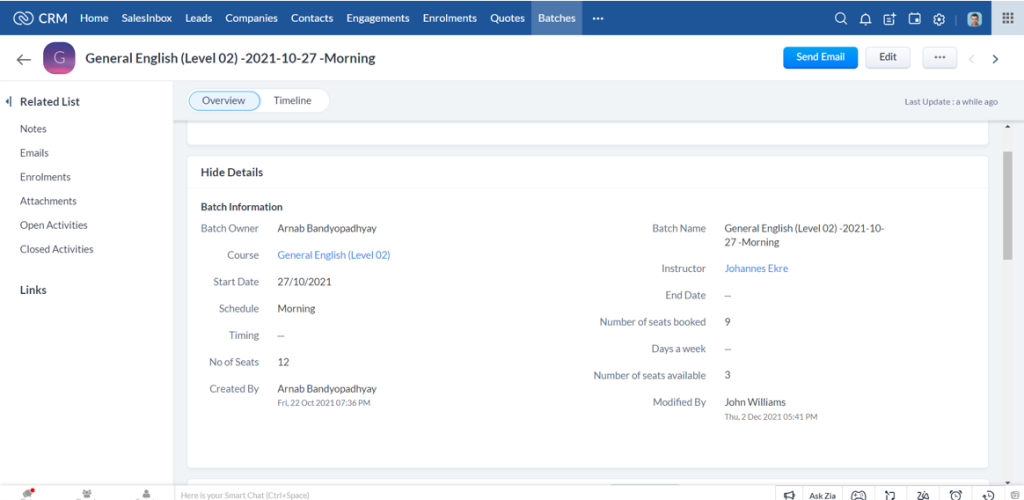 To sum things up,
I know that we are continuously fighting the speed of time that comes along with change. Evolving current requirements, transforming plans, processes, and policies. But it is inevitable. What we need to survive in this hour of growing competition is a reliable strategy. And here comes Training Provider CRM as an anchor– a solution that is designed to help you manage every nook and corner of your business.
Watch this super-factual video to understand the process even better. 
Click here to reach us and suit yourself with the best!