How to Optimize Lead Capturing via Web Forms
Sep 16, 2020
If you want to grow your business, then leads are everything for you!
To get your leads, you have to look for the right platforms and implement the right strategies.
Among all the platforms, lead generation via the websites have always been the most effective. Mainly because, through your website, you can establish credibility and inform your leads about your services.
But your website cannot capture potential leads without web forms.
In this article, we will delve into this simple yet powerful lead capturing tool that is the web forms. We will explore various kinds of lead capturing forms and how to use them for maximum benefit.
Lead Capture Form Statistic
Businesses are getting more aware of the potentials that this era of global connectivity can offer. This is the reason behind the popularity of online marketing, which is constantly striving to deliver the best results.
If you look at the statistics (2016) of the online platforms that capture prospective leads, you'll notice that the website attracts the maximum number (23.9%), followed by Email Marketing (17.6%).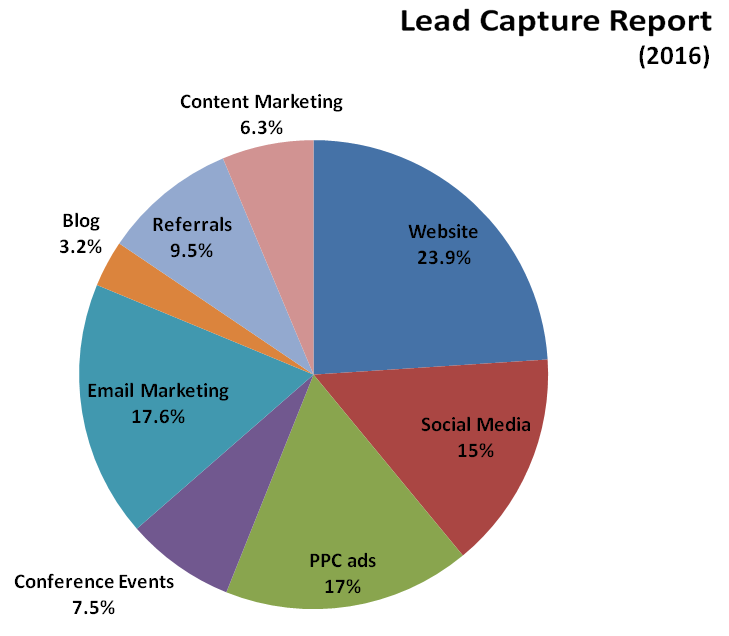 This overwhelming percentage occupied by websites is because of lead capture forms. Through these forms you get the suitable information to contact your leads, which boosts the overall conversion rate.
What does Lead Generation Mean?
Leads are consumers interested in the service/product that your business is providing.
In an inbound marketing model, your leads are aware of what they are looking for. So, as a business, make sure they get to know you and be convinced of benefiting from you.
Hence, lead generation is all about looking for the appropriate means to attract traffic to your website and converting them into interested leads. In fact, Lead generation is the first step of your sales cycle.
What are Lead Capture Forms?
Lead capture forms can be defined as a simplified way to capture inquiries from the website visitors. So, when a prospective visitor gets interested, then he/she can fill in the form with the requested details.
In most cases lead generation forms promise the leads to provide them something of value in exchange for their basic information; Such as eBooks, newsletters, or even tips. This offer of getting something back enhances interest in the prospective lead, inducing them with the intended action.
With the lead capture form you can ask for general details like name, contact, and other basic information. 
This information then helps your CRM system to record the data and use it to funnel through the sales process. It also helps you with email marketing.
Type of Lead Capture Forms
According to a survey, 82% of the respondents revealed that they observe a minimum of 5 business-related content to make a purchase decision. 
So, probably your prospective customers are also comparing you with other similar business websites.
In order to stand out from them, you have to create a fantastic website that displays a convincing web form. With web forms, you can extend a friendly hand and encourage them to approach your business.
There are three types of lead capture forms that can prove effective,
Website contact form

Pop-up form

Newsletter form
1. Website Contact Form
Website contact forms are static and are placed on specific webpages.
So, when the lead scrolls through your website and wants to contact you then they visit the particular webpage (contact page) and register their details. With the key information, the CRM system automatically sends them a mail confirming their request. 
These web forms are extremely effective, mainly because your prospect can leave their inquiry via these types of forms. This way your sales team can nurture that lead better. 
This is the website contact form of GoldenLion. Trust me! This is the all-time business booster.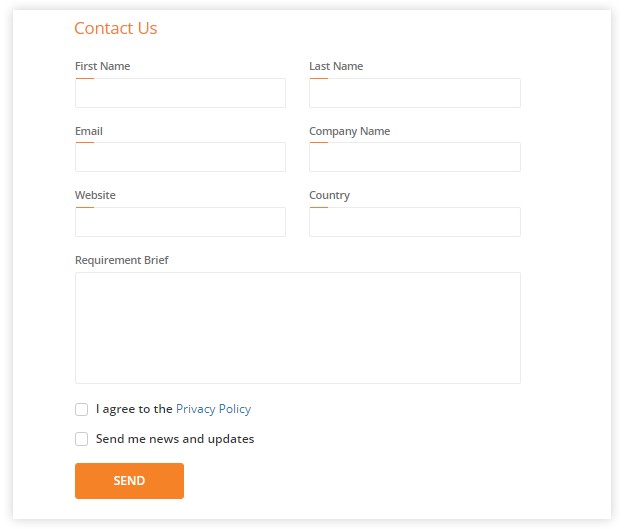 2. Pop-up Form
I am sure you have come across a website that automatically pops up a form, after you have scrolled through a certain length. That's a pop-up form!
Pop-up forms came a long way, from being a shady third-party advertisement (I remember winning a virtual imaginary lottery uncountable number of times) flashed on your screen, to becoming a potent tool of the marketers. 
These web forms are unique and interesting. They make your website lively, instigating the visitor to provide his/her details. In most cases, the pop-up forms offers something like a webinar registration, an e-book or checklist download or an discount coupon in exchange for the contact information. 
Pop-up forms can give you amazing results, fueling your CRM system with innumerable leads. But the intrusive nature of these forms needs to be utilized in the most strategic way possible.
Let me show you a stunning pop-up form: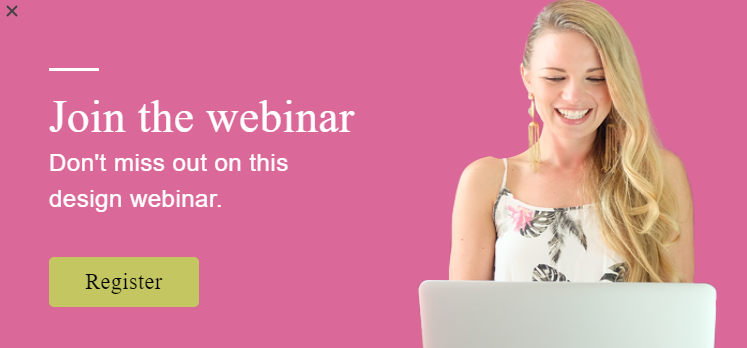 3. Newsletter Form
Newsletters are intriguing; as it is a source of exciting information that we get from the company that we are interested in. Hence, newsletters are an effective way to maintain relationships with your audience and to inform them about any new updates.
This makes the implementation of newsletter forms vital. 
Newsletter forms can be calibrated with the email marketing application. In this way, you can automatically send stunning newsletters to your leads, establishing a constant communication. Also, this timely email update will remind your leads that your business is ever ready to help them.
Newsletter sign-up forms have the simplest layout, asking just the name and the email address. Sometimes, they just ask for the email address, intending to appear quick and non-disturbing.
Here's an example: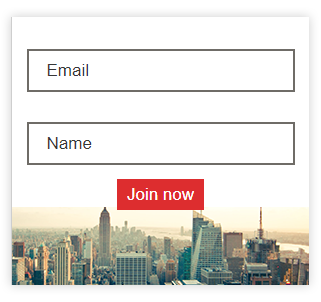 How to Optimize Lead Capture via Your Web Forms?
Choosing the appropriate lead capture form is a crucial step to take when generating leads via the website. But just placing a web form is not enough.
Just think!
Would you give away your contact details to a stranger? I am sure not. It is the same with web forms.
So, In order to get the maximum benefit you have to apply the right strategies in presenting the web forms, along with a convincing website.
Here I will disclose 5 tricky hacks that will help you optimize lead generation through web forms.
1. The Positioning of Your Form
Placing the web forms in tactical positions invites the natural gaze of the prospective visitor.
Let me tell you why…
A webpage that first wins the prospective visitors' confidence and then requests to fill a web form will probably generate more leads than a website that bluntly positions the web form.
I will further illustrate this by providing 3 lucrative spots on your website that will enhance lead generation.
a) Display the Benefit and the Form Side by Side
You can place the form in such a way that also accompanies a list of benefits that your business can provide. A side-by-side form is a big time justifier, as it properly showcases the reasons, compelling your leads to take a prompt action.
This layout gives you two advantages. First, it wins trust, making your website and your business look genuine and useful. Second, this layout indirectly prompts your lead about the features they can avail if they contact your business.
Check this web form layout form: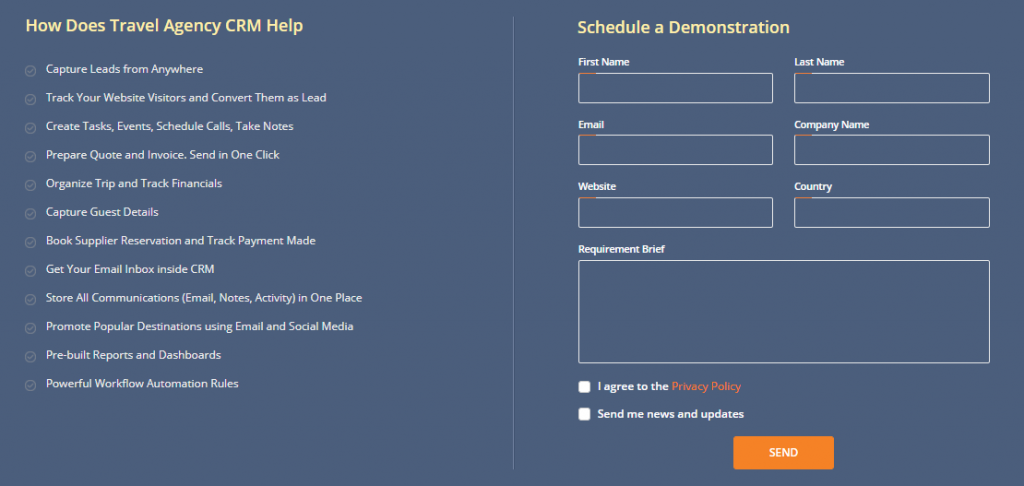 This is the GoldenLion's web form that talks about the advantages that a Travel Agency CRM can give to travel businesses. Here the benefits of using Travel Agency CRM is displayed beside the Contact Form.
b) Above the Fold
Above the fold is a tricky placement that can maximize visitor's engagement.  A survey suggested that viewers are more alert and engaged at the top of the screen of the landing page (above the fold).
That is why most of the call-to-action buttons and web-forms are placed above-the-fold, for maximum lead generation.
Often it has been seen that an intriguing above the fold layout has evoked an urge in the visitors to continue scrolling down. This enhances the confidence of your leads towards your business
Let me show you how you can do this: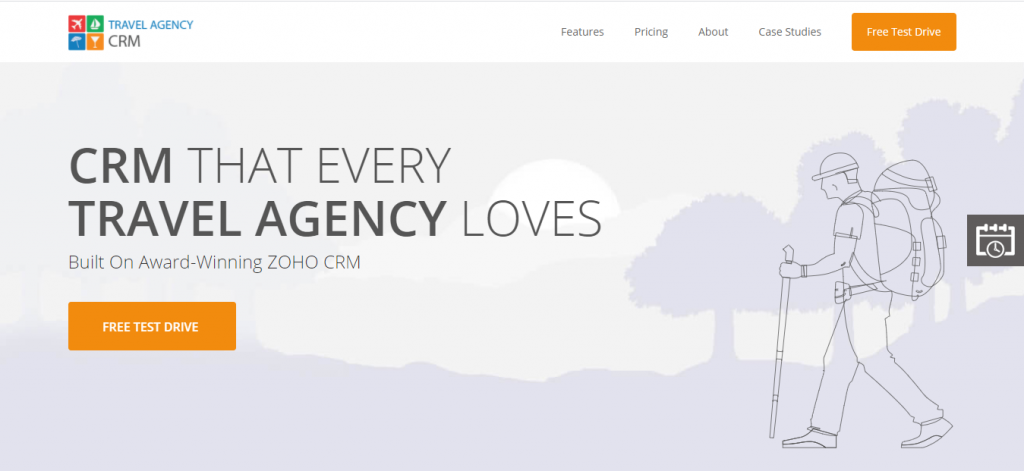 Check this above-the-fold view of the landing page of the Travel Agency CRM. 
Right from the initial glance, the visitor will get naturally tempted to click the C-T-A button, "Free Test Drive", which will automatically direct them to the web forms.
c) Near the Footer
There are many websites that place the web forms near the footer. There is a reason behind that.
First, your viewer scrolls through the entire content on the webpage and is in the position to take action. They also come across testimonials which enhance their confidence in your business. 
Second, this placement of web forms ensures you with leads who are genuinely seeking a service related to your business. It is this interest that compels them to go through the entire length and eventually take action.
To get a better understanding, check this Call-To-Action section placed near the footer of the Travel Agency CRM website:

It is tiresome and time consuming to filter out prospective leads from a chunk of random leads. Hence, web forms positioned near the bottom (footer) make this process convenient.
2. Offer Incentives
Everyone loves to get special offers and incentives (I am no different). 
Hence, offering incentives is an exciting way to attract potential leads. Incentives can boost lead generation, as people all around the world love to get extra deals. 
Also, it is important to offer something valuable in exchange for your lead's contact details. Otherwise, people are usually reluctant to share their details until something motivates them to do so. 
To understand more on how to go ahead with this strategy, check this image out: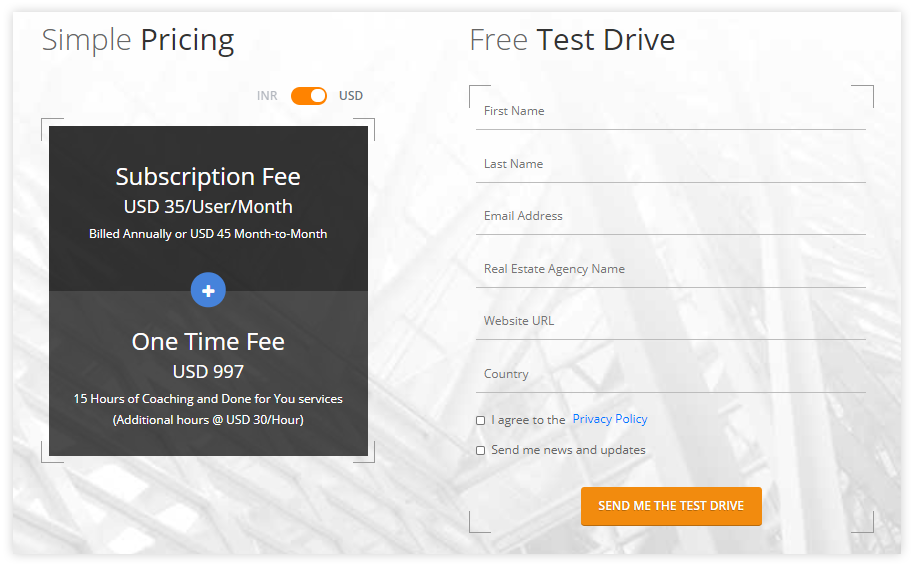 Look at how this website offers an incentive. 
Via this web form, leads can express their interest for a free Test Drive of tailored CRM solution for travel agencies.
3. Be Mindful About the Length of the Form
This is probably the most challenging aspect of creating web forms. 
Because this factor will constantly make you juggle between two options. The first option is having a smaller web form, and the second option is about having a longer one.
In our busy lifestyle, time plays a major role. So the first option will give you many leads. Most people willingly engage with web forms that are small and consume little time. But this option has its own set of problems, as the quality of the leads, generated, will get compromised and you will have a tough time sorting out.
The second option will bring forth authentic leads, which will have a maximum chance of qualifying, but the number will not be great. Although the interested ones will take their time to fill the forms, the majority will skip. Few people have the patience to go through an entire list of questions. In fact, it can get daunting for many prospective leads to invest their time in filling these forms. 
So, even after having few authentic leads, you can also miss out on other potential ones, who might not have the time to type but will be interested in a 1-O-1 discussion. 
In this quantity vs. quality tussle, you have to decide which one you want to opt for. Alternatively, you can try to balance the two by having a moderate length and capturing only super-critical information.
Let me show you an example:
You'll notice that this web form is of a medium length, asking just the basic questions. With the 'Requirement Brief' in this form, the clients' actual query is also noted. This enables the sales team to analyze and access the lead's credibility.
4. Make Sure the Link to Your Privacy Policy is Displayed Clearly
Data protection is a serious thing.
Along with the connectivity, people are becoming conscious of how their data is being used. Hence, to ensure transparency, it is necessary to clearly display a privacy policy. 
This highlights that your company website follows the regulations under the GDPR Compliance, which makes your business ethical and trustworthy. 
It is natural for your leads to be skeptical about providing their information online. Hence, a safe website that respects and assures proper data use can win that confidence.    
Moreover it is a legal mandate to inform the website visitor about how your company will use his/her information.
So, make sure you are ethically collecting data by providing clear visibility of the privacy link.
Check this out to understand how you can go about this: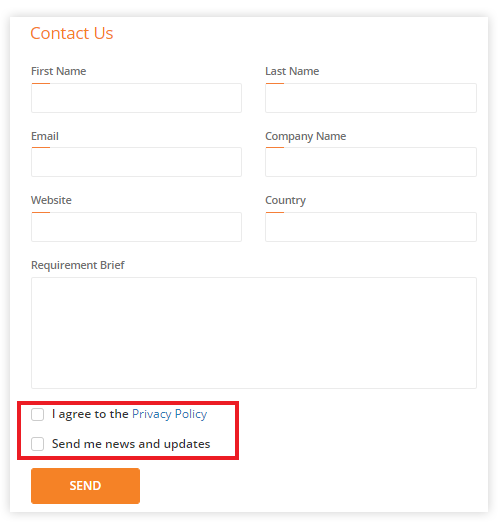 5. Be Creative About the Content
Sit in a pleasant spot with a nice cup of coffee and let your brain churn to unravel awe-inspiring content ideas.
Why?
Because creative contents are the major force, attracting your customers with a hope that your company understands their dreams. Hence contents can be miraculous.
Remember, you have many competitors out there and you have to stand out from them. You can do this by expressing a creative yet authentic style of content.
Like this one is my favorite:

We all want to grow, making our dreams big and our hearts aching with the desire to achieve something grand in life. 
So, as a professional services company, we designed our website in a way that portrays mutual support and understanding.
This webpage first talks about your dreams and aspirations, while using credentials highlighting the experience, and fuels your aspiration by stating that your business is the next. It also displays a positive CTA button that speaks for you and ensures that your dreams will become a reality.
We intend to make you feel that your aspirations are understood and will be taken care of. This feeling empathizes and attracts many potential leads having ambitions to expand their business far and beyond. A powerful CTA that focuses on your client's aspiration instantly draws an immediate click.
Hence, be imaginative and draft a creative content that will get an instant appeal.
Conclusion
If you have a website and you are looking for optimizing your lead conversion via web forms, you can do it with the help of Zoho applications.
You can build beautiful web forms from the Zoho CRM itself and incorporate them on your website. In this way you can capture your lead information directly to your CRM system.
You can also use Zoho Campaigns to grow your email marketing list. Also, with Zoho Marketing Hub you can create pop-up forms quickly and easily.
So, for turbocharging your lead generation, use these applications and follow these guidelines I shared with you.
If you want to know more about this and about the best ways to capture leads and nurture them, then it is time for expert consultation!