Implement Cloud-Based Law Firm CRM As Your Business Operating System
Jun 28, 2023
Businesses are meant to serve customers experience-wise and business owners money-wise. That's how a successful company operates – as a two-way street. Mind you, CRM software applications are designed to manage relationships with customers.
How can you primarily manage relationships with customers? By delivering an unparalleled experience. To give you a modest sketch, CRM tools help you do that while making your job easier with smart automation features. That goes for generic off-the-shelf software.
But what if you get industry-tailored software that serves as your business operating system? Law Firm CRM, a cloud-based software solution is the one for you. It is designed to transform the legal experience for both lawyers and consumers. As legal practitioners, regulating administrative tasks is a challenge. Consumers, since they have legal matters in hand, expect urgent assistance from law firms. Law Firm CRM does the work for you as your operating system.
What is an operating system? It is a piece of technology or software that manages and systematizes computer processes and connects hardware and software so that you can use all its features.
Law Firm CRM is a centralized platform where you can document all the business data to simplify business operations. From managing your legal practice, maintaining relationships with customers, to accounting payments. This software solution connects all the critical areas of the legal journey that makes your business more feasible.
Law Firm CRM As Your Business Operating System
The business world has advanced with several technologies. It is no longer limited to a firm or company's success. Most of the business's success depends on client-centric culture. Law Firm CRM is designed to manage customer relationships on your behalf. Since it is cloud-based software, it does not require any infrastructure. You practically only need a working browser and a device after integrating it with your business. It empowers you to connect with more clients, deliver customer-centric experiences for repeat business, and manage your payments more seamlessly. At least a thousand times better than a spreadsheet!
Law Firm CRM Serving As An Operating System For Your Clients
Automated Email Messages
Let's be honest. You cannot expect prospects to turn into paying customers when you leave them unanswered. So let's say, you have a prospect submit his/ her details and inquiry via a web form that you have embedded on your landing page. When you implement it with Law Firm CRM, the software readily captures and streamlines the information in a new record. On top of it, the CRM even sends out an automated welcome email to acknowledge the inquiry. As business people, you must aim at making your clients' experience as hassle-free as possible.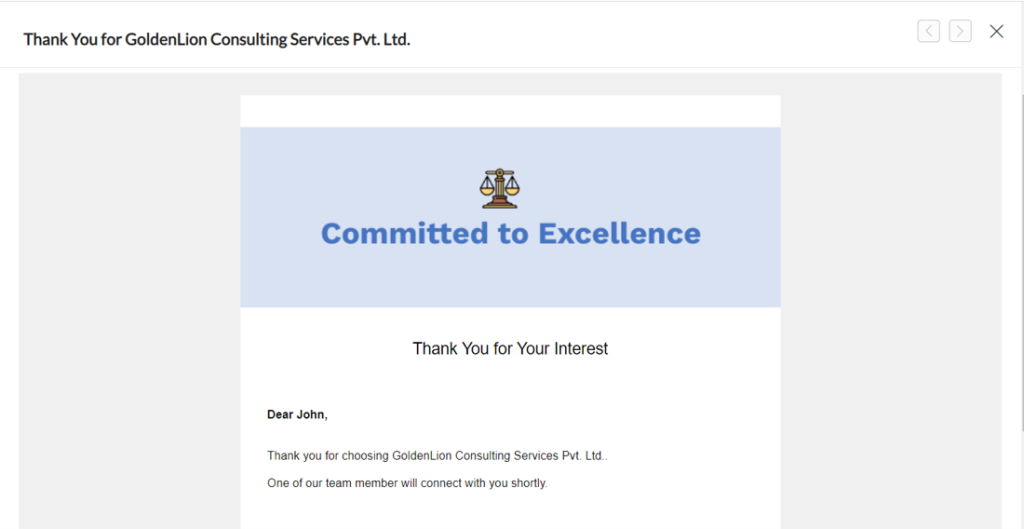 Matter Details Form
What I mean by an 'operating system' is literal. Law Firm helps you deliver a seamless client-centered experience. Once you convert a lead into contact and matter, you can share the 'Matter Details' form to gain more information. The best part is, your clients can talk about their matters in their own words and at leisure. This way you can engage them in a way that suits them the best. And as far as your work is concerned, the system instantly documents the information when your clients submit the filled form.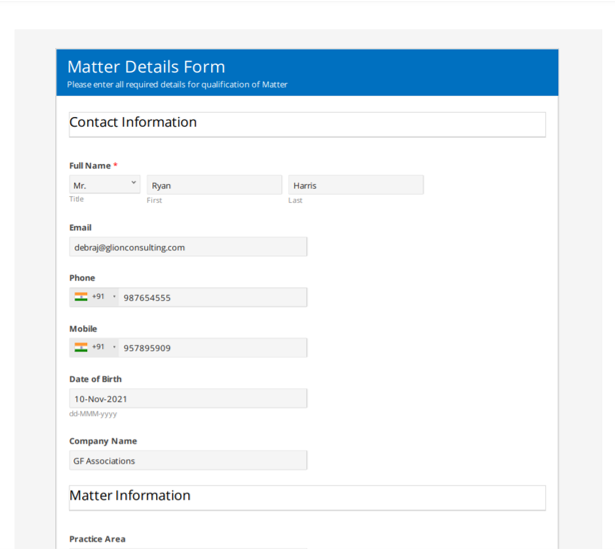 Contract Generation
Now that you have your matter information in your CRM system, you can evaluate it and generate a contract instantly. Depending on the billing preference of your customer, you can generate a contract by merging up with Zoho Writer. The system automatically pulls out the relevant information and matches it with a pre-defined template. Except for a few minor ones like, name of the company/ client, address, date, etc. Since it's the age of digitization, you can use Zoho Sign to put your e-signature on the contract and share the same via email.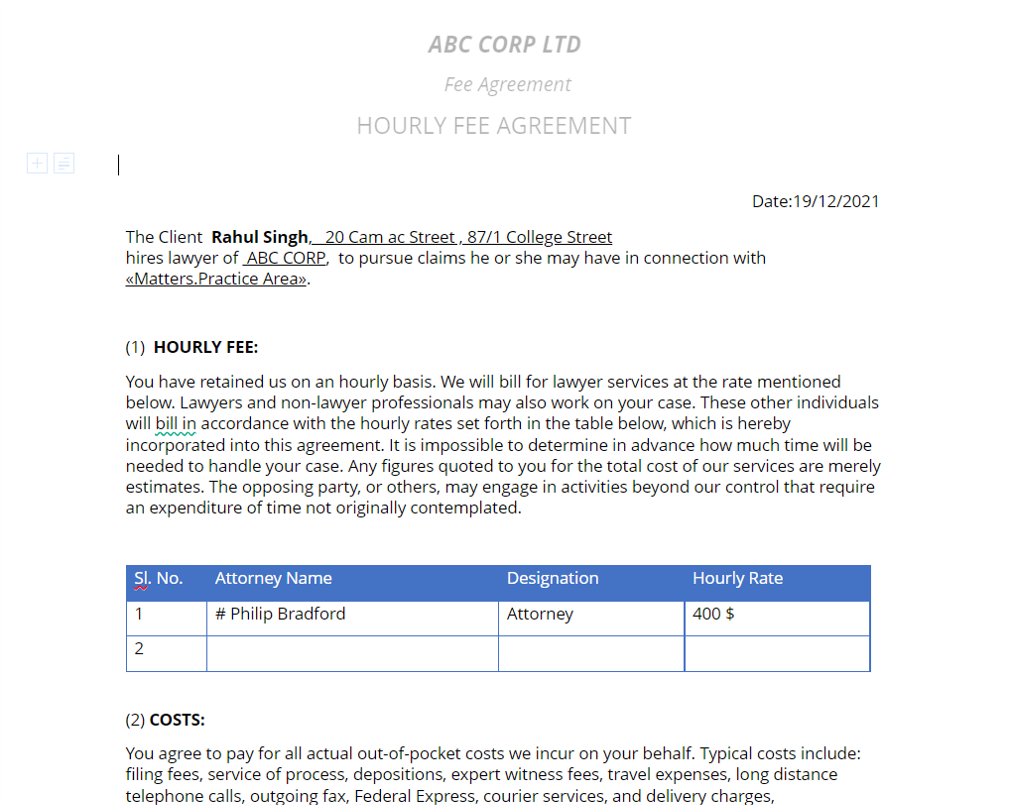 Ready-Made Sales Pipeline
Law Firm CRM comes with your industry-tailored nomenclature. It includes a ready-made sales pipeline that covers all the action points that you might prefer. Interestingly, the pipeline automates itself with real-time data. So whenever a particular client completes a stage, it instantly updates itself and moves forward to the next stage. Plus, your sales reps can even keep additional notes on the matter record for your client's preferences. This helps you to structure your pitch and resume interaction with your client making their experience better.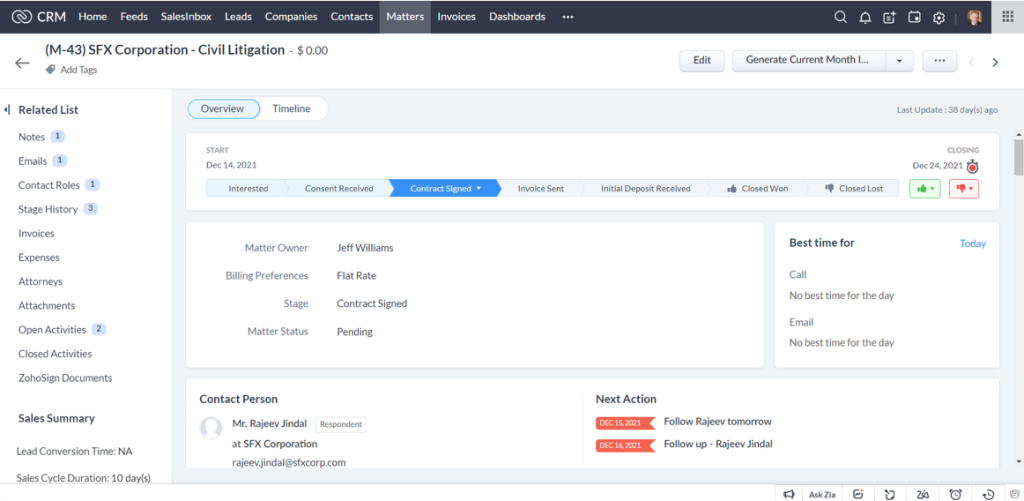 Law Firm CRM Serving As An Operating System For Lawyers
Data Centralization
Law Firm CRM serves you best as a centralized data hub for your business. It captures and documents all your data in a unified place so that you can retrieve every piece of information, kept handy and in a kempt manner. For example, the first thing that you see when you open the application is the home page, where different dashboards are updated with real-time data. This is where the most crucial metrics are stored for analysis. For example, you can check how many leads you have generated and from where the latest updates on your matters and open activities are left, and so forth. You can customize and add up to 10 dashboards here to define your home page.
Now this was only an example. The rest of the data is located in their pre-defined and organized folders.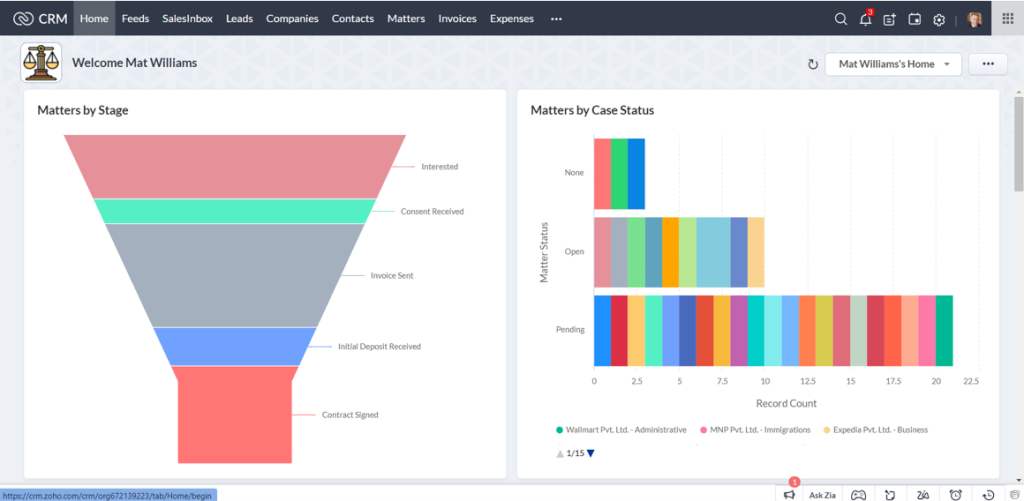 Capture And Nurture You Leads
Managing business leads is crucial. Law Firm CRM makes it easy. When you integrate your business with this CRM system, you can easily capture and streamline the lead's information. Suppose a prospect comes across your website and inquires about a particular legal assistance. Law Firm CRM captures it and systematically places all the acquired details in the respective fields. It creates an automated task and alerts your sales reps so that one of them can take up the lead. You can further create follow-up tasks and assign your sales team with marked deadlines/ reminders through the intuitive CRM calendar.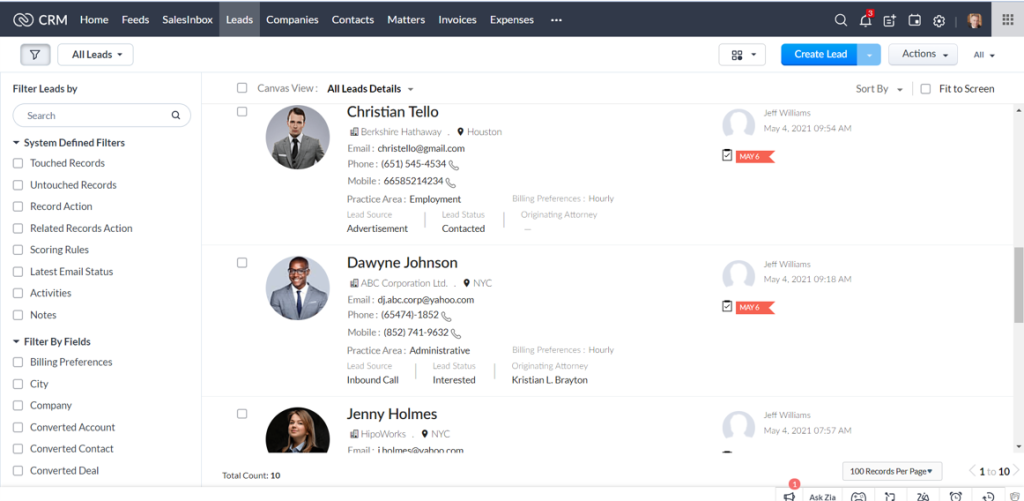 Tab Your Billable Hours
Honestly, it is almost scary if you're still using a spreadsheet to record the time invested in a particular matter. It is confusing and full of risks for both parties. Law Firm CRM again makes it super-easy. It can manage three kinds of billing, such as hourly billing, flat-rate contracts, and contingency contracts. For hourly billing preferred cases, your lawyers can simply insert the time that they have invested along with the date and tasks when they work on the matter. Or else, while preparing an invoice for the matter, when you select an attorney and enter the hours invested, this CRM software instantly pulls out the rate from the attorney module and calculates the billable amount.

Record Your Expenses
It is often noticed that since attorneys are swamped with their workload, they forget to record the additional expenses that a particular matter requires. Say, for example, while investigating a contingency matter, you might have to travel or file for court. You can create expenses and manage your matters, by inserting the name, type of expense, date, amount, or mode, and save it. You can add multiple expenses against one particular matter. This CRM software automatically sums them up while you raise an invoice.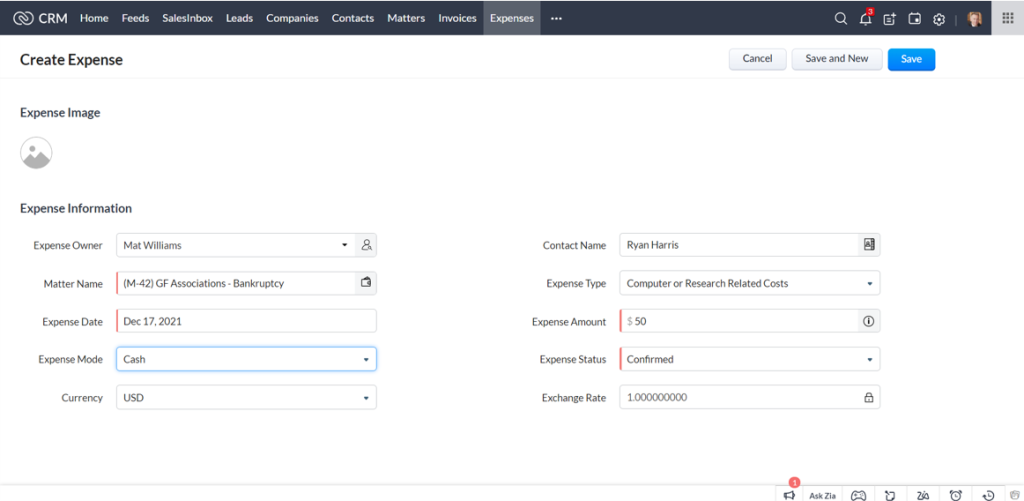 Invoice Generation
Now that you are ready with your billable amount details, you can generate your invoice for the current matter. Banking on the hours your attorney has invested, and the additional expenses your firm had, Law Firm CRM instantly calculates the amount and generates an invoice with a pre-defined template. It is all computerized, so there remains no room for risks. You can share the same with your client through email and finish the task at once.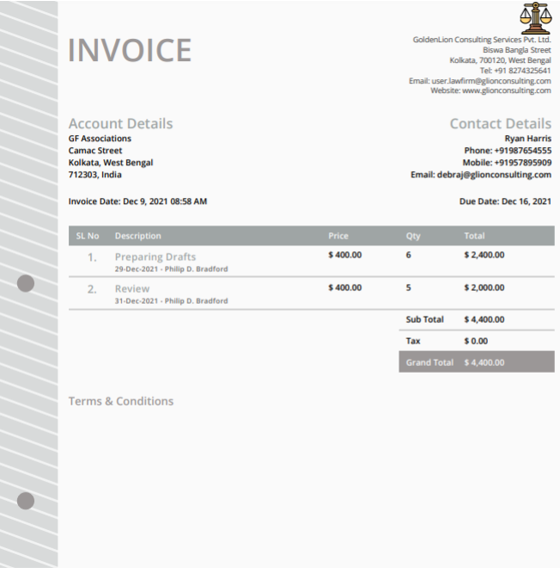 Over to you,
The sole intent of designing Law Firm CRM as a power-platform for your business is to cover the length and breadth of your preferences – whatever you need for your clients and business growth. Watch this video down below to understand the process even better.
For more information, schedule a free 90-minute no-obligation consultation with our experts!