Increase The Profitability Of Your Travel Business In 2023
Jan 20, 2023
2023 looks promising. Despite the rising costs in the global economy, the travel business sector is expected to earn 20% more in comparison to 2022 which marked a significant return for the industry. 'Work from roam' is the new 'work from home.'
While the worldwide tourism sector is projected to grow, why won't you make the best out of it for your business? Heard of the proverb "the more, the merrier,"? The moment you start a business, it's obvious that you would want to make it a big success. You look for different new strategies to boost your sales and your profit numbers which will further raise your competitive edge and attract more market shares.
This blog will help you take a closer look at how to increase your profit margin and make it even more solid.
Invest In Marketing Channels
Invest capital to make something big out of it. That's the only way to do business. The foremost step that you must take is digitizing your marketing efforts. Marketing is one of the biggest challenges that travel agents typically face. As every industry or even business has to adopt different strategies for marketing to its niche audience, it is best to start with a relevant yet strong foundation.
Travel trends are always fluctuating. So it becomes your job to consistently conduct market research and strategize as per the outcome to actively grow your audience. For instance, the destinations which travelers are looking forward to, rich-chain hotels or short-term rentals, the off-beat location or experiences, and so on.
Develop A Strong Website
To start with marketing, your first task is to build an informative website landing page. Websites are practically your virtual store. So you need to position your thought leadership and place your value proposition to attract your potential customers. You are also in place to aesthetically please and catalog all your trips in a neat series, along with the approximate tariff and offered facilities. 
Invest In Social Media
Once you finish giving your website a stellar form and structure, move on to the next step which is social media marketing. Social media gives you a tremendous opportunity to present yourself globally and bring leads to your business. All you need to do is know and apply the right tactics. Start with video marketing. You can shoot your travelers' experiences, the different cultures, tourist hotspots, or offbeat locations that you consider to deserve more attention. You can use your travel videos to guide people through the locations with storytelling, and genuine testimonies, use a full-scale perspective and increase social awareness.
In case, you miss out on mentioning information in your videos, cover them in your descriptive blogs. You can use real tour tales about different destinations, or better yet, you can have your travelers write about their first-hand experiences through guest posting. For your blogs, you must research and include relevant keywords in your high-quality content for the best search engine ranking results or SERP. You can use important tools like Semrush, Google Keyword Planning Tool, and Google Search Console in this regard.
Implement The Right Travel Tech
A part of how your business performs depends on the decisions you make. Similarly, a crucial part of your business stands tall on the technology you choose. For example, a horizontal CRM that is meant for general purposes or Travel Agency CRM solution that is designed to serve all tasks that are uniquely followed in your industry. Now, here's why how Travel CRM can increase your profitability.
Automate Tasks
You will agree that a good amount of time, labor, and energy gets wasted on regulating mundane or repetitive tasks. And all these resources come live with expenses that have a direct correlation with profitability. But when you integrate your business with such a unique CRM solution, you can strategically reduce all these operating costs with powerful automation. Since the system is built with your industry nomenclature, it covers all the operation basics that you might require.
For example, it neatly captures all your leads and places the acquired information in a newly created lead record. The CRM updates your teammates about the lead for customer assistance. Once you convert the lead into contact or opportunity, all the information is automatically pre-flown in the interconnected records. The solution captures and presents to you a 360-degree holistic view of your customers by streamlining every piece of information– all done with automation. It even comes with a ready-made sales pipeline that visually represents the current stage of an opportunity and updates itself with real-time information.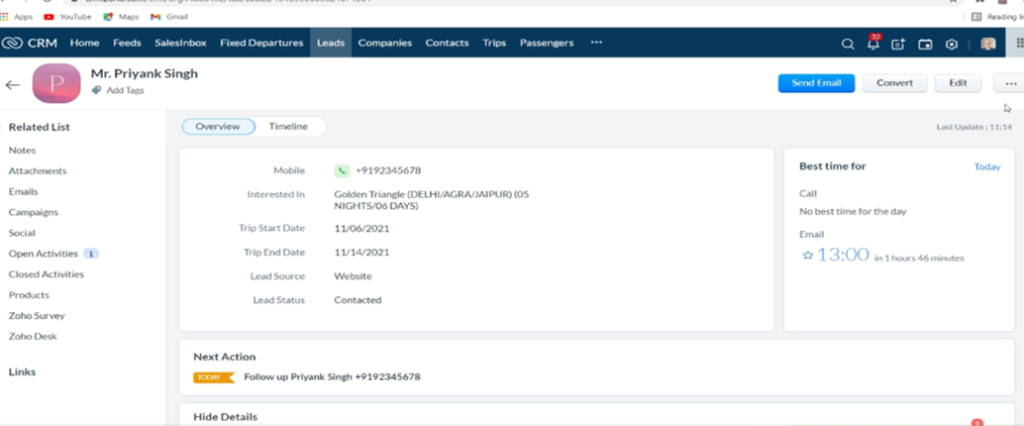 Manage Relationships With Your Customers
Boosting revenue and profits requires you to build and manage relationships with your customers. Travel Agency CRM essentially helps you cultivate a customer-centric culture that acts as a solid focal point in your business and improves profit margins. Since acquiring customers is more expensive than retaining them, build strong relationships from the very first point of interaction. Her consistent communication helps. You can create several follow-up activities and mark them on the CRM calendar to avoid falling off the cracks. The CRM solution captures all the communication touchpoints for each customer record.
Integrate Third-Party Applications
Once you start making profits after implementing Travel Agency CRM, which you will, don't restrict yourself to the CRM features. You can make it a robust business management solution by integrating other Zoho or third-party applications like Google or Microsoft to suit your needs.
For example, you can integrate your CRM with Zoho Social for managing your posts and updating your feed on time to build brand credibility. Again, there is Zoho Survey that helps you create questionnaires in minutes and track their response patterns– what they are expecting from you or feedback so you can act on it. An application like Zoho Desk ensures that your customer service infrastructure is active and effective. As customers are becoming increasingly demanding and expect personalized services, show them you care and let them know they're getting serious mileage out of your offering, in every way possible.
Audit Your Tactics And Detect Inefficiencies
You won't see a considerable change in your profit numbers without constantly improvising your strategies and addressing the bottlenecks. It doesn't happen that drastically. Travel Agency CRM comes with standard reports and dashboards that enable you to minutely scrutinize every nook of your business. These granular reports and dynamic dashboards give you a clear comprehensive look at your expenses, ROI rates, overall performance, etc.
Strategically Raise Your Tour Price Point
Raising prices for tour packages is where it gets sensitive, and risk-prone to the point that several businesses are reluctant to apply this tactic. On the dimmer side, your customer base feels alienated. On the brighter side, you boost your revenue with every trip you win. So you need to strategically raise the stake. To execute it successfully you need extensive market research, and relentless competitive benchmarking analysis on the market position, service suite, and broader economic circumstances. Travel Agency CRM advances you with an in-depth understanding of your purchasers' personas so that you can narrow down the specific type of trips that are currently trending. Of course, this is a trial-and-error kind of strategy and is slowly but surely going to work once you ascertain what goes in your favor.
Build Your Brand Identity And Reputation
When your customers start paying more for your services, your profit numbers for each sale will proportionally grow. But why will they be willing to pay more and go for services that are offered at a higher price point than others? Here building a strong identity for your brand helps.
People love things that are premium and exclusive. Projecting your brand as a premium option in the tourism space while putting forward your vision is important. Hence, you see, you are about to reinvent your brand identity which requires a lot of legwork. You can start by voicing your value proposition– what are you offering, how much more are you offering than your competitors, why your packages are on the steeper side, etc? In short, you have to present your USP feature that makes your service stand out and attract a niche demographic audience.
You can design your website with a comprehensive and aesthetic look to flex off a more luxurious impression. An effective prestige pricing strategy can also be on your list. It is a marketing method where you sell your product or service at a higher price point (or your perceived value) to create a high-quality impression.
Last thoughts,
I have attempted to give you a comprehensive guide to strategies that can help you increase your profit margins. Since the travel industry is geared up for this year, why not grab the most of it and make the best for your business? But along with all your brainstormed ideas, one thing is for sure, Travel Agency CRM will make your situation a lot better and more workable than you can ever imagine. This is a super-factual video down below, give it a watch.
Connect with our experts for more information about this effective solution. Get started now!