Increase Your Commercial Property Sales With Real Estate Agency CRM
Mar 3, 2022
As the pandemic is drawing near its fag end, we witness considerable growth in the real estate business graph. Of course, the trends of today are different than what they were in the last couple of years. People are now looking for places that have outdoor spaces to maintain their health and well-being. Even commercial real estate is striving hard to adapt to the ever-so-changing economic climate, consumer needs, and demographics. Thus, increasing the sales number becomes a challenge here. But once you're backed with Real Estate Agency CRM, your cumbersome challenges become easier than ever.
A recent challenge faced by realtors in commercial property sales
Two years ago, with the rise of contagious Covid-19, the economy crackled throughout the world. Businesses fell and tenants left. Now as a real estate broker, you wouldn't risk your business for another time, would you? So you need to deal with businesses that have the capacity/ potential to stand resilient to adversities while selling commercial property.
In this article, we will discuss how lucratively you can implement our Real Estate Agency CRM solution to increase your commercial property sales.
Manage Your Properties
As a business person, of course, your customers are your prime concern. But as a realtor, your properties are the focal point of your business. Real Estate Agency CRM holds all your properties in a seamless list so that you can navigate better. For example, if you get inside a property record, you can check all the necessary details including the name of the property, its owner, or code. What's more, our CRM solution even names the property in a homogeneous form. So if it is a commercial estate, the name will consist of the code, the type (commercial), the total area per square foot. But remember, you need to list the type of property (sale/ rent) and categorize it (as commercial) for better search results. Along with the address, you can also add the geo-location so that the CRM displays a map in the record itself.
An intuitive CRM software like ours even auto-updates the deal stage for each of your properties. In the summary section, you can check whether it is under validation, available, or a closed-won case. Seems so effortless and saves you so much time!
Capture Your Commercial Leads
Realtors are extremely busy people, we know. Especially as we see offices and other workplaces reopening, there's a sudden surge in the market, which means your load is about to increase as well. You might have inquirers of your properties from different channels like websites, social media platforms, referrals, newspapers, and so forth. Therefore, you need to track all your leads diligently to never miss out on an opportunity.
While generating numerous leads depends on your primary sources and marketing strategies, capturing them all at once becomes easier with Real Estate Agency CRM. For example, if you have a company interested in one of your commercial properties via your website, they can fill out their details in an embedded contact form and submit it. The moment they do so, CRM creates a new lead, places all the acquired knowledge in the respective sections and fields, and adds the source of that lead. All these details are organized in a streamline so that you can evaluate the lead's merits at your leisure. And not only this, our CRM rightly notifies respective team members about the new lead so that one of them can take it forward. Efficient automation like this saves you time, labor and helps you avoid errors.
Keep A Consistent Communication Flow
Nurturing your commercial leads becomes the most crucial step before you convert a lead into a contact, company, and deal. Now as a realtor, it becomes extremely difficult to manage all your commercial leads. So you can delegate your work volume by creating and allotting different follow-up activities, scheduling meetings or calls for them. To keep things consistent and on the move, you can set reminders or mark deadlines on your calendar. Therefore, Real Estate CRM helps you make solid relationships with your potential customers with zero communication gaps.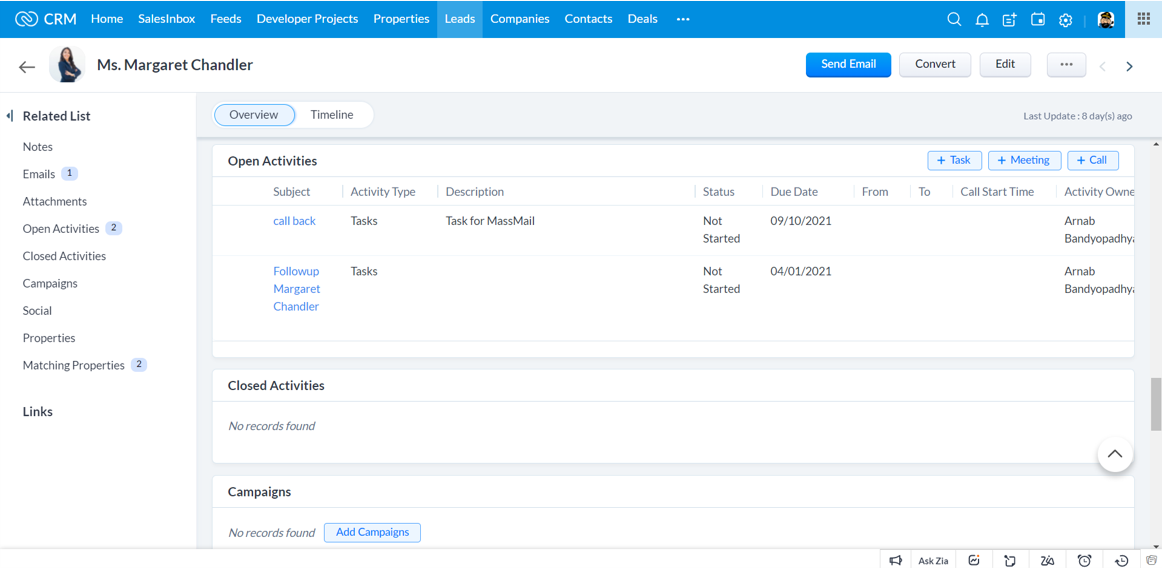 Work On Leads With Greater Merits
You might have innumerable leads, but not all of them will turn out to be your customers. So as a real estate broker, you need to work smart and carefully ascertain the ones with greater merits. You can follow the BANT (Budget, Authority, Need, and Timeline) parameters to rightly evaluate their merits and categorize them accordingly. This helps you invest your valuable time in more promising leads.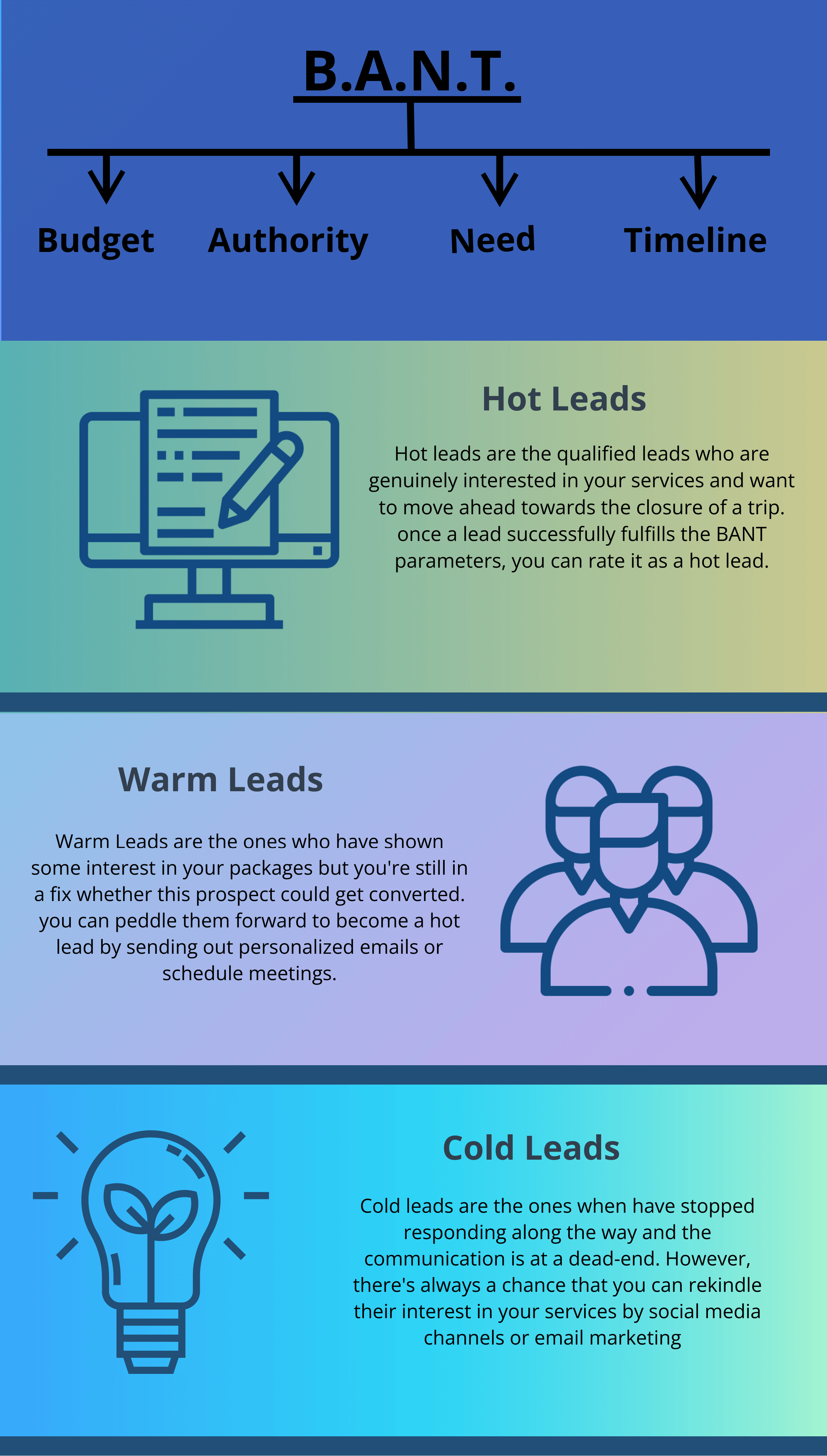 Increase Team Productivity
A 'one-man-army' kind of approach has called its quits today. For survival, you need your sales representatives to be by your side. Of course, you can manage their daily productivity by setting different tasks, but to heighten your team's spirits, you can introduce the gamification scope. An all-serious workaday environment can be made more interesting when you conduct a healthy competition in the space. People become more productive and show enthusiasm to improve as a team when you as the leader show appreciation for their work and this is what game scope is all about.
Property Recommendation
Navigating the right commercial property for the right customer is so tiresome, right? Real Estate CRM makes your job super-smooth. How? On one hand, this effective software solution enlists all your properties. And on the other, whenever you receive an inquiry from a lead or have a contact, CRM records information holding a holistic profile. So if you get inside a commercial lead or contact, you can click on the 'property recommendation' button and trigger a list of suitable properties that the system intuitively suggests. Based on the criteria that your prospects have submitted such as location, budget, area, our CRM creates this list. Once this is done, you can also send your recommendation in a PDF format to your customers via email. Simple, quick, and hassle-free!
Reports And Dashboards
Imagine your business in an aerial view– every sector organized in one single space. With Real Estate Agency CRM, you get pre-built reports and dashboards which help you comprehend your business health. Whether your strategies are working like you expected, which sources have shown maximum growth, throw a comparison if you want, and so on. Added to this, you always get real-time insights so that you can act faster with well-informed decisions to increase your sales rates.
Last Words,
Considering the competitive landscape of today, mighty real estate agents like you need to walk an extra mile for making a business successful. And what's more ideal than Real Estate CRM for this purpose? Plus, since it's a cloud-based solution built on the award-winning Zoho platform, you can access every piece of information from any device and at any time and grow your business on the go.
Want to see how effectively our CRM solution helps you run your business with its abundant flexible features? Check this video out.
So what are you waiting for? Grab this opportunity before it's too late, click here now!