Increase Your Sales Conversion Rates With Travel Agency CRM
Jun 16, 2022
Everyone is trying to outdo the other in such a competitive landscape. But when you start a venture, nobody wants to become one of those businesses which flourish fast but disappear faster. You want to steer your business at a slow pace to make it solid and bigger for the longer run. As we see the travel industry getting back on its feet, the foremost thing travel agents are gearing up for is increasing sales. Travel Agency CRM makes this a lot easier as it strategically increases your conversion ratio and sales rates with an uplifted sales process. 
Standing in this digital climate today, you must agree that data is the new currency. With an easy-to-use flexible interface, our Travel Agency CRM efficiently stores your data and effectively helps you work your way up in the global scenario. In this article, we will explore how lucratively you can use our cloud-based software solution for increasing your conversion and sales win rates. So let's cut to the chase, shall we?
Stay Informed With Centralized Data  
Wouldn't it be cool if you could view all your crucial data from one centralized space? With Travel Agency CRM it is indeed possible. We understand that you need to monitor and manage all the aspects of your business. But there are some exceptional ones which need your discreet attention and on a regular basis. Say, for example, the number of leads that go generated recently or the number of trips you have in hand and so forth. All these crucial pieces of information are displayed as dynamic dashboards on the homepage. You can add up to ten components here. What's more, when you start your day, you're straight up landed on this homepage where you can view all your preferred dashboards updated with real-time data. Stay informed, always!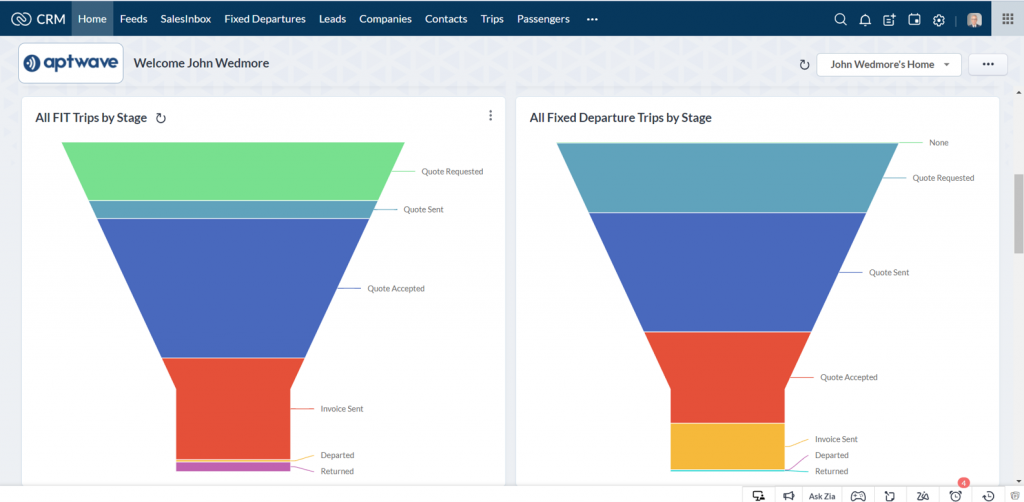 Capture Maximum Leads
Who will you sell your services to, if you don't have leads? So to run a business, you must generate ample numbers of leads as they are your potential cash crops. As tour operators, you must have several channels to promote your brand and generate leads. This might include websites, social media pages, newspapers, or Google advertisements, and the list is endless. While generating leads depends on your marketing channels, Travel Agency CRM helps you extensively capture them for future opportunities. 
For example, when it comes to capturing leads from websites, our solution enables you with pre-embedded web forms so that your inquirers can communicate with you when interested. Travel CRM also comes along with Zoho SalesIQ, an omnipresent virtual agent that assists your leads on your behalf. In both cases, our software always efficiently captures all the acquired intel and stores it in separate new lead records. Even social media is an important marketing tool for travel agencies. You can post travel pictures or videos all you want, but always remember to embed your website link. It increases your website traction and chances of procuring more leads, hence more opportunities!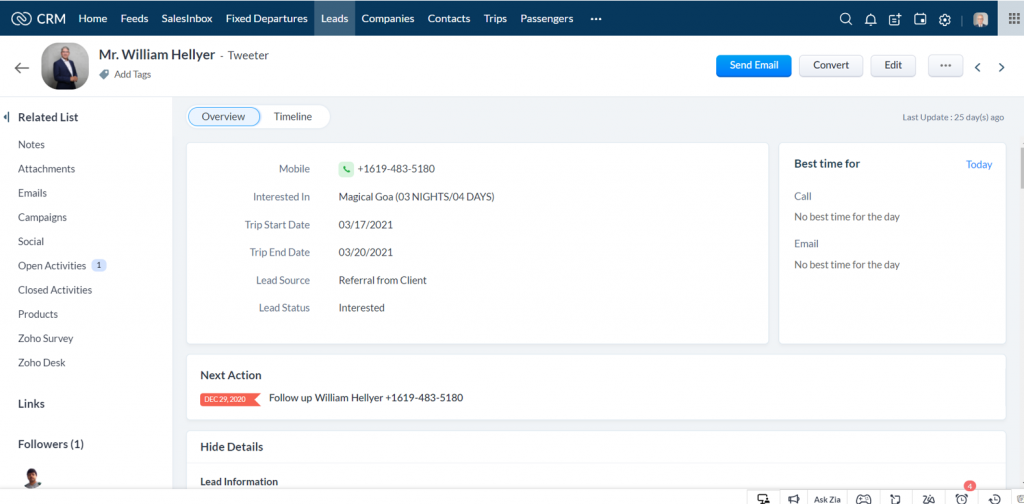 Interdependent Collaboration To Nurture Your Prospects 
The immediate step before lead conversion is nurturing your prospects with tactful assistance. Your customers need proper guidance before making purchase decisions. So, the moment our solution captures a lead, it automatically alarms your respective team members so that one of them can move forward with it. Since you might be tied up with work, you can initiate several follow-up tasks, schedule meetings or calls, and allocate them to your teammates. Travel Agency CRM makes delegation quick and super-easy. All you need to do is mention your teammates' names for any particular task so that they get instantly notified. You can also synchronize your calendar to mark deadlines or set reminders for building a strategic communication flow with your clients.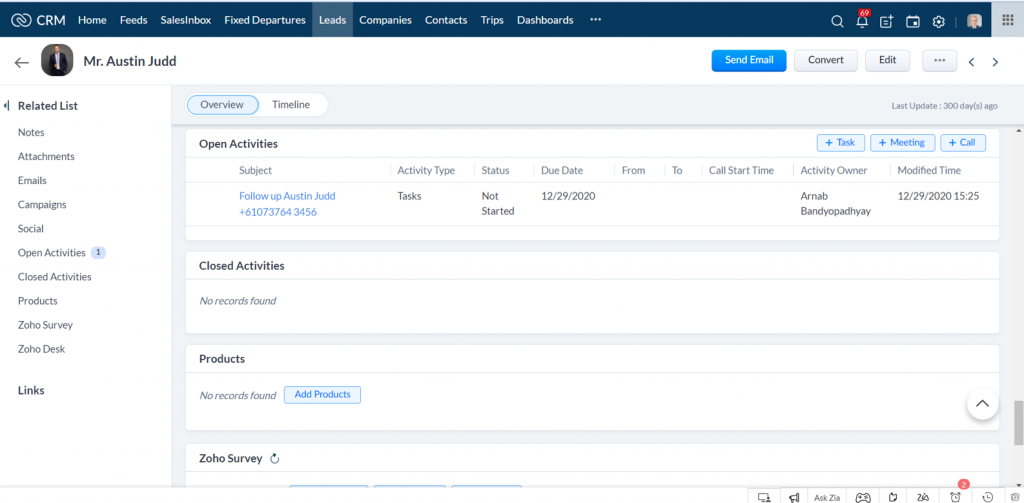 Filter Out Leads With Greater Potential 
Let's assume that you're an experienced player in the business field, and even if you're not, we all know that not all individuals who inquire about our services, will eventually become our customers. So you need to carefully filter your leads who have greater potential. You can use the BANT parameters for this purpose. For instance, from the gathered information through the nurturing step, you can understand the client's budgetary preferences, the role of the person in the trip, needs or requirements, and timeline. Based on these details, you can categorize your leads and prioritize them for faster conversion and sales win.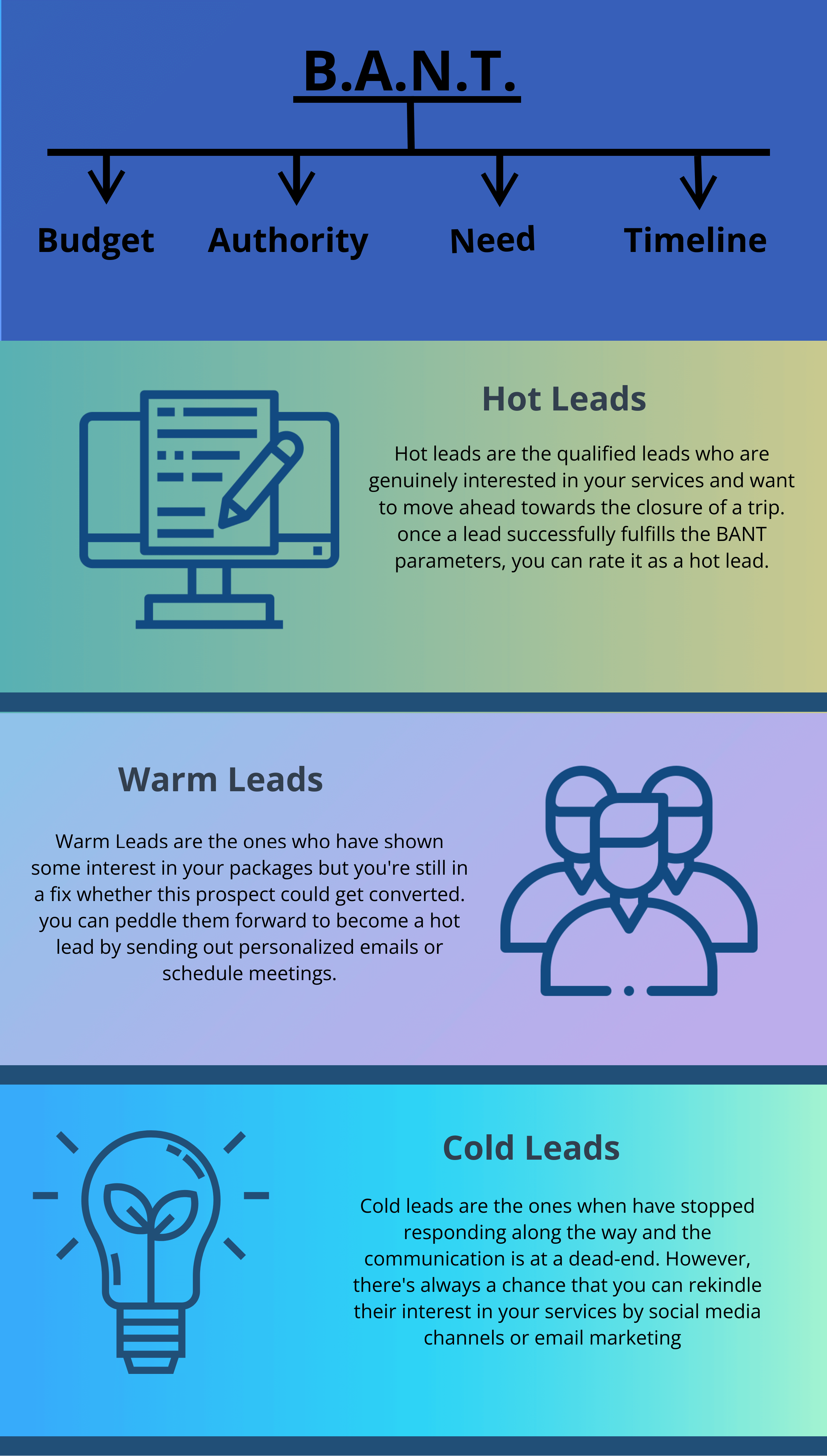 Conversion And Automated Profiles 
Once you're done narrowing down your promising prospects, it's time for you to convert them. With Travel Agency CRM, you can convert your leads into a contact, company (applicable for B2B opportunities), and trip. Each of these records is essentially module-specific If you get inside a contact record, you can view a 360-degree vision of your clients– from their address information to the tagged trip, everything is laid out in a neat streamline. Plus, based on the results of your previous follow-up tasks, our solution even detects the best time for communication.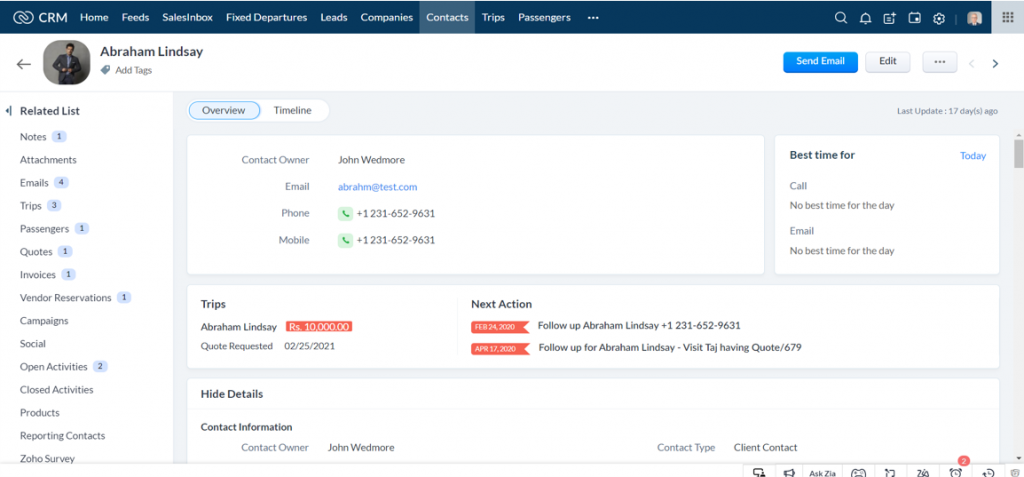 The same pattern is followed for the company (if any) and trip modules. These records are interlinked with each other so whenever you want to retrieve information, you can switch to that particular destination in quick succession.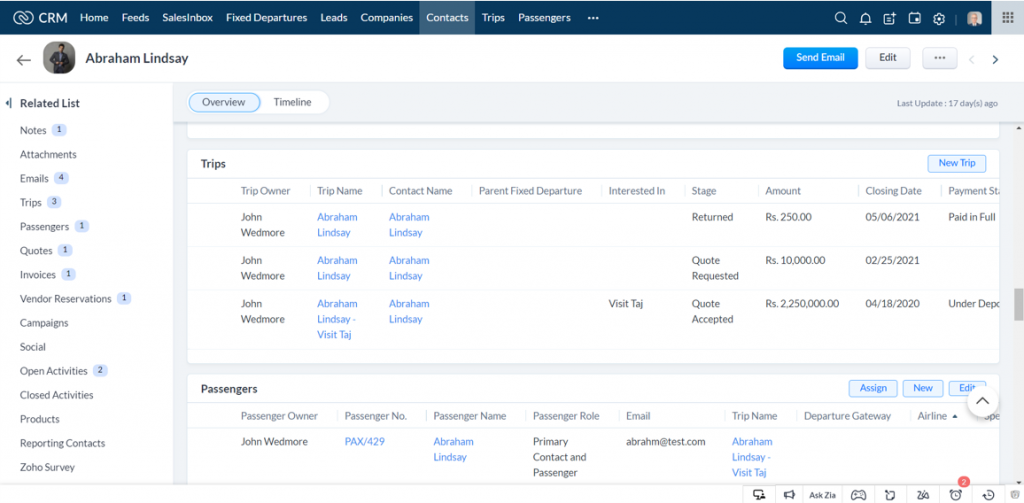 Forecast Your Customer's Journey With Ready-Made Sales Pipeline 
When you have numerous customers in hand, it is practically impossible for you to remember their position in the sales process. But Travel Agency CRM advances you with its super-efficient automation powers and a ready-made sales pipeline. If you get inside a contact or trip record for any particular client, you can view an organized stage history on the timeline page. So that you can see the results of previous interactions, check for unique requirements if any, and resume the sales process. Every traveler has his/her individual preferences, so to help you deliver an exceptional experience, our solution keeps every piece of data in check, easily accessible, and visible.
Inside the trip record, the first thing that you can notice is a ready-made sales pipeline. It covers all the possible steps you might need before you win a trip opportunity. Moreover, it efficiently updates itself with real-time data and locates your client's position at the next stage, after each step completion. Therefore, you can clearly assess your customer's journey and forecast the upcoming actions without delay. Super cool, is it not?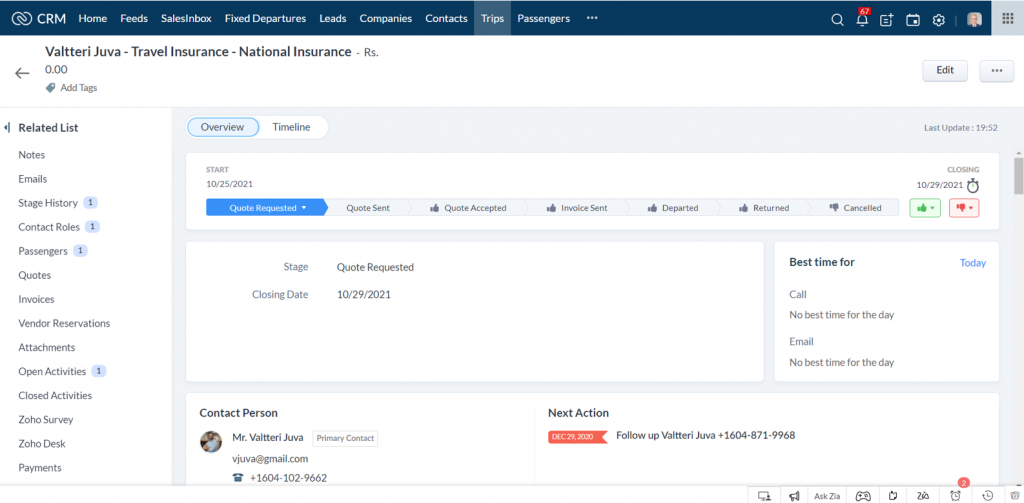 Earn Rewarding Testimonials 
We are certain that you offer and deliver the best-personalized experience to your travelers. So there's no need to shy away when it comes to earning feedback and testimonials– especially because these are proven effective tools for marketing and re-targeting your audience. With Travel Agency CRM, you can request your customers for testimonials, so that once they share their experience, the system collects it instantly. These mention-worthy testimonials give a huge boost to your website design plan and partly act as a binding factor for further opportunities. 
Reports And Dashboards 
Of course, we have saved the best for the last. The key advantages of using our Travel Agency CRM are the dynamic reports and dashboards. Our solution is extremely intuitive in nature. It efficiently updates itself with real-time data analytics and insights which these reports and dashboards represent as distinct visuals. These help you easily comprehend the overall performance of your business, track KPIs (key performance indicators), and strategize upcoming actions with better decisions.
Bottomline, 
Built on the award-winning Zoho platform, our Travel Agency CRM is hands-down the best software solution that you can find worldwide. There's absolutely no room for doubts when you integrate your business with our solution. Don't believe us still? 
Watch this factual video to understand how the process works! 
Ready for accelerating your conversion ratio and sales win rates, are you? Click here to get started!