Level Up Your Business With A Customer-Centric Model With Real Estate Agency CRM
May 5, 2022
Regardless of how many strategies you implant and execute for your business development, they all go in vain when you don't have enough customers by your side. A business revolves around its only axis i.e the customers. The real estate market is fluid, it constantly changes with the emerging trends. But the only reliable strategy that the agents can cling to is the customer-centric approach. So here we are, to help you with our most effective solution Real Estate Agency CRM. 
What is customer-centricity and how does CRM help?  
Being customer-centric entails that your business centers around customers with enhanced satisfaction throughout their entire journey. It helps you understand your customers, prioritize their individual preferences, and cater to their needs. Deloitte says that companies with a client-centric approach make more than 60% profits in comparison to their product-centric counterparts. And with a CRM software that is solely designed to build and strengthen relationships with all your clients simultaneously benefits you with– 
Increased sales 
Competitive advantage 
Higher retention rates and customer loyalty
Greater revenue and higher profitability 
In this article, we will walk through the features and benefits of our Real Estate Agency CRM. You can implement to build a customer-centric model for your business. So let's cut to the chase!
Effective Lead Capturing 
It all begins with your leads. Leads are your potential customers and cash crops. Without them, you practically have no business. As realtors, you must have several mediums for generating innumerable leads at a time. Say, for example, websites, social media platforms, referrals, newspaper advertisements, inbound calls, etc. Our Real Estate Agency CRM captures all your leads effectively and efficiently. In the case of your website, you can embed a contact/ webform after showcasing your enlisted properties to your customers. This helps them fill in their details if interested and make a bridge for further communication. You can also reach out to your target audience via social media. But you must remember to embed your website link on the social pages for amplified website traction and automated lead capturing.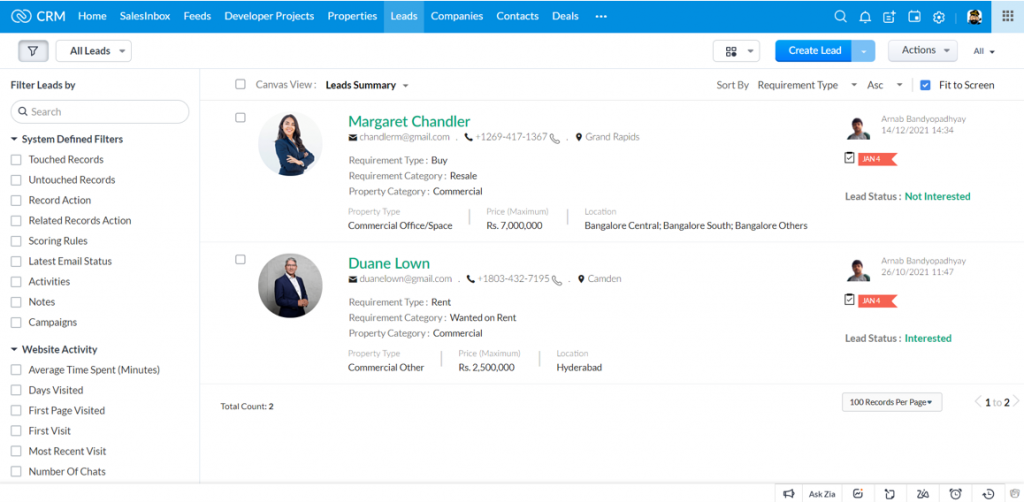 Interdependent Collaboration In Your Team 
As customers are your prime concern, the automation features of our Real Estate Agency CRM become real handy. Once the system captures a lead, it automatically notifies your respective team members about it so that one of them can take it forward. StartUp Bonsai says leads are expected to convert 9x times more when followed up within 5 minutes. Even as the head of the team, you can create different follow-up activities, schedule meetings or calls, and assign them to your teammates. And just with a one-click mention, they get instantly notified about their upcoming tasks. You can also synchronize these activities with your calendar to mark deadlines and set reminders as well. This helps you create a strategic interaction flow with your customers to timely remind them about the properties that they could be interested in and collect the maximum information about their needs and preferences for future reference.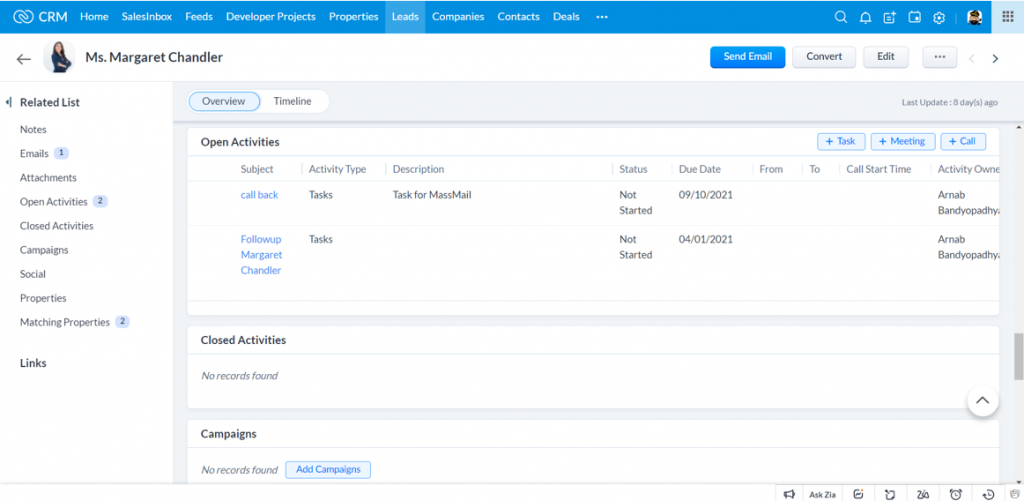 Optimize Your Sales Process 
Not all leads who inquire about your properties will eventually turn out to be your customers. But you have a business to look after. You need to work smart and multi-task for managing all the sectors of your company. S you can easily filter out your leads who seem promising by applying the BANT (Budget, Authority, Need, and Timeline) parameters.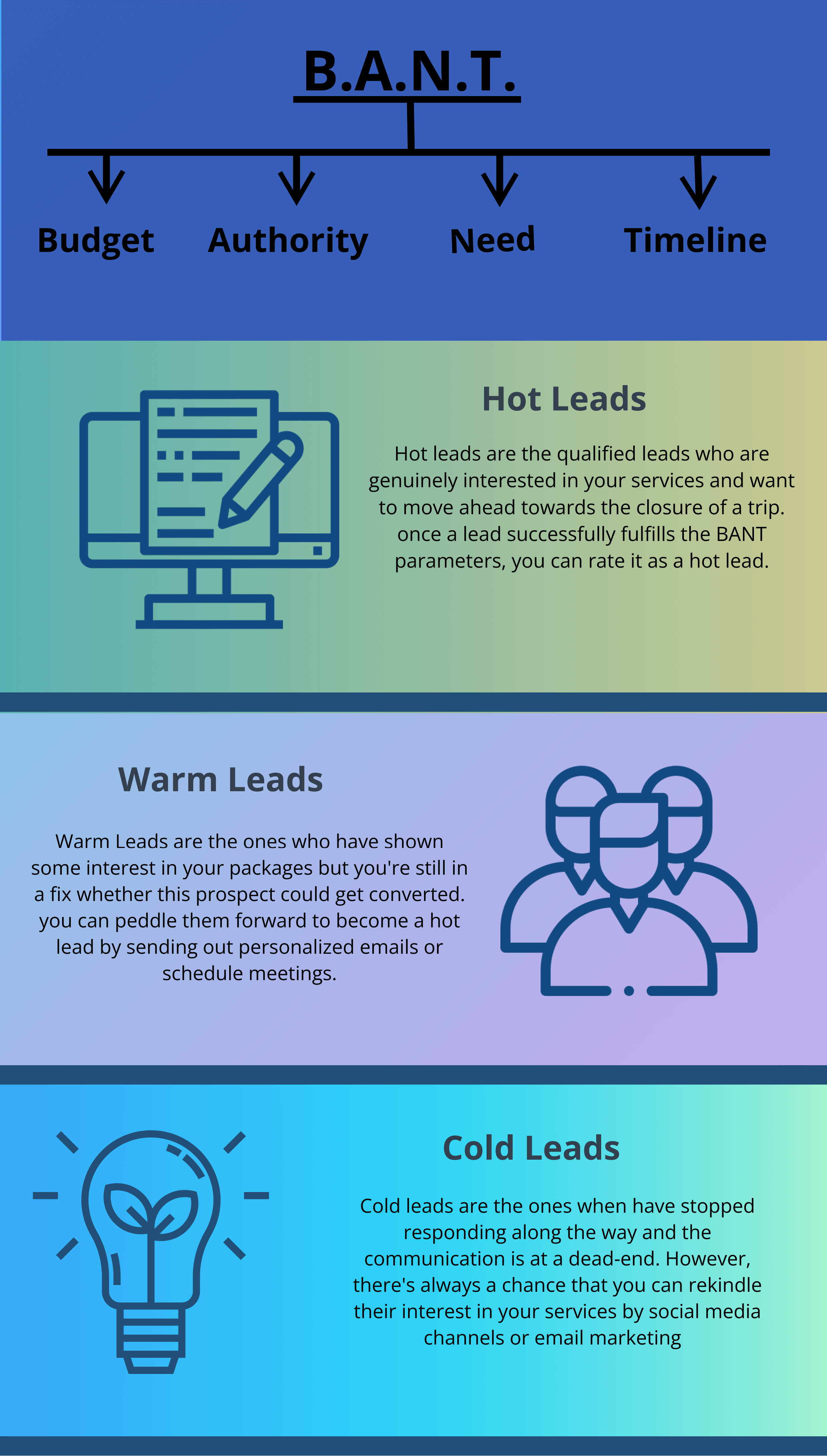 Automated Customer Profiling 
The automation features of our Real Estate Agency CRM are extremely beneficial. For example, when you convert a lead into a contact, company (for B2B opportunities), and deal, it automatically creates three different records with the aforementioned perspectives. Now if you get inside a particular contact record, you can have a 360-degree holistic vision of your client. It includes their address information, the best time for communication, etc– so that you can comprehensively map out your customers' journey. It helps you understand their behavioral patterns and preferences in one organized module.
As for the other two modules (company and deal), you get all the module-specific information. Each of these is typically segmented into business-card information, detailed information section, and related lists.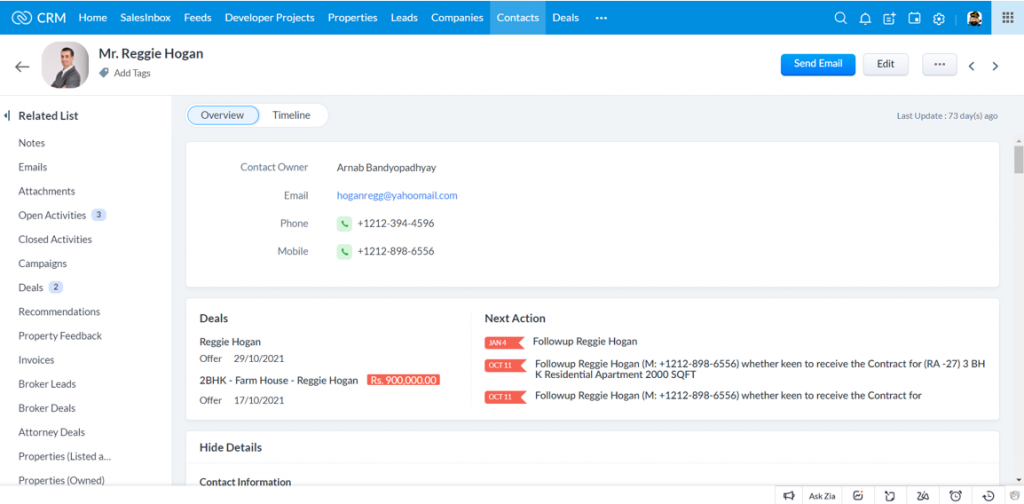 Personalize Your Service 
Of course, you need to win your deals as much as possible– that remains your first priority. Our Real Estate Agency CRM helps you increase your chances while effectively keeping a customer-centric model. As you have all your properties enlisted in your system along with essential data of your customers, you have your job already half-done. You can easily match your leads or contacts with your properties so that they could be interested and trigger a recommendation in less than 60 seconds.
Similarly, again when you get hold of a new property, you can match your properties and identify which of your customers will be the best fit for it. You can raise a recommendation and share it in PDF format via email. And it is all computerized, so there are zero chances of risks. Therefore, you can save so much time with appropriate navigation in a sea of properties. How cool is that! 
Chalk Out Your Target Audience And Market Your Properties 
To increase your sales rates, unquestionably you need to put a lot of effort into your marketing strategies. But before that, you need to chalk out your target audience which is considerably tough if you're not backed with Real Estate Agency CRM. As you have all your customer data organized in the system, you can easily figure out your target audience. For example, if you acquire a lead via a particular social media platform, you can reach out to them consistently on that platform. Nowadays, most millennials are part of the internet community. Therefore, it becomes an essential medium for your marketing purposes. Here, you can post your latest properties, share informative pictures, upload virtual tours to help your potential customers, and encourage them to inquire. Our CRM also collects social links of your clients if available, so that you can interact with them in the post-sales stage as well.
You can also trigger email or social media campaigns and record customer engagement with the help of our solution. With the number of likes or shares your posts got, the click-and-view rates, etc – you can narrow down their behavioral responses. Based on this, you can adjust the frequency of your campaigns as well. It is that simple!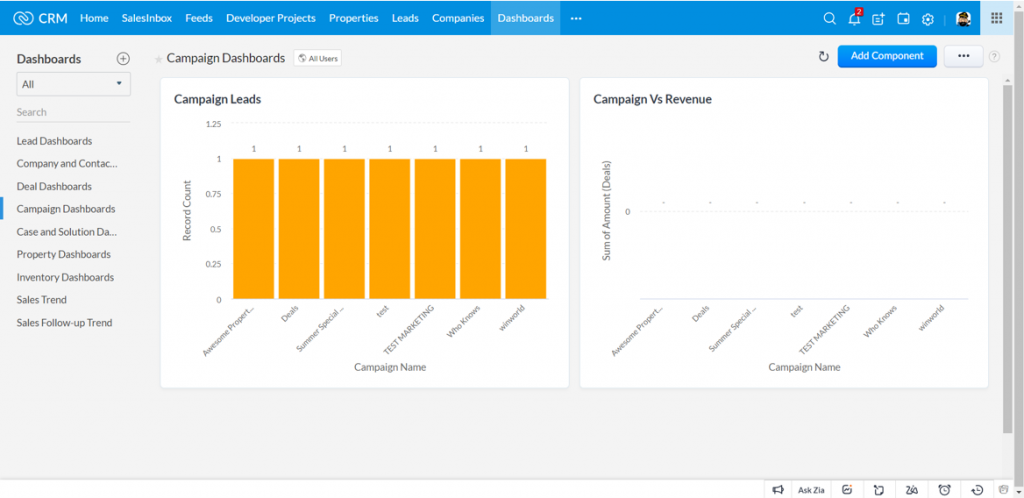 For your posts, you can use DocHipo. This feature-rich design software comes with a wide range of customizable templates that are subtle enough to arrest your audience's attention. Here is an example.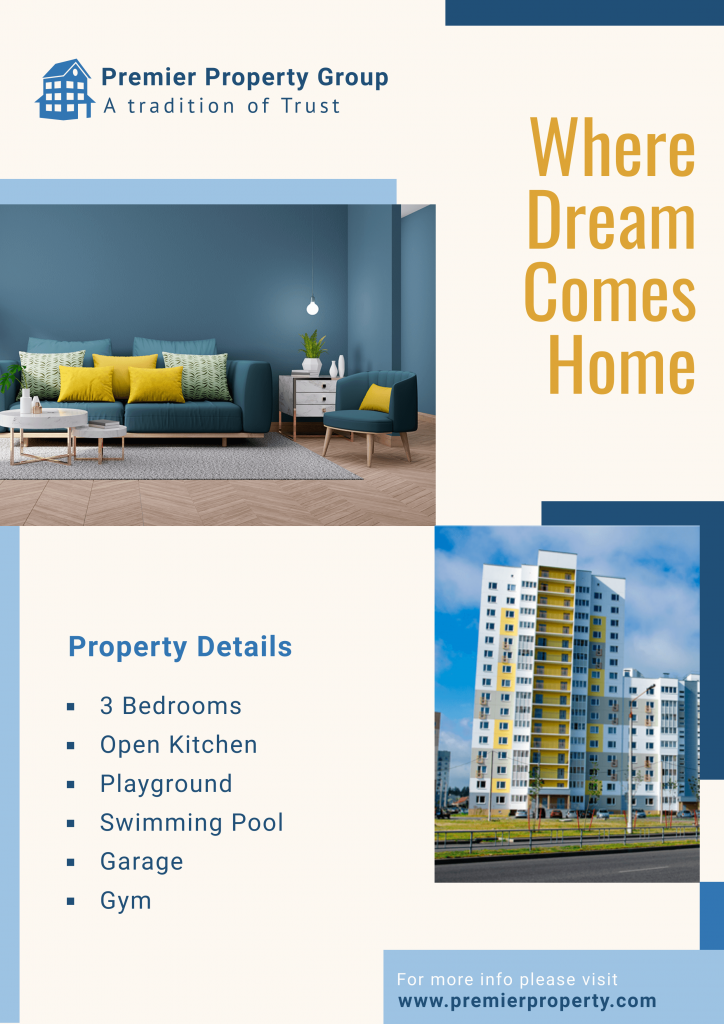 In a nutshell, 
Modern problems require modern solutions, right? You must remember, in this world, everyone has a smartphone and access to the whole world right at their fingertips. Plus, they are constantly bombarded with options from different brands. To stand apart from the crowd, you need to strive for a customer-centric model to sustain positive relationships with your customers and repeat business. And Real Estate Agency CRM is just what you need!
Watch this factual video, to understand the process even better. 
Interested, are you? Then click on this link to gather more information.