Manage Your Fixed Departure Trips Like A Pro With Travel Agency CRM
Nov 24, 2021
People can never get enough of traveling. For most of us, it is a kind of a breather from the concrete walls of the city. Some people like to go for hills and greenery while others rejuvenate around the beach sand. However, planning a whole trip from scratch becomes extremely tedious as it requires a lot of thought and research. Honestly, nobody has that kind of time to invest in planning trips. But you're a travel expert. You know how all this works. And Travel Agency CRM is specially crafted with the sole intent- managing Fixed Departure Trips on your behalf.
Fixed Departure Trips are all-in-one tour packages including a fixed destination and start and end dates and pre-planned itineraries. These are also marked as B2B (business to business) trips as these include corporate trips, or groups. According to GlobeNewswire, the Global B2B Travel Market is expected to grow from USD 21,692.56 Million in 2020 to USD 39,758.57 Million by the end of 2025.
Travelers most likely opt for fixed departure tours to avoid drawbacks or missing out on any opportunity. As a travel agent, it is your responsibility to provide your customers with the best experience throughout the journey. And Travel Agency CRM harnesses you with abundant features to manage your trips.
In this blog, let us articulate how this CRM solution can help you manage your fixed departure trips.
Use Your Website To Capture Leads
Suppose a person wants to opt for a fixed departure trip, but he/she is not quite sure which trip to choose. So the first thing that comes to his/her mind is the website. A well-designed website, therefore, plays a crucial part in attracting your audience. Your website needs to be planned with appropriate decipherable content that encourages your audience. You can showcase beautiful visuals of the previous trips, voice your ideas, accentuate your goals and culture, and a list of all your tour packages.
Travel Agency CRM is integrated with Zoho SalesIQ which you can use as a live chatbot, store canned responses to greet your audience and ask for further details. It acts as an omnipresent source of humanizing the entire interaction on your behalf. And the moment the chat is over, your CRM instantly stores all the acquired intel for future reference.
Chalk Out Tour Packages To Offer Variety Of Options
As a travel agent, you must have long-term plans for playing in this field. And to sustain your brand name in the business world, you need to engage your audience with a wide range of options. You can also include an estimated tariff of the total trip cost and dynamic festive discounts to provide a general idea to your audience. Try upscaling your fixed departures by including basic outlines of different tour packages for all your potential customers. You can capitalize upon your wide range of services to attract more customer engagement. The more, the merrier!
Manage Your Fixed Departure Trips With Travel CRM
Managing fixed departure trips becomes super-easy when you're equipped with Travel Agency CRM. But first, you need to plan a trip, mention start-end dates, fixed destination, accommodation capacity. This includes the PAX or headcount number of passengers and the number of rooms available. You can also create a parent-fixed departure trip to offer a particular trip multiple times in a year. However, you need to artfully design your trips to help your customers go through the details, and they can book a trip accordingly.
Once people start booking, your Travel Agency CRM stores and documents all the information. It instantly creates new entries under the 'contacts', 'trips', and 'passengers' modules. You can check all the details regarding the confirmed cases. For example, how many leads got generated, how many of them were confirmed as trips, and the list of all the vendor reservations required for this single trip.
Let's say a fixed departure trip has an accommodation capacity for 18 PAX with 9 rooms. Now when your customers start booking, your CRM will automatically update the total number of bookings and auto-calculate the balance capacity and the confirmed number of PAX and rooms. This automation saves tons of your time and there's no chance of any backfire.
This factual video will help you understand better!
Automated Booking Form On Your Website
An automated booking form plays a huge catalyst in generating the maximum number of fixed departure leads which you can convert into trips. You don't even need to book a tour for your customers. You can simply place your booking form under each trip on your website and leave it for your customers to fill up their information. The person who is booking a trip becomes the primary contact. He/she can also tick themselves as a passenger or add multiple passengers. When they submit their forms after inserting the details, your Travel Agency CRM will instantly capture them and create separate entries under contacts, trips, and passengers modules.
Generate Beautiful Quotes
Your travel research is the core of your travel business. To make it a success, you need first-hand experience before you serve your customers. For fixed departure trips, you can provide a complete tour package on your website to give a general overview to your audience. Create an estimate of the tour based on your experience, or current costs for your audience and attract them with added descriptions, and mention terms and conditions. Also, you can include transportation-to-hospitality all-inclusive accommodation facilities, and activities in the destination hotspots to help your customers get a better drift of their vacation. Once you save all these details and generate a quote if requested, the entire tour plan will be auto-populated for you to send out to your customers. Just like this–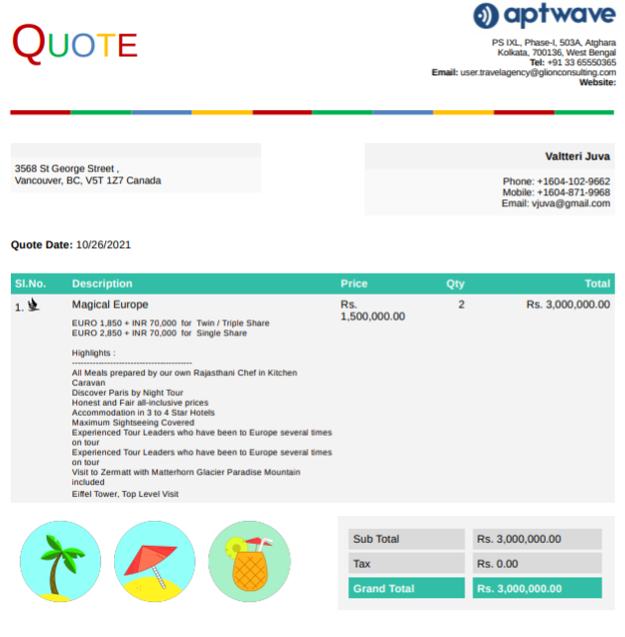 A quality CRM solution makes your work life easier than you can imagine. Now when your customer requests a quote after booking one of your fixed departure trips, you can quickly generate an attractive quote. You get stunning sets of pre-designed custom-branded templates complimentary with Travel Agency CRM which can be consistently used. No need to wipe the slate clean. Instead, you can simply add the required details, select the tour package, place the itinerary and the pricing details, and generate a quote pdf.
And Attractive Invoices Instantly
The moment your customer approves of the quote, you know you're going to win this deal. You can instantly convert the sent quote into an invoice. And voila! all the prior filled-out details get auto-populated. Just like the quotes, you can generate a beautiful invoice with a pre-designed template to cut yourself some slack. Once your client starts depositing some amount, you can record their payment details accordingly. In case of any further alterations, you can easily edit the respective fields. Just a flick of the wrist and your work is done!
Communicate With Your Vendors
Running a travel agency means dealing with a plethora of vendors and suppliers. You need to build long-lasting alliances with them with continuous communication so that you never run out of business. Travel CRM stores and documents all the required vendor information so that when you select a vendor, you can check whether their facilities are matching your fixed departure trip package.
Now unlike a FIT (or Flexible Independent trip), you do not need to select multiple vendors to suit the personal preferences of your customers. Rather, you can choose specific suppliers to do business with. All the information that Travel CRM collects for you, is essential for your last-minute follow-ups for accommodation availability. This helps you create confirmed vouchers for your customers. The best part is that you can calculate the total commission payable to your vendor and track the ultimate revenue profit that you could pull off from a fixed departure tour.
Let us show you an exemplary Voucher template!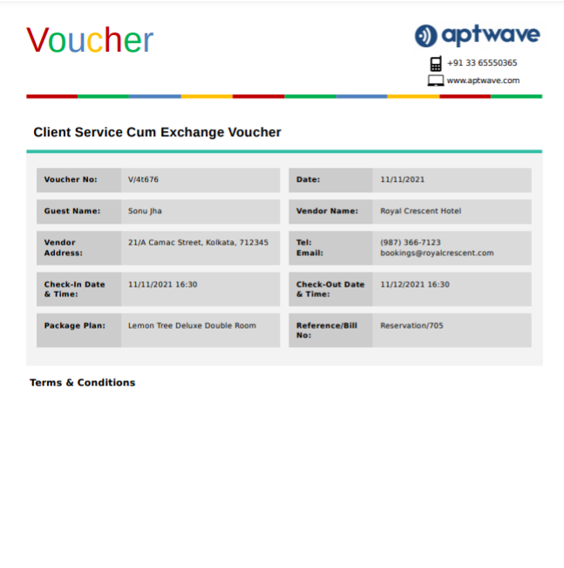 Calculate Your Financials
Accurate accounting is undoubtedly the most important part of any business. It needs unhinged attention. For travel agencies, it is even more difficult to keep payment records. You have to deal with countless passengers, their trips, and your vendors right? However, Travel Agency CRM makes your situation workable to a great extent.
This solution can auto-calculate your fixed departure financials. As your customers start booking your packages, your trips also start rolling up. Now you've already put out the tariff details on your website, thus there is no question of negotiation either. Instead, when they start depositing the amounts, you can select your vendors for specific facilities and send them reservation requests. Once they agree upon your deal, you can start recording the payable amount as well.
The magic trick here is that Travel Agency CRM automatically calculates the total cost of your trip, the revenue amount that is generated, and the profit that you have made. A self-executing program that you can trust with closed eyes!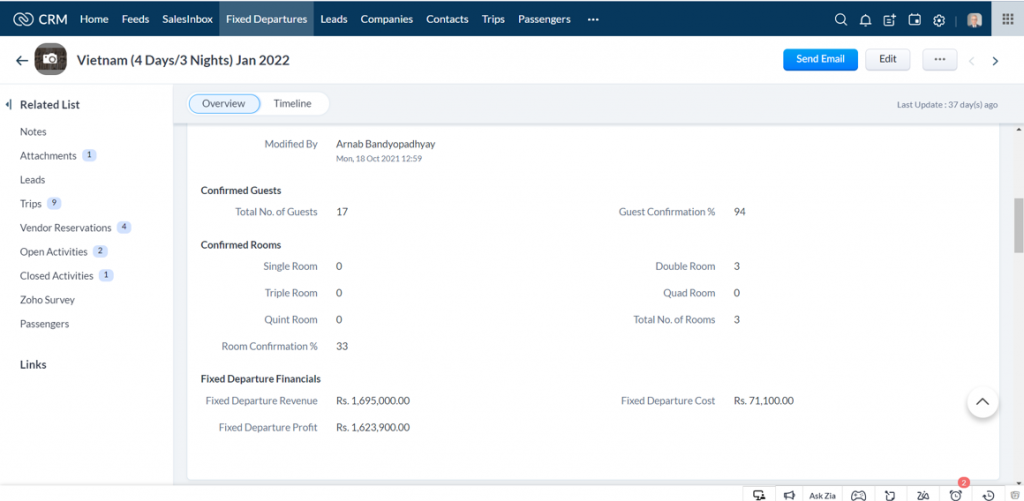 Latest Updates With Reports and Dashboards
Comprehensive reports and multiple colorful dashboards are the key takeaways of Travel Agency CRM. These standard customizable reports and dashboards reflect the full visibility of your business metrics. They help you easily manage the colossal amount of data and analyze every minute detail regarding your fixed departure trips.
To round things off,
For skimming through a competitive landscape and sustaining your brand name in the tourism world, travel agencies need a strong foothold. And Travel Agency CRM is exactly what you need. We have helped 700+ businesses grow so far. And now it's time for you to stand apart from the crowd with your enhanced fixed departure trip facilities with this advanced-level software solution.
Colored you curious? If yes, you can click on this link for more information. After all, it's your time to shine!