Manage Your Properties And Maximize Business Growth With Real Estate Developer CRM
Dec 29, 2021
Real Estate is one of the most globally recognized industries out there. It has always been the flavor of all seasons across the world. MSCI research says that "the real estate market continued to grow in 2020 to $10.5 trillion, despite a year of unprecedented challenges." Unquestionably, the massive turbulence caused by the pandemic has slowed down the business growth, nevertheless, developers have found their way out of every adversity. They have implemented Real Estate Developer CRM as a strategy.
Built on the award-winning Zoho platform, this versatile CRM for Real Estate Developers manages all your properties, the availability of units, listing details, and monitors overall business growth. When it comes to real estate property management, it becomes even more difficult for developers because they have several projects along with buildings and units to their name. Even the sales journey is comparatively extensive than other industries.
In this blog, we will dive deep into how effectively and efficiently Real Estate Developer CRM manages all your properties so that you never waver your client expectations.
Categorize Your Properties
Now as we all know, real estate is a vast industry. It often becomes problematic for the developers to identify the appropriate property for a potential buyer. Regardless of what sector you're involved in, one of the best tricks to build and maintain a strong connection with your clients is to be responsive and helpful. So to navigate better, you need to categorize your properties. It can be residential, commercial, or industrial as well. When you create a new entry under your developments module, you can categorize the type of property with Real Estate CRM. Proper listing can dramatically drive your scales on one hand and save tons of your time, on the other. In this picture, down below, if you look closely, you can view the property type and the current status as well.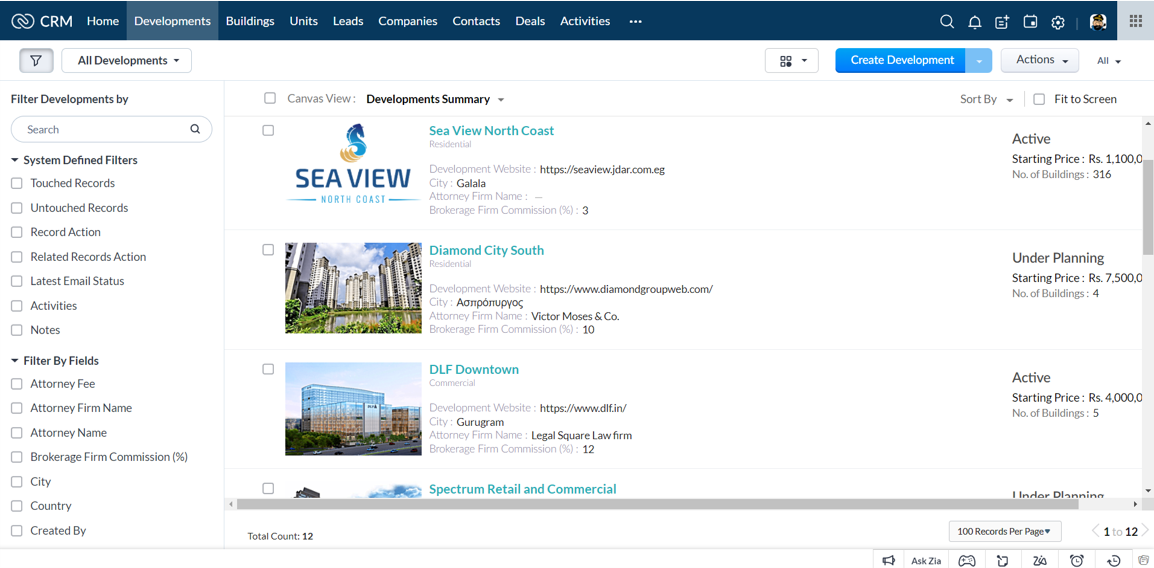 Capture Quality Leads With Real Estate Developer CRM
Business leads are your potential cash crops. Without quality leads, a business becomes futile. You can generate uncountable leads via different mediums such as websites, social media networks, business cards, newspapers, and so forth. According to Datareportal global statshot, 81% of people search for services online. Therefore, a well-designed website or social profile can become extremely effective to draw attention to your properties. You can also hire social media influencers to boost your lead generation.
But generating leads and capturing the same is a tad bit different. We are sure that there are numerous inquirers into your business. This CRM for Real Estate Developers helps you to capture all the information that it acquires regarding any particular lead. For instance, when you embed contact details form under each of your properties on the website, a potential customer can show his/ her interest by submitting the details. And bingo, this CRM instantly captures every quired intel and places them in their respective fields. You can then, evaluate their merits following the BANT parameters and nurture them for conversion.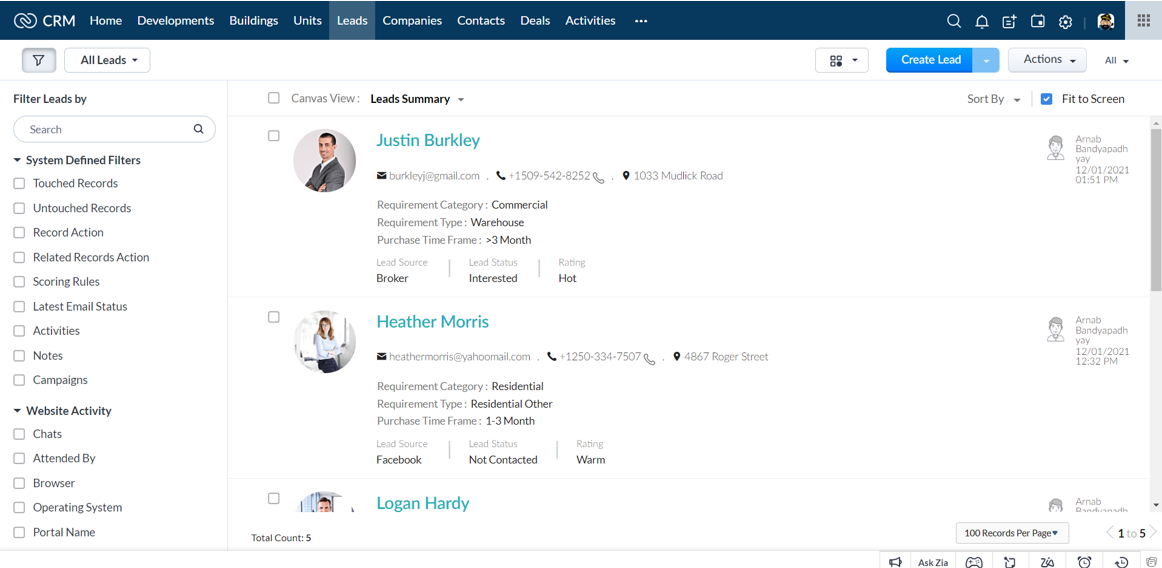 Manage Your Clients Like a Pro
Real Estate Developer CRM comes complimentary with several automation powers. It can automatically create a holistic portfolio of your customers under different modules. As soon as you convert a lead into a contact, company (for B2B opportunities), and a deal, it creates a single view of that particular customer consisting of the related details in respective of the module.
For example, if you search for an individual's details from the contacts list, you will view all the contact-related information with a deal tagged against it. Again, when you get inside the deal, you can view the current stage of the sales pipeline and every deal-related information. Thus, the modules always remain interconnected in the simplest way possible. Managing umpteen clients and that too simultaneously? Was never made this easy!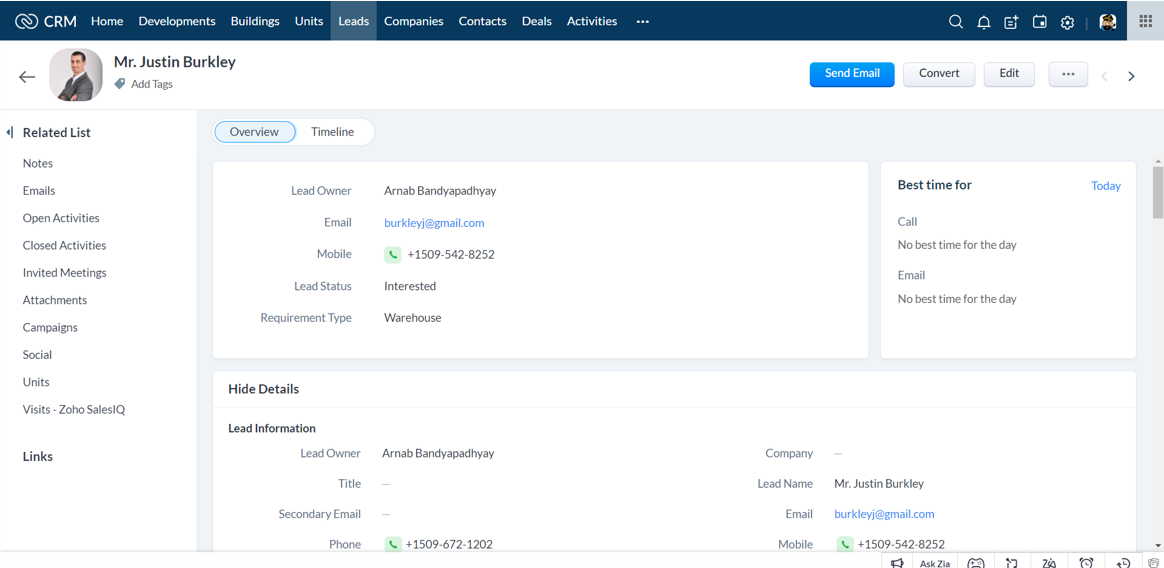 Create Follow-Up Tasks
The prospect-to-customer journey cannot be the finishing line for your business growth. You need to nurture with different follow-up meetings or calls to keep their interest alive. Site visit meetings are the crucial ones, in particular. A lot depends on them and you just cannot afford to lose business. But as a leader, is it always possible to look after these backend proficiencies? We all know the answer. Real Estate Developer CRM helps you to allot different follow-up tasks to your team members. The moment you mention them for a task, they can get instant notifications, this way you don't need to approach and guide them individually.
You can also sync your tasks with your schedule. You can mark your dates on the calendar or set the date, time, and reminders or pop-up when you create a site-visit meeting or other tasks. So that when you start your day, you're immediately reminded of the open activities, their current status right from the Home Page itself.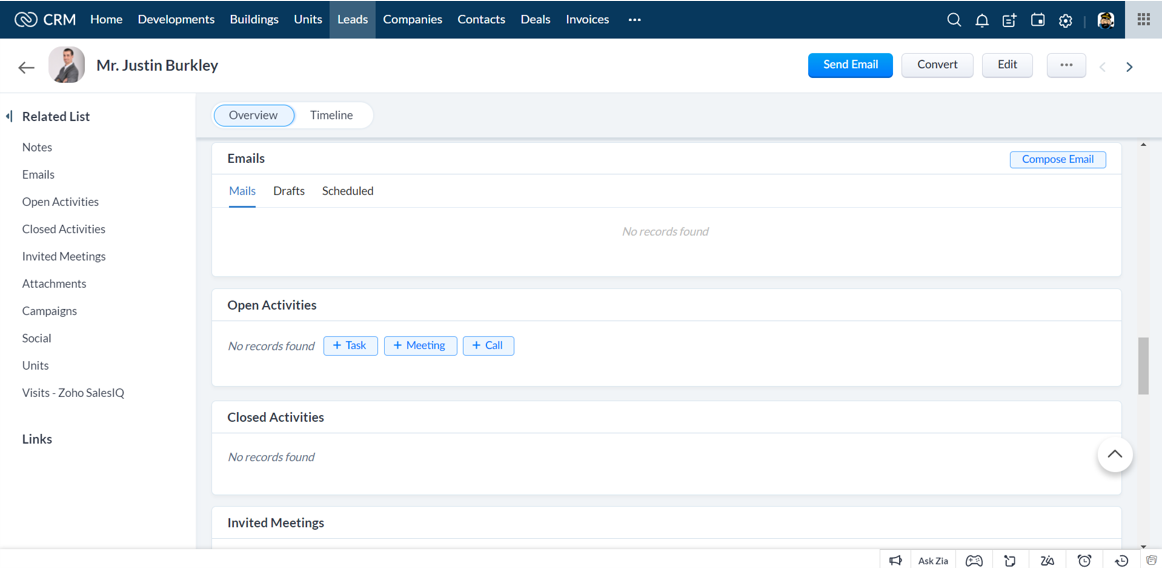 Publish Property Pictures With Real Estate Developer CRM
For maximum website traction, you can also include attractive images for your properties. Now, this is an add-on service that is highly recommended. These images act as visual aids to help your customers understand the dynamics of the architecture of a particular space. Buying a property is almost like buying an asset. Your clients must grasp the whole picture of the property before buying it. You can publish multiple images of your properties on your website to present a detailed visualization and attract your customers. This saves a lot of time and labor on both ends!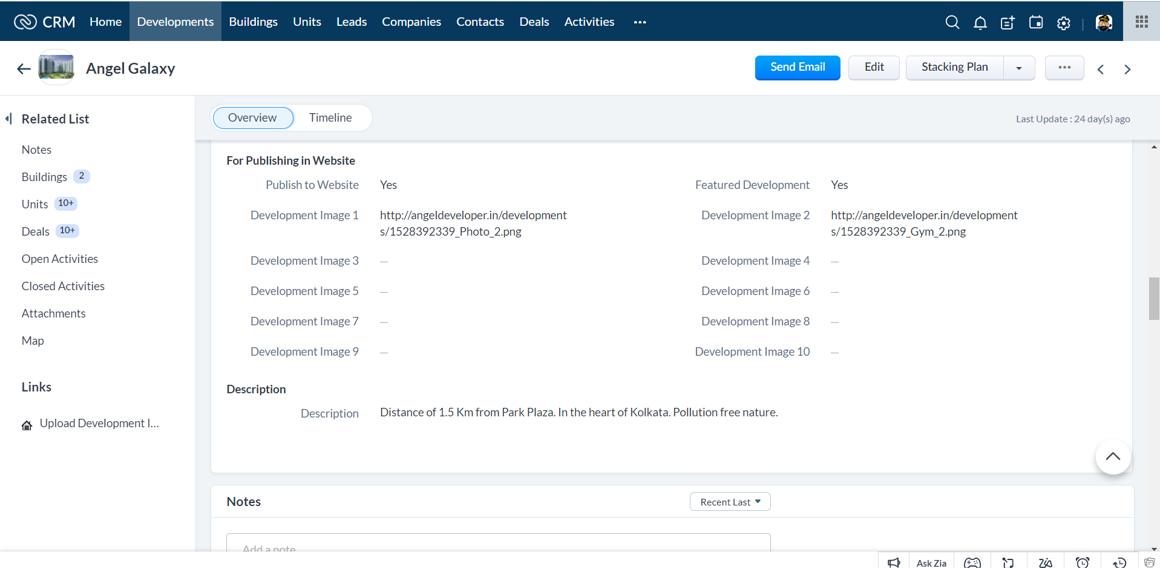 Connect With Potential Customers
As this CRM for Real Estate Developers stores and documents every touchpoint interaction with your clients, you can promote your properties via emails. Based on each client's profile, you can identify their requirements and reach out to them with different properties. You can timely schedule your emails and also view the click and open rates to understand customer engagement. This can rapidly increase your chances of driving more sales.
Manage Your Brokers With Real Estate Developer CRM
Now as a development project holder, you can not always have direct communication with potential buyers. It is often seen that developers hire different brokerage or third-party agencies for reaching out to customers. For instance, if a person looks for an apartment or a space, your third-party agency can prompt a recommendation on your behalf.
Therefore, whenever you create a new entry under the developments module, you can certainly define the commission that must be paid to the brokerage agencies. This is how our CRM solution really stands apart. Real Estate Developer CRM auto-calculates the total amount of the commission percentage of your brokers once you win a deal. It is super-easy, hassle-free.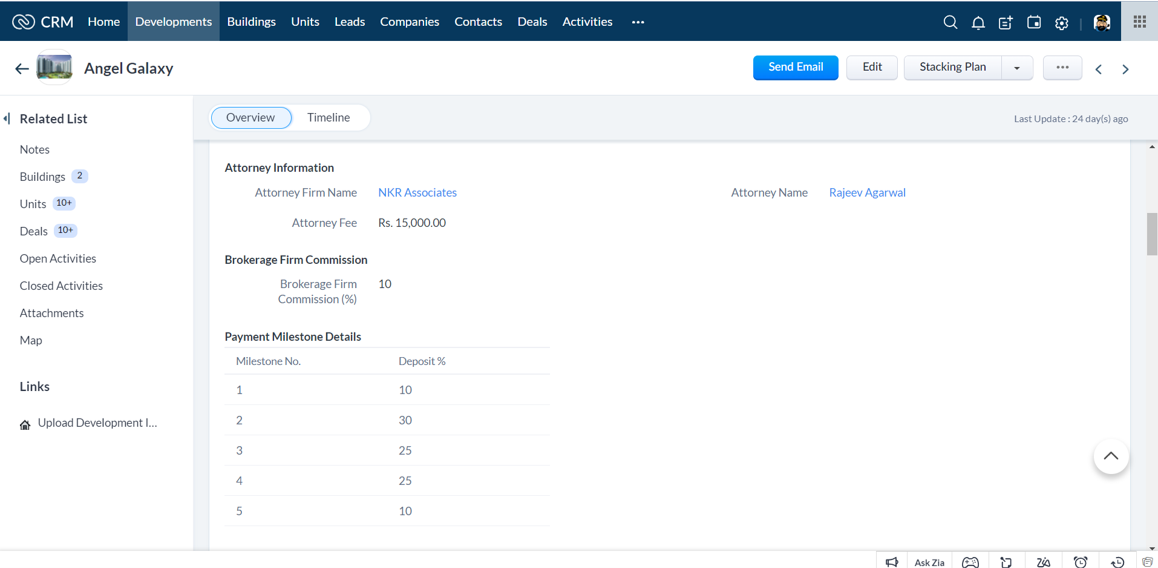 Aerial View Of Your Business
Real Estate Developer CRM comes with several comprehensive reports and dynamic dashboards which give you an aerial view of your business. You get real-time updates on the most important metrics of your business which can prove immensely effective for business development. Banking on all the information that you get from these reports and dashboards, you can identify what is working for you and what is still lacking.
This is how a report looks like–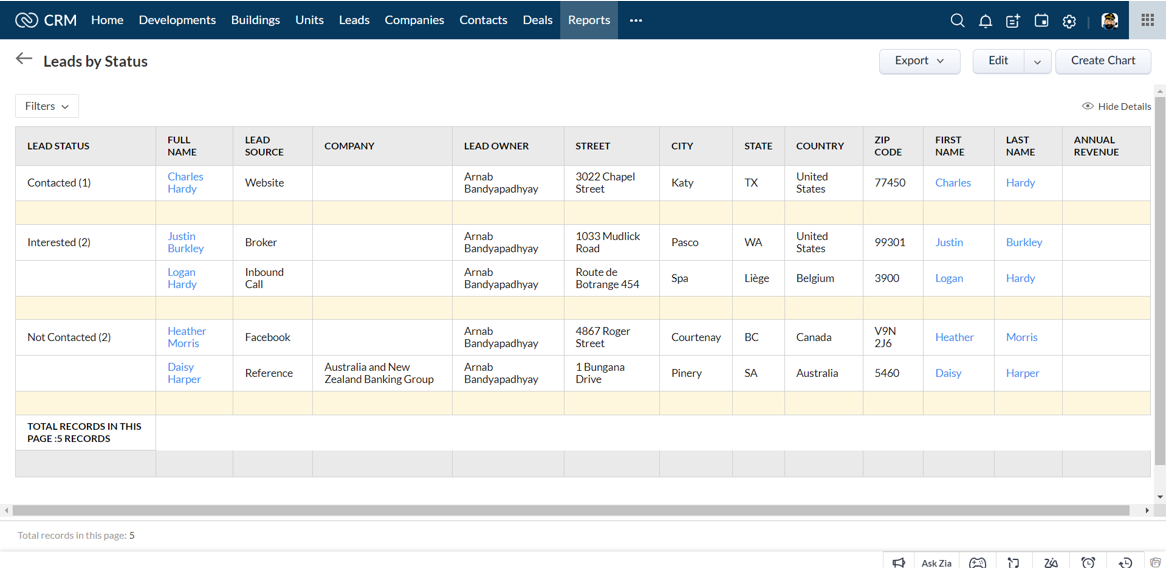 And a dashboard looks like this–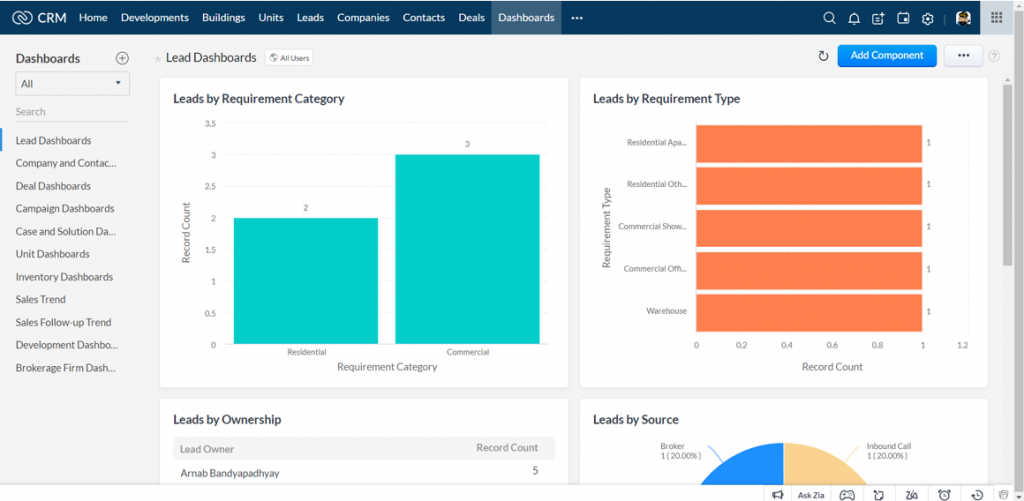 In a nutshell,
Most of the businesses today fail to emerge because they lack an efficient system and workflow process. This CRM for Real Estate Developers is the one-stop solution that comes with plentiful features designed with the sole intent- business development. It effortlessly looks after your people, profit, and revenue.
Modern problems require modern solutions, right? For more information, click on this link. let's gear up for 2022!