Real Estate Agency CRM- Challenges And Solutions: A Complete Guide
Dec 27, 2021
The pandemic has smashed several industries across the globe in the past year. Certainly, the real estate agency vertical is one of them. Still, they have proved themselves to be resilient towards the many adversities they had faced. However, they are still in the process of recovery and striving for success. That is why to help you accelerate your business growth, we have come up with Real Estate Agency CRM.
You must be well aware that the sales operation in your industry is relatively longer than others. The main reasons behind a successful business are building strong relationships with your clients, a well-structured sales pipeline, and solid dedication to the business plan. Statistics show that the market is expected to reach $3717.5 billion by 2025. So you need to gear up to stay at the top of your game.
This article is all about the two major challenges that real estate agents commonly face and the solutions that Real Estate Agency CRM brings to resolve them with its abundant features.
What Are The Challenges Faced By Most Agents?
We understand that mighty agents like you have a lot to offer. But a systematic approach to all your business essentials is the need of the hour. You need to leverage the full potential of technology today. And the process of Real Estate Agency CRM is possibly one of the simplest in the market. It is easy and super-flexible.
Make A Seamless List
Real Estate CRM helps you list and manage your leads, contacts, properties, and deals. It even helps your sellers list numerous properties with you.
Help Your Seller List Properties
If potential sellers come across your website, they can easily submit their details such as contact, property category, location, price range and they can also upload their images if available. The moment they submit their details, this CRM solution creates a new contact where the individual will become a prospect and be leveled as a seller. Not only this, but you can also check that a new property is added to your system housing all the related information. The system instantly creates a task for you to validate this property so that when you finish the task, you can publish it on your website as well.
Established Sales Process
Another challenge faced by real estate agents is the lack of an established sales process. But the coolest hack of using this CRM solution is the ready-made sales pipeline. In the visual shown down below, you can see a full-proof pipeline design that covers all your bases. Imagine you do not even need to think about your next step because this efficient Real Estate CRM automatically takes you to the next stage!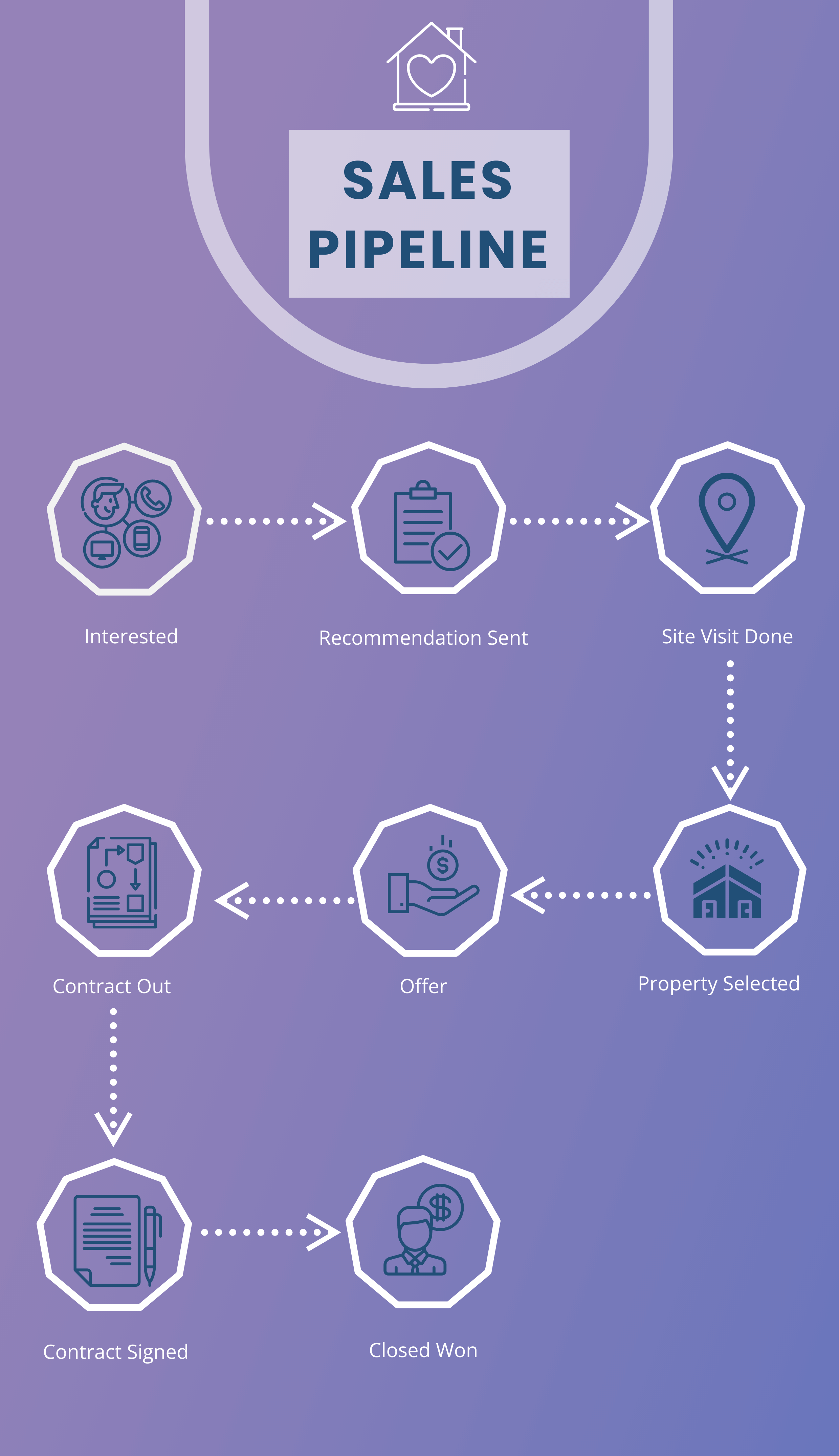 Maximize The Effects Of An Enhanced Sales Process
Centralized Hub And Interlinked Modules
Real Estate Agency CRM equips you with a centralized hub of information. Using its data analytics, you can strategize innovative ideas to improve your business growth. First, when you are landed on your Home page, you can view real-time updates of the different sectors of your business. There are different modules laid out for you in an uncluttered way but most importantly, these modules are interlinked with each other. For instance, when a lead gets converted into a contact, company, or deal, Real Estate CRM instantly creates a holistic view of your potential buyer under each module. So that you can easily switch from one module to another and get access to every information you need.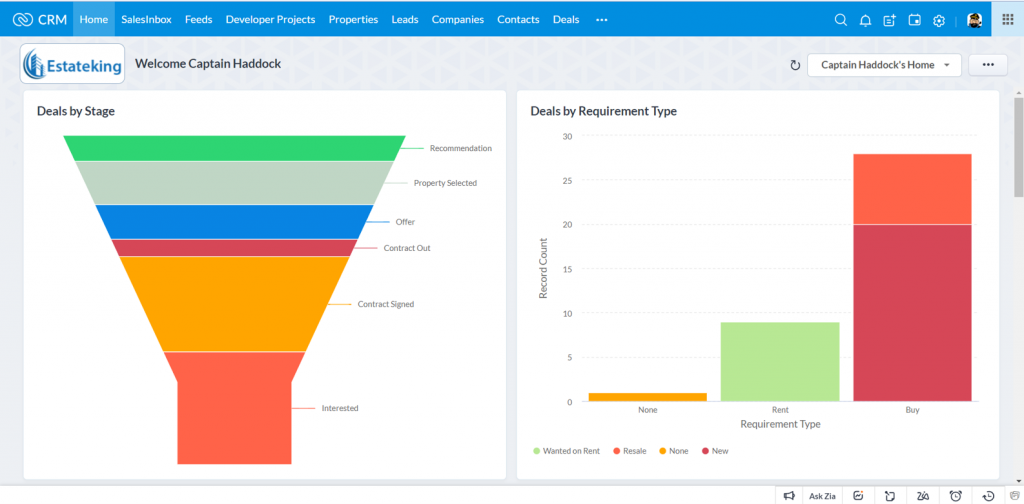 Generate Quality Leads
Leads are the base of any business. They are the legit cash crops for you. But not all who inquire about your properties will get into your buyers' books. You can generate numerous leads via different platforms such as websites, business cards, newspapers, social media profiles, and so on. Other than these, you can also publish attractive pictures of your properties for maximum traction. This is an add-on service that Real Estate Agency CRM offers. Visual aids always do the trick. They can help your potential buyers understand the dynamics of the property and attract them more. You can add several images for any particular property just like this–
Most leads are generated from the website landing pages. You can always embed a contact form under each property so that when your customers inquire about any of them, they can instantly submit their details. The moment they submit, this CRM solution automatically creates a new entry under the leads' module and captures all their information.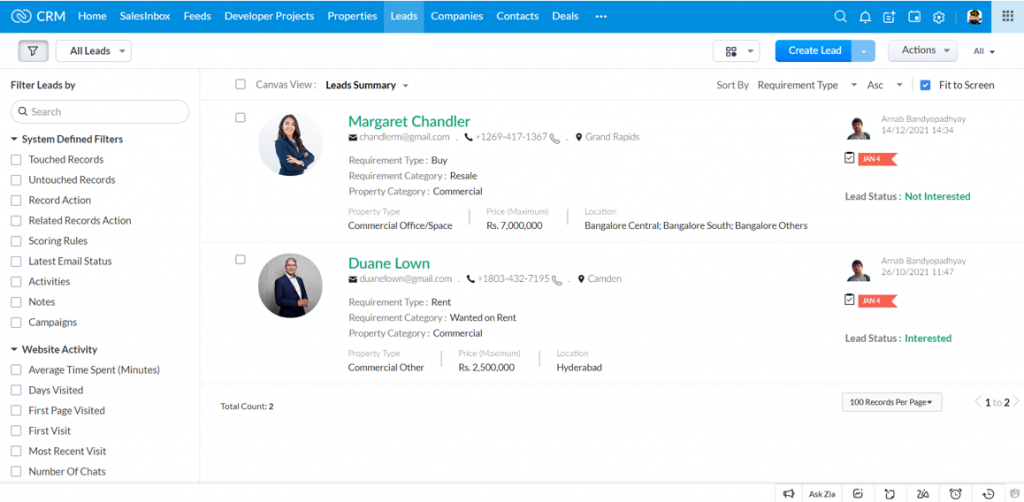 However, capturing them is not the finish line for you. You need to evaluate all their merits following the BANT parameters for further conversion. And for that, you can nurture them with timely meetings, calls, or follow-up tasks right from the CRM itself.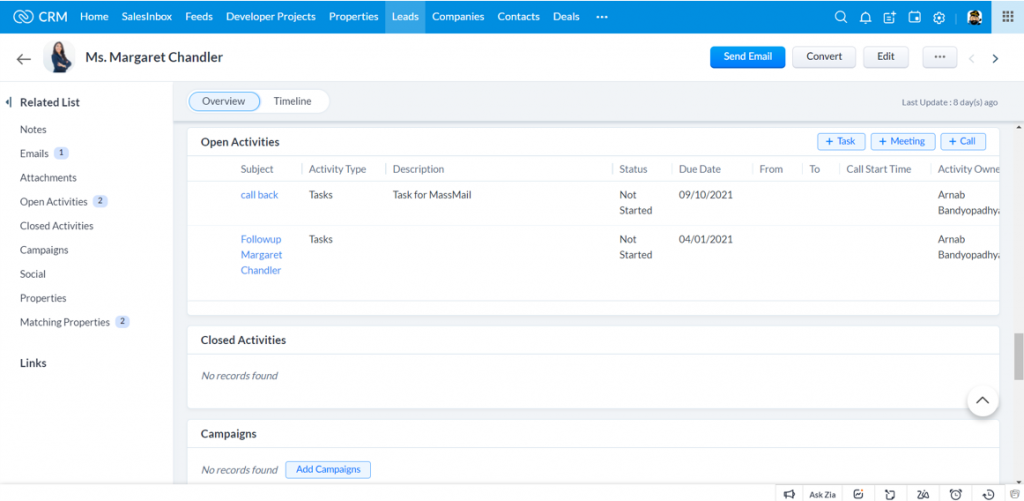 Trigger Recommendations For Matching Properties
Real Estate Agency CRM becomes real effective when it comes to matching your leads or contacts with properties. Properties are the bedrock of your business, you must be dealing with them 24/7. This AI-powered CRM solution which holds a detailed record for all your properties can also trigger matching leads or contacts for a property and vice versa. You already have all the information about your leads, contacts, and properties. Now all you need to identify what property matches which potential buyer. And voila! You can easily deliver a tailored experience to your customers with this automation magic.
Set Task Workflows
Your solid dedication is a full-proof plan for making a business successful. A one-man army kind of approach is simply not enough for achieving your goals. You need your fellow team members too. With Real Estate Agency CRM, you can assign several tasks to your teammates, set reminders or pop-up notifications on their behalf. You can mention them for a task and they get instant notifications right from the CRM itself. So that when you start your day, you can take a quick glimpse of all the tasks and their current status right from the home page itself. Super cool, isn't it?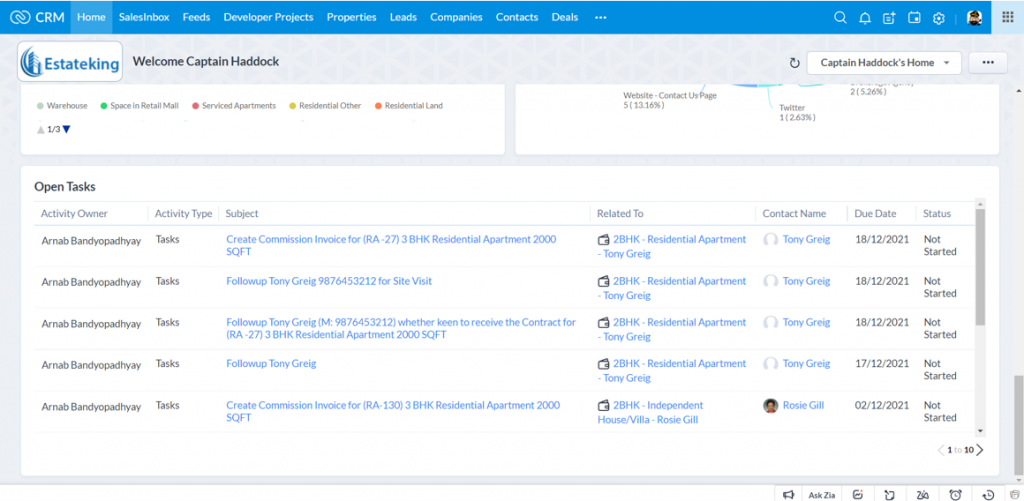 Gain Powerful Insights
Real Estate Agency CRM comes with several comprehensive reports and dynamic dashboards. You get clear and powerful insights regarding your business metrics from them. As the CRM solution is all digitized, reports and dashboards are constantly updated in real-time so there's no room for misleading information. When implemented rightly, you can strategize and execute innovative ideas for your business growth.
This is how a report looks like-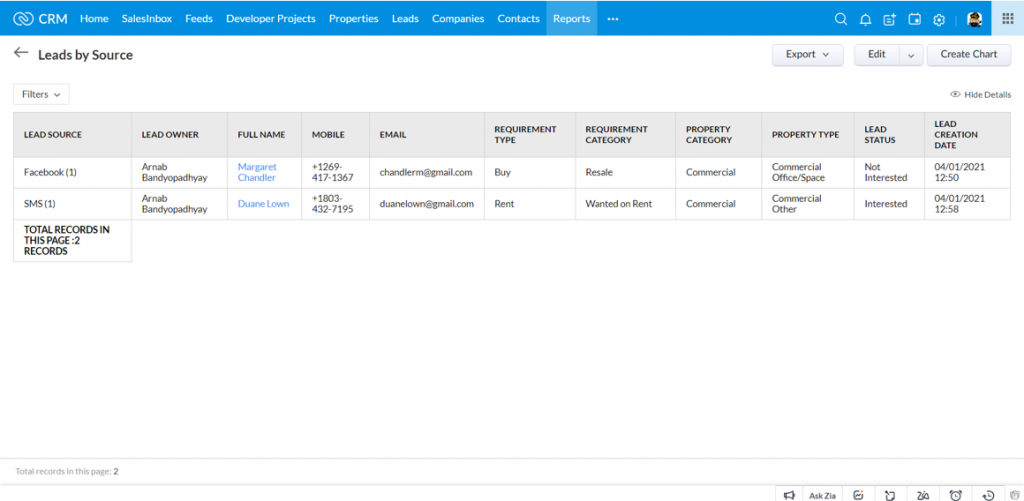 Let's look at an exemplary dashboard too-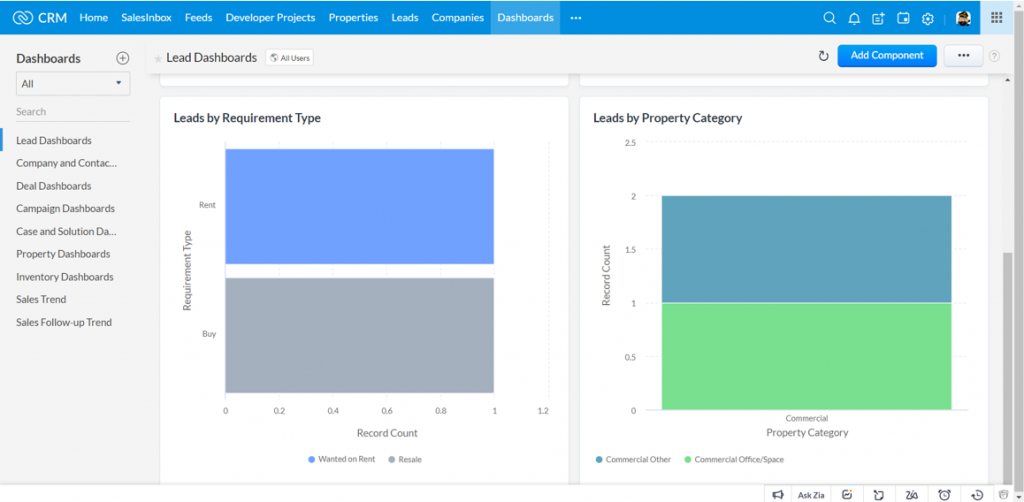 In a nutshell,
Real Estate Agency CRM is almost a breakthrough solution for all real estate agents. It efficiently stores, manages and shares information keeping a unified space that is easily accessible anywhere and at any time. We have helped 700+ businesses grow so far, your mighty brainchild surely could be the next one!
Intrigued, are you? Watch this super-cool video to visualize the process even better.
But it is always easier said than getting things done, right? Well, our solution is here to prove you wrong. Take a leap of faith and try it out now. For more information, click on this link.