Sales Pipeline Management With Real Estate Developer CRM: A Complete Guide
May 13, 2022
Regardless of whichever industry you are involved in, you need to have a sales pipeline in hand for developing your business. It is, after all, an integral part of your business that helps you boost sales-win rates at a comparatively faster pace. The real estate industry is not an exception. It is open to business evolvement, progression, and adaptation and it is fluid in nature, we agree. But besides all these pros, it lacks an established sales process and is a single-deal model. This means, you as a developer, have to consistently drive your potential customers into becoming your opportunities. And that is why you need to manage a sales pipeline. Good news for you, we have come up with our most efficient Real Estate Developer CRM solution for you!
What is a sales pipeline?
In effect, a sales pipeline visually represents the essential steps before you win a deal/ opportunity. Our Real Estate Developer CRM comes with a ready-made sales pipeline that efficiently auto-updates itself after a customer completes his/her previous stage. Here are some advantages of having an effective sales pipeline–
Helps you map out your customers' purchase progress
More appropriate revenue forecast
Increased revenue with greater profitability
This article is all about the different stages of the complementary sales pipeline that Real Estate Developer CRM comes with. So let's get right into it, shall we!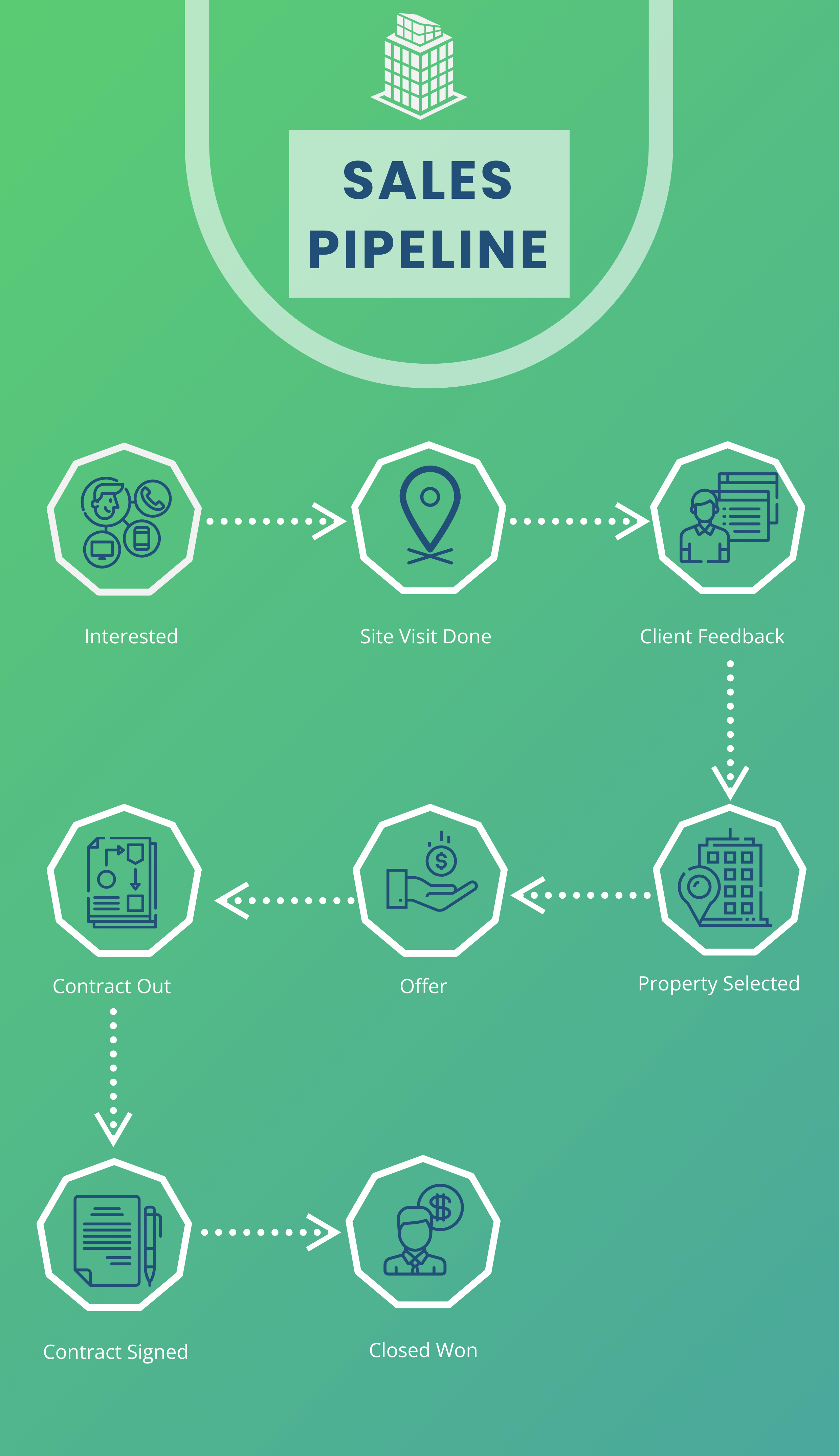 Capture Leads Effortlessly
For a single-deal model business like your real estate one, leads are of extreme importance. You need to generate as many as possible to increase your chances of winning more deals. As a developer, you must have different channels for lead generation. Like, such as website landing pages, social media platforms, referrals, inbound calls, newspaper advertisements, and so forth. And with Real Estate Developer CRM you can capture innumerable leads at a go.
We'll explain how it works. Let's say you have an inquirer on your website browsing your properties. They can show their interest by inserting their details on the pre-embedded contact form to communicate further. As soon as they submit, our solution captures all the information in a separate new lead entry. Nowadays, social media platforms are immensely popular so you can post all you want but remember to embed the website link on the page. This helps you maximize website traction and procure leads. In case of referrals, newspaper advertisements, etc you can easily fill out your leads' information as well.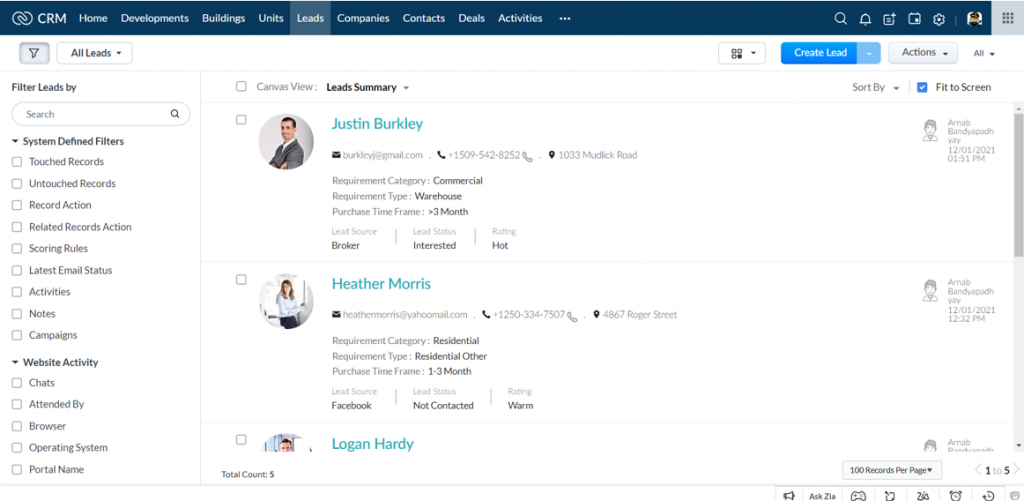 Nurture Your Prospects With Timely Interaction
Managing a hell lot of customers most tactfully seems like an exhausting job. But once you're backed with Real Estate Developer CRM, your job becomes workable to a great extent. Before you jump right into the sales pipeline, you need to nurture your leads with assistance and care. When you capture your leads, our CRM instantly notifies the respective team members about it so that one of them can take it forward. Other than this, you can also initiate different follow-up activities or schedule meetings or calls and assign them to your team members. And just with a single click mention from your end, CRM notifies your teammates about their upcoming actions. You can also sync your schedule with your calendar or set reminders to maintain a timely interactive flow with your potential clients.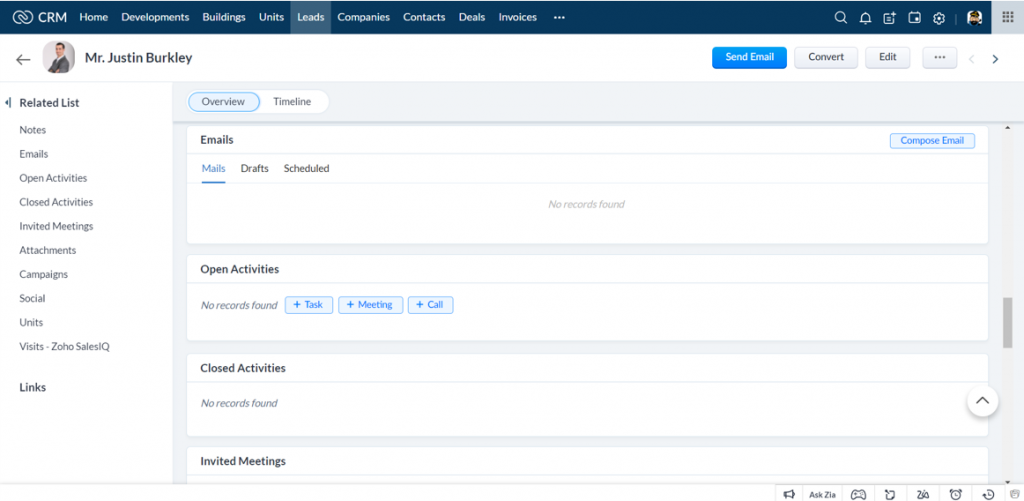 Filter Your Leads With Greater Merits
As a developer and business person, you have several aspects of your business that you need to monitor diligently. Screening your potential leads amongst an ample number is one of them. Of course, you would want to win all your deals. For that, you need to filter out the ones who have greater potential. Based on the customer responses to the previous tasks, you can apply BANT parameters as criteria for them to achieve and categorize them accordingly.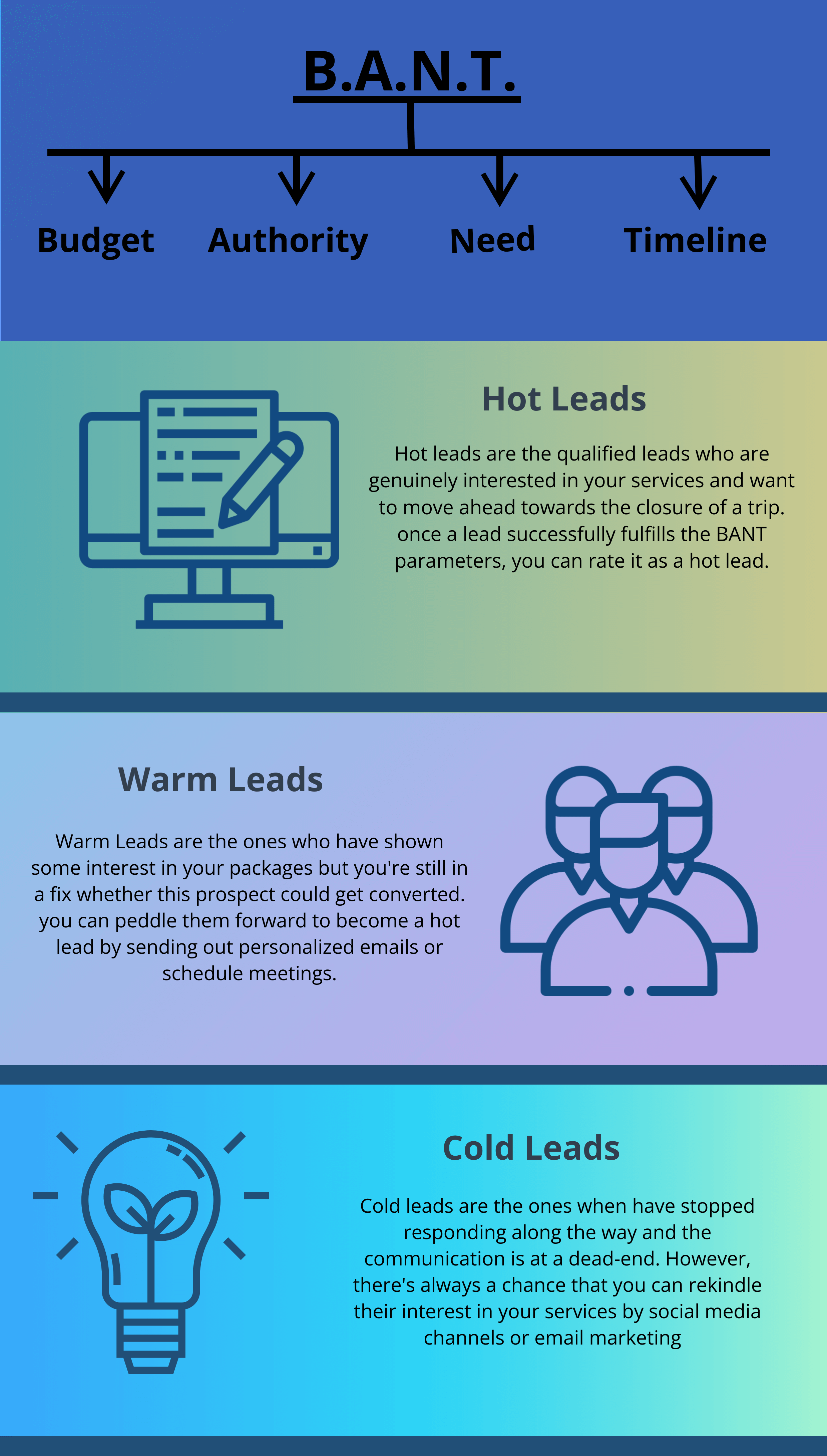 Convert A Lead Into Automated Profiles
When a lead finally achieves all the BANT parameters, you can move ahead for further conversion. The moment you convert, our Real Estate Developer CRM creates three dynamic records under three perspectives, namely contact, company, and deal. It stores all the acquired information in an organized stream. So for example, if you get inside a deal record, you can view all the deal-oriented information, the current stage in the pipeline, payment milestones, and so on. The same follows for the other two. Each of these modules is dissected into a business-card section, a detailed information section, and related lists. From the related list, you can switch to any other module to retrieve information about that specific client.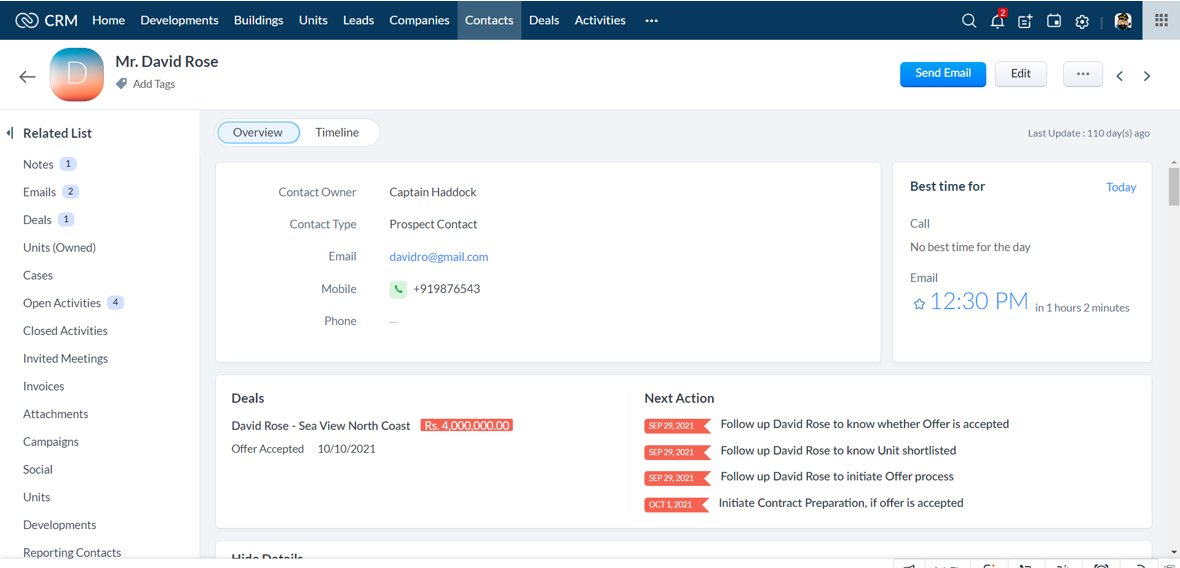 Plan Of Action
Until now, the customer was in the 'interested' stage of the sales process. And before the deal turns out into a 'closed won' level, there are several steps in the middle. As the real estate purchase process is relatively longer, a ready-made sales workflow helps you maintain disparity. There remain zero chances of risks when you don't have to wonder what your next move will be, only with such an effective sales pipeline.
Site Visit Meeting
In this digital era, visual aids like property images or virtual tours are important to initially attract your potential customers. But they cannot rely on these when it comes to buying a property. So you need to initiate a site visit meeting if they show enough interest. Of course, these meetings hold immense importance as your clients are about to invest in an asset. You can also collect their valuable feedback, work on it if anything is lacking and genuinely suit their preferences.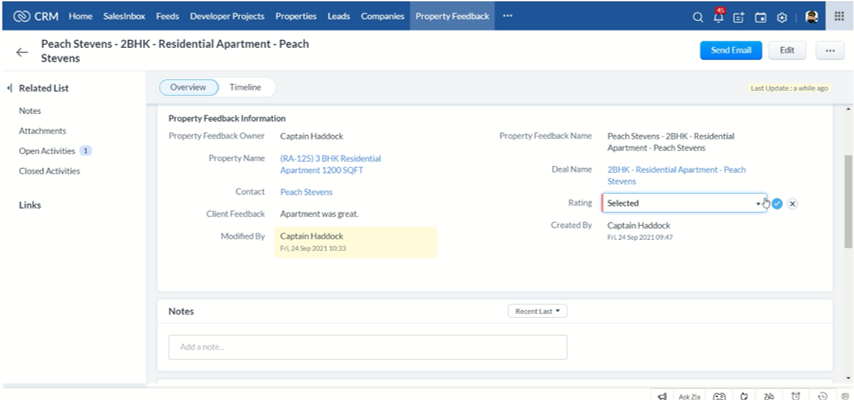 Property Selection And Offer Generation
Once the site-visit meeting is finished, when you get approval from your client's end for a property, it is time for you to generate an offer. This will include the buyer's name, address, project name, location, area, expected price, and so on. Once you save all these details, you can merge them with a pre-designed offer template that our solution comes with. You can easily download it a PDF format and send them out to your clients via email.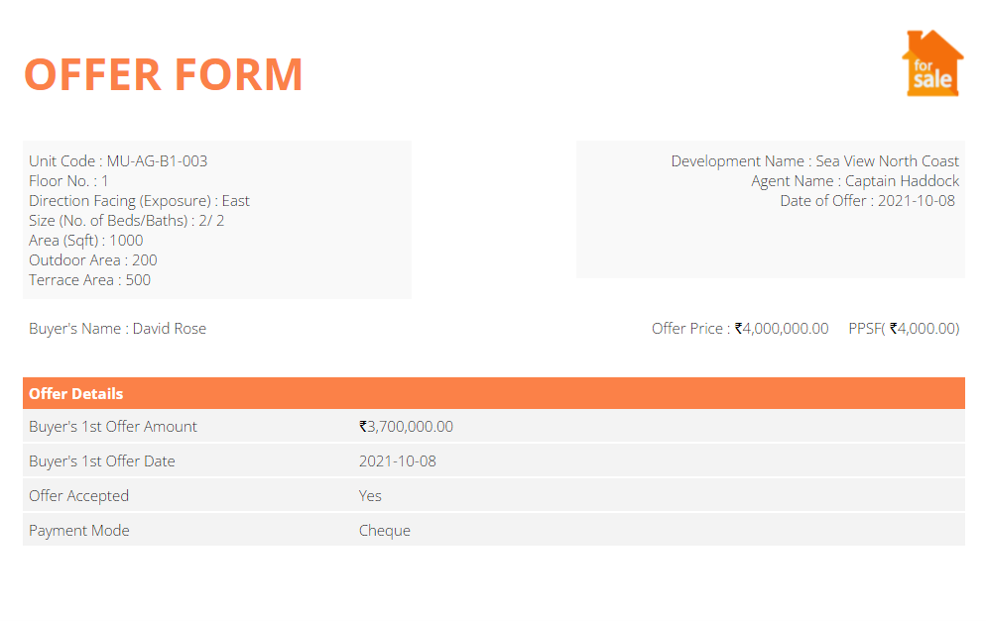 Generate A Contract And Get It Signed
In the real estate business, it's a given that when you table an offer for a property, your customers will respond with a counter-proposal. So as a real estate developer, it is humanely impossible to keep track of your deals. But Real Estate Developer CRM makes it easier for you. You can keep a track of your offers by timely inserting the amount and date. Once the negotiation-affirmation process is over when you enter the fixed price, our CRM instantly fills out the availability status and the price of the property.
With Zoho Writer, you can easily merge your contract and raise a complete one as quickly as possible. All you need to do is fill in the buyer's name, date of the contract, address, and so forth. Even with Zoho Sign, you can put your e-signature on the contract, share it via email and finish off the whole task.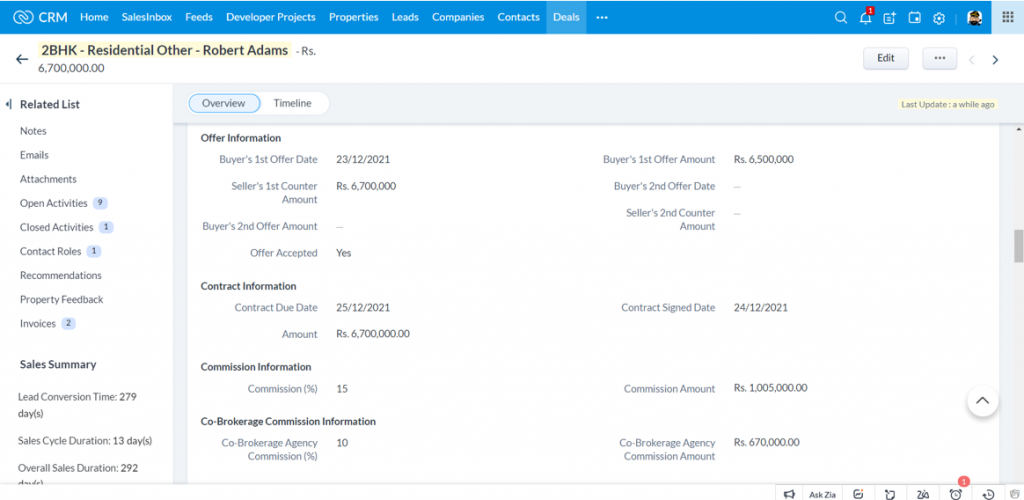 Maintain Payment Milestones
Of course, buying a property requires a serious amount of money. And not all of your customers can pay the full amount at once. Our Real Estate Developer CRM comes with payment milestones. Here, the total amount of the property is broken down into several percentages. As you go on developing a particular project by achieving different stages of progress, you can remind your customers of the current status.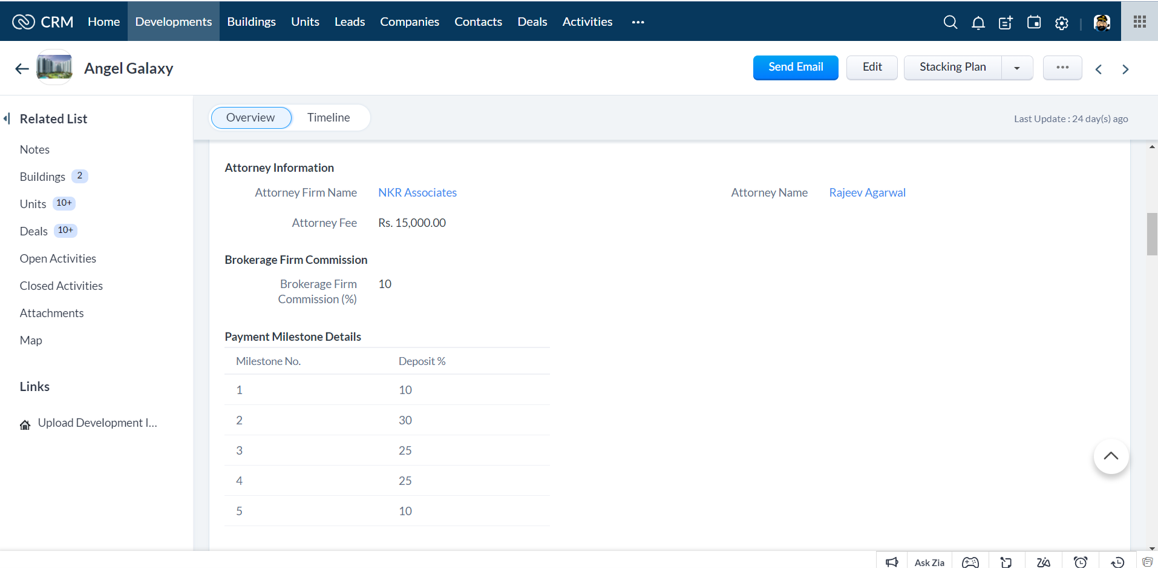 Data Projections With Reports And Dashboards
Hands down, the best takeaway of our Real Estate Developer CRM system is the stacking plan report. It visually represents the different aspects of a property in a compact description. This includes the availability status, building number, floor number, total area by square ft, the number of bedrooms/ bathrooms, etc.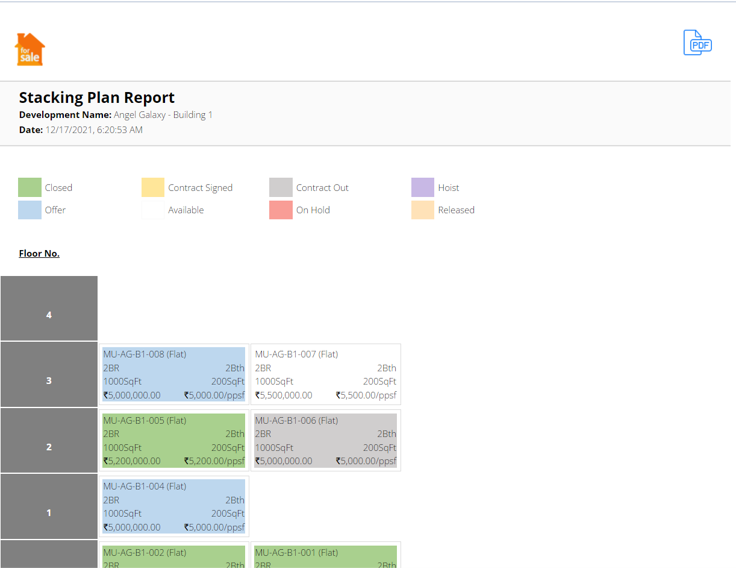 Other than this, our solution comes with multiple comprehensive reports and dashboards. These help you a clear idea of all your business aspects in an aerial view. You can innovate and implement different strategies based on these data analytics and insights. Most importantly, all the reports and dashboards are auto-updated by the CRM itself so that you always get real-time information. Here is what a typical report looks like–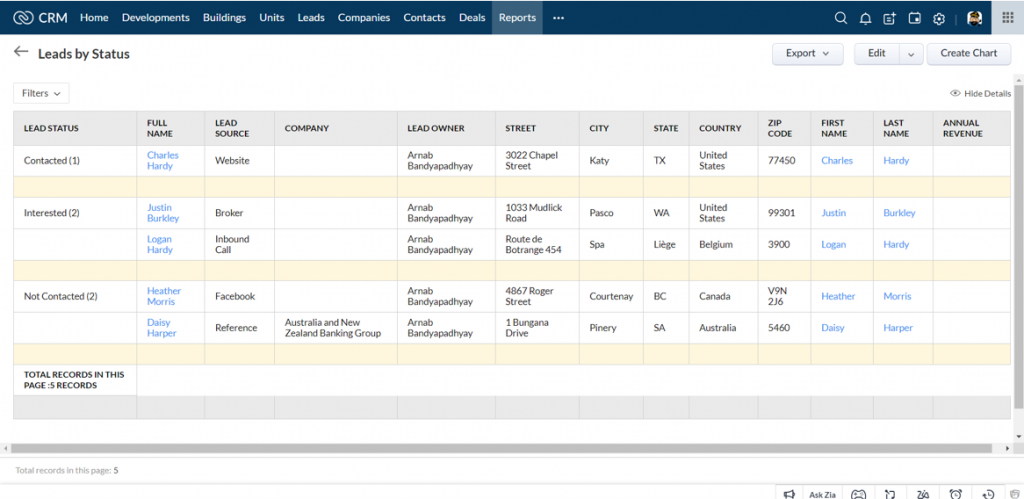 And this is what a dashboard looks like-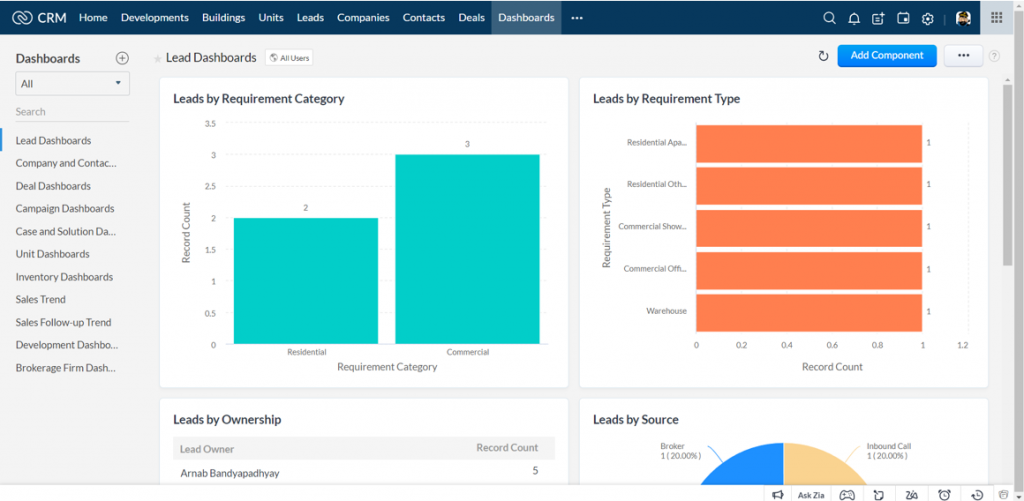 Bottomline,
Real Estate Developer CRM is just what our modern developers need today. This feature-rich software helps you from the end-to-end sales operation and strengthens customer relationships on the other hand. Is it too good to be true?
Now it's your turn to click on this information link and get started with us. Hurry up!