Scale Up Your Business With Travel Agency CRM
Jun 15, 2023
Every business must put their customers in the first place. It's imperative. The travel industry has expanded and scaled up ever since the market rebounded. Only reliable strategy they are using? Agent-customer relationships. You might single-handedly manage your customers when the number is less. But nobody aims for a small customer base, do they? That's why you need to scale up your travel business. Now this can be difficult for less experienced agents.
Scaling up your travel business is more than implementing previous professional strategies, advertising, transportation, or agent-client relationships. We are talking about brand growth, management, and administration here. Frankly, it's no time for old-school practices. You have got to mix it up with technology and automation.
Solution? Presenting Travel Agency CRM.
Yes, you should call it a solution too! This CRM (Customer Relationship Management) software is tailored to your industry. It provides all the tools you need to manage, streamline and grow your business, and it's also tailored to your industry-specific nomenclature. Generating sales-worthy leads is a must for any business. These prospects turn into customers, who turn into retained customers and proponents for your business.  
Carve Out A Market Niche 
See we have so many businesses being conducted in the world. So many types of businesses in the tourism and hospitality industry. Can you cover all of them? Of course not. So you need to carve out a market niche that can be profitable for your business. It does not need to be unusual or complicated. Research a niche that you are interested in and develop the same for a business model. For example, you can be a tour agent who offers fixed departures or custom tours for trekkers – a distinctive demographic. This would indicate that you are experienced in a specific field and you would be offering specialized services to your target audience. This form of standardization is growing in prevalence, as the rivalry is also increasing substantially.
Help Your Customers To Reach Out
Even if you meticulously plan out your tips and itineraries, your business would not bring your expected results. Those are parts and parcels of a tourism company that you need to pilot through your landing page or other marketing channels. Thus when your target audience discovers your business, you must entice them with your content and locate your call-to-action (CTA) button to encourage your audience to connect with you. For example, let's say you have customers guest post their travel experience, you can situate the CTA link near the end. So that it directly takes your prospects to the web page where they can find a form to fill their details in. and when you are backed up with Travel Agency CRM, you can automatically capture all the details and check the same in streamlined lead records. Thus, you can easily retrieve the information to nurture them instantly. 
Connect On Social Media 
More than half of the world's population is housed in social media. Important platforms like Facebook, Instagram, and TikTok allow you to connect with your target audience from different age groups. You can post visually appealing videos of your travel destinations, and talk about experiences or packages through your blogs. Better yet, ask your tourists to guest post about their experiences with your agency. Such tell-tale posts connect with your potential customers as testimonials so that they get encouraged to inquire about your services.
Through consistent social media posts, you can build trust and raise strong brand awareness. You can use Zoho Social which lets you create a content cue to schedule on its intuitive calendar. And as you would expect, the app readily publishes your content on time and helps you stay consistent.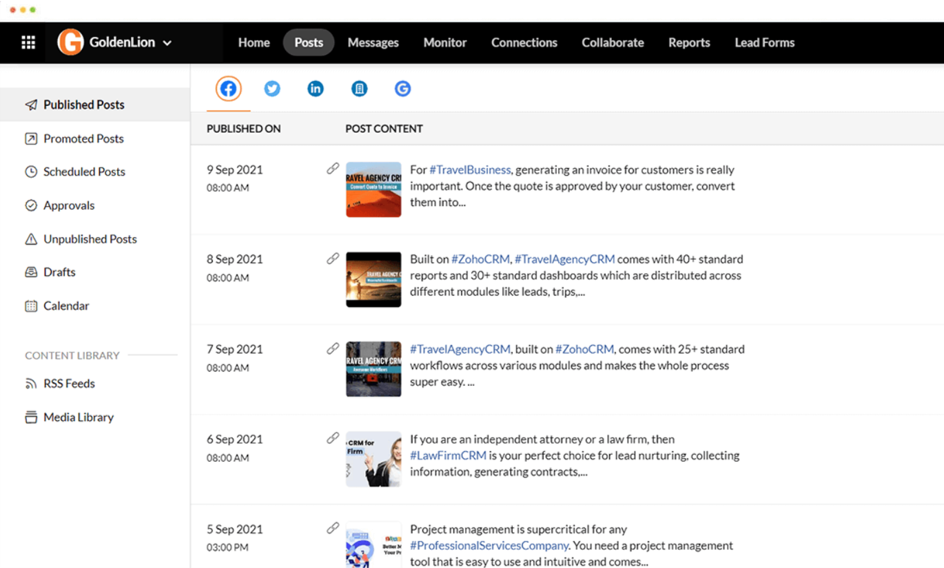 Upsell And Curate Unparalleled Experiences 
You are the professional, customers are not. Note this point. Once you have built brand credibility you can suggest your customers additional services to make a whole packaged deal out of them. For example, if a customer is buying a package for Sri Lanka, you can advertise breakfast-inclusive packages to maximize the sale.
Highlight The Advantages Of Your Services
Your business is unique. Your business must have a unique selling proposition as well. You must highlight your USP on your website to showcase your offers. You can combine various products into an extraordinary travel experience. Curate packages and seek to deliver a competitive deal by offering accommodation, transportation, and events together. This way, the clients will have a more comprehensive travel experience, and you will be able to provide more facilities and trip services than if you offered them separately.
Profile Customers
Customer profiling is a crucial task to do. You must capture all their information, contact details, preferences, and requirements in line with the GDPR standards. Ensure that you have software like Travel CRM that offers a centralized system, accessible to your teammates. It streamlines all the captured information about your leads and pre-populates the contact, account (for B2B customers), and trips with a single click on the 'Convert' button. The CRM automatically attaches the related information (contact, past details, inquiries, emails, quotations, etc) to the interlinked records. Thereby, it gives you an unfailing opportunity to identify your customers' needs for an unmatched customer experience. 
Segment Your Customers 
Once you get hold of the automated customer profiles and insightful analytics by the CRM software, you can move to the next action — customer segmentation. Since the world seeks hyper-personalization, segmenting customers should be your ideal strategy.
Let's say you've captured thousands of leads. Now you cannot expect them to have similar preferences? So you must identify demographic groups and create custom tags for them.
Therefore, customer segmentation is the categorization of your large audience into several groups with similar preferences and characteristics. Each of your customer segments represents shared buying behavior. You can divide them to engage them with targeted differentiation as their decisions are shaped by your product, sales operations, and marketing. With an in-depth analysis of the data, you can focus on and replicate successful campaigns to generate leads and manage your marketing efforts effectively.
Make Your Data Visible
Leads captured in your CRM software become stuck when you don't convert them into contact and opportunity. They can never turn into sales-worthy customers. For that, you must timely take them to the next step. Travel Agency CRM comes with a ready-made sales pipeline that covers all the action points you might want to close-win a trip. The sales pipeline updates itself with real-time information after your customer completes the previous stage. The CRM presents a centralized platform as it integrates with your entire unique business process. For example, you can customize your Home Page to highlight the most crucial data metrics which need regular attention. This page also notifies you about the remaining tasks, and their statuses so that you can appropriately prioritize your workload. With such remarkable automated processes in place, you can focus on nurturing more leads and scaling them up as confirmed trip opportunities.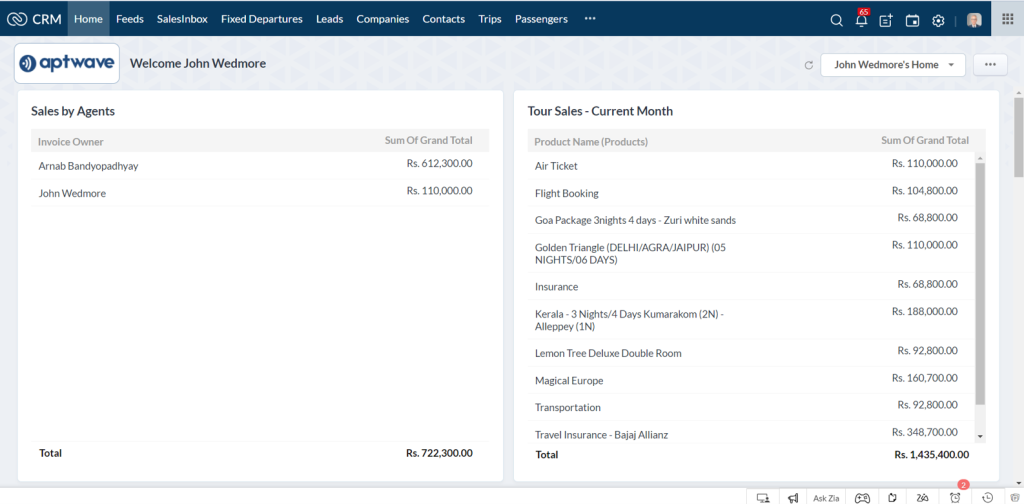 Analyze Your Data
Data is the new currency, agreed. Don't you want to leverage its full potential once you capture it? Of course, yes. See, data is not just about storing information for future business. It is also about analyzing them for an in-depth understanding of the trends in your target market. Travel Agency CRM helps you with insightful data structured in granular reports and dynamic dashboards. Hence, you can predict emerging opportunities, innovate new ideas, and formulate strategies to generate more leads. This CRM offers 25+ standard customizable reports that detail customer preferences, close-win rates, and purchase behavior.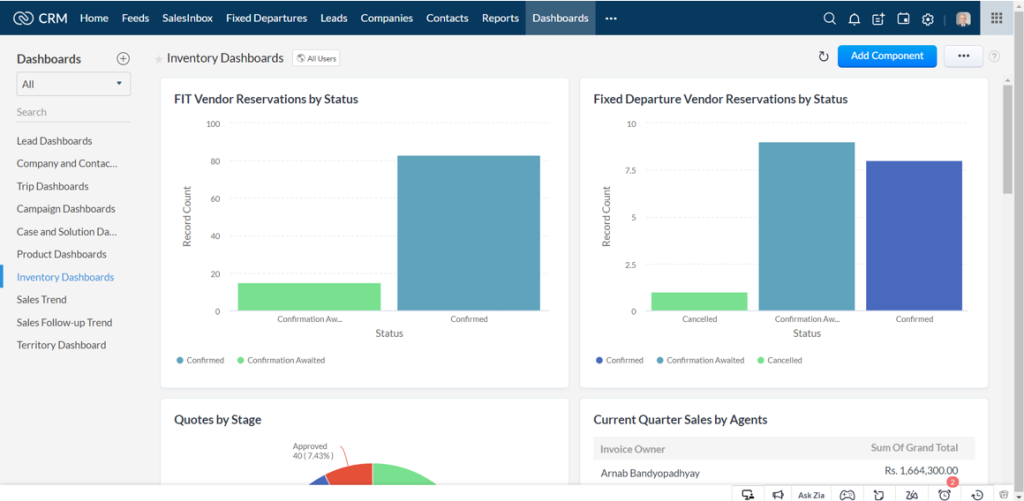 Over to you,
Scaling a business is different than growing a business. While these aforementioned pointers help you scale your business, the best way still is through happy customers who book your trip packages and recommend your services to others. And with the smart automation powers of Travel Agency CRM, you can take your business to the next level. 
Reach us out for more information!