8 Tips To Boost Your Sales Volume And Revenue
Dec 2, 2022
Being in business means you must always calculate your moves and constantly question whether you are right or wrong—especially the young entrepreneurs without enough experience. Sales volume can be that one anchor that fixes all your dilemma regarding your business.
Amidst commonly learned metrics such as gross profit, net income, conversion rate, length of the sales cycle, total revenue, etc people need to remember to list a crucial KPI which is sales volume. The fact is, the number of units that you sell is equally essential to your generated revenue amount. Knowing your sales volume for your products/ services can help you identify the most underutilized or underperforming products and lead you towards improvement.
What is sales volume?
It is a useful metric that measures the number of units of a particular product sold by your company during a specific time length. It gives you a clear indication of your most and least successful product lines.
How can you calculate it? By unit and percentage.
For example, let's say you have a scalable business as a training provider. You have 20 students registered as enrolments for a particular course like 'English Level 1' this month. And each of your training courses which costs say, 15000 INR are your product units. Therefore you can calculate as 20*1= 20 units sold and 20*15000= 300000 INR as revenue generated.
Even the percentage formula for calculating sales volume is easy. You just need to compute the units of a particular product sold multiplied by 100 and divided by the total number of product units sold.
So for example, if you have 4 different courses with 5,8,12 and 20 respective registered enrolments, then the number of units sold under the respective courses (/products) will be 5,8,12 and 20. Now, when you when calculate the highest sales volume, you can compute the numbers as:
Total number of product units sold= 5+8+12+20= 45
Highest sales volume= 20
Percentage= 20*100/45= 44.4% approximately
This implies that the 4th course which had the highest sales volume out of the total accounted for 44.4%. However, it does not necessarily mean that it accounted the same for the total revenue generated.
Now that we have got ourselves accustomed to the basic calculations on sales volume, let's get into the 8 major strategies that you can implement to boost your sales volume and revenue.
#1. Carve Out Product USP
To run a business, you need to act like a customer before selling your product. Now tell me, do you buy a product just because a company has newly launched it? Or you'll try to understand how the product can benefit you.
Similarly, your customers need to see value in your product before making a purchase decision. So your immediate job after launching a new product is to carve out the USP or unique selling proposition and highlight it on your website landing page to raise the competitive advantage. You must introduce your product with key answers that your customers might find helpful. For instance, what makes this product unique, how can it benefit your customers, why should this be their 'go-to' product, and so forth. Briefing all these ideas will help your customers catch a better drift and assist you to develop strategies to advertise and sell more.
#2. Focus On Your Client's Requirements
You're running a business that offers a series of products/ services that only a particular demographic clientele purchases, correct? So you must understand what your target audience is looking for and have a deep understanding of how your products can serve their needs. Let's take an example!
Say, you run a travel business and most of your clients are millennials. So you can launch a range of exciting or adventurous activities that can attract your audience and market through your website, social media platforms, or email campaigns.
#3. Nurture And Qualify Your Leads
Now that you have your website by your side, launched products, and advertised through various marketing channels, you can expect multitudes of leads to pour in. But generating leads is not your finishing line, you must capture them for conversion. And that's why you need quality software like Zoho that can capture mounds of leads simultaneously.
For example, if you have a website visitor scrolling through your products who decides to show interest in a particular one, he/ she can easily submit their details in a pre-embedded web form. So that the integrated CRM system readily captures them in neatly streamlined records for your reference. Your CRM can also trigger an automated email for acknowledging your prospects' patience and alert your sales team about the new lead to nurture for further conversion.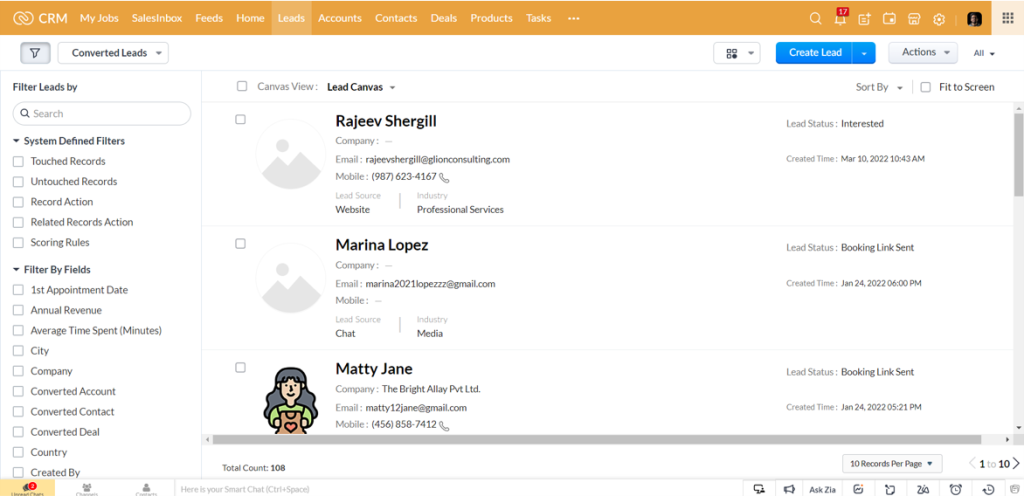 It's only obvious that a prospect wouldn't become your customer immediately after he/ she comes across your product. Your prospects need assistance in every step of the sales journey. Startup Bonsai says that leads transition 3x times more when your sales team immediately gets into action after capturing an inquiry. So you can build up a strategic communication flow to gain your prospects' trust. You can create multiple follow-up activities, meetings, or calls and assign your sales reps with a one-click notification. To avoid any sort of crack in communication, you can schedule these tasks on the intuitive CRM calendar for deadlines or set up reminders or pop-up notifications on your team's behalf.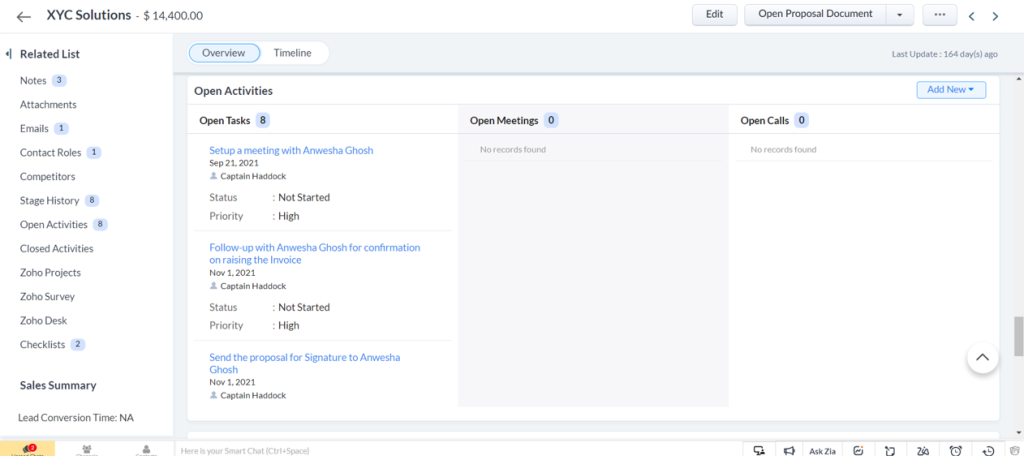 #4. Accelerate The Sales Pipeline
Most businesses fail to emerge due to a lack of a systemized sales process. A sales pipeline has various action points that you need to cover to close-win an opportunity. And the more the velocity of your sales pipeline increases, the chances of selling more in a short time span get better. So you must opt for or build up a CRM solution that comes inbuilt with a ready-made sales pipeline. It can streamline the different intermediary sales stages that your industry has so that you can capitalize on them for fast-paced selling. Most importantly, using a simplified sales process that is uniquely made for your business helps you focus on high-demand product lines.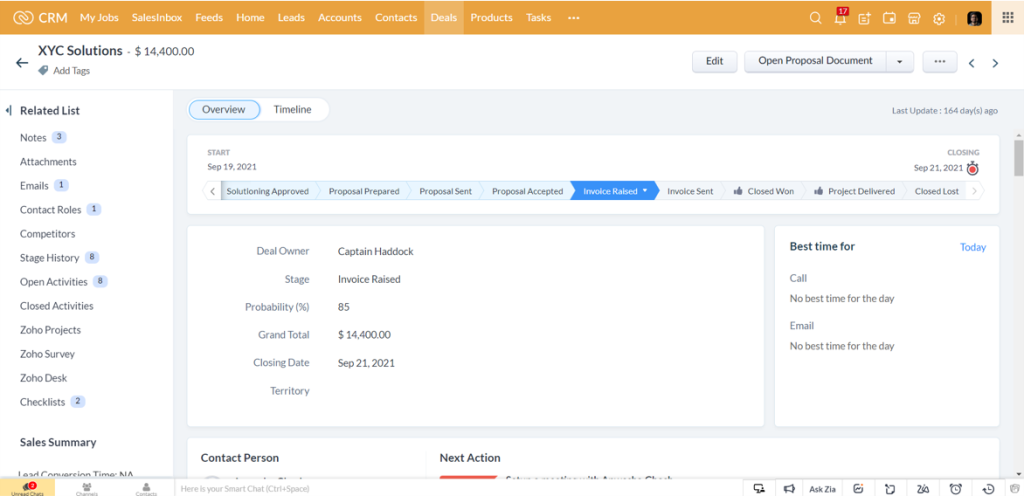 #5. Collaborate With Your Marketing Team
Running a business is indeed a tricky job. It has several aspects to look after. Two major sectors that clash with each other the most are sales and marketing. But think of them as a power couple. When they align with each other, you can engage your audience, generate revenues, and build customer relationships and loyalty as a uniform organization. You cannot even grasp your business' full potential until these two teams cooperate in unity to increase your ROI rates.
So besides capturing and nurturing your leads, you need to collaborate with your marketing team to understand customer pain points and come up with blogs, and video tutorials to guide them.
#6. Introduce The Gamification Scope
Want your teammates to perform the best they can? Reward them with gamification scope. Business matters are always serious, I get it. But it doesn't necessarily mean that your sales activities have to become tedious all day long. As a leader, you can conduct a healthy competitive environment to make your workspace entertaining and productive at the same time. This game scope gives your teammates a chance to boost their proficiency, and productivity and also set sales targets for the time being.
#7. Appreciate Customers Through Loyalty Programs
If you provide the best service to your customers, they will likely continue purchasing products/ services from you, as simple as that. But loyal customers are rare. Forbes shows that they can come up to 20% of your customer base at your best. However, this particular part of your clientele can derive up to 80% of the business.
It's our loyal customers that create the best opportunities for conversions. So you must brainstorm innovative ideas and consider emphasizing loyalty programs that show appreciation to these customers and make them return.
#8. Take Actionable Insights
The thing is, your business is not only about your boosting your sales volume. Your ultimate goal is to increase your revenue and thereby your profit numbers. And this large area is constituted by several factors. The data analytics of reports and dashboards that come along with Zoho CRM can immensely help you obtain actionable insights and implement data-driven strategies to maximize your revenue generation. This dynamic duo automatically updates itself with real-time information so that you can easily address the bottlenecks and continue doing the good work that you do!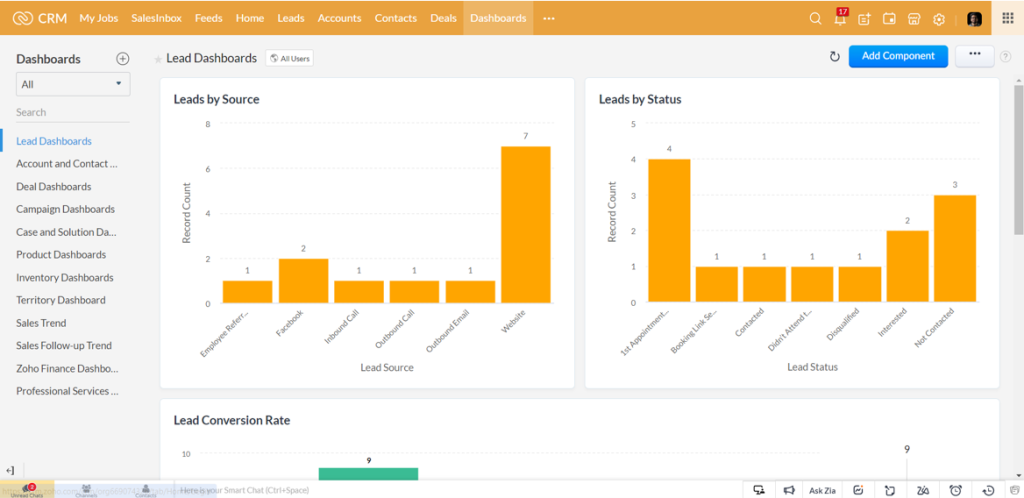 Bottomline,
Standing in today's climate, if you want to grow your business, you must ensure that you are backed up with a quality CRM software like Zoho. It helps you increase operational proficiency, streamline and automate the entire sales pipeline, guides you with data insights, and centralizes your business for easy collaboration. Yes, you get all of that in one solution!
Was that too much to gulp down in one shot? Schedule a no-obligation 90-mins consultation with our experts right away!