5 Tools To Align Your Marketing And Sales Tactics For Greater Real Estate Revenue
Oct 28, 2022
Readers, I know your marketing and sales teams might often clash with each other with their perspectives and goals. The real estate industry is not an exception.
But think of them as the power pair. After all, they engage your audience, generate revenues, and build customer relationships and loyalty. You cannot even grasp your organization's full potential until these two teams cooperate in unity to increase your ROI rates.
This is where the concept of 'smarketing' enters the scene. It is a portmanteau term that derives from 'sales' and 'marketing'. Around 85% of business leaders confirm 'smarketing' to be one of their best strategies.
Now, as the leader of an organization, you should always set aside your goal, which is to increase your revenue. Each aspect of your business must collaborate, align and thus, maintain symmetry for achieving that goal.
Before digitization, the sales and marketing departments had different goals to achieve. While the former focused on converting leads into opportunities, the latter worked solely to engage the target audience. However, as customer preferences have significantly evolved over the years, businesses are strategizing to make sales and marketing teams collaborate instead of colliding with each other.
Here are the tools that you can integrate with your business and effectively align for your marketing and sales teams to run them parallelly with one shared goal.
Table of Contents
Tools For A 'Marketing First' Approach
Hard truth: Most people understand the importance of marketing. But they are too tied up with other business processes to initiate a holistic approach of prioritizing it. Since customers are in the spotlight of a business stage, a marketing-first approach communicates about your offered products that are relevant to your target marketplace. It is not just about closing deals, it is about building a brand persona that drives maximum lead generation, conversion, retention, and thereby, competitiveness. I hope, learning about these tricks and tools can help you in the long run.
Start With An Engaging Website
The virtual world opens a lot of doors for us. Website is one of them. The importance of having a website is an absolute necessity in today's date.
No matter how many competitors you have, you must remember to differentiate your brand with a specialized demographic to create a niche market. And websites allow you to highlight your niche and extend the base.
As a real estate agent, your products are your properties. Let's say, you are a realtor who deals with single-family properties for first-time homebuyers. So you need to communicate this detail on your website with a friendly and decipherable tonality.
Keeping that in mind, you need to develop a website with your personalized brand theme and style. You can also feature your property pictures on your website by publishing them through Real Estate Agency CRM. It helps you maximize your website traction and keeps your prospects well-informed about the property architecture dynamics and approximate price range.
Embed Zoho SalesIQ
Done with building your website? Now it's time to embed Zoho SalesIQ. It is an omnipresent virtual assistant that serves your prospects on your behalf.
Being in the real estate business, you must be aware of the general questions that people often ask. Even if you don't, browse through business articles, research, learn and then use them to your advantage with Zoho SalesIQ.
You can keep your answers canned for these general questions so that when your prospects require any help, they can have several options of questions and answers to choose from. In case, you don't have an immediate answer to a particular question, you can take over the conversation one-to-one. These chat transcripts get directly attached in the newly created lead record when you use a solution like the Real Estate Agency CRM.
The best part of using this tool is that it rightly senses your website visitor's browsing history and gets an idea of which properties are they looking for. And bingo, it readily strikes up a proactive conversation just when the timing is right.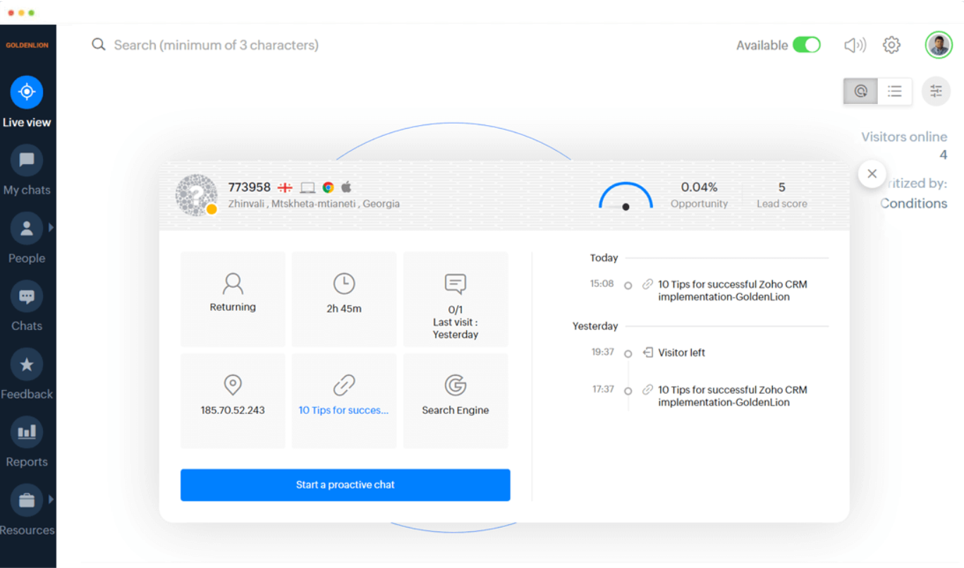 Sharpen Your Email Marketing Strategies With Zoho Campaigns
When in doubt, market your properties via email. Email marketing always works, regardless of how cliche it might sound. But yes, the strategies have changed over the years. A 'one-size-fits-for-all' approach is what you need to avoid. You must focus on personalizing as much as possible, both for your brand and for your prospects. For instance, you can retarget your website blogs as content pieces for weekly/ monthly newsletters and design the email with your brand style. Even for your prospects, you can customize your email content according to their property preferences using Real Estate Agency CRM. But let me come to that later.
Zoho Campaigns is hands-down the best tool for you to realize your email marketing strategy. It helps you create engaging designs with a simple drag-and-drop editor, customize messages, trigger automated workflows and connect with new prospects. You can share fun GIFs, polls, visuals, and links to virtual tours of your properties– the list is endless. You can set email drip campaigns, improvise using A/B testing, and trace the nurturing time duration of each contact. Zoho Campaigns does everything for you.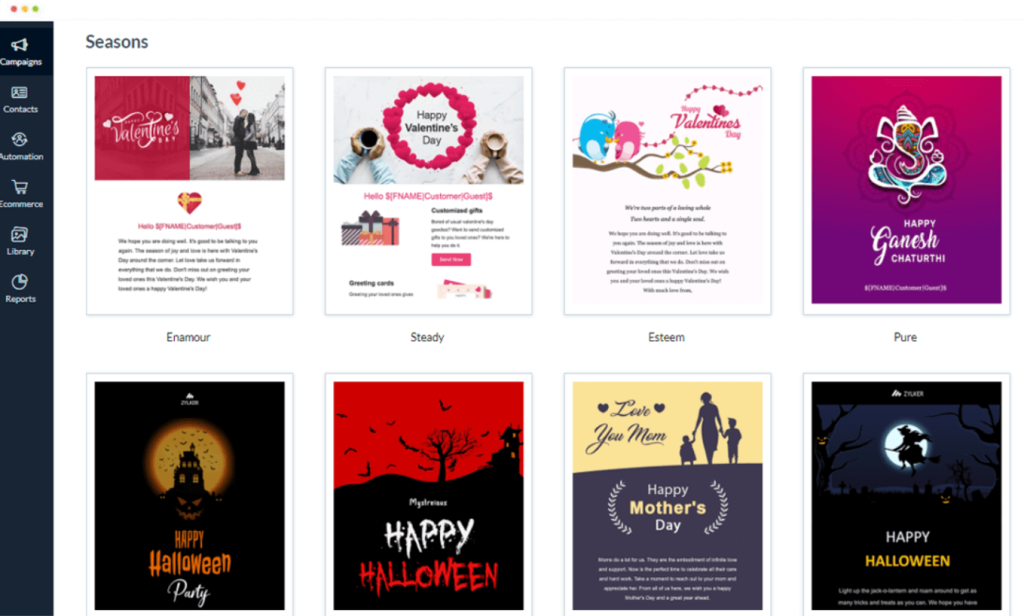 Reach Out To The Global Audience With Zoho Social
You should consider your customer reach as a crucial milestone in your marketing strategy. See, for email marketing, you can only communicate with your existing customer base, which is limited. However, when you present yourself to the world and voice your word by marketing your property brand, your chances of meeting new customer increases. Social media platforms like Facebook, Instagram, LinkedIn, and Tiktok are important for real estate agents. Networking with the internet community helps you maximize your expansion belt.
How to get started with it? By implementing the right tool. And Zoho Social is the one. You can repurpose your content, break them down into smaller pieces and post them at regular intervals. But let's face it, we are often caught up with random business chores that we forget to post regularly. This might affect our virtual relationship with our audience. Posting relevant content while maintaining consistency does the trick. This is where Zoho Social comes into play. You can create your content cue and schedule it on the intuitive calendar so that your posts are timely posted and your audiences are updated. You can stick to social columns to stay tuned with everything relevant and engage with your audience in real time.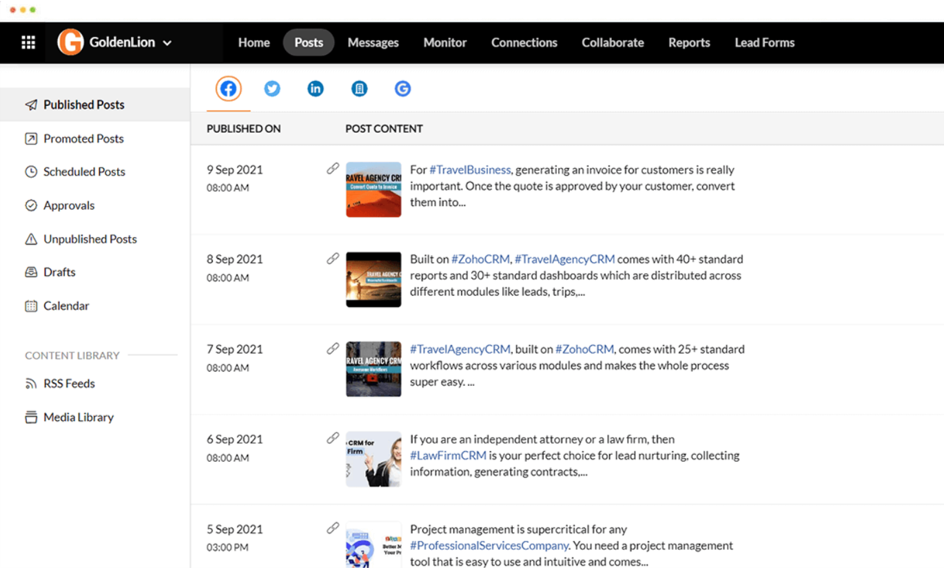 Implement Zoho Survey
Buying a property is like buying a lifetime asset. It involves both monetary and emotional investment for most people. So before making a purchase decision, your customers must get acquainted with someone to who they can relate, even if it is virtual. This is where you can leverage your winsome reviews to feature them on your website as social proof of your services.
You can use Zoho Survey in this regard. It is an app that comes with 25+ different questionnaires. You can customize them with piping or skip logic and collaborate with your team to prep them up. Also, you get visual response trends with customizable trends that help you improve.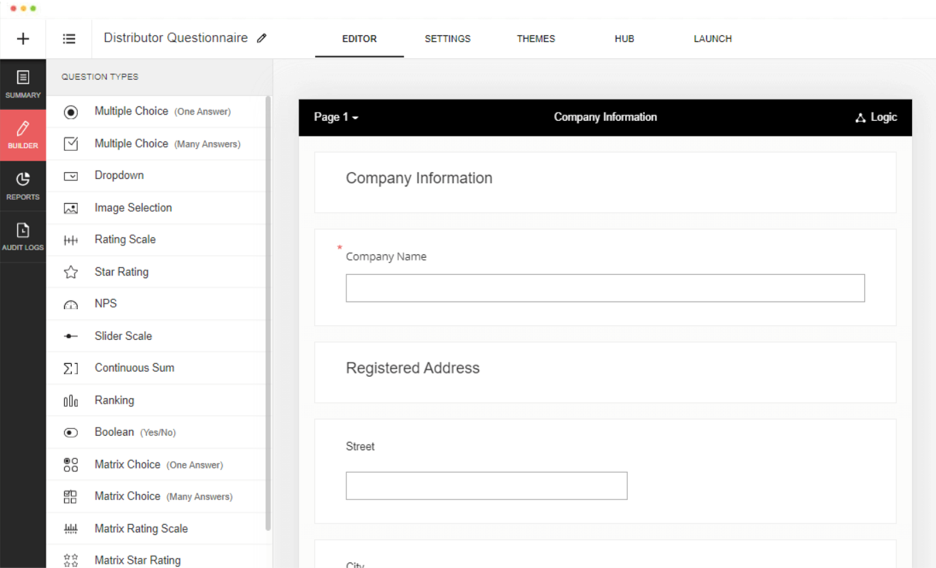 Align Your Sales Operations
Believe it or not, you need only one software to maintain and monitor your entire sales operations. And that is Real Estate Agency CRM. It is not just another software. It is an industry-tailored software solution that is built on the renowned Zoho platform. Let me tell you how it helps you out in aligning your marketing and sales tactics.
Capturing Leads From Website
Now that you developed a website and I suppose, integrated Zoho SalesIQ as well, you can embed a contact/ web for on your website. Once your prospects land there and browse through all your properties, they can submit their details through the web form for further communication. The moment they do that, this CRM solution instantly creates a new lead record under their name which keeps all the acquired details documented and intact. The same follows for the chat transcripts on Zoho SalesIQ.
Not only this, on one hand, Real Estate Agency CRM automatically triggers an email to acknowledge your prospects' patience. On the other side, it even sends automated alerts to your sales reps so that one of them can pursue the lead further. And this makes me land on my next point.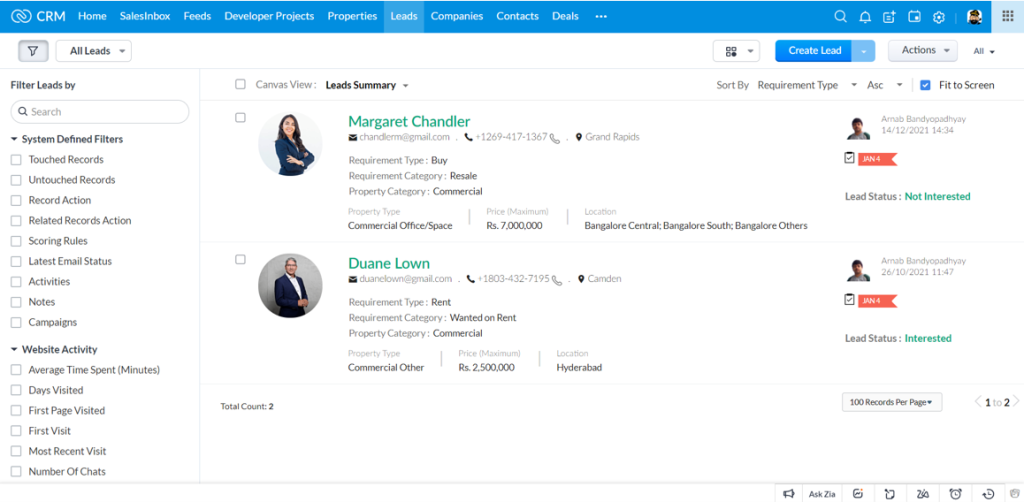 Nurturing Leads Effectively
Since buying a real estate property is a big deal for most people, your sales team needs to nurture and assist them regularly. Don't worry, when you have the CRM by your side, both web form and Zoho SalesIQ or any other marketing application that you implement, will acquire the initial details for your sales team.
As soon as this CRM updates about the new lead, you can create follow-up calls or site-visit meetings to gather detailed information about your prospective client. You can collaborate with sales reps by allotting specific follow-up tasks, marking deadlines on the intuitive CRM calendar, or setting reminders to achieve their desired sales targets and KPIs.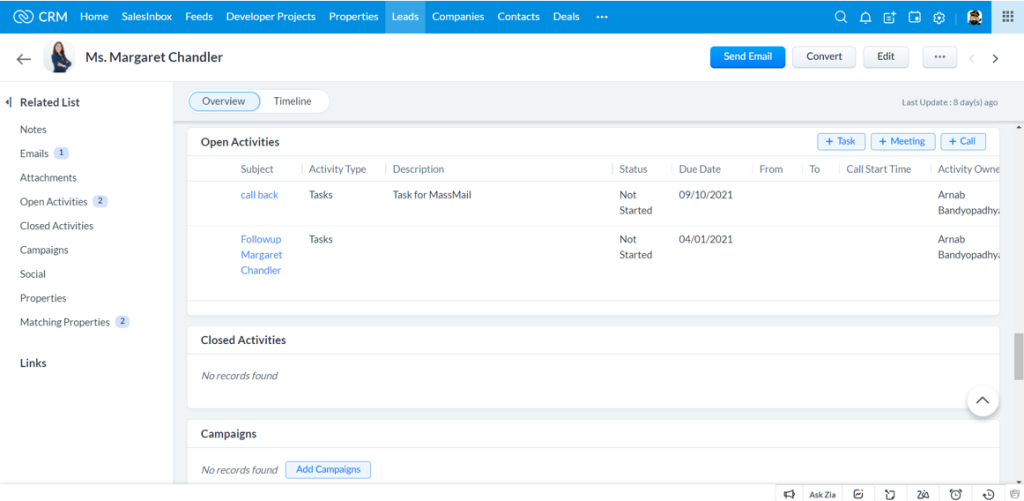 Creating A Single-view Of Your Customer's Journey
Customers are at the apex of your real estate business. What they are looking for is personalization. Real Estate CRM solution helps you a great deal in that.
Once you convert a lead into a contact, company (if it's a B2B opportunity) and deal, the CRM automatically populates your client's information in the former three records, just with a click, yes! So for example, if you get inside a deal record, you can see your customer's journey has been mapped out for you. The overview page displays a ready-made sales pipeline that auto-updates itself after each stage completion. If you scroll down a little, you can see the property he/ she is interested in, the geo-location, price range. In the related lists, you can view the attachments, exchanged emails, social media profile links, and so forth.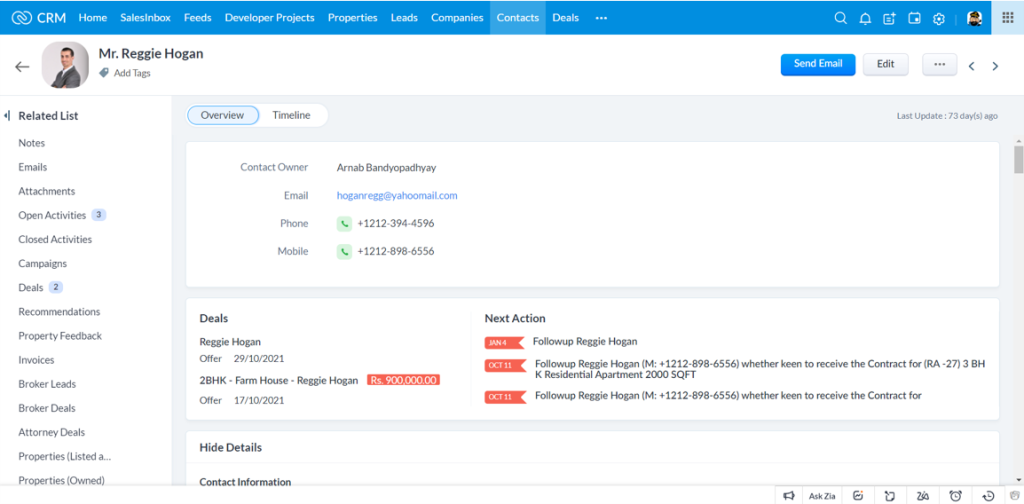 Plus, on the timeline page, you can view each of the interaction touchpoints in a neat streamline. Your sales reps might jot down unique requirements from a customer's end, here all those detailed information is documented for you. Thus this CRM creates a holistic view for each of your clients so that you can navigate your sales operations without a hassle!

Personalization
With thousands of options available to our potential customers, they are looking for the best possible personalized experience from a real estate professional's end. You need to be fast, responsive, and unique with your pitch from the beginning. No, don't fret. Instead, market your properties via emails by sending instant property recommendations with Real Estate CRM.
Let's say you have captured a new lead, or you have a contact with specific requirements of amenities. With this CRM solution in hand, you only need to click on a button to identify the best-suited properties for your client.
Again, if you have a new property enlisted in your system, you can identify the matching leads/ contacts who could be interested in that particular property, with a single click. You can download your property recommendations in PDF format and send them directly to your clients via email.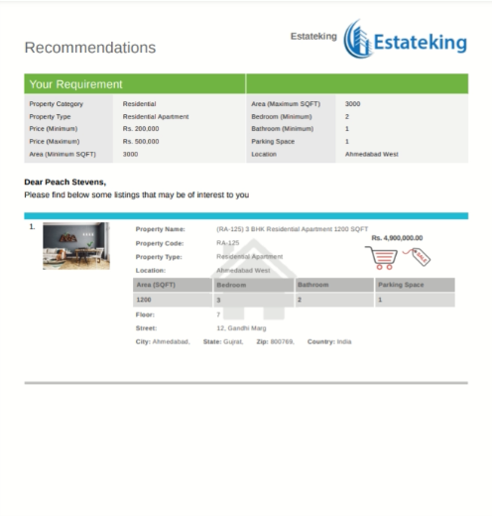 Monitor Your 'Smarketing' Alignment With Real Estate Agency CRM
Keeping track of how your marketing and sales strategies are aligning is yet another tricky business. With Real Estate Agency CRM, it becomes a cakewalk situation.
When you start your day, you're straight-up landed on the home page of your CRM where the most crucial matrixes of your business are kept in a unified space. For example, the number of leads that got generated from various marketing sources, their conversion rates, the sales pipeline stages of your current deals– all of that!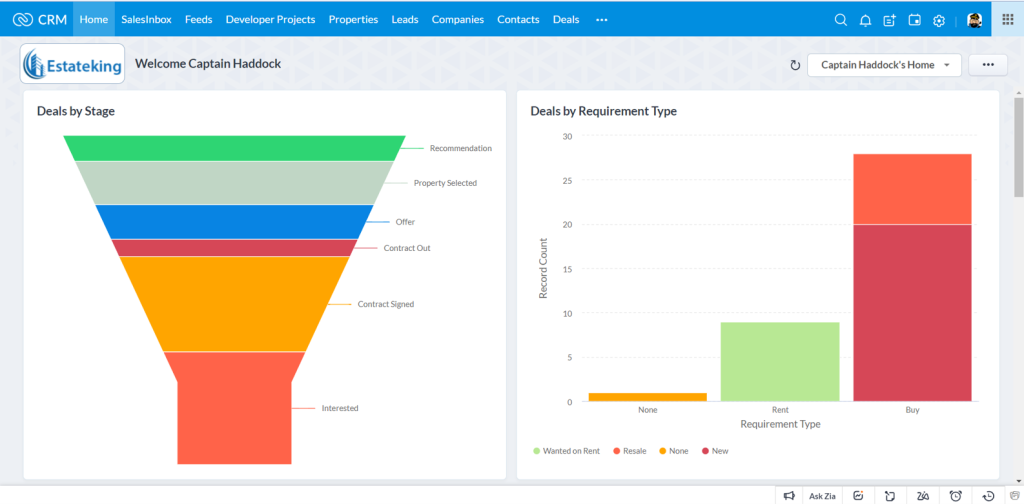 The home page comprises all the business sectors that require your discreet attention. You can fit up to ten dashboards and define your hub. But there are other aspects as well. For that, the CRM solution comes with standard reports and dashboards which help you make well-informed decisions. While the dynamic dashboards display a visual representation of your business's nitty-gritty, the reports form a granular view. You can click on any dashboard for exact details and the CRM instantly takes you to the related report. That's that, as simple as it sounds!
Last Words,
'Smarketing' with a customer-centric approach should be your immediate go-to strategy. It is a surefire way to boost your revenue and company growth. And these were the tools that you can use for smoothly conducting your business operations. I hope I could clear up some clouds in your skeptical sky with this article. Schedule a free 90-minute free-obligation consultation for further queries, hurry!