2022 Recap: Top 6 CRM Strategies That Worked For Law Firms
Dec 27, 2022
You would agree that there has been an exciting shift in business development strategies in the legal industry. Much of this has happened because of digitization– prospects have direct and global access to lawyers. For example, we have come a long past since lawyers could handle every kind of matter. But nowadays people always prefer attorneys with specialized expertise. This is a significant trend that law firms need to strategize for their business growth. They need a robust development plan to outrun their competitors. Let's recap the foremost strategies that have helped the law firms in 2022 as we usher into the next year! 
Market And Then Market Some More! 
Like it or not, marketing is your new best friend. Your prospects have hundreds of options, your firm does not have hundreds of clients pouring in (I hope you do!). So you need to practice marketing constructively to engage and attract clients in every way possible. A strong digital presence can work wonders for your business. You can strategize a combination of inbound marketing (blog or video content marketing), digital ads, SEO, case studies or podcasting, etc.
However, in case you are new in this field, you can start by developing an informative website crafted with original content and a user-friendly tone. It helps you highlight a strong propositioned message about your business objective. You can research and list certain targeted keywords and include them on your website, or inbound content so that your page ranks higher in the Google search results. 
Depending on these initial marketing results, you can extend your belt further toward email or social media campaigns. Since you have too much workload on your plate already, you can integrate important digital marketing tools like Zoho Campaigns and Zoho Social. These super-effective tools are ideal if you want to achieve your marketing goals. They help you automate various marketing activities so that you can focus on practicing legal matters. What seemed like a tricky balance, doesn't anymore. 
Respond Quick To Your Clients' Queries 
As you gain legal experience, you will slowly but surely understand the importance of communication with your clients. If you don't communicate, you will lose them before you realize it. Only solution? Implement an application that does justice to the job. Say, Law Firm CRM as an example. It is a client relationship management software solution built with the industry nomenclature that helps you build and maintain relationships with your prospects. 
For instance, let's say you have managed to generate multitudes of leads through your marketing efforts. Now when you implement Law Firm CRM, it captures all these leads automatically and places them in separate lead records. It also alerts your sales team about the update so that they can immediately get into action. Even as a leader, you can create and assign several follow-up tasks to your teammates with a one-click mention and track the status of those tasks from the CRM homepage.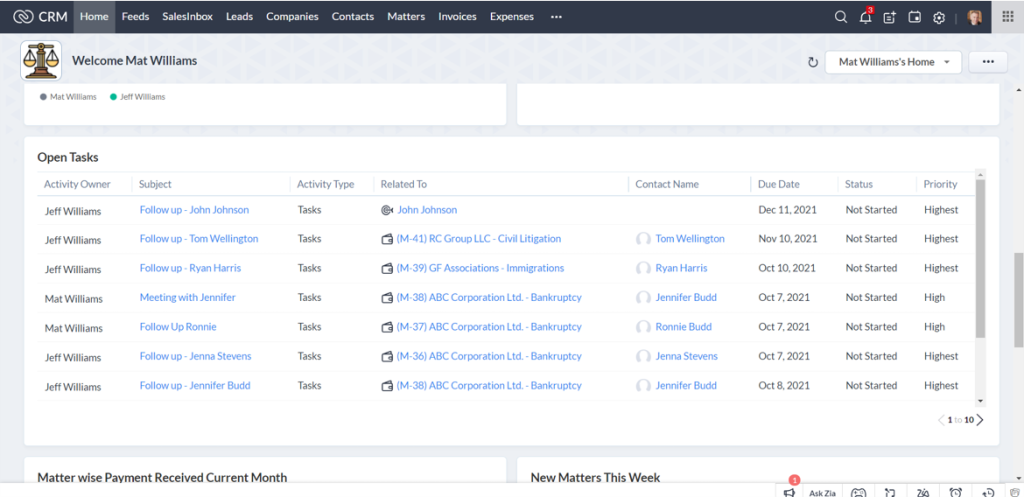 Since this CRM solution is designed to suit your industry-specific requirements, it also has a 'Matter Details' form. It is a customizable questionnaire that has all the information fields you might need before you take up the matter. It is uniquely built to prioritize time for both parties since you can send this form out directly from the CRM and your prospects can share their responses at their convenience. The best part is that since every matter is one of a kind coming from your individual clients, they can express their concerns in their own words. Hence, these matters get unique priority from your end and help you approach your clients in a personalized way.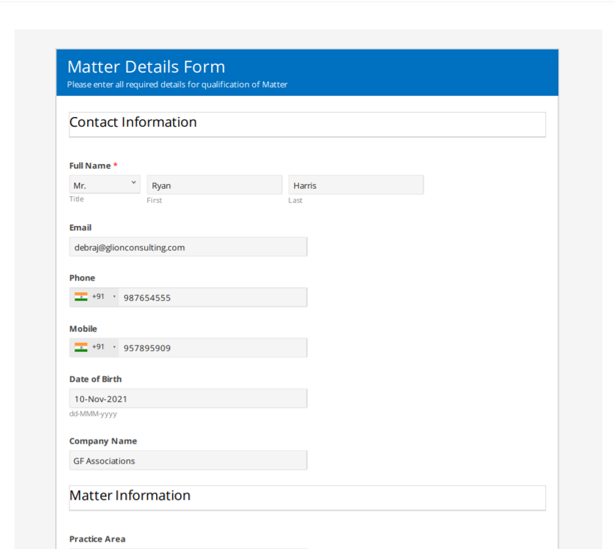 Focus On Productivity 
Being passionate about your profession as a lawyer is great. But to turn your passion into a payday, you must not overlook your administrative tasks. And that begins with productivity. For instance, let's say, you have generated several leads on whom you have run over with multiple follow-ups. As the Law Firm CRM gathers all these interaction touchpoints, you can easily chalk down the leads who have greater potential to become opportunities and apply the BANT filter model. BANT stands for budget, authority, need/ urgency, and timeline parameters which helps you prioritize your matters accordingly.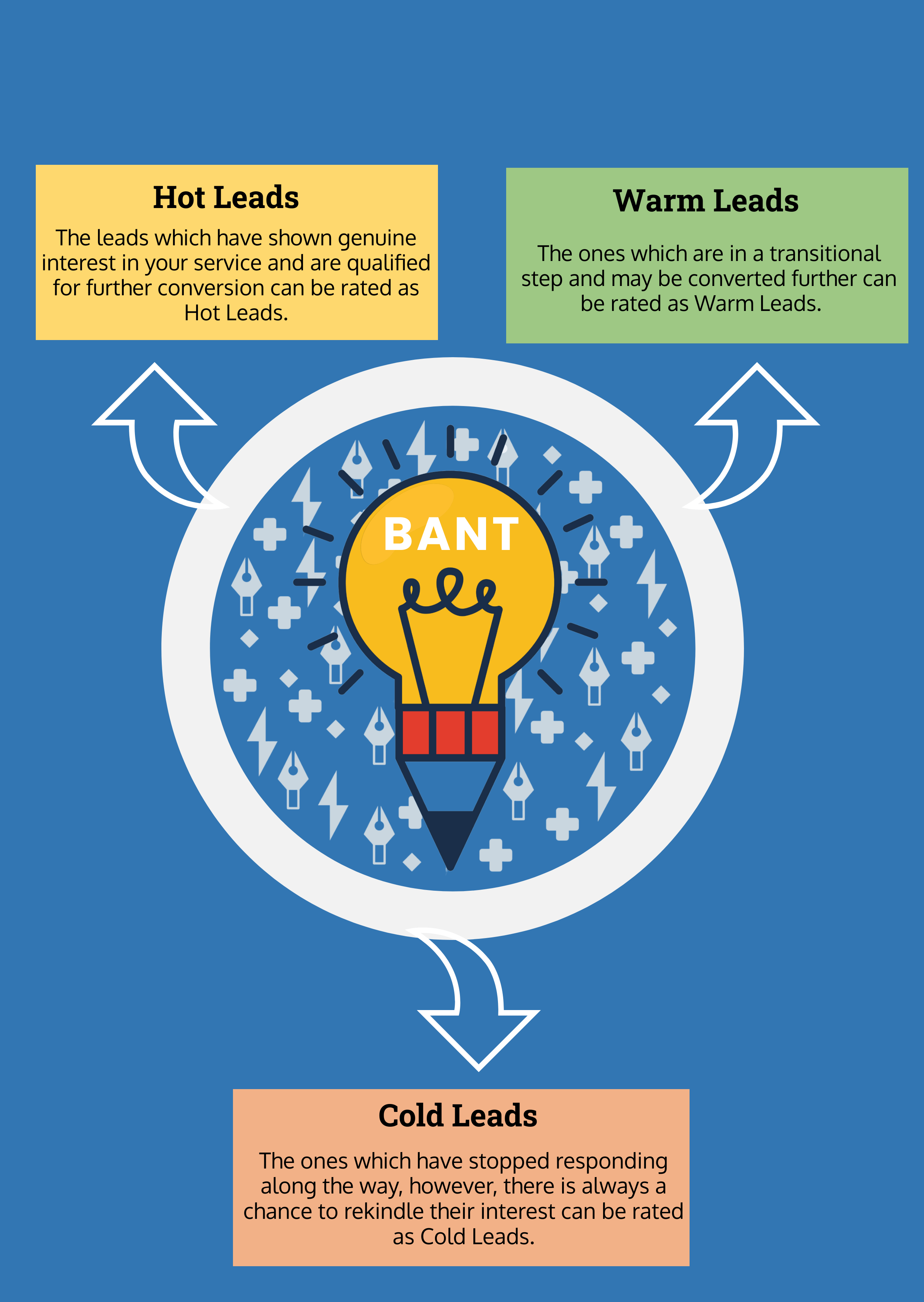 As we discuss productivity, integrating your CRM system with the gamification scope boosts the morale of your team. It helps you conduct a healthy competitive environment in your workspace, elevates the team spirit, and gives you a chance to show appreciation towards your employees. 
Be More Customer-Focused
Being more customer-focused is one of the most forward-thinking strategies you can develop. The phrase 'client-centric business' remains only a buzz phrase if you don't put real work into cultivating such a culture. And this is not just limited to your delivered services. It has to be followed throughout the customer's journey in all its entirety. Right from the first interaction till the post-sales period.
For instance, when you integrate Law Firm CRM with your business, it documents all the customer communication touchpoints in separately organized records in the system. So that when you inside the contact or matter record, on the timeline page you can see a detailed view of the stage history.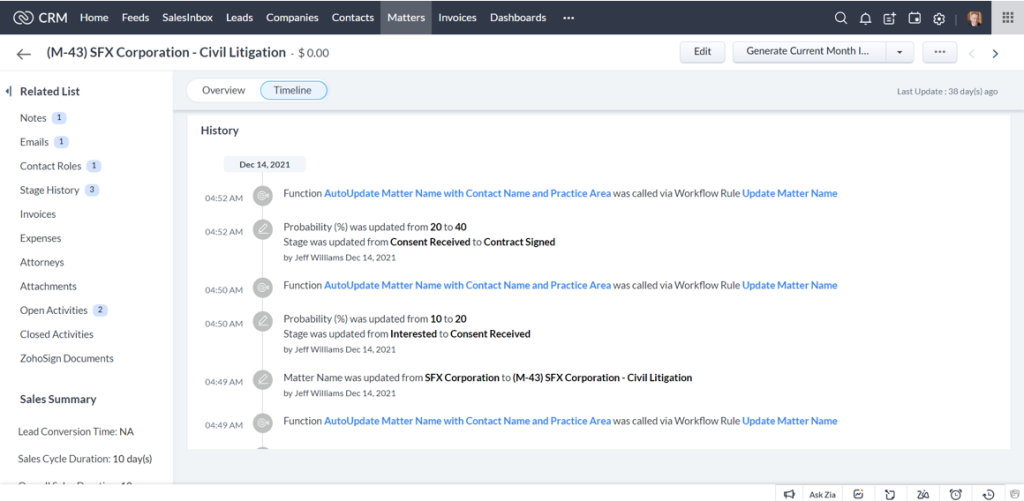 Another important feature that massively helps you at this point is the ready-made sales pipeline. It shows you the current stage of a particular customer in the funnel and automatically updates it after the previous stage's completion.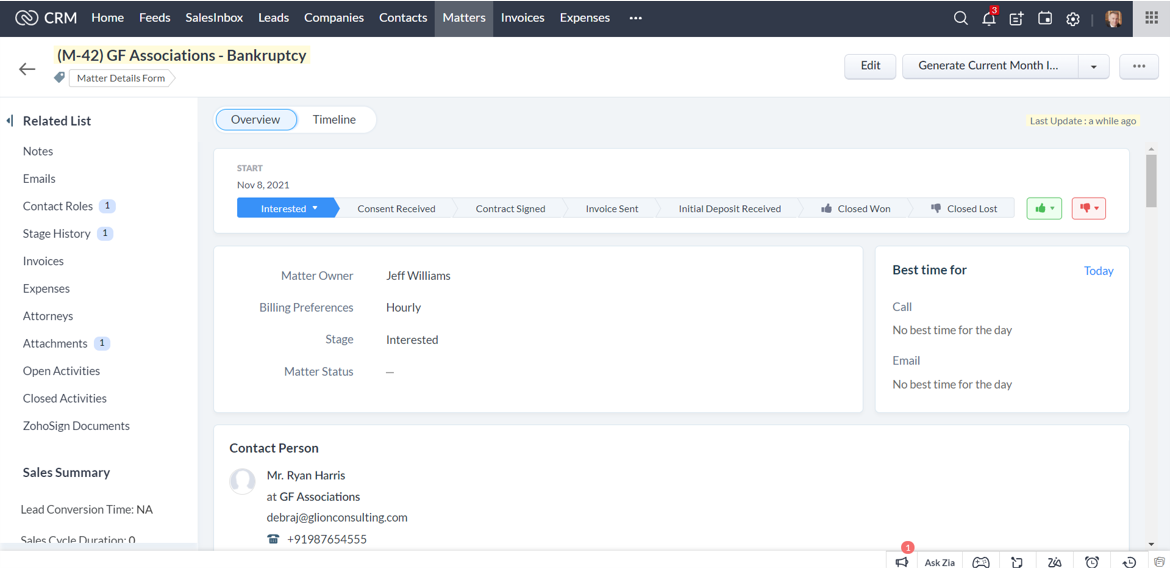 Prepare A Robust Solution With Extended Applications
To extend this customer-focused a tad bit further you can integrate your CRM system with powerful apps like Zoho Survey, Zoho Social, and Zoho Campaigns. I'll sketch a rough idea for you.
#Step 1- Customers today crave personalization in whatever they purchase. So with Zoho Survey which comes with 25+ types of questionnaire templates, you can create surveys in quick minutes and get an in-depth understanding of your audience's pain points.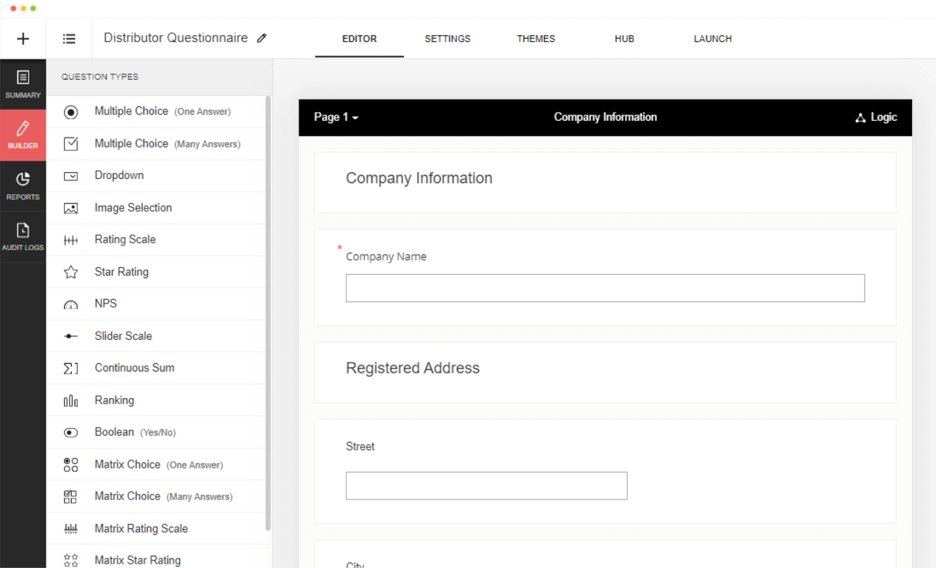 #Step 2- Now when you finally get a considerable number of responses, you can narrow down the most common question asked by them. 
#Step 3- Once you get the questions, you can write educational blogs or informative videos, or social posts and spread them throughout social media platforms using Zoho Social. Integrating this particular app will never fail you to be consistent. While posting your content only once in a while won't help you get there. Here consistency is the key. It helps you raise brand awareness and gain your audiences' trust and thereby, elevating your firm credibility.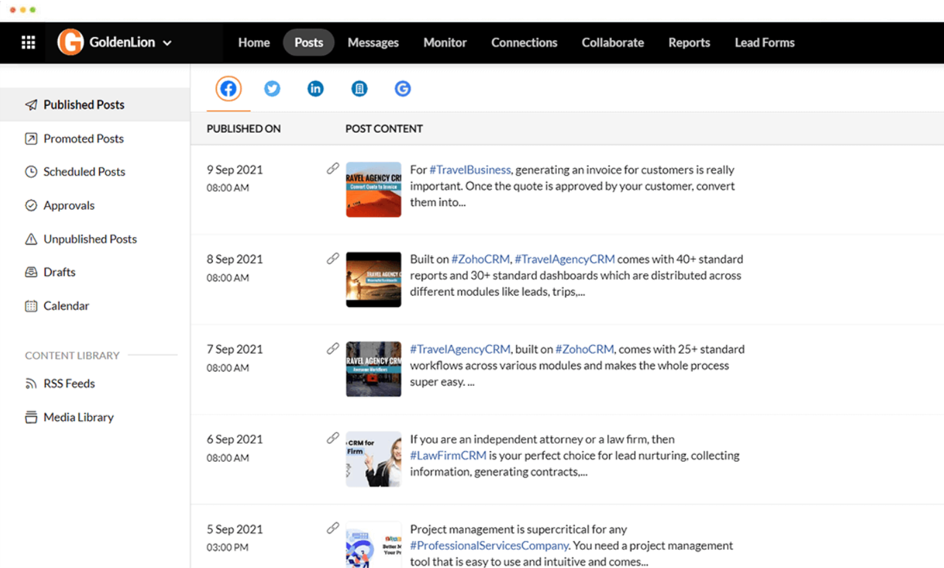 #Step 4- Engaging your audience with your content is an inbound marketing strategy. It helps you attract newer prospects and interact with them post-sales. For this, you can use Zoho Campaigns. It is an email marketing software design that helps you create and customize responsive messages with a personalized theme and trigger automated workflows for drip campaigns etc. It helps you timely reach your audience and grow your customer base.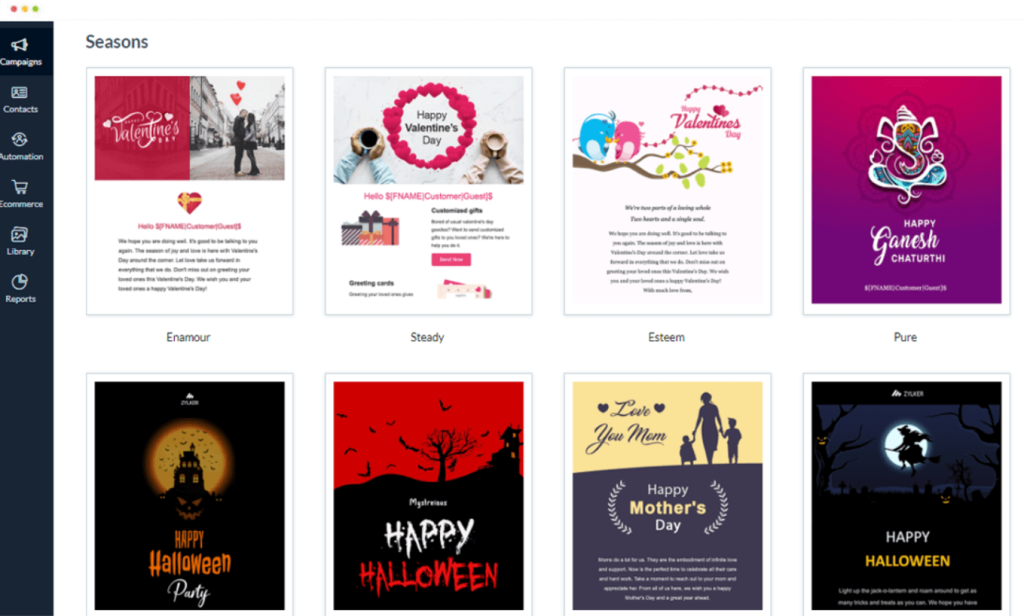 Billing And Invoicing 
As you start scaling your business, challenges related to billing and invoicing expand the belt. However, everything becomes organized and documented when you manage your data with Law Firm CRM. When you have all your matters streamlined and updated, you can click on the 'Generate Current Month Invoice' button for a particular matter. Our CRM software comes with an invoice where all the information including your client's name, the date, the matter name, the amount, etc are pre-flown. You can download it in PDF format and send it out to your clients via email.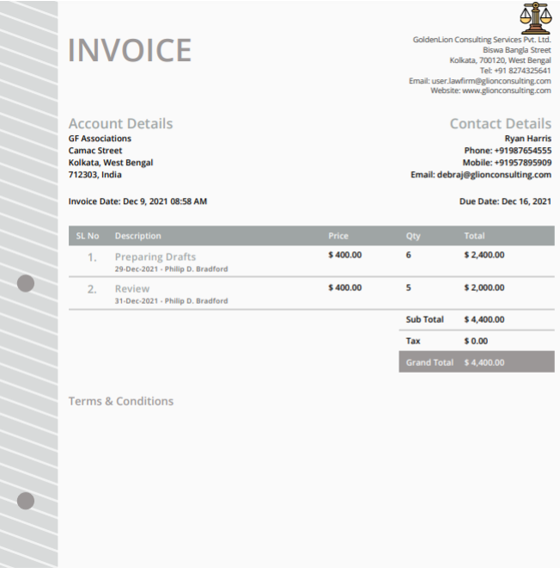 Business Intelligence 
Part of a business's success depends on its ROI rates. Law Firm CRM not only comes with a home page for critical dashboards but also several groups of standard reports and dashboards for your easy scrutinization. These are more detailed in structure and are updated with real-time information. For instance, let's say you have a dashboard on display and you need more information about it. Now if you click on it, the solution directly takes you to the related report.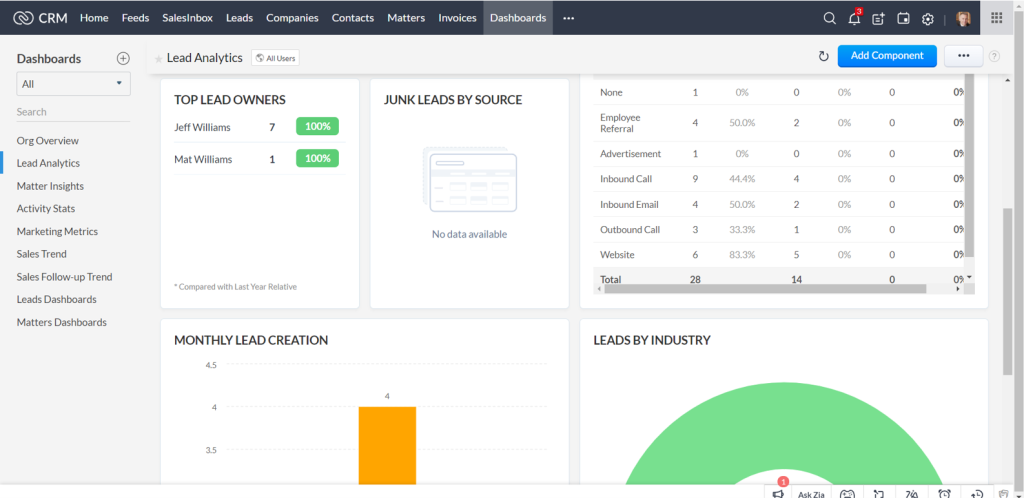 Bottom line, 
Law Firm CRM is the one-stop solution for modern-day lawyers. With its easy-to-use interface, tons of powerful features, and effective automation, this CRM helps you take your business to the top. Plus, since it is a cloud-based solution, you can access the CRM software from anywhere and everywhere, and at any time. What more do you need? More information about it? We got you. Reach out to us for a free 90-minute no-obligation consultation here!