Training Provider CRM Helps You Enhance Your Sales And Marketing Strategies: Learn How
Jul 1, 2022
When we think of transformation in the last couple of years, the foremost thing that comes to mind is how the world has become entirely digital. Everybody carries a smartphone in their pocket. And why not? We are at the brink of the whole world with our fingertips, so it's worth it. It is part of our day-to-day lives, culture, and business processes. Of course, marketing and sales are two of the most integral part of running a business– a universal fact. But their approach has been shaping up differently. Good news for trainers, we have come up with Training Provider CRM, the ultimate solution that unburdens you from all problems.
Well, the competition seems only to increase with the day. While mighty trainers are already too caught up in the haste of running their business as well as a wide range of courses, they cannot overlook the sales and marketing strategies that help them in acquiring new customers.
This blog is all about how our solution helps you enhance your marketing and sales strategy effectively to gain more business. So let's cut to the chase, shall we?
Market Your Brand And Capture Numerous Leads
A business can run smoothly only when you steadily balance between retaining existing customers and acquiring new ones. And marketing plays a huge role for both parties. Of course, there are several mediums of marketing and lead generation like newspaper advertisements, business cards, and so on. But websites act as the primary source. For starters, you need to craftily design your website landing page. You can use a decipherable friendly tonality to make your target audience feel comfortable enough to reach out to you. You can offer different courses, showcase your learners' success stories, talk about your future goals, and so on. A well-planned website helps you increase traction and generate an ample number of leads.
Now that is not the only goal, is it? With our CRM for trainers, you can embed a contact/ webform so that whenever a lead gets interested in your courses, he/ she can fill in the form. And when they do submit, our solution readily captures their details and stores the same in a separate lead entry.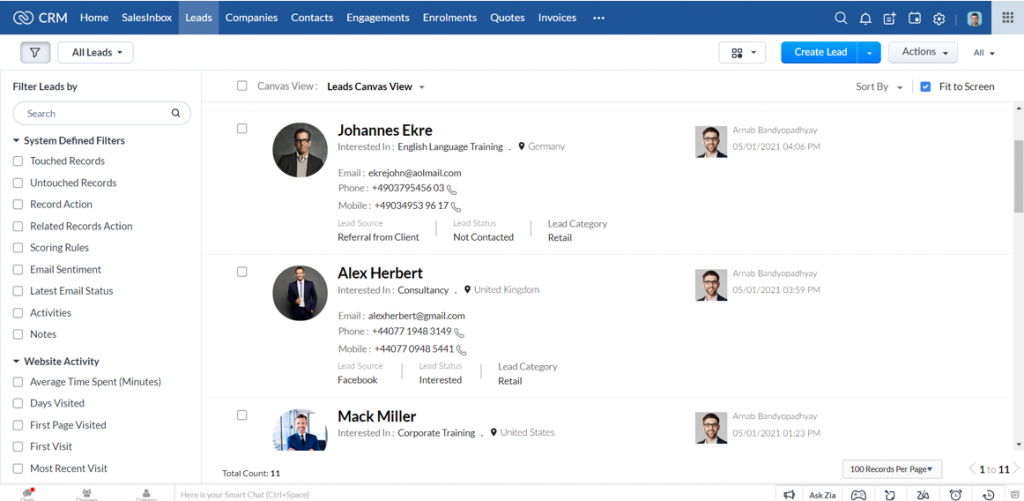 Even platforms like Facebook, Instagram, and LinkedIn are important names when it comes to social media marketing for trainers. You can share the latest courses that you might be offering, post about how you can broaden their learning spectrum, or invite them to online webinars for free. However, you must embed your website link to your profile for capturing maximum leads. Stressed about how to make your posts aesthetic and informative enough to attract your audience? Use DocHipo– a design software solution that comes with a versatile range of customizable templates befitting your marketing strategies.

Automated Sales Alerts With Training Provider CRM
Just like time, our potential customers are fleeting. We can lose them in a matter of minutes as they are swamped with options from different brands that offer similar services as you do. The good news is that our CRM for trainers sends automated sales alerts to the respective members of your team so that one of them can persuade your prospects for further conversion. Other than this, even as a leader, you can schedule several follow-up meetings or calls to assist your clients and distribute these tasks amongst your teammates. All you need is a single-click mention for them to get instant notification about their upcoming tasks. You can also mark deadlines on your CRM calendars or set reminders so that they are alerted beforehand. This way you can build a strategic sales interaction plan without even mentoring your teammates individually.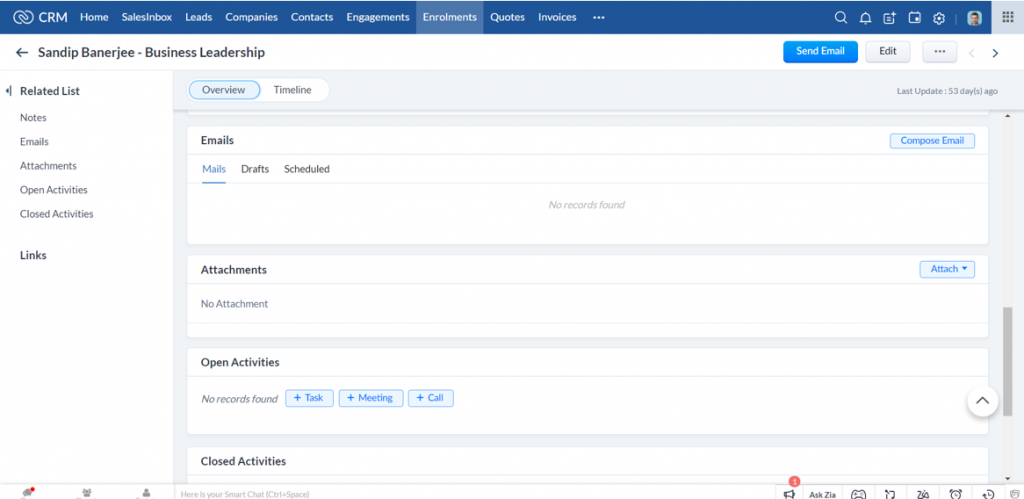 Leverage Your Lead Rating Models
It's a no-brainer that not all inquiries that you capture will eventually turn out to be your customers. So of course, you need to work smart and shift your focus on the prospects who are comparatively more promising. Training Provider CRM documents every piece of information about your customers, remember? So based on the information gathered from the previous follow-up tasks, you can delineate your prospect's profile to some extent and categorize him/her with the BANT (Budget, Authority, Need, and Timeline) parameters.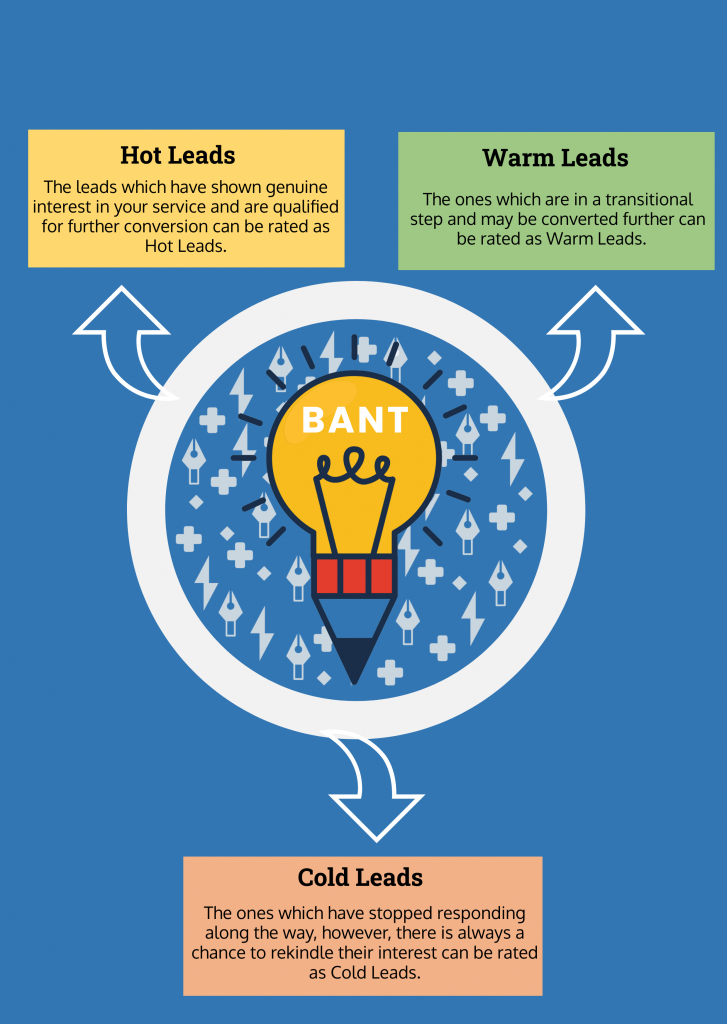 Get A 360-Degree Holistic View Of Your Customers
When you're finally done with the filtering process you can move on to the next step which is conversion. Training Provider CRM instantly creates three different records namely, contact, company (only applicable for B2B opportunities), and engagements. Each of these records is module-oriented, therefore, you get a 360-degree single view of your customers in just a single click. So for example, if you get inside an engagement record, you can see all the engagement-oriented details, including the sales pipeline, payments details, and so forth. On the other hand, the contact and company record options are located in the related list so that you can switch from one record to another in a second.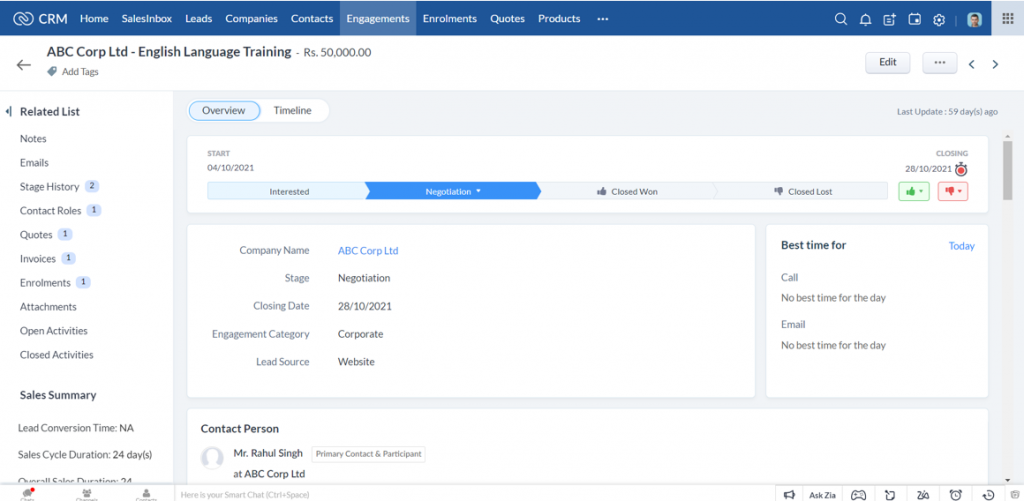 More Personalization For More Business
As a business person, your main goal is to make your customers satisfied with your courses and repeat business with them for an uninterrupted cash flow. However, with this ever-increasing competitive landscape, you need to look for ways to personalize your services and stand apart from the crowd. Training Provider CRM makes it a lot easier for you. Suppose, you have a B2B opportunity where your corporate client requires your training services for five of their employees. With our solution, you can seamlessly record them as separate enrolments under the same engagement. Hence, if you get inside the engagement record for that particular client, you can check the number of enrolments, and the selected courses for each (which can be varied as well).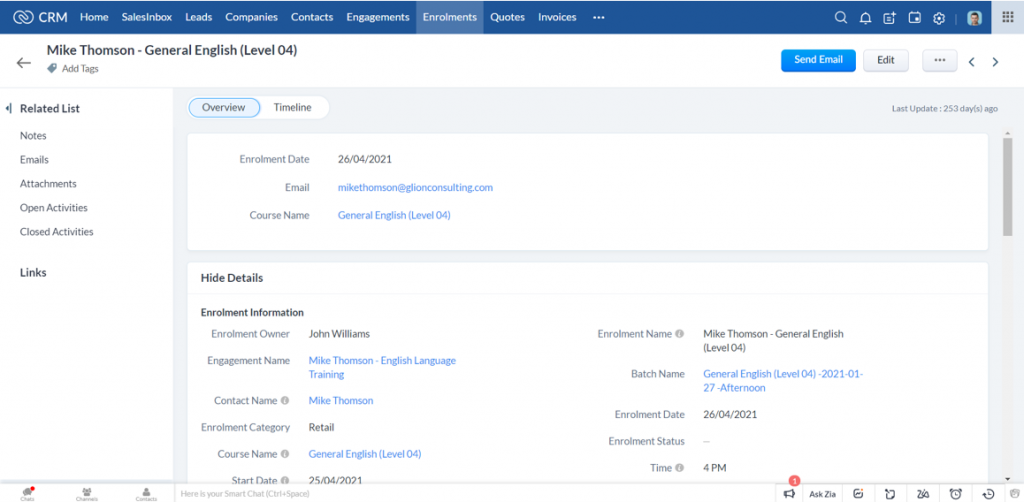 Again, if you have an enrolment who has opted for two courses that co-incidentally clash at the same session time, you can easily create a batch to provide a personalized experience. You can determine the class timings, the total capacity of students, and record the number of enrolments for a particular batch. Our solution automatically calculates the number of occupied seats to help you avoid risks.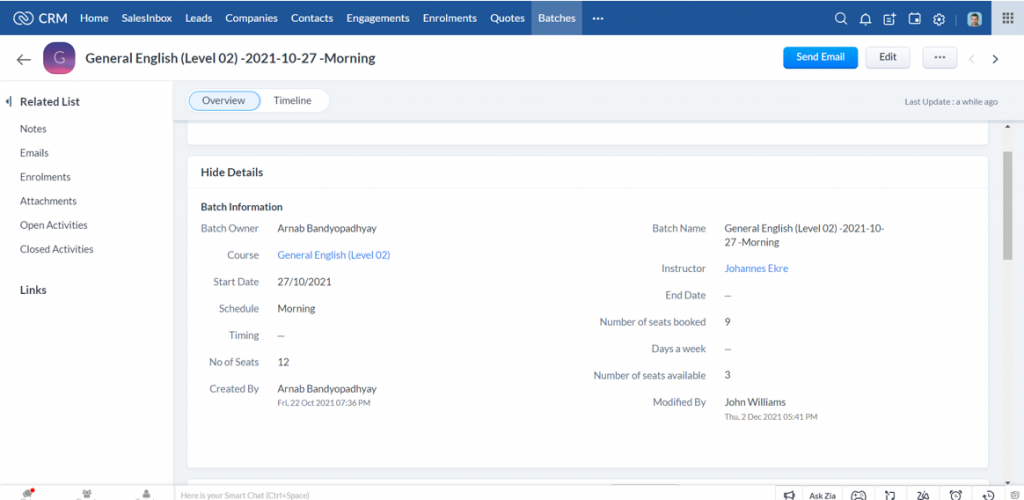 Sell Smarter With Email Marketing
Customers are the key to our success, right? So we need to keep in constant communication with them both in the pre-sales and post-sales stages. Our good old email marketing strategy sounds about right for this purpose. A quality CRM software like ours exceptionally helps you in this regard. As it houses every nook and corner of your customers' profiles, you can easily narrow down which clients could be interested in what course. For instance, if a learner has opted for a course, say 'English Learning Level 1', you can offer them the advanced course for future sales. Consequently, you can trigger personalized emails for them, and get them to sign up for weekly newsletters or auto-responders to strengthen your relationships.
You can easily comprehend whether your campaigns are working for you as our CRM records your customer engagement. This includes the number of likes, shares your email campaigns received, and the number of click-and-view rates.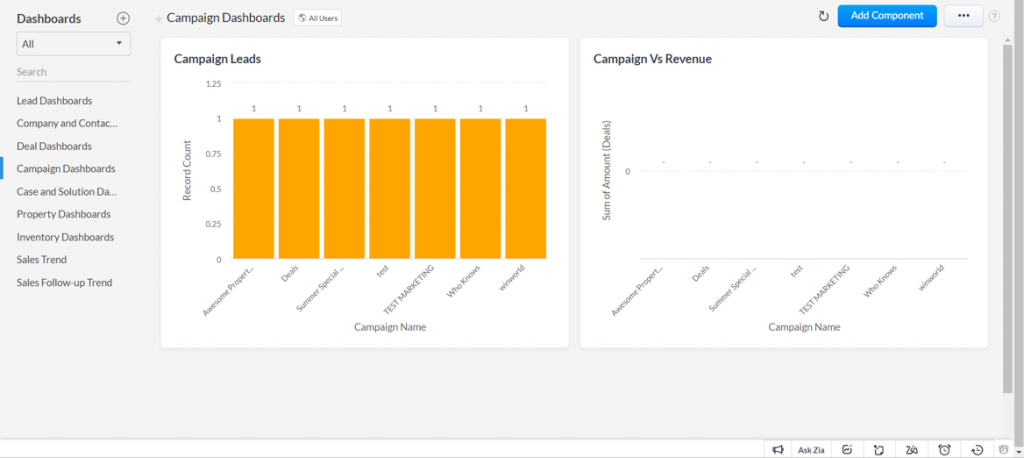 Be More Productive With Our CRM For Trainers
The best thing about implementing Training Provider CRM for your business is the seamless integration with third-party applications. You can get different intuitive apps on board including Google contacts or calendar, Microsoft apps, and of course, there are Zoho apps to your rescue. For example, Zoho SalesIQ is one of the best ones. It acts as a virtual agent with an omnichannel approach that helps you cater to your leads' inquiries 24*7. It also embeds the chat transcripts after creating a lead record for your future reference. Plus, you can easily track your website visitors, and the sites they have visited so that you can get a clear drift of what they are looking for.
Another effective strategy that helps you increase your productivity benchmark is the gamification scope. As a leader, you can conduct a healthy competitive environment in your workspace by introducing this game element. It gives your teammates a chance to increase their proficiency and productivity. Try it out!
Data Projections With Reports And Dashboards
Every CRM software solution comes along with comprehensive reports and dashboards, which is something you'd already expect. However, when you implement Training Provider CRM you always get filled in with real-time information about each aspect of your business represented by its reports and dashboards. You can use these data insights and analytics to understand the emerging marketing trends or track the overall business performance at a quick glance. Here is a standard report example-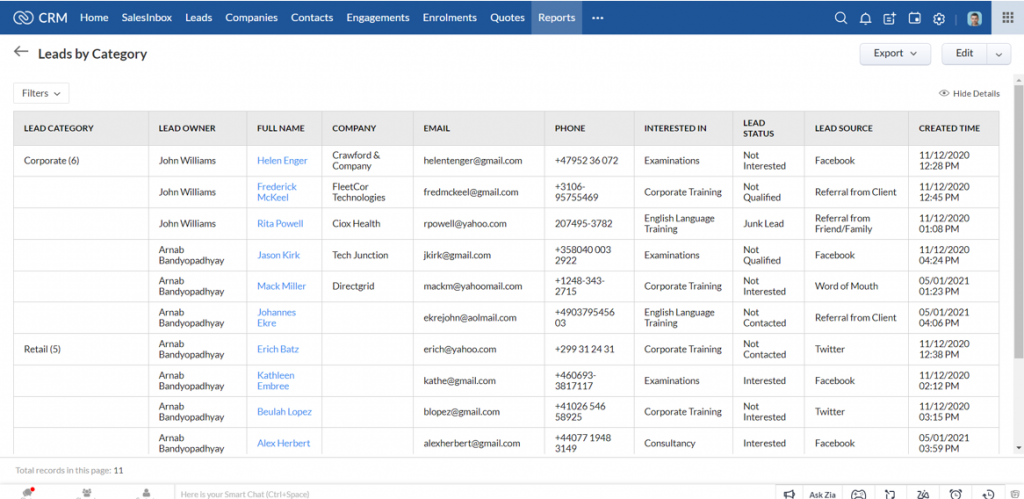 And here is a dashboard-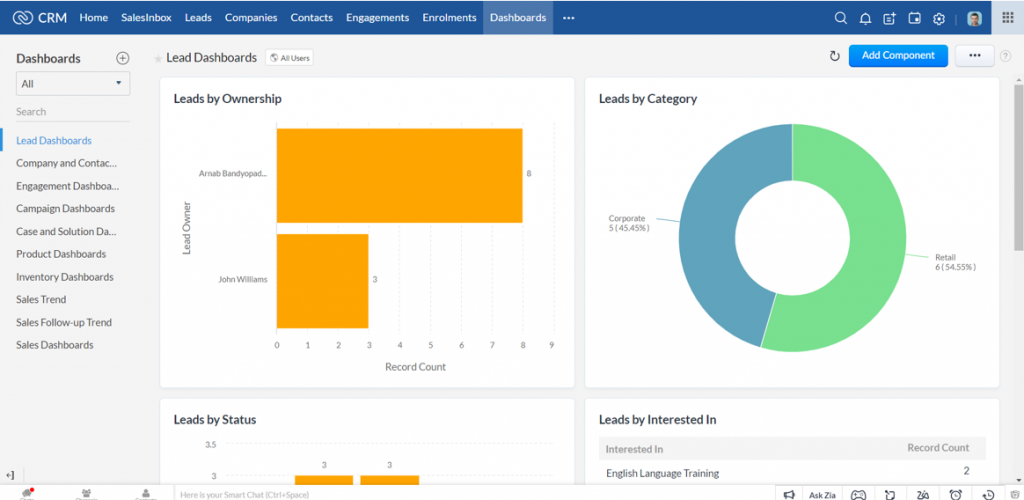 Bottomline,
Honestly speaking, Training Provider CRM is the all-in-one solution that modern-day trainers can find. With its easy-to-use interface and super-flexible features, our solution becomes real handy in enhancing your marketing and sales strategies to gain more business. We have helped 700+ businesses to grow so far, and we believe you'll take that leap of faith that yours could be the next one.
Watch this insightful video to understand how our solution works!
So what are you waiting for? Click on this link, grab your coffee, and get started today!