6 Features That Make Travel Agency CRM Your Next-Generation Sales Tool
Sep 29, 2022
It's quite an impossible thought to live without the internet today. Our digital dependence has gone wild. And when I think about its impact in the business world, regardless of industry, I remember how Marc Andreessen rightly said, "Software is eating the world." And sales is next on the list too. The travel industry doesn't make an exception.
The sales team, all over the world, has embraced digitization and made a massive shift to sales automation. But from the business perspective, when you think like a customer, you wouldn't want to discuss your need with a coin-operating machine. There has to be a human element present. A quality CRM is a product of technology– software that keeps a balance between the two. It is designed to build and strengthen solid relationships with your customers while boosting your sales.
Thinking about a next-generation sales tool for your travel business? Presenting you: Travel Agency CRM – a tailored CRM solution for the travel industry. Here are 6 effective features that I am vouching for. Let's get into the real deal, shall we?
#1. Minimize Response Time For Your Leads With Travel Agency CRM
Let's say that you have procured your leads from various marketing platforms. Travel Agency CRM will rightfully capture, document all of them in the lead module, and alert your sales team about the update. This automation feature helps you minimize your response time. You can create different follow-up activities, and schedule meetings, or calls to nurture your prospects. You can also distribute all these tasks to particular sales reps and build up an activity cue on the CRM calendar so that none of your opportunities are missed.
#2. Manage Your Fixed Departure Trips 
For fixed departure trips, unlike your FITs, the tour plan entirely depends on you. This includes the start-to-end dates, the destination, and accommodation capacity (PAX and rooms) with an approximate trip cost– everything in short. Remember, you can create your fixed departure itineraries as parent fixed departures, and market them several times throughout the year with specific start and end dates. For example, let's say you have a fixed departure trip to Indonesia and you're offering it for summer, fall, or Christmas. Following this information, your prospects can opt for a particular trip as per their preference.
Now, when you feature your fixed departures on your website and your leads start pouring in, Travel Agency CRM auto-calculates the total reserved seats, and balanced capacity, and updates the confirmed guest number and percentage. It documents the current number of leads you have, how many of them got converted into trips, and the number of vendor reservations you are making for them. The best catch here is that, unlike a FIT where you need to make separate reservations to suit each individual's needs, you are making your reservation for that particular fixed departure, as a whole!
#3. Ready-Made Sales Pipeline At Your Disposal 
The sales cycle or pipeline is, of course, the most important part of a next-generation sales tool. Travel Agency CRM comes along with a ready-made sales pipeline that covers all the possible sales stages that you can require. You can, of course, add more stages if you need. When you convert a lead into a contact and trip opportunity, their information is pre-flown in the respective module records.
Now when you get inside the trip details of a particular customer, the CRM displays the sales pipeline and your customer's current stage in it. Yes, you read that right, our solution automatically updates the pipeline after the previous stage completion. So you see, there's neither chance of overlapping a step, nor do you have to wonder what your next step will be!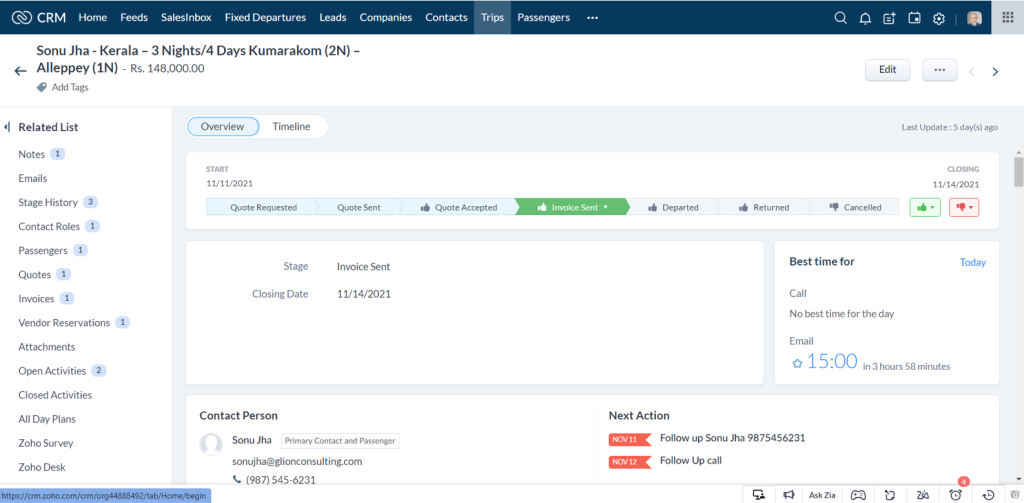 #4. Generate Quotes, Invoices, Vendor Reservations, And Vouchers In Seconds 
Trust me, while I'm writing this for you, I'm finding it difficult to point out the best feature of Travel Agency CRM. Each feature is smart, unique, and beneficial in its own way. For instance, the ready-made templates that you get. Say, a potential customer has requested you for the approximate cost with your planned itinerary for a specific trip. So you can merge all your documented information from the CRM and generate a quotation in less than sixty seconds.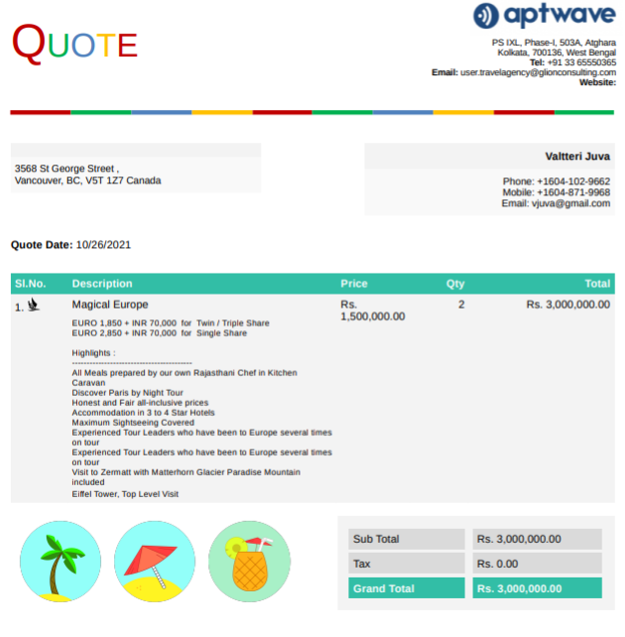 Again, when you finally receive consent from your customer's end, you can convert the same quote into an invoice. Our effective Travel CRM automatically populates the quotation information and presents it as an invoice, which you can share directly with your customers via email.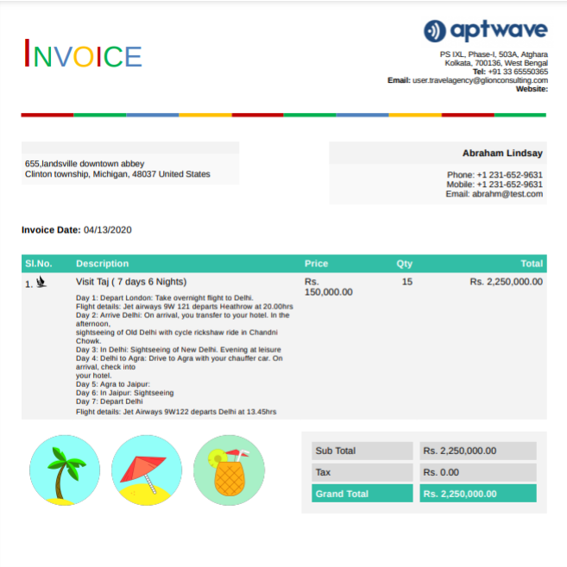 When you start receiving some deposits from your clients, you can finally shift your focus to vendor reservations. As a tour operator, you must have partnerships with several vendors. As per your travelers' preferences, you can select your best-fit vendors for the job and send them reservation requests. Don't worry, you have pre-defined templates for this case as well. Merge and share in a couple of clicks!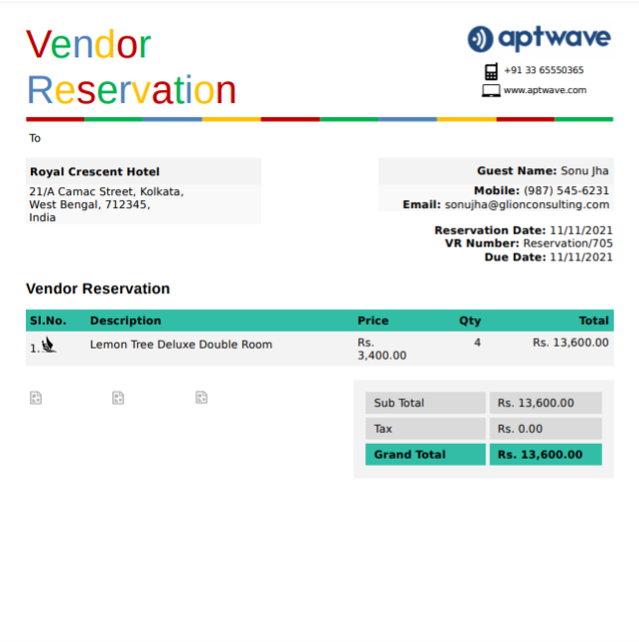 Now that you have requested reservations, you know your job is about to get done when you receive their approval. Accordingly, you can generate vouchers for your customers to avail of their paid services. You can send all these quotes, invoices, reservations, and vouchers in PDF format to your customers directly from the CRM itself. Simple, quick, and without hassles!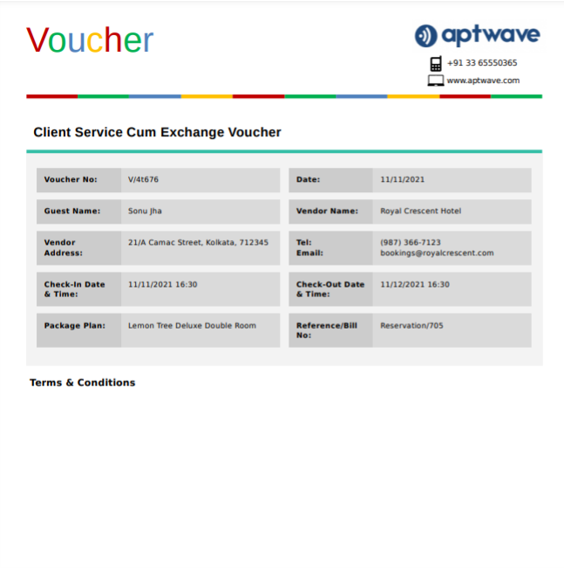 #5. Put Business Analytics To Your Advantage With Travel Agency CRM
Technology is getting more advanced and the purchasing habits of customers are evolving by the day. So you need to leverage your business intelligence to achieve sales excellence. As there are different aspects involved in a business, you must have granular data to discern your KPIs.
This is where the real-time updated reports and dashboards benefit you the most. Travel Agency CRM comes bundled with 30+ standard reports and 40+ standard dashboards which help you track and assess your business health. You can categorize your dashboards and add particular ones on your homepage or embed specific URLs to other domains so that you can give them your discreet attention. Not only that, but you can also click on a specific dashboard to switch over to the related report for a more detailed status description. Similarly, the reports are distributed into different folders. Plus, you can create and add reports and dashboards easily with the help of CRM data to define a full-fledged solution.
#6. Endless Integration Possibilities With Travel Agency CRM
Saved the best feature for the last. Travel Agency CRM is super compatible with third-party integrations. You can integrate this sales tool with third-party apps like Google, Microsoft office outlook, social channels, and so on, or other Zoho applications (Zoho is quite a powerhouse of useful apps). You can also download this application as a mobile app on Android or iOS. You can make use of application programming interfaces to connect and advance your sales tool with any other application. On the Set-Up page, there's a whole section dedicated to a bunch of extensions and APIs. From here, you can see the Zoho suite of integrations that are already available. Why do you need integrations under one roof? I'll give you examples!
Let's say you want to speed up your lead generation rates. You can Zoho SalesIQ, a virtual assistant that greets and serves your prospects with your canned responses to general questions. It rightly senses a website visitor, his/ her previously browsed history, and their possible requirements to proactively strike up a conversation at the right on your behalf. Don't worry, once you have integrated this tool with the CRM, it automatically gets captured for further conversation.
You can also integrate Zoho Survey to earn winsome testimonials to upsell your tours.
See in this fast-moving world your prospects might be unconsciously looking for something they can relate to. So you can leverage your testimonials as social proof and build credibility for your travel brand. 
Bottomline,
Travel Agency CRM is genuinely the one solution that you can implement to keep your business running smoothly. Winging all these features, you can define your next-generation sales model, do better than your targeted ROIs and maintain long-lasting beneficial relationships with your customers.
Watch this video to visualize the entire process even better.
Get into action to achieve your dream. Click on this link to get started!