Work Smarter With Automation Benefits Of Travel Agency CRM
May 17, 2022
Why do people come flocking to a travel agency? They want to have a respite from the mundane sonorous life for a few days of travel. And as experts in the tourism world, you offer them the best service possible with exceptional customer experience. But as your business starts growing in number, it becomes fairly difficult for you to manage and monitor with rigid attention. But what if we told you that you can at least get rid of mundane tasks? The automation benefits of Travel Agency CRM are surely what you need for alleviating your burden of repetitive tasks.
Why is automation so important for modern-day business?
Automation is a process that helps your sales and marketing team reduce their day-to-day activities. It helps you and your team shift your uninterrupted focus on winning opportunities rather than consuming the time for redundant tasks. For example, inserting contact information, updating them, data entry, calendar, notification management, and lead and trip updates.
In this article, we will walk you through the different automation benefits that you get with our Travel Agency CRM.
Easy Capturing Of Leads Via Website
Leads are the cash crops on which a business partially stands. To make your business flourish, you need to generate an ample number of leads first. Being tour operators you must have several channels like website landing pages, social media platforms, referrals, inbound calls, and so forth. You can articulate the USP of your travel agency, and showcase the varied trips that you offer or testimonials on your website or social media. But all these tactics might go in vain if you don't capture them. Travel Agency CRM can automatically capture innumerable leads simultaneously.
For instance, if a person browses through your website and inquires about a particular trip, they can fill out the pre-embedded contact/web form. As soon as they submit their details, our CRM instantly captures and documents them in a separate new lead record. So that you can easily evaluate their merits for further conversion.
Procure Your Leads Via Social Media
Again social media is an extremely important marketing strategy for the travel industry. It is where most of the millennials are housed so that you can reach out to a large audience. You can post all that you want. But you always need to embed your website link to help your potential customers connect directly with you.
And Zoho SalesIQ
Travel Agency CRM comes with an omnipresent channel for capturing leads. Zoho SalesIQ greets and responds to inquiries made by your leads. It even collects the chat transcripts and embeds the same in the lead record. So that you can easily go through them and communicate further.
Set Automated Alerts For Nurturing Your Prospects
Every leads need proper assistance before they turn into your customers. And we sure know that managing a travel business is tougher than one can imagine. So you need to delegate your workload amongst your teammates to maintain an interaction flow. When you are equipped with Travel Agency CRM, it readily notifies your respective team member about the newly captured lead so that they can take it ahead. Even as the leader, you can initiate different follow-up activities, schedule meetings or calls, and assign them to your team members. And you only need to mention them in a click so that they get instant notifications about their upcoming action. For timely alerts, you can also synchronize your calendar or set reminders or pop-up notifications as well.
Profile Your Customers With Zero Efforts
Once you are done with nurturing and merit evaluation process, you can move ahead and convert your lead. Travel Agency CRM has advanced automation powers. For automated customer profiling, you only need to click on the 'convert' button and our CRM creates three different records namely contact, company (for B2B opportunities), and trip. These records hold your customers' information in a perspective-specific manner. So if you check the contact details for a particular customer, you can see all the contact-oriented information. Based on the previous tasks, our CRM even detects the best time for communication which is only visible in the contact record.
Likewise, when you get inside a company or trip record for a customer you can see all the record-specific details. However, each of these records is typically segmented into business-card sections, detailed information sections, and related lists.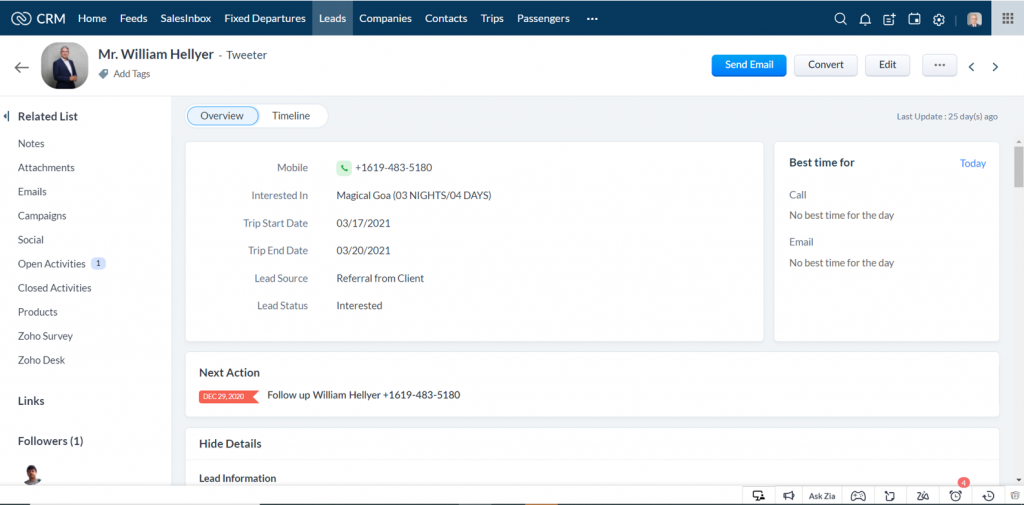 Document Your Passengers
With Travel Agency CRM, you can seamlessly document your passengers and categorize them as primary contact and passenger. If you get inside a particular contact record, you can scroll down to the trip that is located in the related list. Now when you click on the trip, you can see all the details including the passengers who are traveling. The automation powers of our CRM automatically pull out the contact information and create a passenger. This means that every time a particular contact opts for a trip, you can simply tag them against that trip as a passenger. You don't need to create a separate passenger account for that contact. To make it even clearer, you can global-edit the contact information to manage or determine the passenger roles for your trips. Yes, it is that simple!
With our effective CRM solution, you can also update your clients' contact information automatically. Inside the contacts module, you can select one or multiple contacts for this purpose. All you need to do is click on the 'Run Macro' button and select to send out the contact details option. And the moment you share this form via email, your clients can fill in their updated details and submit the same so that your CRM instantly captures and renews the record if necessary.
Ready-Made Sales Pipeline
Every industry has its unique individual working pattern and sales process. With Travel Agency CRM you get a ready-made sales pipeline that covers all the steps in the purchase process that you can possibly require. So if you get inside a trip record of a particular customer, you can see the current status of the opportunity. Our CRM automation updates itself with real-time data and moves to the next stage after the previous one's completion. Therefore, you don't even have to wonder what your next step will be. Super cool, is it not?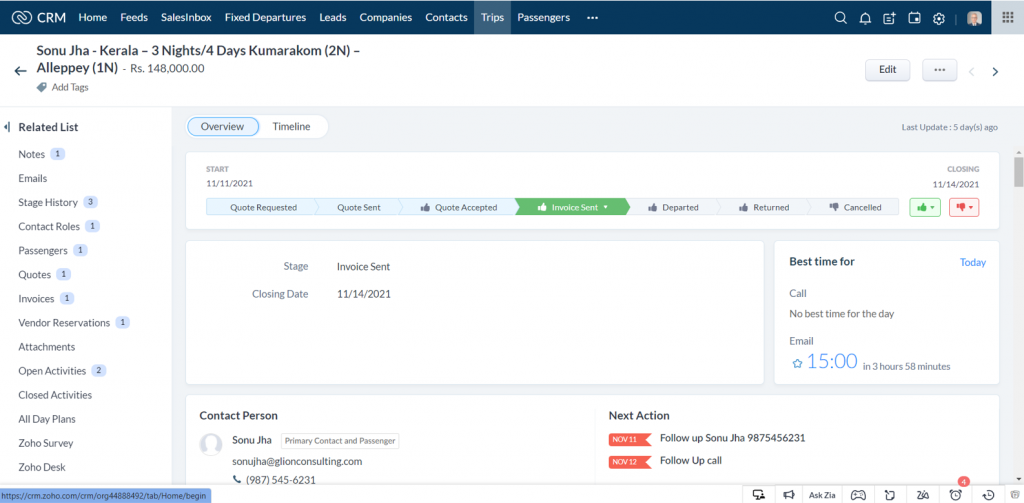 Create Stunning Documents In Minutes
When you're equipped with Travel Agency CRM, you get multiple stunning templates to your advantage. Our software comes with pre-designed templates that you can merge almost without any effort. Suppose, you need to create a quotation for offering a trip to a client, you can easily create one with all the necessary details filled in and saved. Later, when you select the relevant template (a Quote in this case), a beautiful document appears before you with all the details merged accordingly.
Once your quotation is approved by your customers, you can convert it into an invoice where all the previously entered details are automatically flown. In case of any alterations, you can go for inline or global edit to work it. Our template range also includes vendor reservations which you can create for reserving services from your vendors. And once your reservations are affirmed, you can create vouchers for your customers so that they can avail of the reserved services. All things said and done in a matter of minutes. Here's is an example–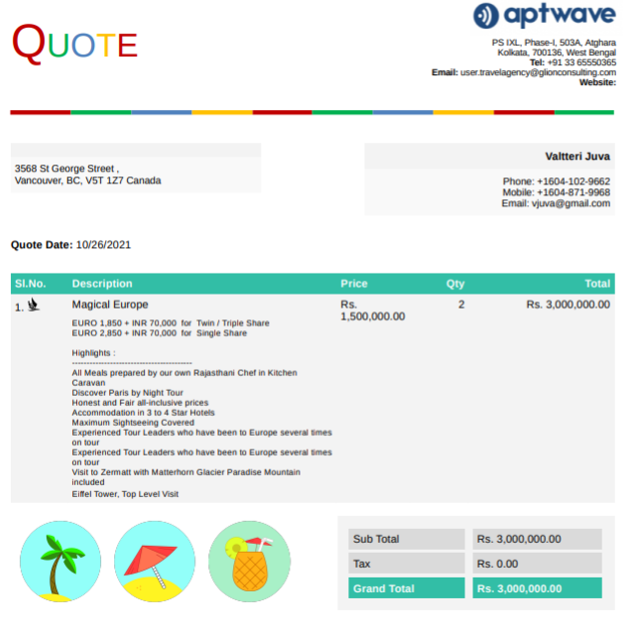 Automated Booking Forms For Fixed Departure Trips
Being tour operators, you must offer both FIT (Flexible Independent trips) and fixed departure trips side by side. For managing the latter, our Travel Agency CRM brings you a unique automation feature. When you offer your wide range of fixed departure trips, you can embed an automated booking form under each trip. This helps your customers browse through your services, get an overall idea and fill up their details if interested. In this case, the people who book a trip become the primary contact. They can also tag themselves as passengers or add multiple passengers as well. As soon as they submit their information, our CRM seamlessly captures the same and creates separate entries under contacts, trips, and passenger modules.
Key Takeaways: Reports and Dashboards
Undoubtedly, the best parts of using our Travel Agency CRM are the dynamic reports and dashboards. They help you easily comprehend and scrutinize the different aspects of your business. Whether it is about the number of leads that got generated, the performance of your marketing channels, team members, and so forth. These standard customizable modules reflect the full visibility of your business metrics and they always fill you in with real-time updates. Therefore, when you implement these analytics and insights rightly, you can introduce and improvise your strategies accordingly.
Summing Up,
The travel industry has always been a competitive one. So for building and sustaining a credible position for your brand, you need to work smarter. With the effective automation benefits of Travel Agency CRM, you can now shift your focus to delivering an incomparable experience to your travelers. We have helped 700+ businesses to grow their business so far, we believe your venture could be our next one!
Watch this factual video to understand the entire process even better.
Let's turn your wishful thinking into reality. Click on this information link to get started!