Workflow Automation Benefits With Training Provider CRM
Feb 24, 2022
As we see the pandemic almost approaching its fag end, the global marketplace is gearing up for 2022. It's an era of rebirth and recovering the previous losses, don't you think? As a result, the competition in every sector seems tougher than ever. People are always in search of expanding their learning curve. And they look forward to mighty trainers like you as their only solution. But managing all your clients single-handedly is next to impossible. If you want this to grow big, you need to streamline your business with workflow automation powers for stamping out tedious tasks. And what's more ideal than our Training Provider CRM for this purpose?
What Is Workflow Automation?
Most businesses fail to succeed according to their potential is because of the lack of an established workflow process. Every industry vertical maintains its work pattern. But when automation comes into the picture, you'll see a drastic change in terms of scaling your business at a relatively faster pace. It is a process of eliminating manual or repetitive tasks to improve accuracy and proficiency with no room for errors.
In this article, we will explore in depth how the automated powers of Training Provider CRM help you with your workflow and expand your business.
Capturing Leads Effortlessly
No leads mean no business. Leads are your potential cash crops, and thus capturing them seamlessly becomes extremely imperative. Now, being training providers, you must have several mediums of lead generation. The major ones might include your website landing pages, social media platforms, newspapers, referrals, and so on. But when it comes to capturing your leads, Training Provider CRM becomes real effective with its automation powers. Let's say, you have an inquirer on your website who's interested in your courses. You can embed a contact details form which they can submit after filling out the necessary details. The moment they do so, our CRM creates a new record under the lead module. It efficiently houses all the acquired information in the respective fields so that you can easily evaluate their merits for further conversion.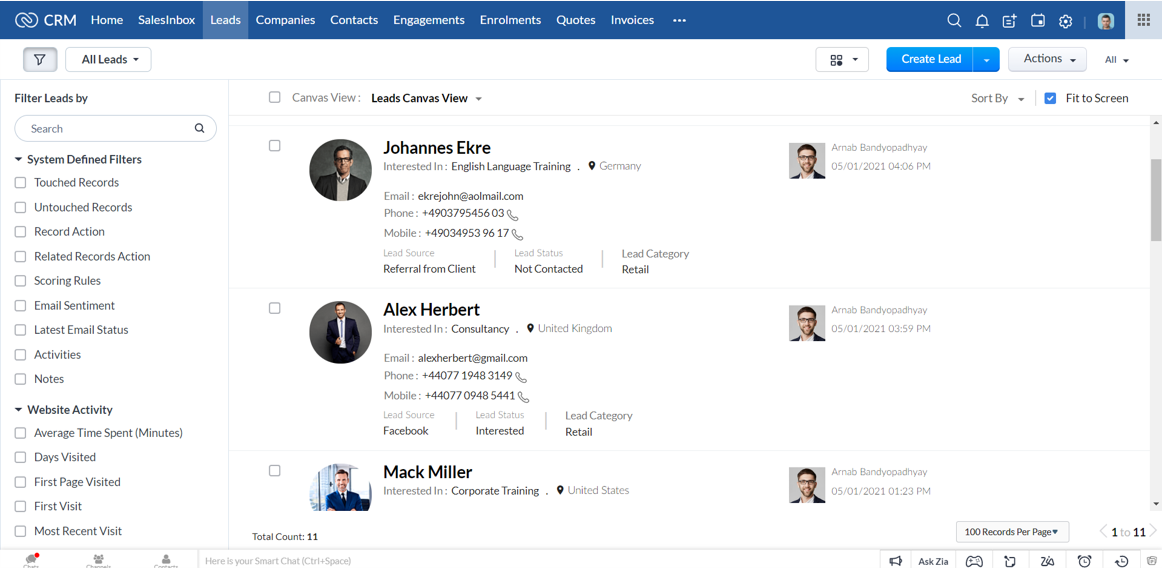 Automated Alerts To Your Sales Team
Capturing leads is not the finishing line for you. The very first step before the sales cycle begins is nurturing your prospects. Once you receive an inquiry, Training Provider CRM instantly notifies your respective team members so that one of them can take it forward. Other than this, as the head of your training company, you can create various follow-up activities, or schedule meetings or calls and distribute them amongst your team members. All you need is a one-click mention for them to get instant notifications. This way you can easily delegate your workload even without mentoring your sales reps individually.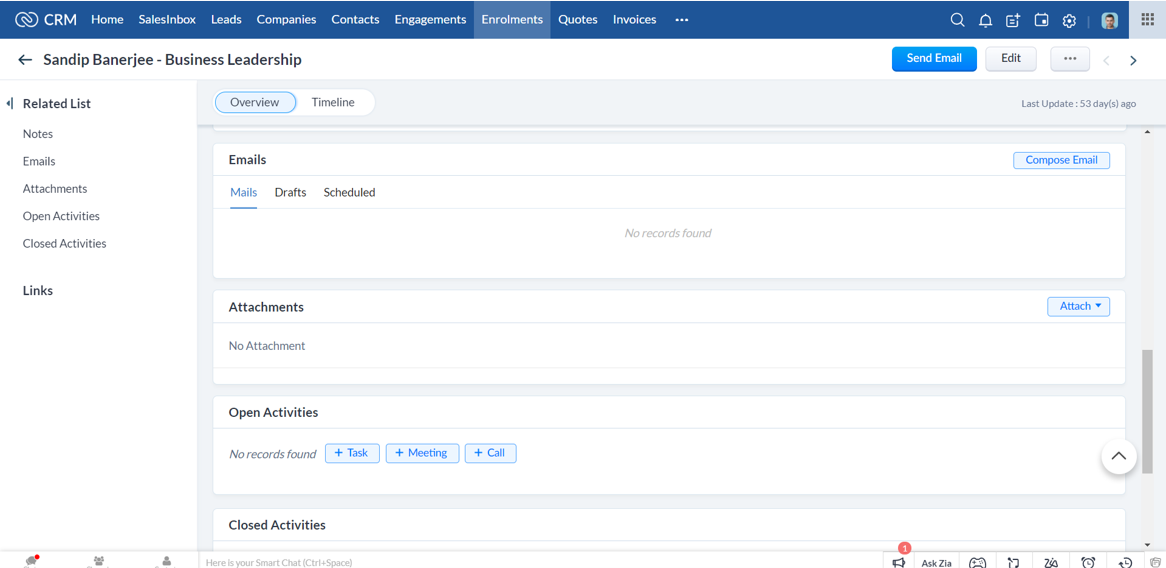 Automated Customer Profiling
When you're done with nurturing your leads, you can finally assess their potential and move towards further conversion. Once you convert the lead, Training Provider CRM automatically creates a contact, company (applicable for B2B opportunities only), and tags a deal or 'engagement'. It efficiently documents specific record-oriented details with a 360-degree vision for each of your clients. So for example, if you get inside a contact record, you can see only the contact-specific details. Thanks to your prior manual intervention (follow-up tasks), our CRM software effectively detects the most convenient time to communicate with your clients in the contact record.
Again, if you check the engagement record for your client, you can see your current stage in a ready-made sales pipeline and the other deal-specific details. The best part is, our CRM situates the other records tagged against a specific client in the related list so that you switch from one module to another in quick succession.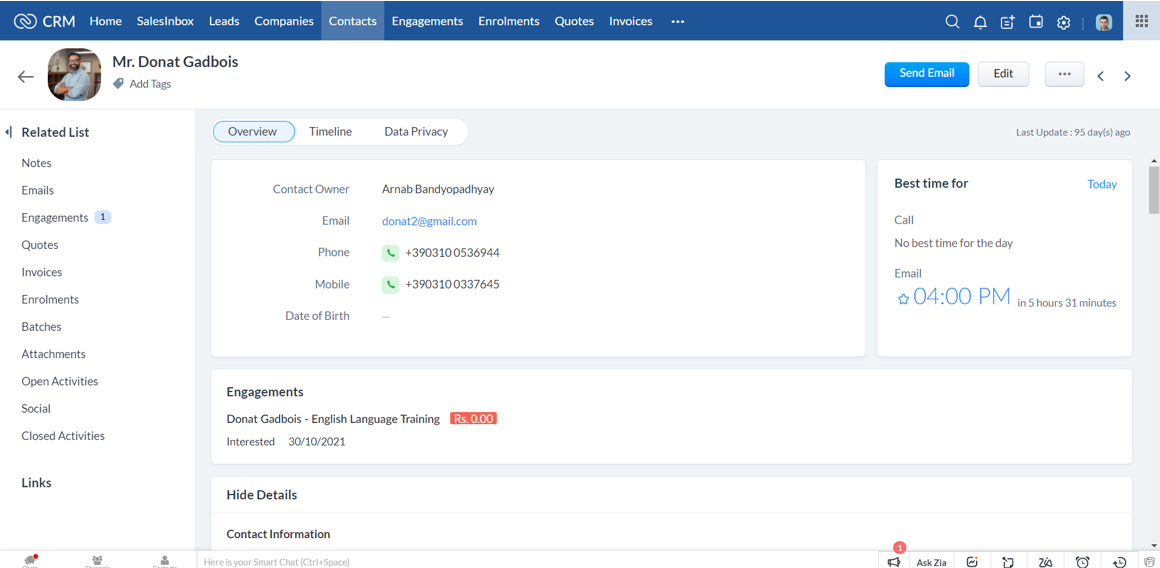 Sales Pipeline Management
Like every other quality CRM software, our Training Provider CRM comes with a ready-made sales pipeline. Being a trainer, you must have numerous engagements to deal with their individual series of enrolments. Therefore, monitoring pipelines for every client becomes humanely exhausting. To make your situation workable to a great extent, here we come with our automated sales pipeline. Yes, this effective solution auto-updates itself after the previous pipeline stage completion. And you don't even have to wonder how to move ahead as your CRM takes automatically takes you to the next level.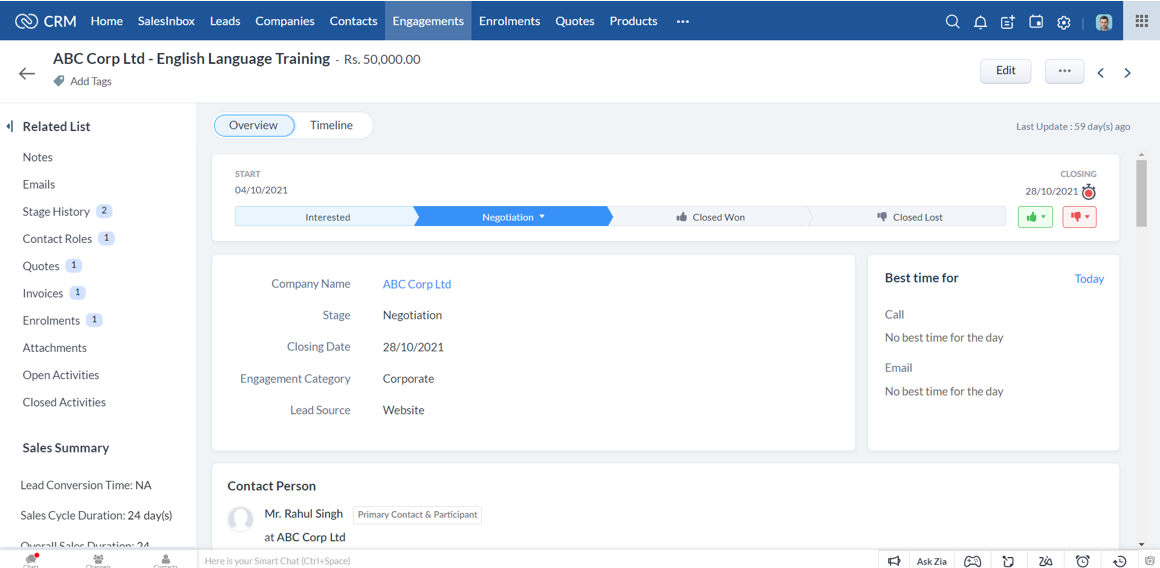 Automated Quote And Invoice Generation
The next step towards winning an opportunity is generating a quote. With Training Provider CRM, you can enlist your wide range of courses along with the determined fees, so that whenever you select a course while raising a quote, CRM automatically populates the amount. You can even add multiple courses for a particular engagement. And once you save it, you can easily merge it with a pre-defined template, export it in a PDF format and send it out to your clients.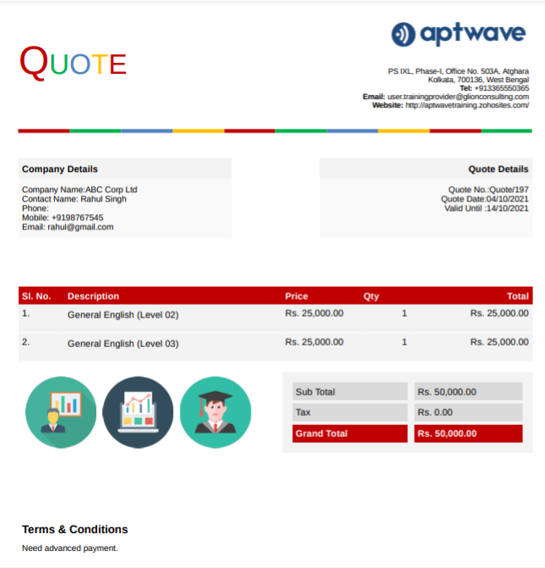 Again when your quote receives approval from your clients, it's time for you to convert it into an invoice. Just like you did the quote, you can generate a stunning invoice where the prior filled-out information is instantly flown.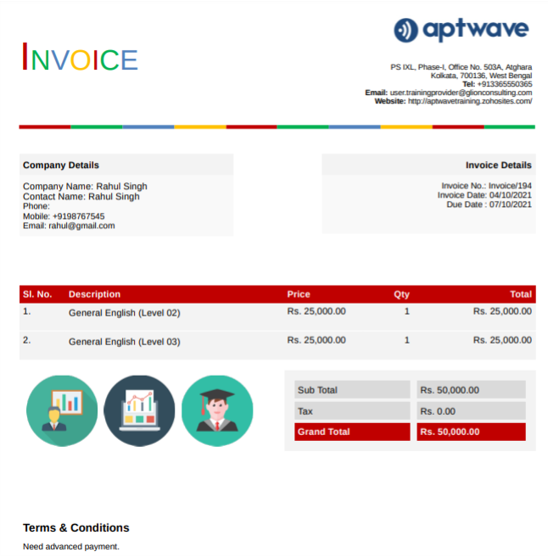 Record Your Payments
It is only obvious that you want to provide the best service to your clients. But at the same time, you have to keep up with your numbers. As you start scaling your business, keeping a track of your payments from your clients is extremely difficult. That is why Training Provider CRM does the deed on your behalf. When you start receiving deposits from your client's end, you can quickly fill out the amount and the date of the amount received. Our CRM instantly calculates the due balance and auto-populates the current status. It is all computerized so there remains no room for errors. Therefore, no more pondering over the same issue!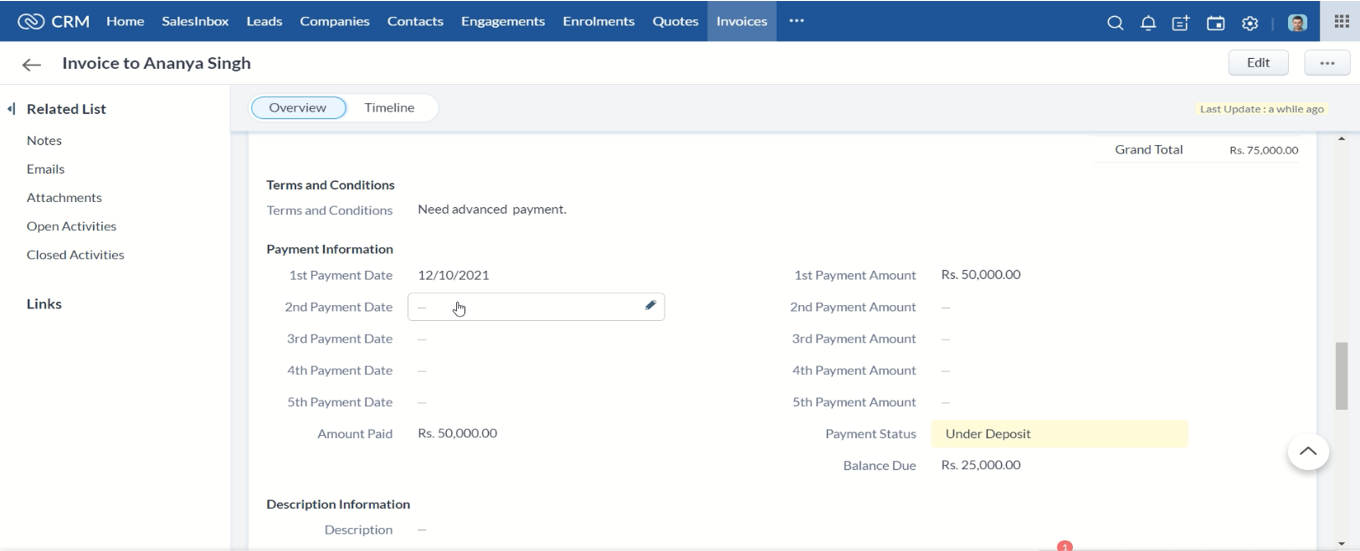 Certificate Generation
Let's say, one of your enrolments has completed a course, you need to validate him/ her with acknowledgment. When you sync your business with Training Provider CRM, you can easily generate multiple certificates with a click. You can update the status, populate the marks for your candidate and merge your certificates with Zoho Writer. It comes with a beautiful pre-defined customizable template. You can always put your e-signature with Zoho Sign and finish off your task all at once. You can leverage these certificates to encourage your students for course completion and share them right from the CRM itself. Let us show you an example.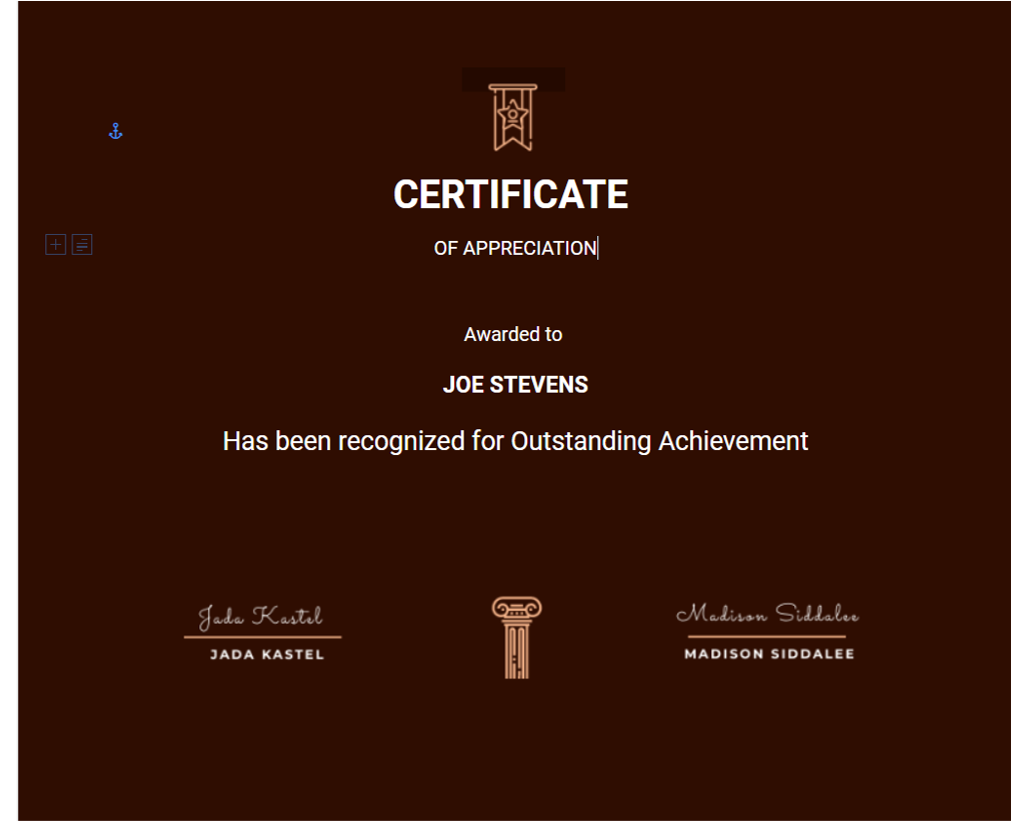 Automated Reports And Dashboards
We have saved the best functionalities for the last. Training Provider CRM comes complimentary with a series of comprehensive reports and dashboards. You can clearly ascertain which avenues of your business are working in your favor and which aren't. What's more, our effective CRM always fills you in with real-time insights. Therefore, with these dynamic modules, you can assess your daily growth to innovate and improvise your strategies for better scalability.
This is what a typical report looks like–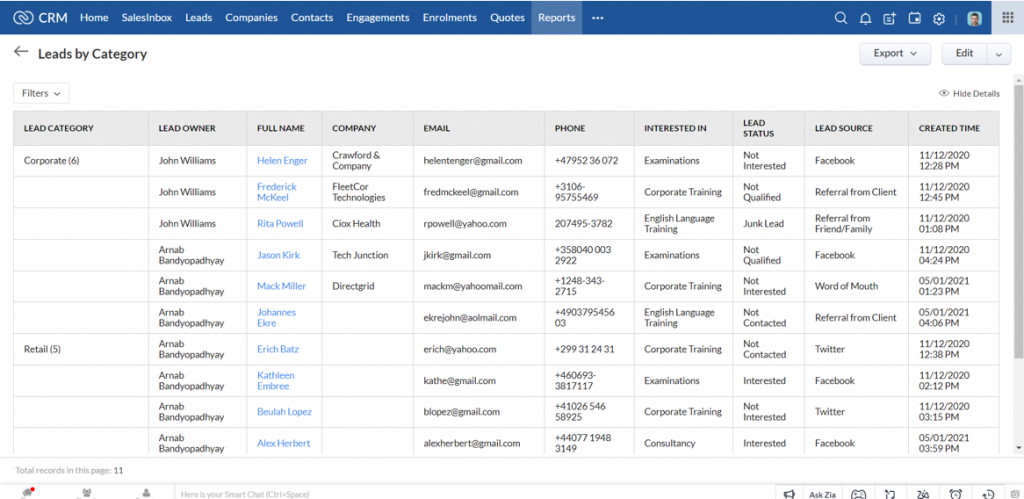 And here's an exemplary dashboard-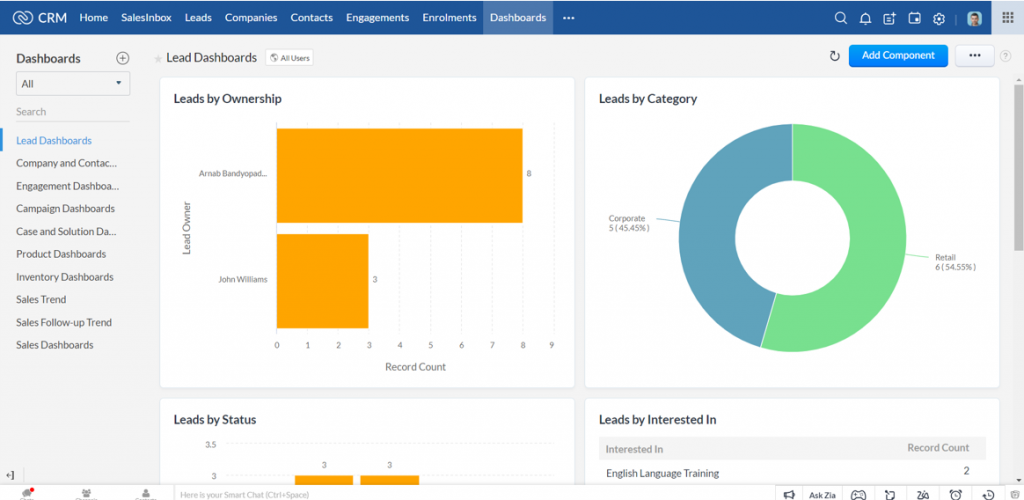 To wrap things up,
Scaling a business in such a competitive landscape seems tough but it's not impossible with the right workflow process and the right CRM software. From managing your engagements and enrolments to increasing customer retention rate, be sure that your work is already half-done once you're backed with the automation powers of our Training Provider CRM.
If you're still wondering how effectively our CRM solution works, then this factual video down below is just what you need.
Click on this link for more information. Now it's your turn!