What Are Leads, Contacts, Accounts, Deals In Zoho CRM?
Nov 9, 2023
CRM applications genuinely belong to the heart of businesses of every size. Especially when you get your hands on a high-quality software that is flexible enough to fit your unique business the smoothest. One that is as good as Zoho CRM.
Statistics show you can increase sales by 22% when using a CRM. 74% of users claim that CRM software has improved their access to their customers. Finances Online has recently reported that CRM can boost conversion rates by 300%. That is why 65% of businesses start using CRM systems within the first 5 years.
Today, I present the fundamentals of Zoho CRM – a comprehensive guide to understanding leads, contacts, accounts, and deals to leverage for exceeding your business potential.
Let's start from where it all begins.
Website Visitors
Website visitors are essentially those people who type out their required products/ services on a search engine (let's say, Google), and browse through your website landing page to check whether you can provide what they are looking for. At this point, they are not engaged with your business. But they can turn into a prospect who shares an interest in your products and fits your ideal buyer persona and, thereafter a paying customer.
What are Leads?
Leads are elementally the cash crops of your business. They constitute a broader audience who can be transformed into paying customers.
Business leads can be generated through outbound and inbound marketing. In outbound marketing, you can gain access to the most accurate and updated customer database and upload the same on a spreadsheet. Zoho CRM, then allows you to perform nurturing tasks, such as cold calling, email marketing, direct email, and so forth. In the case of outbound lead generation, it is you who proactively reaches out to your leads for business. On the other hand, there is inbound lead generation which entails your prospects coming to you. Here your marketing efforts are focused on attracting prospects with valuable content. Hence, as the service provider, you must be both proactive and reactive in terms of building connections with them.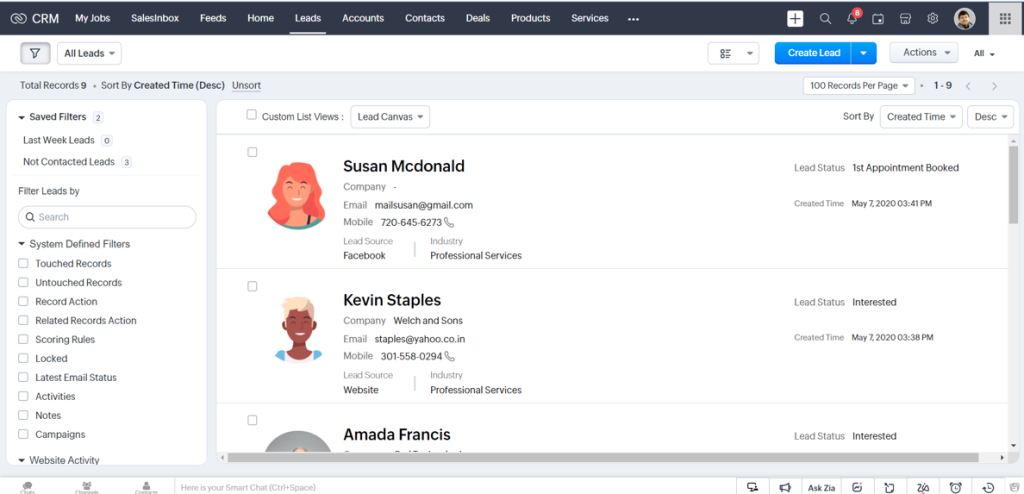 Irrespective of the marketing efforts that you put into lead generation, Zoho CRM readily captures the information about the respective lead in the system. It streamlines all the information to offer your sales reps a rudimentary idea about this unqualified prospect. You also have the option to create your leads manually.
How to create leads?
Are you running a business that serves both B2B and B2C opportunities? If yes, then it is super critical for you to manage them efficiently. In Zoho CRM, you can create and manage both kinds of leads. If you click on any particular lead, you can see each lead-specific information in a streamline.
For A B2B(business-to-business) lead, you can enter the company name and the contact person. So that when you convert them, the system automatically creates a 'Company' or 'Account' and tags the contact person under the same for that particular opportunity.
For a B2C (business-to-customer) lead, you can simply enter the contact details of the concerned person. When you convert this lead, the system only creates a 'Contact' record.
How can you acquire leads?
Now, your leads can be sourced from different marketing mediums, correct? They can look up your website from social media platforms, or even conferences. Leads can emerge from different channels to do business with us, so we must care about where these leads are coming from so that we can invest in them and capture maximum high-quality leads. Zoho CRM records the lead source with automation when it is integrated with other applications. You can also record your lead sources manually by selecting one of the predetermined options that you can customize with this super-flexible CRM.
How to nurture your leads for conversion?
When you start getting leads from different marketing channels, you need to start prioritizing them to turn them into paying customers. Zoho CRM helps you nurture and manage your leads at scale. You can create several follow-up tasks, meetings, or calls with your leads and assign them to your sales reps.
All you need to do is select the leads you want to follow up and click on the 'Action' button. A list of your sales reps appears on the screen so that you can choose them and assign tasks. You can also set a lead assignment rule to administer this process automatically. The system immediately alerts your teammates about this update so that they can perform different nurturing activities from within the system. You can manage exchanged emails, tasks, calls, and meetings. The CRM lets you add notes along with timestamps for your future reference so that nothing falls through the cracks.
How can you qualify your leads?
Once you get inquiries pouring into your system, it's time to qualify the same step-by-step. This sales qualification process is relatively a time-consuming one. But it gives a chance to filter the most promising leads to become a closed-won deal and repeat business.
Start prioritizing leads that scream potential by filtering them through BANT parameters.
B for Budget: What is the lead's budgetary preference? Can this match with your service?
A for Authority: Does the associate who inquired have the authority to make decisions on behalf of the client? If not, then how can you reach them for further discussion?
N for Need: Are the lead's requirements aligning with the products and services you are offering?
T for Timeline: What is the delivery deadline? Is it matching with your company calendar?

The goal of this set of parameters is to ensure that you have a clear picture of leads who require your immediate attention and the ones who need to be nurtured for further conversion. For now, you are ready to move ahead to convert the former ones in the sales funnel.
What are Contacts?
Confusion starts springing up from this point. There is a clear distinction between leads and contacts.
Leads are essentially market-qualified inquiries. But when your sales reps establish a relationship with them while gathering more information to qualify for further conversion, you name them as Contacts. Therefore, while leads are suspects, contacts are people who are likely to make a purchase.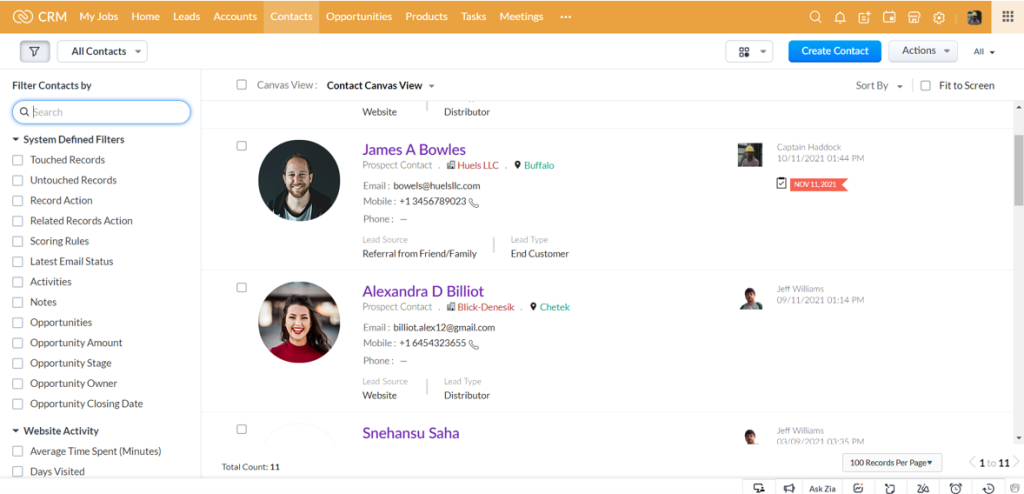 Zoho CRM houses all your qualified contacts in the Contact module. You can view all their contact details. You can assign multiple sales reps for a single contact. Zoho CRM helps you document a variety of information, namely:
First and last name
Email address
Phone numbers
Address (country, city, street)
Company name (where the contact works)
Lead Source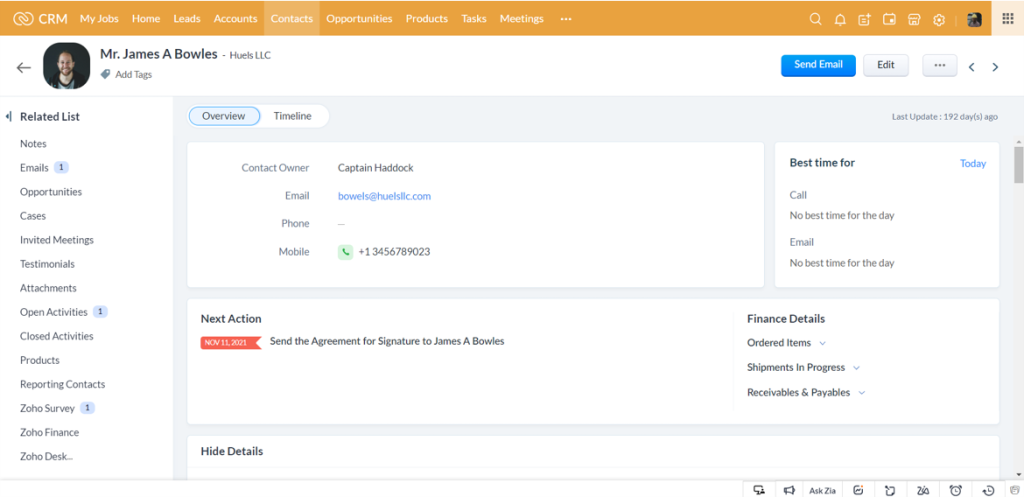 You can even segregate all your contacts into different categories such as client contacts, vendor contacts, or partner contacts for easy navigation.
Client Contacts: In a B2B scenario, client contacts are people in a client company or relation who are responsible for representing the customer. Here, a contact can be assigned to one or multiple clients. In a B2C case, contacts are your customers who have contacted you to purchase your service/ products.
Vendor/ Supplier Contacts: Vendors or suppliers essentially, are the people who provide you with raw materials for your business. A typical vendor contact in Zoho CRM facilitates accurate records of all vendor-related details such as an address, contact information, products, and so on.
Partner Contacts: Partner contacts are people who work for the partner organization. These contacts represent their respective companies and the services they provide you.
You can customize your filters and categorize your contacts to prioritize accordingly. This saves tons of your time and makes it easier for you to focus on your clients. The CRM also helps to tag several contacts if they are associated with any of your accounts and opportunities.
What are Accounts?
The Account module in Zoho CRM is mainly tagged for the B2B (business-to-business) domain or your company clients.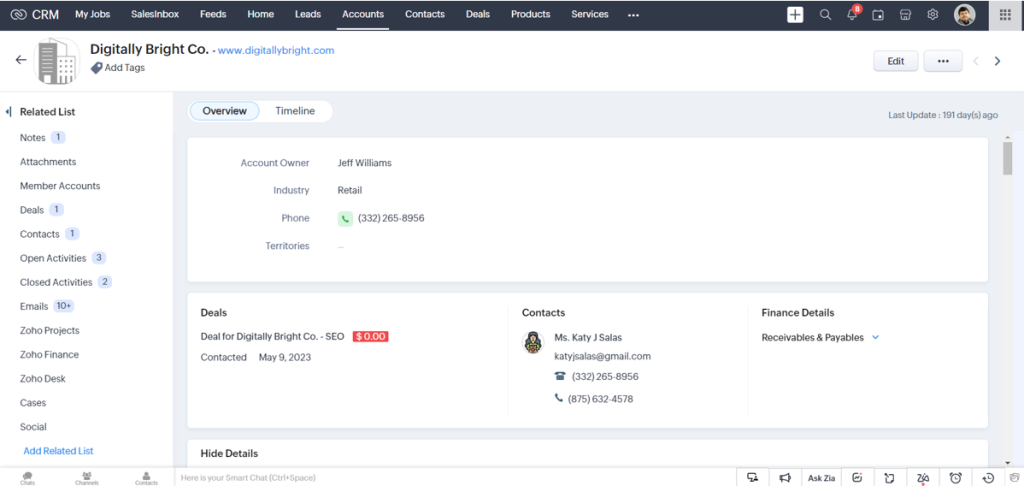 Now, no business can ever be a one-man show. There might be different people with different designations who become your contacts on behalf of the company. So when you handle a B2B account, you can tag the concerned people with their respective roles for the same company account.
Another major area to have the Account module in your CRM system is to attach more add-ons or premium versions for a particular company. For example, let's say you have a client company that wishes to expand and demands more of your products/ services, they want to repeat business with you. So there has to be a constant networking flow between the two concerned parties – you and your client. Here, the Zoho CRM account module makes it ideal to store all the information to progress with your B2B client.
Banking on the contact information you have in your CRM, you can even optimize your communication with a hierarchical structure if multiple executives are tagged under a particular company.

A B2B scenario differs from B2C (business to consumer) deals only in the sense that the former deals with businesses and the latter deals with end customers. In the second case, your contact browses through your products/ services makes a decision, and purchases it. Hence, you do not need an account record, you can simply streamline their information in the contact module and continue to nurture them.
What are Deals in Zoho CRM?
When you convert a lead into a deal, that's actually where the sales process starts. The deal module in Zoho CRM captures the true essence of your sales pipeline in its entirety.
Regardless of the customer kind (B2B or B2C), when you get a business opportunity, in Zoho CRM, it gets recorded as a Deal. Deals revolve around the transaction between two parties and go through several steps until it becomes a closed-won or closed-lost deal. The differentiating factor between the two is that a B2B account can have multiple deals tagged under it, however, a B2C opportunity that concerns one individual customer should be manually tagged with the current deal.
When you click on any particular deal record, Zoho CRM directs you to a sales pipeline that can be customized as per your industry nomenclature. The best part is that this pipeline automates itself with real-time information.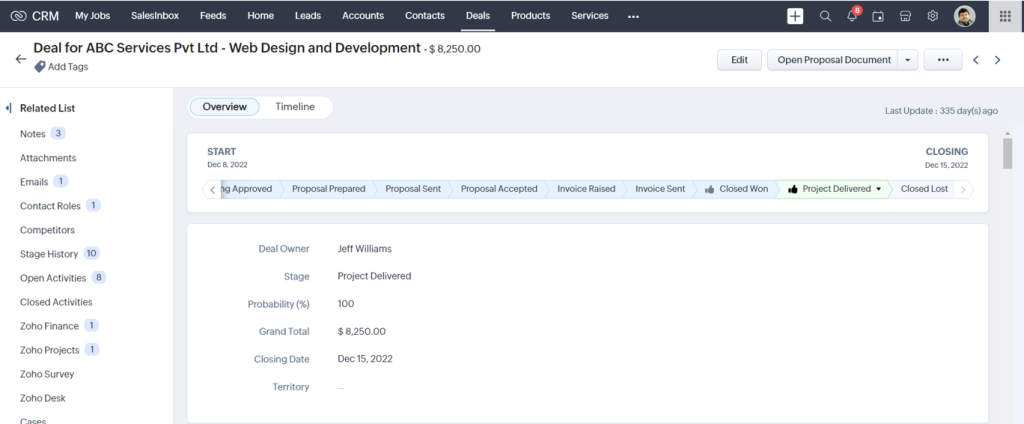 You can have several stages to achieve a sales opportunity closure. Here you have 4 of the most important stages to consider.
Evaluation: You need to gather the majority of your client's information for analysis for further evaluation and commitment.
Solution: Depending on the information, you can now understand what your customers are looking for, so you are now prepared to architect a solution.
Quotation: When you are ready with the solution blueprint, you can prepare a quotation of approximate costs that your clients need to cover. You can use pre-defined quotation templates from Zoho CRM and share the same with a click.
Negotiation: It's a no-brainer that your clients will have a counter proposal whenever you table a quotation. Here, the discussions might include price points, terms of service, and so forth. This is the negotiation-affirmation process or the last stage in your sales pipeline. The moment you get a deal approval at a fixed price from your client's end, you have a closed-won deal.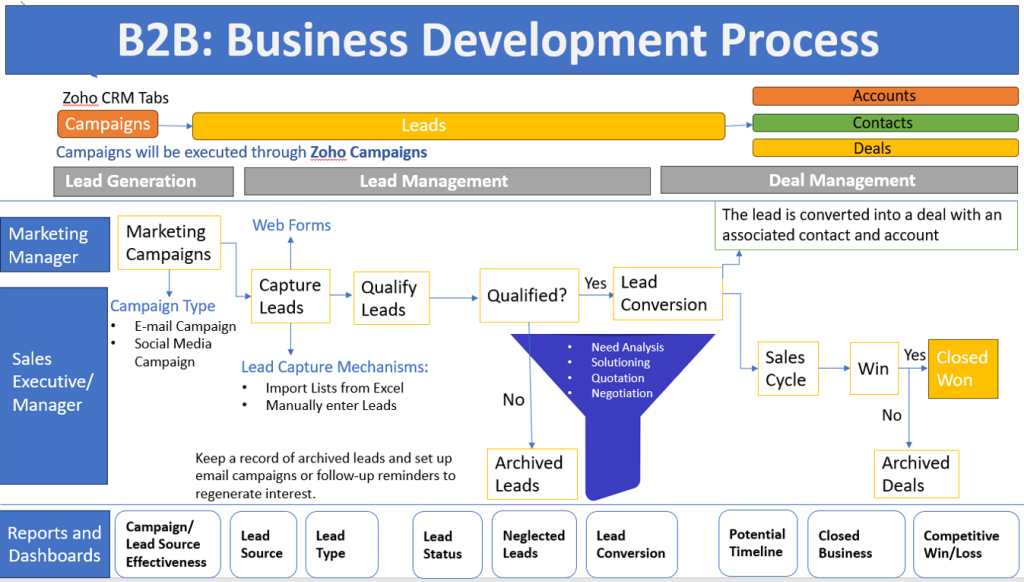 Type of Views in Zoho CRM
Zoho understands that all businesses have one thing in common — an ever-growing database. Starting from customer information to transaction records and product or vendor portfolio, your database grows at a simultaneous pace with your business. So Zoho has designed three kinds of module views to help you organize dynamic data and get a better drift into each aspect of your business.
List View presents you with a simple tabulation of data. For example, if you are viewing your leads in a list view, you can see all the leads lined up in a table form. You can also customize and group them with a defined set of criteria as 'Created by Me' or 'Shared by Me'.
This module view can be grouped as Standard List View and Custom List View. The standard one provides a set that can be used by all your employees. The custom one can be created according to your defined criteria for selectivity and security.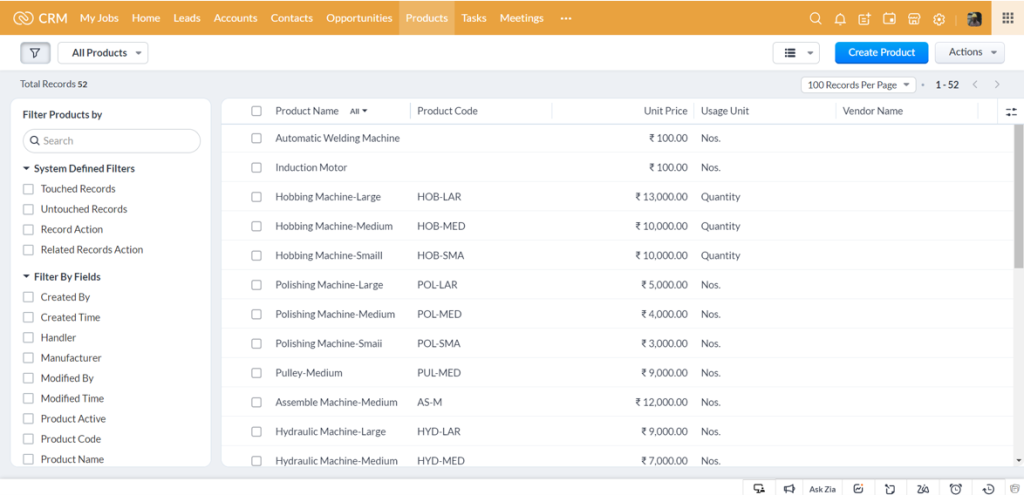 Canvas View gives you a chance to be creative. You can define this module view with your in-house brand style elements, add advanced colors, and apply formatting and effects. There are three types of canvas creations including Custom List Views, Tile Views, and Table Views.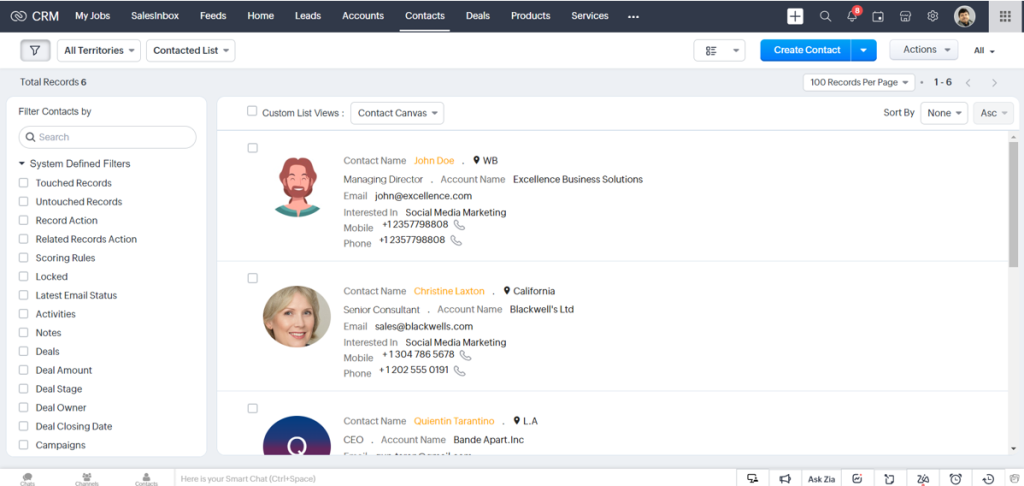 Kanban View is another important view of record classification that is based on values. It offers you the minute details of a deal – its current status, the transaction amount, etc. So that you can monitor and manage the deal progression efficiently.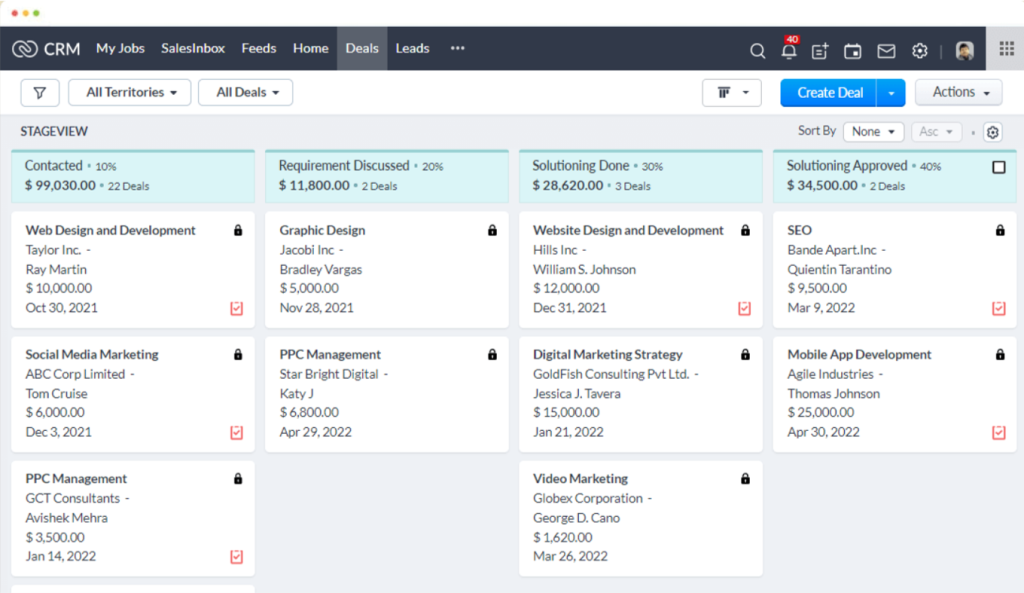 Bottomline,
You are here because you want to see measurable profit margins in your business.
You need a system that is flexible with third-party application integrations and helps you cultivate a customer-centric culture with efficient automation powers. So that you can close win the maximum of your deals.
But to utilize a system to its fullest potential, you must be well-versed with the fundamental components. Just like you constitute your organization with people of distinct roles, Zoho constitutes its CRM application with leads, contacts, accounts, and deals. These four are indispensable parts of this cloud-based software.
Take a quick look at this video below to understand the entire process even better.
To learn more about this incredible software, reach out to our industry experts right away!