Zoho One for Professional Services: Better Manage Your Customer Issues and Requests
Nov 18, 2020
Once you are working for a client's project you immediately built a connection that can last a lifetime. This is because even after delivery, your work isn't over… the game has just begun.
This is especially true for a Professional Services company, as after providing the service, your company is responsible to adhere to any issues arising post the delivery.
That's the pillar on which your company's profitability and reputation stand upon.
Because for your business, your customers are the major element!
A 5% increase in customer retention can boost your profits to a minimum of 25% and a maximum of 95%. Moreover, if your customer is happy with your services, they tend to buy 90% more from your company, increasing their budget by 60% per transaction. So retaining a customer is important. Also, let's not forget that when you try to gain new customers, it is expensive, costing you 5 times more.
So the deal is to try your best to retain the existing customers. This will give you the revenue to expand your business by getting more customers that you want to retain.
How can you do this?
Simply by flawlessly managing your customer issues and requests.
Hence, in this article, we will divulge into effective ways through which you can provide impeccable customer support.
Not just that, we will also explore the awesome applications of Zoho One that will help you manage your customers.
How Can You Provide Awesome Customer Support and Retain Your Existing Customers?
If you want to be the best in the Professional Services industry, then give special attention to your customer support.
Tell me!
How many times did you prefer a particular company because they had always responded and solved all your queries? Again, on the contrary, how many times did you reject companies based on their behavior, even if they were well-reputed?
Hence, when you have a robust system through which you can give your best to the customers, they will keep on preferring you. This gradually starts establishing customer loyalty, which is a powerful tool.
So, without jabbering much, let's head directly towards the 6 crucial factors that will help you be at the top of the ladder.
1. Ease of Access
It is of utmost importance that your customer can easily reach to you with their requests.
It takes a massive deal of hard work to get customers that would love to stick to your company's services; right from attending several meetings, providing solutions and re-correcting them to meet the expectations, and finally delivering it.
This entire arduous journey takes a very long time to show its results. But only one flaw in your business practice can ruin years of labor.
If your customers cannot reach to you easily with their problems, then they might opt for alternative companies providing similar services. This means the effort you put on acquiring that customer gets wasted because of one error!
So have a direct, easy-to-use portal, where your customer can raise a ticket.
Not just that!
Provide multiple channels such as Phone number, Email address, and even details for video call. So that your customers can avail any mode of contact, which is convenient to them.
Make sure your company website has a proper page that displays proper information about several modes of communication, integrated into a CRM system. So that whenever any customer wants to send a direct mail or raise a ticket, you can instantly get a notification and attend to it as soon as possible.
2. Timely Addressing of the Issue
This is probably the next inevitable process into providing smooth customer service, especially after being contacted.
Let's accept it, we all love attention and want to be heeded as soon as possible. Then how can our customers be different…This is an innate human tendency.
So, as a service provider, when you promptly give a reply to your customer's queries and requests, this makes them feel noticed and appreciated. Honestly, it is also a polite gesture to be quick with your responses and to keep them updated.
Moreover, it makes your company look professional and sincere with the work, attracting the client's attention.
But, again, when you get several notifications from many customers, it becomes difficult to address them all instantly. So the best way to deal with this is to implement a system that will automate the replies sent to the customer.
This will also make the customer understand that your company has processed the request and help is on its way!
3. Time to Resolve
Now, after processing the request from your customer, your next duty is to resolve the issue.
We are living in a fast-paced world, where every single minute counts and can prove to be potential. In such an environment, you need to provide a swift resolution to the requests that you receive from your customers.
Different issues will require different time-frames to get resolved. So, to give a speedy resolution, you must understand and observe the time taken to solve each problem.
Also, if you want to improve your work process internally, then you need to track the time taken by your team to solve the reported problem. You can do this by placing a system that will monitor and track the time taken to sort out each reported issue.
In this way, you can also have a fair idea of the time-frame taken by different reported problems. This will make you aware of the loopholes that are preventing your company from providing a speedy service.
4. Keeping the Customer Informed
All reported issues will never take the same time-frame to get its solution.
As we already know, varied problems have varied ways of getting solved which will take its own sweet time. After all, you are also aiming towards providing the best service.
Hence, settling some issues fast is not always possible and might demand more time than expected or promised. In that case, keep your customer updated.
Notify your customer through emails or via phone calls. Tell them the exact situation and why it is taking more time than expected.
This will keep the customer aware that their requests have been properly taken care of and that you are working on it.
But again, it can get really tough to email multiple customers about the status of their issue.
So, it is best if you implement a system that will do the work for you. You can automate it to spontaneously send emails to your customers informing them about the status.
Hence, your customers will not remain in the dark and will also be glad that their problems are your priority.
5. Taking Customer Feedback
Taking feedback from customers is a great way to constantly strive for perfection. This is one of the most important aspects of providing excellent customer service.
After you have addressed the reported issue, you can use a system that will enable the customers to rate their experience with your company. This practice will endow you with two advantages.
First, you can make your customer feel their opinion matters. A simple gesture such as taking feedback can instantly send a message that your company really cares to improve themselves and values what their customer has to say regarding the company's performance.
Second, you can identify the gaps in the services and fix it for a perfect work process. When your customers provide feedback, you can track this and monitor the overall internal processes. For instance, if you receive a similar feedback about the same service, which is on the negative side, you can then start reviewing and make the necessary internal changes, procuring positive outcomes.
Statistics suggest 84% of the companies that are working hard to constantly improve their customer experience have reported an increase in their revenue.
After all, one needs to constantly modify oneself over-time to always cater to the changing needs of the industry.
6. Identifying Cross-selling and Up-selling Opportunities
Existing customers are like bank interests. Once you have acquired a customer and won their trust and loyalty, you can easily sell many other services to them, increasing your revenue. Statistics show that 60%-70% of your existing customers are more likely to buy your services than new prospects.
Hence, you have to identify the opportunity of cross-selling and up-selling. In this way, you can also continue to help your customer and boost your profits.
But, before speaking more about cross-selling and up-selling, let us first understand the exact definition of these terms.
Cross-selling can be defined as the selling of another product/services, along with the purchased one, which might be related to it. Cross-selling also helps your clients to get informed about other services around their needs which might be beneficial or useful to them.
Up-selling can be defined as the selling of an upgraded or a premium version of the purchased product/services. Up-selling always gives the customer better prospects to avail of the same service in its upgraded versions, giving them more features.
Cross-selling and up-selling is a great way to enhance your company's revenue and also for your customers to get the best from you.
How Can You Create an Awesome Customer Support System with Zoho One?
In this age of innovation, when you have the opportunity to use automated systems to give back exceptional customer service, then why operate in archaic ways?
With Zoho One applications you can provide amazing customer service, enhancing your company's reputation.
Zoho One applications cater to almost all the business processes, which will help you give out your best to the world.
If you integrate your Zoho CRM with Zoho One applications, then life will become easy, as you no longer have to manually put in the data.
So, for customer support, we will use Zoho Desk, which is integrated into the CRM system.
Let me walk you through the entire process.
Easy Access for the Customer to Raise a Ticket
To ease the customers from frantically searching for a medium through which they can contact your company, you can create an omnichannel system.
With Zoho Desk, you can create a portal, linked to your website that will make it easy for your customers to reach you. So, whenever any client complains via the portal, you will be immediately notified by the system: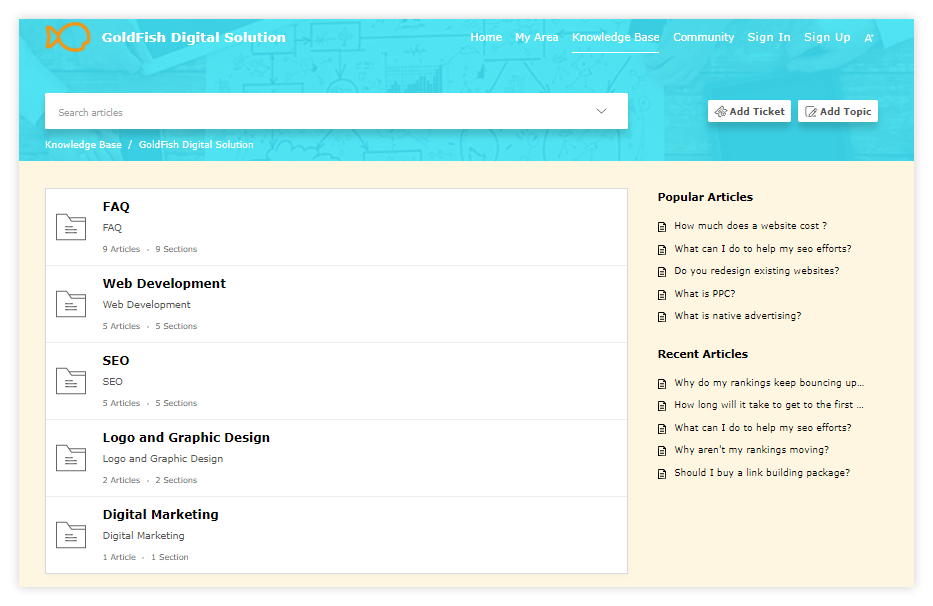 In this portal, you will see different options to contact the company. For instance, if you click the option, "Add ticket", it will redirect you to a messaging platform where you can address to them. Also, along with other details, you can attach any documents relevant to the issue: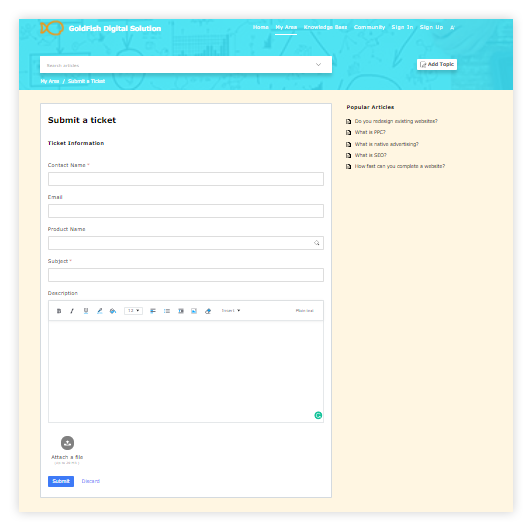 So, when a customer raise a ticket, then this information gets recorded in the CRM system.
In this way you get a complete overview of what problem your customer is facing while availing the service: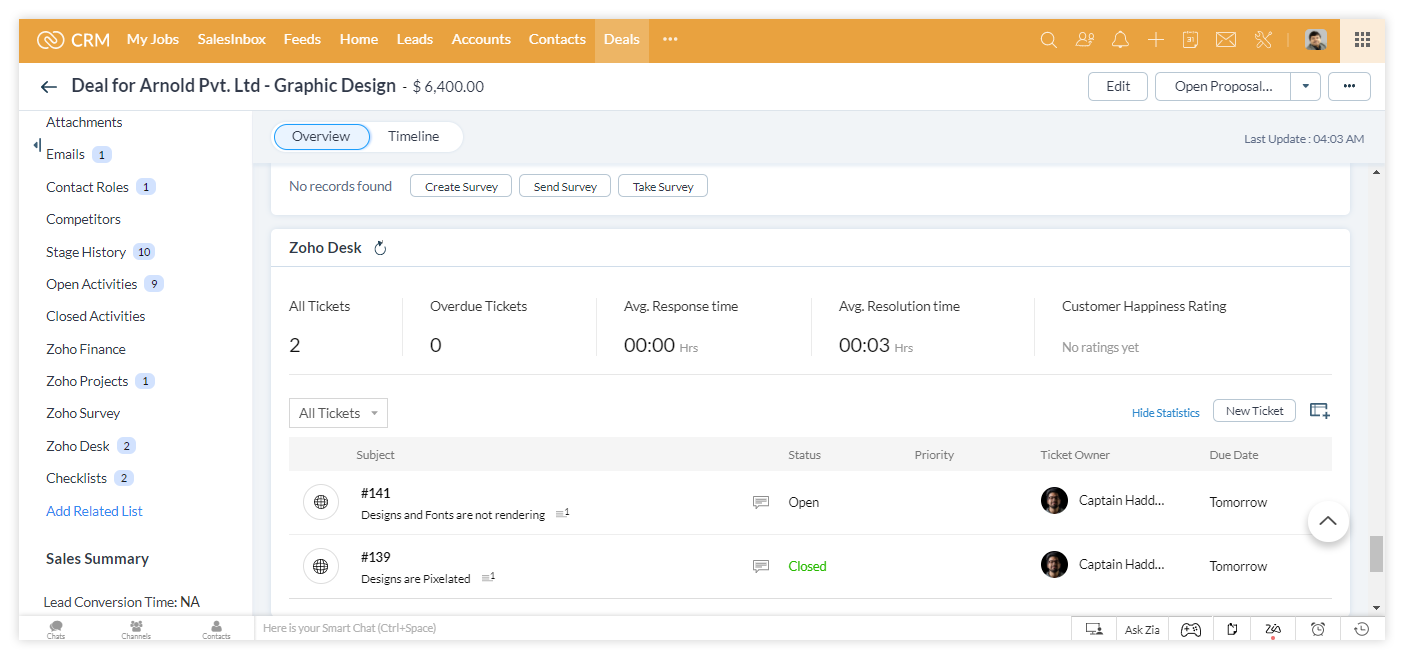 With Zoho Desk, you can also create a support email ID. In this way, your customers can also email you through their registered email addresses. This will again be recorded in your Zoho Desk system against the deal, notifying you with its updates.
Well, I am not over yet because you also need to know that with this application you can create a live chat system and it also comes with telephone integration options as well.
Hence your customer can reach to you via multiple modes, giving them the ease of access.

Address Issues on Time
It is not possible to manually acknowledge each customer once they raise a ticket.
So, with Zoho Desk you can automate this entire process, which will spontaneously send an acknowledgement email, every time they have lodged an issue: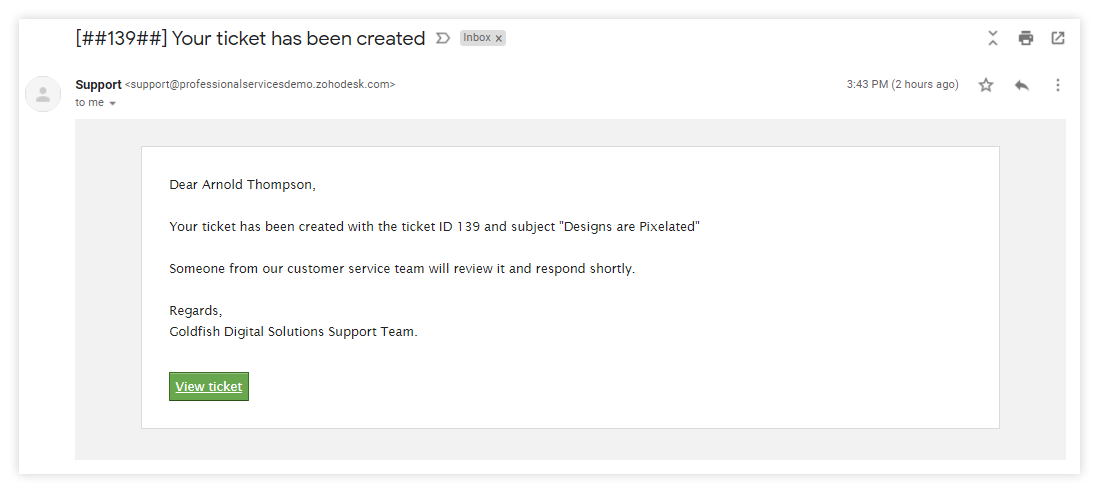 Get to Know the Time Taken to Resolve Each Issue
With Zoho Desk, you can also monitor the time taken to resolve the reported issues.
Once you enter Zoho Desk, you will see a list of tickets added by different clients and its status: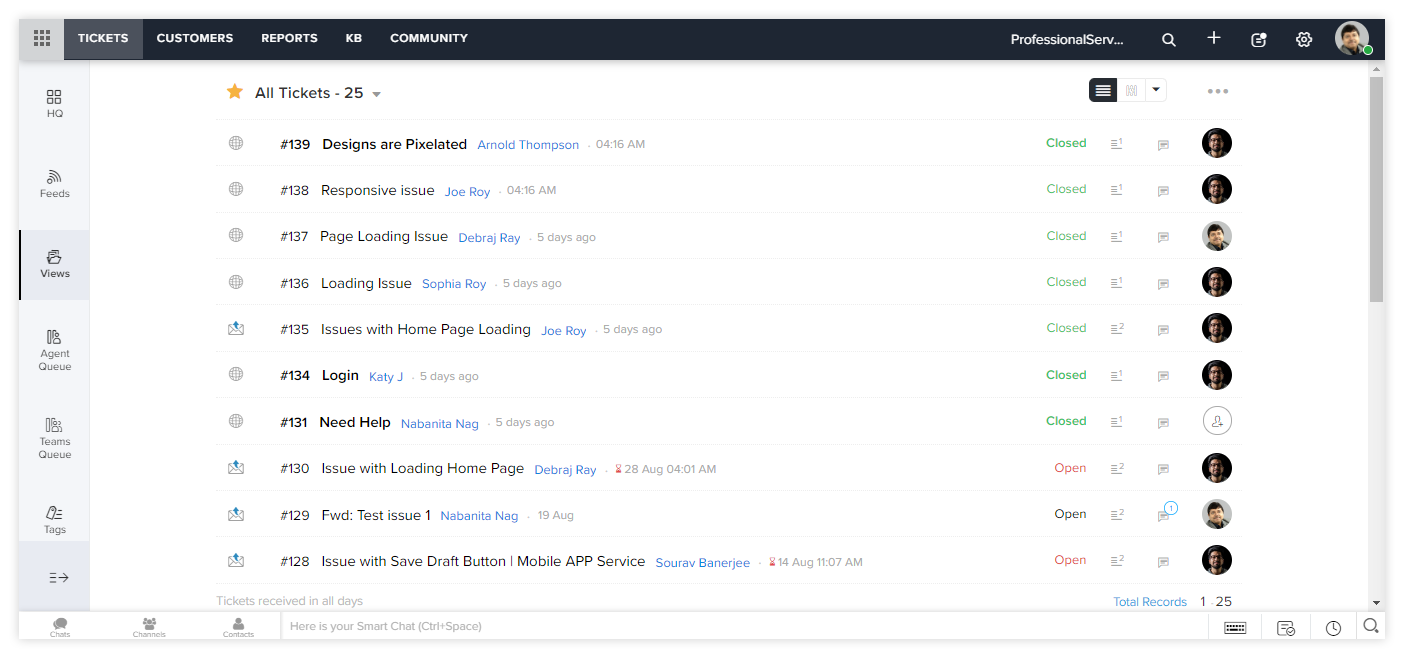 In fact, you can use filters to quickly view the ticket status. Filters always give you a clear display of the chosen option so that your eyes do not miss out on any vital details: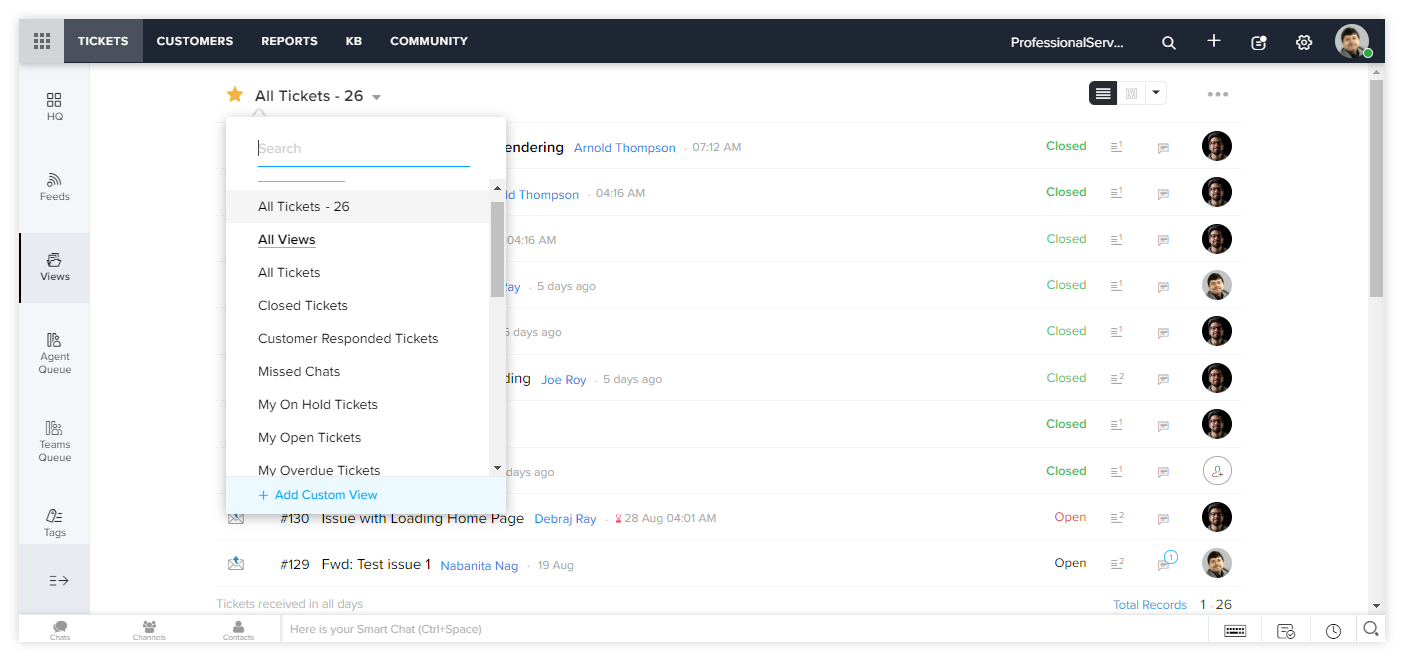 Also, after you click the option, "Report", on the top panel, it will redirect you to the page that shows the details about the various actions taken to address the issues: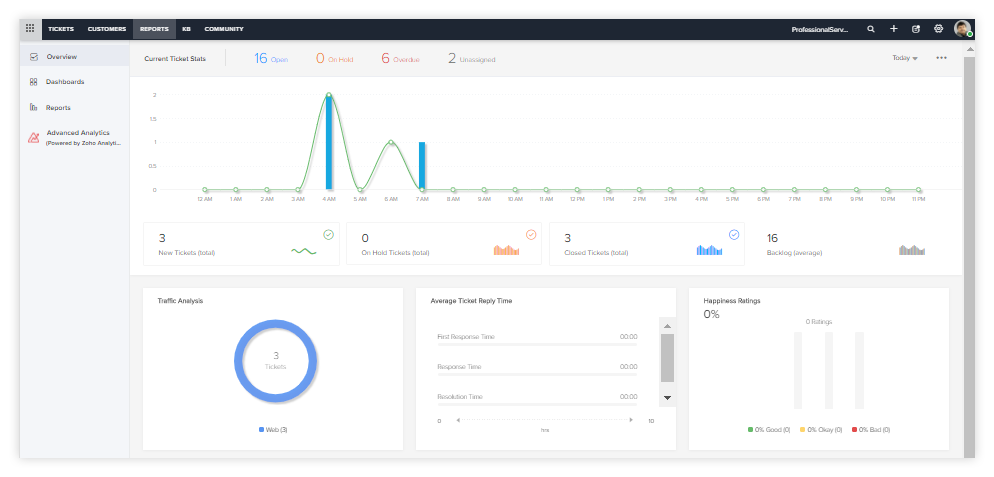 You can also view the resolution time, taken to solve each reported issue: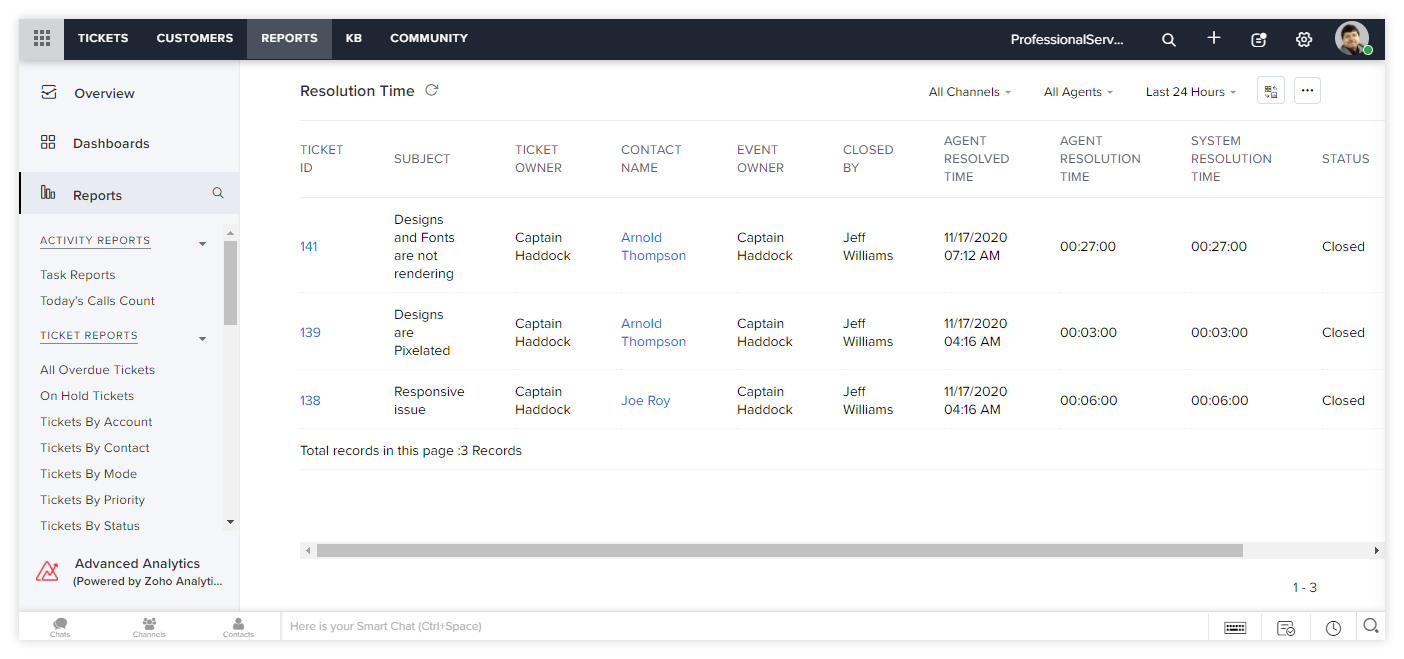 This will help you track and monitor the time, and look for ways to improve.
What's more, is that you can create escalation rules. Here you can set a time-limit within which the issue needs to be solved. So, when the tickets do not close within the set period, then the supervisor will automatically get notified about it.
Automatically Update the Customer
Good communication is the key to ace the customer support process. So, it is always the best practice to update your customers about how their problems are being dealt with by your executives.
But again, it is not possible for your team to work on the raised issue and update the clients simultaneously.
So, Zoho Desk has this feature for you, which will automate this entire aspect of informing the client about the status of their request.
Right from acknowledging the issue: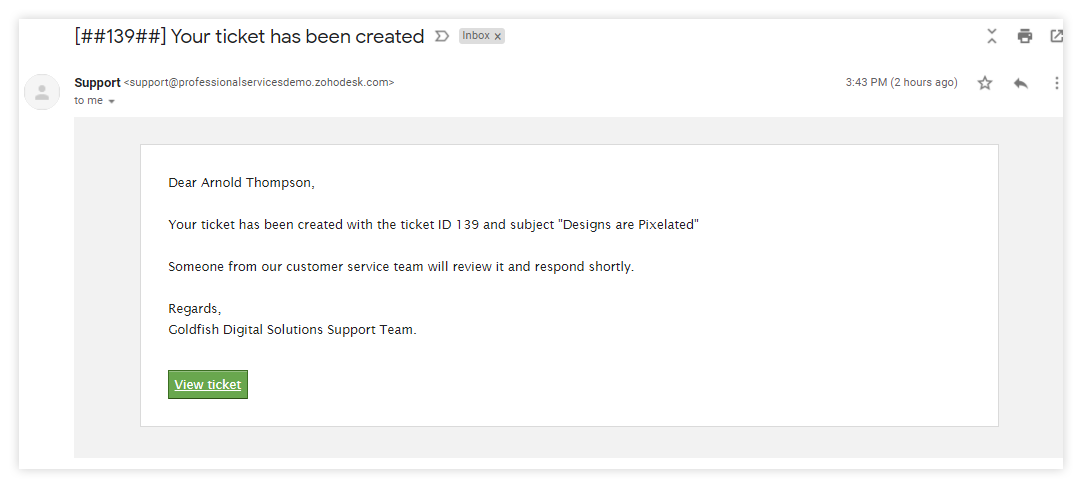 To updating the current status of the ticket being closed: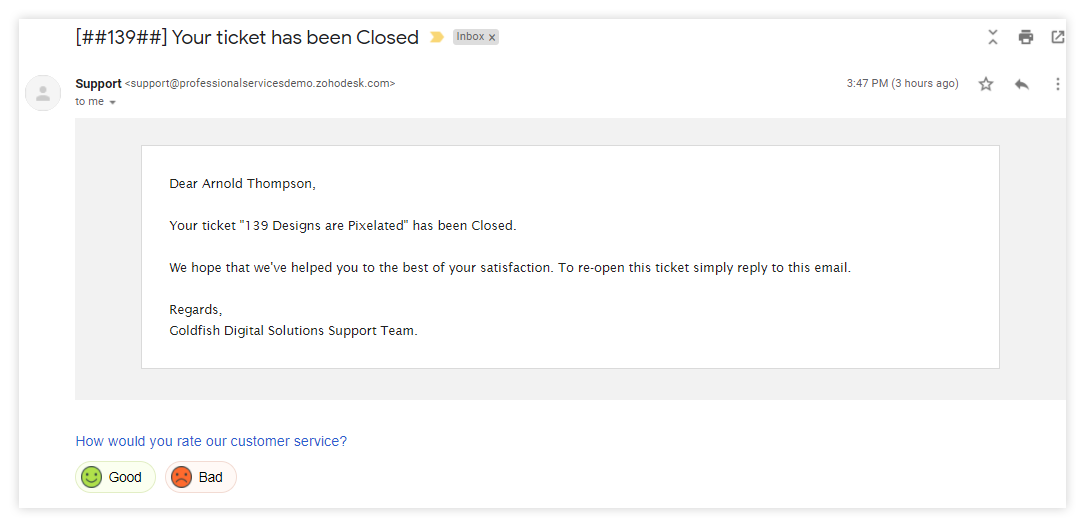 In the interim, if it takes time for your team to resolve the issue, then the system will also update it to the customer. This will make the entire communication process transparent.
You can also set escalation rules with proper instructions similar to this: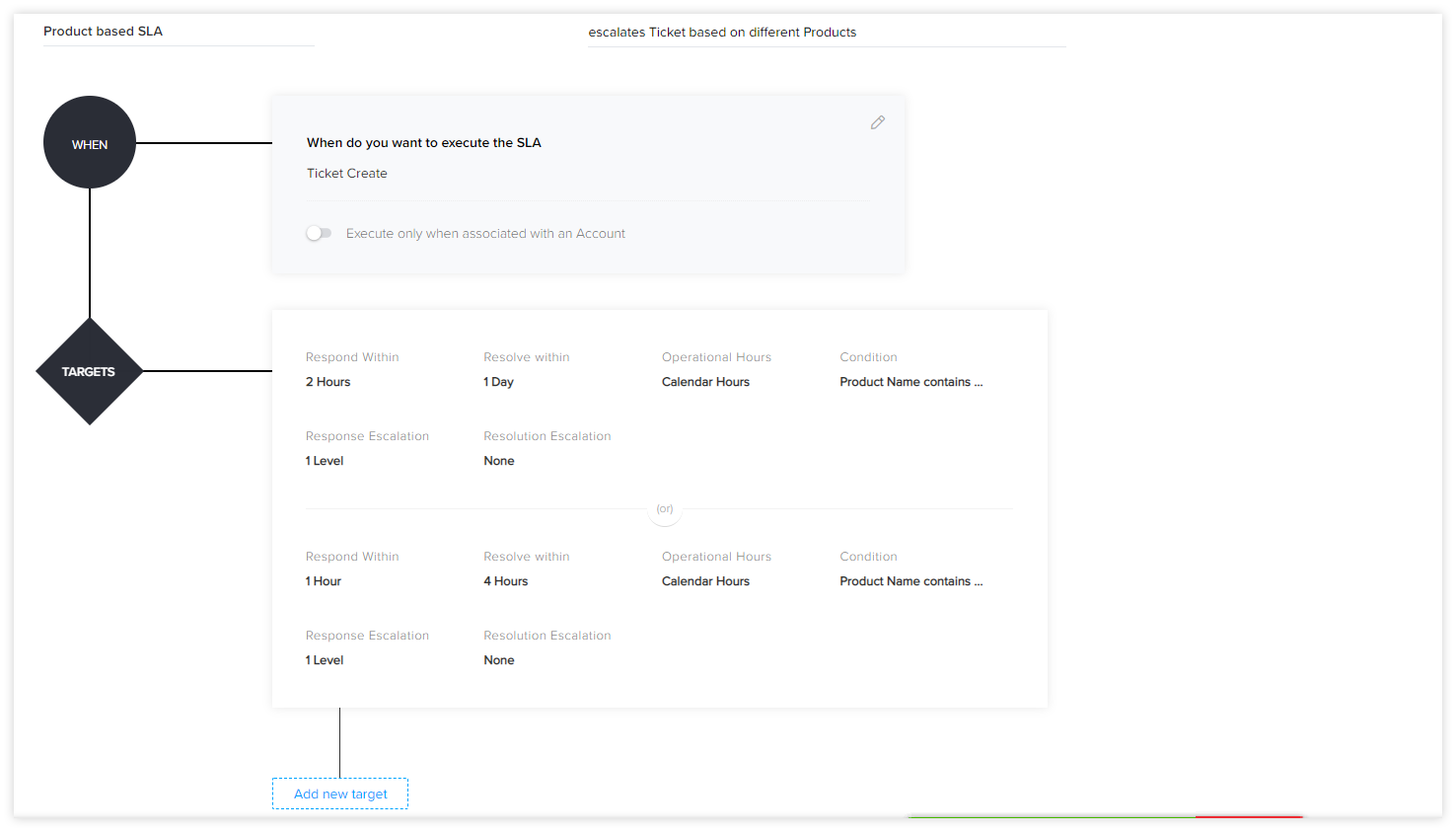 Taking Customer Feedback
With Zoho Desk, you can also take in customer feedback.
So, once you resolve the reported issue of the customer and close the ticket, it automatically sends a mail to the customer. Here your customer has the option to rate your company as well:
The ratings you get from the customer get stored in the Zoho Desk, which you can monitor for a better customer service performance.
Identifying the Opportunities
When you implement a CRM, integrated with other applications including Zoho Desk, you will get a 360-degree view of the client's overall details.
The details of the Deal, recorded in the CRM, stores all the data and exchanges that the company has initiated with the client. Hence you get all the information, which will open the doors for you to cross-sell and up-sell your services.
So, you can enhance the ROIs and also help your customer to get the right options possible.
Conclusion
By now you know that a company, which is always ready to help their customer, becomes the ideal choice, chosen over multiple companies providing similar services.
But to achieve this level of success, you have to keep certain factors in mind. First, you must have a user-friendly portal that will give your customers multiple options to approach you. Second, you must always acknowledge the issue lodged by them and keep on updating the status. Third, you have to constantly monitor the feedback you are getting from your clients and also the time that your executives are taking to resolve a problem. This will allow you to understand better about how you must pursue to give out an exceptional performance. Finally, you have to identify the opportunities of cross-selling and up-selling, from which your customer will benefit and so will your company.
With Zoho Desk, you can achieve them all, bringing out the best customer service ever possible. So, integrate your CRM with Zoho One applications and operate the business like a pro.
If you want to know more about how you can manage your customer issues and requests via Zoho One applications, then it is time for an expert consultation!