Zoho One for Professional Services: Capture Customer Feedback and Act to Stay Ahead of Your Competition
Dec 9, 2020
For a Professional Services Company, providing flawless customer service is everything. After all, you are dealing with services, which are intangible and can only be perceived via great performance. But, keeping all your customers happy is not an easy job.
If you want to know what is the secret trick towards providing the best customer service?
Well, then the answer here is capturing customers' feedback. So, to make sure that your business is always on the top, it is a good practice to get customer feedback, after every project delivery.
Think of it: you visit a store, and then after you are done with shopping, an executive stops by to ask you, whether you are happy about the store or not. If not, then in what ways can they improve themselves to serve you better?
Won't you feel special?
According to a study, 63% of CX professionals use customer feedback to make critical decisions regarding prioritizing investment in products/services.
Yes, feedback is a simple communicative gesture, yet it can create a great impact in broadening perspective and bolstering customer loyalty. It acts as a guide-book that helps you to determine where you need to improve and where you can invest for maximum benefit.
So, today we will talk about the 4 major reasons why customer feedback is the most important part of customer service. Following this, we will talk about how you can capture customer feedback easily via Zoho One applications.
Why is Customer Feedback Important?
Customer feedback is basically about obtaining valuable opinions about your service/products from your customers. This makes the entire review process very reliable, as your loyal customers want you to be absolutely amazing so that they can keep on purchasing.
Believe it or not, it is also hard for the customers to find a company that caters to their needs perfectly and is always ready to hear back from them.
Especially for a B2B setting, once they fall in love with a service, chances are that they would hate to switch. So, if your company is good then your customers will stick to you for life.
But, how would you know whether your customers are loving your services/products or not? It is the customer feedback that is going to help you here.
It will keep you aware of what is there in your customer's mind regarding your business, giving you better wings to fly.
Not just that…
Let me list down 4 crucial points of the reasons why customer feedback is the cornerstone of customer service.
1. Strengthen Customer Relationship
It is always amazing to know that your opinion matters to someone. This just makes you feel respected and appreciated.
Similarly, for customers, it's the same thing.
When a customer is asked about what they think about a service, it just makes them feel that their opinion matters. This further strengthens their relationship with the company, enhancing customer satisfaction.
77% of the customer's brand perception improves if the company readily invites and accepts the customer's feedback.
This is not surprising, as for the customer, a company that listens to them, seems sincere in fulfilling their commitment to providing an amazing service. Hence the customer feels valued, resulting in a long-term relationship.
This relationship keeps on actively driving the sales-cycles boosting the ROI.
2. Negative Feedback Helps You in Identifying Gaps
Always remember one thing, the user of a service is always the best judge than its maker. This is because you, as the maker, have your own perceptions of it. But it is your customers that use the product/service in real life and check its applicability.
So, ask the daddy! In your case, it's your customer…
In fact, you might think that you and your team are doing their best in addressing all the gaps in the business. But, you will invariably overlook many loopholes, which your customer can identify.
Hence when you give your customer's a chance to share their opinions about your business via feedback, then you will get many more insights about your business.
Let me share an interesting number with you: 52% of the people strongly agreed that companies must act on the feedback they receive from their customers. Hence these companies can cater better to their customers if they are always ready to improvise themselves with emerging trends.
Like the heading says, negative feedback will always help you to redirect your attention towards those areas that need more improvement. So, when you start identifying gaps in your business that is the time when you actually start to grow as a company.
3. Positive Feedback Helps You in Identifying Your USPs (Unique Selling Propositions)
What is your USP?
I am sure you have your answer. After all, you created a whole strategy based on that. But now the real question lies…
Do your customers have the same idea regarding your company's USP?
Probably, if you have not yet started capturing feedback from your customers, you'll say, "Of course! After all, that is how we branded ourselves, right?"…
Well maybe at times. But in most cases, you will experience a very different story.
Many times, when we received feedback from our customers, we found that our customer's perception of our company's USP is quite different than ours.
Our USP was based on the fact that we have over 500+ global clients from 30+ countries, which means we have the acumen to work in a more global space. But, from the customer's feedback, we realized that our customer service is also the best!
At first, this was quite intriguing. But then we gradually realized that USPs have a strange way of forming themselves over days naturally. So, when you are stuck with one notion, it is normal not to see that emerging change, which just blossomed into a profound possibility.
This also means that you get more ideas to plan your marketing and branding strategies accordingly, packaged around these perceptions.
Hence, your customers can help you to identify that, nudging you indirectly to create a more effective strategy.
So, when you get positive feedback from your customers you are well aware of your strengths, helping you to reshape your USP, aligned with your customer's expectations.
4. Feedbacks Help You in Acquiring More Customers
Without showcasing your credibility as the best in the industry, there is no way your potential customers will ever get to know about you.
Especially in a Professional Services Company, you have to provide proofs, such as customer testimonies, and reviews to tell your prospects that you can give them what they are looking for. Customers are always willing to invest 31% more in companies having reviews that are rated as "Excellent".
The easiest way to obtain reviews and testimonies from your customers is through their feedback.
Feedback forms the best and the most reliable source of information, as it is directly coming from the customers themselves. Hence, when you use the feedback as testimonies and reviews on your website and social media, then you start attracting more potential prospects. Also, the transparency in which the reviews and testimonies are presented, make your business appear more authentic and honest.
So your customers' feedback becomes the potential fountainhead of great reviews and testimonies, luring in more customers who would love to establish a life-long relationship.
How do We Capture Customer Feedback Easily?
I know, this is the exact question you have in your mind right now…
But, with Zoho One applications, you don't have anything to worry about.
With a CRM system, which is integrated with the Zoho One applications, you can operate all the inter-related business processes. The system stitches the multiple applications together in one space to centralize the communication and make work easy and quick.
The applications are super user-friendly, helping you to smoothly run all the aspects of your business.
So, whether it is marketing, and sales to customer service, you have them all.
Now, let me quickly show how you can capture feedback from your customers via the Zoho One application.
Automated Feedback Emails
Here we are using a CRM which is integrated with the other applications of Zoho One. This means that all the data and customer information, along with the work progress are present together in one platform.
So, the two most important applications here are Zoho Projects and Zoho Survey. To quickly move towards the required details within that application you can click on the widgets present on your left-hand side panel.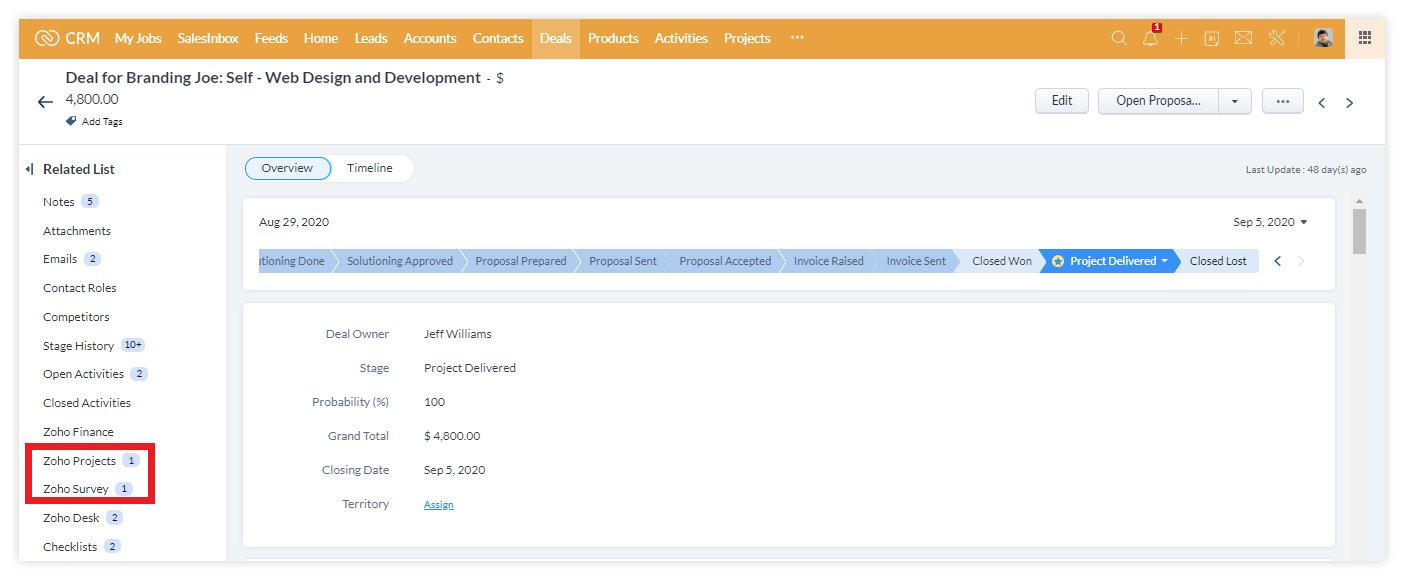 Now, once your tasks and milestones are complete, it will automatically get reflected on the CRM, under Zoho Projects: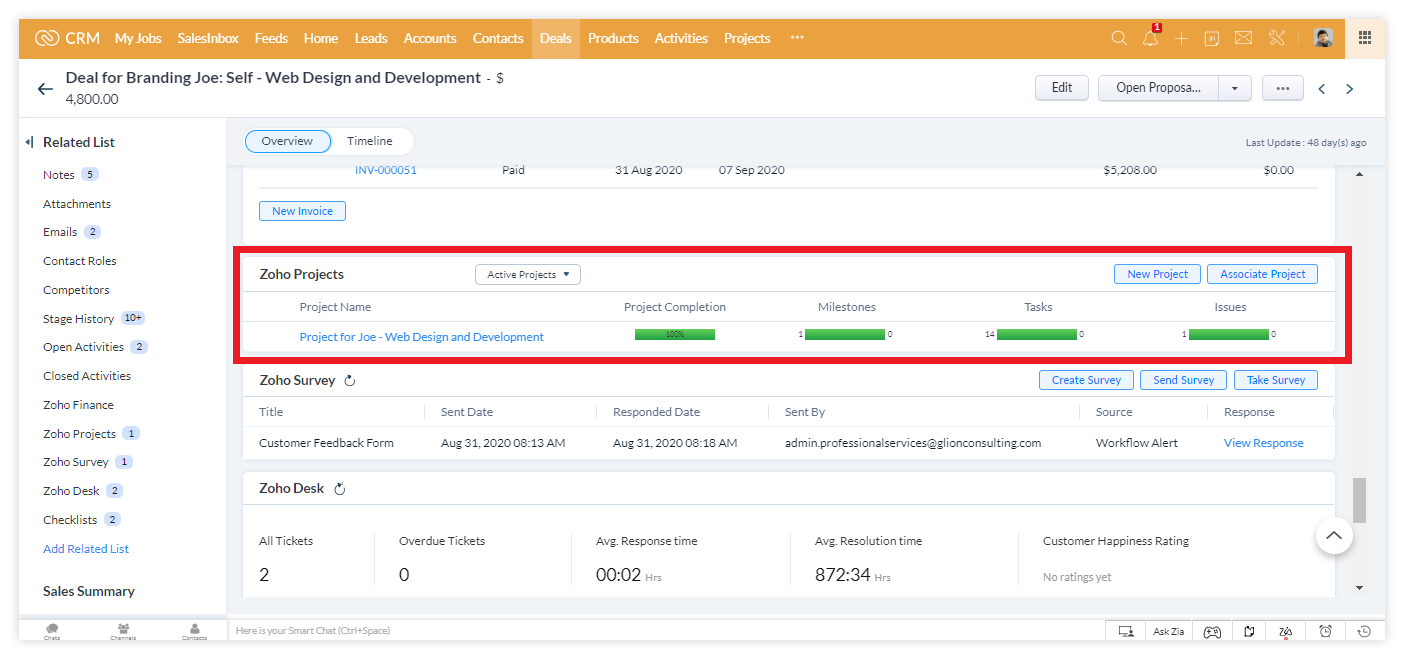 Also, after project completion, the system automatically sends an email to the customer asking to submit their feedback: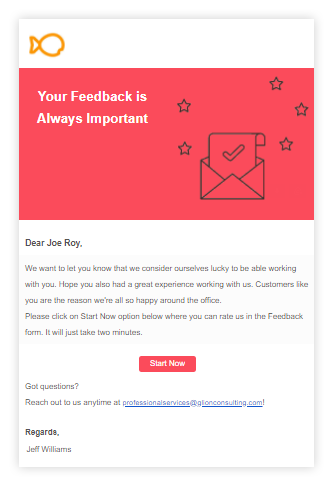 Links to Feedback Form Page
When the customer receives the email, he/she can click on the "Start Now" button. This will redirect them to the feedback form page:
The customer can scroll down and choose their responses for each of the questions that resonate with their opinion. So, when they are complete, the system stores all the information.
Easily View Customer Responses
When your customer submits their feedback, you can see their responses on the CRM system via the Zoho Survey application: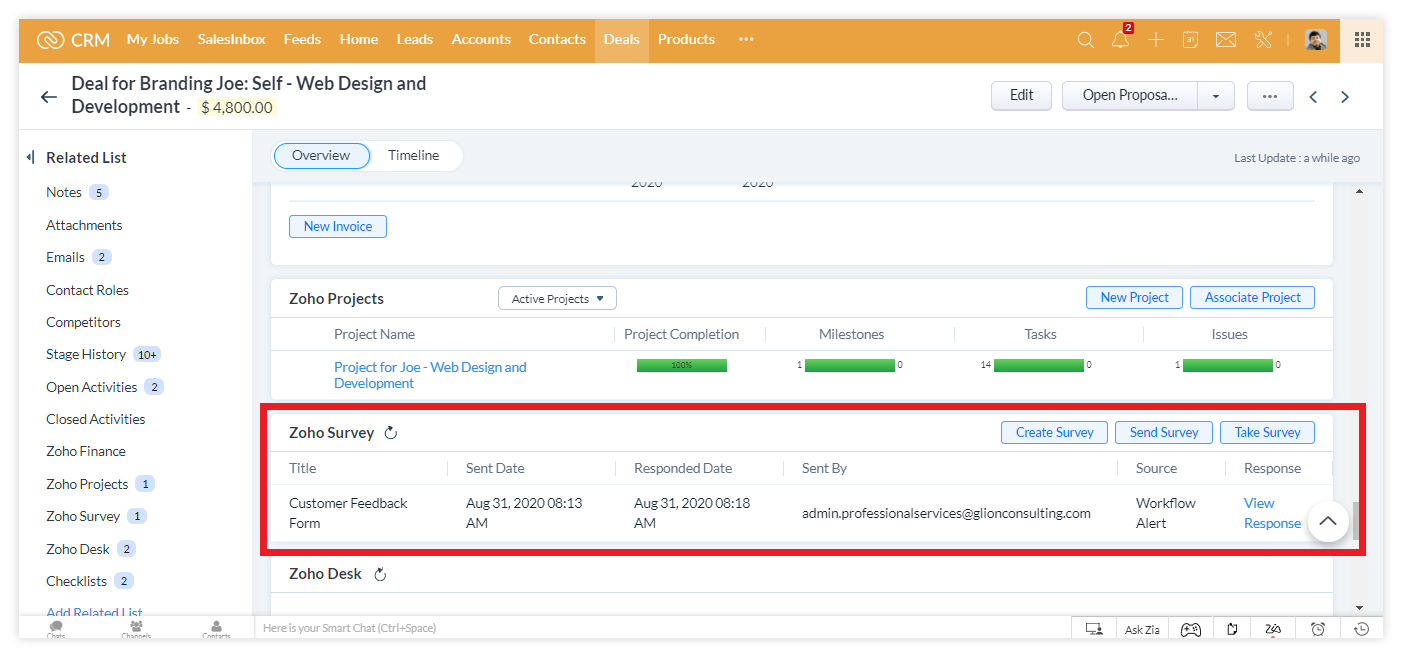 To check your customer's responses, you can click on the "View Response" option. This will flash-up a box on your screen. Here you will see all the details of the customer feedback responses, which is structurally outlined for your convenience: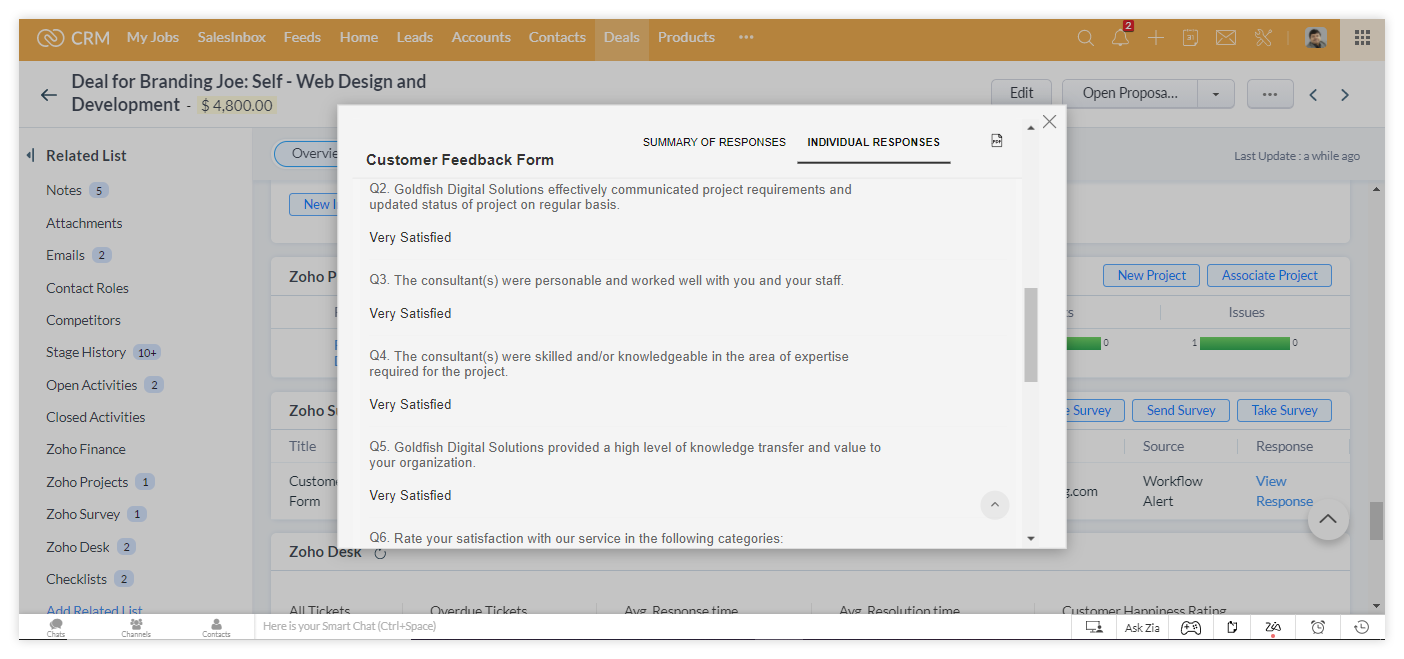 You can also see a summary of the overall data gathered from all the surveys.
For that, you have to select the "Summary of Responses" option. This will visually brief you about the overall performance, as rated by your customers: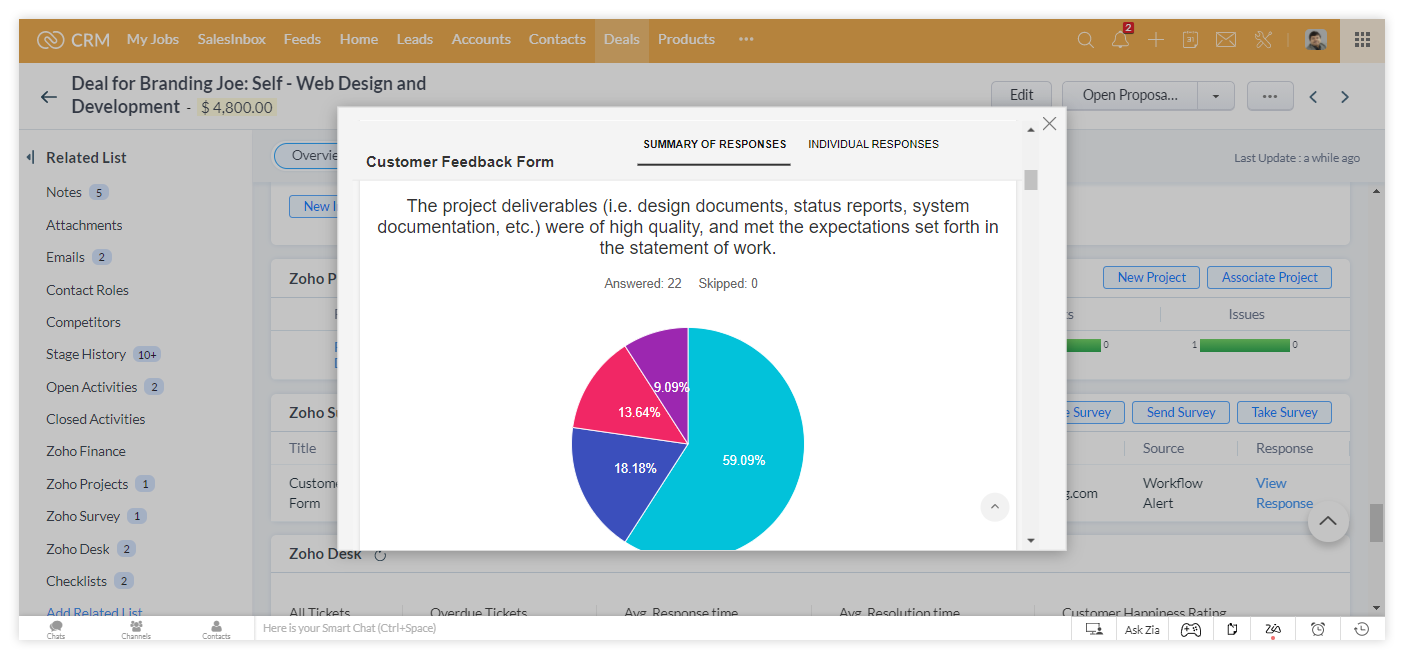 Create and Edit Your Feedback Form
If you want to check your feedback questions you can do so via Zoho Survey.
Here you get all the details of when it was created, and modified. You can also set your own layout and theme, which can make your survey look good and professional: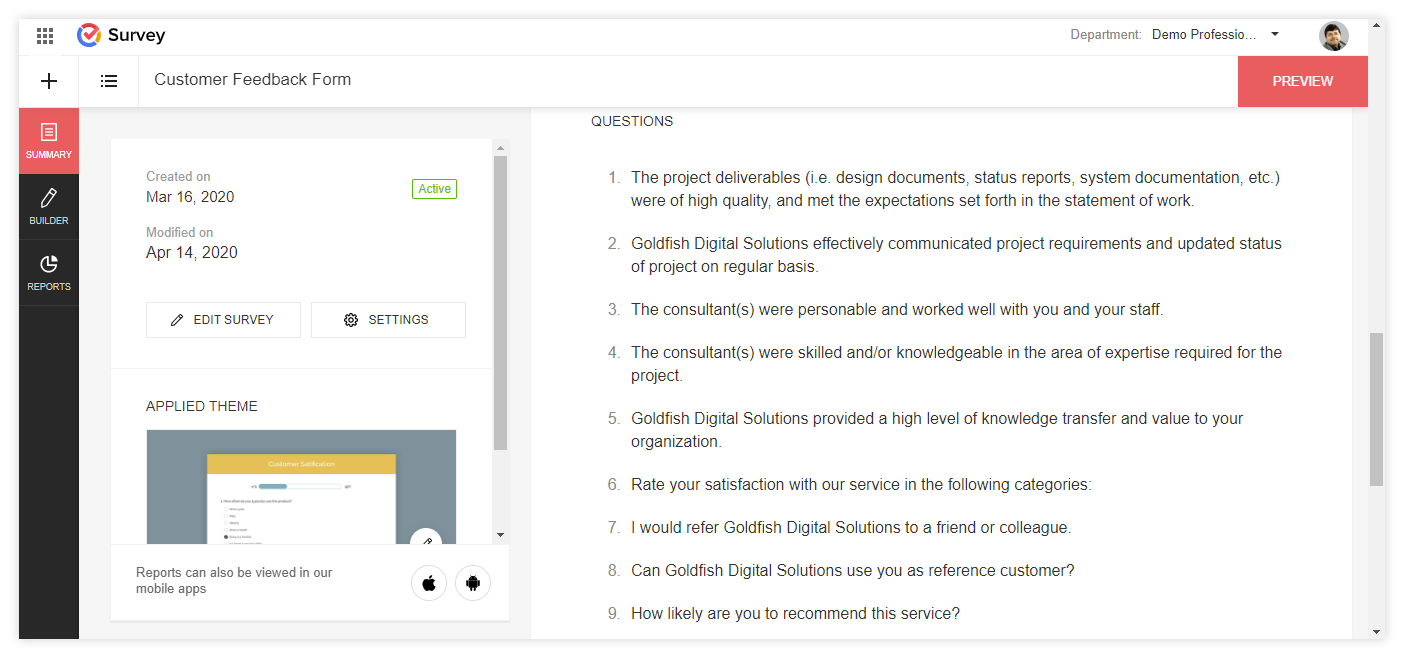 You can also edit your feedback questions or create a new one: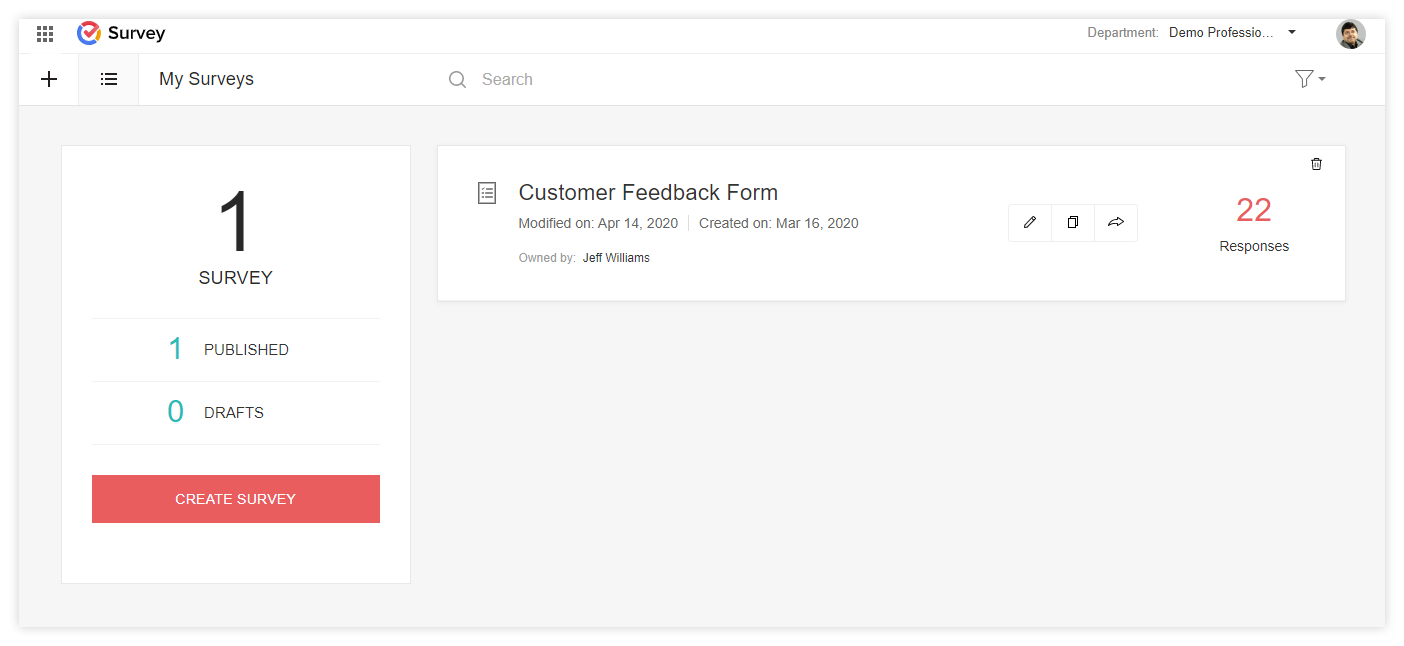 Conclusion
If you want to be the favorite choice of your customers then you should encourage them to share their feedback.
They are the passage through which you can make a progressive transition and become the best in your industry. After all, customers are integral to the business that you are operating.
Hence the customer's feedback gives you a lot of advantages: You get to know your strengths and weaknesses; you can identify and address the gaps that you might have overlooked; You can remodel and alter your strategies based on the feedback; and the best of all is that your bond with your customers enhances, retaining them for life.
A simple gesture of sending a feedback form can elevate customer satisfaction, increasing their loyalty towards your business.
So, integrating a feedback mechanism in your business strategy is a must!
With Zoho One applications you can easily create a feedback form and automate the entire process of sending the form after project completion.
So, If you want to know more about how you can capture customer feedback via Zoho One applications, then it is time for an expert consultation!