Zoho One for Professional Services: Empower Your Customers with a Self-service Knowledge-base Portal
Nov 25, 2020
The Internet is a blessing. Today, we are realizing this even more than ever; as we depend heavily on it for acquiring any kind of information.
Whether you want to purchase a product or a service, the internet makes your life easy, by showcasing all the information that you want regarding the purchase. Now, you no longer have to visit the shop or the centre to gather information.
Just sip your coffee and browse through the world-wide-web and you will get sufficient resources served on a well-laid platter. All you have to do is visit a knowledge-base portal to make things simpler and straight-forward.
So, a knowledge-base portal is defined as a repository that contains relevant information about the product/services for the customers to access for free.
This easy access makes it highly convenient to the customers, which is why 51% of them prefer support from an online knowledge-base portal.
But that's not all…
In this article, we will discuss more about the importance of a knowledge-base portal. We will also reveal how you can create one for your website.
Why is it Important to Set-up a Knowledge-base Portal?
Let's accept one thing, if given two paths it is quite natural to choose that path which will take us to the destination quicker. Knowledge-base portals serve the quicker route towards gaining vital information.
The quicker we get informed about the product/services, the sooner we can purchase it.
Now, let's check another fact. Statistics also suggested that a brand which can provide a knowledge-base portal answering most of the probable queries can influence 55% of the customers towards that brand.
So, setting up a knowledge-base portal is an extremely crucial factor to boost conversions.
But, that's not all. Here I will discuss 3 major reasons, why setting up a knowledge-base portal is more important than you think…
1. Empowering Customers, Improving Customer Satisfaction
The present era demands a culture where we are all running about just to establish a prominent place for ourselves in the world. In such a busy lifestyle, it is normal to hate waiting for anything.
Right from a pizza delivery within 30 mins to getting a Maggi ready within 2 mins, we are just all so used to getting things instantly.
Even with information, we look for ways to get instant access to it. Especially after the advent of the internet, we can get all the relevant information online, quenching our curiosity fast.
So, if you have a knowledge-base portal, then you can empower your prospects and customers to gain easy access to all the information related to your products/services.
Especially for a Professional Services company, this will improve customer satisfaction, because the customers will get all the necessary information, giving them clarity and satisfaction.
Also, your customer will get enough information in their own free time. This will give them a better sense to decide their next action.
2. Your Support Team Can Focus on More Significant Issues and Tasks
Implementing a knowledge-based portal is not only useful for the customer, but is extremely efficacious to your executives. This is because it gives operational advantages to your support team.
Statistics suggest that 93% of the customers would often opt for a repeat purchase from companies, with whom they had an amazing customer service experience.
But your customer support team has a limited bandwidth within which they have to operate. To give that exceptional customer service, your support team needs a valuable amount of time to handle more critical problems.
In such a situation, if customers come back to them with similar questions and queries, then it will become tiring and time-consuming to repeatedly give the same answers.
So, if you document the commonly asked questions with its appropriate responses in the knowledge-base portal, then your executives can use that time to work on major issues, and your customer will get their answers sooner.
This will boost the overall performance of your team, giving them the extra mileage to be their best. Also, a good customer support team can make the customer feel supported, retaining them for future business.
3. Establish Authority
Not very long ago, before indulging ourselves into a major purchase, we would physically visit the company or the local store regarding questions related to it.
Honestly, at that time, we really didn't have much of a choice. So, to make important buying decisions, it was crucial to visit the company, as they are the authoritative source.
Companies being the gatekeepers of the requested information also had the option to decide on how much information is necessary to let out.
But, with the easy accessibility of information in the internet's world, this situation has completely changed. Everyday Google records an average search of 3.5 billion, made by the users. Also, 35% of the searches in Google are related to products.
So, it is best you let the cat out of the bag and be as transparent as possible when providing information on the internet. This will win the trust of your prospects and customers, affecting their choice.
In today's world, information is open and freely available. So, your knowledge-base portal must try to answer clearly. This will make sure that your prospects/customers do not feel inadequately informed and shift towards your competitor's page.
Remember, complementaries from an authoritative source always grab the business opportunities more strongly. This also continues to strengthen the bond between the company and its customers.
So, be generous in providing useful information to your customers, by giving them a proper information library in the knowledge-base portal. This will empower the customers to make fruitful decisions and will improve brand recall.
How to Create a Knowledge-Base Portal with Zoho One?
By now you know that a knowledge-base portal is super-critical to make sure that your prospects and customers are well-informed about your products/services.
Now, the next question lies: how can you create one for your company's website?
You can do this via the wonderful applications present in Zoho One.
With Zoho One applications, you can create anything and everything required in the business process. To create and implement a knowledge-base portal to your company's website, you have to use Zoho Desk.
Let me tell you how you can do this…
Setting-up a Knowledge-Base Portal
You can first connect your website with the knowledge-base portal via a redirectable (clickable) button or a symbol.
On this website, we have used a Bulb like symbol which is clickable and linked to the portal: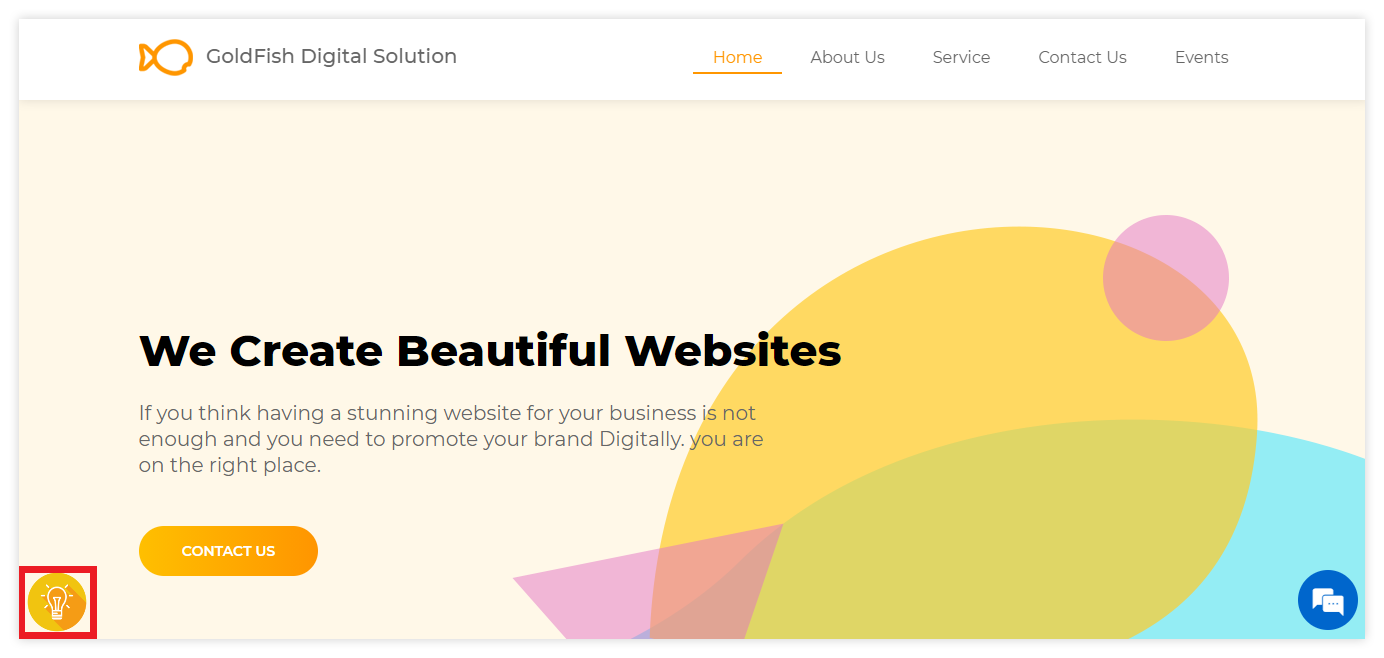 Once you click this bulb, it will redirect you to the knowledge-base portal: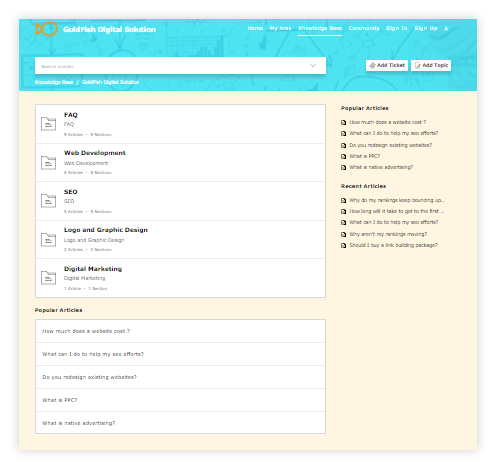 You can segregate the query responses and articles into well-defined sections, depending on the services. This makes it super convenient for the customers to quickly get hold of the required information, without searching desperately: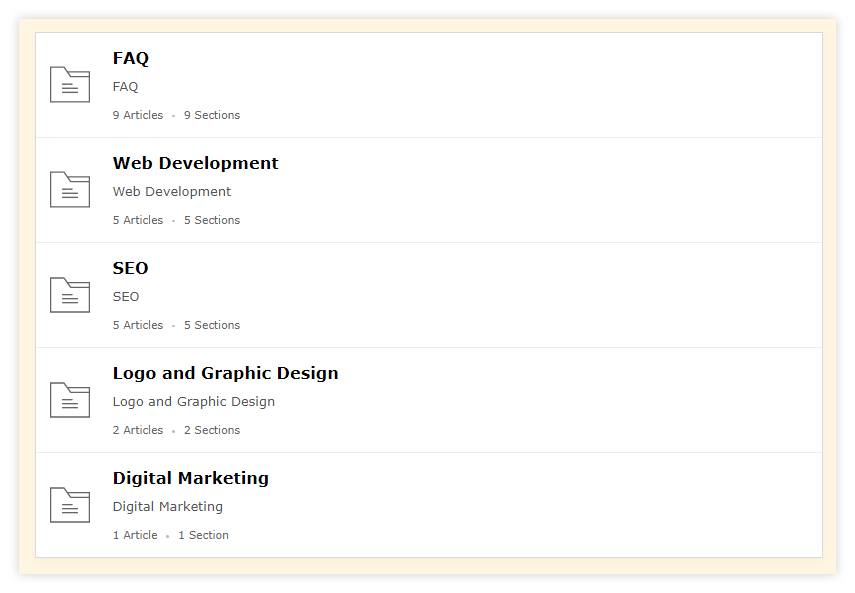 You can also add sign-in and sign-out functionalities or keep it open for all: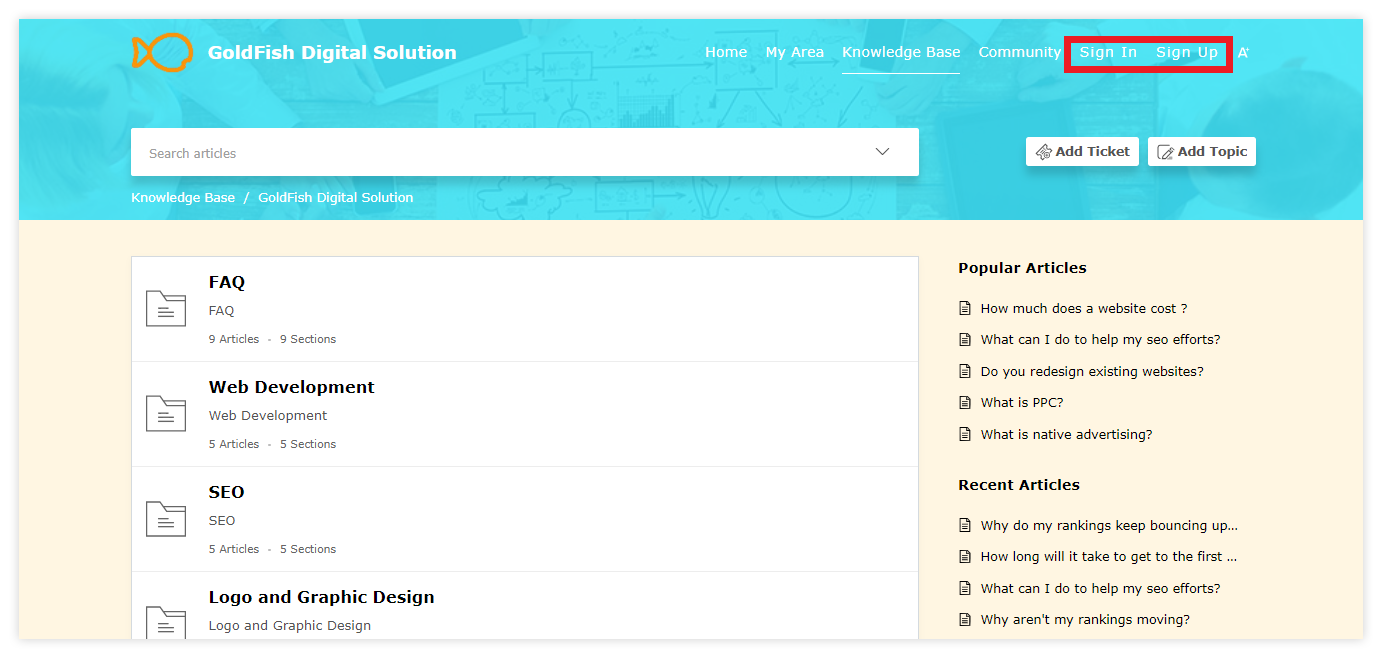 To make things more simple and easier for your regular customers, you can add categories, such as "Recent Articles". This will help your frequent readers to quickly overview the latest write-ups that have been posted: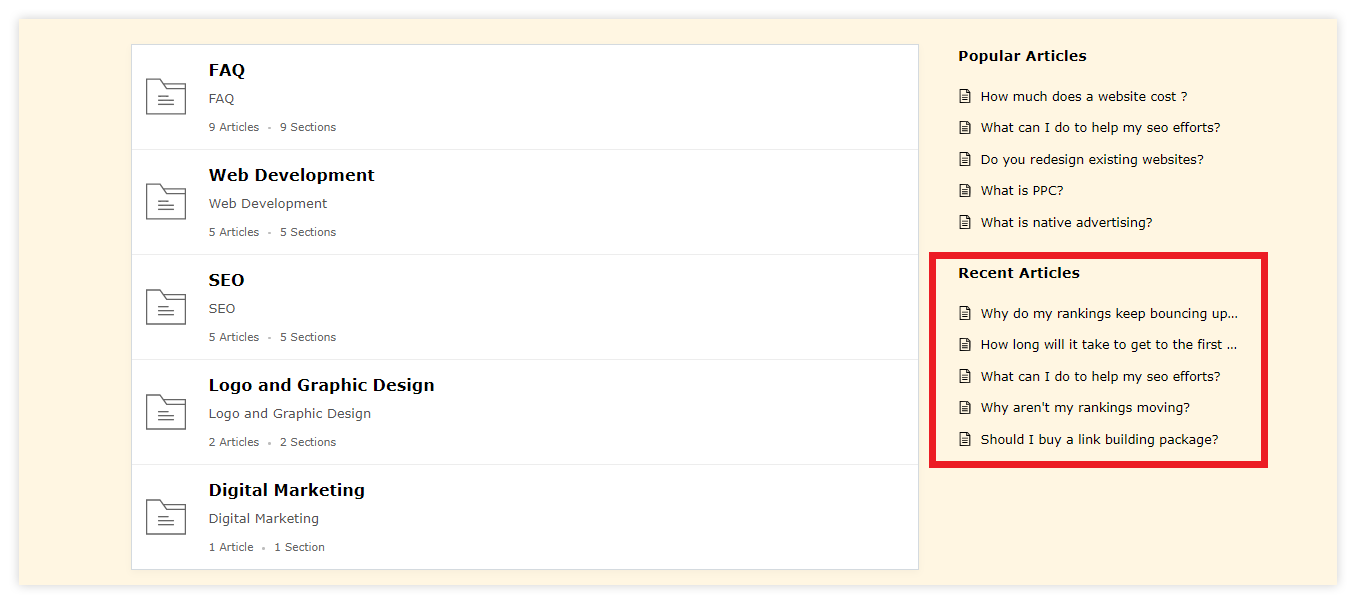 In the same way, you can also add a separate section, like "Popular Articles", which will encompass those write-ups that are most viewed and read. Here the system keeps track of the articles that receive maximum clicks and lists them accordingly: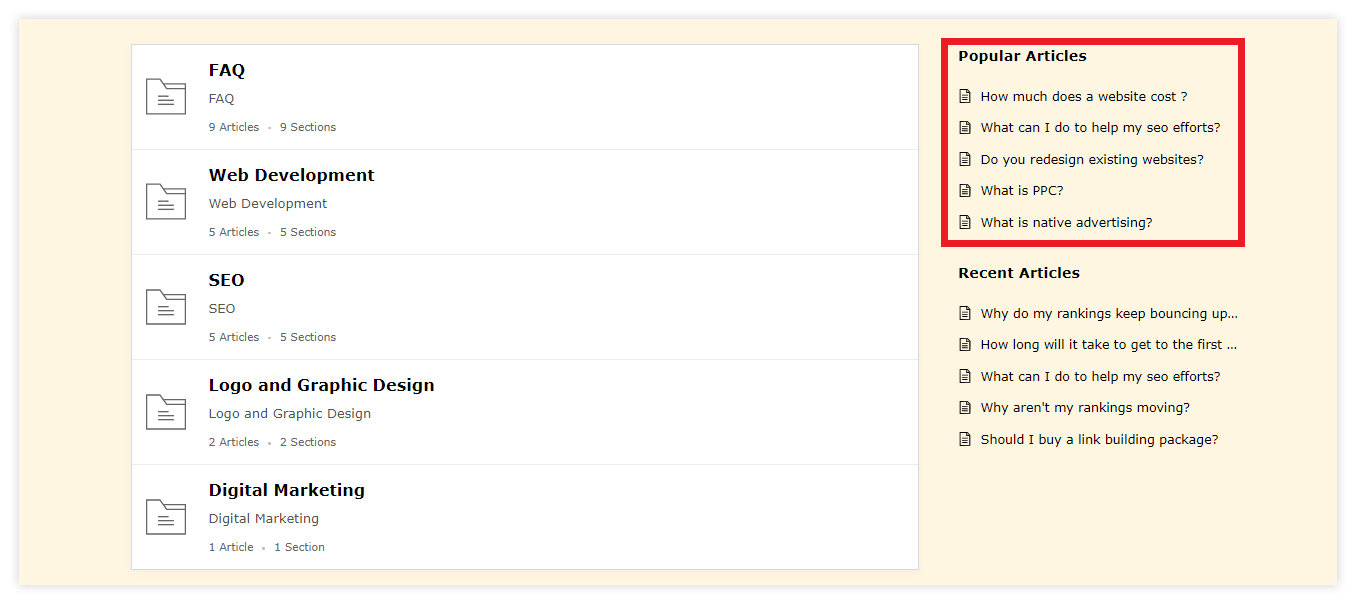 Adding a Community Section
Also, you can have a community section, which will enhance customer engagement.
With a user-community, you can boost interaction among your users. It allows the customers to interact with each other, discuss important aspects, and also debate about various related topics. This is a highly interesting way to augment customer engrossment towards your business and brand.
So if you have a large user base, building a community in this portal can be not only advantageous to your customers but also to your company. Your customers will get their queries answered and you will continue to gain recognition: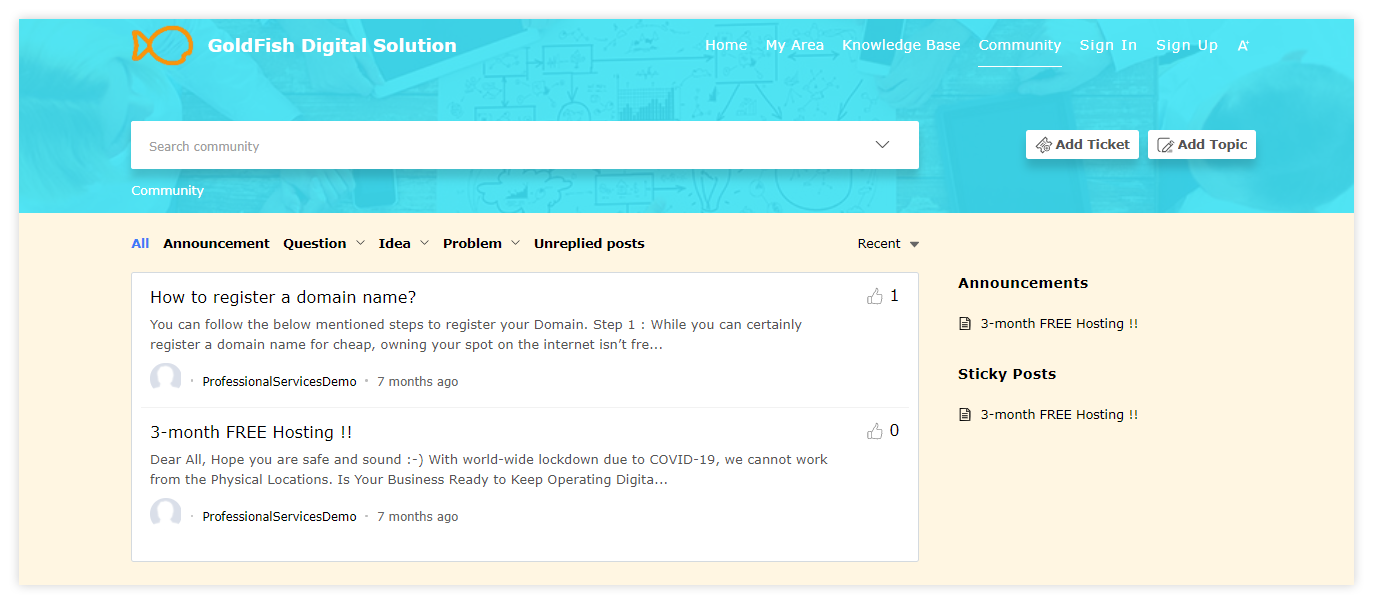 In your community page, you can also post important announcements, which will inform your users about recent updates: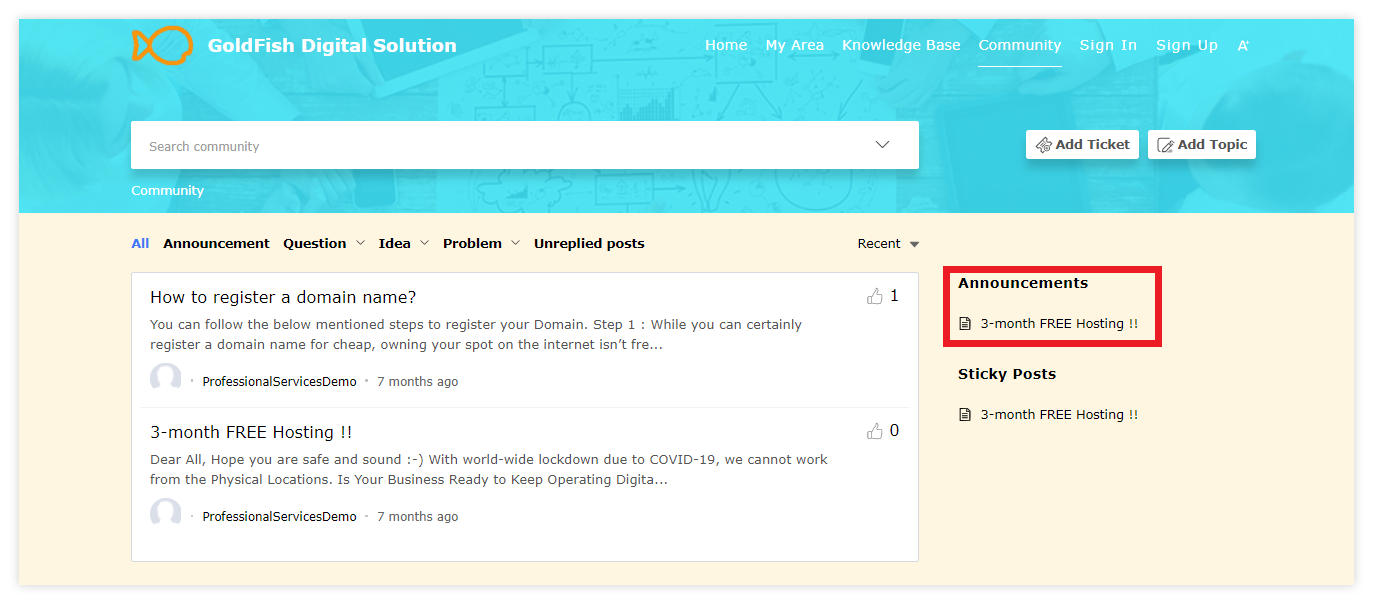 So as a Professional Services company, if you have any updates or running a campaign, you can post it here. This will help you to inform your audiences at large, making your work straightforward.
Conclusion
Setting up a self-service knowledge-base portal might not really seem significant, but in reality it plays a dynamic role in influencing your prospect and converting them into a lifelong customer.
It tries to eradicate the trouble of squeezing out time to visit a company for more information about the product/services. As with a knowledge-base portal, your customers can get their own time to gain access to the information. This continues to empower them and acknowledges their free will.
Moreover, a knowledge-base portal helps your support team to function more efficiently and use sufficient time to resolve complicated issues.
Not just that, it continues to validate and authorize the information that you provide about the services/products, as the knowledge-base portal is connected to your official website. So, information gained from the company website via the portal, assures the customers of its veracity, without their need to physically visit the gate-keeper.
With Zoho Desk, an awesome application of Zoho One, you can create a knowledge-base portal and link it to your website. This is easy, quick, and makes your website a resourceful platform.
If you want to know more about how you can create a knowledge-base portal via Zoho One applications, then it is time for an expert consultation!