Zoho One for Professional Services: How Do You Better Manage Your Sales Pipeline
Sep 30, 2020
40% of the sales-reps think that prospecting is the most difficult aspect of sales, which is followed by closing (36%) and qualifying (22%). That is because in most cases we do not have a simple structure through which we can monitor and predict the revenue.
To funnel your sales processes and make a proper prediction of the prospective revenue generation, it is crucial to manage your sales pipeline.
You can say that it acts like a backbone, supporting the overall process. So it is important to have systematic control of the sales pipeline.
Hence, I am here today to give you the tips on how you can effectively manage your sales pipeline. With these tips you can fully utilize your CRM systems, empowering your team members and the sales processes.
But, to thoroughly understand these tips, let's first delve into the understanding of what we mean by sales pipeline.
What is a Sales Pipeline?
A sales pipeline can be defined as stages that a customer undergoes in the sales process. Being visible in the CRM systems, it helps the sales rep in monitoring and tracking the stages that the leads are in the sales journey.
When all your leads trek the sales stages, you can start observing their progress through the sales pipeline. This analysis will determine those prospects that have the highest probability of completing all the stages and agreeing with the buying process.
Hence, your sales pipeline acts like a guiding force, enabling you with the foresight to predict the revenue that will be generated.
Not just that. By properly viewing and tracking your prospects and customers through the pipeline, you will be in a better position to strategize and take impactful actions.
So, in the next section, let's understand how you can control the sales pipeline and use it for your advantage.
How to manage your sales pipeline?
Now, I will share with you 6 amazing tricks that will help you to effortlessly manage your sales pipeline.
1. Define stages in your sales cycle
Let's get this straight!
All businesses are unique. You can belong to a particular industry, but your activities and requirements will be different. This means your business will follow different stages, unique to your sales cycle.
So, it is important to identify those stages and define it properly, in order to efficiently track the sales process.
Many businesses use a generalized sales pipeline template, which is good if it matches your sales cycle stages.
But does it exactly match with the steps that your buyer undergoes before closing the deal?
If not, then it is better you customize the sales pipeline to completely match with the stages compatible with your business. The pipeline can comprise either short or long stages depending on your business niche.
Every sales stage starts with awareness of the client about their needs; consideration about how your business can fulfill that need; and finally when the buyer expresses their decision.
So, your sales pipeline will be based on the three basic stages of awareness, consideration, and decision.
Zoho CRM follows a straight-forward yet detailed pipeline structure. You can also customize the stages to make it compatible with your business sales cycle.
When you use the Zoho CRM, you will see stage-by-stage presented sales pipeline like this:

You can also get a total overview of the stages that your leads are in and their deal size: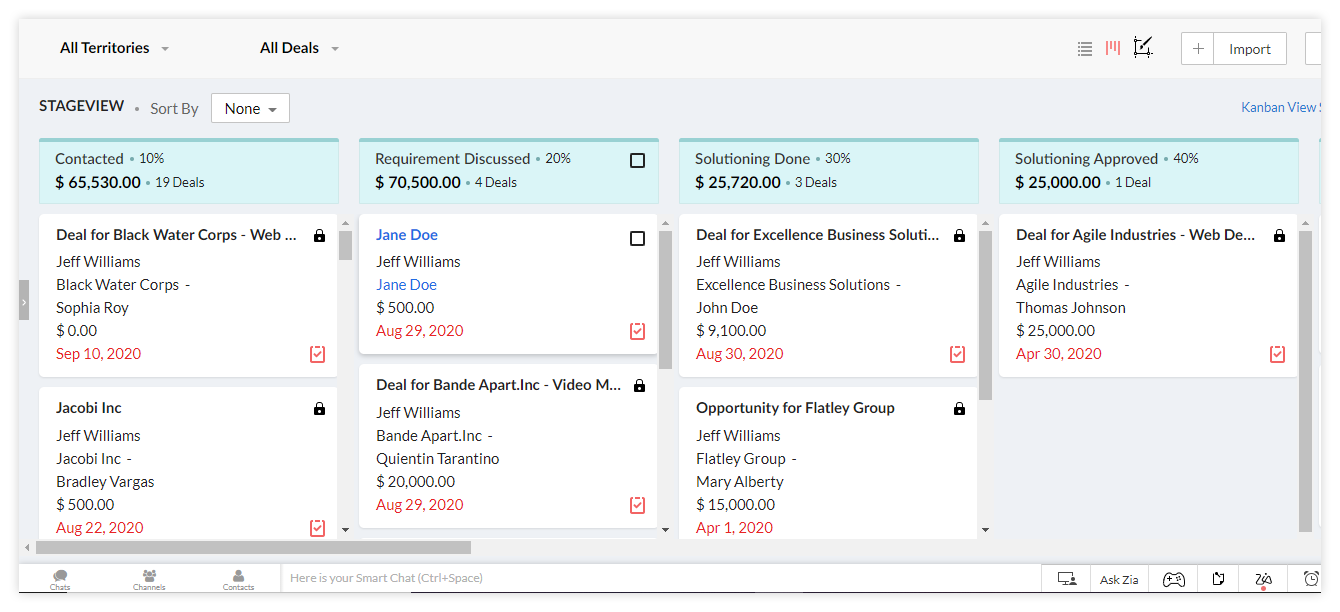 2. Be Attentive to Numbers
Numbers are important, especially in the sales process. With numbers, you can analyze the patterns that are usually followed by the buyers to complete the sales cycle and purchase the deal. This will give you an extra ability to analyze your leads' possible behavior in relation to every stage of the sales cycle.
The best way to work with numbers is to work with percentages. Calculate the percentage of leads converting during different stages. After all, this analysis will guide you towards the strategies that you need to implement for prospecting the sales.
Not only that, but you also need to be attentive towards all your leads in the entire sales cycle of yours. This is very crucial because the initial overwhelming numbers of prospects, successfully accepting proposals, might distract you from the long-term goals of meeting the monthly sales target. This distraction will get reflected in the next monthly report, showing low sales revenue, affecting the yearly sales target.
Coming to sales targets, you must aim towards an optimal number that you wish to achieve via your sales every month. To achieve this, you must calculate the number of prospects converting at each stage of the sales cycle.
But, without a CRM system, this process becomes super difficult.
With the Zoho CRM visually over-viewing the funnel, you will get a clear picture of the numbers converting, aiding you to forecast your sales. The sales funnel simply acts like a filter, sieving out the customers, converting at each stage of the sales pipeline.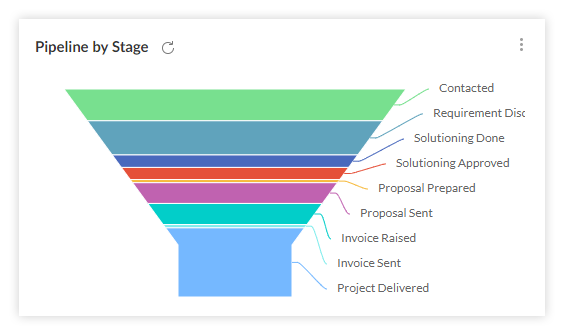 Also, in Zoho CRM you have the option to sort out the stages via filters that will make tracking all your leads super-easy. In this way, you can monitor better and make sure that none of your lead stages are overlooked.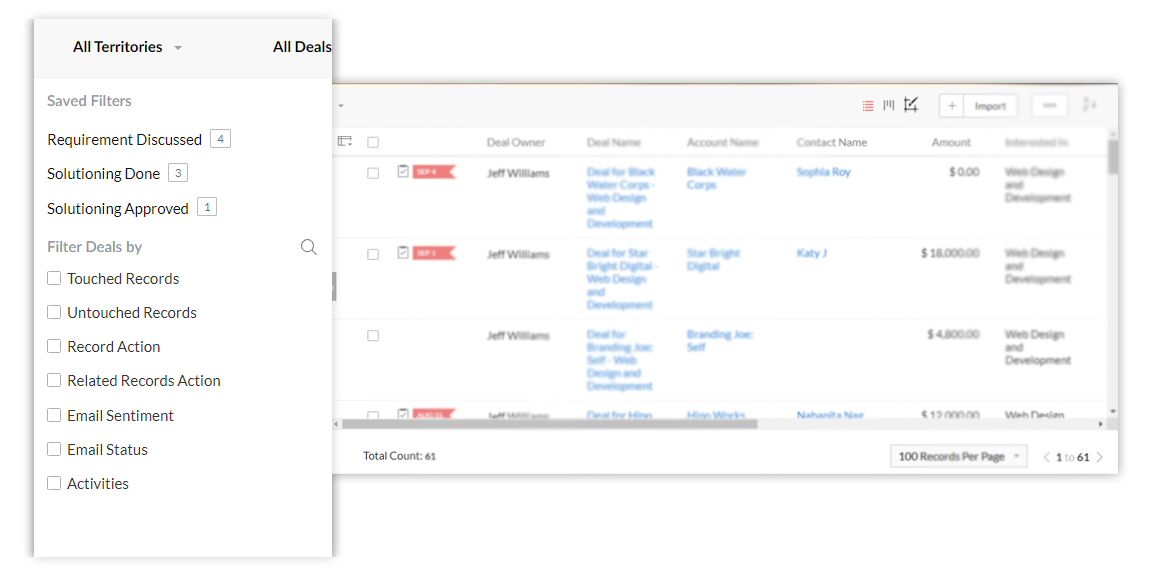 3. Prioritize Your Deals
If you are dealing with 100 prospects, you possibly cannot give the same attention to all of them. At the same time, not all deals are equal.
Some deals might be 10 times greater than your average deal size. Some might have earlier deadlines. In that case, your attention towards each deal will vary depending on various factors.
So, Deals that have a closer deadline or a higher deal value will receive more attention than a deal that is not very significant.
Hence, prioritizing your deals in the pipeline is vital if you want to successfully complete the sales target.
You simply cannot randomly select and prioritize your deals. Statistics show that 50% of your prospects are not a good fit for your business. So, you have to set your priority list to make good use of the time.
In order to systematically manage all your deals, you must use certain factors through which you can set your priorities.
You can do this with the help of your Zoho CRM system, which can easily show you all the deal stages in each sales pipeline. There are two ways you can achieve this.
First, for each deal in your pipeline, you can put a tentative closing date and expected revenue. So, in this way, you know the size of the deal and the closing date. Depending on that, you can prioritize.
Therefore, you will be in a better place to judge where to put more focus and how you can go about this.
Second, you can do this by checking the probability. The probability percentage comes up depending on which stage the deal is in; and depending on what kind of communication you have with your lead. So you can create different rules in the backend of the CRM on how this probability is calculated.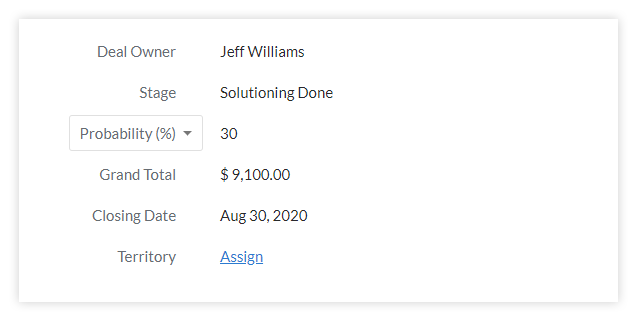 4. Clean Your Pipeline
I know we often overlook this crucial point. But, it is extremely important to remove any unnecessary data from your sales pipeline.
If you keep on storing all the unwanted data in your system, the CRM will show the wrong information. How? Let me explain.
Your CRM is the guiding force that will help you to make the upcoming decisions and strategies. So when an unwanted data is also mixed up with potential ones, then you will end up making wrong decisions regarding your sales strategy.
How improper it would be to waste your time on a lead, who has already decided not to purchase your service. So, this messes up the entire calculation and the funnel.
Hence, it is extremely critical to clean the sales pipeline.
To maintain a clean, up-to-date pipeline, you must immediately update the pipeline with the lead information. Also, you must set your deadlines and the maximum number of attempts that you want to take in prospecting a customer who has become dormant.
For instance, you have a deal stuck in a particular stage for many months. You must contact them to understand whether they are still interested. If you don't get a response, then it will be your time to send a sales breakup email, informing them that you are clearing their data from your database after a certain period.
Especially in a B2B scenario, businesses of any size will have their own lead qualifying timeline, dependent on the average response time of your lead. Hence, it is up to you to decide on the time-frame that you want to give to your client before wiping them off the system.
In that way, you will not miss out on any vital lead and will be able to maintain a cleaner and an accurate sales pipeline.
5. Pay attention to communication
In a professional services industry, the sales cycle is typically a long one. Mainly because, it involves multiple people, organizing meetings multiple times to reach a well-approved solution. So it is important to pay attention to the communication process that is taking place with your clients at each stage.
Statistics suggest that it takes an average of 18 calls to connect with the buyer and persuade them.
So, if you do not keep pace with communication that you have with your clients then there will be chances of missing out on prospective ones.
In Zoho CRM you get two effective ways to maintain communication.
First, you can access the deal option in your CRM system and view the activities of your clients. In this way, you can filter out and track your communication to understand the deal stage.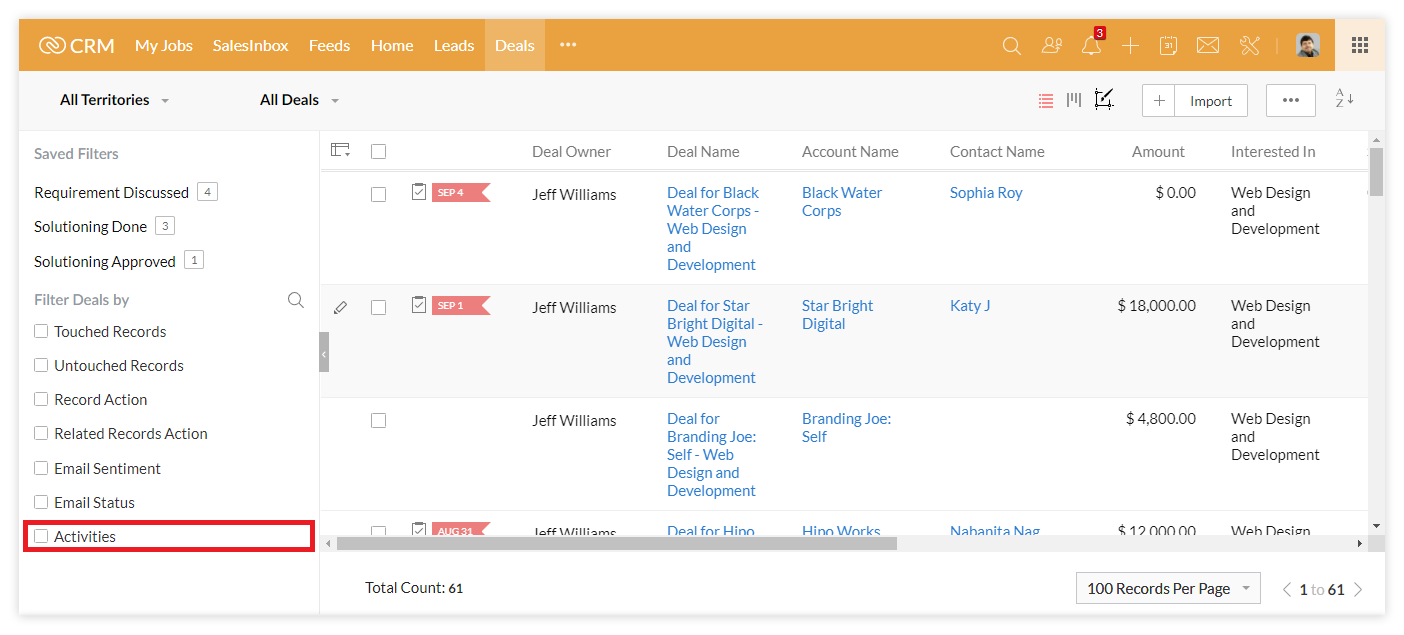 Second, most B2B businesses use emails to channel their communication with customers. So, to track the entire email communications, you can enter the deal option. Here you will get to see all your email exchanges with your prospect under the email section, making your life easy.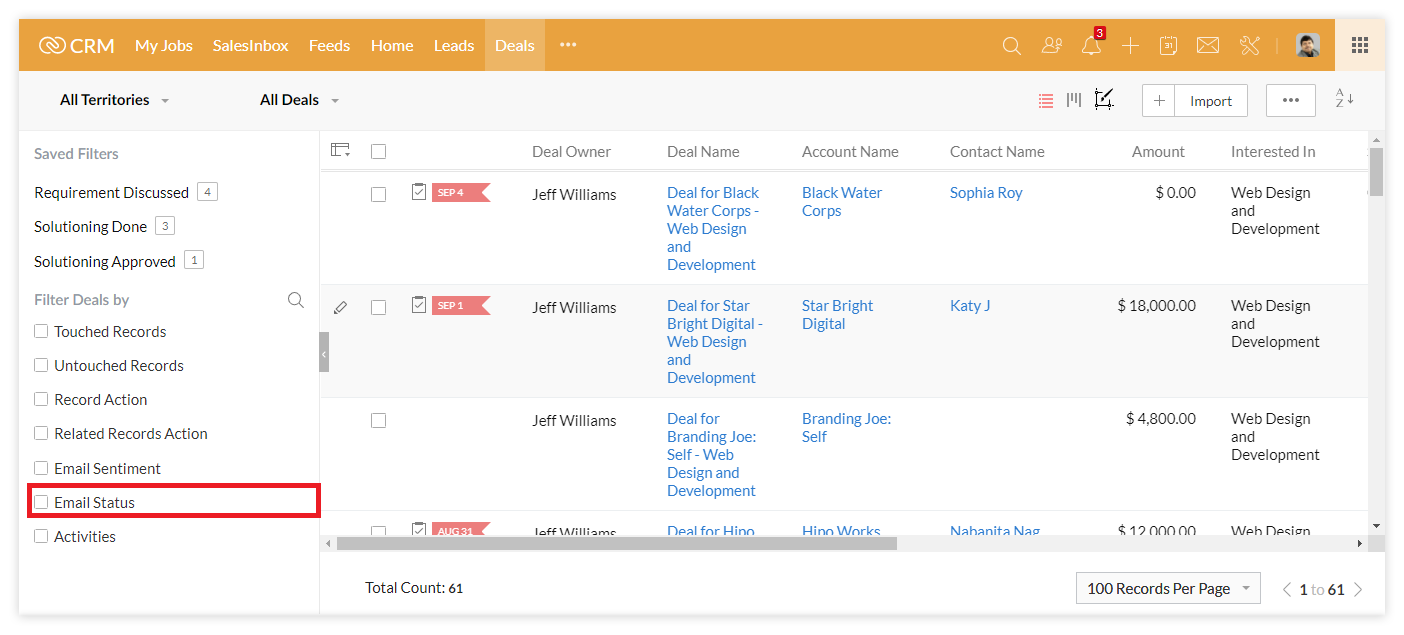 Also, to monitor your communication with your clients, you can use SalesInbox as well. With the SalesInbox, integrated into your Zoho CRM, you can manage the communication with your clients smoothly.
This further helps you to streamline your inbox. Because this system has a powerful AI working and sorting out important mails by sensing the tonality. In that way, it identifies the sender, and automatically updates your CRM system, stacking them in a prioritizing manner.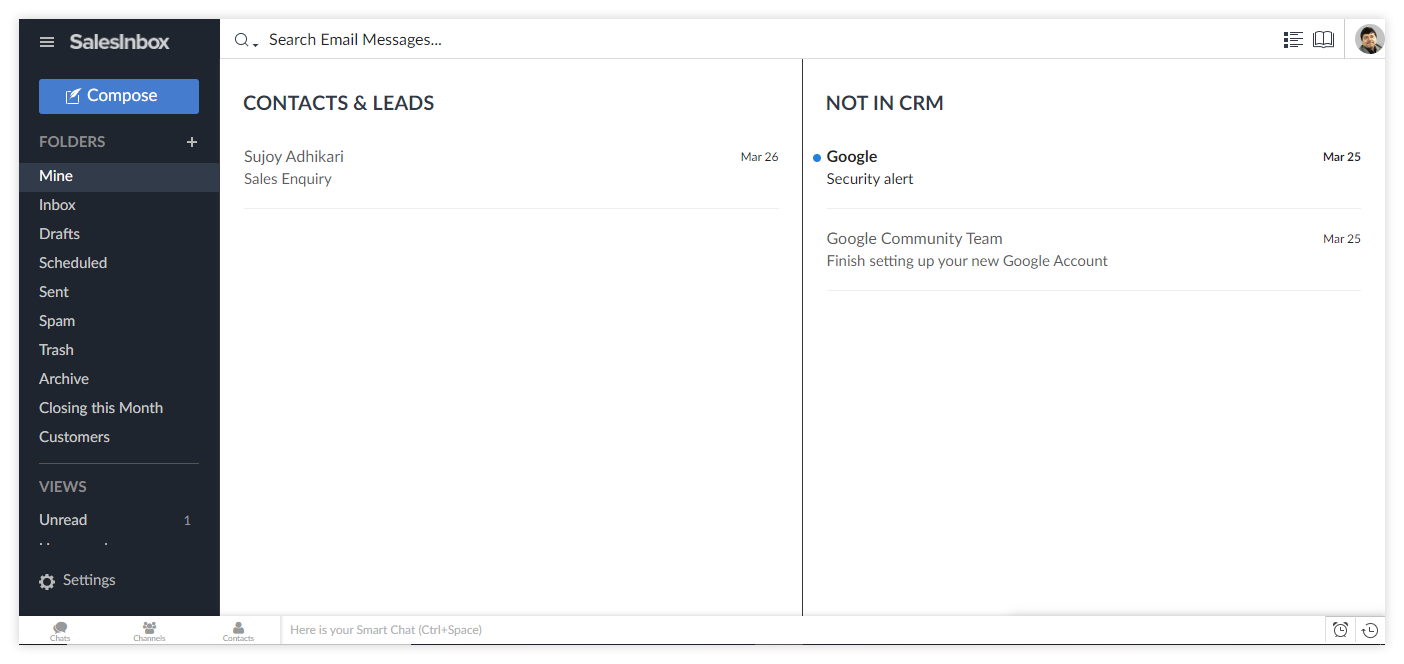 Through SalesInbox, you can flawlessly track the sales funnel.
6. Appointment Management
Managing your appointment is really crucial to ensure that you can keep moving forward in your sales pipeline easily.
By properly managing your appointments, you can keep your clients involved and engaged. Also, a planned appointment booking process can make sure that your company looks professional and sets the right impression to the customers.
If you do not handle your appointments systematically then this might lead to many discrepancies, like missing out meetings with your important clients who can add value to your business.
You just cannot manage your appointments through spreadsheets and diaries. You must use Zoho Bookings for it.
With Zoho Bookings integrated to your CRM system, you can automatically set and monitor all your appointments. Each member can set their availability and even block their dates to make sure that the booking process is direct and does not consume time on deciding a suitable time. This makes the system extremely compatible with professional services companies because a B2B scenario involves multiple decision-makers who need to be available during the meetings.
Zoho Bookings gives you a centralized display of all the upcoming meetings which makes it easy for you to plan your work. The meetings also get synced with the Zoho CRM, which prompts you by sending reminders. This keeps you ready for any scheduled meeting and also makes sure that you never miss out on a vital appointment.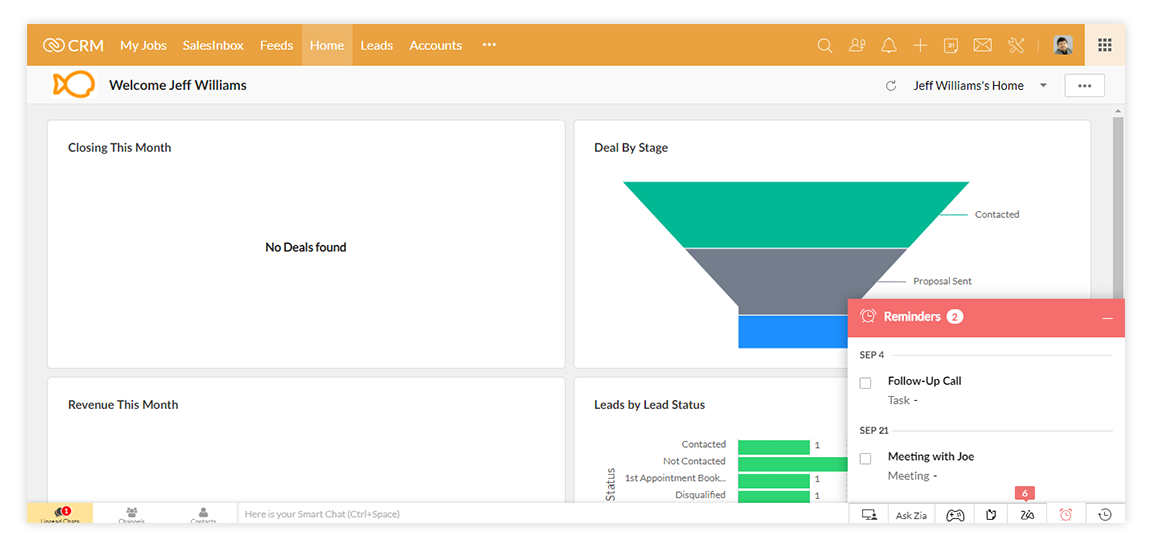 Conclusion
Getting just a CRM is not enough!
Being a horizontal system, it will accommodate a more generalized structure, which will not be compatible with your business.
Since the stages of your sales cycle will definitely differ from other businesses, you would need a customized sales pipeline to accurately monitor the stages and nurture your leads.
For that you must scale the CRM in accordance to your business needs. You have to tailor your CRM based on your business process, sales stages, and pipelines involved in your sales cycle.
So, if you are looking at making your Zoho CRM work for your business, then it is time for an expert consultation!