Zoho One for Professional Services: Identify Cross-sell and Up-sell Opportunities with Existing Customers
Dec 2, 2020
It is not a bad thing to cross-sell and up-sell. After all, we are running a business here!
But, it is only the feeling of wellbeing towards the customers that can help you to cross-sell and up-sell perfectly. This feeling will help you to better understand how your services can help your customers to accelerate themselves to their full potential.
Also, to cross-sell and up-sell successfully you need to retain your customers. Without your existing customers, no new customers will be able to perceive how your recommendations will be useful to them.
No wonder, when customer retention gets increased by 5%, then the profit rate also increases from 25% to 95%. Moreover, let's not forget that acquiring new customers can be expensive, almost 5 to 25 times more.
So, make sure you are doing a great job in your project delivery stages so that you can be trusted and verified as an indisputable company in your industry. This will make your customers, acquired through huge investment and time, get anchored to your business.
Once, you build an amazing relationship with your clients you can then cross-sell and up-sell your products/services.
Today's article is all about how to take good care of your customers and your profits through cross-sell and up-sell. So, we will first explore the proper definitions of these terms. Following which we will talk about the importance of these practices to make a business big. Finally, we will be going through the 5 points about how you can cross-sell and up-sell via Zoho One applications.
What is Cross-sell and Up-sell?
Before really diving into the formal definition of cross-sell and up-sell, let me narrate a story.
There is this restaurant very close to my house that I often visit to eat my dinner. It has been almost a year and a half that I am visiting this amazing place. I love that restaurant, not just for its amazing menu and quality food, but also I feel that the staff really knows me and cares about my appetite.
During my initial visits, I would frequently order the yummilicious chicken sandwich. It would satisfy my desire to munch into a buttery crispy yet creamy flavored dish.
Then one day, one of the staff recommended that I try fries with it. I took it, as the temptation seemed too great a deal to handle.
Then after some time, the staff recommended me to try out their all-new chicken veggie sandwich which is tasty and healthy at the same time (a very tough combination to get I think!). So I upgraded my chicken sandwich to the recommended one. Although it did increase the price a bit, I didn't mind paying for that because of this supreme experience.
This is the story of every customer, not just mine!
Now let's define both the terms of cross-sell and up-sell. When the staff recommended and sold the fries along with my regular choice, chicken sandwich, then that's cross-selling. When the staff advised upgrading my sandwich into a more healthy option, then that's up-selling.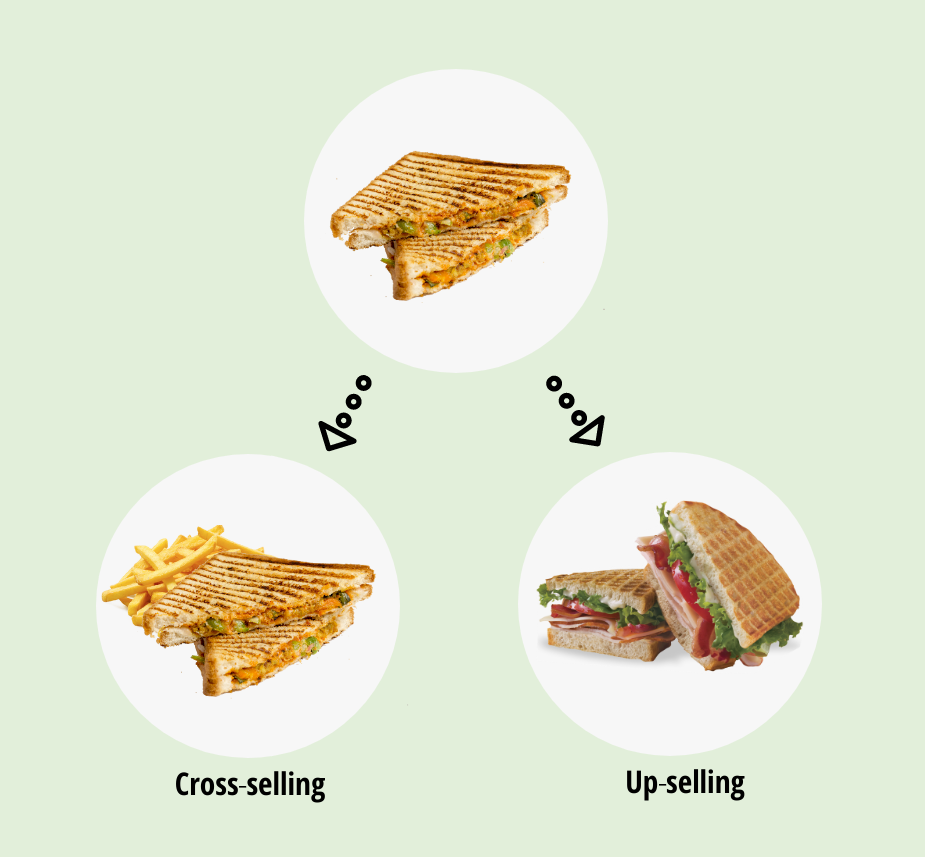 So, to put it in brief. Cross-selling is defined as the act of selling another product/service to the customer related to the purchased product/services. Up-selling is defined as the act of selling a more premium version of the same product/services that the customer usually purchases.
Why is it Important to Focus on Cross-selling and Up-selling?
If as a company you want to expand, then cross-selling and up-selling is inevitable. If you do not engage in these practices, then your ROI will not show the growth that you expect.
So, when your retained customers have more faith in your product/service, then you can cross-sell and up-sell. This increases your profit because these customers are willing to spend more on your business. And you don't have to invest anything additional to acquire these customers.
Also, when you cross-sell and up-sell, you open your customers to almost all the best options related to their requirements. This enhances loyalty within the customer, as they feel thoroughly informed and aware. This is the reason why cross-selling and up-selling are deemed to give customer satisfaction.
Another interesting angle to this is that when your existing customers keep on purchasing related products/services and also the upgraded ones, they get tied to your company. This gives them a longer lifetime value.
From the customer's perspective, cross-selling and up-selling can give them an extra hand to be their best. They get all the available options to choose from and also get complete knowledge, which allows them to make the right decisions. After all, as a customer, their main reason to buy a product/service is to fulfill their requirement as successfully as ever. When they will receive good recommendations and suggestions, this will guide them towards better choices.
How can You Cross-sell and Up-sell Like a Pro: with Zoho One
Cross-selling and upselling are essential for your company to generate profits and to justify other services that your business deals with. It keeps the work process rolling, allowing more expansion opportunities.
Also, not just for you as a business owner, but also for your customers, cross-sell and up-sell can harness better results. In a B2B scenario, your customers get to utilize your services and your recommendations to their fullest, helping them to grow.
But it is important to know the tricks that can make you cross-sell and up-sell like a pro.
So, let us list down 5 ways through which you can make cross-sell and up-sell worth the shot. Also, we will see how Zoho One applications can help you to do this.
1. Deciding on When to Cross-sell and Up-sell
It is crucial to have a fair idea of which products/services need cross-selling and up-selling.
Remember, in my restaurant story, it took them quite a while before they could win my trust through their amazing service, and then make recommendations.
Time is needed to understand the customer and what he/she might need to achieve their aspirations and optimize performance. Once you are aware of your customer's possible requirements, you can suggest and inform them how other solutions or a higher version of the product/service can help them to achieve the maximum output.
Again Cross-selling and up-selling are quite distinct in their effectiveness. Statistics suggest that up-selling is 20 times more fruitful than cross-selling. This is simply because, in an inbound setting, customers are sure of what they are looking for. Hence they are easy to persuade for a superior version of the same product/service that they want.
But, that doesn't mean that cross-selling will not work. You see, both these strategies work differently and need different timelines. For cross-selling you have to look through the possible gaps in the customer's overall idea about their aspirations and provide a perfect solution that they might not have thought of; a solution that can make them go "Wow!".
But you just cannot do it randomly. You have to wait for that wow moment to set-in and this might take a little time.
Now, if you have a system in place, then you will have a better idea of how to make decisions of when to cross-sell and up-sell. Zoho CRM that is integrated with Zoho Desk, lets you get access to all your customer's data, giving you a better direction of the right time for your next move.
Like, you can have an overview of the issues and make good suggestions: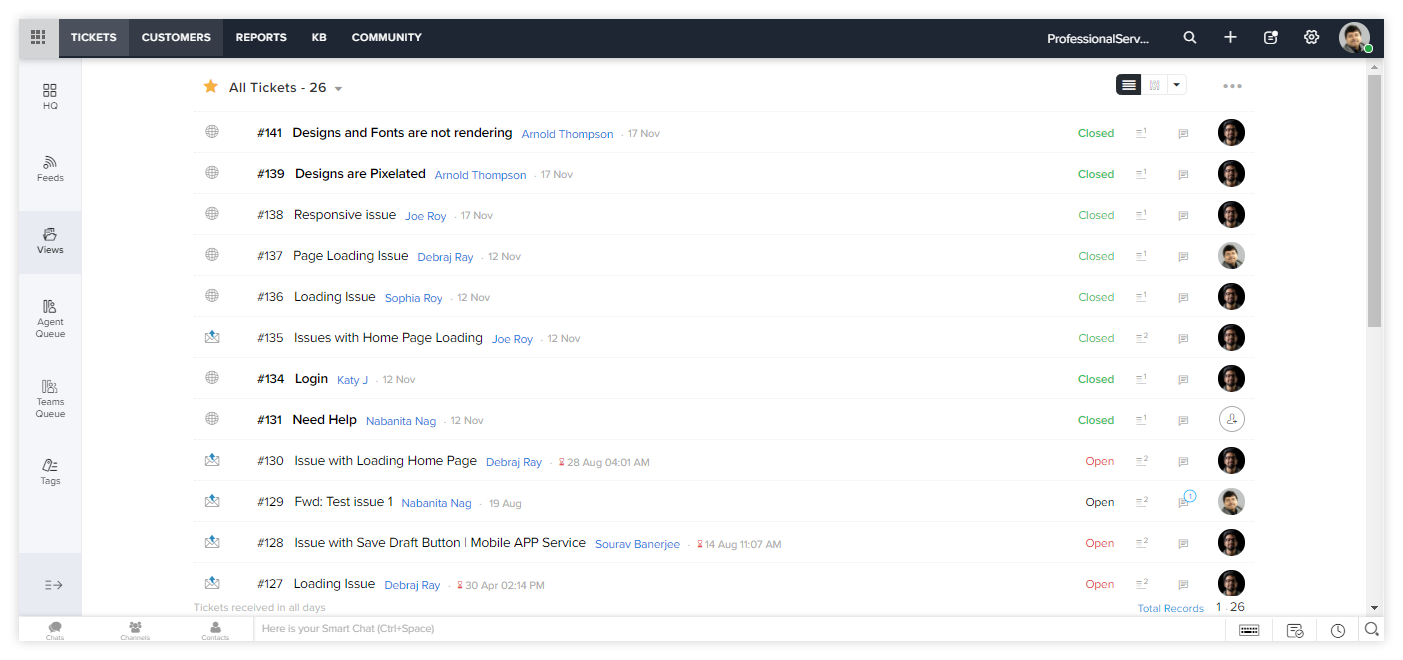 2. Suggesting Cross-sell and Up-sell that is Relevant
Knowing your customers pretty well is the key here.
If you bombard your customers with suggestions of random products/services, then probably they might get irritated.
A customer that is looking for stationeries, might not really be interested in board games!
Hence, the product/service that you suggest needs to be related to what the customer wants. For instance, if a customer looks for a pencil, you can upsell better versions of that pencil and cross-sell an eraser. That's relevant and might give a good direction to the customer of using their products/services to their fullest.
So make it relevant!
To have a proper understanding of how to tap a customer's choice and relevant options, you have to implement a system. Humanly, it is not possible to keep track of hundreds and thousands of your customer's preferred purchases. So, try using Zoho One applications.
When you integrate your CRM system with Zoho applications, you have all the information in one place. This 360-degree visibility will guide your judgment, helping you to recommend products/services to your customers that might be beneficial and needed.
In the CRM you will see all your customer contact information: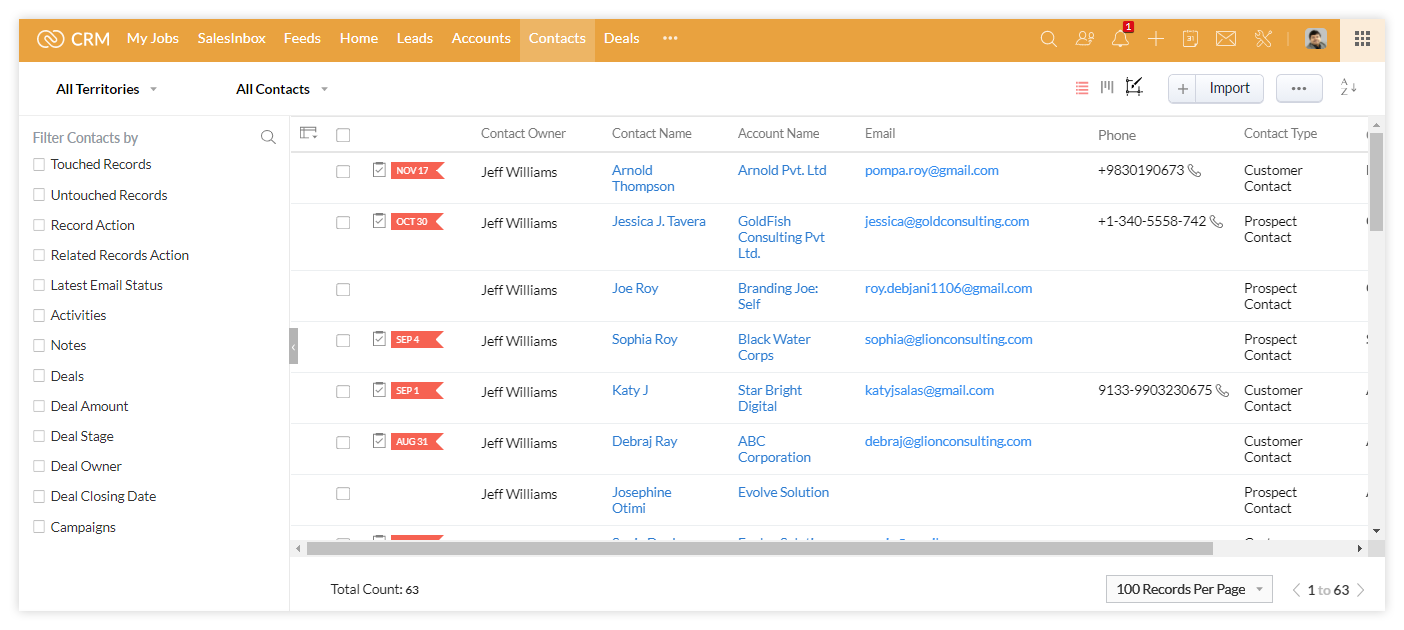 Along with customer details: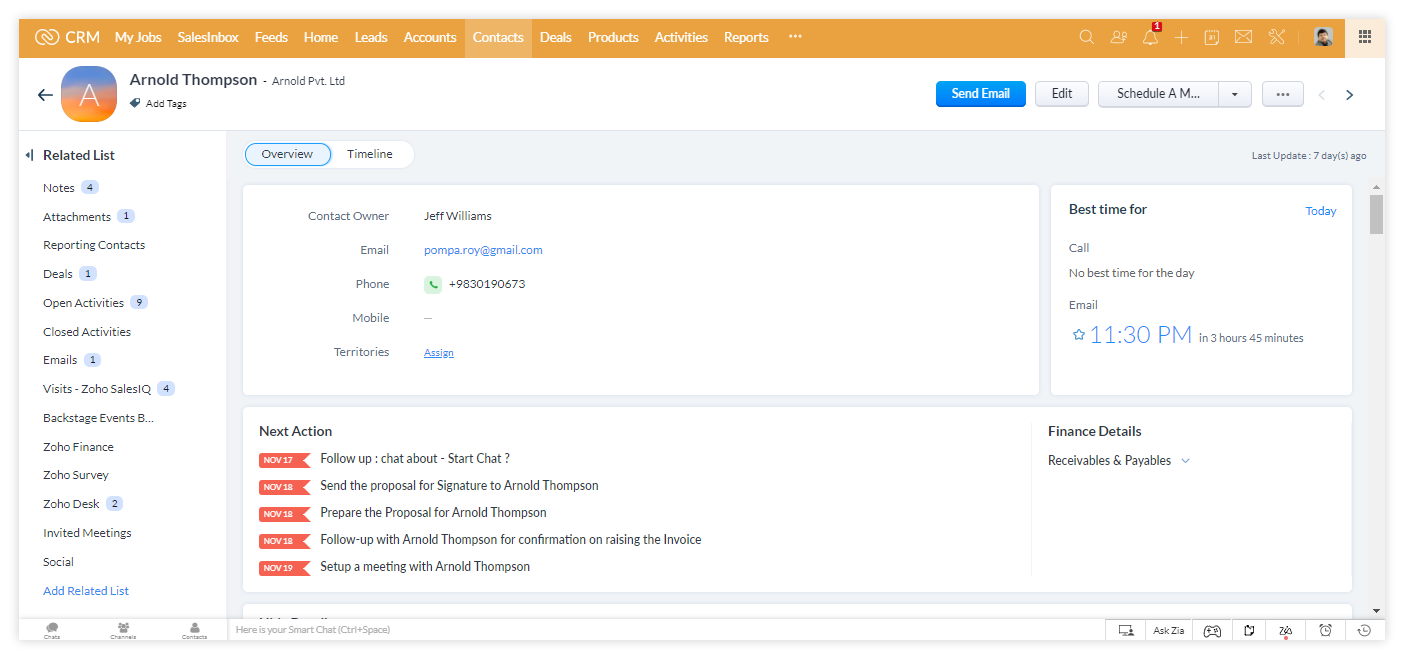 This will help you to make the right actions.
3. Honesty is the Best Policy
Absolutely!
This quality has a unique way of winning the hearts of the people. After all, whether we admit this or not, we seek honesty in others.
Transparency with your customers about the product/services that you are cross-selling and up-selling can make them fall in love with you.
Call it an innate ability in human beings, but we can all sense whether a communication is honest or not. So, it is quite natural for your customers to back out from your pitches if they think that you are hiding some vital information.
Therefore, while cross-selling and up-selling, be really honest about the product/services. Be clear about the pricing, the benefit they will get from it, the contract, and so on. Keep your customers informed.
In a B2B situation, information is power. Hence, in this industry, the customers seek an honest representative. Transparent communication strengthens the bond between the company and its customers, retaining them for a longer period of time.
Now, if you are worried that your honesty might snatch away the predicted profits, then you are wrong!
Because a customer can understand. In fact, your transparency will make them feel adequately informed, keeping them loyal and dependent on you for advice regarding any purchases from your company.
After they get a good result from your suggestions then they will keep on reverting to you and might even bring some friends along.
4. Offer Exciting Rewards
Apart from being really honest, there is another interesting way to keep communication strong with your customers. That is to offer them tempting rewards, discounts, and loyalties; so that they never feel that you don't care about them.
68% of the customers leave a company because they feel that the company does not care about them.
Some companies often overlook the existing customer once they have completed cross-selling or up-selling the product/service. Probably that is the reason why the customers feel less cared for and leave the company.
So, pampering your existing customers with lucrative offers can keep them bonded and excited about your business. Moreover, this will help you to continue with your cross-sell and up-sell, boosting the ROI.
It is also a good gesture to thank your customer for being loyal and for accepting your suggestion regarding products/services. This simple gesture can make a huge difference, gluing them to you for life.
To make this communication even more strong and engaging you can take the help of Zoho CRM. With this application, you can monitor your customers and their actions.
Having a good record of your customer's purchases, you can automate the entire communication. This will help you to personalize emails and add small touches, like wishing them on their anniversaries, etc. You can also give them special discounts on relevant options that will make them really happy and valued.
5. Justifying Your Cross-sell and Up-sell Suggestions
To decide on the appropriate product/service that you want to cross-sell and up-sell, you have to do a lot of homework. But, after you have identified the right options, your work isn't over yet, as you have to look for proofs and justifications that will make your pitches and recommendations believable.
The best way to make your suggestions stronger is to provide testimonies from real customers who have accepted your recommendations.
Testimonies go a long way because it is a verified piece of evidence of other customers, who all have benefitted from the product/services that you offered. In fact, in the same way, customer reviews play a major role in convincing your clients about it.
Not just that, you can also show data that will verify your pitch.
For a Professional Services company, dealing with intangible services, it is very difficult to provide concrete evidence of your recommendations. So, in such a situation, testimonies go a long way in helping the customer understand your outlook.
As an example let me show you a testimony of GoldenLion: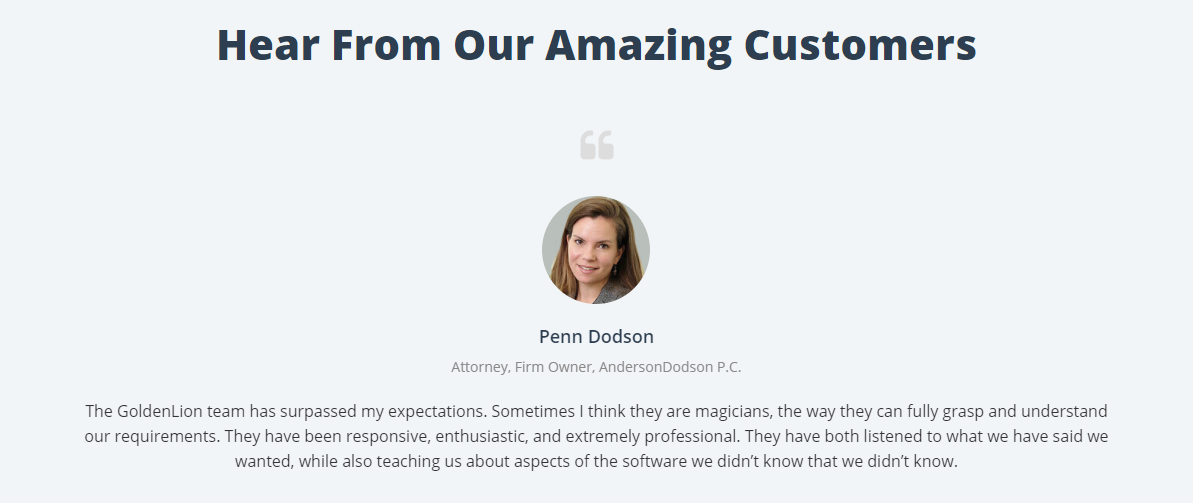 Also, it is of absolute necessity that you do not appear forceful, and sales-y, while cross-selling and up-selling. This is because it will work against you by making your customers feel obligated.
Conclusion
If you want to grow as a business, you have to cross-sell and up-sell. These strategies are an important catalyst that boosts your returns.
But to properly cross-sell and up-sell you have to keep certain factors in mind. You have to be tactful when choosing the products/services which you want to cross-sell and up-sell while being relevant. You also have to be honest and demonstrate proper reasons for your recommendations. Finally, you must thank your customers by giving them rewards, discounts, and personalized offers. This will make them feel special.
Now, without having an automated powerful system, it is difficult to maintain these factors. When you have a CRM in place you have the platform to identify the customers and can take the right strategies to leverage your revenue.
So, If you want to know more about how you can cross-sell and up-sell via Zoho One applications, then it is time for an expert consultation!