Zoho One for Professional Services: Manage Your Project Task like Never Before
Oct 28, 2020
Project Management is the most crucial aspect of a professional services company. You and your team-mates are working hard to get the deal and work on different projects.
Completion of a project work ensures revenue growth and business expansion. At the same time, a good project performance also retains customers and maintains the profit flows.
97% of organizations feel that project management is supercritical to the overall success of the company and business performance.
Hence, managing projects allow you to be more than what you are now…
But, project management is not an easy job. To manage your projects systematically, it is extremely important to break it down into milestones, and tasks (also sub-tasks). In fact, unless you manage each task minutely, everything else will fall apart.
So, today's article is all about project task management. We will elaborate upon the effective ways in which you can work on your project tasks. We will also look into the powerful applications in Zoho One that can help you to manage your project task like a pro.
Tips for Managing Your Project Tasks
Defining each task gives you a better direction of how you can go about with the work, helping you to function well.
But, task management can also feel tricky if you do not follow a few important factors.
Hence, I will elaborate upon 4 crucial points that will help you to manage your project tasks effortlessly.
1. Task Allocation
Every task management has multiple facets. Task allocation is one of them and the most significant one as well.
While allocating tasks to your team members you have to be mindful of 2 important features:
Skill-set: the first step is to identify the resources and allocate the right team-members for different tasks. Without having enough knowledge of the abilities that each team member in your team possesses, you will not be able to utilize their skills well. This will in turn block all possibilities for your team members to expand their expertise and grow.
Bandwidth: Also, while allocating each team member with the individual tasks, you must make sure that you maintain a balance. Over-burdening a team member with an overwhelming set of duties, will affect his/her performance. In the same way, you also need to ensure that you fully utilize the skills that your team members possess. This means that allocating too little work or keeping them idle might keep their professional agility dormant, not expanding their abilities to grow.
2. Timeline
46% of the team leaders state that finishing the work within the set deadline is the hardest and the problematic aspect of projects. This means that in most cases project completion can be a tough call to take.
But for a Professional Services Company, maintaining a definite time while working on each project is super-crucial.
Hence, you have to provide a stringent timeline within which the allocated team members can complete their tasks.
This is especially important because some tasks are interdependent.
Say, if your project is about website development, you have many interrelated tasks. Like, you cannot start planning the website without gathering much information. Similarly, you cannot start designing without planning the design. So, the 3 different tasks that involve gathering information, planning, and designing are connected to each other's progress.
Hence, if you delay the first task, automatically your other task faces a longer timeline, delaying the actual time for project submission.
A well-defined timeline will make sure that the work does not get interrupted due to delays. This will further assure that the project is delivered on time, making your customers happy.
The best way to do this is by having a proper discussion with your team members. Ask them about the right timeline within which they can complete their assigned tasks. In this way, you can formulate a realistic timeline that you and your teammates can stick to.
Punctuality has its boons. Predominantly, it places your company at the pinnacle of professionalism and keeps on retaining customers that are loyal to your business.
3. Budget Management
Services provided by the Professional Services Company are always intangible. Hence, you cannot set a fixed budget for a specific service. But, you can fix a rate on the hours taken by each service.
We at GoldenLion, make sure that we specify the rate in an hourly model:

When you provide an hourly bill that clearly outlines the estimated hours that a particular task will take, then you and your customer can predict the fluctuations. Moreover, it makes your company look honest.
We all know that any monetary transactions come with great risks. Hence trust becomes a very big issue in most cases. To establish that trust, complete transparency is inevitable.
At the same time, many clients strive for perfection. They will keep on adding features and ask for other services that can fulfill their aspirations. This also means that the proposed budget will keep on increasing.
In these circumstances, an hourly-bill can constantly help you and your customer to keep track of the finances and monitor the budget. You can clearly inform your clients about the overshot from the proposed estimations.
Also, let's face it, being in this industry we are exposed to all kinds of customers. But as service providers, we have to approach different situations in the best ways possible. So, in this way, you can avoid freeloaders by politely showing them the budget details of each service.
Now, as you can already sense, budget planning is inter-connected with task management. Without managing your project tasks properly you will not be able to define the overall budget for the project.
4. Quality Control
Quality control is a very crucial factor in any Professional Services Company.
Am sure, when your project is ready, you definitely undertake an overall quality check before sending it to the customer. If not then it's not a good idea!
After all, if your customers come to you repeatedly with issues, then that is not a good thing for your company's reputation. This repeated quality check also consumes sufficient time, which I am sure you could have used differently.
But, by setting proper tasks for projects, you can manage the quality of the project effortlessly.
How?
Let me elaborate…
In most cases, when you divide your projects into tasks, these tasks are interrelated. So you cannot progress to the next task without completing the first one. In that case, before proceeding to the next task, you can immediately undergo a quality check. This will ensure flawless functionality, making the overall project seamless.
In fact, by the time you complete the project, it has already undergone quality checks and can have a final inspection. This saves a lot of time and minimizes errors.
Also, you get the option to monitor and inspect each task if an error does occur. This helps you to detect and identify the problem easily, opening avenues for a quick solution.
This brings out a supreme project quality that can brand itself as the best and lay an impression of excellence.
How Do You Manage Your Project Tasks with Zoho One
Statistics suggest that 77% of best-performing projects are managed by using project management software.
Yes, without a strong system you cannot manage multiple projects seamlessly. Especially when a project has a list of tasks, which you have to constantly monitor and also track your team member's performance.
Moreover, project management software can save an employee 498 hours per year. This means you and your team can get enough time to be more productive and raise the average performance bar.
So implementing a system in place can give you a strong grasp over project management.
Hence, with Zoho One applications you can manage project tasks very easily. Let me show you how…
CRM Integrated with Zoho Projects:
Zoho One offers you a platform where different applications, useful for different business purposes, are stitched together. Hence, if you have a CRM system, you can integrate it with other Zoho applications.
Here, the CRM system is integrated with Zoho Projects. This integration makes sure that the entire process is automated. Hence all the deal information, stored in the CRM, shows up in Zoho Projects.
So when you view the project status of a particular deal, all the information shows up in the dashboard: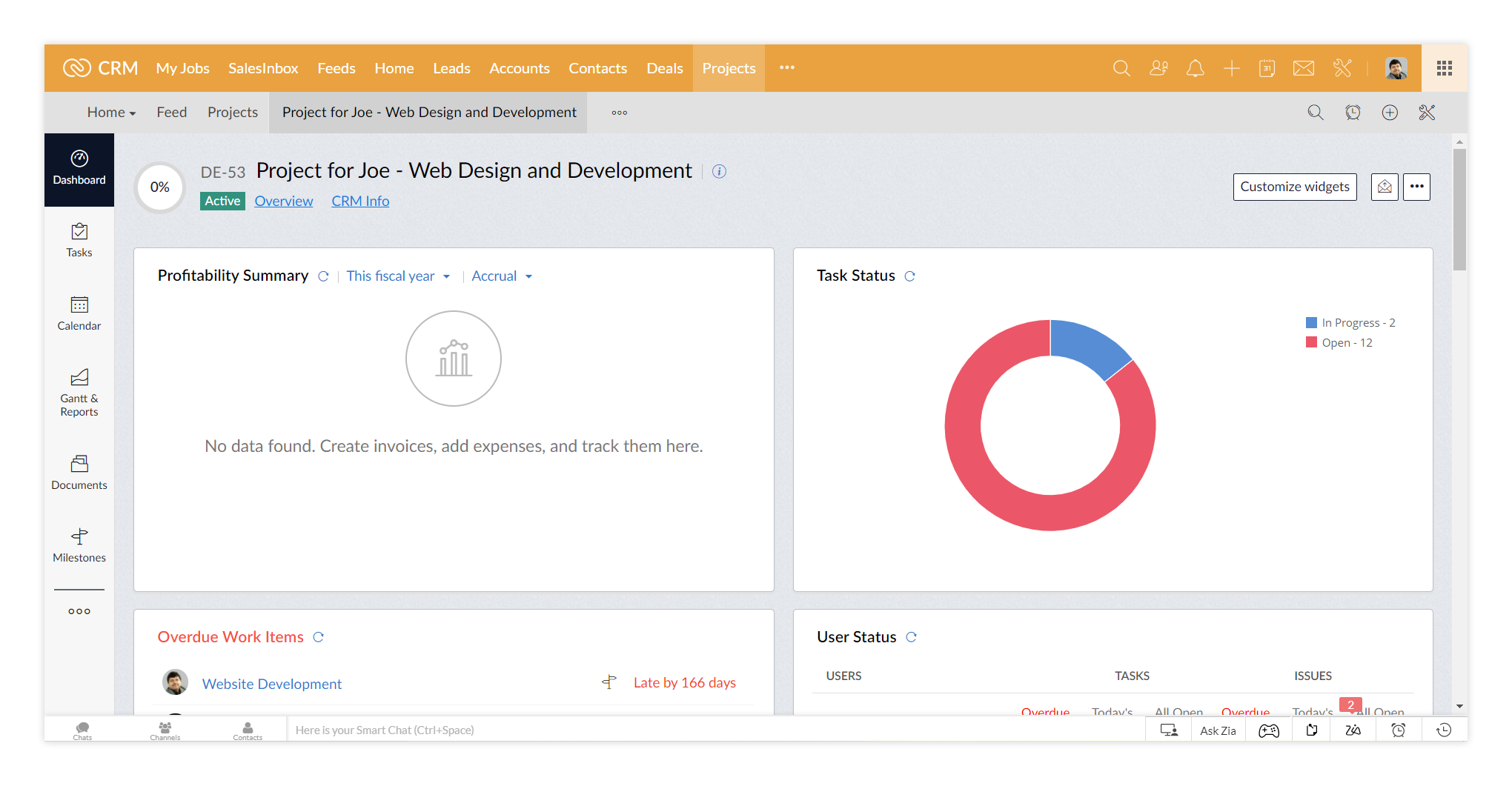 Project Tasks:
Every project can be divided into tasks. In the same way, this application also breaks the project into multiple tasks. You can view each task and assign a team-member who has the required skill set.
You can add more information about each task, which will give you and your team a better direction.
This is how the tasks for your project will appear: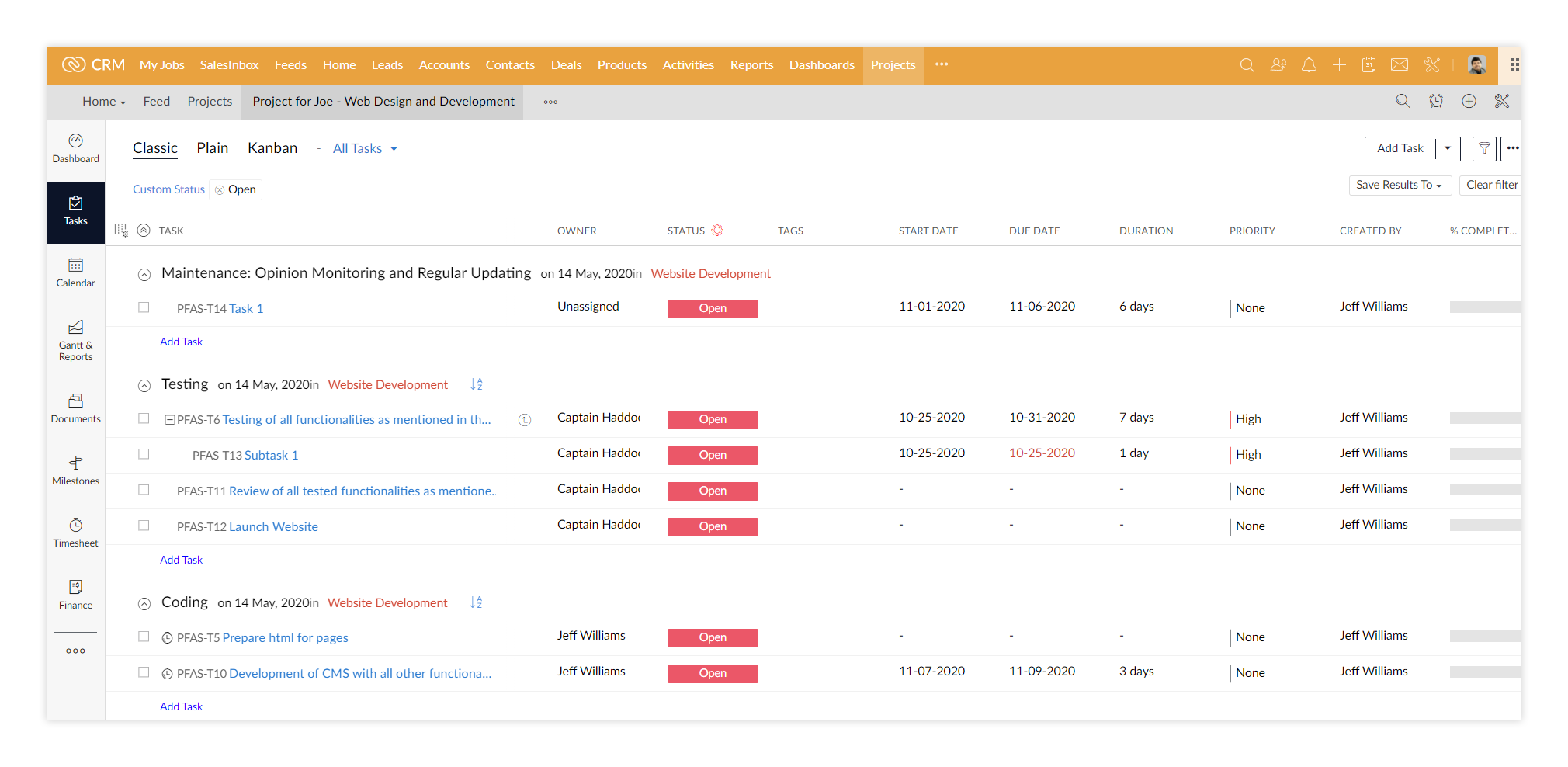 After you click a particular task, you can now add the necessary information and details. You can assign a team member, and fill-in working hours, percentage completed, duration needed, and so on: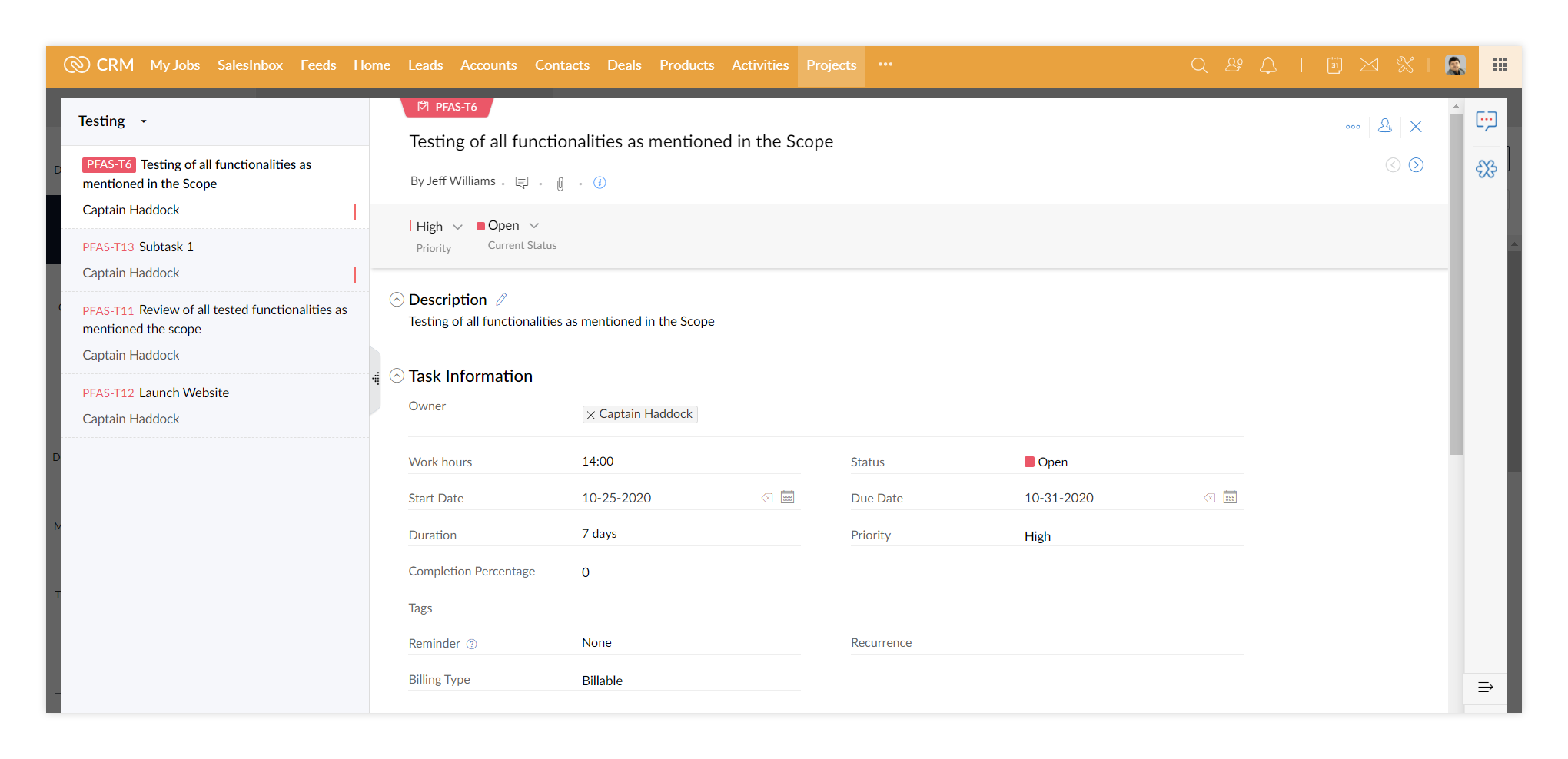 With all the information, you can also add and detail out some more information, like Comments, Subtasks, Log Hours, Documents, Forums, Dependency, Issues, and Activities.
Under the task information, you have the option to add comments that you want to bring into notice: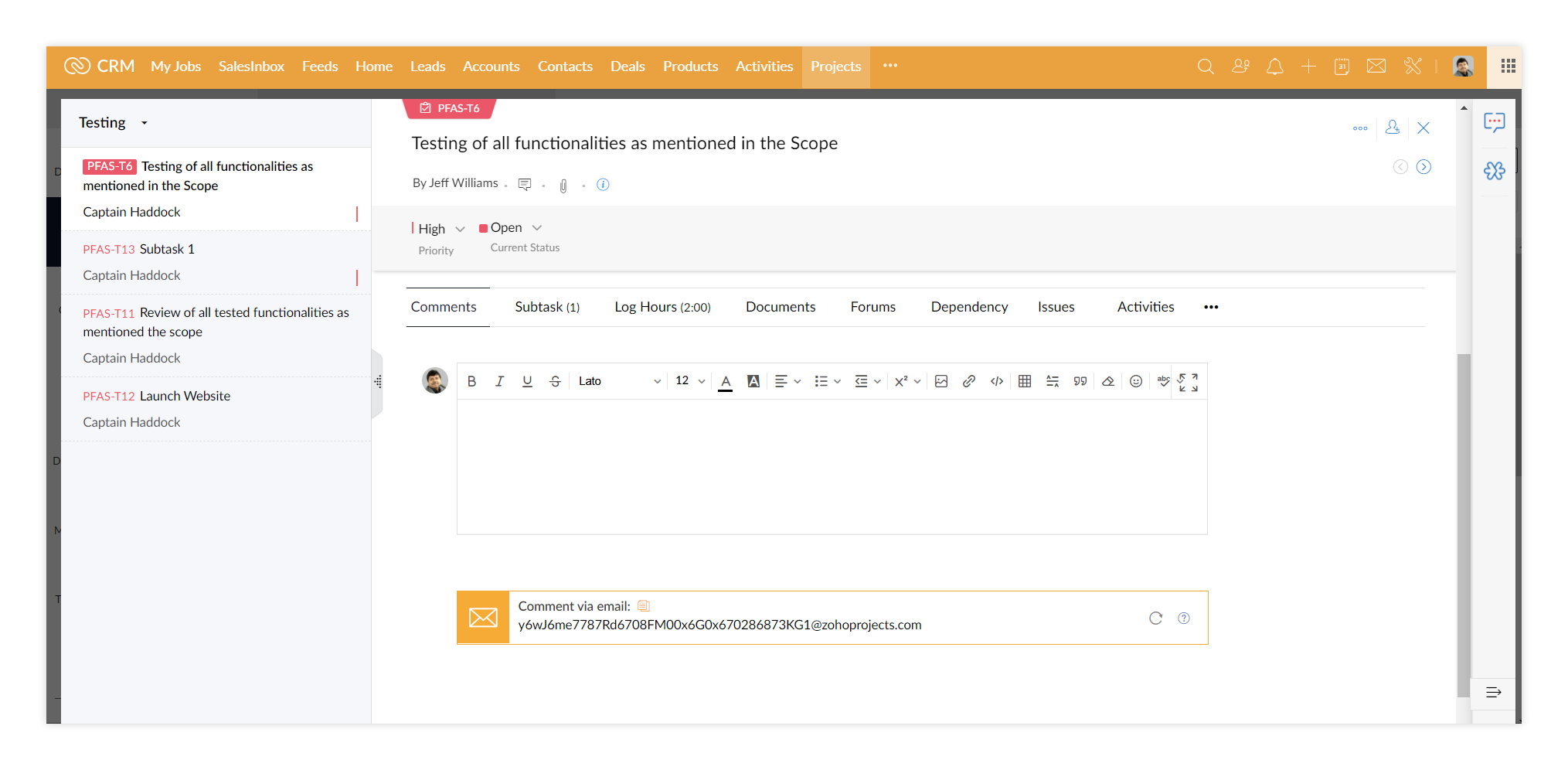 You can also divide each task into Sub-tasks, which can make your work even more systematic and easy to comprehend: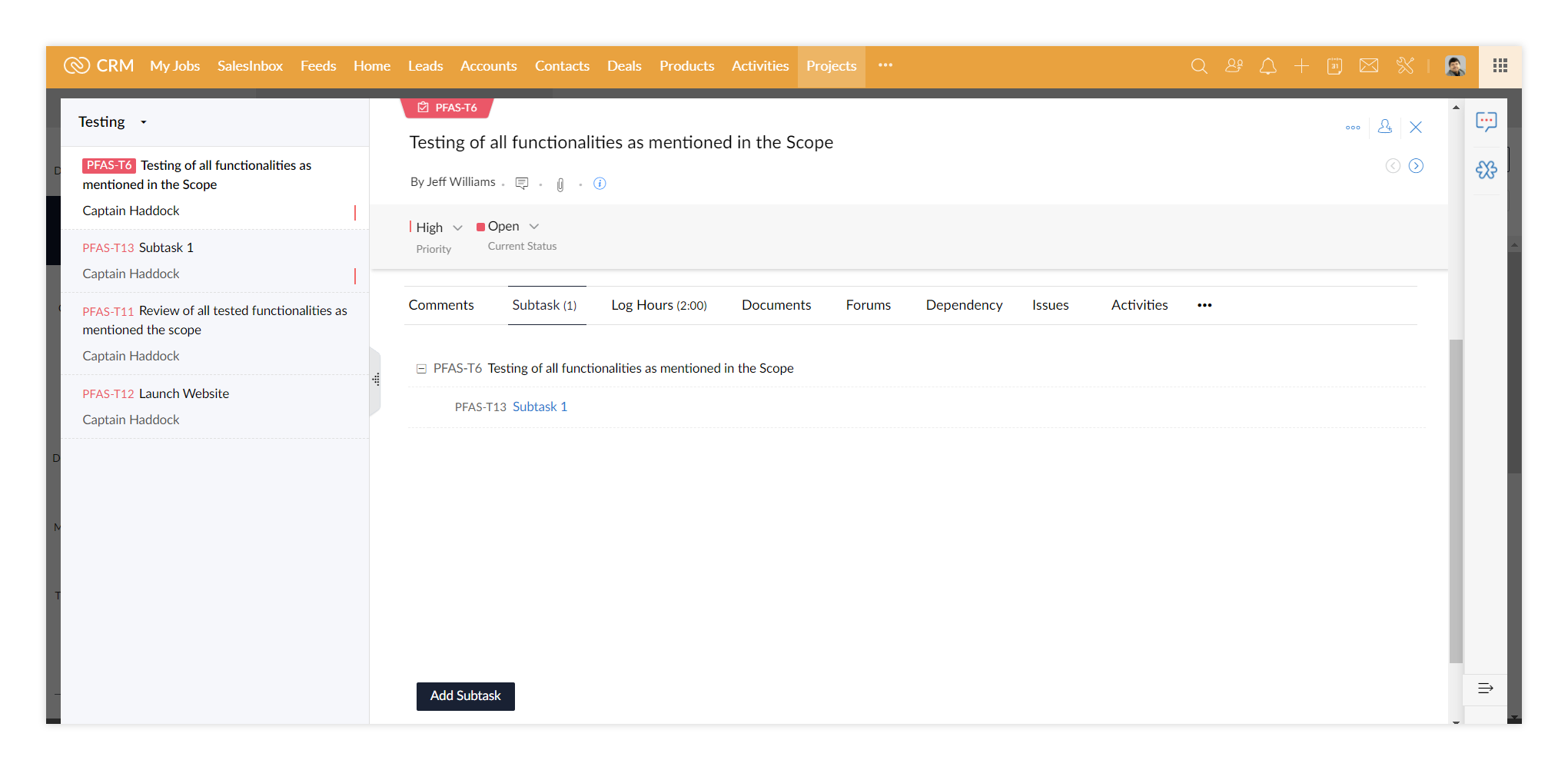 You can add Log Hours, which can help the assigned team member to have a better idea of the project hours that need to be reported each day: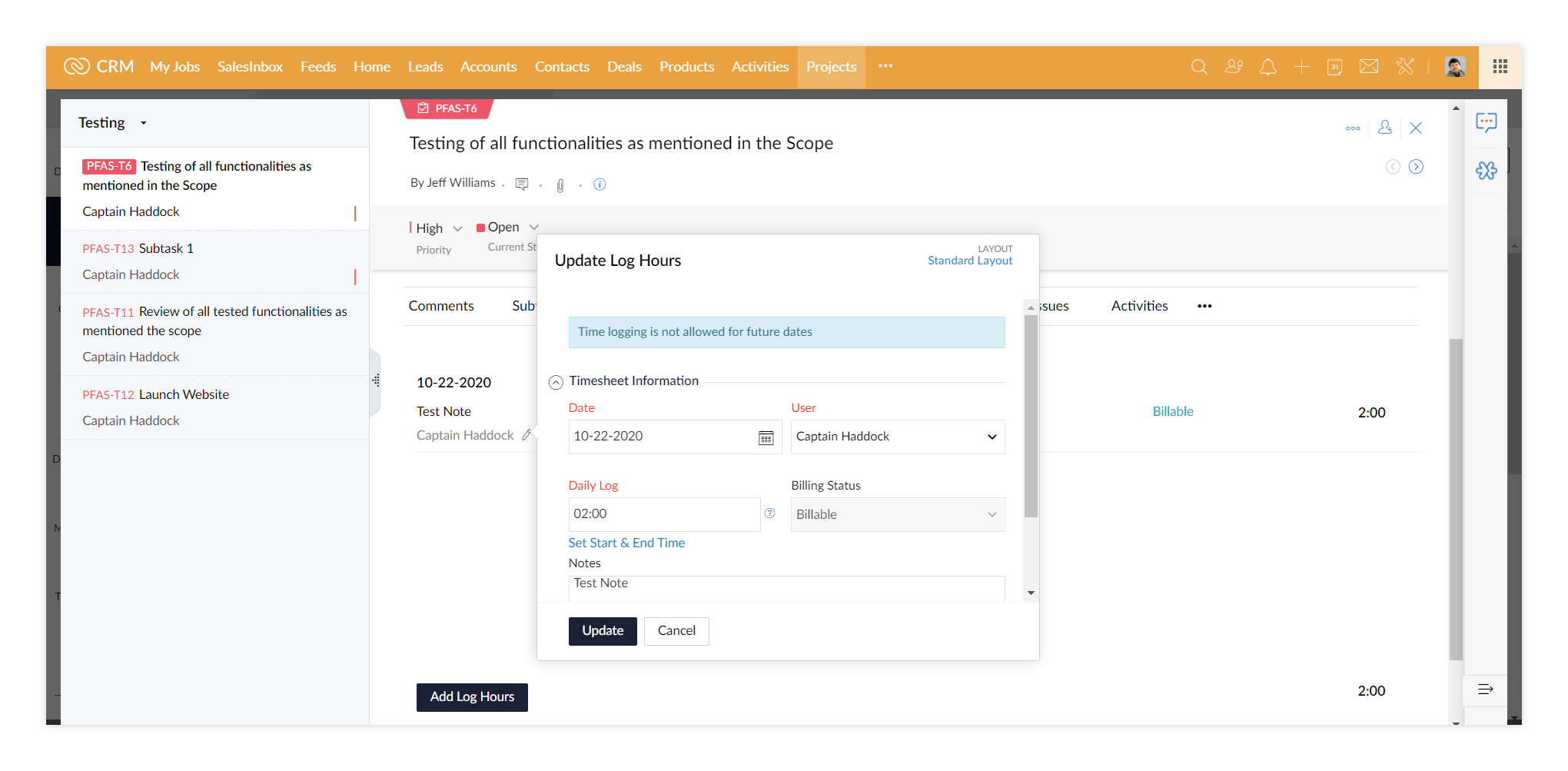 Along with this, you can attach any important documents that are related to the project task: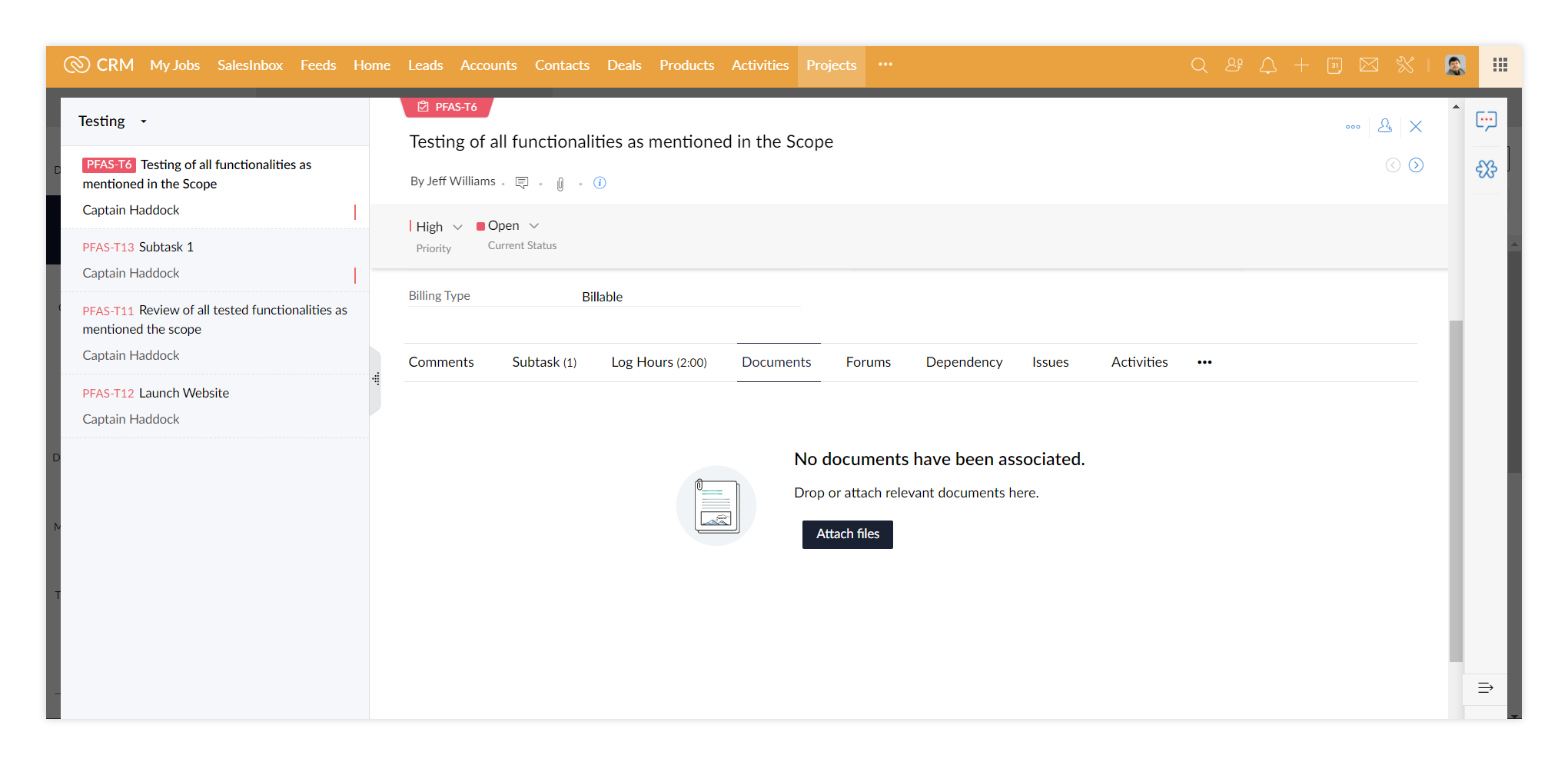 You can also communicate via the virtual community forums that will help you to communicate with your team and spread across a message: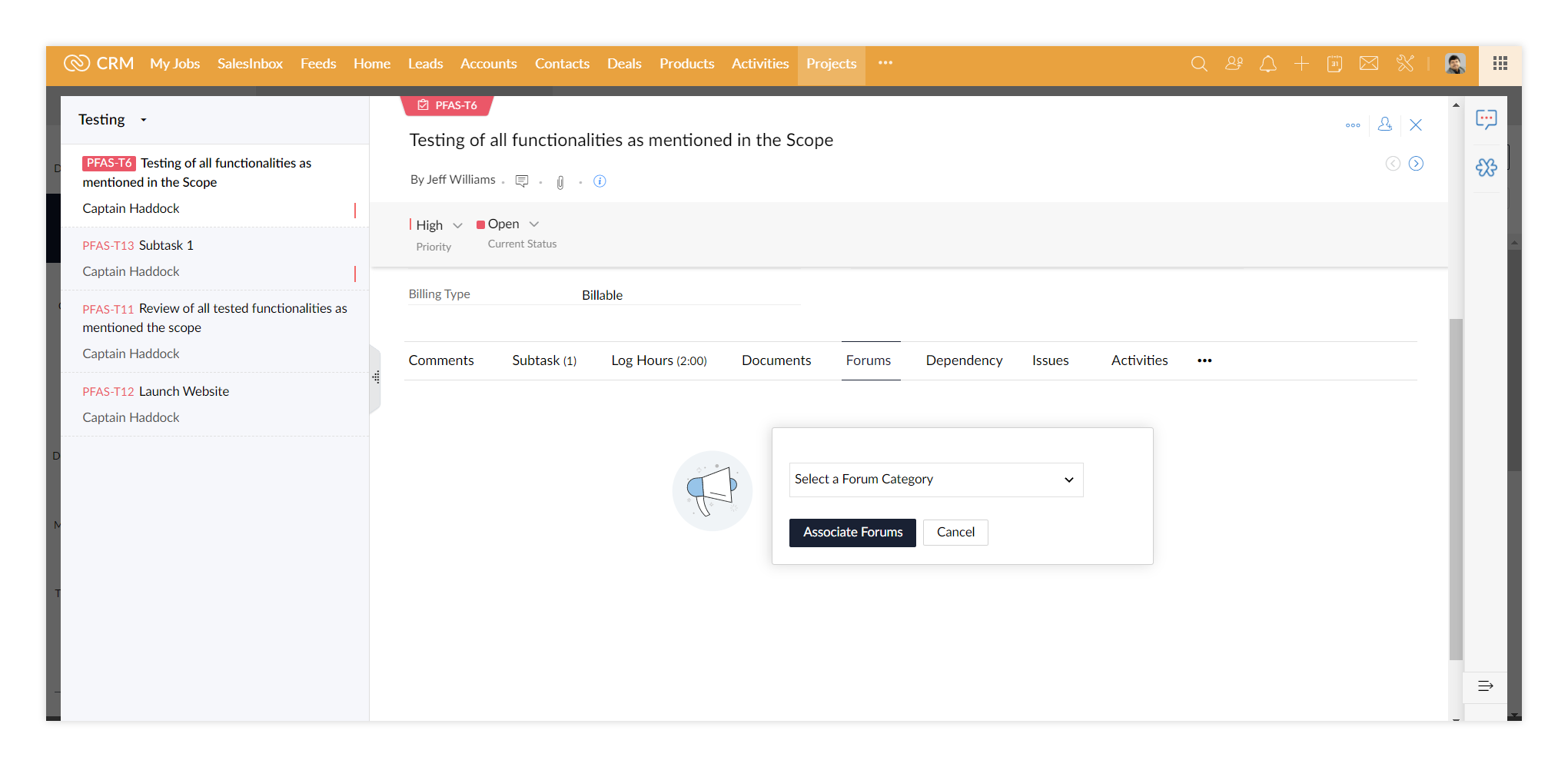 This feature gives you the option to track and monitor interdependent tasks as well: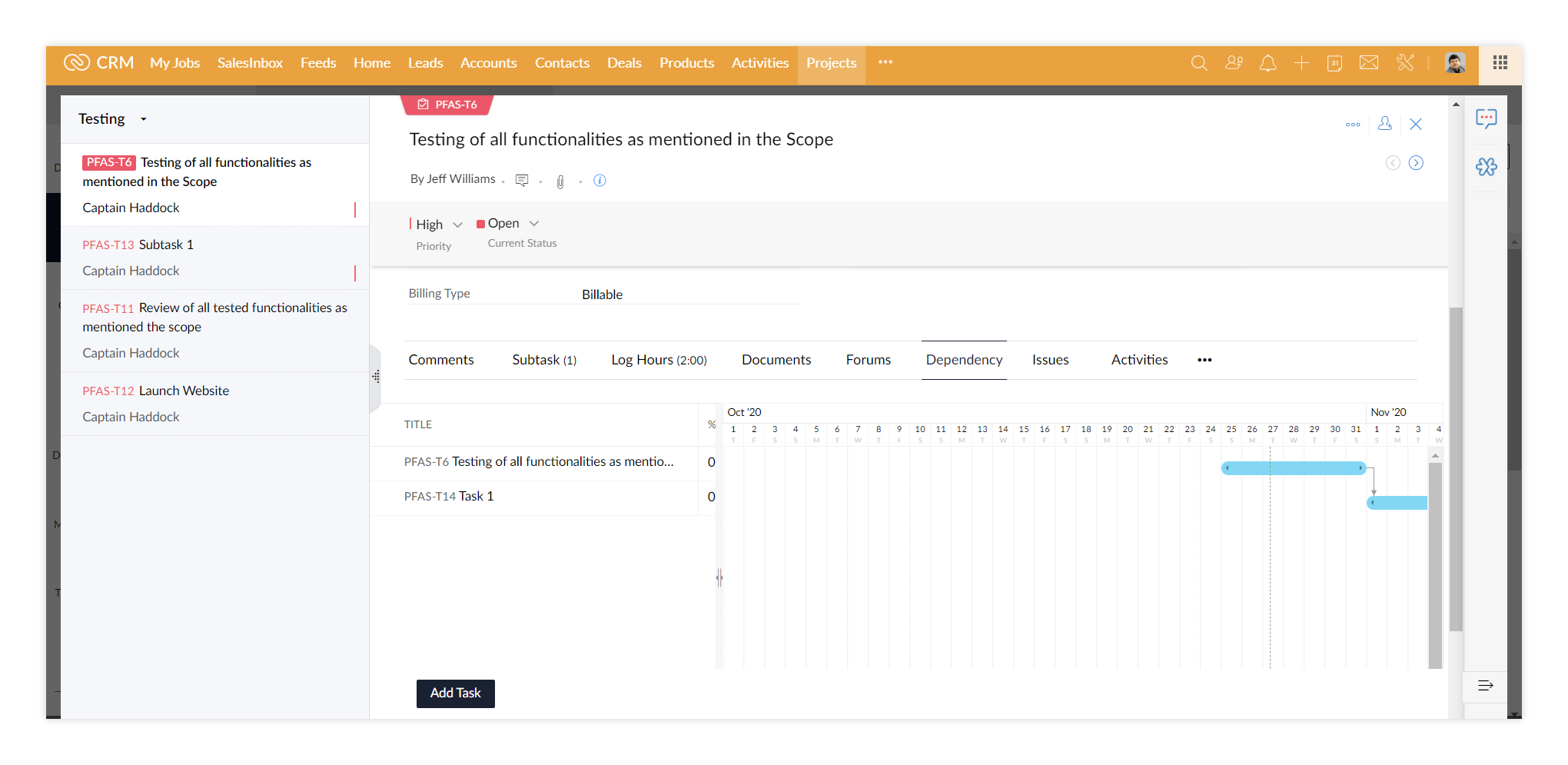 You can also note down issues that the task might have encountered. This will assure that each task has gone through sufficient quality checks: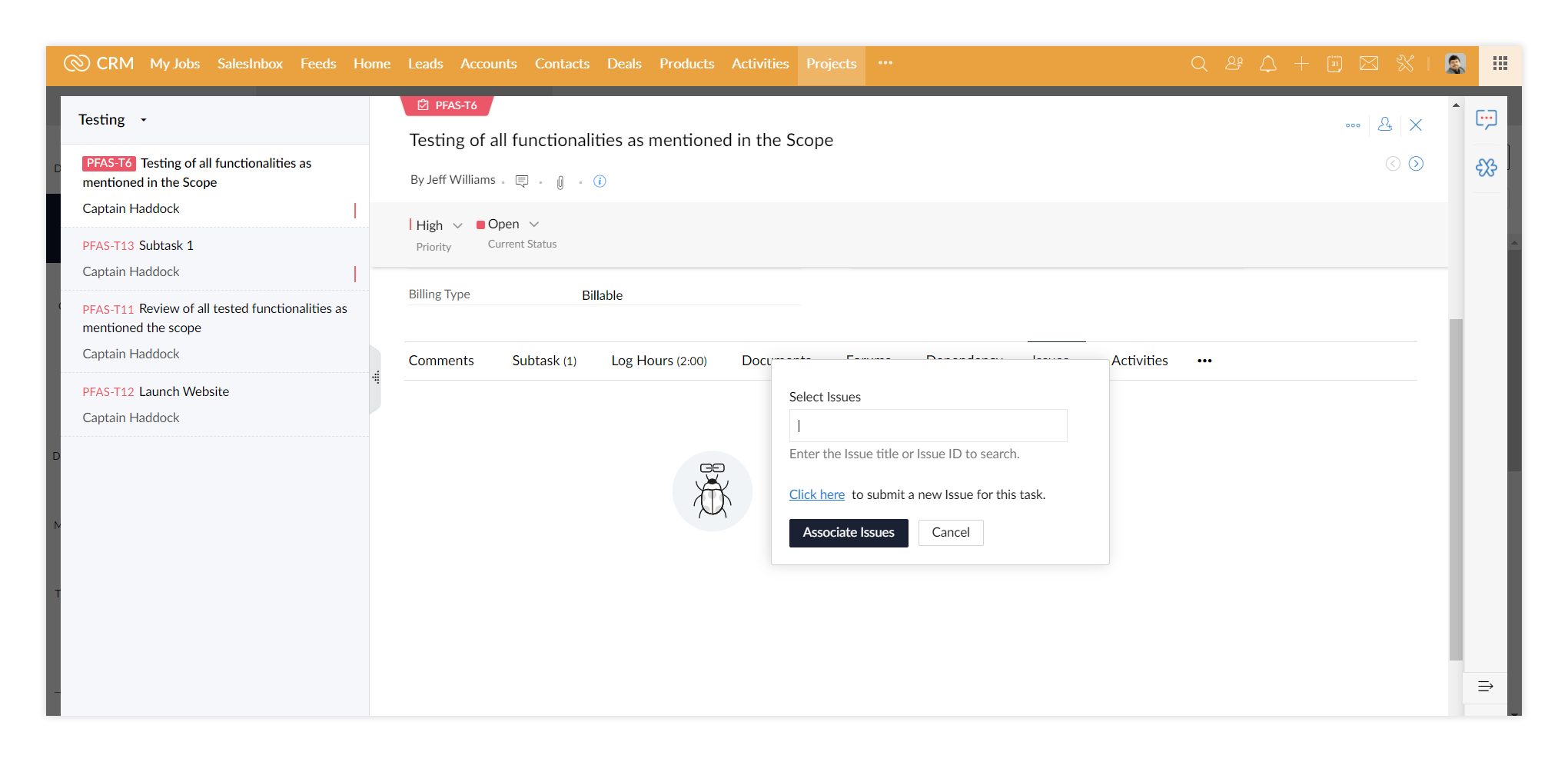 Along with this, you can also check all the activities related to the task. This will help you to understand how the task has been undertaken: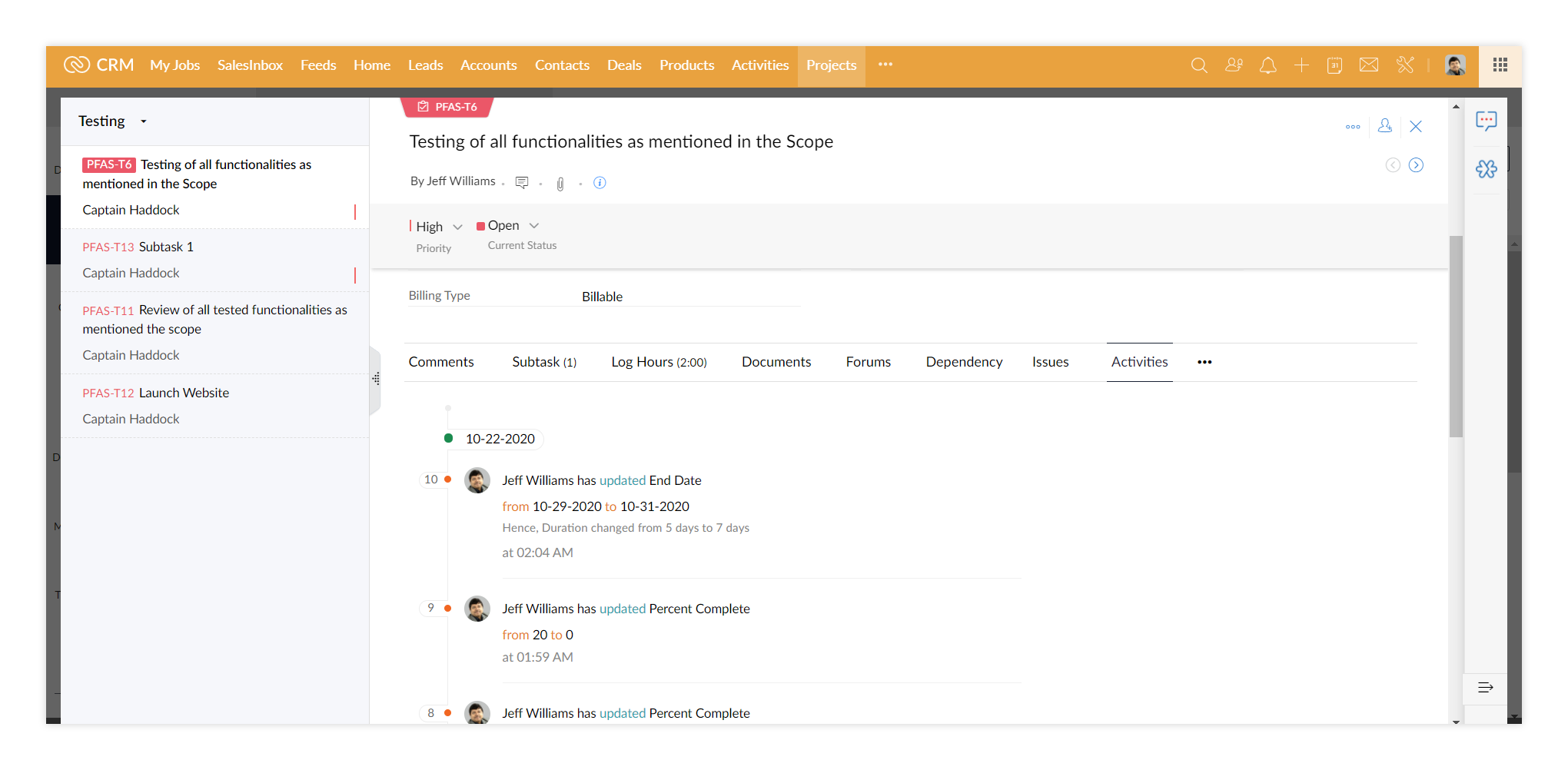 Conclusion
Managing your project task is extremely important if you want to manage your projects efficiently. The tasks that culminate toward the completion of a milestone, ultimately result in the accomplishment of the project smoothly.
But, to do this you have to make sure that you pay special attention to the proper use of the resources by allocating the right people to undertake the tasks. You must also make sure that you maintain the timeline for each task so that you can complete the project on time. When you manage the timeline for each project task meticulously, then you can automatically predict the budget. Also, when you manage your project tasks efficiently, you can make sure that the quality of your project is the best.
With Zoho One applications you can properly manage your project tasks with ease. Also, the centralized visibility of each work process within the tasks gives you a better sense of judgment. You can track and monitor each task and take vital decisions accordingly.
So, if you want to know more about how you can manage your project task via Zoho One applications, then it is time for an expert consultation!