Top Tricks To Deal With Different Kinds Of Real Estate Leads
Sep 7, 2023
Everyone's one of a kind. You and I can never be the exact same. Likewise, none of your real estate leads are precisely similar. The only thing that they all might agree on is they deserve and expect to be treated as unique individuals, with unique preferences.
Now, you can only sometimes determine where you will end up meeting new leads, where are they standing in their property-buying journey, or what their preferences or needs are. Therefore, acquiring new clients and engaging with them depends on how they reach out to you and vice versa.
Now it's obvious that you would never prefer to let go of any leads as a business person. But different kinds of leads want to be treated differently. So what do you do? Understand what kinds of real estate leads you're getting hold of,  segment them, and strategize your approach as required, to deliver the best customer experience. 
This blog specifically delves into the different approaches that you can employ to pitch different kinds of leads. 
Table of Contents
#1. Direct Contact Leads 
When you get enough of these kinds of leads, you might probably be sure that your website, landing page, or marketing efforts are working in your favor. Real estate leads are the ones who scroll through your landing page, select a preferable property that you offer, and share their interest by inquiring via an embedded web form. There also remains a high possibility that they have come across your social media pages or got engaged with email campaigns. Here's how you can strategize your approach to doing business with them.
Be Responsive 
Most leads lose interest when their inquiries are left unreciprocated for a long time. A recent study shows that businesses that respond within an hour are almost seven times more likely to have meaningful conversations with decision-makers. Now, you have to understand that people have less attention spans and hundreds of options to do business with. 
You are on the opposite side of the table – as an agent, who wants to close-win an opportunity. So it's super critical for you to make a lasting impression on them from the beginning. According to Zillow, 80% of home buyers who bought in the last 12 months say their initial impression of an agent's responsiveness is extremely important. 
A live chatbot is a revolutionary invention that most companies use today. One of the best ones is Zoho SalesIQ. You can set up automated triggers for different scenarios to proactively initiate chat with website visitors, and analyze their areas of interest based on their previously browsed pages. As per the time your website visitors spend on the particular sections of your website, you can direct these leads to your sales reps who are best equipped to answer their questions. SalesIQ's customer engagement analytics give your agents an overview of each lead's engagement history with your brand to provide better context for their conversation.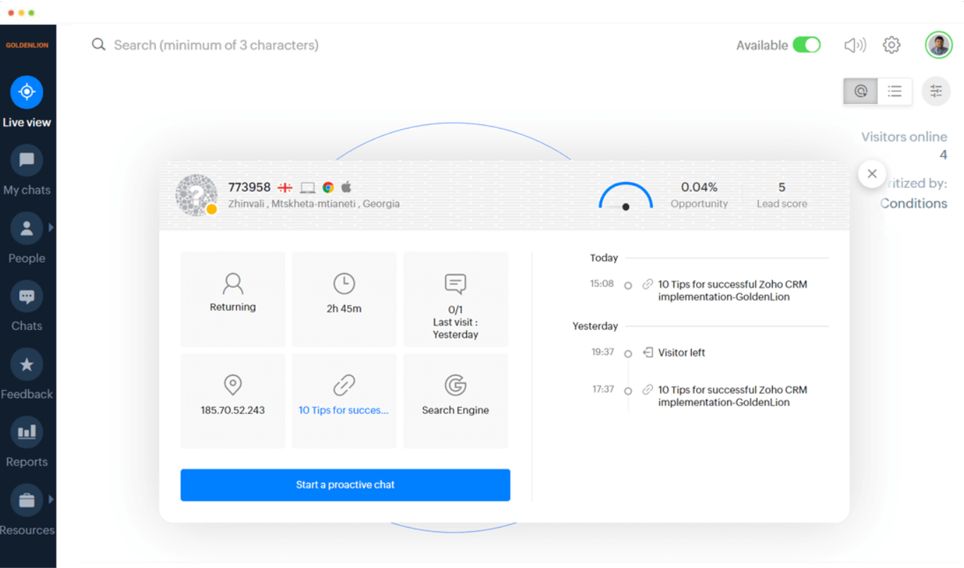 Pro Tip: Integrate your business operations with Real Estate CRM. It has plentiful features which extensively help you in managing relationships with customers. One of its best is, that whenever a lead is captured, the solution automatically alerts your sales team for the lead follow-up. 
Offer Consultation 
You are an expert in your industry. What your potential customers are looking for is someone who can guide them through their property-buying journey. Your job is to take your expertise to your advantage and pitch enlisted properties strategically. You can create follow-up tasks such as site visit meetings or weekly calls to walk your prospects through the properties, give them an estimated idea of the amenities, and keep a consistent communication flow. Following the famous Socratic method, you can ask several questions to understand the core of your prospect's pain points and find them a property that suits them the best. 
Recommend The Best-Fit Properties 
The faster you can recommend best-suited properties, the better chances you have of closing the opportunity.
Now is it possible for you to remember all the properties you have enlisted in your system, that too with their specifications? This tactic is exhausting and intensively error-prone. Your only way out is to use automation for better efficiency. Real Estate CRM is one industry-tailored solution that centralizes your business data in one place – meaning, you can keep all your properties enlisted in the CRM itself.
The solution helps you navigate enlisted properties with a single click. Let's say you have acquired a real estate lead with unique preferences. Now you can identify the properties that have the closest specifications. 
Even if you have newly enlisted properties, you can match them with existing contacts who could be interested in them. In either case, you can generate several property recommendations in a single click and instantly share them with your customers. 
#2. Real Estate Referrals And Connections
Referrals play a huge role in the real estate industry. Since, for most people properties are lifetime assets, they would naturally want to purchase the same from a credible source, from someone who has already delivered delightful customer experiences to their friends or family or existing clients or from other realtors. Another word for referrals is " word-of-mouth", which is, by the way, much more trustworthy than advertisements. The key takeaway is that, it takes far less amount of resources to acquire a new client as you're not going to put any extra effort into promoting your properties, compiling email lists, or buying advertisement space.
Here are some of the key statistics on real estate referrals. 
The typical agent earns 42% of their business from repeat clients and referrals from past clients.
82% of all real estate transactions come from repeat and referral businesses.
21% of agents get more than 50% of their business from referrals from past clients.
How to crack opportunities with your referrals?
Focus On Your Lead, Not The Property 
Develop a customer-centric culture in your business and your approach. Your potential clients are less likely to buy the first home they have inquiries about. They expect your expertise to recommend properties based on their preferences – budget, location, urgency, and several other parameters. As a real estate agent, you need to focus on understanding their needs with an approach that can help them find the right home, not get a property sold out as fast as possible. 
Book Appointments
You can always attract your audience by publishing intriguing property images on your website or taking them on virtual tours of your properties. But that is limited to attraction and capturing leads. That won't bring you business. Site visit meetings will. You can build a one-to-one connection with your lead, and strategically highlight the best features of the property. 
You can use the Real Estate CRM to create and assign several follow-up meetings to your sales team and mark their deadlines/ reminders on the intuitive CRM calendar. To take your services a notch higher, you integrate your CRM system with Zoho Bookings. It is a smart scheduling software that syncs your calendars while customers can self-schedule appointments. Your calendar becomes visible to your customers so they can easily schedule an appointment slot as per availability. You can add questions to your appointment booking form with custom fields and conduct these appointments virtually or in person. Integrate it with your CRM so that you can seamlessly track your appointments or follow-up plans.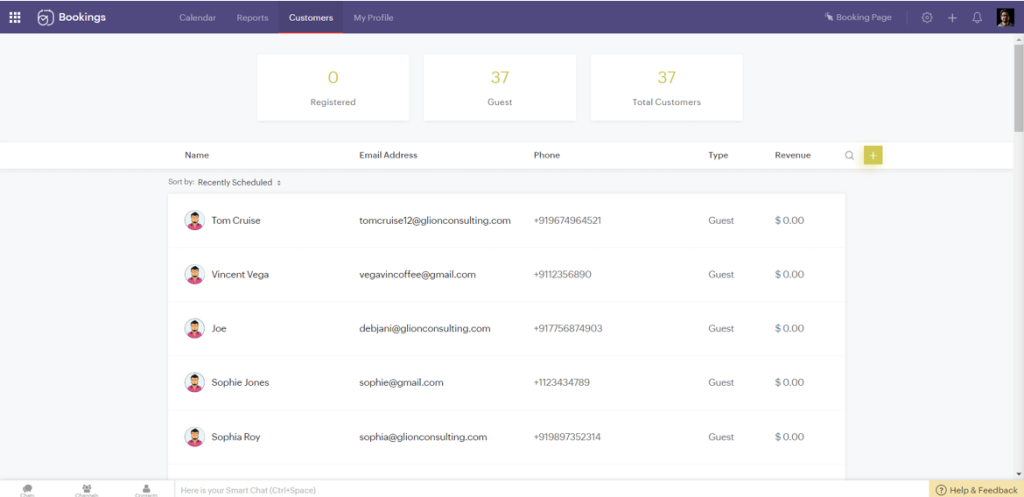 #3. Cold Leads
Not all the leads you capture are going to be your customers. Some of them are going to be unresponsive to your approaches. This could be because of several reasons – maybe they are not ready to purchase a property just yet, or maybe they are looking for properties with amenities that you did not have enlisted previously, and so forth. Or perhaps, they are currently dealing with your competitors. Here's what you can do!
Re-engage With Cold Prospects 
Relationships with cold prospects are difficult to revive. However, re-engaging with them is crucial because of the initial investment of resources you made earlier to convert them into paying customers.
The best method to connect with them is via email marketing. You can send customized emails with genuine reasons to contact them, like property recommendations. You can make a lasting impression with personalization – highlighting the buyer's journey context. Highlight the value of your services or the areas you have improved on, since the last communication with them. Address their pain points which have been recorded in your CRM, resolve those issues, and nudge them to move forward through communication.
Zoho Campaigns is a surefire method that can help you achieve your email marketing goals. It helps you create responsive designs, send auto-responders, customize messages, and get them delivered to your recipients' inboxes on time. You can attract your audience with polls, surveys, attachments, and GIFs to understand the behavioral pattern of their interaction. Based on the collected data, you can gather what kind of properties could be of interest to your leads.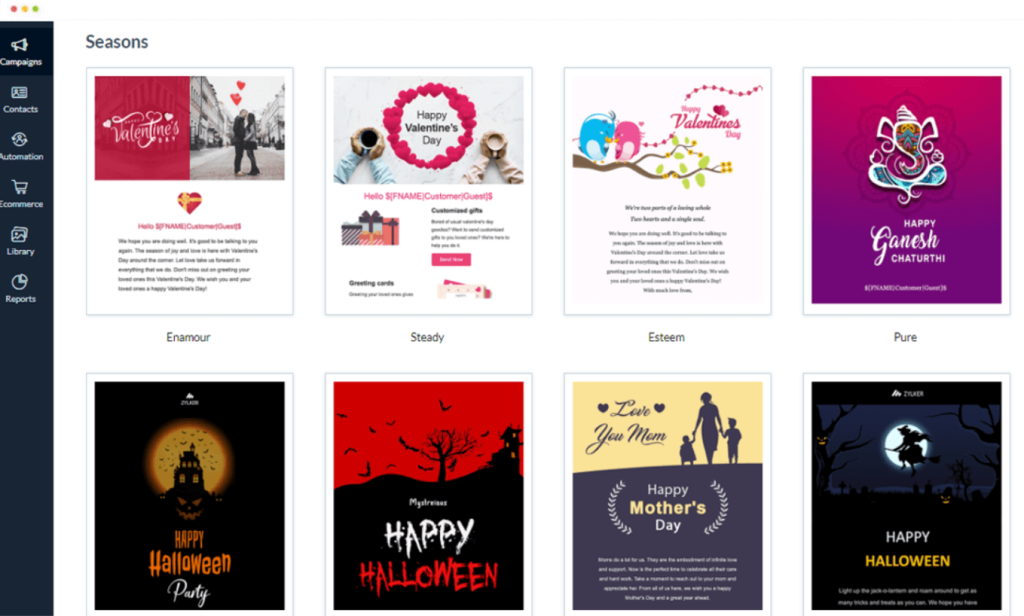 Connect Via Social Media 
In this age, social selling is a must. It gives you a huge opportunity to get noticed and promote your properties in a subtle way. Social media tends to be less official. Since it is relatively less occupied with promotional material, it can get you connected with your audience on a more personal level. However, engagement takes time. You must be active on social media, share information through video or blog content, and participate in trending discussions about properties to attract and build brand awareness.
Now, I know it is difficult to handle so many sectors single-handedly. But you can use Zoho Social to create a content queue with an intuitive calendar. Plus, you can stick social columns to get information about what your audience is currently talking about, and stay relevant.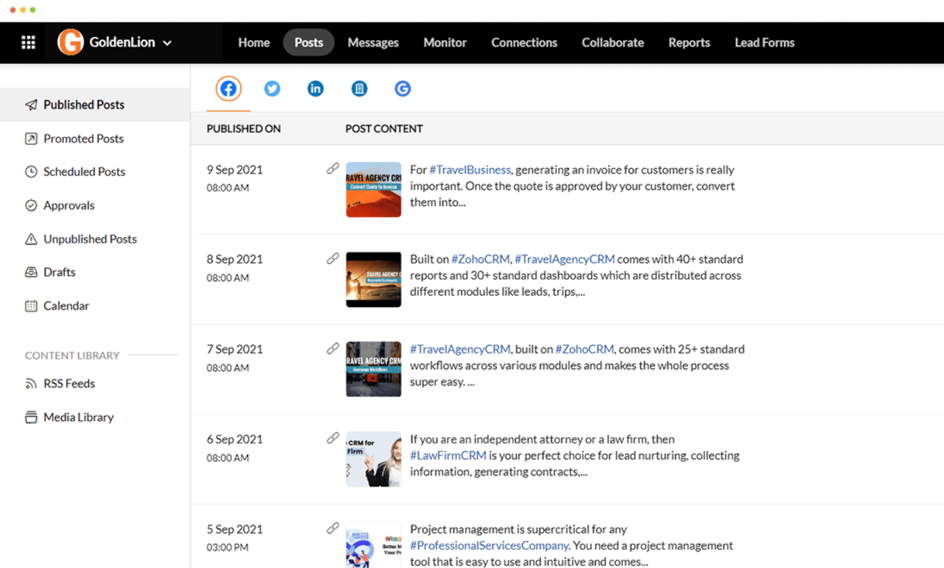 Make Use Of Your Real Estate CRM 
CRM software lies at the core of building relationships – transforming leads into paying customers and sometimes, if you're lucky enough, advocates of your brand. It is crucial to have a software solution like Real Estate CRM at the base of your business operations as it allows you to have a holistic context of individual customers with a streamlined account of prior interactions and purchase history.
Real Estate CRM is super flexible. It seamlessly upgrades itself as an advanced solution with third-party or Zoho application integration to support your business. It centralizes all the customer data that is elemental to capture and nurture leads to transform them into paying customers. 
Last but not least, 
You know your business better – more than anyone does. It is up to you how treat your leads. But one thing you can be sure of and that's consistency. You can choose from a range of methods to deal with your clients but whatever your approach is, it should be compelling to pull maximum quality leads out from the market. Your determination has to be unfailing. Focus on the key marketing efforts and strategies that bring you the best leads.
Start with choosing the ideal solution that can fit your business to the T. I'll give you a hint: it's Real Estate CRM. Connect with our experts for a no-obligation free 90-minute consultation right away!