6 Steps To Increase Your Fixed Departure Trip Sales With Travel Agency CRM
Aug 26, 2022
Trying your hands in the travel industry or are you a veteran here? Well, no matter what your experience level is, there's always scope for expansion and betterment. Especially now, when the travel market is bucking up to balance out the lost opportunities during the pandemic crisis. And I suppose you know what can help you help you bounce back in the rebound tourism industry? Correct, customers! And what do we need for managing them to perfection? Travel Agency CRM.
Now let's say, you have put a lot of effort into boosting your FIT sales and you have become adept at managing them. That's great news! But you don't want to keep the FITs higher and the fixed departure trips lower on the graph, right?
For those of you who are new to this field, you must know that fixed departure trips are slightly different from the FITs (Flexible Independent Trips).
Fixed departures tours are trips that tour operators host and market a trip for a fixed destination with pre-defined starting and end dates and limited accommodation facilities. Whereas, FITs are custom tours for leisure travel that entirely depend on your customers' preferences.
Now that we know the difference, let's begin with the 6 simple steps that you can take to increase your Fixed Departure trip sales with Travel Agency CRM!
Market Your Fixed Departures On Your Website
Clients coming to your office to discuss their upcoming trips, what a particular package includes, what kind of accommodation is available, etc– sounds so 2010s. By that, I mean "a long time ago."
Now it's the digital decade. Your website is your virtual office and the primary source of lead generation. Just like you'd want to polish your real-time office to impress your customers, you should design your website with the same artistic yet informative juices. But most importantly, you need to upgrade your website to position your services to a niche travel audience. You can carve out a specialized demographic that makes you the best in the business. For example, if you're a young entrepreneur with a lot of trekking experience, you can offer trips that include hiking/ trekking to attract millennials. To fight the rising competition, you must brainstorm ideas to segment your business apart from the crowd.
You can catalog your fixed departure trips with stunning visuals and talk about your services or future goals. Since the accommodation facilities are limited here, you can use Travel Agency CRM to auto-update the number of bookings left. Therefore, you can use your website for three things. To market your fixed departures, to keep your prospects posted, and create a subtle hype for any particular trip.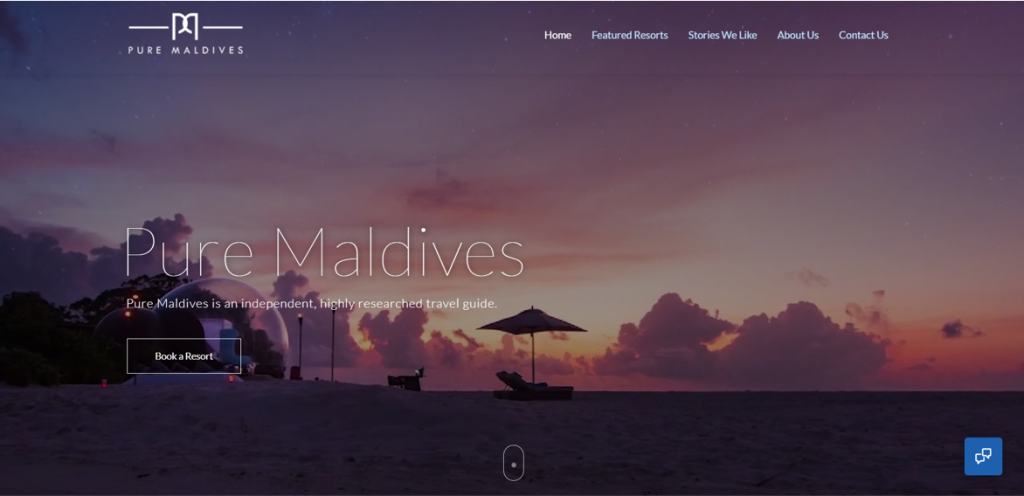 Capture Your Customers' Information With A Booking Form
Let's face it. The pandemic has ushered an undeniable digital dependence into our lives. It has even changed the ways how people buy things and travelers book their trips.
Thanks to Travel Agency CRM, you can capture your prospects' information in a jiffy. All you need to do is embed a booking form on your website so that when a prospect comes across a fixed departure trip they're interested in, they can easily insert their details to book a trip.
The process is so seamless. It goes like this. Say, the prospect who selects a trip and fills up the form automatically becomes the primary contact and can mark himself/ herself as a passenger. They can, of course, add multiple passengers in the row.
Now, I know that you might host a particular trip multiple times of the year. For example, in Vietnam during summer, the fall, or maybe Christmas. The CRM tags these tour plans as parent-fixed departure trips. So once your customers select their preferred trip, it auto-populates the chosen trip along with the parent one.
And bingo, the moment they submit their details, this CRM captures all their information under the contacts module. From here you can even switch to the trip or passenger modules as well. The best part is, that this CRM also has a province for further deviations. In case your clients want an extended trip or have special requests, you can save all of that in the CRM.
Connect With Larger Audiences Via Social Media
You know, people nowadays, don't use social media only to post their photos or scroll through their feeds for leisure. Platforms like Facebook, Instagram, Pinterest, Twitter LinkedIn, and Tiktok have legit become game changers for the travel industry.
The thing is more than half of the world's population is on social media. Most of us generally come to know about destinations through social platforms and we quickly check the website to learn more about the trip. So you see, you can engage with larger audiences and help them discover places through your agency. You can use enticing images, and videos to attract them, respond to their feedback, and use them to create further fixed departure trips.
If you're looking for an app to make your content more attractive to look at, use DocHipo. It comes with a stunning range of customizable templates. From email headers to YouTube thumbnails– you have it all here, under one roof!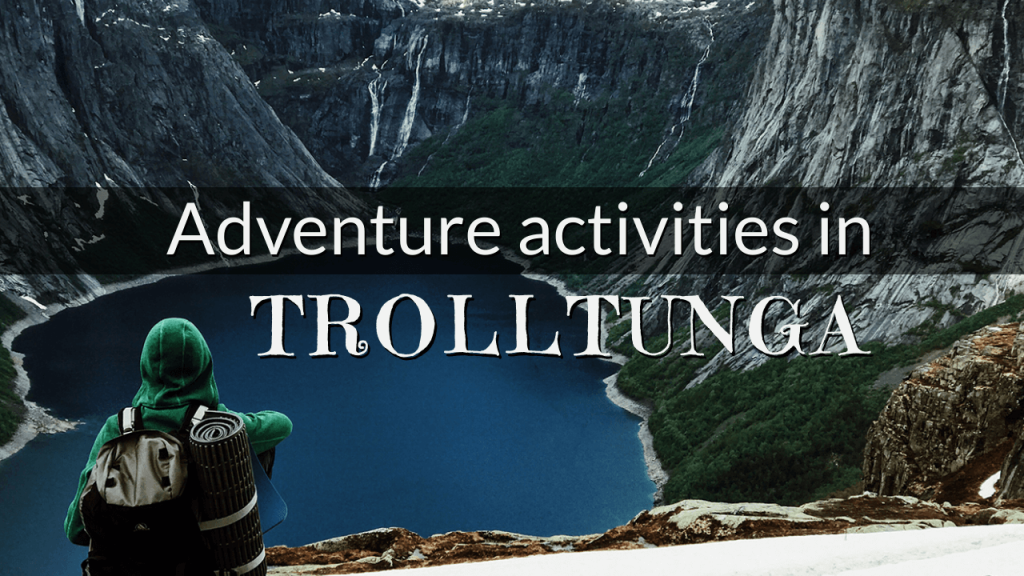 You can implement Zoho Social to post your unique content across multiple social channels at scheduled intervals. This effective toolkit immensely helps you maintain your social media marketing strategies right on point. You can build up a content pipeline and schedule the intuitive calendar so that you're content pieces are duly posted. No chance of any misses here!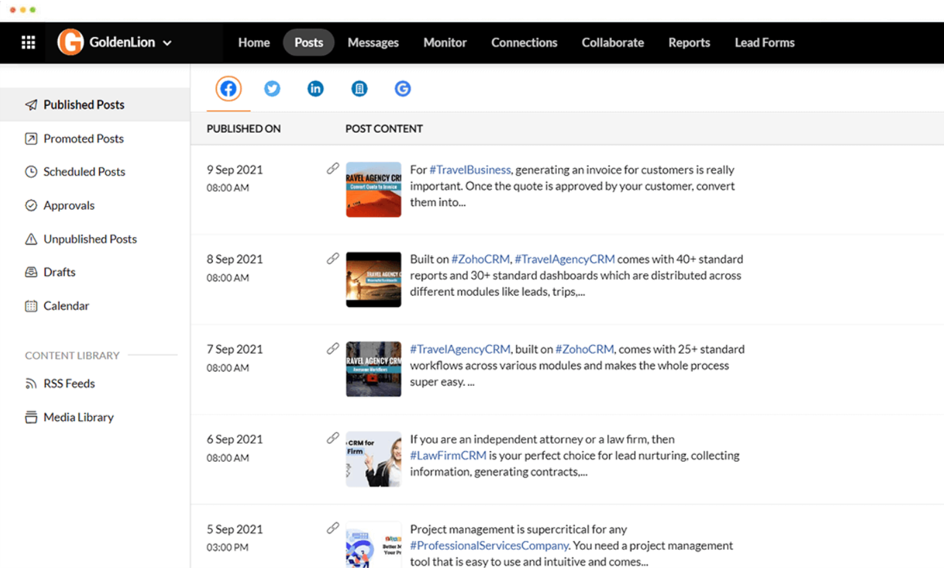 Offer Packaged Travel Components With Travel Agency CRM
As holidaymakers, I'm sure you're always seeking ways to provide your clients with the best experience possible. To make their trips even more convenient, you can offer packaged travel components like flight tickets, rental cabs for transportation from one tourist spot to another, hotel accommodation, or activities.
Fixed departure trips always need to be thoroughly planned as you are offering your travelers your trips as products. Therefore, I won't be wrong to say that, chalking out the whole itinerary falls on your part. And with Travel Agency CRM, when you're creating your fixed departures, you're enlisting the total cost of the trip per person. Here you can also add travel facilities to comfort your travelers and create a packaged trip inclusive of all charges.
Provide Prompt Assistance With Travel Agency CRM
No matter what you are offering at the moment, you should always prioritize your customers. Just because you have embedded online booking forms for your fixed departure trips, it doesn't mean you'll have passengers pouring into your system. You need to be there for your customers.
You can build a live chatbot with Zoho SalesIQ to provide prompt assistance to your customers. It strikes up a conversation with this virtual agent that can be present 24*7 on your behalf to serve your customers with canned responses.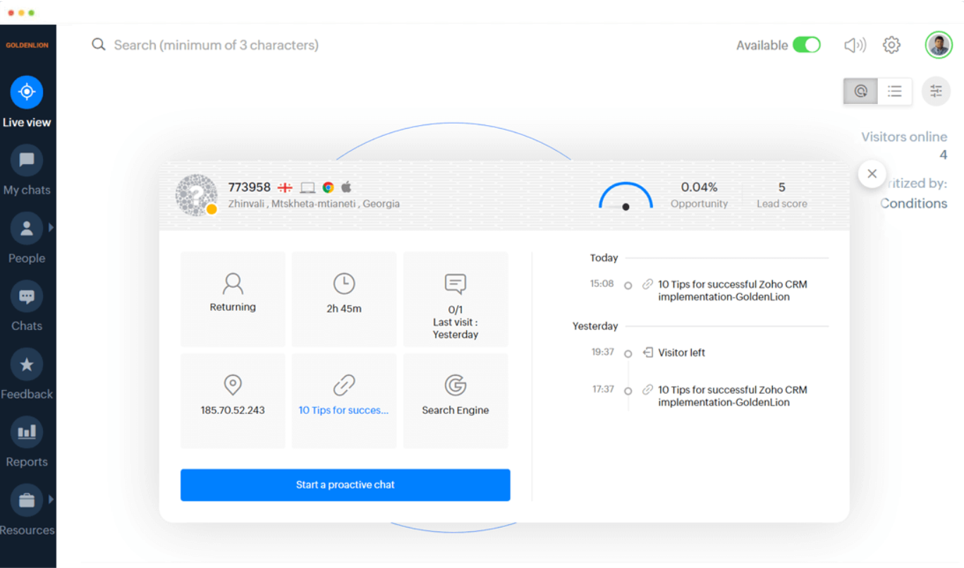 Even if your prospects have queries that cannot be answered with your canned responses, you can take over the conversation. Travel CRM records and embeds all the chat transcripts under a separate lead record so that you can easily retrieve the chat and use it for further communication. As the head of your agency, you can assign follow-up tasks to your sales reps for nurturing your prospects.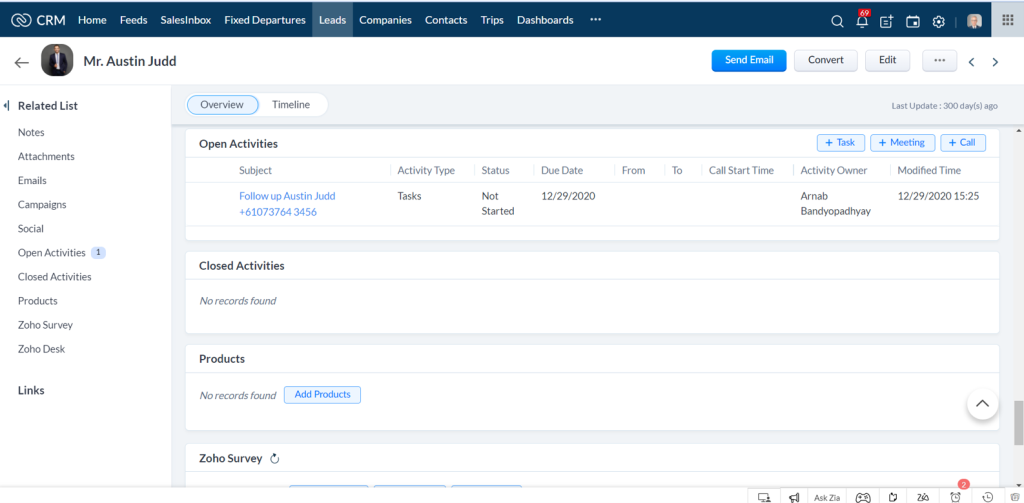 Highlight Your Services With Winsome Testimonials
I think, in this fast-moving world, two things that our potential customers are looking for are communication and someone trustworthy. And it's only obvious that they will relate to your former clients more than the way you project your agency. A kind of social proof you can say!
For that, you can request your existing clientele for testimonials with Trave Agency CRM. I'm sure you have delivered an indelible tourist experience and they'll be happy to give you their priceless feedback. You can feature the most winsome one on your website. But make sure that these testimonials of your client's overall experience are in brevity and not much fluff to create a tangible impact on your website visitors.
Now it's your turn!
You know people are always looking for ways to outdo their competition. But the wisest thing would be to focus on yourself to get better results at the end of the day. And Travel Agency CRM helps you a great deal in achieving your goals.
Cloud-based software? Check.
Accessible with any device and at any time? Check
Flexible features with an easy-to-use interface? Check.
Abundant features? Check.
Tailored to suit your exact business needs? Double check!
Is it too much to gulp down at one shot? Watch this video to understand the process even better.
It's time that you make things happen for you and your customers. Click on this link to get started!