Top 6 CRM Practices For Solo Attorneys
Sep 21, 2023
Not everyone pursuing a law degree wants to get placed in a big legal firm. Some of them want to run their businesses as solo attorneys. It is both rewarding and challenging. Especially in this increasingly competitive climate, making a mark as a solo attorney has become all the more intensive.
On the one hand, you are your boss, enjoying the freedom and flexibility of owning a practice. On the other hand, you might have to face immense pressure managing every aspect of business.
Though it might be frightening at first, think about the brighter sides of being a solo practitioner. You are the one who calls the shots for your company. You decide what to focus on and what timeline a particular task needs to be completed – you schedule at your terms.
Since most clients value experience as one of the primary factors in choosing a business to deal with, as a solo practitioner you can always stand out. Your clients want the best possible personalized experience so they certainly would appreciate working with the same attorney they had their initial consultation with. Clients would rather get a one-on-one experience than repeat the same potentially triggering information to several lawyers at different stages of the consultation process – that happens at large firms.
The best part is, as a solo lawyer, you can attract them with a relatively lower price point, which is a huge concern for most people seeking legal representation. Needless to say, the cost of business operations will be much lower for you. You don't necessarily have to invest in a real estate infrastructure or additional staff if you're about to go solo. But you would need a solid technology for your business – one that is as good as Law Firm CRM software. Statista reports that about 84% of law firms of law firms have seen an increase in their overall work efficiency using legal technology.
Let's understand, why do you need a CRM system?  
When you think about your potential clients, you think about studying their matters and building your arguments to represent them legally. Focusing on practicing law – that is your job. But surely, one client can never bring you success. You need to manage hundreds of clients, if not immediately, but someday for sure. Your business will grow incrementally. Winning more matters will bring you more clients and more success to your business. But it's not only about that. Client experience matters too. That is why you need a legal technology backup for business.
Built on top of the renowned Zoho platform, Law Firm CRM, though clearly designed to help you ensure client satisfaction, does a lot more than that. It acts as a central software for conducting all your business chores, streamlines customer data, and updates itself for better data analysis. Above all, it is tailored to your industry nomenclature – meaning, it comprises all key tools and areas that suit your unique enterprise operations. 
Let's dive in!
Build A Virtual Receptionist With Zoho SalesIQ
As a professional lawyer, you will be targeting a niche audience. From a business perspective, you must understand that not all who visit your website will be interested in working with you. Certainly never when they get no responses from your end. What do you need then? A virtual receptionist or a live chatbot. You can easily build it up with canned responses to queries that are generally asked in your industry with Zoho SalesIQ. It presents your website as a virtual storefront of your business to your audience and proactively engages them in a conversation. This creates a lasting impression. Moreover, it automatically embeds all the chat transcripts in the particular lead record so that you can easily browse through them and take up the conversation one-on-one.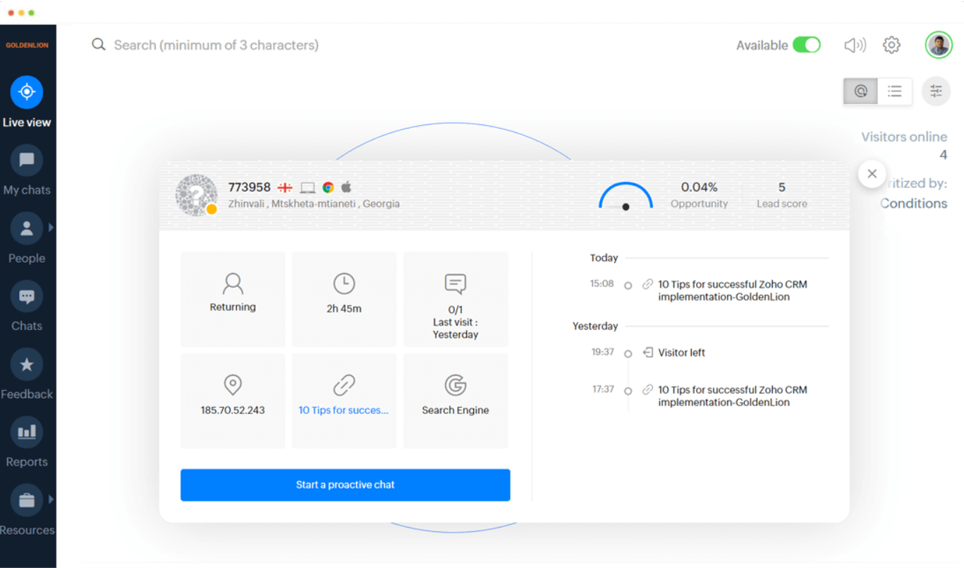 Optimize Your Sales Process 
You have a business, great. You'll have customers – lots of them too. How will you manage then? Maintaining and monitoring a spreadsheet won't do it for you. You need an elegant software solution that helps you skyrocket your ability to generate leads and convert them into long-term paying clients. The first thing that you should do is to have a well-oiled sales pipeline. 
25.9% of legal firms don't track their leads and 42% of prospects need to wait for 3 days to get a response to their query. Don't fall into this trap, instead, use it to your advantage. As potential clients, they'll be impressed with effective communication from your end. Law Firm CRM pilots all your leads in the system and alerts you so that you can nurture them. It streamlines all the captured prospect data in newly created lead records, ready for you to swoop in whenever you need to convert. You can even level up your service and support through a visual pipeline that helps you in sales prospecting.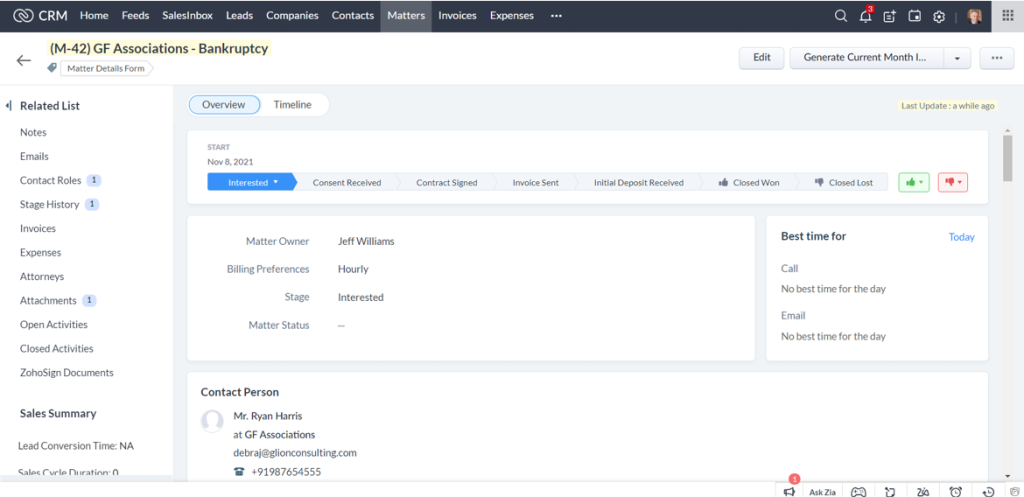 Automate Administrative Tasks To Increase Productivity
When you're on your own, it is only natural to feel overwhelmed by the amount of work you have. Practicing law and administrating business operations.
But since you are going solo, you must keep your administrative tasks in check. With the right CRM in place, you can automate redundant tasks to increase your productivity.
The software advances your automation programs even more. One of the best among its abundant features is the Matter Details Form. when you convert a lead into a contact and opportunity, you can share this questionnaire directly via the CRM. It is a customizable Details form that holds all the information fields that are relevant to your legal representation study. Most importantly, this form enables your clients to experience ease of use and to express their concerns in their own words while saving both parties a ton of time.
Once they submit their details, the CRM immediately captures them and streamlines the same in the respective fields for seamless retrieval.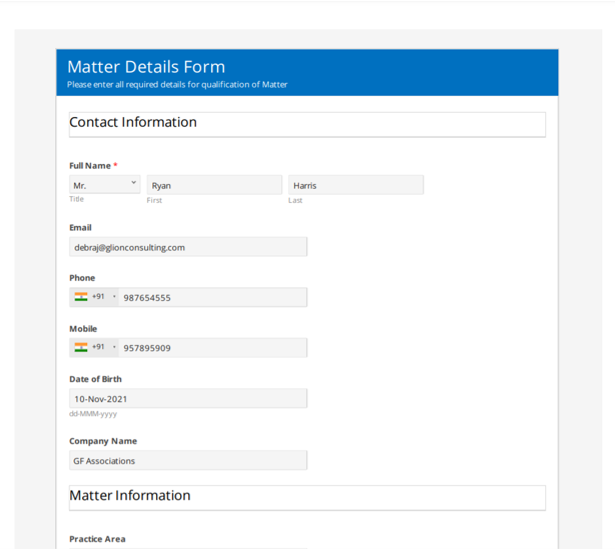 Manage Your Documents In A Central Space 
Paperwork. Such an exhausting word. Imagine spending hours handling mounds of unfiled case documentation!
You don't want this nightmare. Get the right CRM. The one that extensively enables you to manage piles of documents in a central space. You can organize all your documents and keep them handy attached to the respective Matter record.
Quality CRMs also come up with paperless processes as sustainable cost-effective activities that 80% of companies are willing to implement. Good news for you: Law Firm CRM advances you with contract templates. It can essentially handle three kinds of contracts, namely, flat rate, hour billing, and contingency contracts. So whenever you need to whip up a new contract you can simply merge it with Zoho Writer which automatically pulls out all the relevant information. All you need to do is type the immediate details such as name, address, date of contract, etc. Once it's done, you can finish the task at once with a digital signature with Zoho Sign and share the document with your client.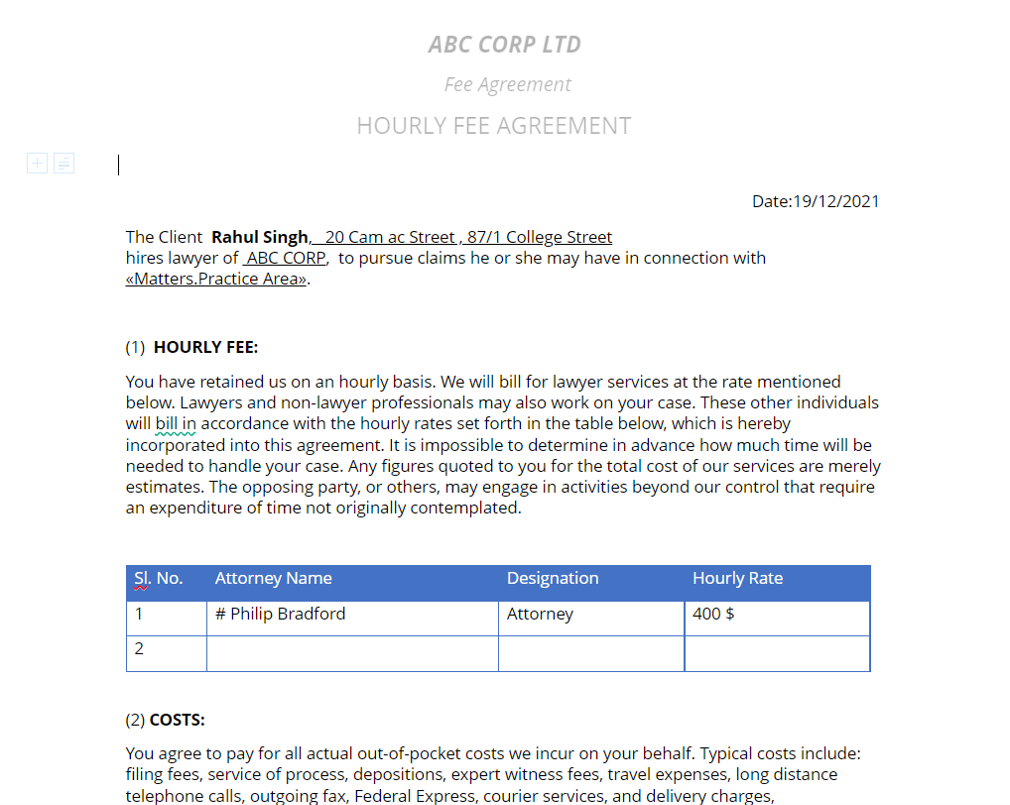 Make Smarter Decisions Data Analytics
Another elaborate advantage of using a CRM software is the power of data and analytics that you can leverage for business.
Reports and dashboards present crucial real-time information updates that allow you to track pivotal factors like –
Overall business performance, 
Strategies that are working for and against you,
Profit margins, 
Trends and opportunities, and so on.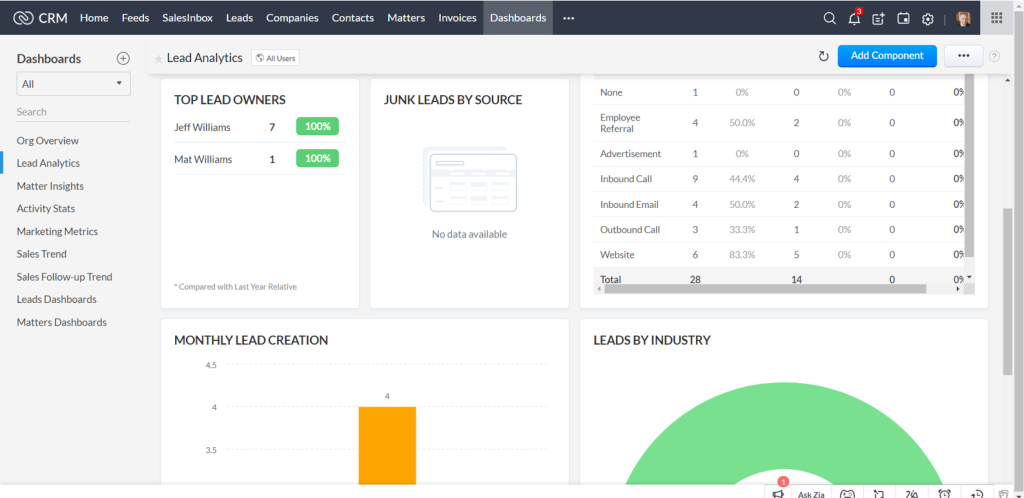 Prioritize Immediate Tasks and Set Clear Goals
Nobody knows your business better than you do.
What does your business need at the moment?
Set a clear roadmap with defined milestones and objectives of what needs to be accomplished and in what time frame it needs to get done so that you can channel your efforts effectively enough to bring in the expected results.
Law Firm CRM makes it easy for you to create tasks on the intuitive calendar or set reminders to ensure you achieve your goals. You can strategize communication with your clients at their convenience to offer them personalized services. You can set up reminders or pop-up notifications on your CRM system to stay organized and motivated. 
Plus, when you do reach your goals or perhaps want to upgrade your business with additional features or better management, you can always opt for third-party integrations or other Zoho apps right from the system itself.
Closing thoughts, 
Lawyers generally view CRM adoption as unnecessary unless they have big firms to run. Statistics show that only 41% of law firms have implemented CRM software. However, managing clients and their data manually is utterly inefficient for modern lawyers. You will be competing with the big boys of the legal club as a solo attorney after all. 
The journey eventually becomes smoother when you are backed up with a sophisticated business solution that automates all the menial tasks, helps you stay attuned to your sales pipeline, and delivers a better client experience.
Thanks to the cloud computing revolution, you can now avail of a solution like Law Firm CRM that is tailored to suit your business, is affordable, and easy to implement. Take a quick look.
Want to learn more? Our experts are just a click away. The right time is now!