Real Estate Selling To Millennials: Your Top 3 Go-To Moves
Jan 4, 2023
A demographic group that is currently dominating and reshaping the real estate buyers' market is millennials. In a young country like India, they constitute 34% (i.e. 40 million) of the total population. Roughly aged between 23 and 41, they are by far the largest generation in the world. They are hooked to the tech trends and continue challenging and reshaping the real estate market. About 80 million strong, the millennial group is emerging as the fastest-growing segment of consumers. According to a recent National Association of Realtors (NAR) report, they have captured the largest share of homebuyers (43%). In today's blog, I have attempted to make a comprehensive guide of 3 go-to moves that you can strategize for selling your real estate assets to millennials.
Selling your real estate properties to millennials is a big deal.
Here's what you can do as a real estate professional.
Digitization Is Your Way Up
Millennials have been raised with smart devices and cutting-edge technology. They are always in tune with the latest trends and have less attention span. So to attract them, you need to embrace technology and put out your A-game. Baby Boomers and Gen X were used to browsing through real estate brochures, newspapers, and flyers for property searches. But today, millennials are more likely to respond to online marketing and communication.
Over the years, the group has stayed attuned to technology. Now they have ushered the homebuying experience into several new dimensions. For example, due to the rising competition in the housing market, they are looking at a new venture i.e. buying unseen. This is requires you to become a progressive and tech-savvy agent to attract your millennial audience with virtual tours. As a real estate professional today, you must have a digital plan in place. Developing an informative website is a no-brainer but you also need to promote your brand on important real estate platforms like Zillow, Redfin, or Realtor for greater reach.
Create Engaging Content
Another thing that millennials are crazed about is great quality content. As a young generation, their quest for learning more or researching topics they are interested in is unending (almost). So it is time to pique their interest through inbound marketing tactics.
You can start with educational and descriptive blogs for your real estate projects with well-researched relevant keywords to optimize them. This helps your posts show up on Google search results. You can use tools like Google Analytics, Semrush, or Ahrefs for these search terms.
You can bring these blog content pieces to life with virtual tours of your properties showcasing the entire construction dynamics. But remember to caption these videos with the keywords to gain maximum mileage views. Most importantly, make sure that you always link your content pieces with your websites so that your audience can quickly navigate your enlisted properties.
Pro-tip: You can even create interesting images for your blog or video covers with DocHipo. This free-graphic designer tool comes with an enormous range of customizable templates.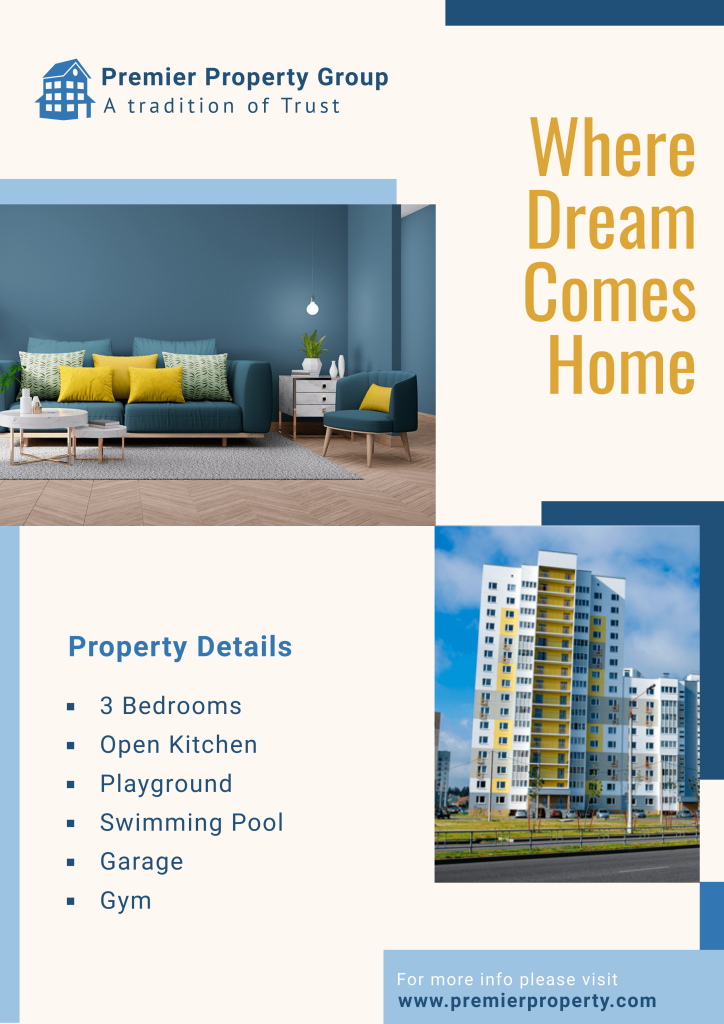 Spread Out Your Word
Talk about millennials and we instantly picture smartphones in their hands. And with smartphones comes different marketing communication mediums including social media and emails. For example, 59% of millennials use Instagram, so that is where you should be- posting high-quality images of your properties and linking the same to your website. Even when it comes to your content, you can break them into smaller pieces, use catchy captions and post them on your social media platforms. For this, you can use Zoho Social. It is a social media management tool that helps you build a content cue and schedule unlimited posts on the intuitive calendar so that all your posts get published on time. You can also stick social columns to stay attuned to your audience and respond to them in real time.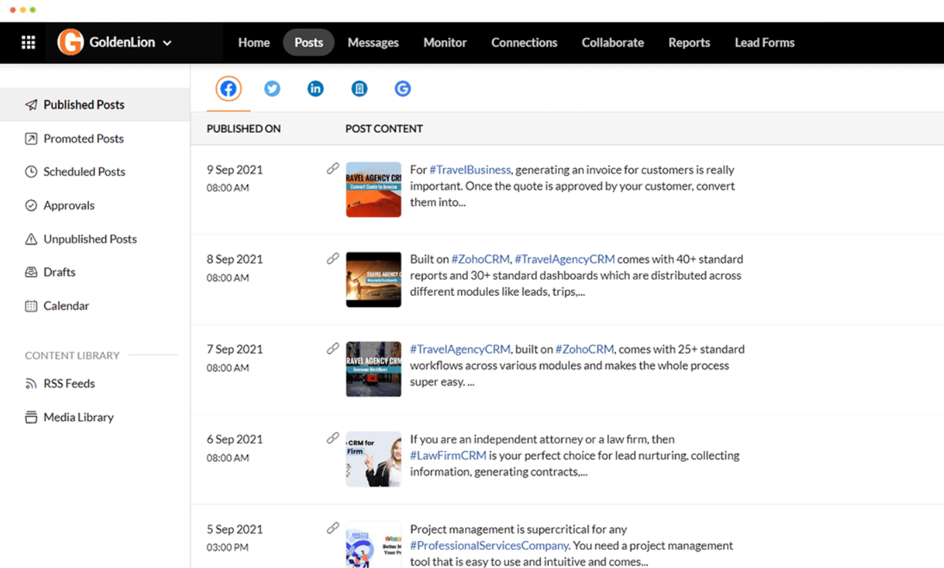 As a consumer, you are already aware that emails work wonders for customer acquisition and retention like it has for over the past 40 years. So in the case of emails, implement Zoho Campaigns. It is a super-effective email-marketing software that helps you reach and grow your audience. It helps you create and customize responsive designs that suit your brand personality. You can increase interaction with your recipients through polls, surveys, GIFs, and so on. You can also set email drip campaigns or newsletter auto-responders and trace your contacts in the nurturing journey.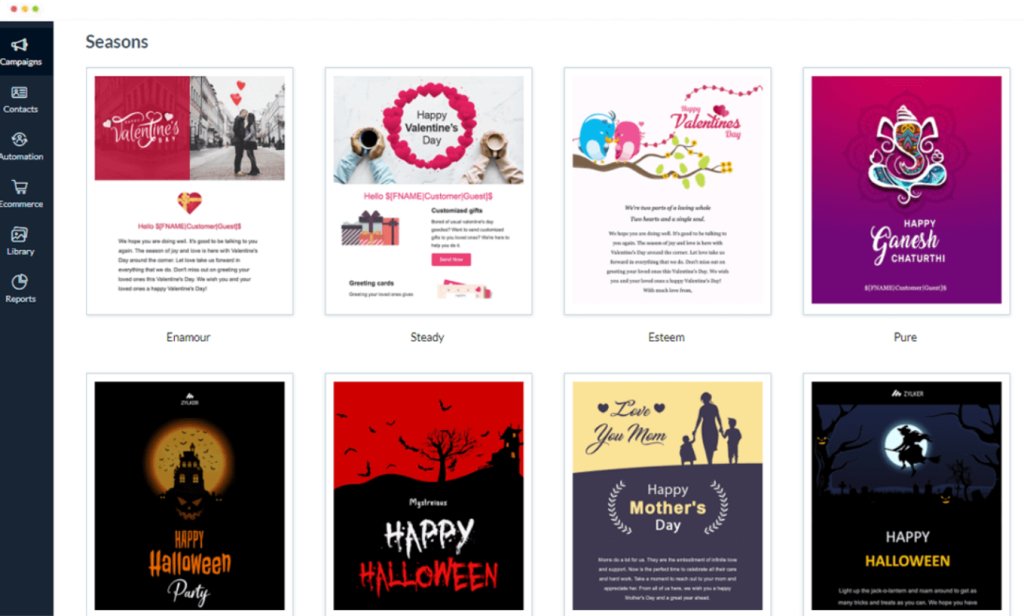 Pay Heed To Your Millennial Audiences' Concerns
People love to share their ideas and concerns when you ask them. So it's important to know them first, get an in-depth understanding of their pressing needs and then target them when you are prepared. An easy way to do this is Zoho Survey. You can create insightful questionnaires in minutes as this tool comes with 25+ different templates including skip logic and piping. It lets you collaborate with your team to prepare your surveys and share them instantly with people on your email or social media campaign lists. The SSL protection that comes along, ensures that your surveys remain private and protected.
Sales Strategy For Pitching To Your Millennial Prospects
Pitching to your millennials is an important crossroad for winning a deal. Here are some tactics that you can use.
Consistent Follow-ups
While following up with your clients is a crucial part of the lead nurturing process, millennials might find it overburdening if you interrupt them with too many cold calls or pursue them relentlessly through emails. You can avoid this by building a strategic communication flow– this is where Real Estate Developer CRM comes into play. You can create and distribute several follow-up tasks among your sales reps almost immediately after you capture a lead. Once you get your prospects' response, you can easily schedule the next follow-up tasks and mark them on the CRM calendar or set reminders to lessen the chances of dropping any of your prospects.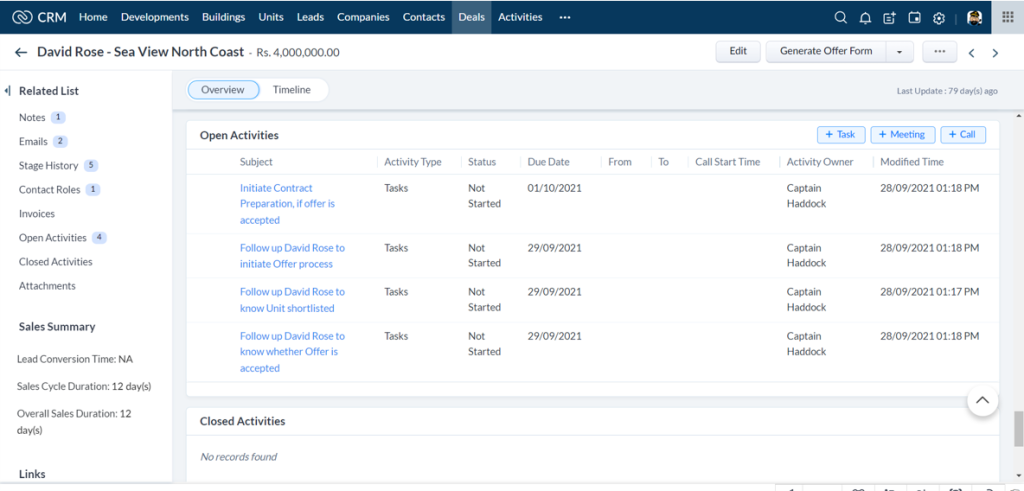 Smart-Schedule Your Appointments
As I mentioned earlier, millennials have been raised with smart devices all around. So it becomes your job to approach them like they are used to. Smart-scheduling appointments with Zoho Bookings is yet another example. It is an online scheduler app that syncs your calendar and makes your pooled availability statuses visible to your clients. While some millennials are more likely to suffice their property requirements through personalized virtual tours, the other half might expect site visits as well. So you must be flexible both ways. With this app, you can arrange online and offline appointments for your customers and advance them to book their meetings conveniently. You can add questions for your appointment booking forms and qualify their requests and even send reminders via messages or emails to optimize your time.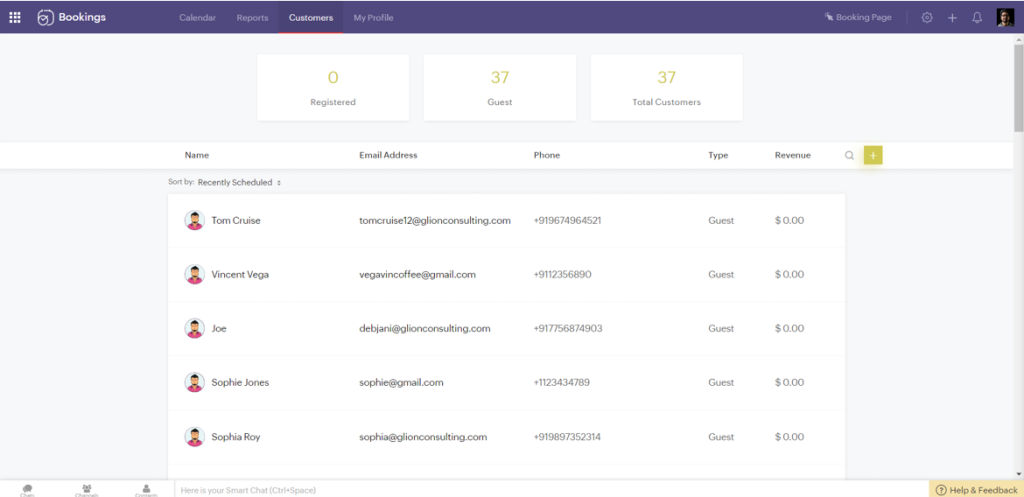 Showcase Digital Floor Plans And Style Your Home
Traditional home marketing tactics would not always resonate with millennial homebuyers. They are more detail-oriented, despite having less attention span. So you must showcase your digital floor plans on your websites along with professional photographs to attract them. Floor plans which are the third most valuable feature on a real estate website put forward a clear idea of what the property offers. This includes the usability of different spaces, doors and window placements, storage capacity, etc.
Again as the majority of homebuyers are moving and changing their locations, quite frequently, they are more likely to buy homes with pre-furbished amenities. So you must update your decor, with neutral color schemes. You can make improvements for making a utility-focused appeal (for example, hardwood floors instead of carpeted ones that might get stained and require frequent vacuuming) before you stage it to your prospects.
Appraise A Home For Its Location
Location plays an important role for millennials. They don't want their apartments/ dream homes to have ultra-luxurious facilities yet when it comes to the commotion, there are no links. Most of them prefer decent quality homes that are close to their offices, well-ranked schools, and urban areas, at an economical price. So you must appraise your properties partly based on their locations as they are likely to sell faster.
Now as a professional real estate developer, when you have a couple of projects in hand, you must capture all the details about your homes along with the geo-locations. It helps you to check whether a particular property suits your customer and respond quickly when you do have queries pouring in.
Implement Real Estate Developer CRM
The solution that makes it all better and workable is Real Estate Developer CRM. Really! And I'm not just saying that for the sake of talk. Let me give you three solid reasons.
Data Centralization
Imagine all your customer databases organized and centralized in one uniform space for easy navigation. Possible with this super-effective CRM solution.
#1. It captures all your leads' information in streamlined records and automatically updates the source of your leads to help you focus on the marketing efforts that are working.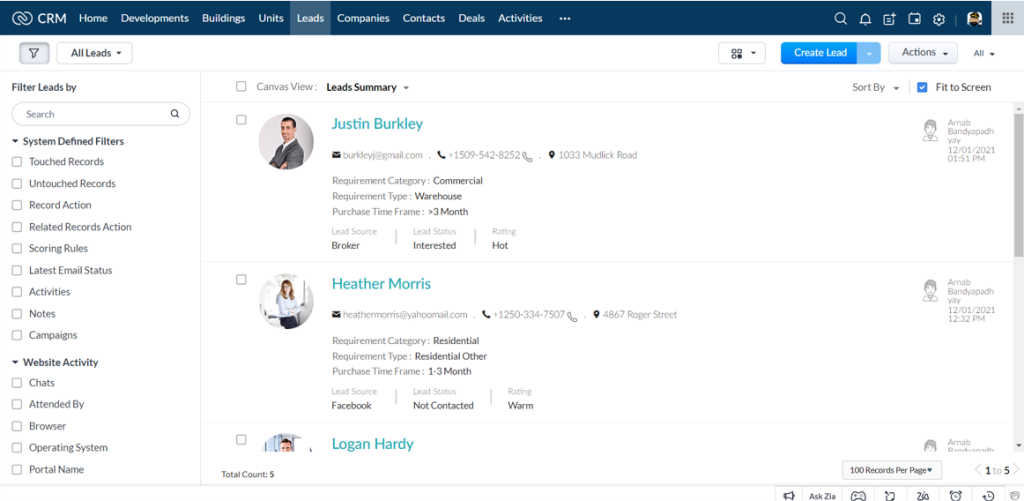 #2. You can automate mundane jobs like entering data when a lead proceeds as a contact, company, or opportunity. Your CRM does it for you in quick seconds the moment you click on the 'convert' button. It interlinks the related records in the lists down below. So for instance, if you get inside any particular deal record, you can switch back to the related contact in a jiffy. Even on the timeline page, you get detailed documentation of customer interaction points as the stage history so that you can easily resume the process.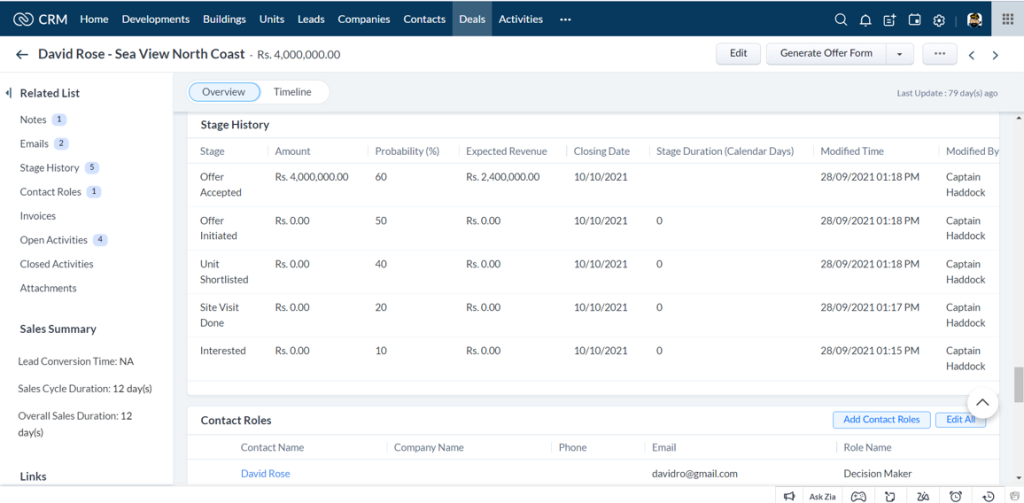 #3. Speaking of deal records, the first thing that you'll see when you click on one is a sales pipeline that is designed as per your industry. This means it covers all the intermediary stages that you might require before you win a deal. It even flags timely checklists so that you never overlap any stage. Moreover, the CRM updates the pipeline after each stage completion so that you can always stay informed about each of your clients' sales journeys.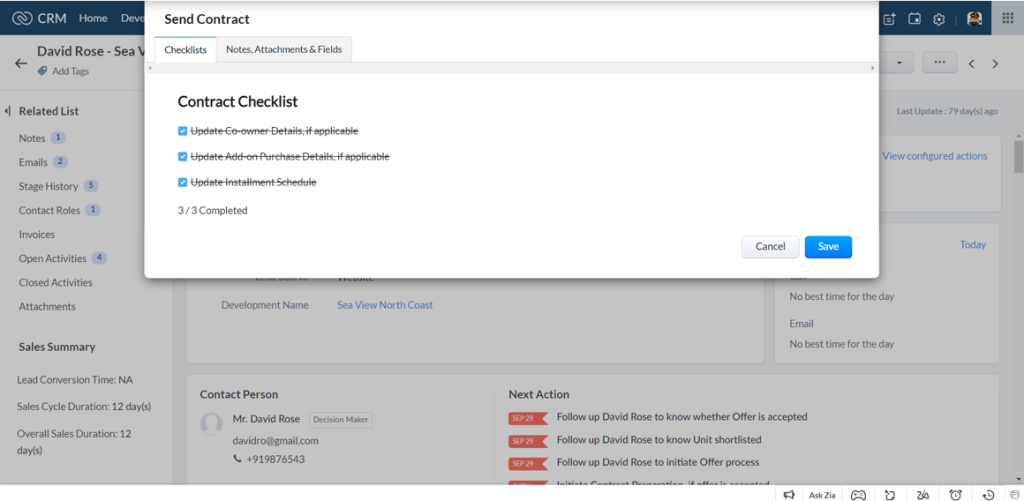 #4. As this CRM is built as per your industry nomenclature, you can also set payment milestones for your customers. All your offers and counter-offer prices can be managed and stored in the deal records as well. Read more of these benefits right here!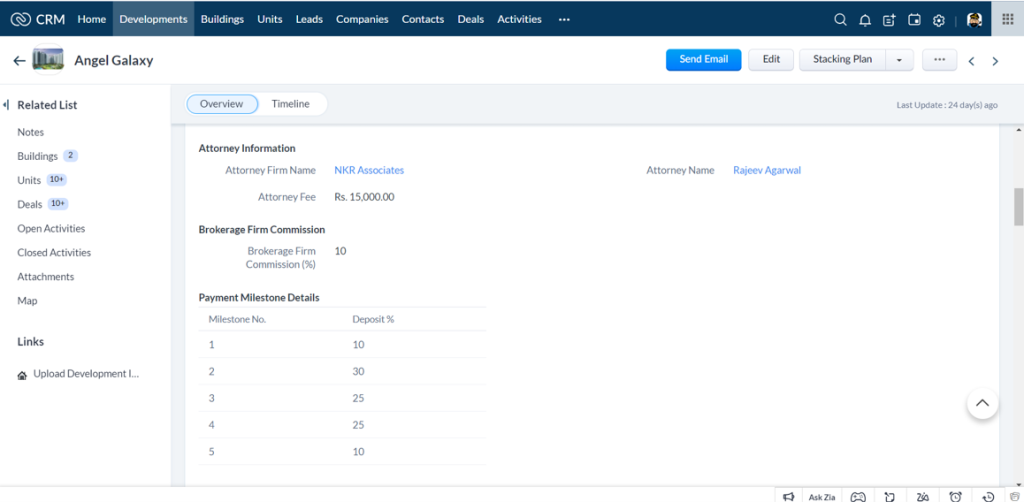 #5. And then comes the best part, the CRM windows you an opportunity to publish your property images directly on your website. You can click on the 'Yes' button for publishing pictures while you create a property record or the 'No' button to remove them. As the system is linked to your website, you can publish or remove images from the CRM itself and optimize your time. Though it's an add-on feature, it is strongly recommended!
Stacking-Plan Reports
The cherry-on-the-cake feature of Real Estate Developer CRM is the stacking plan report. Let's say you have a project that has five buildings and each building has multiple units. So the stacking plan report displays different aspects of the units. This includes their availability status, the number of bedrooms/ bathrooms, the area, and the price, as per the buildings. The system is extremely intuitive so it auto-updates the current availability status. This way you can easily take a glimpse of the structure of your projects and avoid misleading information while pitching your clients.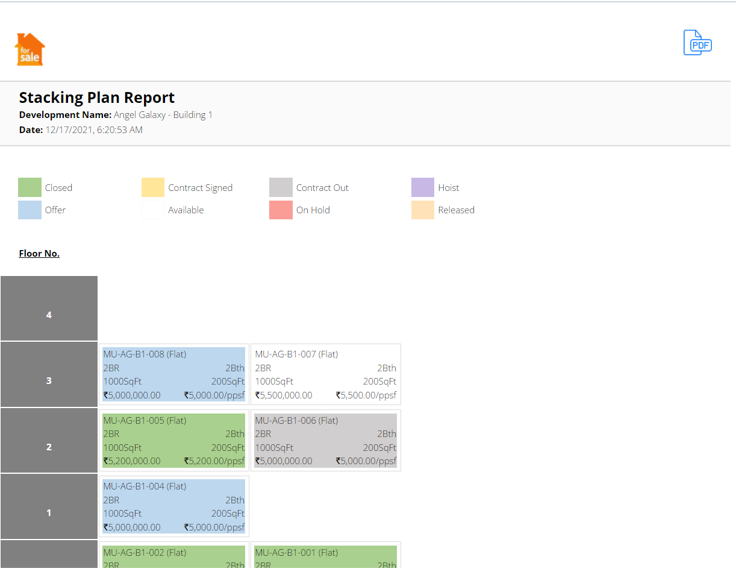 Third-Party Integrations
Selling to the smarter generation requires you to get smart too. To make your CRM a more robust solution, you can integrate other Zoho apps or other third-party tools like Google Microsoft applications. You can easily choose the 'Marketplace' under 'Settings' where you can see all the applications ready to get integrated with your CRM system or build tools with Zoho's API.
There you go,
I think it's time for you to create a stellar proposal for your millennial audience. Get out there with a fresh approach and ideas. Engage with them on platforms they like, and deliver a stand-out customer experience. And for technicalities and customer relationship management, Real Estate Developer CRM has got your back.
Head here to connect with our experts and learn more about this solution.