Remodel Your Business Digitally With Real Estate Developer CRM
Jun 24, 2022
The pandemic has struck a hard blow across the globe in the last couple of years, especially in the real estate sector. However, a business cannot be at a standstill. The people involved in the industry have tried and evolved themselves with the new age of marketing with digitization. But the thing is, our potential customers too have been swept by the digital transformation. They are constantly bombarded with options from different brands, the moment they search for a product or service. 66% of customers have become more demanding and want their expectations to be met. But don't you worry when you're backed with our Real Estate Developer CRM, the ultimate solution that you need to transform your business digitally.
But before we start, let's learn a bit about digital transformation
The world has witnessed a massive technological revolution in recent years. We have rethought the shift and included it in our day-to-day lives, culture, and business processes. Real Estate Developer CRM is another exceptional boon of this digitalization. It lays a huge impact on your interaction and engagement with customers, managing data, adding values to sales cycle operation, and marketing strategies.
In this article, we will dive deep into how lucratively you can implement our Real Estate Developer CRM solution to transform your business model digitally.
Stay Up-to-date With Centralized Data
Data has become one of the most integral parts of modern business process management. Now, imagine a central space where you have all your data collected for easy retrieval. With our Real Estate Developer CRM, you get to define your data hub as your homepage. While every nook and corner of your business should hold your attention, some selective ones require your discreet attention regularly. The homepage is filled with dynamic dashboards which visually project real-time data analytics for the chosen sectors of your business. It might include the number of deals you have in hand, the number of leads that got generated or the pipeline stages of your existing customers, and so on. You can add up to ten different dashboards to this page to make it exclusive.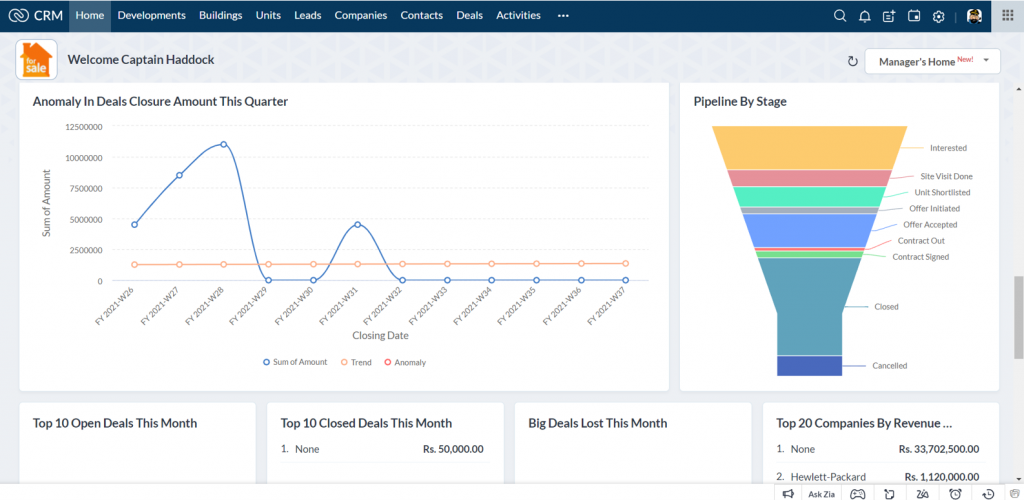 Market, Capture, Repeat!
Since the digital era has taken over the real estate industry, modern developers are shifting their focus towards well-designed websites, social media platforms, and Google advertisements. Besides these, they already have newspaper ads, referrals, business cards, and so on. Websites are the primary source of lead generation. They act as the virtual storefront of your business. With Real Estate Developer CRM, you can embed a contact/ webform so that if an inquirer browses your properties, he/ she can show their interest by filling out their details. Once they do so, our CRM readily captures the same information and locates the same in a separate new lead record.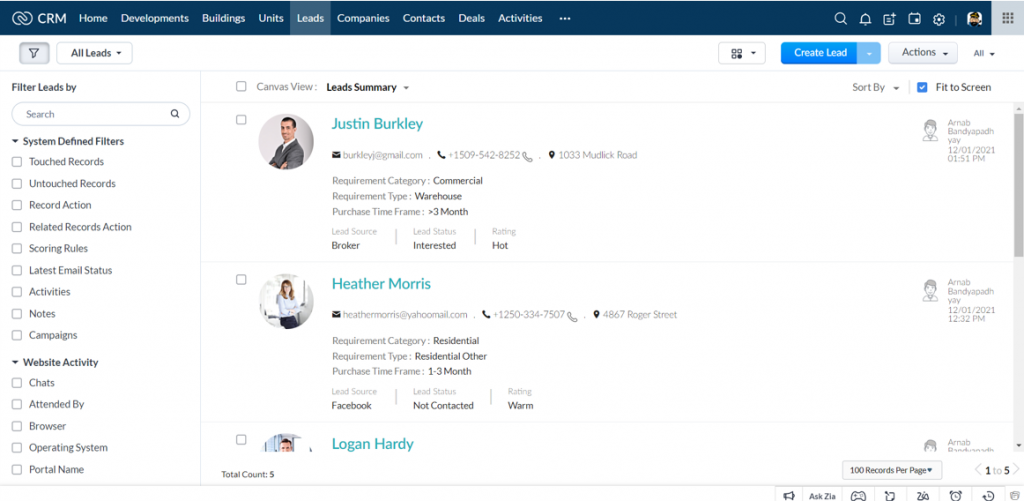 Again when you market your brand via social media, you can upload eye-catching images or virtual tours of your properties. Just a quick tip, when it comes to posting the latest updates regarding your developer projects with informative content, you can use DocHipo. It comes with a humongous range of pre-defined templates which you can customize persistently. To come back to our point, you can post all you want, however, your marketing strategies might go in vain if you don't embed a direct website link on your platforms. This will improve your CTA rates and your chances of capturing more leads.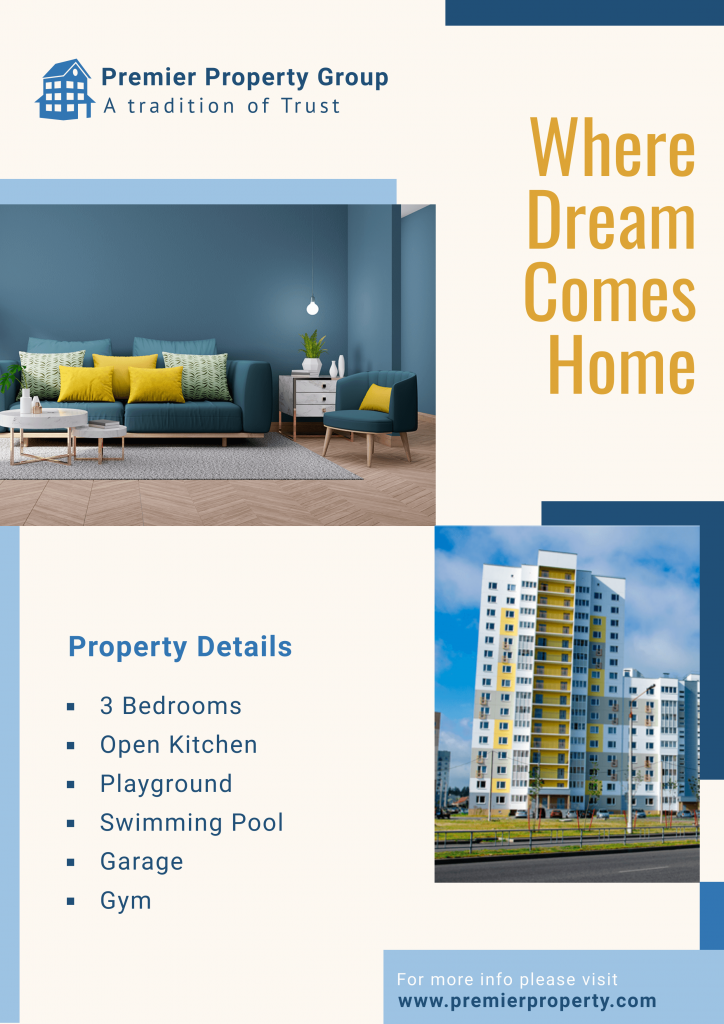 Go Multichannel
In today's world, staying connected is extremely important and it can be easily done when you transform your business digitally. Real Estate Developer CRM lets you centralize all your communication mediums via email, social platforms, live chat, telephony, and so on. For example, you can send out your emails or call your clients directly from the CRM system. You can track your visitors and interact with them via the live chat-bot integration. Again, our system collects the number of likes and shares your posts received on social media to help you understand whether your marketing strategies are working in your favor. So you see, our solution advances you with a multichannel platform to communicate with your customers.
Fast Response With Automated Alerts
Just like time, our customers are also fleeting. Since we have quite a lot of options to choose from, thanks to digitization, we no longer feel the need to wait for a response from the other end. So naturally, the immediate step after procuring leads is the nurturing process. When a lead lands in Real Estate Developer CRM, the system instantly updates your respective teammates so that they can move ahead with it.
Even as a leader, you can initiate different follow-up activities, schedule meetings or calls, and assign them to different members of your team with a one-click mention. You can also mark deadlines on your calendar, and set reminders or pop-up notifications to maintain a strategic interaction flow.
Automation Process
Real Estate Developer CRM is designed with the sole intent of managing relationships with your customers, agreed. But the next best feature of using a quality CRM software like ours is effective automation. For example, when you convert a lead, the system automatically creates three different records namely, contact, company (if applicable), and deal. Remember, these records are always module-specific. So if you select a particular deal record, you can view all the deal-oriented details including the ready-made sales pipeline, the selected property and payment details, and the tagged contact and company in the related list. Our solution collects all the necessary data and automatically molds them under the aforementioned perspectives. Moreover, these modules are interlinked with each other so that you can switch from one record to another in quick succession.
Real-Time Transactions
Step 1: Managing Offers
We always look out for solutions that help us in every possible direction– a precise compact software solution. Real Estate Developer CRM is the ultimate example. You see, a real estate deal often involves a series of offers in the process. When you table a proposal, your customers might give you a counter-offer and this can indeed continue for a while. Now as a real estate developer, it is not expected of you to track your deals diligently. Our solution tracks real-time transactions on your behalf. When you get inside a deal record, you can track different offers from buyers and sellers. You can manually update the offer/ counter-offer amounts and dates. Once it is finalized, you can generate your offer with a single click. Our solution pulls out the relevant information for the offer and automatically fills the property status in the overview section.
Step 2: Automated Checklists
Next up is the contract generation. The moment your clients approve your property and proposed offer price, you can straight up move to contract generation. But before you do that, our system flags a checklist that reminds you of the crucial data that needs to be inserted. Once you do that, you can check the criterion off and click on the 'Generate Deal Sheet' to raise one and share it with your prospects seamlessly.
Step 3: Track Payments
A real estate deal involves huge amounts of receivables on your part which your customers might need to transact over an extended period. With Real Estate Developer CRM, you can define payment milestones for each of your projects to benefit your customers. And automatically the same milestone pattern will be reflected for all the units that are tagged against a particular project. You can enter the deposit amount and date as the customer progresses through the process and the system automatically calculates the balance due. Yes, as simple as that!
Stacking Plan Report
The stacking plan report is one of the key functionalities of using our Real Estate Developer CRM. Our solution represents your projects visually. For instance, if you have seven buildings under a particular project, this report displays the different aspects of the units for each building. This includes the availability status, the bedroom/ bathroom dynamic, the area, and the estimated price. As the system is super-intuitive, it automatically updates these aspects with real-time information. Therefore, it becomes super-easy for you to take a glance at the structure of your projects while pitching to a potential buyer.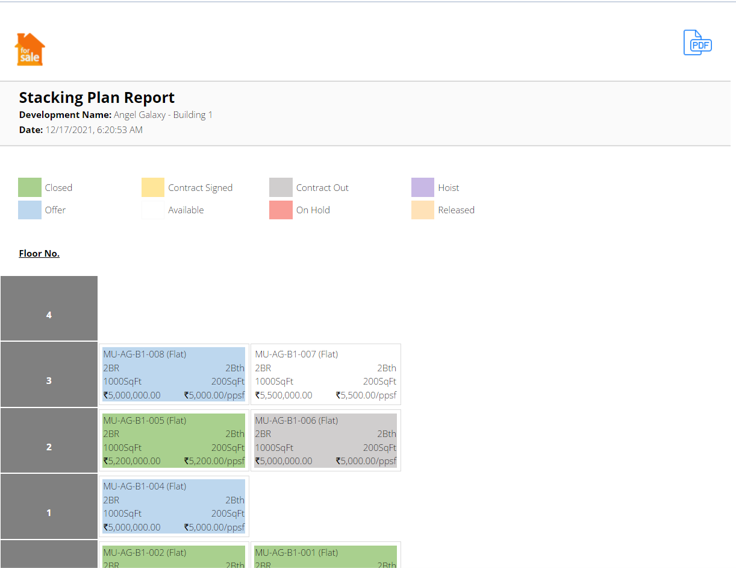 Reports And Dashboards
The two best modules that help you transform your business digitally with perfection are reports and dashboards. Our Real Estate Developer CRM comes with a series of dynamic reports and dashboards which represent the different sectors of your business. And the best part is that they always fill you in with real-time information. So when you do comprehend the insights and implement them to your advantage, you can notice clear business progress.
Seamless Integration With Third-Party Applications
As a business person, you will always try to take your business to the next level of advancement. With Real Estate Developer CRM, you can remodel your business with effortless integration with other Zoho apps or third-party applications. If you click on the 'Settings' button of the CRM, you can scroll down to the 'Marketplace' option which lists all the ready integrations available with the solution. This includes Zoho, Google (contacts, calendar, and ads), and Microsoft. How cool is that!
Last Words,
When the world demands you to be digital, you need to evolve yourself with digitalization. It helps you ascertain emerging marketing trends, and increases your proficiency and customer satisfaction, thereby earning more business. And Real Estate Developer CRM is, undoubtedly, the ultimate solution for this purpose. We have helped 700+ businesses so far, and we believe, yours could be our next one!
Now we throw the ball in your court. Click on this link to get started!