Top 5 Strategies That'll Help Travel Agents To Think Forward For 2023
Dec 13, 2022
Every industry in the global marketplace has seen its share of setbacks in recent years. The travel industry is no exception. Now that we have almost reached the end of the year, why don't we reflect on the top 5 strategies that have helped travel agents 'float their boats' and will continue to help them think forward for the 2023 market?
Here you go! 
#1. Cultivating Customer-Centric Culture 
Prioritizing customers and putting them at the apex of your business is not new. However, the approach is on a whole other level, thanks to digitization. We have technologies for customer behavior analysis through mobile devices, social media, artificial intelligence, and most importantly software like Travel Agency CRM solution. The only difference is that the former ones can be applied as individual tools and the latter brings them together as a whole.
We are experiencing massive technological advancement, right? Likewise, your potential customers are becoming progressively advanced, fickle, and demanding. And they demand personalized service. Seth Butera, says "Personalized service doesn't just mean leveling a generic experience with a person's name. Instead, it's about dynamically creating a personal experience at every moment — from the first search that helps customers ideate their needs to their final purchase and every moment of the journey in between." This is precisely what Travel Agency CRM benefits you with. This solution is solely designed to help travel companies foster strong relationships with their customers and improve revenue retention so that they never run out of business. Think about it. If you have all your customer databases organized in one centralized place, you can segment your customers as per their requirements/ preferences and cater to their personalized experiences like they want. 
#2. Higher Expectations Of Better Personalization
Forbes says, "In our company's recent survey of 1,000 U.S. consumers, more than half (55%) said they have a higher expectation for in-person experiences than they had in the past. Businesses need to improve experiences to not only meet these higher standards but predict customers' needs and proactively take steps to provide value and increase brand loyalty."
This is where you can integrate Zoho Bookings with your CRM. It is a super-effective smart scheduling tool that is convenient for both parties. It syncs your team's calendar and makes their pooled availability chart visible to your customers so that they can schedule appointments by themselves. To qualify their requests, you can include questions to your appointment booking form with custom fields. And you can keep track of all your appointment follow-ups from your Travel CRM. Plus, you can also send personalized emails or message reminders to confirm with your customers.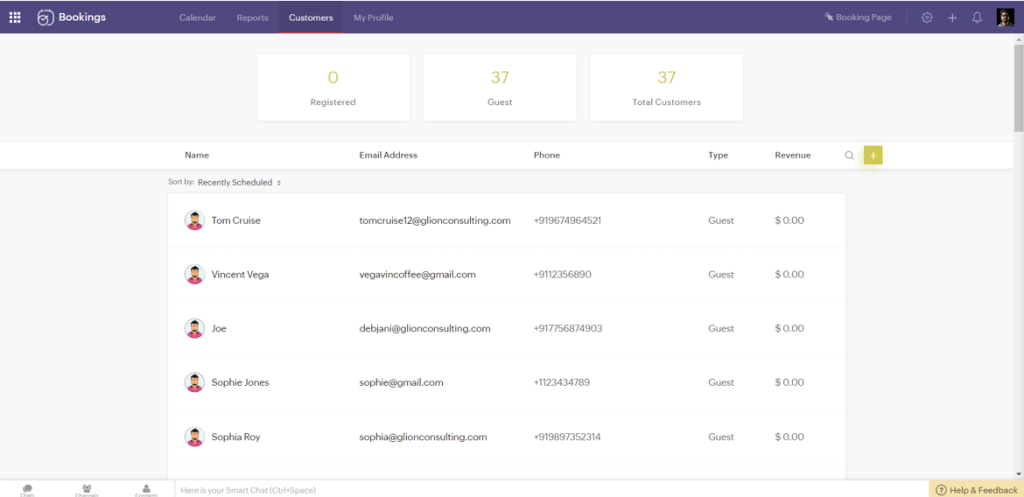 #3. Business Intelligence With Travel Agency CRM 
Hands-down, a data-driven strategy can be always relied upon. Worldwide businesses accept that using data intelligence or a metric-based approach plays a huge role in acquiring and retaining customers.
The 25+ standard reports and dashboards along with Travel Agency CRM, are organized in order of archived actionable analytics. These are designed to accurately crunch down chunks of customer data that can be leveraged to gain competitive advantage. Now the thing is, most companies are banking on data analytics to do better, and hence the competitive advantage is getting neutralized. So you need to get even more advanced.
Here are some of the key differentiators that you get to analyze when you integrate your business with Travel Agency CRM and dig in deeper.
A. Customer Segmentation
You can segment your customer base into smaller groups and address individual customers on their behavioral patterns. For example, based on your follow-up activities and your customers' responses, Travel Agency CRM detects the best time for communication for each customer, giving your efforts a more personalized touch.
B. Predict Future Trends
You see, trends are always oscillating. Effective analytics ascertain emerging trends and predict the future so that you can market tours accordingly. You can also dedicate a report and dashboard to predict the future behaviors of customers– that is, how many leads you have currently, their conversion probability, and so on. 
C. Marketing and Sales Metrics
Dedicating reports and dashboards to your marketing and sales sources is crucial. First, you are already spending hundreds of dollars for generating leads through different marketing channels. So you must ascertain the best ones for more investment and greater growth. Second, we have sales which is another important aspect of your business. You need the best team onboard. So based on their performance, you can assign tasks and look out for ways to improve their productivity rates.
D. Customer Lifetime Value
You can customize your CRM with advanced calculations in determining the customer lifetime value (or LTV) and add more value to your agency.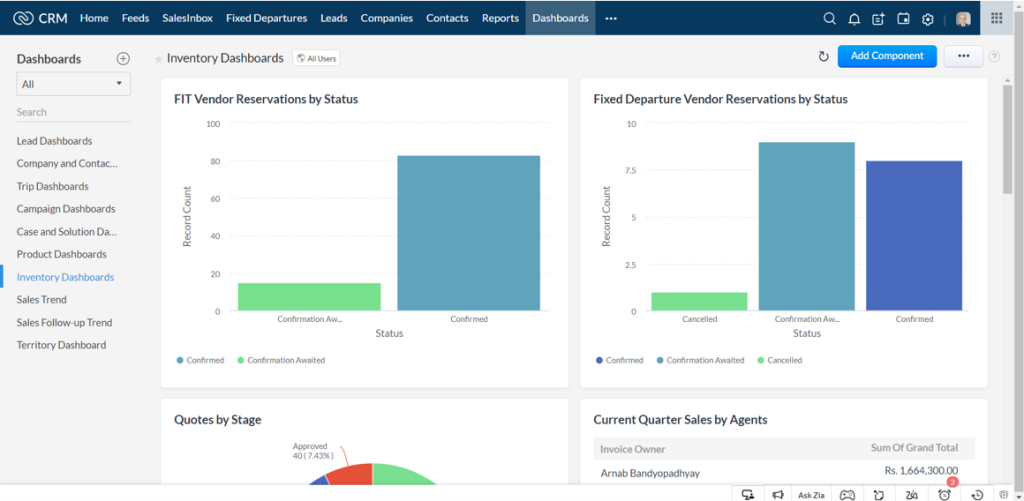 #4. Market Your Tour Packages As Vacations For Health Care And Well-Being 
Emotional and physical well-being is the top priority amongst most modern travelers, especially after the pandemic. Covid-19 has wreaked havoc in every consumer segment but to look at the brighter side, it has raised public awareness on numerous aspects of well-being.
You see travel is not just vacation planning, it is about a retreat for wellness, interacting with people of different cultures, adventure, and passion– taking a break from the monotonous life. Precisely, there are endless motivations to travel. WHO defines wellness as the condition of the whole physical, mental and social well-being, rather than the absence of sickness. That's why modern travelers are increasingly integrating their mind, spirit, and body holistically to be surrounded by more human and ecological communities. And hence, the global tourism market is fueling up. It is forecasted to have a CAGR of 8.12% from 2022 to 2027 and is expected to reach USD 1212.8 billion by the end of 2027. And that is exactly what you need to highlight and market through purposeful content.
A. Video Marketing
You can wing video marketing to motivate travelers' passion for culture, adventure, or discovery. Research studies show that views of travel-related videos increased by 41% in August and September 2018 compared to 2017 making YouTube the second largest search engine. You can use your travel videos to guide people through the locations with storytelling, and genuine testimonies, use a full-scale perspective and increase social awareness.
B. Blog Marketing
Another useful method for content marketing is blogging. Blogs can give your video content a more structural, highlighted, and detailed form. You can brilliantly showcase your travel expertise, and customer satisfaction stories and act as travel guides or focus on the distinct points that your crisp videos might have missed highlighting. For creating high-quality content, you must research relevant keywords first. Tools like Semrush, Google Keyword Planning Tool, and Google Search Console help you a real deal here. And for creating stellar blog banners, YouTube thumbnails, or other social posts, you can use DocHipo– a free graphic-designer software that comes with a wide variety of customizable templates. 
#5. Embracing Digital Transformation 
Technology is our best friend. And embracing digital transformation for business expansion has to be our 'go-to' move. Talking about technology and advancement, how can we forget the cloud? Built on top of the award-winning Zoho platform, Travel Agency CRM is a cloud-based software solution that you can access from any device and at any time. All you need is a working browser. Mobility and easy accessibility are the two key factors meant for modern entrepreneurs to grow their businesses. 
Last words, 
Heard of the phrase "change is the only constant"? You did! Now it's time to apply that and realize your agency's full potential. While trends are always changing, implementing these five strategies will pave the way for greater expansion. It's time to reimagine business, don't you think? Connect with our experts to get started!