Increasing Law Firm Revenue: A Guide
May 18, 2023
Where there is business, there must be revenue. The business world climate is competitive. People want more. If you cannot meet their expectations, then your chances of growth get hurt. Revenue helps you steer your business, it means sustainability. Lawyers working solo or under legal firms already have intense work pressure. But to rise above their competition they must enhance your service and efficiency.
When you move forward with this competitive challenge in mind, you face an added one – you must harbor customer relationships with effective personalization without accelerating work pressure. Needless to say, revenue is one of the critical metrics of your business' success.
You are being able to generate your revenue, that's great. But is your revenue rate enough to scale your business? Let's explore more about the average revenue growth of legal firms and the average compensation that most attorneys require. With all this information in hand, you can set revenue goals even more accurately.  
Average Law Firm Revenue
Average means approximate estimation which is ambiguous to determine. The revenue of your firm depends on unique situations– how you generate leads, conversion rates, and close-winning matters. Different areas of your business operations contribute differently. 
The Martindale Avvo Attorney Compensation report says that the average 2019 compensation for providing billable legal services for a solo law firm was $150,000 per year. However, in 2018 the average compensation for a solo practitioner was $159,000. It also found that lawyers who worked in-house at a small law firm earned an average of $210,000 in 2019.
Practice Area
Practice area in the legal world culture identifies for kinds of service. So the kind of service your firm offers has a lot to do with your revenue growth. For example, if you run a firm that specializes in corporate matters, you will have a different revenue scale than that of personal injury legal practitioners.
Targeted Clientele  
Another area of business niche is your client type. Who is your targetted clientele – individual consumers or businesses or even better, you serve both? The client type hugely impacts your legal firm revenue.
According to the Martindale-Avvo Attorney Compensation Report, attorneys who focused on individual consumers earned an average of $181,000 in 2019. Lawyers working with B2B clients reported an average revenue of $238,000. However, lawyers serving both consumers and businesses reported an average income of $175,000 in 2019.
Billing Structure
Studying a matter, and preparing your arguments is already a lot of work you'll be putting in to win on behalf of your clients. But all of these efforts go in vain when you are unable to track time or have inaccurate billing software. Lawyers, even in this digital era, use manual methods for timekeeping with spreadsheets. This leads to extensive pitfalls including administrative vulnerability and lost billable hours and hence revenue.
Martindale-Avvo Attorney Compensation Report says that 77% of lawyers prefer the hourly billing structure. Around 60% of them have flat-rate billing to make revenue more predictable. These payment structures mark as a contributing factor in determining the average revenue for solo law firms,
How can you increase your Law Firm Revenue? 
The greater the revenue number grows, the more successful your legal firm business becomes. The following are some of the best practices that you can consider for your goal.
Technology And Automation 
There is no option other than technology. You must execute a sensible and streamlined invoicing process to maintain timely payments from your clients. Built on top of the world-renowned Zoho platform, this primarily deals with three types of contracts and billing preferences. These are namely hourly billing contracts, flat-rate contracts, and contingency fee contracts. It performs as the critical factor for improving efficiency and streamlining processes to boost law firm revenue.
Law Firm CRM is a gift of technology. With automation, it maintains the business ecosystem centrally and helps you administrate every part of your business process. Here is how this CRM manages your contracts and invoices effectively. 
Digital Payment Methods 
Since everything has become digital now, why won't you make payment methods more convenient for your clients? The best way to make it easier for your clients to pay you is online payments or net banking. Statista survey reports that electronic methods get paid faster. 57% of electronic payments get paid within the same day they are billed and 85% get paid within a week.
Make Data-Driven Decisions 
Data is the new currency. The data analytics presented with Law Firm CRM's customizable reports and dashboards help you make better-informed decisions. For example, the Home Page consists of the most crucial metrics of the lot which regularly need your discreet attention. Other than that, you get a series of reports and dashboards which come in granular structures and as visual representations respectively. They help you actualize your business revenue potential. 
To grow your legal firm's revenue, you need to time track, bill, and collect your payments.
Utilization rate: The number of hours you have invested/ utilized for a particular matter is billable. You can measure it by the hours you worked divided by the number of hours in the workday.
Realization rate: Once you have the time-logged, you can directly invoice it to your customers from the CRM itself.
Collection rate: The number of billable hours invoiced and collected payment for is your collection rate.
Statista Report says that the average collection rate is just 88%, which indicates that firms don't collect 12% of work completed and billed to clients. A low collection rate means that you must focus on improving your payment collection to increase revenue. Likewise, a low realization rate reflects that you are losing revenue on hours already worked, but unbilled. Plus, a low utilization rate shows you need to streamline non-billable work to generate more revenue.
Be More Client-Centric 
The stats and the metrics can change by the day. What is constant is being client-centric through the entirety of the sales process. This is where Law Firm CRM works its magic. If you go by the literal meaning of a CRM, it is Customer Relationship Management software. Except, it has a bevy of features to offer. It helps you build long-term relationships with your customers and maintain a steady revenue stream as you prioritize your clients.
For example, the USP feature of Law Firm CRM is the Matter Details form. You can share this customizable questionnaire with all the required fields. Most importantly, your clients can express their concerns in their own words at their convenience and the CRM rightly captures all the information in the matter record.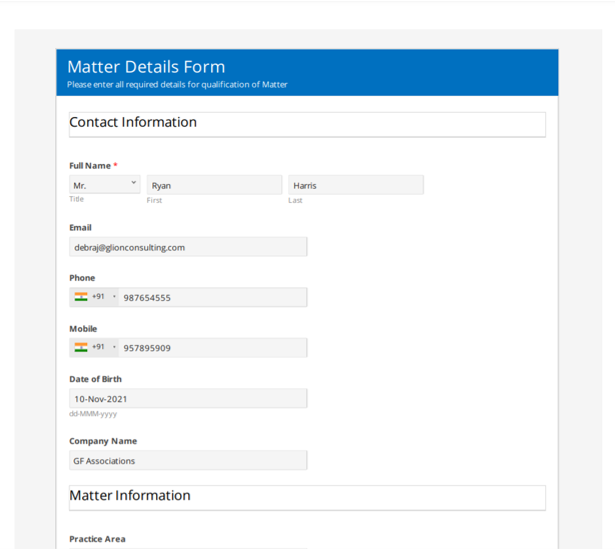 To create an even more customer-oriented culture, you can implement the Zoho Survey app that is loaded with 25+ different question types with piping and skip logic. You can use these surveys to collect, analyze and leverage feedback for business development. It becomes easier to grow your business when you understand the people you serve.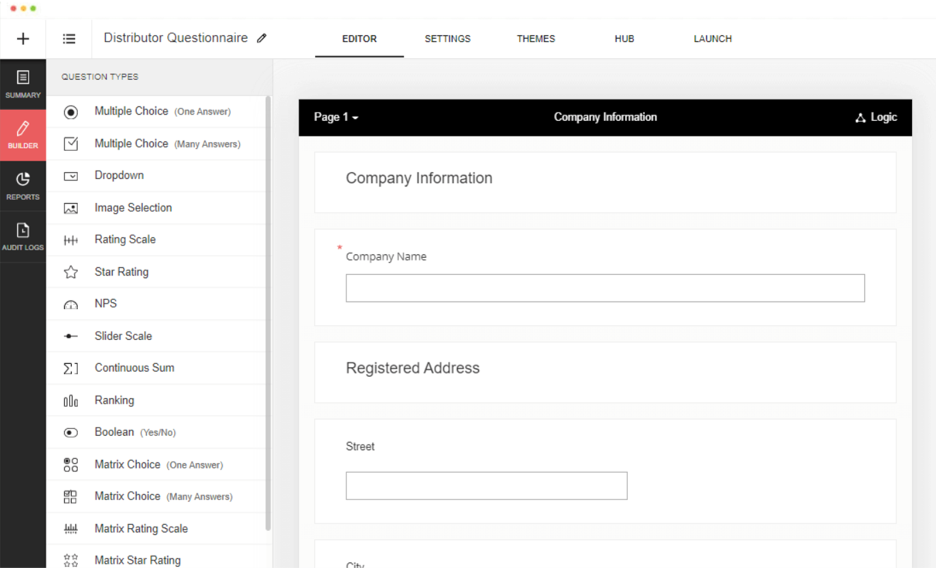 Last Words, 
Regardless if you practice law solo or run a firm with several lawyers, business growth and revenue are of utmost importance. While there are one too many factors affecting your business goals, you sure, should have one shared revenue goal. You can determine and set your aim by metrics on current revenue, estimation of attorney compensation, and so on according to your practice area or geographical province. Focus on your revenue goals and work on them by improving your customer relationships, service, and support for better growth and profitability.
And to make sure, all your business goals are achieved as per your expectations, you must implement Law Firm CRM. Reach us out here!