Navigate The Latest Trends With Real Estate CRM
Jun 21, 2023
2023 is in its midway. Believe it or not, it took this long to pinpoint the latest trends in the real estate industry. The market is volatile and primarily uncertain. But better late than never, right?
Let's rewind first to get our trends on point. The pandemic year has hurt the growth of the global real estate market. But the industry eventually evolved by adopting the latest trends, market dynamics, and technology. The numbers made a comeback since mid-2021 and have been going strong. The CAGR report predicts a substantial growth of 5.2% from 2022 to 2030.
The market is competitive, not at all a cakewalk. But to stay ahead of the crowd, you can continually strategize according to the ongoing trends, yes? Here are the latest trends and respective solutions with Real Estate CRM to help you!
#Trend 1: High Demand And Low Supply Of Inventory
Real estate inventory means the unsold units of property. There is a considerable dip in the market as it is struggling with low inventory levels. There is an increase in demand, but the supply of real estate properties is low, taking a surge toll on prices. But fortunately, the market is bouncing back as there has been a rise in the inventory trend since May 2022. There was a significant increase in November 2022 by a whopping 46% compared to the same time in 2021. However, the number of active home listings in November 2022 was still 38% lower than the pre-2020 levels.
Impact Of Low-Inventory On Sellers
Selling homes when the market is almost nil without inventory is advantageous to sellers and realtors. The scarcity of properties only indicates less competition for your sellers. On top of that, if your property is located at a prime spot with desirable features, then you can expect your property at the best price. On the other hand, you can only get hold of expected offer values when your advertising is quite appealing.
Impact Of Inventory On Buyers
It's a tricky situation for buyers or renters in a low-inventory market. Demand is more and the supply is scarce. For example, even if you prioritize location and amenities after the budget, if you get a property that is in your range, you need to act quickly and select the property. As real estate agents you must know that residential properties were typically on the market for around 56 days in the previous year – that is 18 days less than pre-covid days. So you can leverage your position as an agent and offer them your CRM enlisted property options as per their preferences.
Solution With Real Estate Agency CRM
A CRM or Customer Relationship Management software is a tool you can implement to build and maintain strong relationships with your customers. That is what the name suggests, except it is more than that.
Real Estate CRM is an industry-tailored software solution that covers all action points that you might prefer. But the USP feature that helps you the most here is automated recommendations.
Let's say you have a property enlisted in your CRM. And you come across a potential customer with certain preferences. So when you capture the lead in your system, you can generate automated recommendations from the CRM itself, with just a single click. The CRM comes with an in-built customizable recommendation template that merges with the selected property information so that you can share them directly via email. Even if you have newly enlisted a property, you can identify the matching leads or contacts who might be interested in your recommendations. So you see, there is no manual labor involved, it is just the smart automation features that make your job easier and without risks.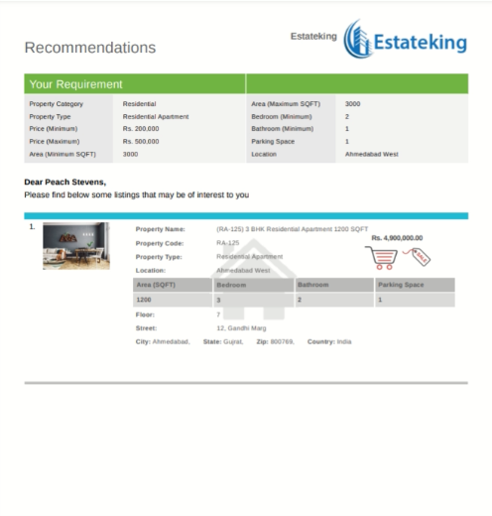 #Trend 2: Home Prices Getting Steeper
The related point again. As the demand is strong in comparison to the shortage of homes, the market valuation is getting steeper by the day. As per Monthly Housing Market Trends Report, the national median home price for active listings increased by 11% in November 2022 indicating the yearly home price growth trend.
However, this growth rate has slowed down compared to the average of 16% seen in June and July. It suggests there will be a slower growth year in 2023.
This is good news for sellers as they will have a lot of bids to consider and choose from and they can negotiate to the best of their ability. On the other hand, buyers need to get their priorities straight, as the budgetary concerns are legit.
Solution With Real Estate CRM
Property prices are getting steeper. Even if the percentage of valuation slows down in due time, it will be calculated according to the current price. Naturally, it is difficult for most people to buy the property in one go. Properties are like lifetime assets for most of them.
You are the real estate agent – the official middleman between the buyer and seller. You can help them both by introducing payment milestones in the deal. This CRM software can help you divide the whole transaction into a series of installed payments at the convenience of your clients. For example, if you are a developer you can ask your clients for payments as different levels of your building are constructed – milestones are achieved.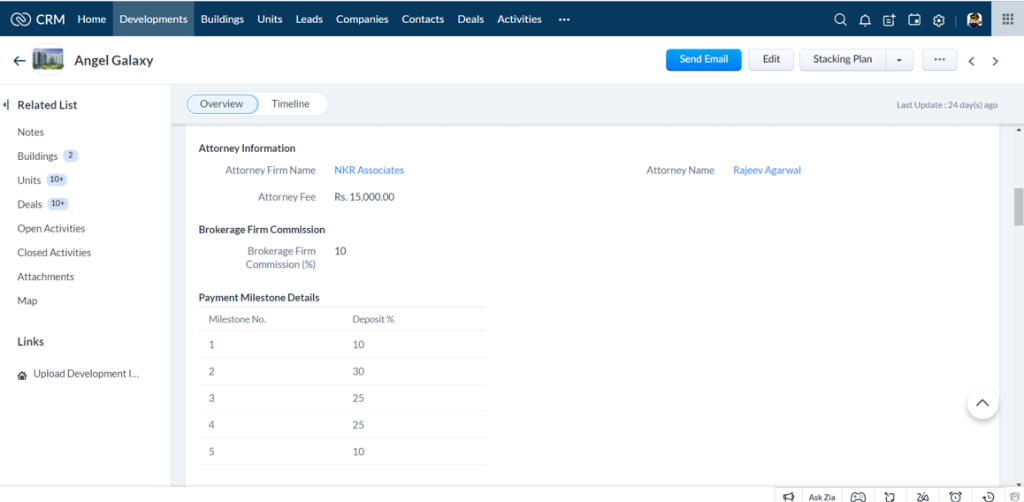 #Trend 3: Online Real Estate Services Climbing Ladders
What we know about the real estate industry is that it is operated in an offline mode. But that's history. As per reports of Fit Small Business, 97% of buyers use websites and social media to explore property options. Since this digitalized world gives your prospects a scope of hyper-personalization, they use different market mediums to connect with you.
For instance, let's say you have a millennial home buyer and you have a property that he/she might prefer. So you can easily market that property with virtual tours. You can advertise the property via social media or send direct links to the video. This is the ultimate strategy to pitch your property as your prospects can see the construction dynamics and decide if they want to move forward. This way you can deliver a personalized experience as your customers can view the property video at their leisure.
To make Real Estate CRM a powerhouse for your business management, you need some tools. Here you go!
Implement A Virtual Assistant
Virtual assistants or live chatbots are the most "in-things" in the marketing world. You can integrate your CRM solution with Zoho SalesIQ which helps you build a live chatbot seamlessly. You know, business needs a lot of market research, an in-depth analysis of what today's customers want and need. So when you do your research, you must come across several queries from your target audience that they have lodged on other sites. Stop right there. Collect them. Prepare brief answers and can these questions and answers on the live chatbot.
So that whenever your prospects land on your website, Zoho SalesIQ prompts a proactive conversation box. Here they can choose their queries from the lodged questions and the app readily answers them with automation.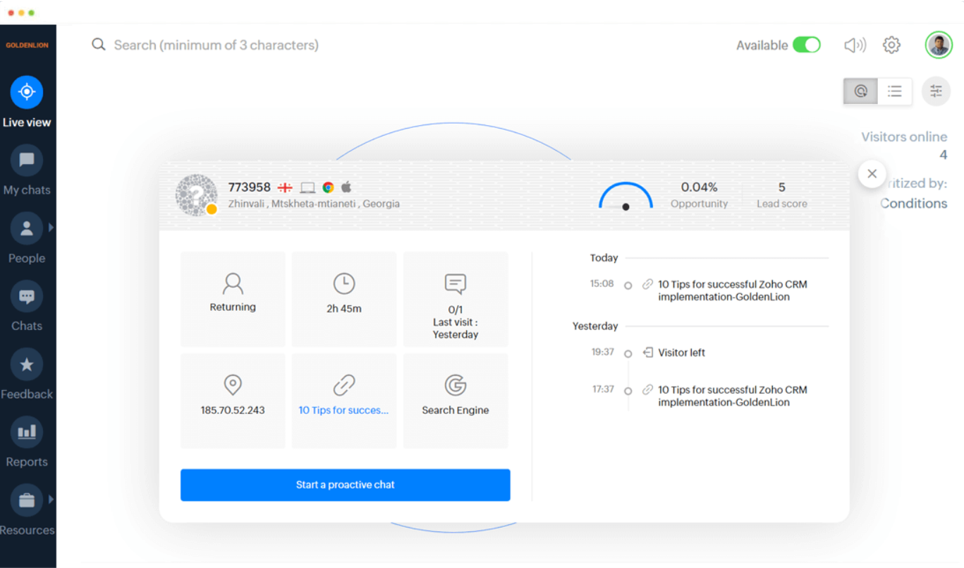 Connect Via Social Media
Social media lets you make it happen. Literally. The opportunity that comes with media platforms is enormous. This is where most of your prospects are housed and this is where you should be. You can interact with your audience through important channels such as Facebook, Instagram, TikTok, or Zillow and advertise your properties with extraordinary visuals. Social platforms give you a chance to post your blog or video content to help you gain maximum website traction. But I understand that you have other important tasks to complete. But gaining brand credibility on social media requires your attention and consistency. To achieve that, you can use Zoho Social. It helps you build content cues, and schedule them on an intuitive calendar so that your feed gets timely updated with new posts.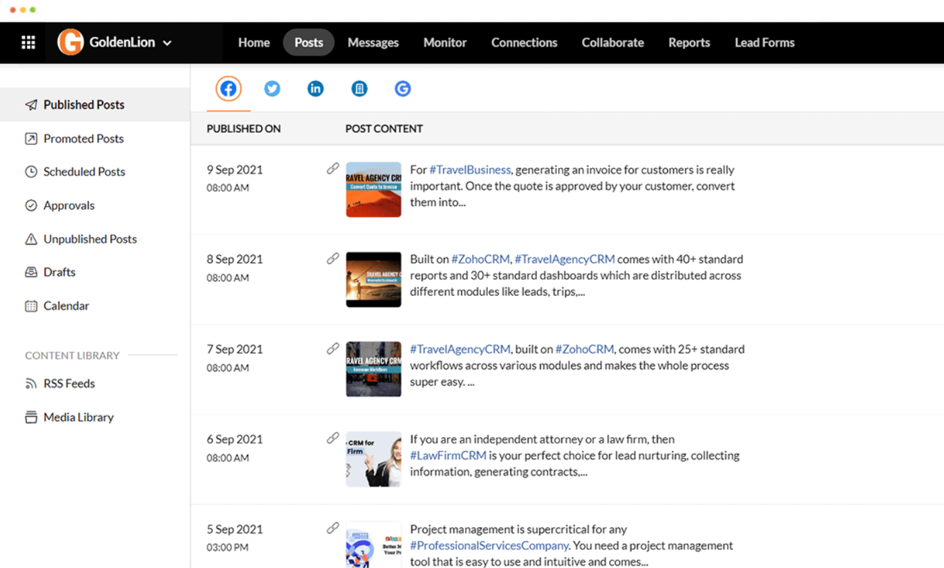 Make Your Real Estate CRM A Power-Packed Solution!
Granted that Real Estate is an all-in-all solution for managing relationships with your customers (check out the reasons). But why not, take it a step further and integrate it with other Zoho or third-party applications like Google and Microsoft? As I mentioned two Zoho apps that can be literal game-changers for your business. I'll explain how.
When you integrate Zoho SalesIQ with the CRM, the latter automatically creates a new lead record. It embeds all the chat transcripts so that you can retrieve them for a quick browse before approaching the prospect one-on-one. The same goes for Zoho Social. The audience spectrum grows at large and so does your lead generation. With Real Estate CRM in place, you can automatically capture them with zero chances of missing out. Plus, the software even updates the lead source so that you can easily identify the major marketing channels in your favor and strategize to the best of your ability.
Over to you,
2023 does not look very rosy for the real estate market. But who does not want a good challenge when he/she already has the upper hand? Real Estate CRM is your upper hand. Leverage its features to their fullest potential to gain the maximum out of it. Want to know more about it? Schedule a free 90- minutes no-obligation consultation with our experts!