Real Estate Developer CRM v/s Horizontal CRM– Which One Should You Choose?
Aug 26, 2022
Oh well, if you have landed on this page, you're probably in a fix. Which software to invest in for your real estate business growth? Or rather, which kind? A horizontal one or the tailor-made verticalized Real Estate Developer CRM?
Let me help you understand from the top.
I hope you'll agree that everything around us screams of technology. Even if you don't, it is true. I mean, come on, most of you have a smart TV or fan at your home, or you wear smartwatches, right?
If you look at businesses, you'll see that most of them use CRM (Customer Relationship Management) software for growth. ReferMe IQ says that more than 60% of realtors who make more than $100,000 a year use CRM software. So you see, technology has brought everything together to benefit us differently.
When we invest in something, we do in-depth research on it. At least I do! You might want to go for horizontal CRM integration for your business as the upfront costs are considerably less than a customized CRM solution, agreed!
But what if I tell you that an off-the-shelf CRM software might not be able to meet all your expectations?
Here are some reasons to consider before choosing a Horizontal CRM!
Expensive To Customize
Regardless of which CRM you choose, you must have your priorities sorted. What is the major benefit you are looking for? A software that can map out the different areas of your real estate business process, correct?
This is where horizontal CRM software falls flat. It might cost you less than a customized solution but it can never be an appropriate solution. Of course, you can find that this kind avails you with a myriad of basic functionalities and plentiful features. However, these are designed for the masses. These are not tailored to suit the use case of the real estate industry. And you'll find much steeper costs when you realize and try to address the internal business challenges.
Horizontal CRMs can perform well in generic requirements, say sales, marketing, or support tasks. But the moment you would want to customize them, bam, you end up spending too much time and (way too much) money!
Devoid Of Industry Nomenclature
Think before you act–you heard the proverb. Don't want to sound like your grandparent, but think about it, as a real estate developer, you might be managing a large workforce. You have sales, marketing, support, and even third-party brokers to look after.
Do you have enough time to buy a horizontal CRM and then customize it as per your industry nomenclature? I don't think anybody has that kind of extra energy to work on the same thing over and over again when we can get something better. For example, you are dealing with the real estate field. The products that you sell are your properties. Your properties will remain under the name of products if you do not customize your Horizontal CRM which becomes confusing for your sales reps.
Horizontal CRMs work effectively, that's for sure. But they are designed to suit general business needs. For instance, it comes with a pipeline that perhaps might have stages like quotation sent, negotiation, and deal closed.
But you know your industry, the sales cycle is way more nuanced and complicated. The major stages in the cycle are site visit meetings and property selection, right? And then comes the negotiation-affirmation step. A tailored CRM like the Real Estate Developer CRM has everything covered. It even flags timely checklists to help you double-check if every stage of the pipeline is duly performed.
Hence, the purpose of backing up a horizontal CRM for your business becomes null as customization is inevitable.
Poor User-Centricity And Adaptation
A one-man-army approach while dreaming of expanding your developer business every day is hardly ever true. You need people and a proper adaptation of the toolkit that you implement. So that your team can work efficiently and bring the best out of your business potential. You must empower your team to boost sales and get control over opportunities.
Being the leader, of course, decision-making for your business is your responsibility. You might optimize your spending by purchasing a horizontal CRM. However, there are no specialized training sessions done for your users. As a result, they find it cumbersome to adopt and achieve their expected KPIs thereafter. And naturally, if they feel uncertain about how to use the CRM tool, they will find it difficult to execute the sales opportunities they expected.
Lengthy Go-live Time
I have already pointed out the three main cons of using a horizontal CRM. When you club them together, you can't unsee the importance of customization. So when you purchase a horizontal CRM and again customize it, you'll be losing your money, energy, and time. It takes at least 3-4 months, and relentless effort in the implementation process to go Live with your business.
Why is tailor-made Real Estate Developer CRM the right choice for you?
Now, you'll come across several blogs which say that the fate of your business depends on your customers. I don't think that's entirely true. I think you have the power to break or make your business. At least you can start by implementing the best tools to your advantage. And Real Estate Developer CRM comes first on the list for your business. Here are some reasons why I say a big YES to it!
Tailored To Suit Your Business Process
Put in simple words, Real Estate CRM is the ultimate solution for your development business. And I'm not just throwing out there in the air. It is verticalized to meet your industry-specific needs.
For instance, you know your prospects would never get attracted to your properties if you just go on rambling about them in words. It is specifically essential to have visuals for guiding your prospects through the construction dynamics, right? This CRM solution has multiple windows that help you publish property images and feature them directly on your website.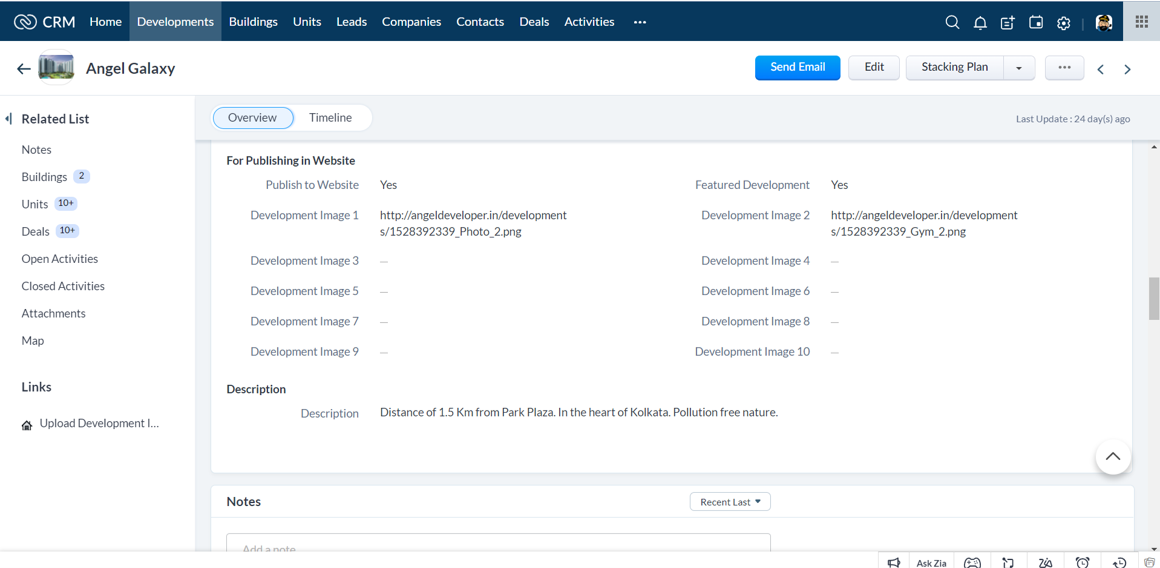 Take another example. Let's say the stacking plan report. Let me tell you, this CRM is extremely intuitive. The moment you click on the stacking plan report button, it displays a comprehensive representation of the present status of your buildings. Suppose you have a building with 5 floors. The report updated with real-time data will show you the availability status, the bedroom/bathroom numbers, the area, and the enlisted price. Therefore, it makes your situation way more workable and easier. You don't even have to browse and check. Sounds so good, doesn't it?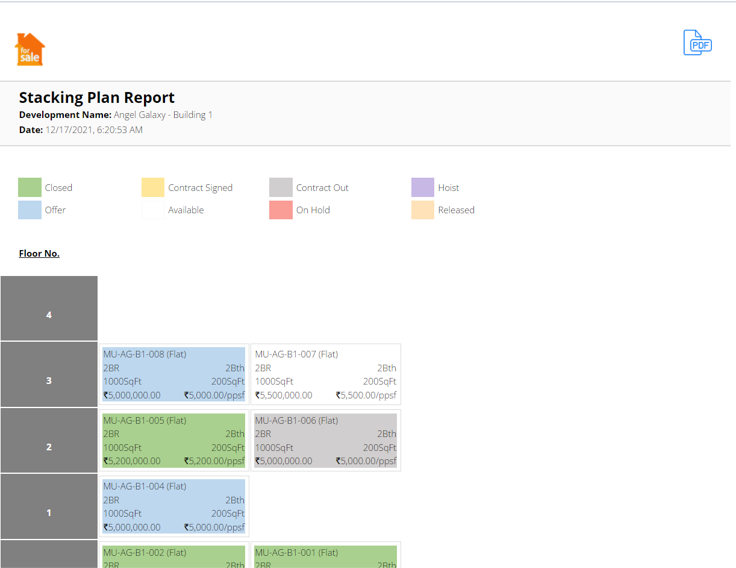 Industry Nomenclature
As a business person, you need to have a vision for advancement. So regardless of the fact if you are new or experienced in this field, you must have your priorities sorted.
One of them is the CRM software that comes with your industry jargon. Otherwise, it's just outright confusing. You surely don't want to waste hours in decoding when you can have it all customized right from the beginning.
For example, let's take property management. This verticalized solution is designed especially for your industry. It knows how to manage your properties efficiently. It helps you document every little information about your properties in a streamline and groups your units and buildings under a particular project. Plus, it even manages to name them in a homogenous format. Say, if you have a property named Galaxy Apartments with buildings and parking units. The CRM will automatically name it under the format PU-GA-B1.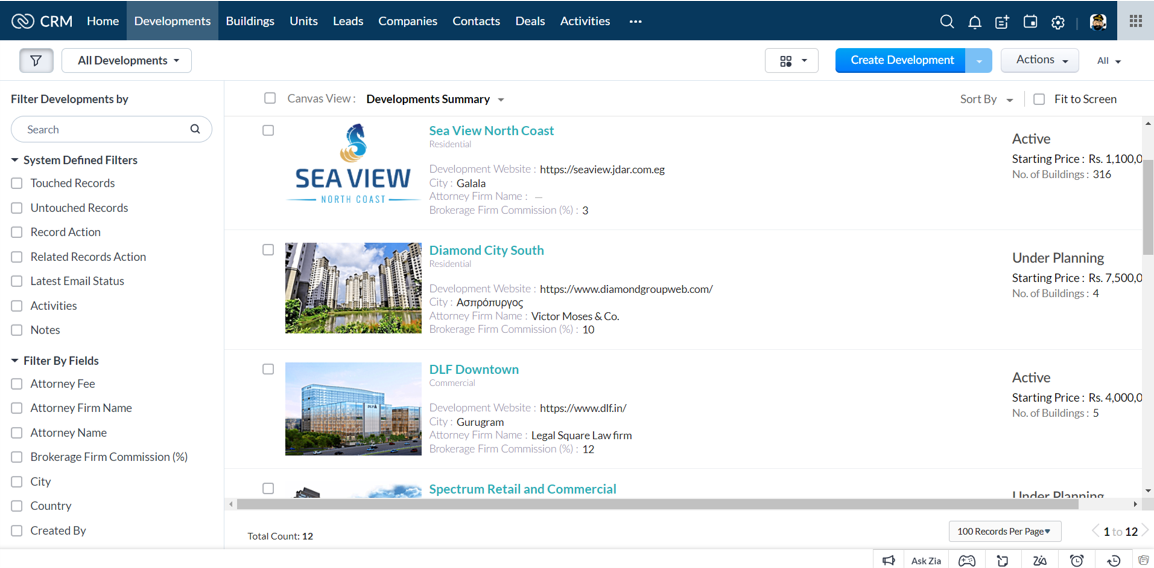 Complete User Training And Support
I have already pointed out the importance of user training earlier in this blog. You want to get the best people on your bus. But their efforts are least likely to become fruitful if they are not appropriately trained. After all, they too want to achieve their KPIs daily for a booming business.
With quality CRM software for real estate developers, you get complete user training and support sessions. These sessions are of utmost importance as your team can now leverage the full potential of this CRM and understand how and which feature to be applied for a particular stage. Also, user training sessions are important to figure out whether your team is facing any challenges while using it. So that you can quickly address them and extend the customization for further ease. Becoming fast yet productive–you have it on your charts!
Advanced Functionality
Even if you find about one or two areas where the tailored CRM is not fitting up to the mark, you can customize it as much as you wish. For example, if you have a unique feature to offer your customers that the CRM or any third-party integration can't cater to, you can customize it to bridge this gap. And this gets your advanced business up and running in no time!
Easy Compatibility With Third-Party Applications
Real Estate Developer CRM is built on top of the award-winning Zoho CRM, remember? So you already get the robustness for the rapid growth of your business. But other than that, you can cover the other aspects of your business with Zoho apps or any third-party integrations like Google or Microsoft.
For example, let's say you want to develop a customer-centric culture in your business. This means you want to be there for your prospects or existing customers to comfort them. So you can use Zoho SalesIQ, a virtual agent that can efficiently respond to your customers' queries on your behalf. Here is the best part. It can be present 24*7 to proactively converse with your prospects and even embed the chat transcripts in the lead module of your CRM for easy retrieval.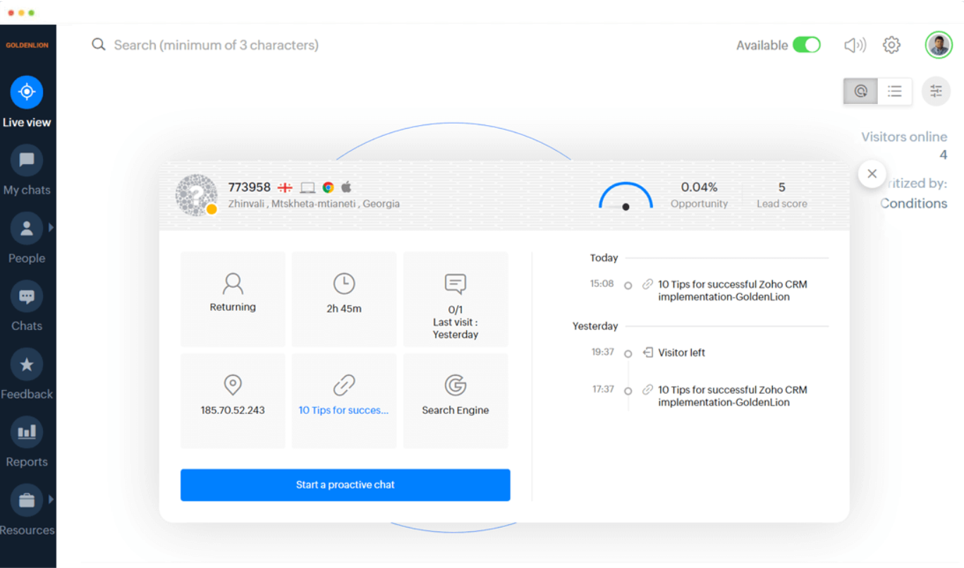 Since this industry majorly depends on property site visits, you can also implement Zoho Bookings. This tool syncs your calendar and empowers your customers to check slot availability and self-schedule appointments with you. Innovative measures for our tech-savvy customers!
Quick Go-Live Time
Why delay business opportunities and further prosperity? You shouldn't and you wouldn't. Not with Real Estate Developer CRM. If you're opting for this CRM, you can get on the floors with your business in less than a week!
In a nutshell,
Real Estate Developer CRM is the literal powerhouse of your business. It does much more for you while focusing on strengthening your customer relationships. And thank god, the cloud happened. You can manage your business from anywhere in the world and with any device, all you need is a browser. 
I hope I have cleared up some of the fog from your skeptical sky. Click on this link to get a 90-mins no-obligation consultation with our experts!