Vendor Management Done Right With Travel Agency CRM
Nov 29, 2021
Regardless of what industry you are involved in, if you're running a business, you don't want it to stand still– you want it to grow. So it is utterly important to take new initiatives, adopt the digital world and build strong connections to drive your business growth. As a travel agent, you are responsible for providing the best services to your customers and making their experiences worthwhile. Sating them with the best service is your goal. And vendors are the source of your service. Therefore, managing them also becomes a tricky task. This is where Travel Agency CRM software comes to your rescue.
But What Is Vendor Management?
It is a process of building solid foundations with vendors/ suppliers of your products (tourism facilities) which you can leverage for providing high-quality service to your customers. Travel Agency CRM collects and documents every information about your vendors to help you coordinate with them and your customers as well.
In this article, let us walk you through how you can manage your vendors with Travel Agency CRM and ultimately scale your business growth.
Build Strong Alliances With Your Vendors 
Now, you must agree that there is no linear comparison amongst vendors. Every vendor offers different services to you. As a travel agent, your consumers are your top priority. Based on their preferences you must analyze and segment to understand whether a particular vendor is the best fit for your purpose. You must differentiate them for short-term (for eg, cab rentals) and long-term (for eg, hotels, local sightseeing) goals.
For fixed departure trips, you need to select a specific vendor to do the deed. However, for a FIT (Flexible Independent Travel), you need to customize according to your clients' needs. It can include multiple vendors at a go. Let's say, a person has opted for a trip and he/she wants an extra local sightseeing activity. So you need another vendor offering this particular service to fill in that extra. Travel CRM comes in handy for such situations. It keeps a record of all your vendors and helps you maintain alliances with each of them. You can simply choose another vendor for the job to deliver a tailored experience to your clients.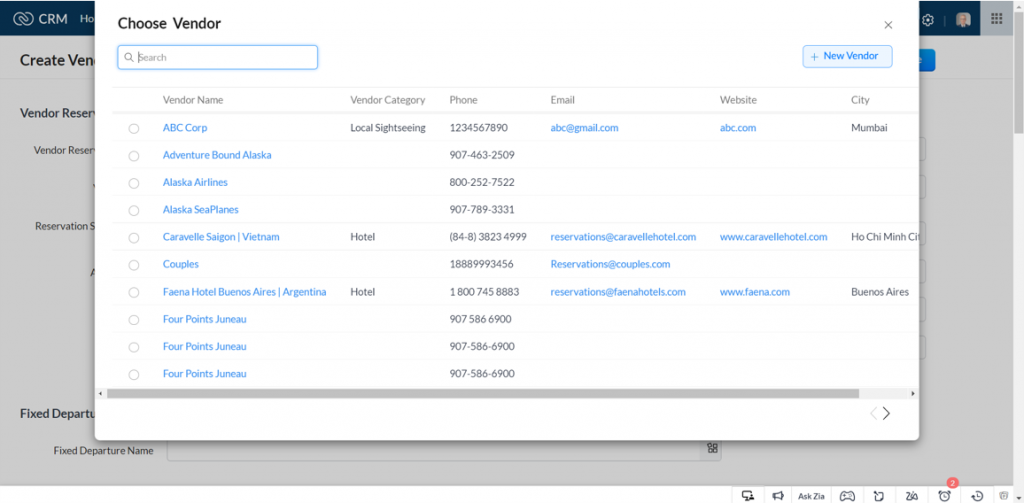 Watch this video to understand how Travel Agency CRM can help you manage your vendors effectively and efficiently.
Set Commitment And Priorities With Travel CRM
Commitment is the cornerstone of the business world. And it is mutual between you and your vendors. Just like you need to reserve facilities on your customers' behalf, your vendor too can expect a certain level of commitment in return. But before that, you need to share comprehensive information about your clients' preferences. You can set clear priorities and communicate with them to convey your expectations. Keeping consistent communication with your vendors can also help you strategize your business metrics.
Travel Agency CRM has all the information stored and centralized, be it your customers or your vendors. Thus, you can evaluate the requirements and make reservations on their behalf. You can also send out reservation requests with beautiful pre-designed custom-branded templates to your vendors.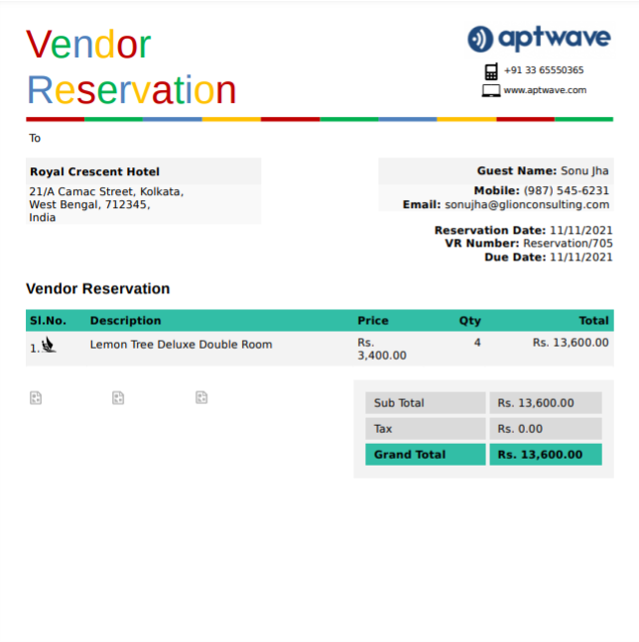 Meet Your Vendors Half-way 
To balance a stable relationship with your vendors, you must recognize their business goals as well. Restricting costing margins beyond a certain extent can sever all your ties with them. You must remember that the lowest prices can only bring in the lowest quality of service. It can thoroughly hamper your brand name in the travel market. Therefore, you must work together and accomplish goals for both sides.
When you use Travel Agency CRM, you can easily access any information regarding your vendors with any device and at any time. It maintains a chain of supplies or trips tagged under a particular vendor. So leveraging all the previously reserved trips, you can get better prices from them as well. Almost a win-win situation here!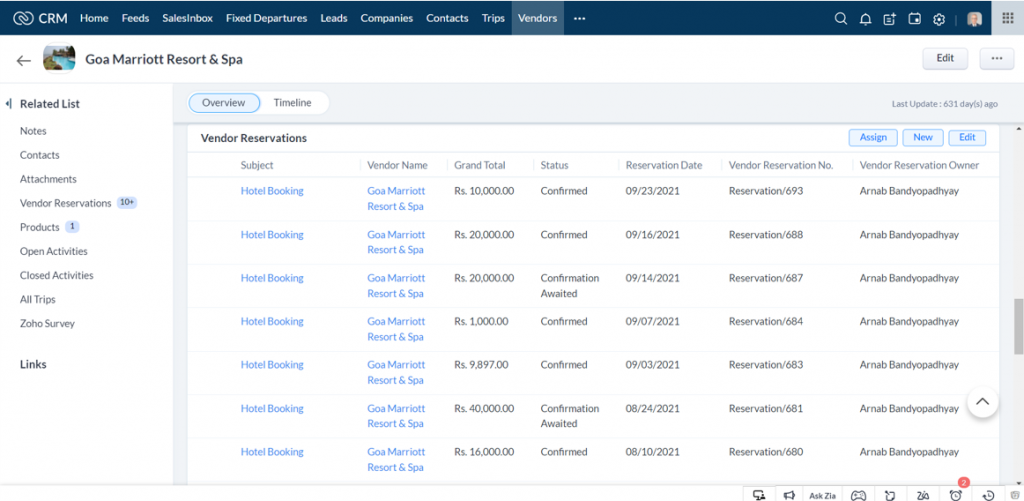 Seek Confirmation With Travel CRM  
Once you start receiving deposits from your customers' end, you can start seeking confirmation from your trusted vendors. You can send out reservation requests with custom-branded templates complimentary with Travel CRM software. If you anticipate any delay on their part, you can instantly schedule meetings, and calls, or create tasks for your team to follow up with them. You can also avail of last-minute follow-ups to check on the accommodation facilities by scheduling calls or setting reminders using this CRM software.
Calculate Your Dues 
One of the coolest hacks of using Travel Agency CRM is payable amount calculation. The moment your vendors affirm your reservation requests, you can quickly start paying their dues. Whether you pay the full amount at once or in installments, the CRM system always keeps a tab on your payments. You can start updating the payment details including billing address, amount, and date. And your CRM automatically shows your current payment status.
The magic trick here is that Travel Agency CRM auto-calculates and auto-populates the commission payable to your vendors, the revenue that is generated from a trip, and the total profit that you gained out of this deal. Yes, it is that simple. Can you imagine!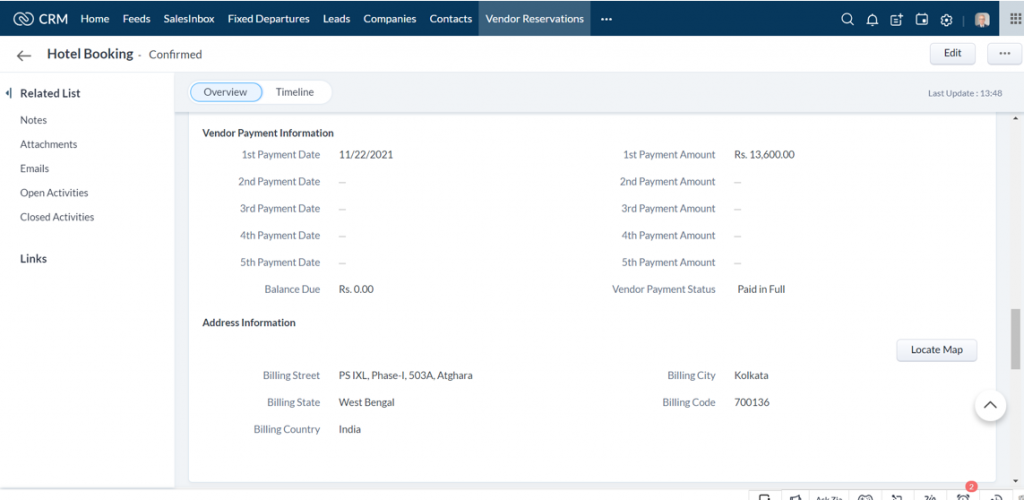 Generate Attractive Vouchers With Travel CRM
With Travel Agency CRM software, you can generate vouchers to present to your customers. When the negotiation-affirmation process is completed with your vendor, you can simply issue vouchers for your customers. You can use beautiful custom-branded voucher templates to send out to your customers. You just need to insert all the required details, such as voucher number, reservation dates, and so forth. And bingo! All the information will be flown into the voucher template.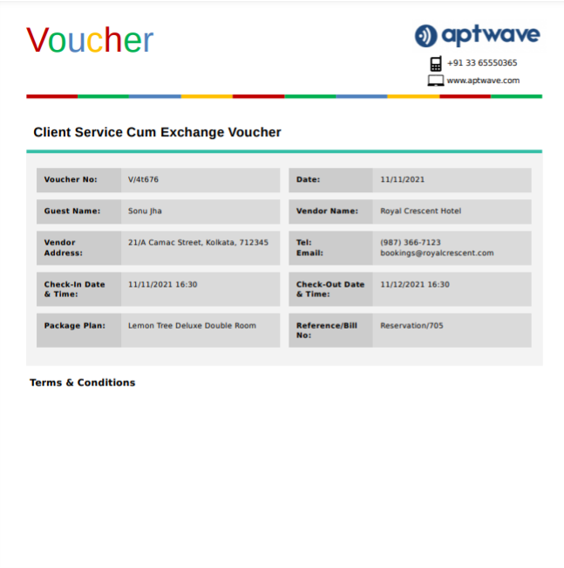 Monitor Your Vendor Performance
Customer satisfaction tremendously depends on your vendors. Tracking their performance and progress is crucial. The comprehensive reports and dashboards that come in handy with Travel Agency CRM are the key takeaway at this point.
In the picture shown below, inside the 'inventory' dashboard, you can see multiple colorful dashboards dedicated to your vendors. You can check the current number of trip reservations confirmed or are yet to be confirmed and also your payment status. However, there's always room for adding components and customizing to work your way.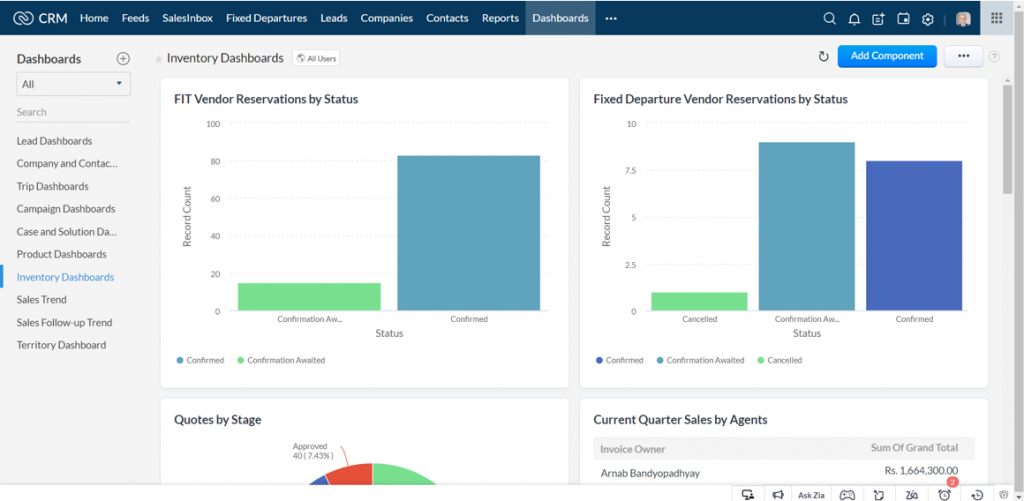 The same goes for reports. You can check comprehensive reports based on your vendors' performance, the current status of your trips, the grand total, and the balance due amounts. You can also customize and export your reports into Excel, CSV, or Pdf format.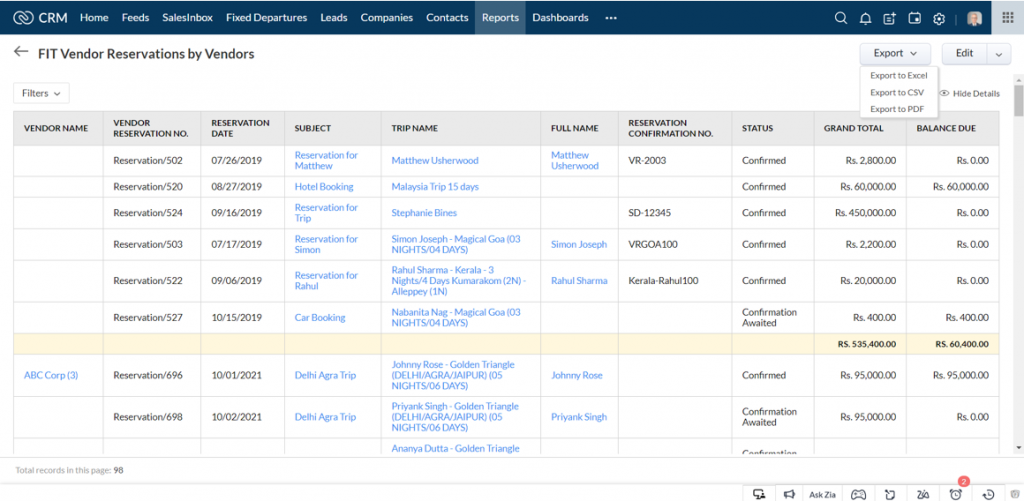 Watch this video down below to understand and visualize the process even better.
Bottom line, 
For a competent travel agency that is trying to move upwards in the business world, a "one-man-army" approach is not enough. You need customers, your teams, and a plethora of vendors for the bigger picture. Travel Agency CRM software does it all for you. On one hand, it lets you strengthen your business with a customer-centric approach. On the other, it manages your vendors which is extremely important as well.
So, without further ado, watch this factual video to understand how effectively you can use the abundant features of this CRM solution.
Why limit yourself when you can have it all? Click on this link to know more!