8 Apps To Power Up Your Legal Business Besides Law Firm CRM
Aug 31, 2022
Ever wondered about how to take your legal business a notch higher than today? Who are we kidding, of course, you have. That's why you are here!
Now, we all know that the legal industry sounds kind of austere.
Cut One: There was a time when attorneys thought they could handle their business just as fine without technology.
Cut Two: The pandemic happened. But people still needed legal guidance, and for lawyers, business collapse was not an option. They recognized the need for technological advancement to handle their administrative tasks. Thanks to Law Firm CRM, this aspect of the business is under control.
But what about the other areas? You obviously can't stand still at a place, you would want to move upwards of your chart. So, here I have dissected the major aspects of a business where you can apply the 8 best Zoho applications to power up your legal business. 
So let's cut to the chase, shall we?
Market Your Legal Services
Living in this millennial world with digitization spread all over, and still saying a big no-no to marketing? That's not happening. As lawyers, you might still be under the impression that people will come to you owing to their legal problems. But no, times have changed. Our potential clients have hundreds of options now. Thus, the word of mouth, being an old trick of the book, is just not enough anymore.
And if you don't promote your services, how will your potential customers even get to know you amongst a sea of competitors?
I suppose you are already aware of how our website plays a critical role in raising your brand awareness and presenting your legal services to the global audience. Your website acts as the virtual storefront where you catalog your services to help your website visitors and eventually turn them into leads. Thus, developing a website with a personalized look and feel of your business brand is of utmost importance here. 
Yes, we know the trick of embedding the contact/ web form on the website to capture more leads through Law Firm CRM. But you can also optimize your website traction with these three toolkits. 
Zoho SalesIQ 
Just like your website acts like your virtual store, you can build a virtual assistant with Zoho SalesIQ. You are well aware of the general questions that your prospects might have and depend on them, you can have several responses. This way, you can offer initial service to your prospects and build strong relationships with them from the beginning. Except unlike you, this tool is 24*7 ready and available to cater to your customers' queries. Plus, this tool easily detects your visitors' recent browsing history to ascertain what kind of services they can be interested in and strike up a conversation at the right time. And don't worry, in case your prospects lodge questions that you haven't canned your answers for, this tool integrated with the CRM always embeds the chat transcripts in a new lead record. So that you can retrieve them and resume the conversation whenever needed.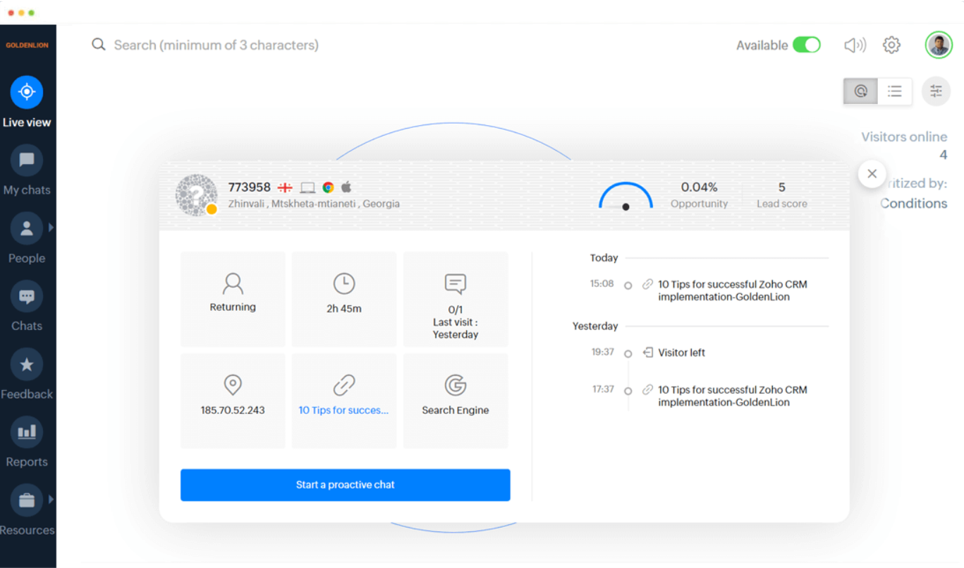 Zoho Social 
As I said, times have changed. Social media channels have evolved over the years and they have huge contributions to marketing strategies. Hence, there is no point in dismissing social networking sites for your legal service promotion. Calibrate Strategies says that 84% of legal firms plan to increase their expenditure on digital marketing. 
See, you cannot expect good results if you don't put effort. Likewise, you cannot expect leads to pour in if you don't spread your word and let people know about your services. Making a digital presence will help you a great deal in identifying your target audience, what they are looking for, and connecting with them.
The best part is that you can recycle your content for different channels. For example, let's say, you have a blog post. So you can break it down into smaller pieces of content and repurpose them for your LinkedIn, Twitter, or Facebook posts. But posting content alone and haphazardly won't do. The trick is to post consistently at regular intervals. For this, you can use Zoho Social to create your content cues and schedule them with an intuitive calendar to ensure posting to your audience regularly. You can also implement sticky columns on your posts for social listening.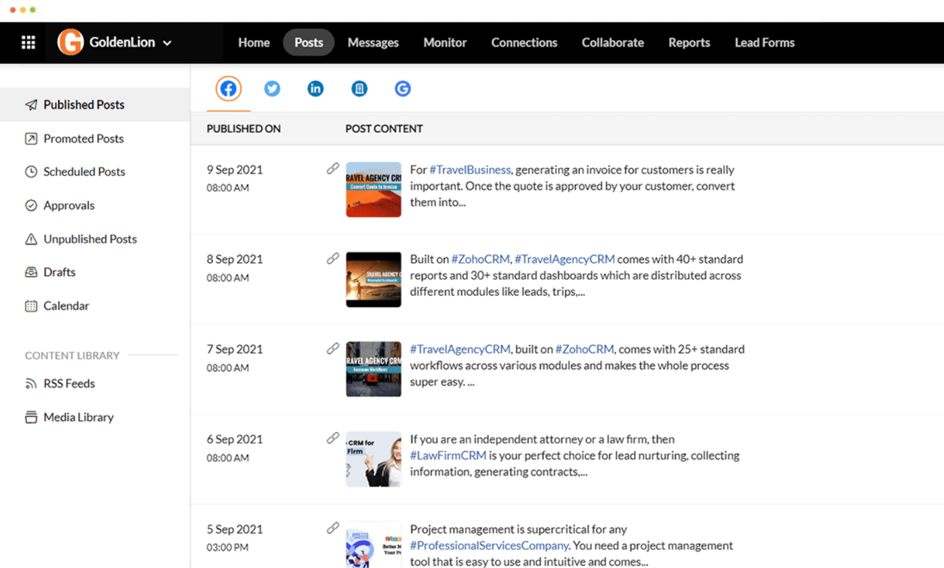 To add a little charm to your posts, you can also customize stunning visuals from DocHipo. It is a free graphic designing software that comes with multitudes of customizable templates to suit your taste.

Zoho Campaigns 
Do people market their business via email? The answer is yes! Believe it or not, email marketing is a proven strategy that still captures your audiences' attention and improves our CTA rates.
Of course, you can trust Law Firm CRM to trigger an automated email to acknowledge your leads' inquiries. But that is not enough. Our potential clients expect a personalized experience and consistent communication from our end. And that is exactly where you can put Zoho Campaigns  to your use. It is an email marketing software that helps you create personalized yet interactive content including visuals, GIFs, and surveys. You can set up an automated email workflow and drip series to engage your targeted audience. On the plus slide, you can also trace your customers' response patterns, meaning how long it took them to nurture and transform into an opportunity. 
Boost Your Sales 
Now that you have a certain idea of tools to market your business, you can shift your focus to sales operations. After all, boosting your sales conversion rates and increasing company revenue is your main target. 
Law Firm CRM
Put in simple words, built on top of the award-winning Zoho platform, Law Firm CRM is the ultimate solution for increasing your sales and maintaining customer relationships. Amidst a wide array of benefits, the key takeaway is that this software is thoroughly customized to suit your legal business operations. I'll give you three major examples. 
Since your business benefits people with legal assistance and time plays a critical role here, this CRM comes with a 'matter of details' form. This fully covers all the questions you might ask your clients before taking up their matters. Except, you can send these forms via email to optimize your time and make it convenient for both parties. Most importantly, your prospects can explain their matters in their own words and at their convenience. So you see, on one hand, you don't even need to fill up forms for them manually and on the other hand, you reduce the chances of risks.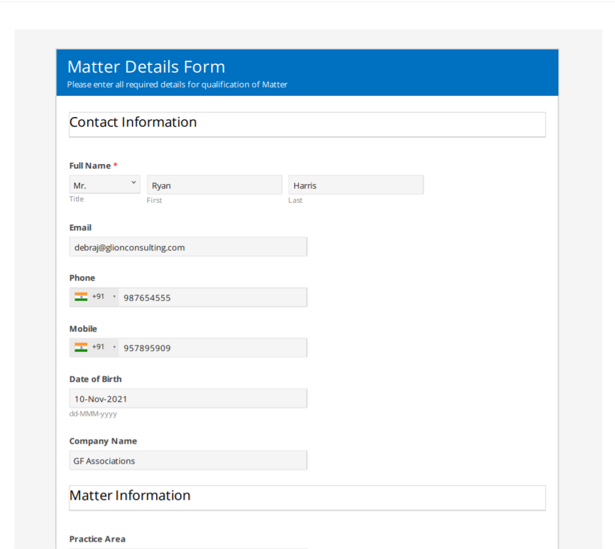 Let's take another example. Say contracts and invoicing. Law Firm CRM efficiently manages this part too. It can essentially handle three kinds of contracts, namely hourly-rate, flat-rate, and contingency contracts. While the latter two are relatively easier to manage as they depend on your attorneys, the hourly-rate contract needs your attention. The CRM comes in with a timesheet so that your attorneys can log in the time they have invested in a particular matter. Following this sheet, you can charge your customers with zero chances of risks.

You get pre-defined contract templates when you merge your information with Zoho Writer. The system instantly pulls out your customers' information from the record level whenever you choose the contract type. All you need to do is fill in the initial details (name, address, date, etc). You can also put your digital signature with Zoho Sign, an app that comes integrated with the CRM itself, send the contract via email and complete the whole task in a couple of clicks!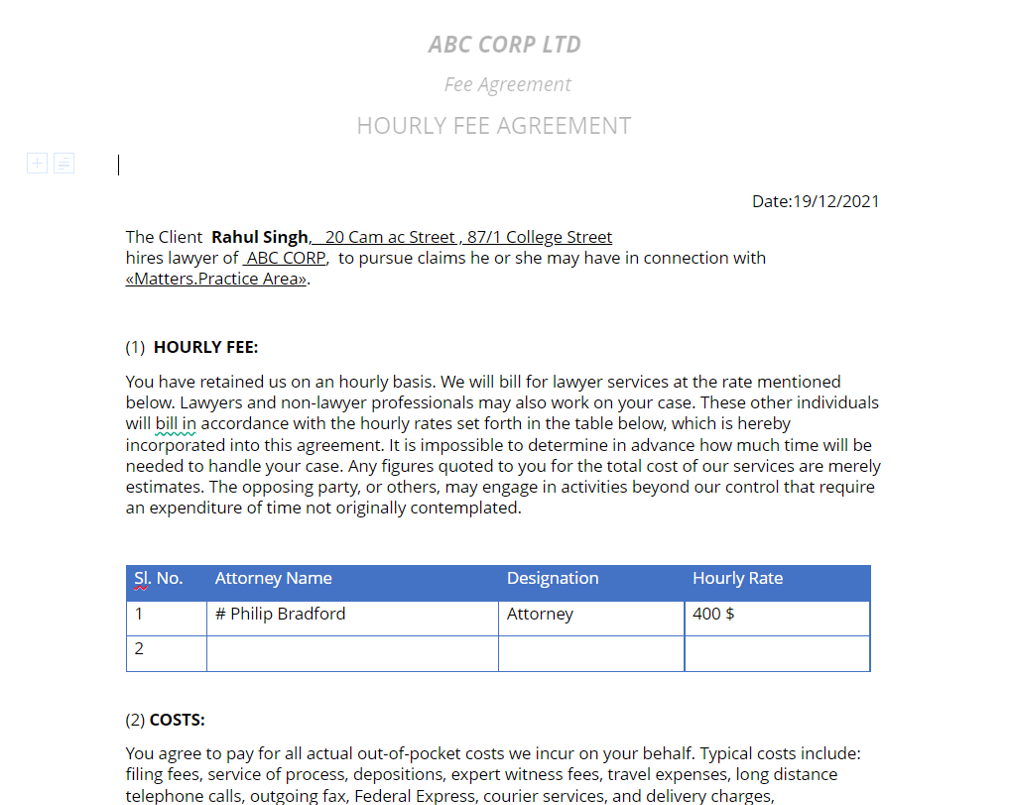 Zoho Bookings 
Our customers are modern, they are tech-savvy, and are becoming increasingly self-dependent. As business people, we need to empower them even more. We know that legal matters are sensitive and tackling them is crucial as your clients will expect your constant guidance. By integrating your system with Zoho Bookings, you can help your clients self-schedule their appointments. This app syncs your calendar so that your customers can check availability and book appointments with you. You can even qualify their requests by adding benchmark questions in the booking form with custom fields. The easier you make your appointment-scheduling process, the more you get appointments and better chances of deal closure!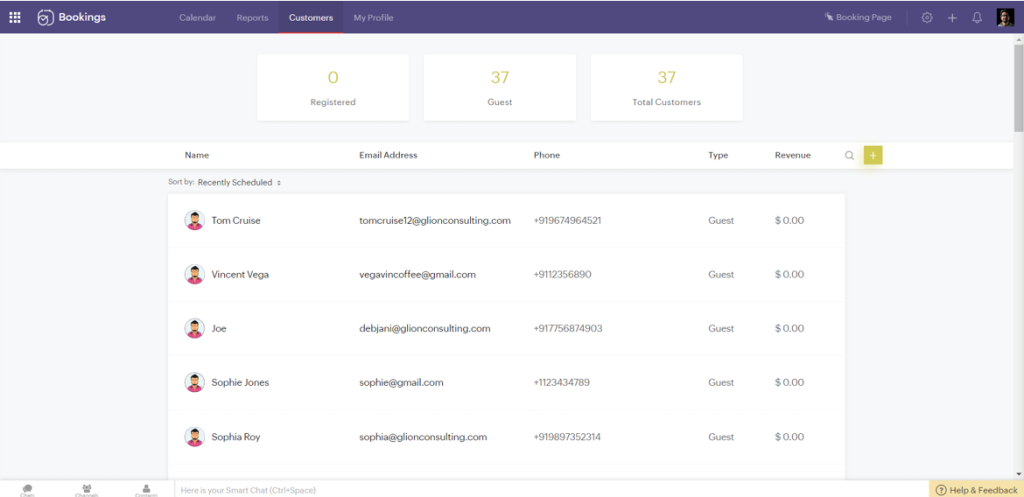 Ensure Support To Your Customers 
The best way to win a client's trust is to ensure support to them. And Zoho Desk is the appropriate software application that you can use to increase your agent productivity and customer retention rates. It helps you manage your customer conversations with an omnichannel approach. When you integrate this tool with Law Firm CRM, you can browse that particular customer's journey and spot the bottleneck for quick redressal. You can even embed a knowledge base or FAQs to help your customers resolve queries independently.
Keep Track Of Your Accounts
I don't think I need to put stress on the fact that a business is all about numbers. So keeping track of your accounts is one of the crucial parts of a business's success. Running a firm, managing several attorneys with hundreds of clients, plus accounting? Sounds so difficult, imagine how hard will it all be!
But not when you implement Zoho Books for your business. It is a powerful platform that looks after your business finance with core accounting. You can send out estimates for your customer's preferred attorney, and convert them into GST invoices to get paid digitally or through bank transactions. You can set up integrations with the system with your preferred banks to collect payments, and import statements to Zoho Books to skip data entry.
For hourly billing contracts, you can keep track of the invested time on the timesheet, unbilled hours, or expenses to create invoices directly from the CRM. Managing accounts has never been this easy!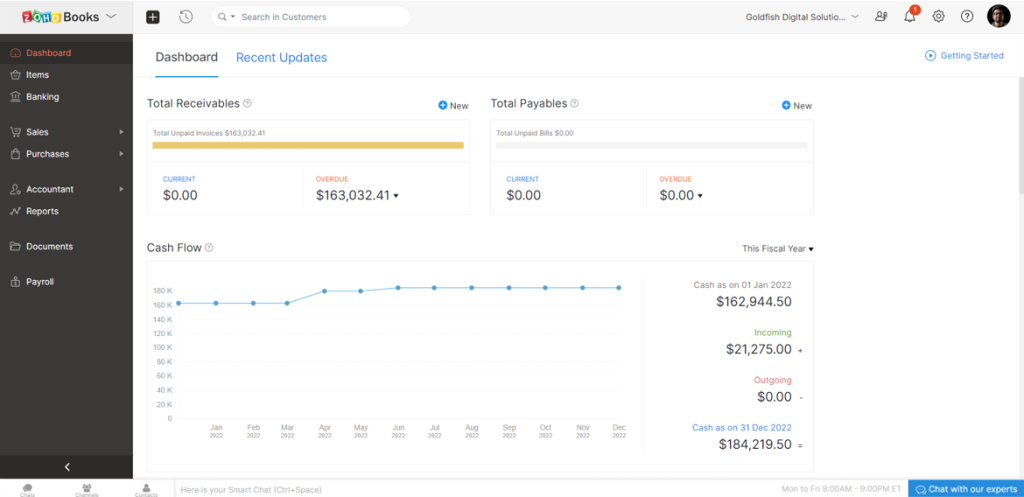 Retain Your Customers With Post-Sales Interaction 
Won a matter? That's great. Want to make future business with your client? A hundred percent yes! And why wouldn't you, retaining existing customers is far more beneficial than acquiring new ones. SmallBizGenius says that 82% of companies agree that customer retention is cheaper than customer acquisition. This is why you need to continue communicating with your clients even in the post-sales stage. 
Zoho Survey 
I am sure that you have delivered exceptional personalized service to your customers. How about taking notes about your customer experience too? With Zoho Survey you can reach out to your customers with interactive surveys. This app enables you with 25 different question types and features like piping or skip logic to design your surveys to suit your brand style or theme. These can be instantly shared with everyone on your social media and email campaign list. In addition to this, you can also invite and collaborate with your teammates while making your survey questionnaires.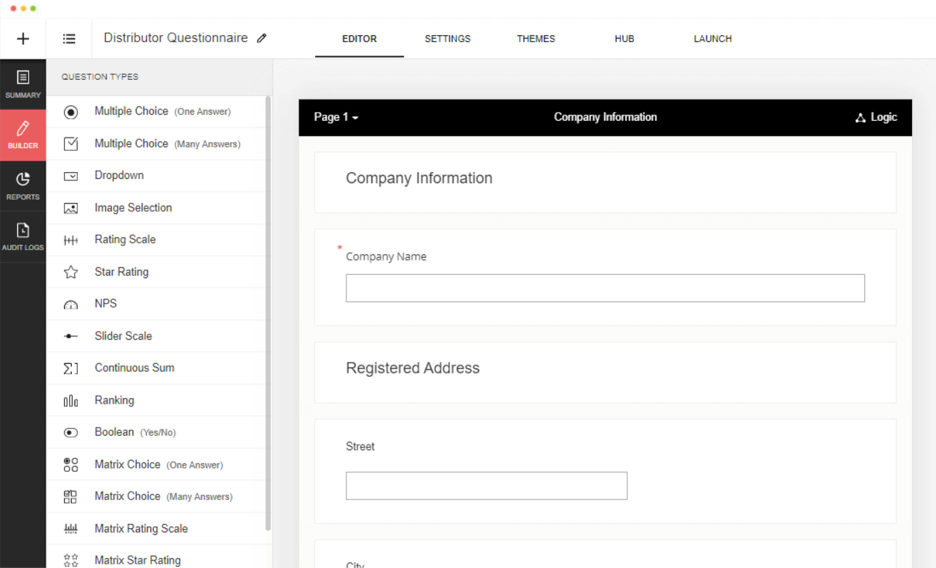 Last Words, 
Law Firm CRM is undoubtedly what modern lawyers need today. Implementing the software solution is a milestone in itself. But once it is achieved, you need to expand your business belt from other tangents as well. This article was all about those apps which can fit right in your business and make your firm all the more powerful. So what are you waiting for? Get started with a free 90-minute no-obligation consultation with our experts!