8 Powerful Strategies To Apply Automation Features With Travel Agency CRM
Dec 2, 2021
There has been a whole world's difference since the global pandemic hit us in 2020. There is no denying that the tourism industry has experienced one of its severe blows. However, people have started getting accustomed to what is relevant for today's climate- and that is automation. It is a gift of this digital world. And when you integrate your business with Travel CRM and all its automation features, it is sure to take off to soaring heights. 
In this blog, we will explore how you can use Travel Agency CRM for automation strategies.
Capture Your Leads With Travel CRM 
We know you have several targets to meet and goals to achieve, that too within a time crunch. Tackling all your business metrics manually and generating new leads, at the same time, is next to impossible. However, you can blindly trust Travel Agency CRM to generate multiple leads simultaneously even before you ask for it.
For that, let's talk website first. A well-designed website that people can easily decipher and engage with, can enormously increase lead generation. It can display your goals, the cultures that you believe in, beautiful pictures and videos of your past trips, the testimonials that you received from your customers, and so on. You can inspire and encourage your audience with your website content to capture numerous leads.
Travel Agency CRM is also integrated with Zoho SalesIQ which has an omnichannel approach altogether. It is a live chat-bot (or 'Can I help You?' desk) that you can build with canned responses to greet your audience, respond to their inquiries and ask for further information. Once when they start answering the live chatbot, your CRM automatically stores all the transcripts for you to evaluate and apply for future reference.
Automated Booking Process
With Travel Agency CRM, you get an additional cool hack for managing your fixed departure trips. When you design your website, you can segment a part of your page for fixed departure or B2B tour packages. You can offer multiple trips, add visuals, an estimated idea of the whole trip and place a booking form under each trip. If your customers get interested (which we are positive they will), they can submit all their details accordingly.
The catch here is that you don't need to spend hours copy-pasting their information to create contacts or trips. Your CRM will automatically store all their details in a streamlined manner and create new entries under the 'contacts' and 'trips' modules. It is all automatic so, there's no question of doubting the acquired information.
Create and Manage Follow-up Tasks
Travel Agency CRM helps you to create tasks and meetings and mark them in an intuitive calendar. Following up on a customer is extremely crucial for your sales progression. And for that, you can create and assign various tasks to your teammates. You can mention them in a click and they instantly get notified about their upcoming tasks. Else, you can easily sync your tasks and meetings by setting reminders or pop-ups. So, when you are landed on your home page, the CRM automatically shows you your task reminders. No chance of falling through the crack! 
Manage Your Sales Pipeline With Travel CRM
The only target of a well-designed sales pipeline is to track a customers' journey and forecast the upcoming sales that you're aiming to close. Travel Agency CRM comes along with a ready-made pipeline for managing your sales process. The system automatically lets you move forward in steps. You only need to timely update the current stage of your pipeline and this CRM solution will take you to the next level. You also get a quick glimpse of what stage your customers are in at the moment so that you can prioritize accordingly
.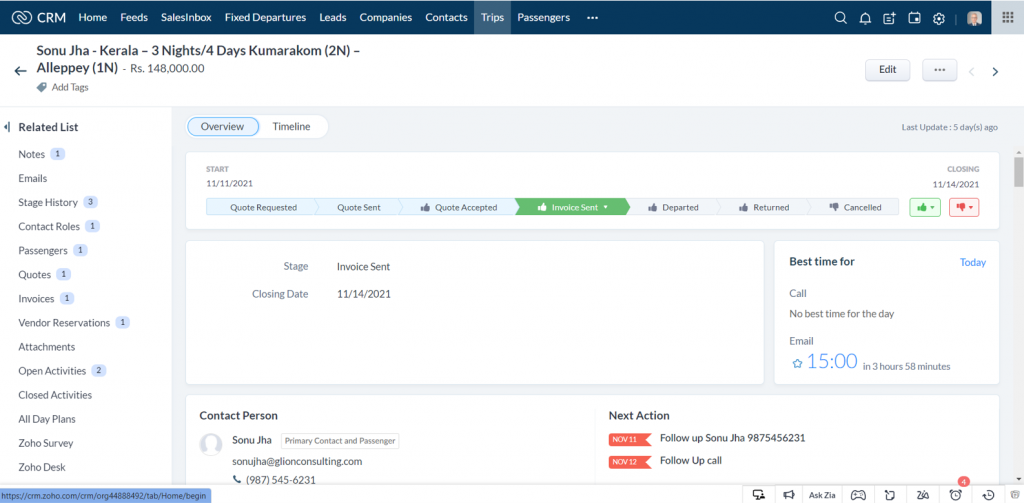 Automated Template Generation
With Travel Agency CRM, you can control the whole business from one single screen and with any device whatsoever. And most importantly, pre-designed custom-branded templates come complimentary with this CRM solution. You don't need to clean the slate every time you want to send out important emails to your customers and your vendors. You only need to insert the required information in the respective fields and save them for generating automated pre-designed templates.
For instance, when a customer seems interested in your trips and requests a quote, you can table your proposal with an attractive quote template. You can always add multiple rows of facilities as per your customer's choice and fill in your expected prices accordingly.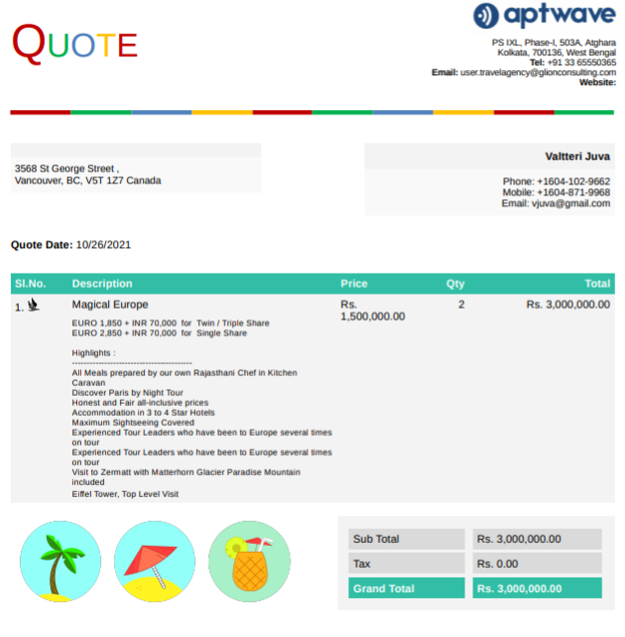 Invoice Generation
Now, you can only convert a quotation into an invoice when you have your customer's consent. Once they approve, you can quickly update the sales pipeline and generate an invoice. And automatically, all the previous information (regarding your customer's address, the agreed-upon prices, and facilities) of the quote will be flown into the invoice template.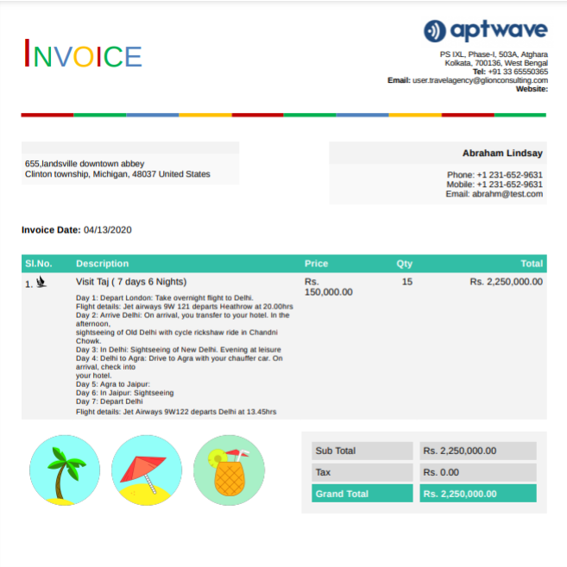 Vendor Reservations And Voucher Generation
Next, when the invoice is sent, you know you're going to win this opportunity pretty soon. So as you start getting deposits from your clients, you can instantly select your vendors best-suited for the job. You need to create a new vendor reservation for your client, add the reservation dates, the arrival/departure dates, and other required details. The moment you save this in your system, you can instantly generate a reservation template to request your vendors for confirmation.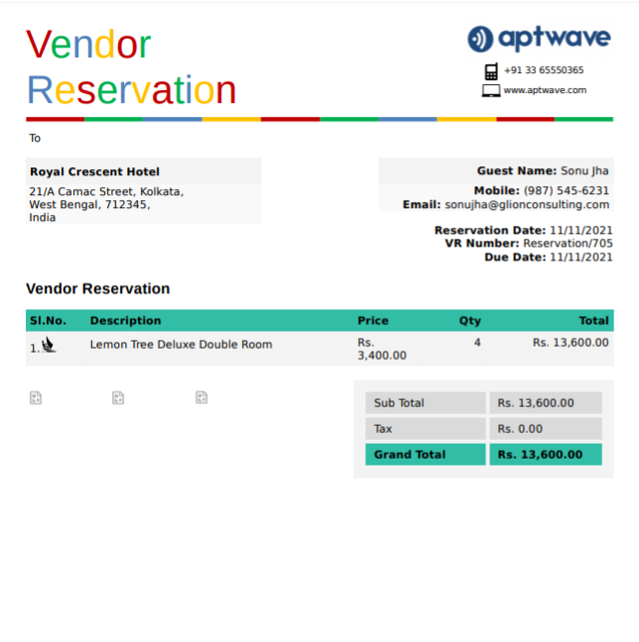 Once the negotiation affirmation is over and your vendors confirm your reservation, you can quickly issue vouchers to present to your customers. These vouchers are extremely crucial, for as a travel agent, you must ensure secured reservations to your customers. Vouchers are accountable documents or tickets for your customers to receive a service on the scheduled date and time they have paid for.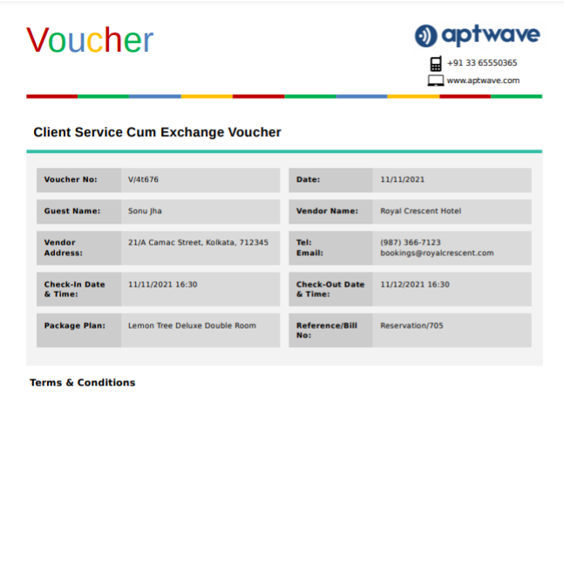 Profit Calculation With Travel CRM 
A major optimization benefit of Travel CRM is the auto-calculation of your accounts. Accurate accounting is necessary for any business, it is the base on which your business primarily stands. Managing a plethora of contacts, trips, vendors, and maintaining accounts for each is already so much work. And simultaneously maintaining a simple spreadsheet is humanely impossible. But this CRM solution can immensely reduce your workload by automatically calculating your dues. Let us explain how!
As you select your services (products) as per your client's requests, insert your expected prices, depending on the price list as per your wish. Also if you go on adding multiple facilities, Travel Agency CRM automatically calculates the grand total for you. And again when you select a vendor and choose amongst their services, the listed prices get auto-populated. The moment these steps are completed, Travel CRM instantly calculates your total profit by subtracting the trip cost from the generated revenue.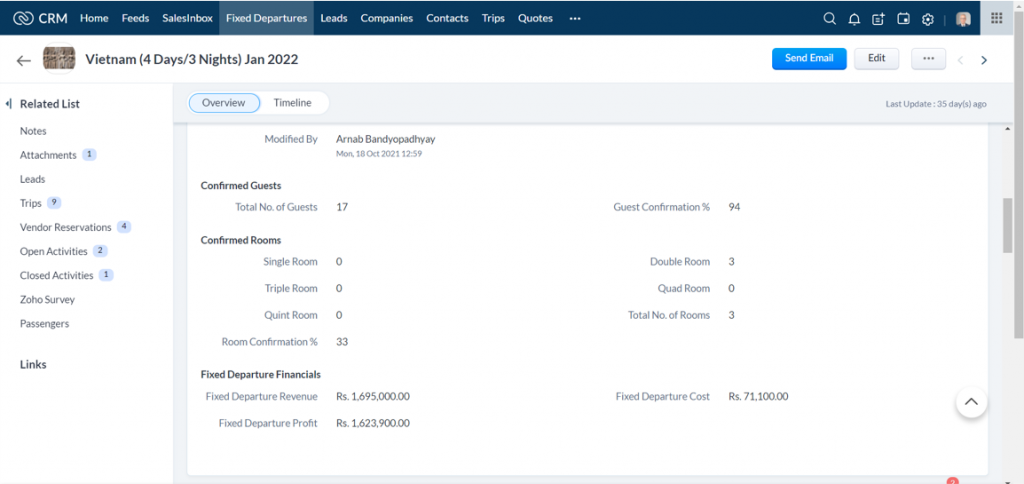 Trigger Automated Campaigns
As a travel agent, it is super important to market your popular destinations and engage your clients with eye-catching campaigns post-booking a trip. It can tremendously benefit you in improving customer retention. Question is, how can this CRM help you with this? Travel Agency CRM documents all acquired intel for you to scale your business by delivering tailored experiences. On the plus side, you can also use these details while triggering automated campaigns.
As Travel Agency CRM is integrated with Zoho campaigns, you can execute email or social media campaigns and sync them to your contacts. Banking on the different custom views that you set in your system, you can easily maintain multiple lists. These lists come in handy when you trigger automated campaigns on scheduled time to maintain frequency.
The power of automation is even more evident when you opt for different auto-responders. You can encourage people to sign up for your newsletters. You can also set up date-field auto-responders to send out on specific dates (say, for example, birthdays or anniversaries), mark your calendar to schedule them. However, the most powerful one is the email-action auto-responders. As you can monitor via different statistics, you can note your customer engagement, record their response patterns, and send your second email campaign only to specific people. Works like magic!
Automated Workflows
Travel Agency CRM comes along with 25+ automated workflows, specially crafted for our tour operators. If you choose the 'Workflow Automation' option from 'Set Up', you can see multiple workflow rules pre-populated for you. For instance, a 'safe journey' or 'welcome back' email is automatically sent out to your customers on their departure and arrival respectively. This CRM software basically covers all the nitty-gritty automation features that a mighty travel agency can expect. However, there's always room for you to create or add any other workflow rule to suit your business needs!
In a nutshell, 
It has always been the time for "the survival of the fittest." The massive technological advancement that the world is witnessing with each passing day, cannot remain unseen. Automation is an extremely important strategy for a forward-thinking travel business like yours. And it's high time that you start leveraging its full potential to scale your company.
Watch this video down below on how effectively you can operate Travel Agency CRM and save tons of your time using its abundant automation features!
Click on this link to know more. Get, set, go!