6 Hacks To Increase Your Training Business Revenue
May 25, 2023
Businesses experience several waves of twists and turns. Sometimes it is about revamping your marketing strategy or remodeling your business operations with add-on applications. There are nth kinds of situations, correct? But as business people, we always look for different ways to grow and increase company revenue. Training provider businesses also aspire to the same.
Let's suppose you have mastered the basics. You have identified your target audience. Created a market niche to offer a product that can benefit them. Developed a robust website that defines your USP specific to training courses. Nailed your CX (customer experience) with automated administrative tasks with a software solution like Training Provider CRM. The question is what to do next? 
Here are 6 ways to increase training business revenue. 
#1. Promote Your Courses As A Package
When you want to grow your revenue, an easy way to do it is to upsell your courses. You can bundle relevant courses that your audiences are searching for, on your website. In addition, you can also market an additional course that can be relevantly intermediate for the student after he/ she completes the current course. You can even break a course into multiple parts to promote them as a package deal while offering personalized training.
Course packages are generally offered at discounted prices to appeal to top prospects to purchase multiple courses at a time. They appear as cost-effective deals for your potential learners. Plus, when they get hold of related course subjects from your services, they are most likely to stay put as you enable them with a deep understanding of the offered subjects and their relevance. On the other hand, this strategy would result in an increased number of sales, customer retention rate, higher customer value, and better profitability.
#2. Place Your Smart Tools In Order 
Sustaining a business in our fast-paced digital world requires you to have a high-performing website filled with SEO keywords. It acts as your virtual storefront where you can catalog all your courses. So you can digitalize your website with advanced apps such as Zoho SalesIQ. Since you are already in this industry, even if you are new or a veteran. You must know some of the most commonly asked questions to can them with your responses to build up a live chatbot easily. It proactively strikes a conversation with your audience and pitches different courses on your behalf. A smart tool you bet! 
Talking about digitization and smart tech tools, you can also implement Zoho Bookings. It can extensively help you with the learner registration numbers. You can make your calendar visible so that your learners can schedule doubt-clearing sessions/  appointments with their preferred instructors.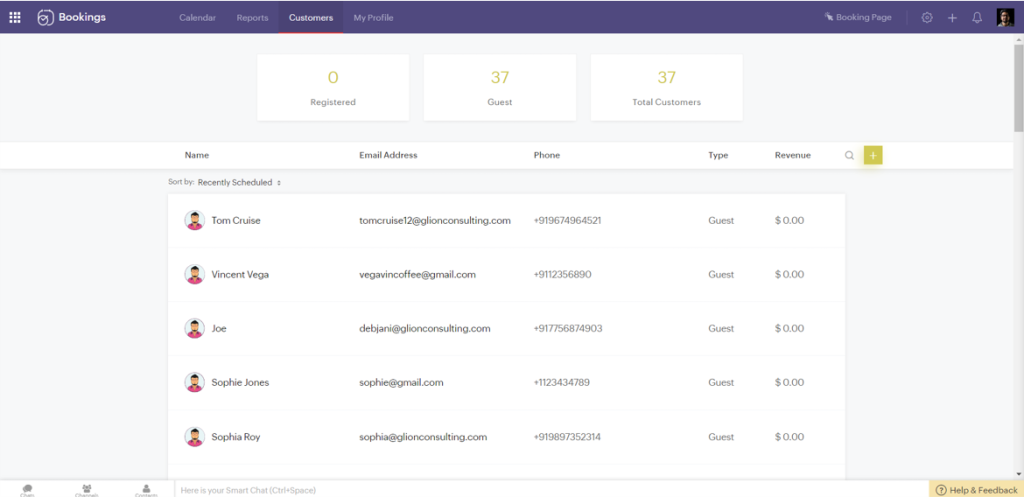 #3. Email Marketing 
You think your learners are all millennials and Gen Z? Sure, they are. But they are still accustomed to the old tricks of email marketing. To achieve your marketing goals, you can implement Zoho Campaigns to set up automated drip campaigns and engage with your learners. This application helps you create responsive designs, and customize messages to offer a personalized experience. It has a power-packed toolkit to help you trigger automated workflows, and increase your revenue.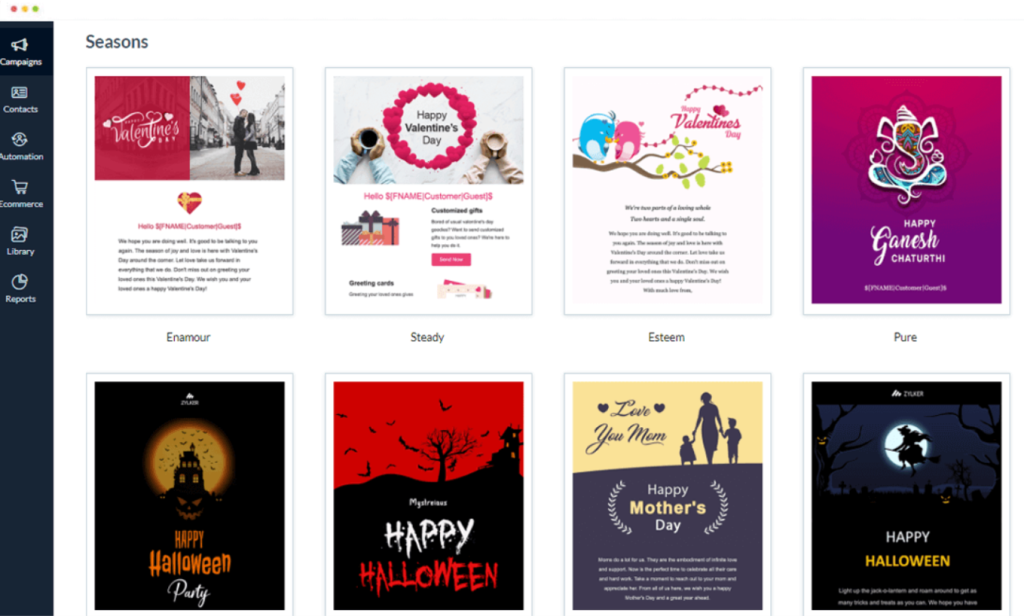 Here's how you can use email campaigns intelligently to help you boost your conversion rates and increase your revenue.
Abandoned cart
Just because a prospect has shown interest in your courses, that does not mean they are going to purchase it right away. Sometimes, they add your products to the cart and leave it as it is without checking out to the payment stage. The average cart abandonment rate is up to 69.75% according to a recent study. Quite frustrating. In these cases, you need to retarget your audience with email campaigns. Such emails act as reminders to shoppers about their carts. Reasons might include unexpected taxes, the requirement to create an account, and so on. So you must ensure that your website is user-friendly.
On top of this, you can also trigger a popup box for an exit-intent survey before a customer leaves the website without making a purchase. Keep the survey short and compact with only a few questions to help you identify the problem.
Repeat Business
To ensure that you get to repeat your business, you can set up targeted and customized email campaigns to boost your sales. Personalized emails drive customer engagement as you create tailored emails based on their past behavior, purchase history, preferences, or other data. It becomes a lot more likely for them to take action and purchase more from you when you deliver such emails. For example, you can send a "thank-you" email right after a customer books a course or a follow-up email with recommendations for similar courses. Alternatively, you can send a special offer or discount to customers to encourage them to return to your brand.
#4. Focus On Social Media 
Social media marketing is the buzzword that everyone's throwing about. It is not only for fun or entertainment, it gives a major opportunity to strategize your social programming and makes your company drive revenue. It is an adept channel to increase your brand awareness. Most importantly, you can turn your existing customers into advocates on social media platforms. You can create a loyalty or referral program and entice your existing customers to become effective brand advocates to promote your products by offering them discounts for future business. 97% of customers agree that testimonials and peer recommendations are the most reliable type of content that influences most prospects. Even for businesses, research says leveraging customer testimonials can help generate about 62% more revenue.
However, when it comes to social media marketing, being consistent does the trick. For this, you can integrate your business with Zoho Social. You can break your long-form content or blogs into smaller yet catchy captions and videos to schedule your posts with the app calendar.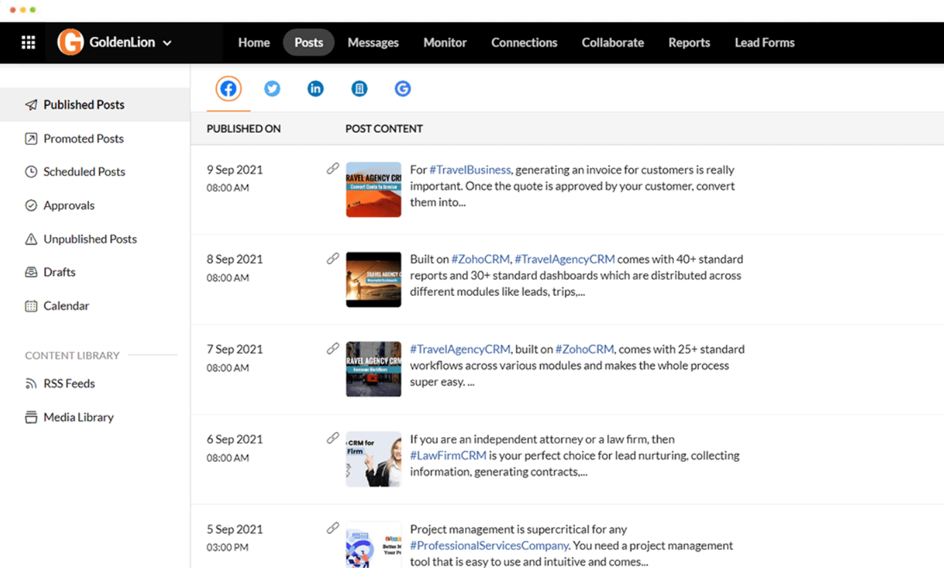 #5. Engage Your Learners 
As your business revolves around learning, you must engage your learners by employing different methods. These can include offline classrooms, self-paced eLearning videos or programs online classes, and so on. Make your training more accessible and beneficial for all your learners. For example, let's say you have started your business with one center – a geographical barrier. But that does not mean your business will be restricted. You can offer online classes to help learners cut down on travel costs. You can create several batches for one particular course so that your learners find it convenient, flexible, accessible, and knowledge retentive. 
#6. Strategize Value-Based Pricing
Making your customers perceive what value your courses bring in the run is the number one strategy to trigger a higher price point. This is called value-based selling. It is more customer-focused in that you can base your training costs on how much the learner believes your courses are worth. Rather than focusing on cost production, you must focus on delivering unmatched experiences so that your training company can position to take advantage of the value-based pricing model. You can create a better pricing strategy that is aligned with your customer needs and preferences to increase revenue and profitability.
Value-based selling is a powerful strategy to boost your revenue numbers. It incorporates information about your customers and what value they are perceiving in your courses. This hack requires you to gather and analyze customer data, thus it becomes resource-intensive. Now, where do you centralize all your business data to maintain solid relationships with your clients? The one-stop solution is Training Provider CRM. whether it is about scaling your training business or aligning sales and marketing, this industry-tailored CRM software has a bevy of features.
Over to you,
Increasing revenue seems like a tough job. But these powerful yet clever strategies can help you grow your business, that is for sure. Want to know more about these incredible applications? Get started with our experts today!