Boost Your Residential Property Sales With Real Estate Agency CRM
Aug 3, 2022
Let me guess. If you have landed on this page, you're probably witnessing a sales slouch in the residential property sector. Or perhaps, you want to keep up with the present velocity. And for that, you are looking for a solution that keeps your business on the high. Well, Real Estate Agency CRM is your answer.
You'd agree that the pandemic has dramatically transformed the real estate landscape. Traditional sales and marketing tactics are probably weighing down your business potential. Does anybody want that to happen? Hell no!
The market trends are witnessing literal tidal waves right now. For example, since the pandemic, most millennials are looking for outdoor amenities. According to an NPR report, city dwellers are looking for places in the suburbs. A Redfin post says that demand for single-family homes has risen 4-year high since 2020.
But if you look at the brighter side, you will see a lot of scopes coming up on the horizon for you! And it's only obvious that the impact of the global real estate marketplace will fall upon you. How to manage?
A tailored software solution like Real Estate CRM does the deed for you. And from every angle!
I suppose you're already aware of the versatile features that this CRM solution brings to the table for your business development. Now, the question is which of these features you want to implement for your driving your residential property sales. So, without further ado, let's cut to the chase!
Ensure On-Point Property Management
A business wholly depends on three things– purchasers, products, and profits.
You're keeping your customers at the apex of your business, that is a great thing. But you must ensure that you have your property management on point as they are the products that you offer.
Just because you have got hold of several properties, that doesn't draw the finishing line for you. You need to manage your inventory before you go on and pitch your potential buyers.
Hear ye, realtors! Real Estate Agency CRM makes your situation a lot easier. It keeps a meticulous list of all your properties in a centralized database for your super-fast navigation. Say, for example, you have enlisted a new property, and the CRM independently walks an extra mile and sorts its current status. Whether the house is under validation or available or sold– the solution automatically populates the overview section. You can click on a particular property record and viola, you see all the details laid out for you in a neat streamline. Along with the name of the property owner, and the code, the CRM even names it in a homogeneous form. Sounds too cool to be true? But yes, it's for real!
Optimize Your Time With Automated Capturing Of Leads
See, it is a given that you need to optimize your landing page. But simply putting up a "Click here" button won't assure that you'll have residential leads pouring in any minute.
So you need to address this with a systematic approach. Most of the quality leads are generated via CTAs (call to action) button which you can embed on your email or social media campaigns or blog posts. These links directly take your prospects to the landing page to learn more about your services and a contact/ web form. Therefore, in case they like what they see, they can submit their details for further conversation.
Even with the live chatbot Zoho SalesIQ (an add-on product), you can serve your customers virtually with canned responses to their general inquiries. Whatever the case might be, the CRM always documents your prospective buyers' information in a unified space.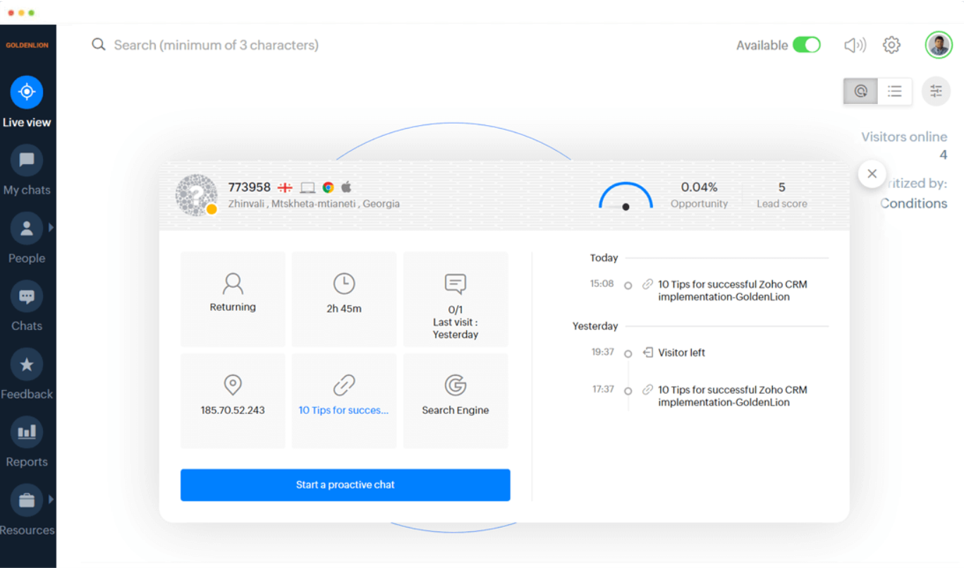 The icing on the cake fact is that in case you capture online leads, the CRM readily populates their sources. This benefits you when you conduct an audit or dedicate a dashboard for the best lead generation mediums and invest in them in the future.
Minimize Response Time And Start Nurturing Leads
Most potential buyers form their general impression of you right from the first interaction. As per a report by StartUp Bonsai, chances become 9x times higher when you minimize your response time and get into the action straight away. So the moment a lead lands up in your system, Real Estate CRM triggers an automated acknowledgment email and alerts your team about it so that one of them readily pursues the prospect.
For nurturing your leads, you need to engage with them willfully and assist them throughout the sales process. You can build up a strategic follow-up calendar to keep constant communication to offer/ gain relevant information. And don't worry, the CRM collects all the touchpoint interactions and notes for easy retrieval. Mind you, you can always distribute your follow-up activities to your sales teammates. Just a one-click mention is all they need to get notified!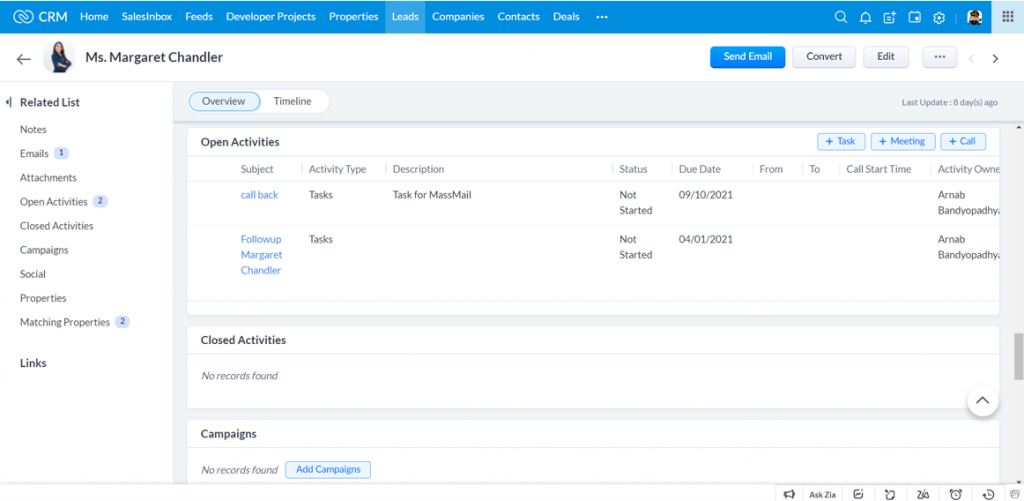 But the nurturing actions might not be always limited to timely one-to-one interactions. Especially for our tech-savvy customers. You can also implement Zoho Campaigns or Social for multi-channel communication. You can send out personalized emails or campaign your properties on social media platforms. Learn more about them here.
Focus On Leads With Greater Merits
You've heard the phrase 'slow but steady wins the race right? Yes, be that turtle when you carefully track down the leads which have greater merits by applying the BANT filters. The BANT (budget, authority, need, and timeline) parameters act like a scale to value your prospects and rank them accordingly.
It's for sure that you and your team members have a lot on your plate already. And you still need to multitask and work smart. But rating your leads optimizes your sales process. Based on the acquired details from the previous interventions, you can evaluate their merits. This tactic immensely helps your sales reps to focus on better-quality leads.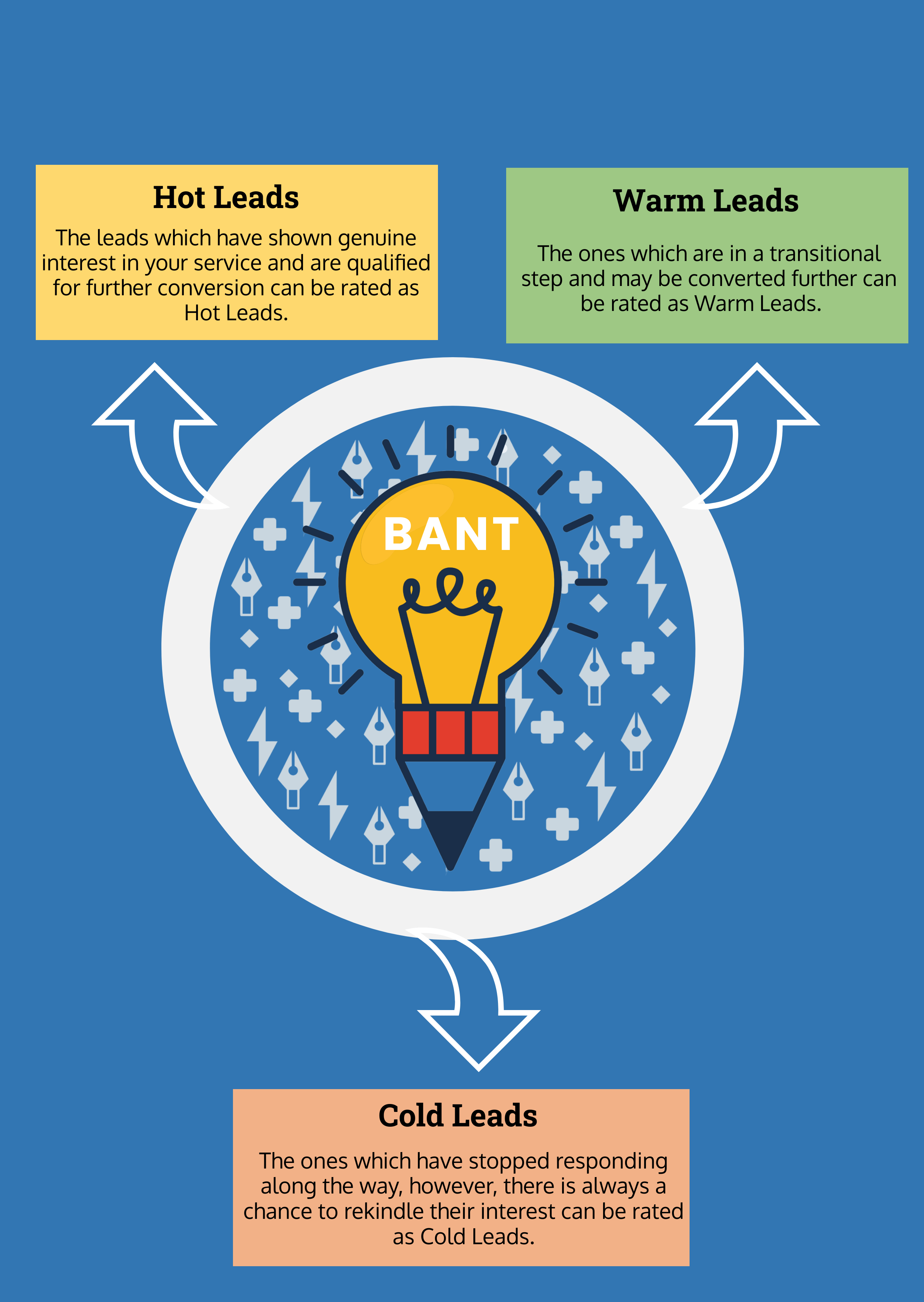 Get Your Team Productivity On Board
Honestly speaking, the 'one-man-army' approach has its quits today. Your business cannot stand alone without an active team collaboration.
You can set different tasks for the day and manage your daily productivity. However, a tedious workday environment can teleport them to a snooze-ville. So, to boost your team's proficiency and productivity, you can conduct a healthy competitive workspace with a gamification scope. It gives your teammates a chance to improve their performance as this feature rewards points whenever they convert a lead into an opportunity. An enthusiastic team can literally a world of difference, try it!
Be More Customer-Centric With Real Estate Agency CRM
Talk about a new lingo buzzing in the business world and you'll hear the catchphrase– 'customer-centricity' But what is it, really? Only communicating with your customers from time to time is not enough. It entails you anticipate their requirements, communication preferences and support them in a way they need while making their purchase journey hassle-free.
And yes, this is perhaps the only universal strategy that you can thoroughly rely on. You want to give them what they want and make it fast– that should be your motto.
Real Estate Agency CRM enables you with plentiful features which evenly help you in becoming customer-centric. It empowers you to take the best decision for your company and your customers parallelly.
For example, the automated property recommendations feature. Since you have stored every nook and corner of your customer's information in the system, you can easily navigate properties according to their preferences. For example, let's say you have a customer who's looking for a sea-facing apartment in Mumbai. Since you have all your properties centrally enlisted, you can check their preference-matching ones along with their construction dynamics and approximate price. And you can send out all these recommendations to your customers with a single click.
Analyze Your Performance
Checking on one's performance is probably the best strategy for your overall company growth. The analytic tools– comprehensive reports and dashboards that this CRM comes along with are more than enough to guide you towards success. These modules always fill you in with real-time information so that you can understand how each of your business sectors functions individually or as a group. In accordance, you can introduce new ideas, improvise the existing strategies and execute them with perfection. Real Estate Agency CRM makes it way better and easier for you!
It's Your Turn Now,
A tailored CRM solution seems to be the talk of the business town. And Real Estate Agency CRM is a vouch-worthy software application that is just what modern realtors like you need. It is cloud-based, accessible from anywhere, with any device, and at any time. Therefore, you can legit manage your business on the move. What more do you need?
And if you're still having doubts, here's a video for you to understand how our CRM solution works.
All geared up for leveraging its features to bring out the full potential of your business, yes? Click here to get in touch with us!